Volunteers survey Typhoon Karding damages in Dingalan, Aurora
251 homes in 11 barangays were completely damaged by the storm
By Joy Rojas
A team of Tzu Chi volunteers left Manila in the wee hours of September 29 to survey damages caused by Super Typhoon Karding (International Name: Noru) in Dingalan, a third-class municipality in the province of Aurora. Karding made its second landfall in Dingalan on the evening of September 25, and though it had been downgraded to a typhoon by then, it pummeled hundreds of homes and fishing boats in its path.
Road conditions were generally good, but evidence of Karding's wrath was visible along the way. Trees, power lines, and homes made of light materials were no match against the storm's fierce winds and torrential rains.
By the time the team reached Dingalan, residents affected by the typhoon had already left the evacuation centers. Some are staying with relatives, others returned to their homes to begin repairs and rebuilding with whatever scrap materials they can find. According to a report by the Office of the Municipal Social Welfare and Development, of the 251 homes from 11 barangays that were totally damaged, 177 were from the coastal barangays of Umiray (56), Ibona (30), Matawe (54), and Paltic (37). Partially damaged homes from these four barangays totaled 2,354 (out of 3,332). The team visited these barangays after paying a courtesy call to Dingalan Mayor Shierwin Taay.
Sadness and despair prevailed as locals recounted how they survived the worst typhoon of their lives. Choosing to stay in her little home with her six grandchildren, Myrna Sales of Barangay Umiray eventually evacuated to her older sister's place next door after powerful winds knocked down a coconut tree that nearly landed on her and the frightened kids. "I thought we wouldn't make it," she sobs.
With nothing to come home to and donated food supplies running low, Myrna only requests for tarpaulin to serve as a roof above their heads. "And notebooks for my grandkids," she adds. "Theirs are all soaking wet from the storm. School starts on Monday and I have no money for notebooks."
Also from Barangay Umiray, Merly and Fernando Corral thought their home was sturdy enough to withstand Karding. But as the winds howled and debris flew wildly in the air, they decided to leave for one of their children's homes. That's when their roof suddenly caved in. Still, Merly thought she and her husband were goners even in a newly constructed home. "The hollow blocks were wobbling!" she said.
The following day, the Corrals inspected what was left of their belongings. Of their home, only the kitchen remains relatively in one piece. Fernando's fishing boat, however, is unsalvageable. It's a huge blow to a man who makes a living at sea. "He tried to fish using a borrowed boat, but in the past few days there has been no fish," says Merly. Construction materials, basic cooking ware, and rice are among the immediate needs of the couple who lost just about everything in a matter of hours.
Surrounded by all this devastation and loss, Karding's survivors move forward the way Filipinos know how—with resilience, resourcefulness, and gratitude. Romel Valino, a farmer who lives with his Dumagat wife and their two children, ages 3 and 1 in Barangay Ibona, plans to rebuild the homes his family and his in-laws lost in the storm with his bare hands.
"Even if we don't have food, what's important is that we're safe. Thank you for checking on our situation," says Myrna of Barangay Umiray. "Thank you to the Tzu Chi Foundation for coming to our place. You're the first to visit us, so thank you."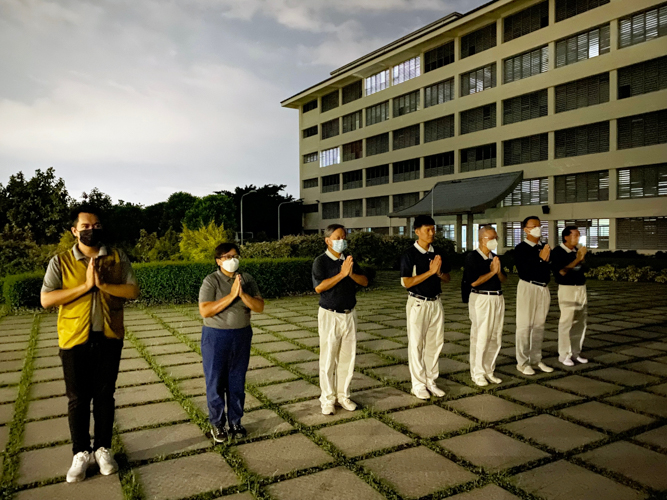 Volunteers pray for a safe trip before leaving Manila for Dingalan, Aurora. 【Photo by Harold Alzaga】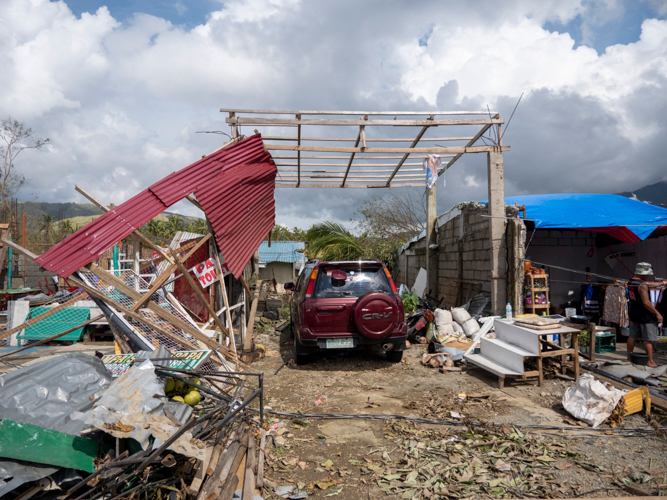 The wooden frame of a garage is what's left of this totally damaged home in Dingalan, Aurora. 【Photo by Harold Alzaga】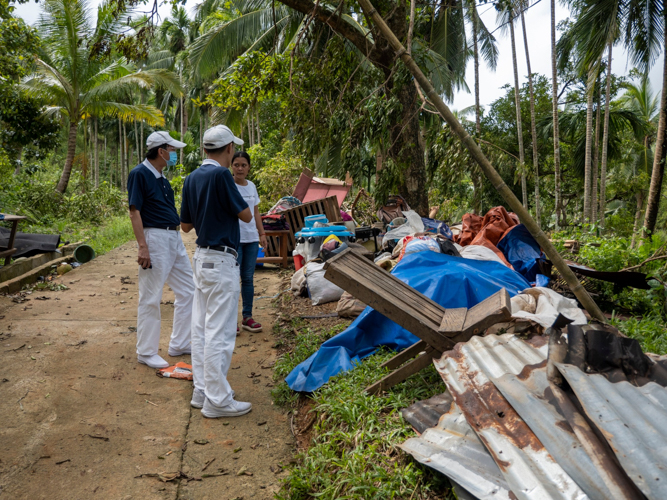 Tzu Chi volunteers interview a woman whose belongings have been swept to the side by the storm. 【Photo by Harold Alzaga】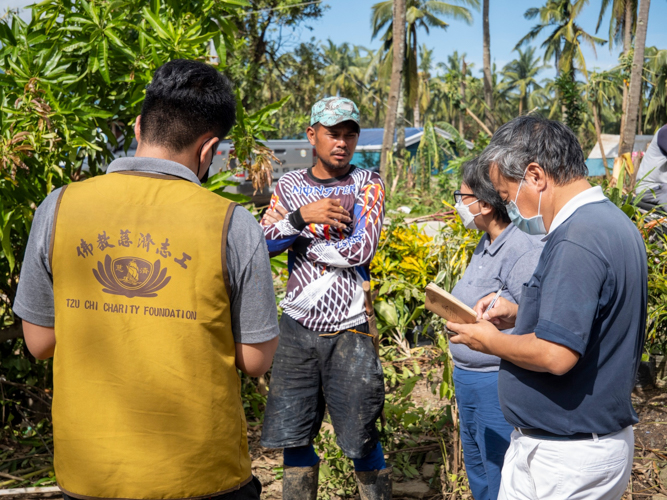 Romel Valino, a farmer from Barangay Ibana, tells volunteers about his plans to rebuild his and his in-law's homes after they were completely destroyed by Super Typhoon Karding. 【Photo by Harold Alzaga】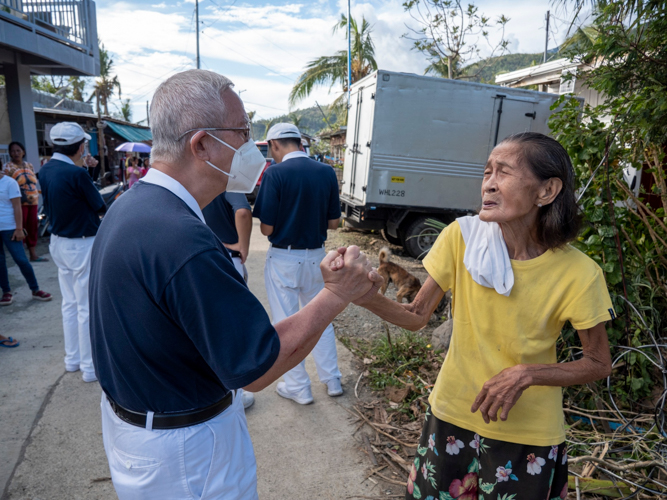 A volunteer gives hope and encouragement to a storm survivor. 【Photo by Harold Alzaga】
Homes weren't the only properties damaged by the storm. Hundreds of fishing boats were also destroyed and lost in the coastal barangays of Umiray, Ibona, Matawe, and Paltic.【Photo by Harold Alzaga】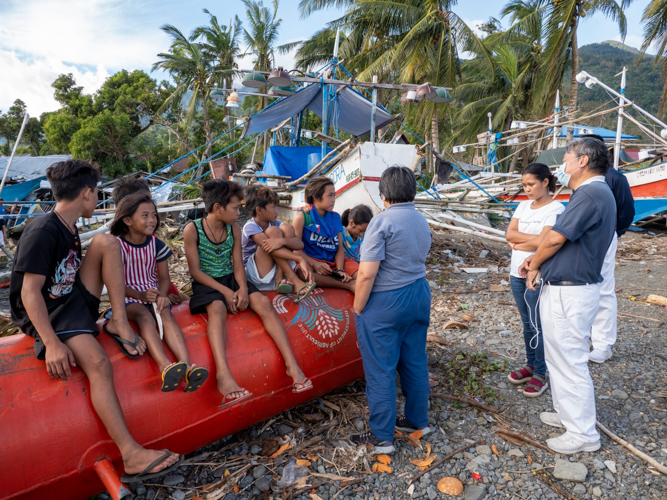 Local kids share with Tzu Chi volunteers their experience with Super Typhoon Karding. 【Photo by Harold Alzaga】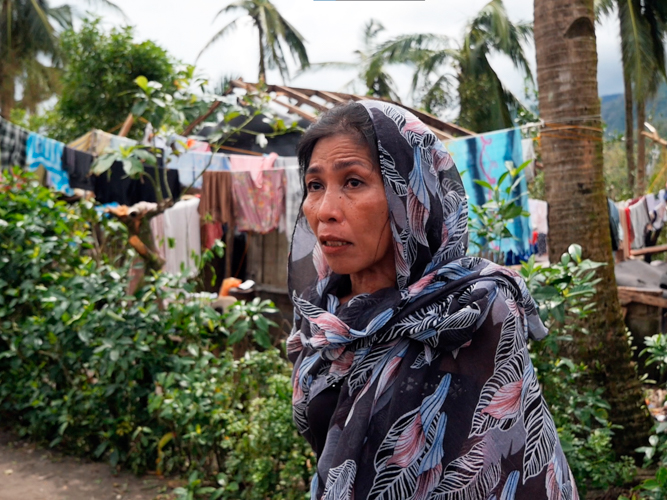 "Thank you to the Tzu Chi Foundation for coming to our place. You're the first to visit us, so thank you," says Myrna Sales of Barangay Umiray. 【Photo by Harold Alzaga】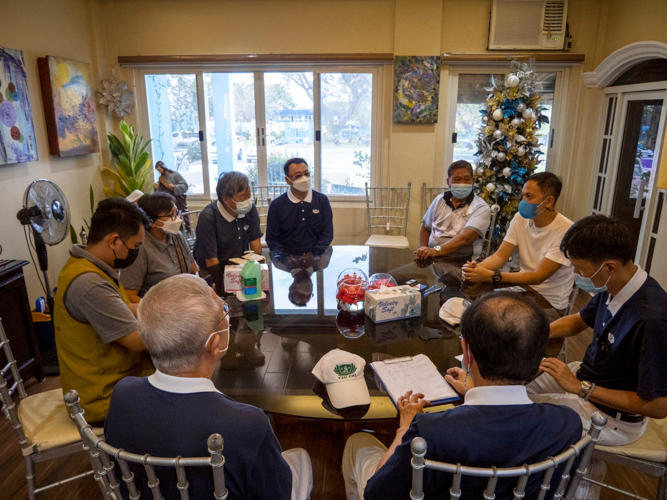 Volunteers pay a courtesy call to Dingalan Mayor Shierwin Taay (in white shirt and blue facemask). 【Photo by Harold Alzaga】
Merly and Fernando Corral of Barangay Umiray stand before their few possessions left after Super Typhoon Karding.【Photo by Harold Alzaga】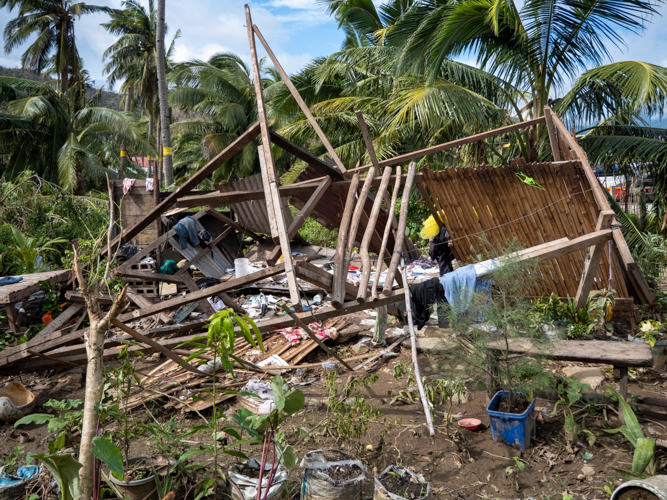 What's left of Romel Valino's home after Karding. 【Photo by Harold Alzaga】
Go Back