One step healthier: Meatless Mondays by Fried and Prejudice
Continuing with "This Vegetarian Life" series, Tzu Chi Philippines speaks to food blogger Dianne Nicole Go to know how she uses her platform to advocate for a healthier lifestyle, one day at a time.
By Ben Baquilod
Shifting to a healthier diet can be a rocky path for meat-loving Filipinos; challenges abound from access and affordability to lack of variety and options. Hoping to find a way around this predicament, food blogger Diane Nicole Go commenced her 'Meatless Mondays' journey.
A publishing editor on weekdays and a passionate foodie on the side, Diane started a food blog in 2016 to have a curated album of the food she eats from the restaurants and places she visits here and abroad. "People usually ask me what's a good place to eat. And having to think of what people want because they have different tastes and cravings, I just told them to just check out my blog. It's all there," tells Diane of her blog's beginning.
She named her blog 'Fried and Prejudice', a pun inspired by her favorite Jane Austen classic 'Pride and Prejudice', a book she enjoyed reading in high school. From a simple passion project, Fried and Prejudice started receiving samples of food from people and Diane finds herself getting invites from restaurants for their openings or new menus.
As a way to cleanse her body, she recently added 'Meatless Mondays' into her weekly regimen where she would eat vegetarian food. "Food events were usually a thing that I would go to almost every day. And after eating all that food, I tend to feel very stuffy. I just needed to do a weekly reset of my body," she explains.
When the COVID-19 pandemic started, Diane began to experiment and cook more. She would usually make food depending on her cravings—most of them she gets from watching Korean dramas. "When I got started watching K-dramas, I would see how good the food look whenever the characters would eat it, and I thought, I can actually make something like this at home because I have more or less the ingredients," Diane marvels.
From this inspiration, she would make vegetarian versions of the Korean food she sees on the shows. Among the dishes she recently cooked was vegetarian Bibimbap, a Korean rice dish topped with veggies and egg. She has also made Sticky Rice with Mango, a straightforward Thai dessert.
Her favorite, of which she made a cooking demonstration, is the vegan Kimchi-jjigae or Kimchi stew, one of the most popular stews in Korean cuisine. It is made with vegan Kimchi, firm tofu, Shiitake Mushrooms, Ssamjang (Korean barbecue sauce), mushroom powder, spring and red onions, cooking oil, water, and Korean seasoning.
Having given up beef a decade ago and since practicing Meatless Mondays, she now feels healthier than ever. "The thing with beef is it's a very fatty kind of meat. But since I've given up beef and I've been having alternatives, I'm not as bloated as I were before," she says.
In transitioning to a healthier lifestyle, Diane sees how important it is to be creative and resourceful, especially in this age of instant and processed foods. She says people should not treat it as depriving themselves of the food they love since there are now alternatives to them. "For example, the instant noodles that I used to like, the Korean ones—those have beef in the broth, and I really liked eating it. But I recently was able to find a vegetarian alternative. And since then, I've been just elevating it by adding my own set of ingredients to it to make it more fun," she adds.
Diane also believes in the power of taking small incremental steps. "It might be demotivating for people to have to give up something really big altogether. It's a huge part of their lives to be eating meat. So, I would say start small steps, and eventually you'll get there."
Tzu Chi Foundation, guided by the teachings of founder Dharma Master Cheng Yen, promotes vegetarian lifestyle not only to maintain the health of our bodies but also to protect our environment and all sentient beings.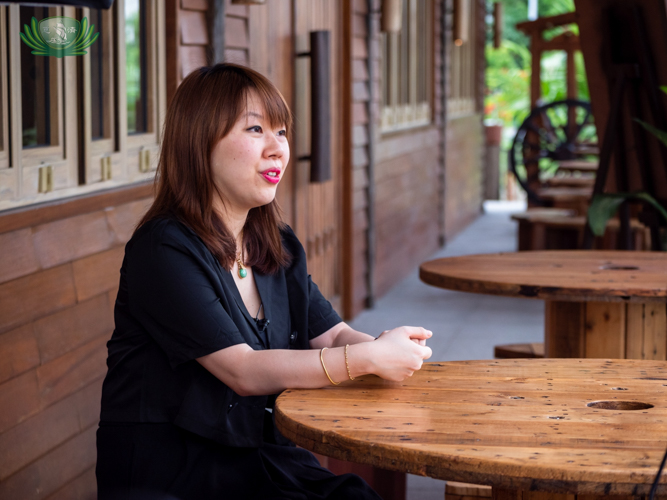 Diane Nicole Go shares with Tzu Chi Philippines the story of her food blog 'Fried and Prejudice' at the Buddhist Tzu Chi Campus (BTCC). 【Photo by Daniel Lazar】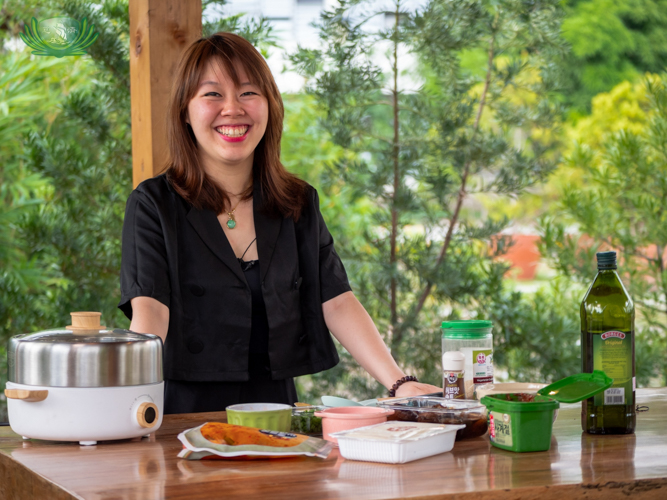 Diane prepares for a cooking demonstration of her favorite 'Meatless Monday' dish, the vegan Kimchi-jjigae or Kimchi stew. 【Photo by Daniel Lazar】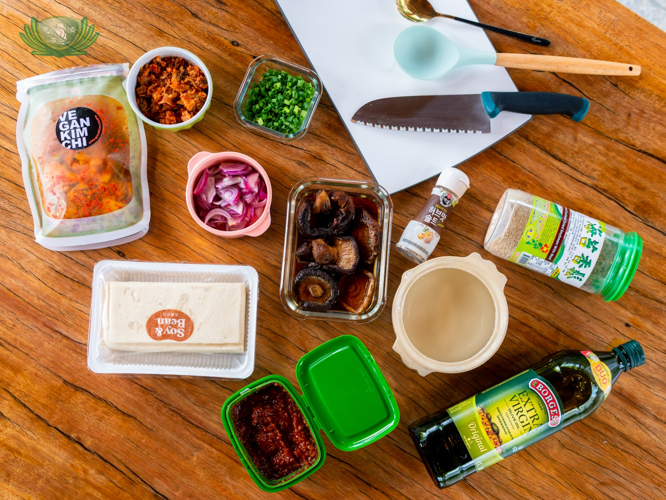 Ingredients of the vegan Kimchi-jjigae: vegan Kimchi, firm tofu, Shiitake Mushrooms, Ssamjang (Korean barbecue sauce), mushroom powder, spring and red onions, cooking oil, water, and Korean seasoning. 【Photo by Daniel Lazar】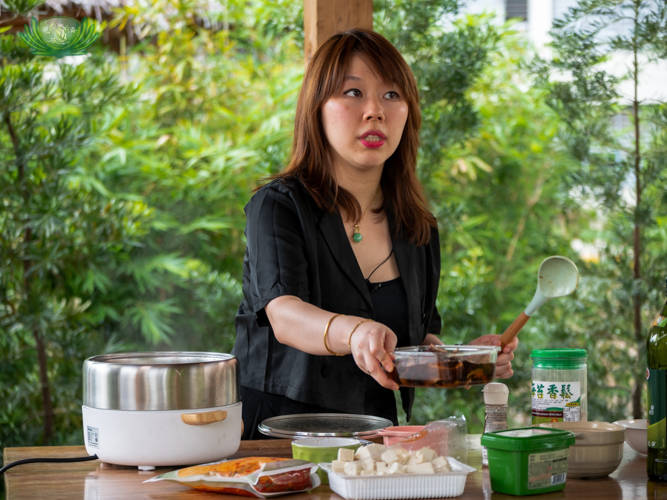 Diane recommends mushrooms and tofu as meatless alternatives to pork and seafood for the Kimchi-jjigae. 【Photo by Daniel Lazar】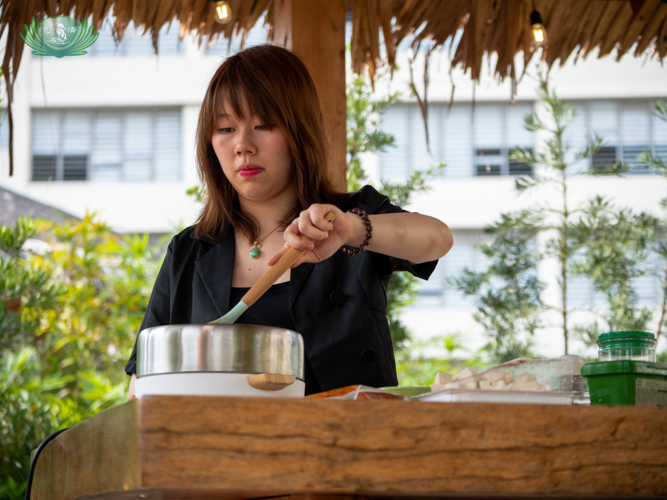 Diane sautés chopped red onions in cooking oil to kickstart the making of the Kimchi-jjigae. 【Photo by Daniel Lazar】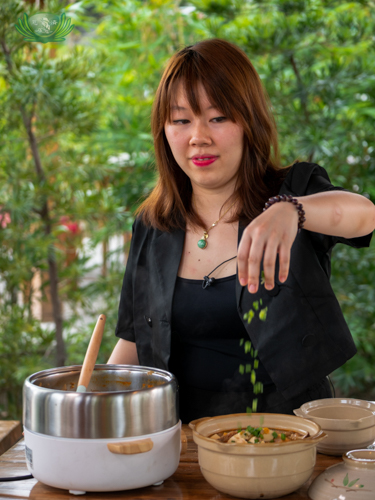 Diane tops the Kimchi-jjigae with spring onions. 【Photo by Daniel Lazar】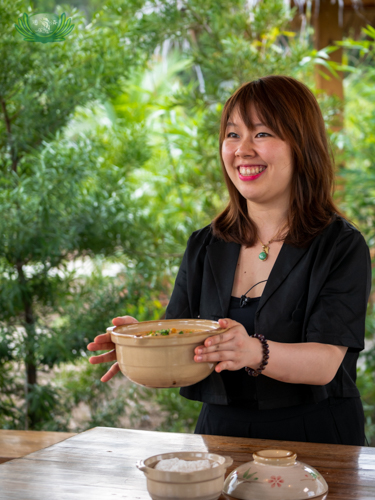 After about 45 minutes of cooking, Dianne presents the vegan Kimchi-jiggae. 【Photo by Daniel Lazar】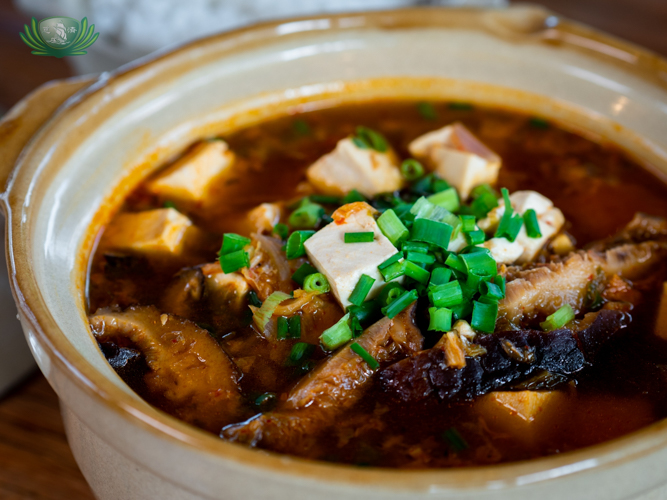 Meatless Kimchi-jiggae【Photo by Daniel Lazar】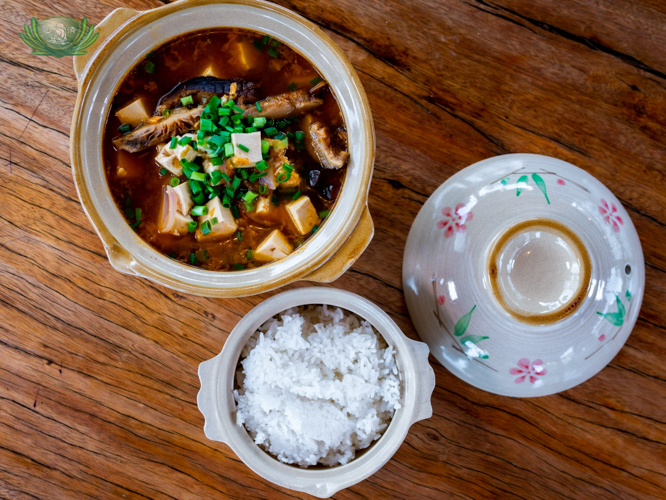 Meatless Kimchi-jiggae served with rice【Photo by Daniel Lazar】
Go Back