2023 Volunteer Training Program Inspires Participants Old and New
The class was a beginner's course to all things Tzu Chi.
By Joy Rojas
In 2005, Dexter Tsang of Ipil, Zamboanga Sibugay, accepted an invitation that would change his life. At the time, Tzu Chi Foundation's volunteer doctors were conducting a medical mission in Ipil, and Dr. Anton Lim, Tzu Chi Zamboanga's liaison office coordinator and Dexter's good friend, asked him to come over.
Impressed by how Tzu Chi doctors transformed a local hospital into a world-class treatment center with their equipment, he was also struck by how the volunteers, including Doc Anton, were so involved in their work. "They were all hands-on," he says.
Pretty soon, he was too. Asked to carry a patient in the operating room, Dexter ended up staying, accepting any task that was given to him. "When the day was over, Doc Anton was surprised to still see me," he says with a laugh. "Although I was hesitant to leave, I felt needed when I was there."
He felt that same sense of purpose in the many Tzu Chi initiatives that followed. He helped transport patients in need of prosthesis to Tzu Chi Zamboanga and accompanied kids scheduled for surgery to the Tzu Chi Great Love Eye Center. During the pandemic, he distributed relief goods in the early days of COVID-19 lockdowns.
Today, Dexter is taking his volunteerism to a whole new level. At the first Volunteer Training Program for 2023 organized on March 19 at the Buddhist Tzu Chi Campus in Sta. Mesa, Manila, he and other participants attended classes that covered all things Tzu Chi in English, Filipino, and Chinese. Talks ranged from introductions to Dharma Master Cheng Yen and Tzu Chi's different missions, to the principles behind Tzu Chi's coin cans and etiquette. Tzu Chi volunteers from Bicol, Bohol, Cebu, Davao, and Zamboanga joined via Zoom.
"We're happy to see a lot of volunteers willing to come and join the training," says facilitator and longtime Tzu Chi volunteer Ligaya Ng. "Though the journey isn't always easy, it's good that everybody is taking the first step to deepen their understanding of Tzu Chi. We want them to immerse themselves among the people, learn from them, and reflect so they can bring out the learnings from within.
"What is important in this journey is to cultivate oneself; not to be afraid of what is ahead of us. Instead, take it as an opportunity to develop and improve yourself as we do the act of giving."
Training program participants were a mix of old and new, each one moved by Master Cheng Yen's call to plant seeds of love, give without expectation, and inspire goodness in all.
In only his first year with Tzu Chi's Communications Department, Ben Baquilod already experienced the sincere warmth and care not just of Tzu Chi staffers but of the foundation's many beneficiaries. Joining the training program, he says, was his way of reciprocating such goodwill.
"I've been so blessed and touched by the kindness of the volunteers I've worked with, as well as the beneficiaries that I've met who became channels of blessings themselves after being inspired by the foundation," says Ben.
That Tzu Chi's principles align with his own values further reinforced his decision to take the volunteer training program seriously. "With Tzu Chi, I learned that we are all kind, caring, compassionate. It is our true nature. All of us have the 'Buddha nature' within ourselves and Tzu Chi provides an organized system to practice it. It feels good to be part of something big and noble."
Herself a part of something big and noble since she joined Tzu Chi's Charity Department in March 2009, registered social worker Karen Frances Palermo was recently assigned to the foundation's chapter in Bicol. There, she would handle its educational assistance program. Signing up for the Volunteer Training Program would prepare her for this new chapter in her career.
"Like me, a lot of the volunteers in Bicol are still in training, and there are not too many certified volunteers there," she explains. "Also, despite all my years with the foundation, I still wanted to deepen my knowledge of Tzu Chi. How could I teach Tzu Chi scholars the 'Tzu Chi Way' if I myself am not well versed in it?"
Admittedly, Karen's journey with Tzu Chi isn't a perfect one. "It's tough, but it's also a joyful journey," she says. "The work of a social worker is the same, whether it's for a private organization or a non-government organization. But the uniqueness of the Tzu Chi culture, the teachings of Master Cheng Yen, and the spiritual cultivation that you gain are things that I felt I couldn't get from other organizations."
"It's all about love and compassion!" says Dexter of his takeaway from his first training session. "I thought it was just about helping people. But with Tzu Chi, you give your heart. You give your love."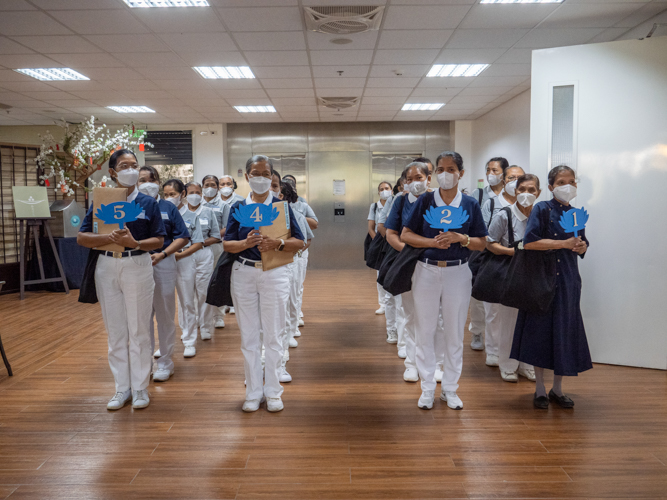 Tzu Chi volunteers form orderly lines to enter their respective rooms for the Volunteer Training Program. 【Photo by Matt Serrano】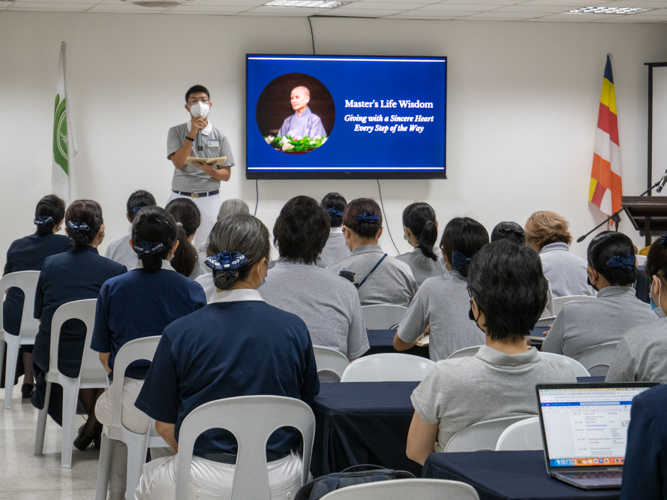 Volunteer Kinlon Fan was one of the facilitators of Tzu Chi's training class in English. 【Photo by Matt Serrano】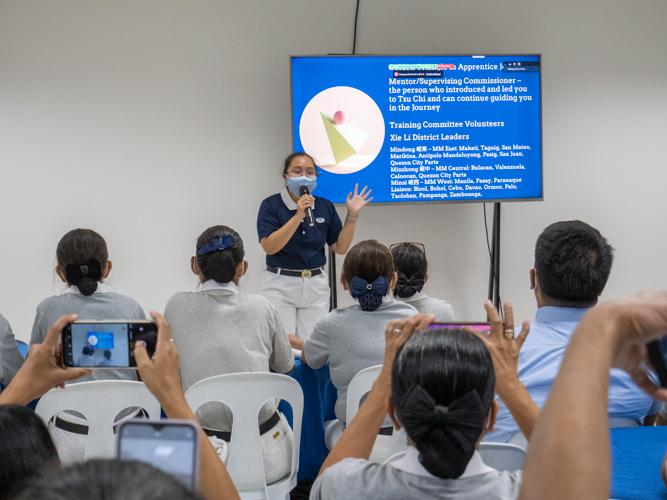 Volunteer Cherrie Ang explains the role of a mentor or Tzu Chi commissioner to volunteers attending the class in Filipino. 【Photo by Matt Serrano】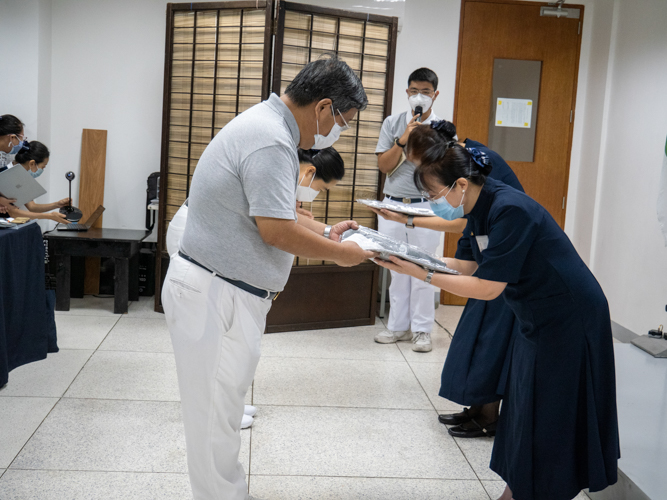 Volunteers bow as commissioners present them with their official volunteer uniform. 【Photo by Matt Serrano】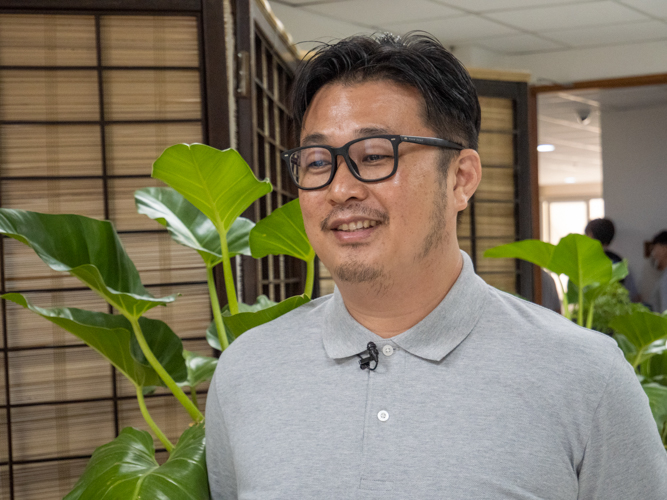 He runs a retail construction company and is a father of four kids. But Dexter Tsang will always find time to volunteer with Tzu Chi. "It's worth the day," says Dexter, who is based in Ipil, Zamboanga Sibugay. 【Photo by Matt Serrano】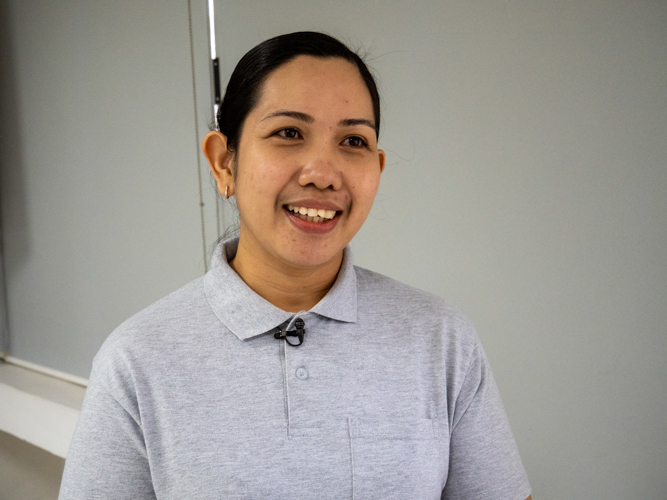 Registered social worker Karen Palermo decided to undergo volunteer training after being assigned to handle the educational assistance program of Tzu Chi Bicol. "Despite all my years with the foundation, I still wanted to deepen my knowledge of Tzu Chi. How could I teach Tzu Chi scholars the 'Tzu Chi Way' if I myself am not well versed in it?" she says. 【Photo by Matt Serrano】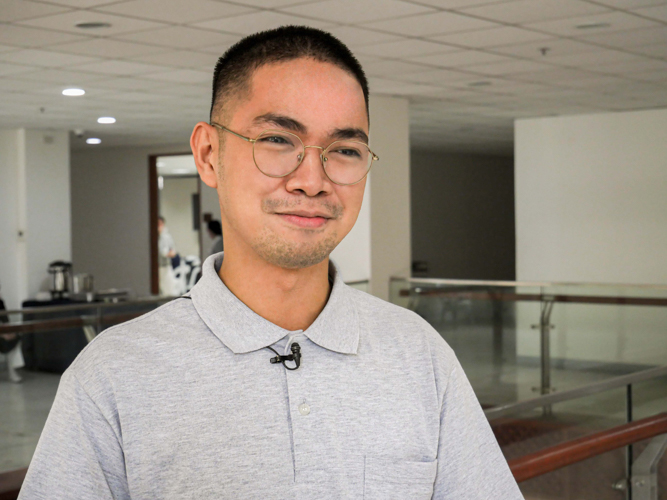 "I joined the training program as an expression of gratitude," says Tzu Chi Communications Department's Ben Baquilod. "I'm really thankful to all the volunteers for showing me kindness and inspiring me. I hope to emulate those qualities that I've seen in them so I can apply them in my work and help others as well." 【Photo by Matt Serrano】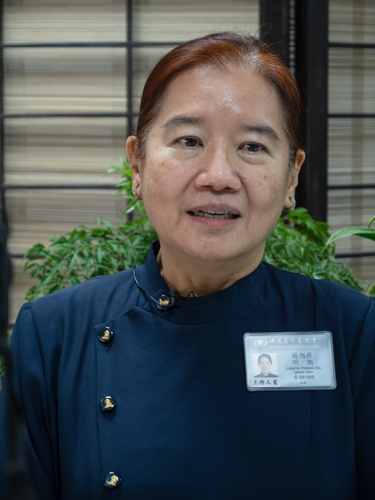 "What is important in this journey is to cultivate oneself; not to be afraid of what is ahead of us," says Tzu Chi volunteer and training program faciliator Ligaya Ng. "Instead, take it as an opportunity to develop and improve oneself as we do the act of giving." 【Photo by Daniel Lazar】
Decked in her Tzu Chi volunteer uniform, Sephora Hung proves that showing kindness and compassion is possible at any age. 【Photo by Daniel Lazar】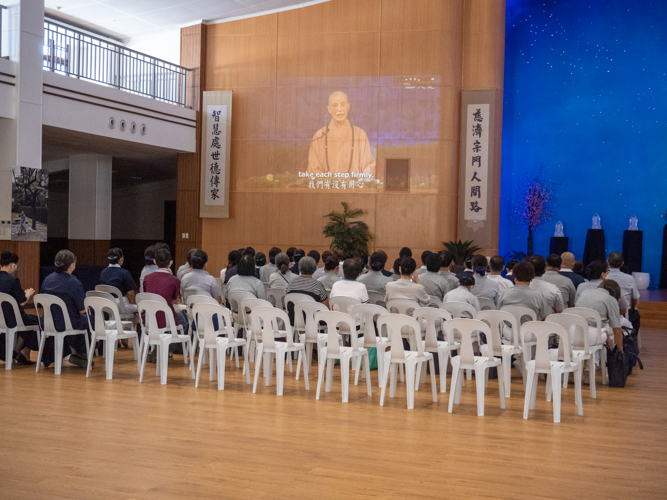 Participants in the Chinese class watch a video of Dharma Master Cheng Yen.【Photo by Matt Serrano】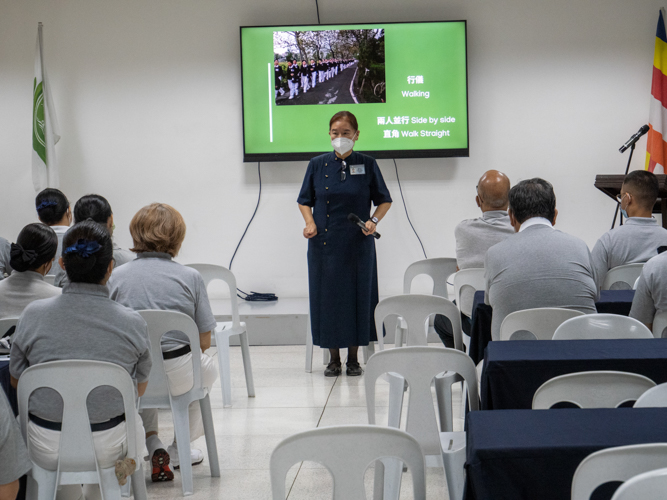 Facilitator Ligaya Ng explains Tzu Chi etiquette to the class. 【Photo by Matt Serrano】
Go Back