Tzu Chi's spirit touches the hearts of new volunteer doctors
Volunteer doctors from across the Philippines and abroad were touched by Tzu Chi's spirit as they joined Tzu Chi's 246th Medical Mission in Davao City.
By Marella Saldonido
During the recent medical mission in Davao City held from July 20 to 22, Tzu Chi Philippines welcomed volunteer doctors from across the country and abroad.
Along with the Tzu Chi International Medical Association (TIMA), eight doctors from the Philippine College of Lifestyle Medicine also joined the mission. The group consists of both local and international medical volunteers coming from the Philippines, the United States, Canada, and Africa.
Although this was their first time to join Tzu Chi's medical mission, these doctors are not new to medical outreach programs. Sisters Dr. Vigilanda Solijon and Dr. Joandel Navarro have been participating in and even organizing medical outreaches since the 1970s. "My sister was a surgeon, and she actually pioneered these kinds of medical outreaches because we saw the need of the people," said Dr. Solijon.
With their mission to promote a healthy lifestyle, these doctors would visit far-flung communities not only to give free medical assistance but also to conduct lectures on how to live healthily and how to prepare food coming solely from the environment. It is their priority to encourage people to be conscious about what they put in their bodies, as they firmly believe in the phrase, "You are what you eat." Consciously consuming healthy food and supporting a plant-based diet are practices that they found in common with Tzu Chi.
"To me, the food here [in Tzu Chi] is great," said Dr. Navarro, who has been a vegetarian for more than 21 years after being diagnosed with cancer of the liver. According to the now cancer-free doctor, completely cutting out meat from her diet was one of the biggest reasons why she was cured from the deadly disease despite being declared to only have 3-6 months to live. "Cancer cells exponentially grow with sugar and protein from meat, but you can get protein from vegetables, and that's what I did," she explained.
Eighty-eight-year-old Tzu Chi volunteer Anselma Yu is also living proof that adopting a vegetarian diet helps prolong one's life. At her age, she is still able to join in Tzu Chi's volunteer activities, such as the medical mission, and even participate in the exercise routine led by Tzu Chi volunteers every morning before the medical consultations begin.


The group of volunteer doctors came together in the Philippines to attend a conference on lifestyle medicine, but they also found their way to Tzu Chi's medical mission after receiving a spontaneous invitation from a fellow doctor. Having the same passion as Tzu Chi to help people, it was not difficult for these doctors to say "yes" to spending their extra days in the country helping Davaoeños in need of medical attention.
"We sensed that Tzu Chi has a similar passion, a similar essence in life, and a similar calling with us," shared Dr. Solijon who instantly found a new family with Tzu Chi. "They are big people, elite people in the community but they don't mind carrying a sack of rice and giving it to the less fortunate. I like that! That's why I'm very at home with Tzu Chi," she added.
Both Dr. Solijon and Dr. Navarro found that the most special thing they saw and experienced in the three-day medical mission was the spirit of Tzu Chi.
For Dr. Navarro, the medical mission has given her new insights about Tzu Chi. "I didn't know Tzu Chi before but I have learned how they have been blessed to help bless others. My heart just goes out for them because these are people who are helping others irrespective of religion and caste in society."
And for Dr. Solijon, the well-organized system of Tzu Chi was another thing to appreciate. "I love how a proper organization is shown in this medical mission. When you get in, the line was so good, the ushers were ready, and you just have to follow the line," she said.
"All the Tzu Chi volunteers permeate every single patient and that to me is worth their coming."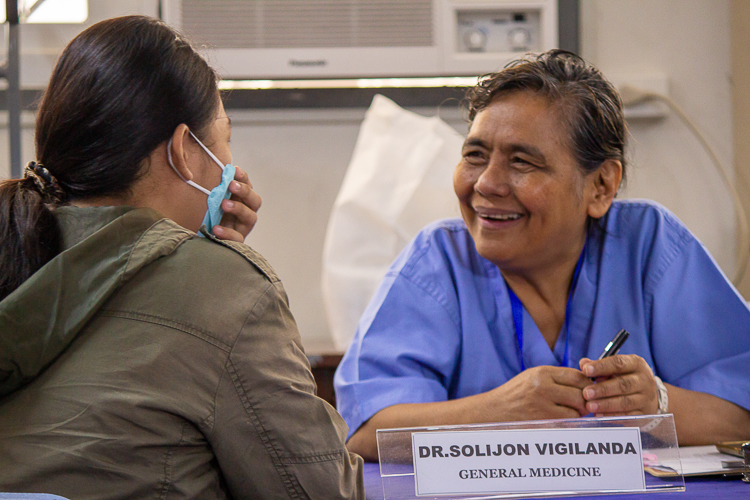 "Being catered, being smiled at, being made to feel special, is worth their coming over. But add to that, there are smiles, supplements, multivitamins and medications given to them, and surgeries performed. What else would they ask for? It's all in one package and you call that package 'Tzu Chi,'" says Dr. Vigilanda Solijon.【Photo by Marella Saldonido】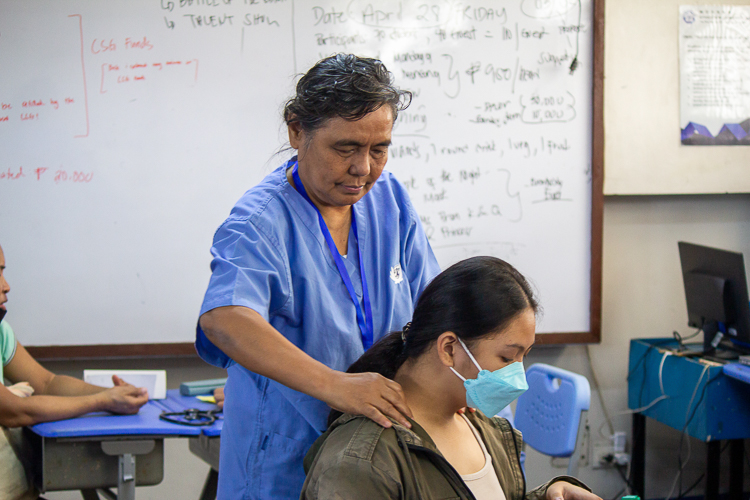 Dr. Vigilanda Solijon attends to a patient during the medical mission. 【Photo by Marella Saldonido】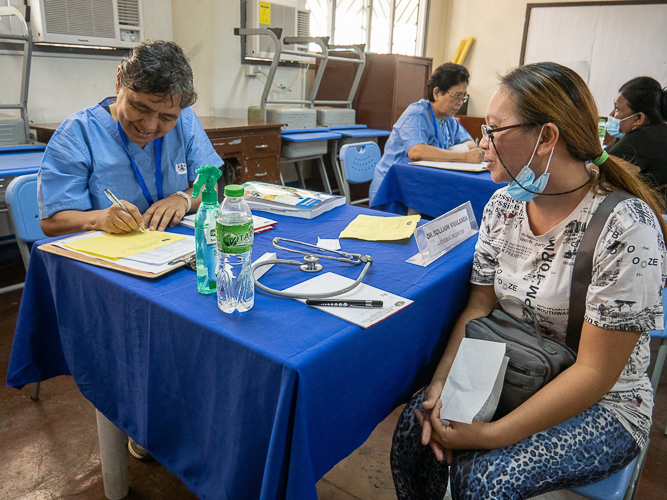 Dr. Vigilanda Solijon during a medical consultation for general medicine.【Photo by Matt Serrano】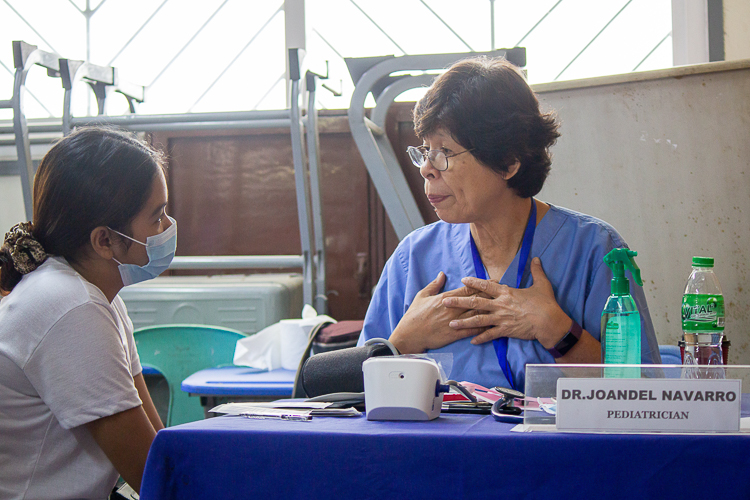 "My sleeping time has been a whack for traveling back and forth [from California] but it's okay because I enjoy doing these things. I love helping people because I was helped by people," shares Dr. Joandel Navarro.【Photo by Marella Saldonido】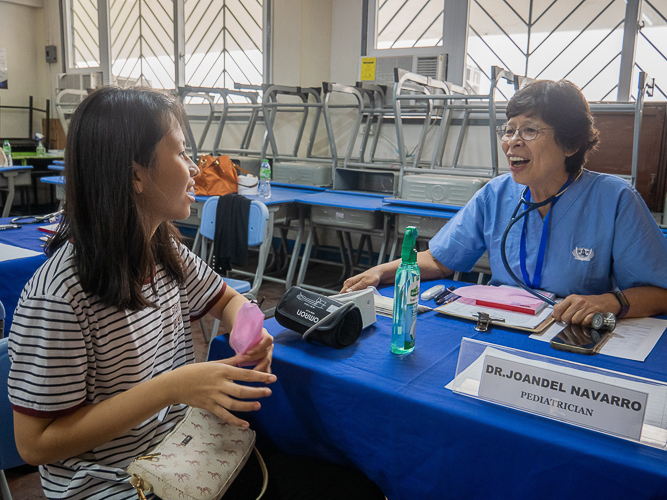 Dr. Joandel Navarro happily accommodates a patient during the medical mission.【Photo by Matt Serrano】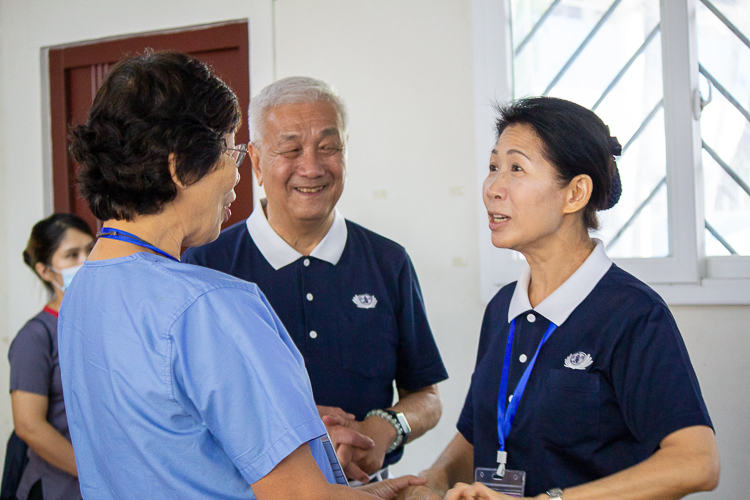 Dr. Joandel Navarro (left) with Tzu Chi Philippines CEO Henry Yuñez and Deputy CEO Woon Ng.【Photo by Marella Saldonido】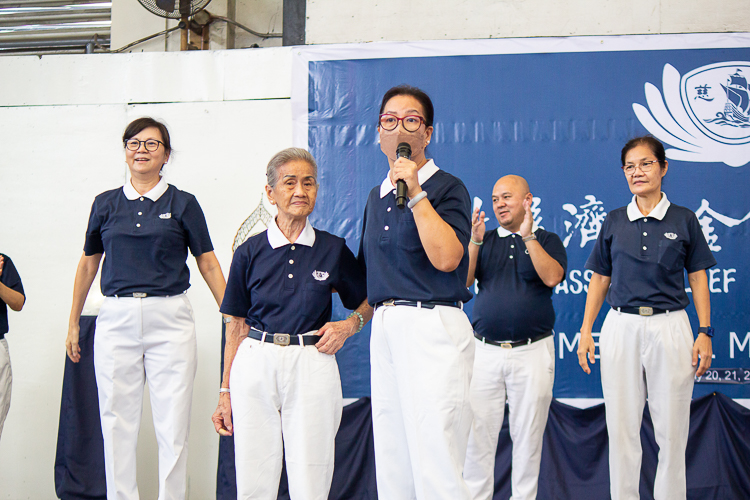 Eighty-eight-year-old Tzu Chi volunteer Anselma Yu (second from left) proudly stands in front of the audience as she was introduced to inspire people to practice vegetarianism and regularly exercise to have a long life.【Photo by Marella Saldonido】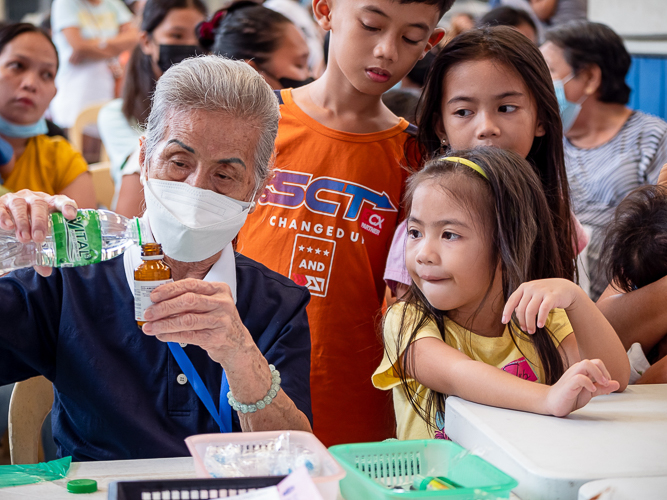 Tzu Chi volunteer Anselma Yu pours water in a medicine bottle during medical mission.【Photo by Daniel Lazar】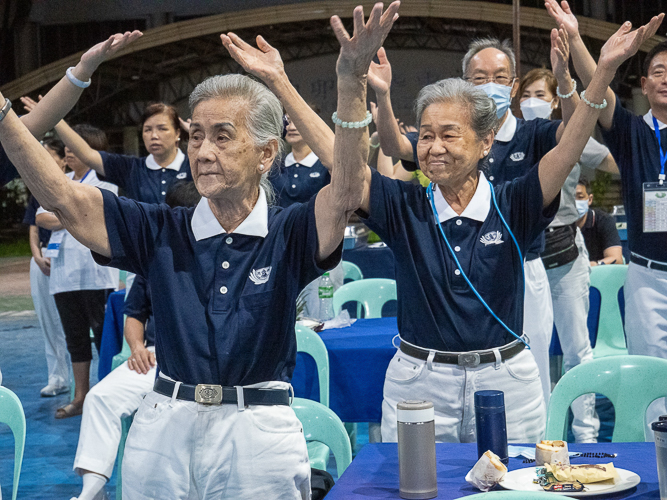 Eighty-eight-year-old Tzu Chi volunteer Anselma Yu (left) and her sister-in-law, eighty-three-year-old Dorothy Ho (right), joined the first Tzu Chi Medical Missions in 1995 and are still very active in all Tzu Chi activities.【Photo by Matt Serrano】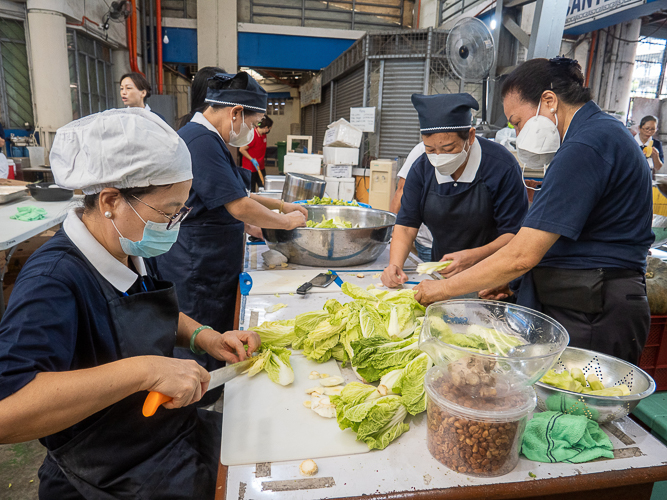 Tzu Chi volunteers prepare delicious and healthy vegetarian meals for volunteers, volunteer doctors, patients, and staff.【Photo by Matt Serrano】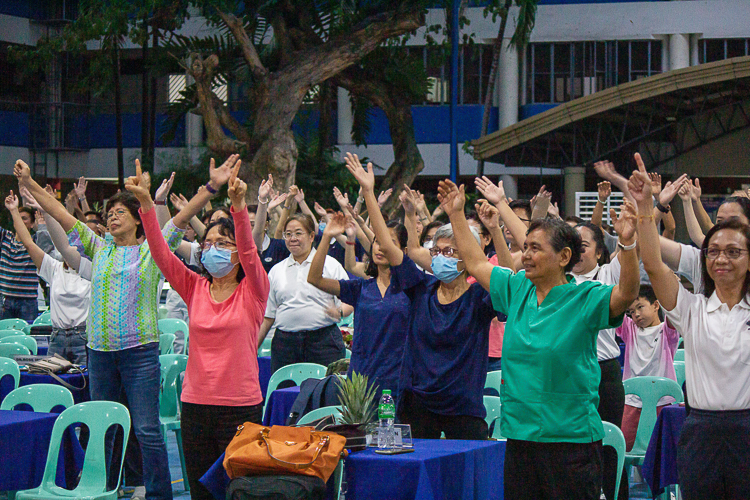 The group of volunteer doctors from the Philippine College of Lifestyle Medicine joins in Tzu Chi's sign language performance.【Photo by Marella Saldonido】
Go Back