A new bicycle replaces a secondhand, 20-year-old bike
Tzu Chi scholar Jennifer Camal is giving it to her father, a fruit-and-vegetable vendor.
By Joy Rojas
At 21, Tzu Chi scholar Jennifer Camal is a year older than an important investment her father Jerome made for his fruit and vegetable business—a bicycle. Purchased from a fellow vendor, the now 20-year-old secondhand bike is in a constant state of repair.
"It's always loaded with heavy items, so whenever it gets damaged, it has to be fixed," explains Jennifer. "It's always being fixed."
News that the Tzu Chi Foundation would give brand-new bicycles donated by the Angelo King Foundation, Inc. to scholars whose family members are into informal livelihood sounded like an answered prayer to Jennifer—more so when she learned she was one of 26 scholars chosen to receive a bike.
But the celebration was short-lived, as her father suffered a heart attack just days before they were set to claim the bike at the Buddhist Tzu Chi Campus in Sta. Mesa, Manila. Sadly, the physical demands of selling fresh fruits and vegetables from day to night took a toll on the head of the Camal household. Exposed to the elements, he also missed meals just so he could earn enough to support his wife, a sari-sari store vendor, and their five children.
"He was at the hospital undergoing a checkup when the heart attack happened," says Jennifer. "His condition has improved and he should be discharged soon."
It's times like these when Jennifer is extra thankful for being a Tzu Chi scholar. In addition to covering her tuition and monthly allowances for transportation, food, books, and school projects, the scholarship provides beneficiaries with regular 20-kg rice and assorted grocery items. These ensure that the Camals have food on the table, even as the family's breadwinner recuperates from his ailment.
"I'm happy whenever I bring home sacks of rice and a bag of groceries for my family," she says. "The provisions are a very big help to us. Because we don't have to buy rice anymore, we are able to budget our expenses."
A resident of Marikina, Jennifer came to know of the Tzu Chi Foundation in the aftermath of Ondoy, the super typhoon that practically submerged homes in her city in flood and river water. A Tzu Chi scholar since 2016, Jennifer has been able to continue her studies, all the way up to college at Marikina Polytechnic College, where she is a sophomore in a drafting course.
Amid life's challenges, this scholar takes comfort in knowing that there are people and establishments she can count on to see her through tough times and inspire her to aim for a better life. "Thank you to the Tzu Chi Foundation for being part of our lives for the past five years," she says. "You are the reason why I continue to strive despite the many problems that come my way."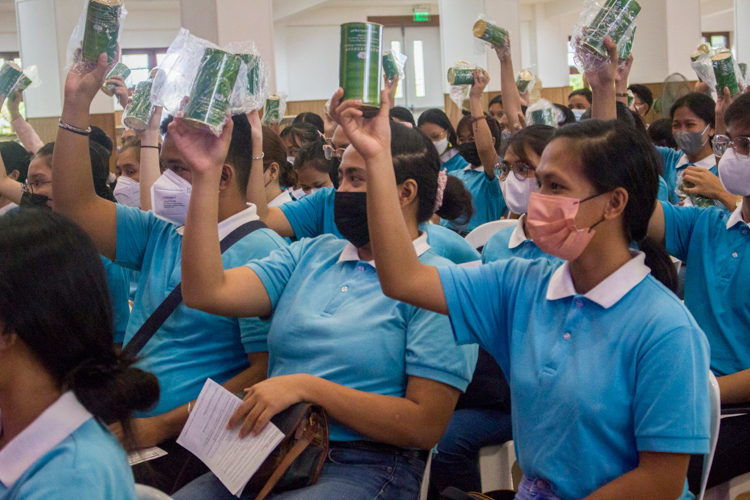 At a short program at the Jing Si Auditorium, Jennifer Camal (in peach mask) raises her coin bank.【Photo by Matt Serrano】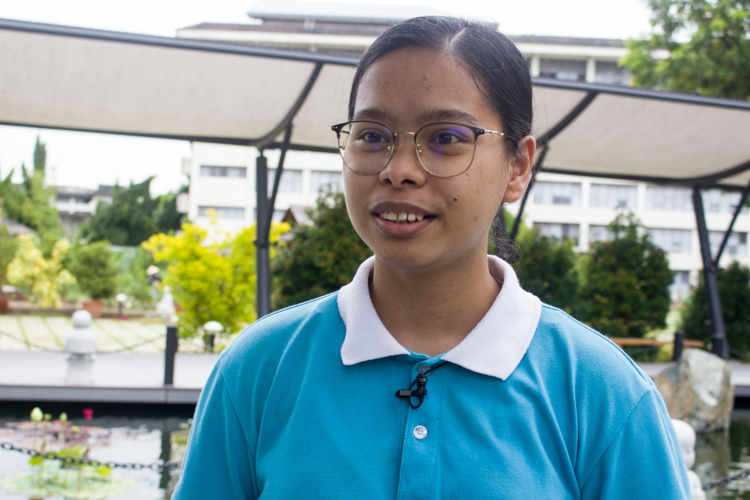 A Tzu Chi scholar since 2016, Jennifer Camal came to know about the Tzu Chi Foundation in the aftermath of Typhoon Ondoy, a super storm that submerged the homes in her city of Marikina in flood and river water.【Photo by Matt Serrano】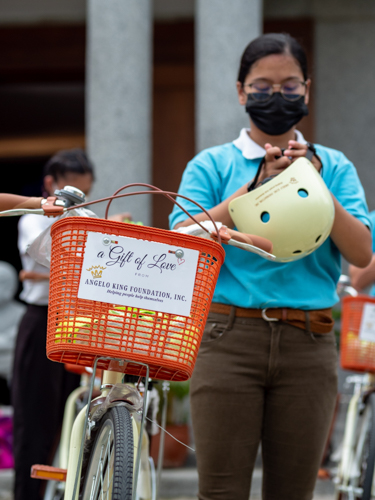 nnifer Camal prepares to wear the safety helmet that came with the bicycle.【Photo by Matt Serrano】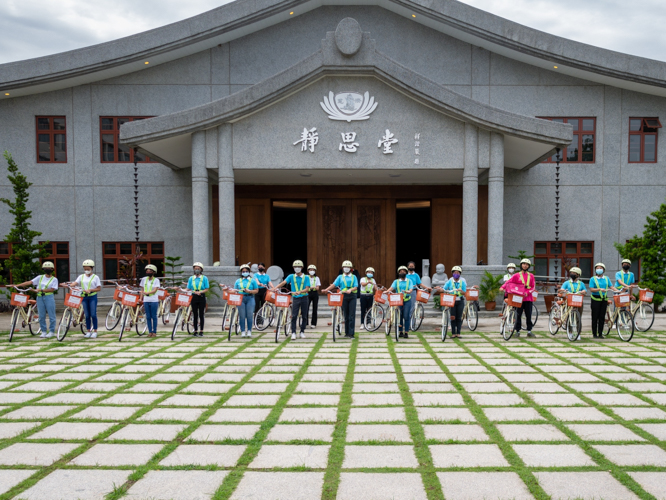 Marikina Polytechnic College drafting major Jennifer Camal is one of 26 scholars chosen to receive a bike donated by Angelo King Foundation, Inc.【Photo by Matt Serrano】
Go Back