Tzu Chi Great Love Preschool Philippines' First Moving Up Ceremony
Eight Preschool students and 21 Nursery students were recognized in this milestone.
By Joy Rojas
Eight Preschool students and 21 Nursery students each received certificates and medals in the first Moving Up Ceremony of Tzu Chi Great Love Preschool Philippines, held on June 17 at the Jing Si Hall of Tzu Chi Foundation Agno Street, Quezon City. This milestone comes nine months after the preschool's opening, thus launching Tzu Chi Philippines' Mission of Education.
A portion of Agno's Jing Si Hall featured artwork inspired by students' lessons on the environment and giving back. Messages on protecting the Earth and its resources were interpreted by Preschool students and their parents using recyclable and discarded materials. Nursery students and their parents made eco-friendly toys. Colorful paintings on canvass created by the boys and girls hung from the ceiling. Proceeds from their sale went to a fund to support Tzu Chi's current roster of 1,380 scholars.
The environment was also the theme in skits performed by the Preschool and Nursery kids. Family members cheered as their little graduates donned costumes of plants and animals and recited their lines on cue.
School directress and teacher Jane Sy shed tears of gratitude in her message to families and the preschool's officers, teachers, and staff.
"It's been quite a journey. After a year of uncertainties, I am happy to say we finally did it. With the cooperation and collaboration of parents, teachers, students, staff, and everyone working behind the scenes, we were able to run a schoolyear. I want to express my heartfelt gratitude to Master Cheng Yen for creating the wonderful world of Tzu Chi and for allowing us to cultivate this field of education.
"I'd like to express my thanks to our CEO, Henry Yuñez, for your trust and support, to the executive committee, and to all the volunteers who made this year possible. The early years are one of the most important years in a person's life. [To our students] I am deeply proud of each and every one of you and I'm happy to see that you are ready to spread your wings."
John David and Czarina Comeque believe that Tzu Chi Great Love Preschool Philippines prepared their daughter Sophia Claire for her acceptance at St. Jude Catholic School.
"I'm very proud that Sophia graduated, but I'm prouder that she graduated from Tzu Chi," says John David. "I put emphasis on people's character and Tzu Chi builds character. The values Sophia learned from Tzu Chi were reflected immediately at home, and I think she will carry these values with her into adulthood."
The classes have been transformative, turning Sophia from a babied little girl to one who shows kindness and respect for others and her surroundings. To her parents' surprise, she now helps set the table and clears it after meals. When buying gifts for her teachers last Christmas, she kept reminding them to include "Ate (Older Sister) Tere," the teacher aide who looked after her and her classmates. And when her father opened the faucet, she said, "Daddy, chopsticks," pointing out that he can conserve water by keeping the faucet's stream as slim as chopsticks.
"I hope Tzu Chi offers grade school and a full education system," he says. "The values of the environment, charity, and kindness aren't usually taught in school. Rarely do we see people with these kinds of values. We in the Philippines should be more like Tzu Chi."
Aileen Cua got a refund from a school she enrolled her son Marco in when she found out Tzu Chi was opening its own preschool in September 2022. "As a former Tzu Chi Youth, I know the values that Tzu Chi teaches," she says.
It took only two weeks of preschool classes to instill positive changes in him. Described by his mom as a mischievous boy who threw tantrums whenever he couldn't find the right words to say, Marco has not only learned to express himself; he's become respectful to those around him.
"His nanny told me that Marco said 'thank you' after she gave him his vitamins," marvels Aileen. "He also said 'excuse me' and 'thank you' to his grandfather so he could enter the bathroom to wash his hands." Marco, who didn't like sharing with his older brother, now thinks of him first whenever he has extra snacks from a day at the preschool.
Academically, the boy has improved too. He likes studying at home and can write the complete letters of the alphabet legibly and without being forced. He doesn't need to be prodded to converse in Chinese too.
"Love and care," says Aileen when asked what it is about Tzu Chi that contributed to her son's development. "To all the teachers and staff of Tzu Chi Great Love Preschool Philippines, thank you for everything you've done for Marco, for all the teachings and values you taught my son and his classmates. He has really improved a lot."
Tzu Chi Great Love Preschool Philippines is open for enrollment for Nursery and Preschool levels. The preschool also offers summer classes for students from other schools who want to try out Tzu Chi's way of education.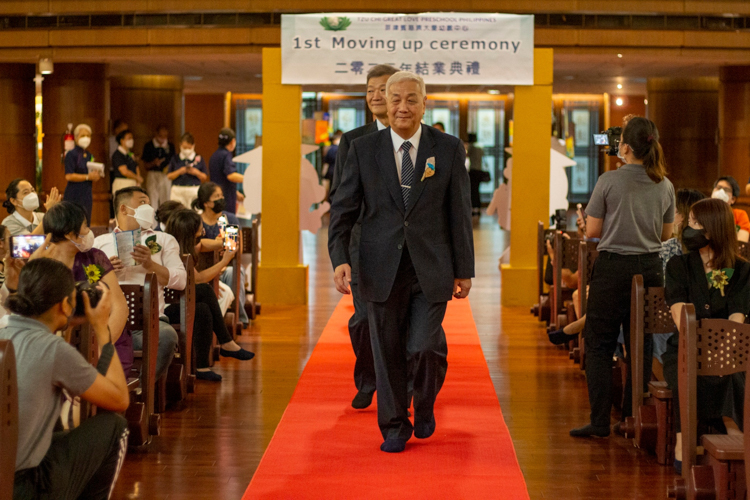 Tzu Chi Philippines CEO Henry Yuñez leads guests in Tzu Chi Great Love Preschool Philippines' first Moving Up Ceremony on June 17 at the Jing Si Hall of Tzu Chi's Agno Street branch. 【Photo by Matt Serrano】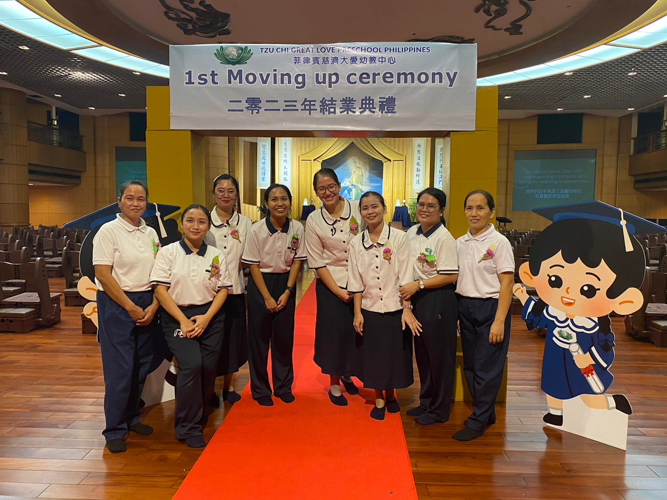 (From left) Teacher Aide Romela Castillo, Teacher Chyn Lunaria, Teacher Arian Cruz, Teacher Pauline Paje, School Directress and Teacher Jane Sy, Teacher MJ Seno, School Administrator Jely Danieles, and Teacher Aide Teresa Miña are all smiles after a successful first schoolyear at Tzu Chi Great Love Preschool Philippines. 【Photo by Matt Serrano】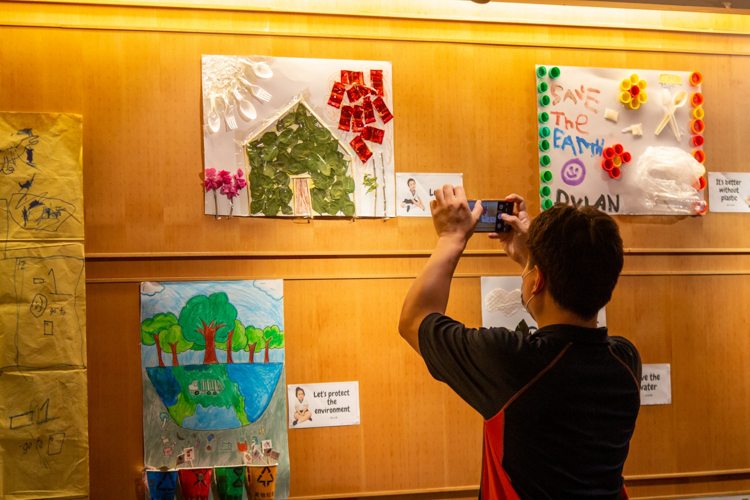 A parent takes a snapshot of his child's artwork inspired by their lessons on the environment. 【Photo by Marella Saldonido】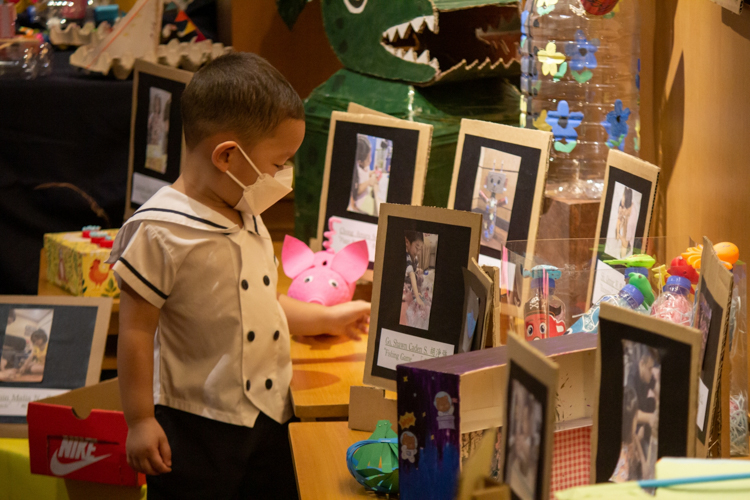 A Nursery student looks over artwork at the gallery. 【Photo by Marella Saldonido】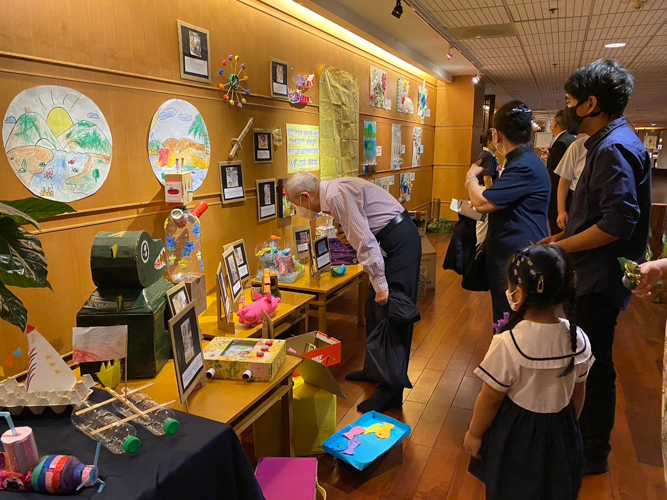 Family members check out the environmental-themed crafts made by the students of Tzu Chi Great Love Preschool Philippines. 【Photo by Matt Serrano】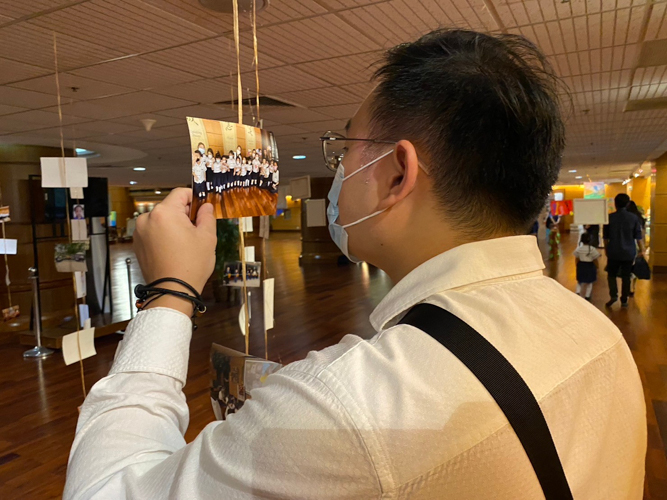 A father looks for his child in a group shot of Tzu Chi Great Love Preschool Philippines students. 【Photo by Matt Serrano】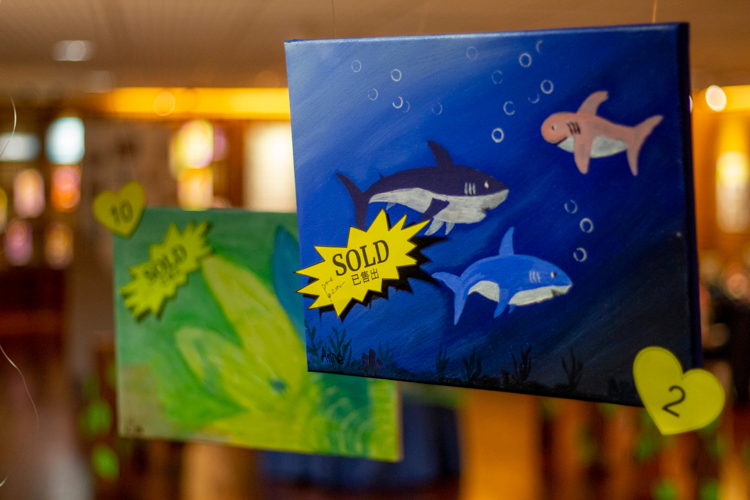 Paintings on canvass by the kids were sold for charity. Proceeds from their sale went to a fund to support Tzu Chi Foundation's current roster of 1,380 scholars. 【Photo by Matt Serrano】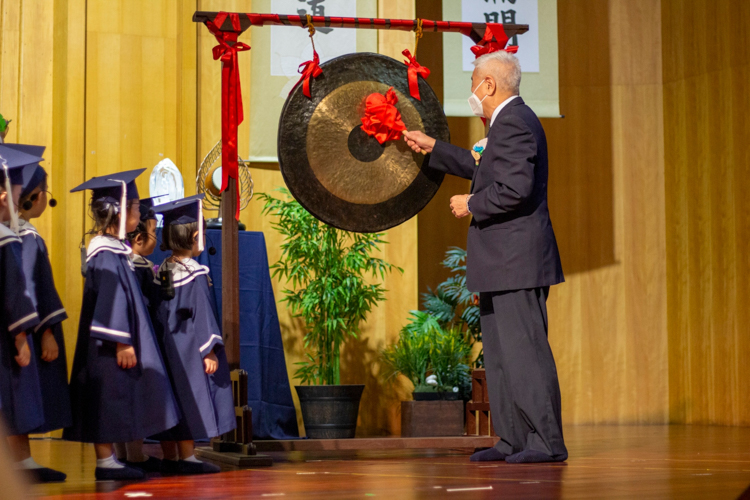 Tzu Chi Philippines CEO Henry Yuñez strikes a gong to signify the start of the Moving Up Ceremony. 【Photo by Matt Serrano】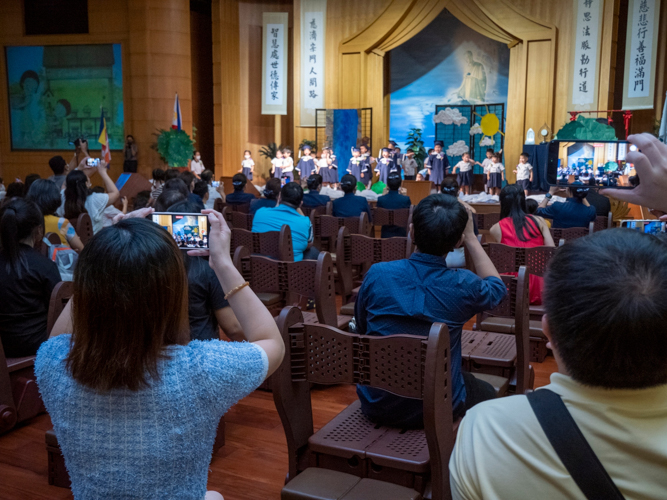 Parents take cellphone snapshots of their kids during a skit. 【Photo by Harold Alzaga】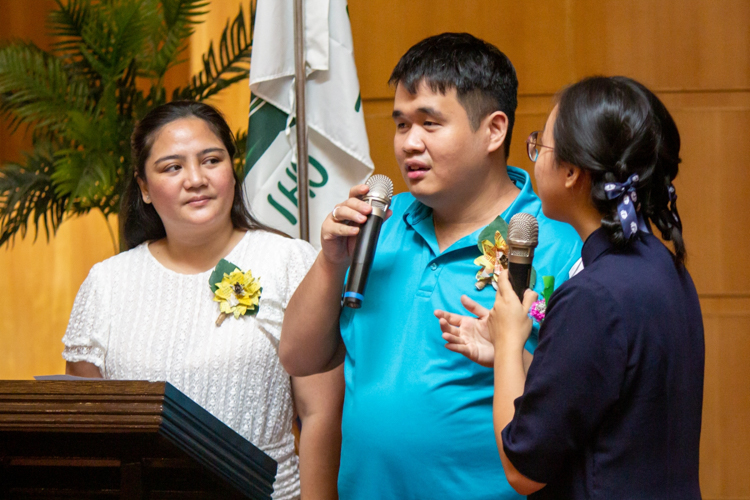 Czarina and John David Comeque explain how Tzu Chi Great Love Preschool Philippines transformed their daughter Sophia from a babied girl to one who is kind and respectful to people and her surroundings. 【Photo by Marella Saldonido】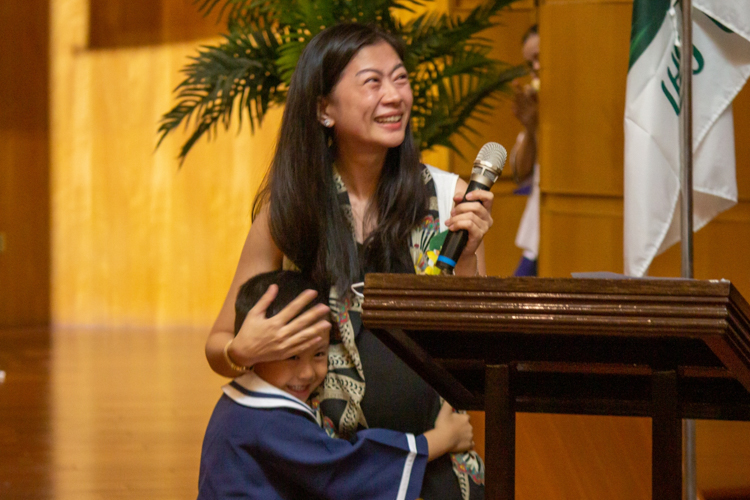 Former Tzu Chi Youth Aileen Cua hugs her son Marco. After two weeks in Tzu Chi Great Love Preschool Philippines, the mischievous boy can now express himself well. He also shows respect and care to those around him. 【Photo by Marella Saldonido】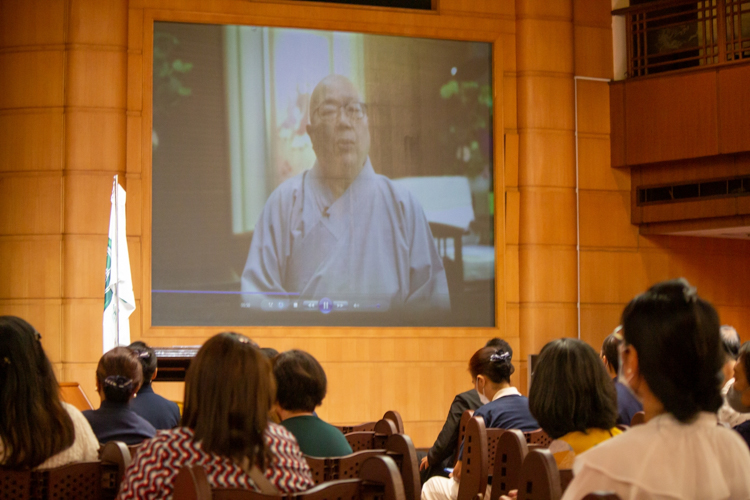 Abode Master Xu sends her congratulations on Tzu Chi Great Love Preschool Philippines' first Moving Up Ceremony. 【Photo by Marella Saldonido】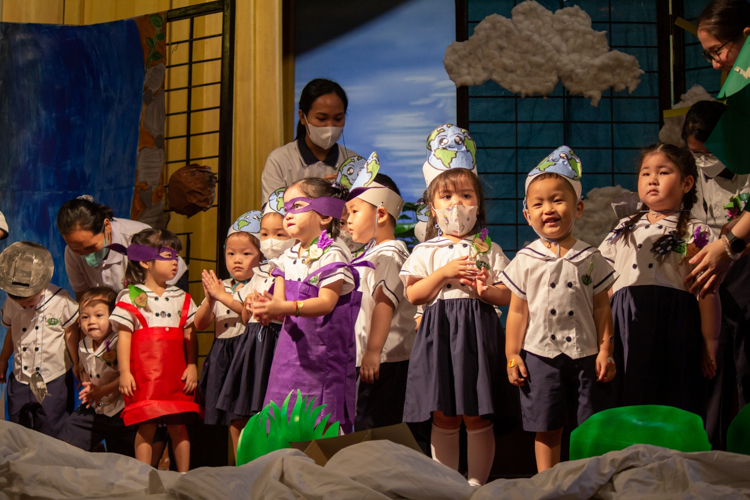 Students don costumes of plants and animals to perform a skit on the environment. 【Photo by Marella Saldonido】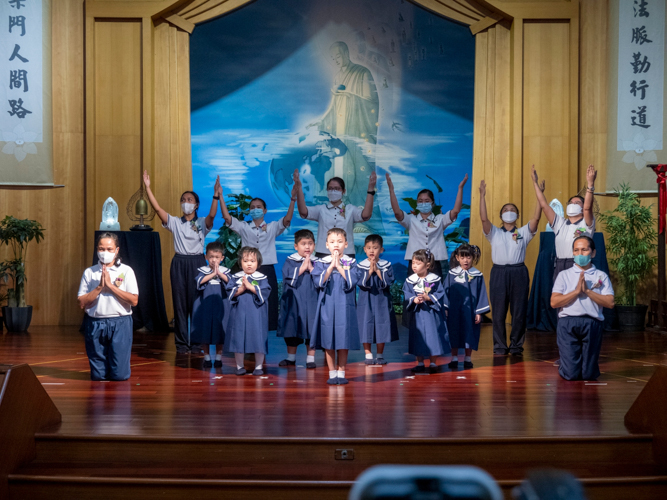 Teachers join Preschool students in a sign language song of "My Promise." 【Photo by Harold Alzaga】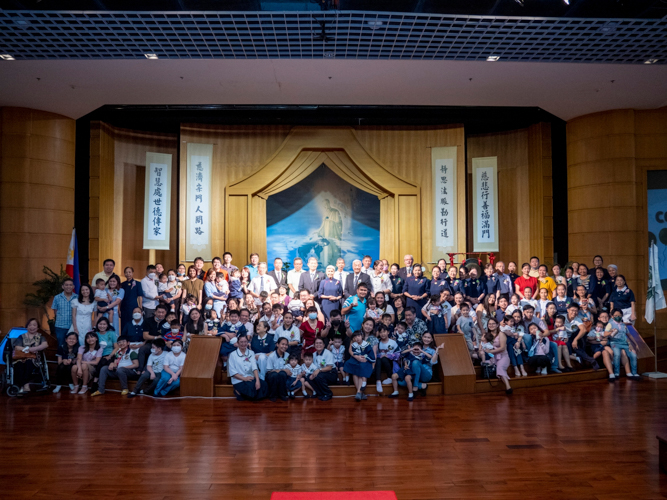 Tzu Chi Great Love Preschool Philippines' officers, teachers, and staff join students and their families in a group shot after the ceremony. 【Photo by Harold Alzaga】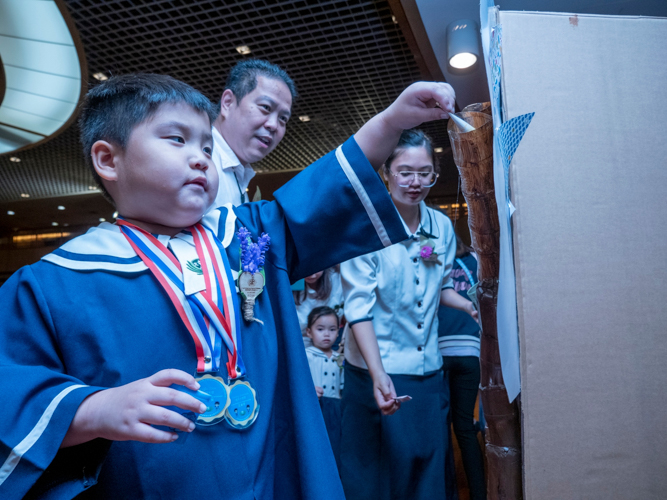 Preschooler Aidan Matteo Ongcarranceja drops his coin can pledges into a collection container as his father Andre looks on. 【Photo by Harold Alzaga】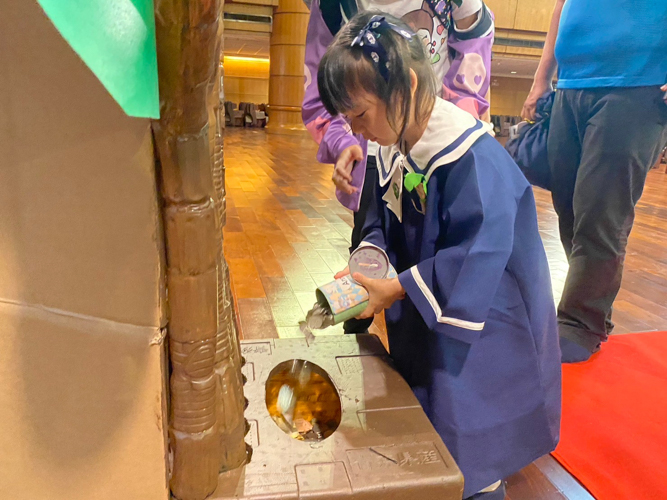 Sharing the blessing of education with Tzu Chi's 1,380 scholars【Photo by Matt Serrano】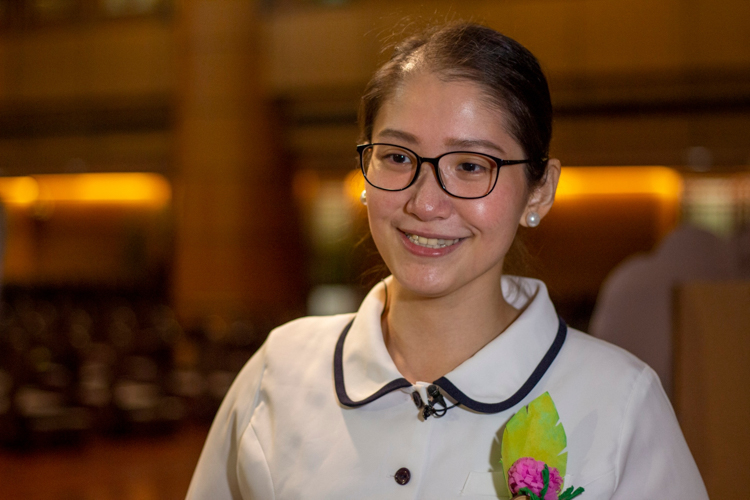 "After a year of uncertainties, I am happy to say we finally did it. With the cooperation and collaboration of parents, teachers, students, staff, and everyone working behind the scenes, we were able to run a schoolyear," says Tzu Chi Great Love Preschool Philippines Directress and teacher Jane Sy. 【Photo by Matt Serrano】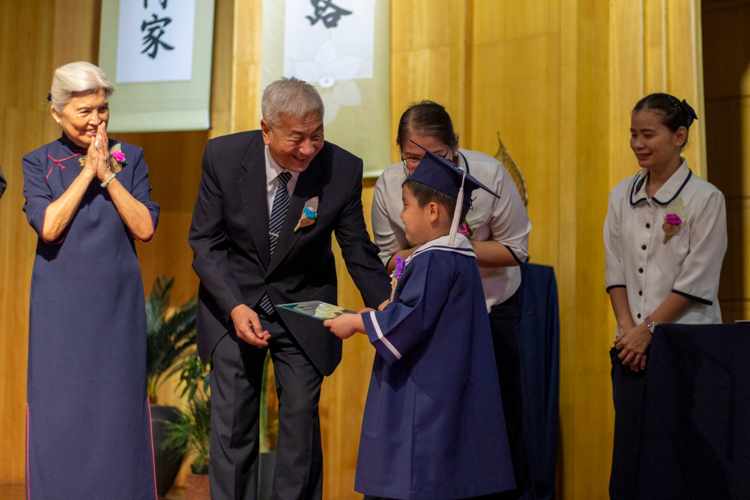 Tzu Chi Philippines CEO Henry Yuñez presents each student with a certificate. "We are often reminded by Master Cheng Yen how education lights up a path to create a society full of hope. Last year on September 25, we opened the Tzu Chi Great Love Preschool Philippines. Now we see a group of young kids in front of us, cute and bubbly, but also well-rounded and compassionate." 【Photo by Matt Serrano】
Go Back