A math teacher learns a lot as a Tzu Chi interpreter
Ligaya Ng took on Master Cheng Yen's call to shoulder responsibilities
By Joy Rojas
Of the many tasks undertaken by volunteers at the 2022 Commissioners and Faith Corps Diligence Training Camp held from September 2 to 4 at the Buddhist Tzu Chi Campus in Sta. Mesa, Manila, perhaps none was quite as demanding as that of interpreter.
Simply translating in-person and online lectures from Mandarin to English and Tagalog wasn't enough. Tzu Chi interpreters needed to impart the essence of the message conveyed by speakers as accurately as possible and in real time. The multi-tasking job is an intimidating one as well, particularly when you're interpreting for one of the Buddhist nuns—or for Dharma Master Cheng Yen. The Tzu Chi founder addressed camp participants in the Philippines and 40 other countries in a livestream coverage from the Jing Si Abode in Hualien, Taiwan.
For the longest time, volunteer Ligaya Ng was afraid to accept interpreter assignments for Tzu Chi events. It was a reminder from Master Cheng Yen that led to a change of heart. "Master always wants us to shoulder responsibilities," she says. "Especially when the pandemic happened, shouldering responsibilities became even more urgent. We are running out of time so everybody needs to work harder. That's why I decided to give it a try. My intention in accepting this challenge is to keep learning, and I'm learning a lot."
As the oldest member of the group, Ligaya was a comforting source of wisdom and advice to her younger teammates. "I can see the heart and passion in them to be involved in Tzu Chi's mission. I find that very touching," she says. "Right now, they're conflicted about earning a living and spending time as volunteers. I tell them, 'Master taught us to take care of the family first, and then to extend yourself.' They ask me for details on how to do it. We share a lot of ideas with each other."
The first-time interpreter also didn't fail to impress her more experienced colleagues. "You can't tell it was her first time," says Betty Dizon. "I have difficulty focusing so she sat next to me to cheer me on and helped me whenever I missed a word."
"There's an art to interpreting," adds Betty's sister, Miaolin Li. "You can be serious like the interpreters in the United Nations, but for the camp, which had many sessions, we tried not to be monotonous. Auntie Ligaya got the essence of a speaker's message. She also spoke slowly, and I learned from her to be calm when interpreting."
Surprised as well at her ability to express a speaker's thoughts from Mandarin to English and Tagalog, Ligaya can only attribute it to years of immersion in Tzu Chi's principles and culture. "When you are immersed in Tzu Chi's four missions (charity, medical care, education, humanities) and eight footprints (charity, medicine, education, culture, international relief, bone marrow donation, environmental protection, community volunteers), you gain experience. So when you interpret what a speaker says, your heart is in it and you become very sincere. You interpret with context and depth."
Growing up, Ligaya spoke Fukien at home and studied Mandarin as a child in school. A teacher by profession, she taught math for eight years then switched to nursery and Kumon, which she taught for 22 years before retiring in December 2021. The Tzu Chi volunteer also applied her knowledge and expertise as a teacher in Jing Si Time for Kids, an initiative that exposed the children of Tzu Chi beneficiaries to Master Cheng Yen's aphorisms. "A few of them were with us from the time they were children to the time they finished college," she says. The program, which ran for nine years, was halted due to the pandemic.
For all the knowledge that she has imparted through the years, this teacher still considers herself a student in many ways. "We are all the same," says Ligaya, who modestly eschews the title of educator. "We are all learning together."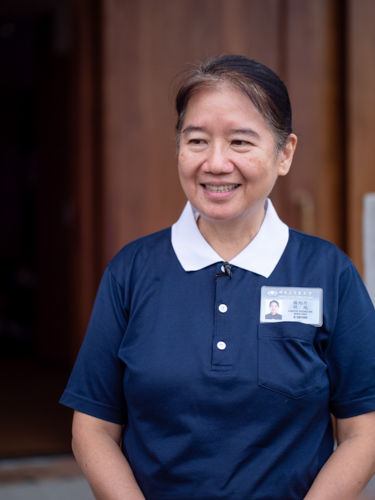 After years of declining requests to interpret, Ligaya Ng finally gave it a go at the 2022 Commissioners and Faith Corps Diligence Training Camp. "Master Cheng Yen always wants us to shoulder responsibilities," she says. "My intention in accepting this challenge is to keep learning, and I'm learning a lot."【Photo by Daniel Lazar】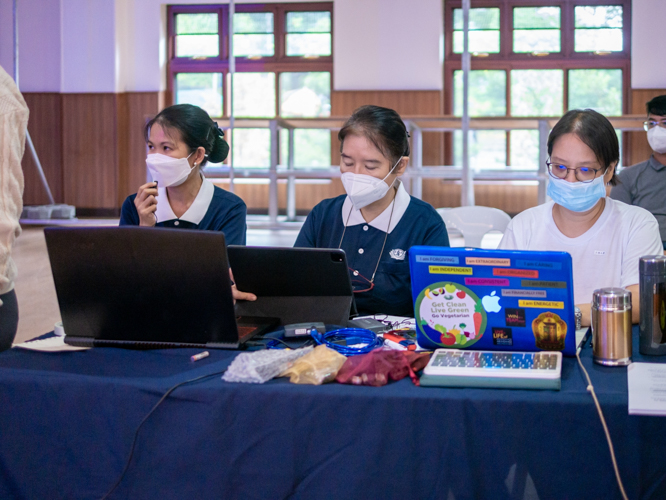 In her first job as interpreter for the Diligence Training Camp, Ligaya Ng (center) is flanked by Jinny Ong (left) and Marilyn Abella (right). 【Photo by Daniel Lazar】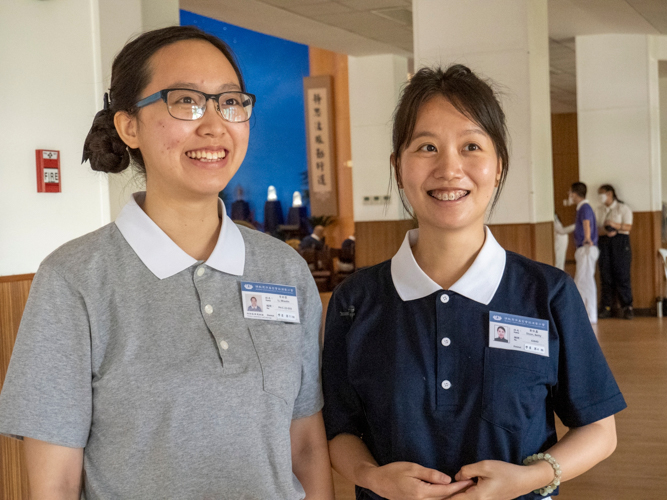 Sisters and interpreters Miaolin Li (left) and Betty Dizon had nothing but good things to say about first-time interpreter Ligaya Ng. "Auntie Ligaya got the essence of a speaker's message. She also spoke slowly, and I learned from her to be calm when interpreting," says Miaolin. "She sat next to me to remind me to focus and helped me whenever I missed a word," adds Betty. 【Photo by Matt Serrano】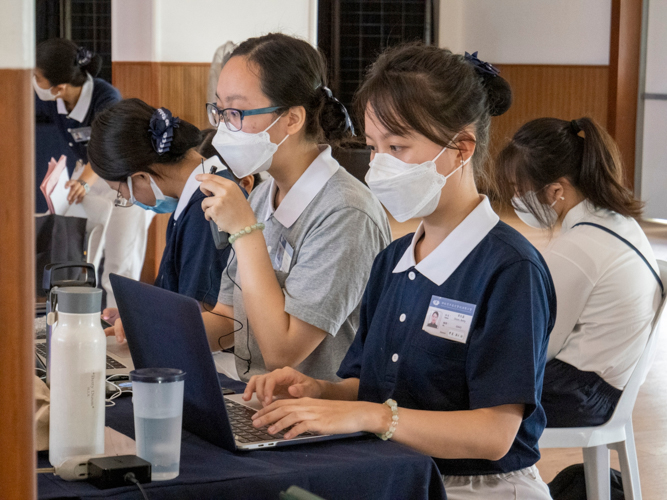 Sisters Miaolin Li (left) and Betty Dizon on duty at the interpreter's station. 【Photo by Matt Serrano】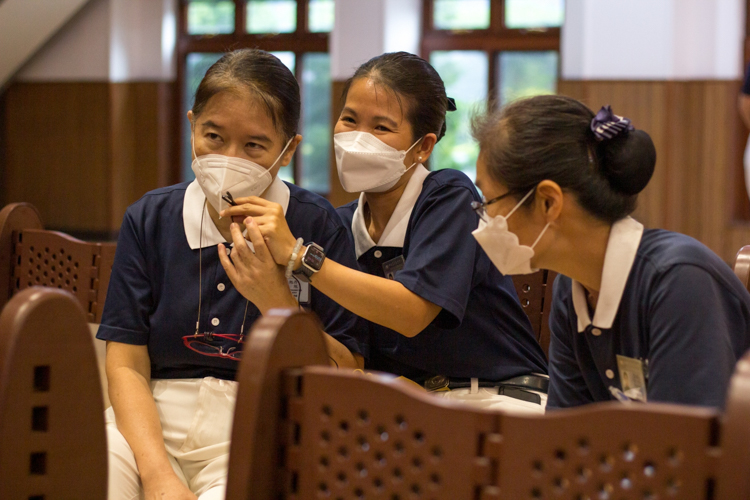 Interpreting is a team effort. Here, Ligaya Ng (first from left) is assisted by fellow interpreters, who feed her with information when a speaker talks too fast or has much to say. 【Photo by Marella Saldonido】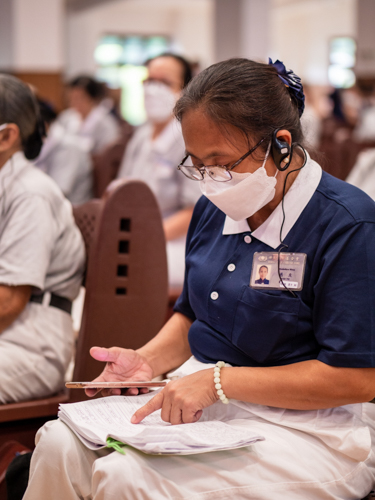 Participants wore a device that transmitted English and Tagalog interpretations of lectures delivered in Mandarin. 【Photo by Daniel Lazar】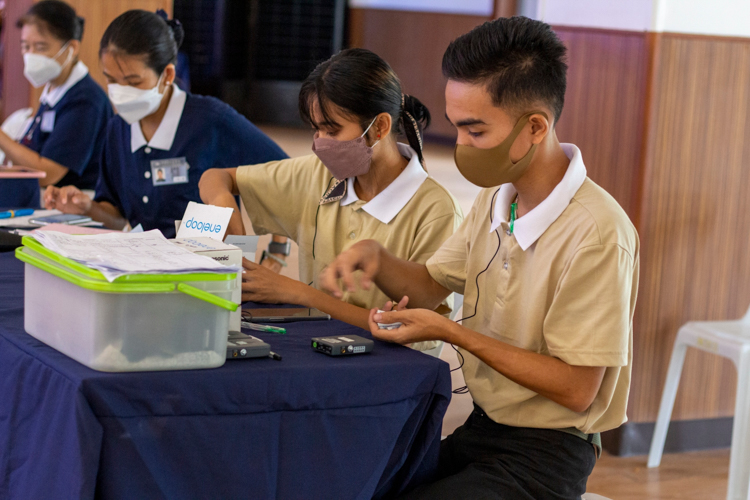 Tzu Chi beneficiaries training to become caregivers were in charge of lending out translation devices and replacing their rechargeable batteries.【Photo by Matt Serrano】
Go Back