Former scholar speaks on financial wellness in Humanity class
Successful financial adviser Jeff Dolittle returns to Tzu Chi to give back.
By Joy Rojas
It was a full circle moment for Jeff Doolittle when he arrived at the Buddhist Tzu Chi Campus in Sta. Mesa, Manila, on the morning of May 28.
Once a Tzu Chi scholar, he has fond memories of listening to Humanity class guest speakers inform and inspire with their expertise, experience, and teachings of Dharma Master Cheng Yen. Now 29, Jeff was the class's latest speaker and he engaged his audience of 60 graduating scholars with his talk on financial wellness.
He certainly has the credentials for it. An accounting graduate from the University of the East, the certified public accountant and investment solicitor was named 2022's No. 1 Adviser of the Year by Sun Life Philippines (where he is a business unit manager). One of the top 40 financial advisers in the country, he enjoys the perk of participating in conventions around the world.
Jeff also likes to draw from personal experience, and his stories on how he made money, lost it, and made it again impacted his impressionable audience.
"I appreciate Tzu Chi's effort for putting this class together," says Jefferson Aguilar, a business management major from the Polytechnic University of the Philippines and Tzu Chi scholar since 2020. "The lesson was an eye-opener that taught us to appreciate money. It's not easy to make, and we really have to persevere to earn so we can achieve our dreams."
For Daniella Macogue, a Tzu Chi scholar since 2020 and social work major at the Unibersidad de Manila, the takeaway of the talk was Jeff's sensible advice. "You can only budget your money if you have something to budget," she recites. "We need money to sustain our way of life, and we can only make a budget if we have hard-earned money that will provide for our needs and the needs of our family."
Years ago, Jeff was just like Daniella and Jefferson. The son of an unemployed father and mother who ran a sari-sari (convenience) store, he was in third year high school at the Philippine Cultural College when he and other students were referred to the Tzu Chi Foundation for scholarships.
With his scholarship, he got more than an academic education. He joined a cleanup drive at Happy Land, a slum area in Tondo, Manila, that has received relief from Tzu Chi. He visited the special needs residents of Munting Tahanan ng Nazareth in Mabalacat, Pampanga, and sang for the seniors of Bahay Pag-ibig in San Fernando, Pampanga.
"A taste of the real world was what I got from Tzu Chi," he says. "Before, I was just studying, my life was just home and school. Through Tzu Chi, I got a glimpse of what really happens in life—a lot of people in need, a lot of people suffering and struggling. Among us scholars, Master Cheng Yen's mission was passed on to us practically, and not just through her talks."
Despite his humble circumstances, Jeff was never made to feel that he was any different or less than his peers. "I've known scholars whose backgrounds are much better than mine, but my exposure to them made me feel that we are all equal," he says. "[Tzu Chi] really boosted my confidence."
Though his work keeps him preoccupied, he is never too busy to volunteer. His speaking at the May 28 Humanity class is his way of paying it forward to the foundation and the people that lay the groundwork for him to reach his full potential.
"I don't know if saying 'gan en' (thank you) will ever be enough," he says with a smile. "But the man I am today, a big chunk of who I am, came from Tzu Chi. Honestly, I will always be thanking Tzu Chi for their help."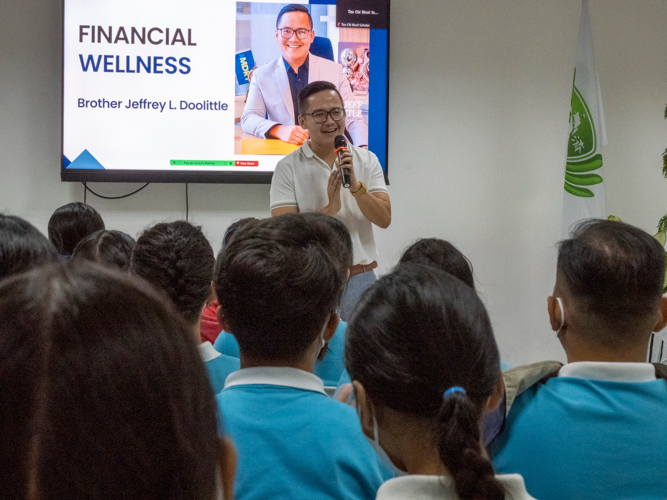 In 2010, Jeff Doolittle became a Tzu Chi scholar. Thirteen years later, he was a guest speaker before graduating scholars at the May 28 Humanity class. 【Photo by Matt Serrano】
As an ice breaker before his talk, Jeff led scholars to a Money Game Exercise 【Photo by Matt Serrano】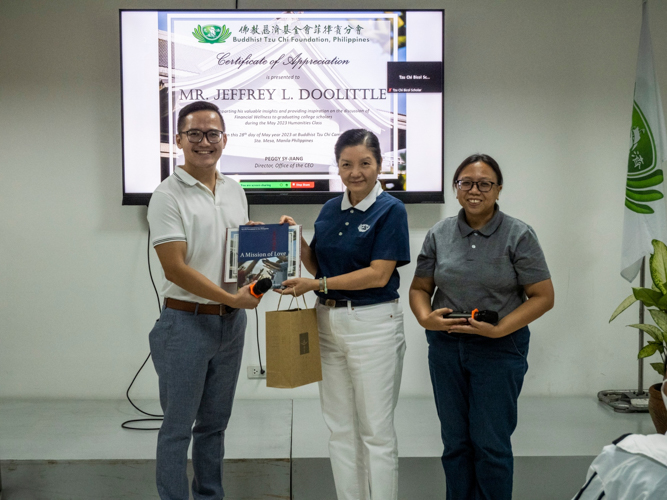 Humanity class guest speaker (and former Tzu Chi scholar) Jeff Doolittle receives a copy of the Tzu Chi 25th anniversary book "A Mission of Love" from Tzu Chi Education Committee Head Rosa So (center) and Tzu Chi Charity Department Head Tina Pasion (right). 【Photo by Matt Serrano】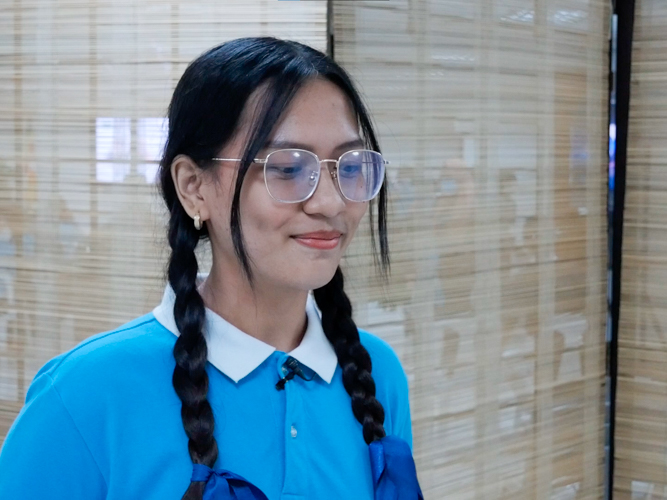 Tzu Chi scholar Daniella Macogue was struck by speaker Jeff Doolittle's sensible advice. "You can only budget your money if you have something to budget. We need money to sustain our way of life, and we can only make a budget if we have hard-earned money that will provide for our needs and the needs of our family." 【Photo by Harold Alzaga】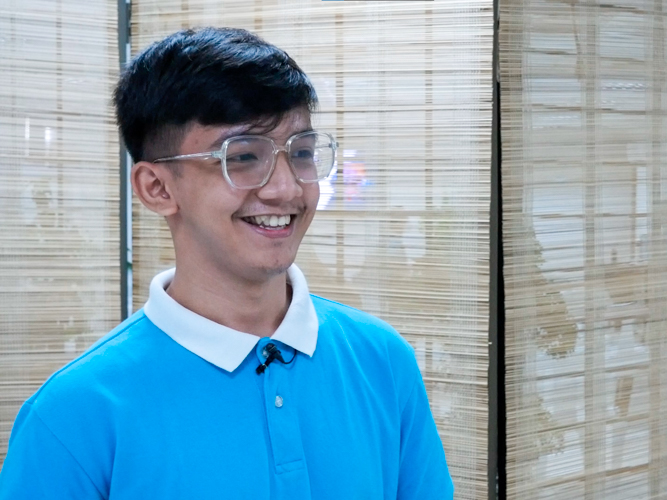 Tzu Chi scholar Jefferson Aguilar appreciated "Tzu Chi's effort for putting this class together. It taught us to appreciate money. It's not easy to make, and we really have to persevere to earn so we can achieve our dreams."【Photo by Harold Alzaga】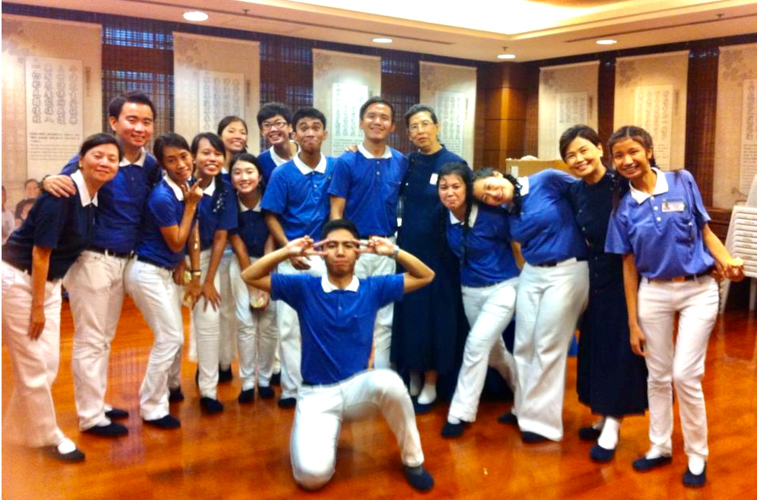 As a member of Tzu Chi Youth, Jeff (center with commissioner Tessie Wong) and other teenagers were exposed to the realities of life whenever they extended compassion and relief to residents in slum areas, orphanages, and old folks' homes. "People in need, suffering, and struggling," he says. Also in the photo are (first from left) Josephine Chan and (second from right) Molita Chualien. 【Photo from Jeff Doolittle's Facebook page】
Go Back