BTCC livestreams Immeasurable Meanings Sutra
Buddhist monks, members of various Buddhist temples, students, and special guests attend the screening.
By Joy Rojas
Buddhist monks, members of the Soc Yan Buddhist Temple, Manila Buddha Temple, and Mabuhay Temple, students from Buddhist schools, and other special guests braved the weekend's inclement weather to attend the screening of the Immeasurable (Infinite) Meanings Sutra at the Jing Si Auditorium in Buddhist Tzu Chi Campus (BTCC), Sta. Mesa, Manila.
Regarded as an introductory teaching to the Lotus Sutra, the adaptation was livestreamed from Taichung, Taiwan, to Manila, Philippines, on July 29 from 7 pm to 9:30 pm and on July 30 from 2 pm to 4:30 pm.
Combining theater, dance, music, and the synchronized formations of thousands of volunteers, the sutra (which is synonymous with "aphorism" and "scripture") depicted the life of the prince who would be Buddha, as well as highlights in the history of the Tzu Chi Foundation. Through the painstaking and impressive performance, audiences were reminded of the impermanence of life, the inevitability of suffering, and how all beings possess the Buddha wisdom.
"Tzu Chi follows the sayings and the path of Buddha's teachings," says Tzu Chi volunteer Ophelia Sy. "Now, Dharma Master Cheng Yen teaches us how to do it, to carry it out in our daily lives. We would like to spread this news so more people will know about it and we can cultivate blessings together."
"We were very touched by this sutra, which was performed in Kaohsiung City, Taiwan, last December," says event coordinator and Tzu Chi volunteer Dewey Ong. "We wanted to bring this sutra to more people to touch their hearts and open their minds."
"This Immeasurable Meanings Sutra serves as a guide to everything that Tzu Chi does," he adds. "When people learn about how Tzu Chi helped the victims of fires and storms, they wish they were a part of it. Now they know that the next time a disaster strikes, they have the opportunity to help."
Robert Say, who, together with his wife Conchita, is very much involved in Buddhist practices and would like to spend more time with Tzu Chi's missions and other charity work, found the sutra inspirational.
"Regardless of our religious practice, we should learn how to be grateful in life and to understand causes and their consequences," he says. "These are the basic things that one should have to maintain their moral compass in this world."
It was in 1960 when Master Cheng Yen first came upon a copy of the Lectures on the Lotus Sutra on a bookshelf in Taitung. From it, she developed a strong affinity with the teachings of the Sutra of Infinite Meanings.
Since the early '70s, the sutra has been taught in week-long Buddhist retreats at the Jing Si Abode. When copies of the sutra ran out, Master Cheng Yen personally carved the words of the sutra on metal plates for printing to ensure that all retreat participants would receive a copy.
In December 2022, Master Cheng Yen traveled to Kaohsiung to watch over 10,000 volunteers perform the sutra adaptation.
Expressing gratitude for a moving performance, Master Cheng Yen said, "The sutra contains Tzu Chi's spirit and values and we carry out Tzu Chi's mission by living out its true principles. For decades, our volunteers have been serving sincerely and mindfully and taking each step firmly on the Tzu Chi path. No one gave up halfway as they always work in unity and harmony."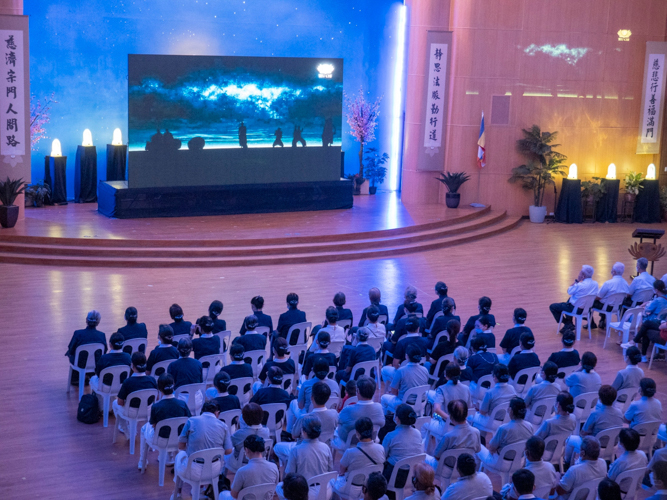 Despite the inclement weather, guests that included Buddhist monks, members of various temples, students, and Tzu Chi volunteers attended the sutra adaptation when it was livestreamed on July 29 and 30 at the Jing Si Auditorium. 【Photo by Daniel Lazar】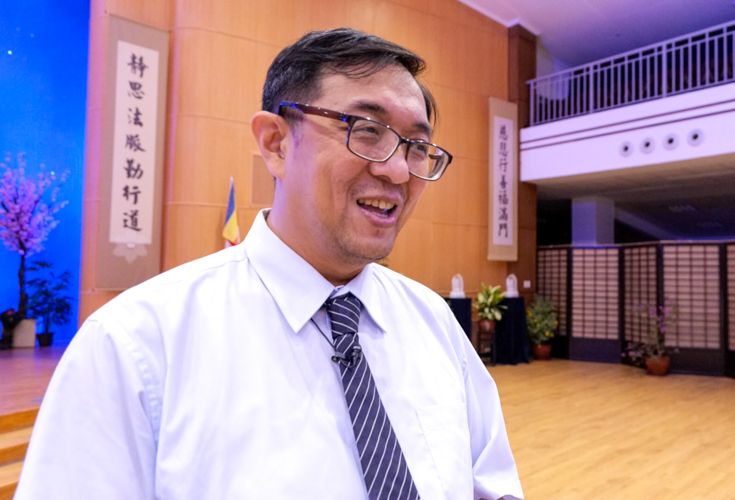 "This Immeasurable Meanings Sutra serves as a guide to everything that Tzu Chi does," says event coordinator and Tzu Chi volunteer Dewey Ong. "When people learn about how Tzu Chi helped victims of fires and storms, they know that the next time a disaster strikes, they have the opportunity to help." 【Photo by Jeaneal Dando】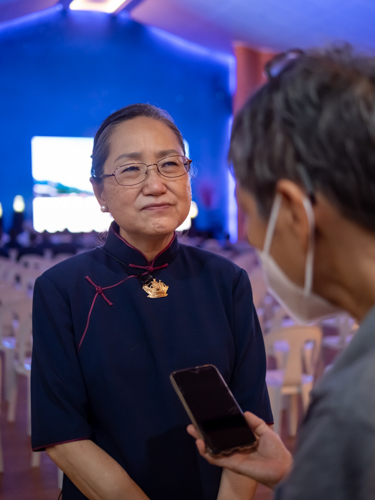 Of the Sutra of Immeasurable (Infinite) Meanings, Tzu Chi volunteer Ophelia Sy says "We would like to spread this news so more people will know about it and we can cultivate blessings together."【Photo by Daniel Lazar】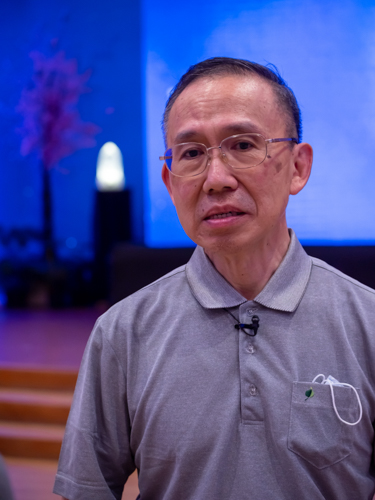 Robert Say, who watched the sutra adaptation with his wife, said, "Regardless of our religious practice, we should learn how to be grateful in life and to understand causes and their consequences. These are the basic things that one should have to maintain their moral compass in this world." 【Photo by Daniel Lazar】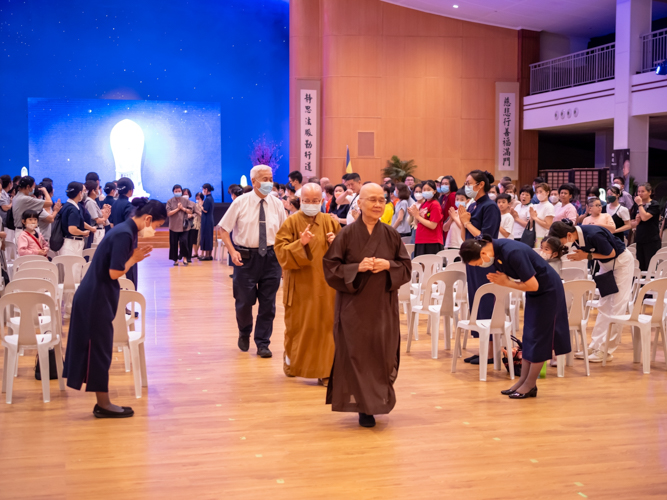 Tzu Chi volunteers bow in gratitude as the Buddhist monks exit the Jing Si Auditorium following their viewing the sutra adaptation. 【Photo by Daniel Lazar】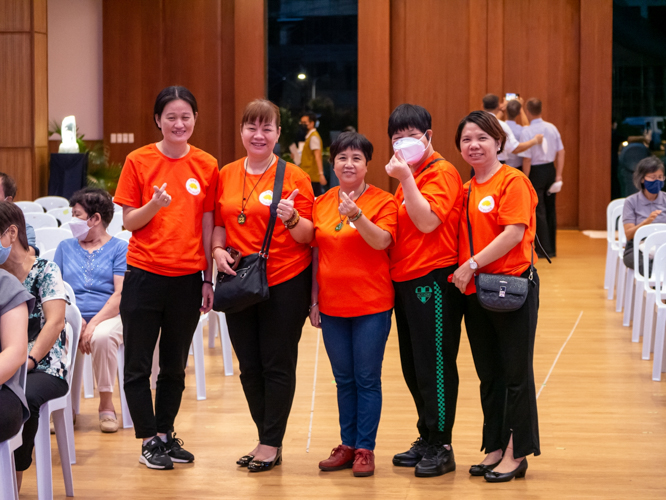 Members of the Manila Buddha Temple are all smiles after the sutra adaptation. 【Photo by Daniel Lazar】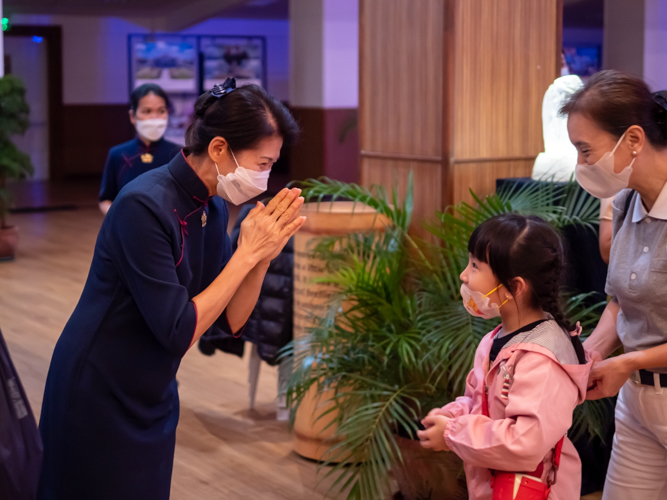 Tzu Chi Philippines Deputy CEO Woon Ng (left) thanks a young guest for attending the sutra adaptation. 【Photo by Daniel Lazar】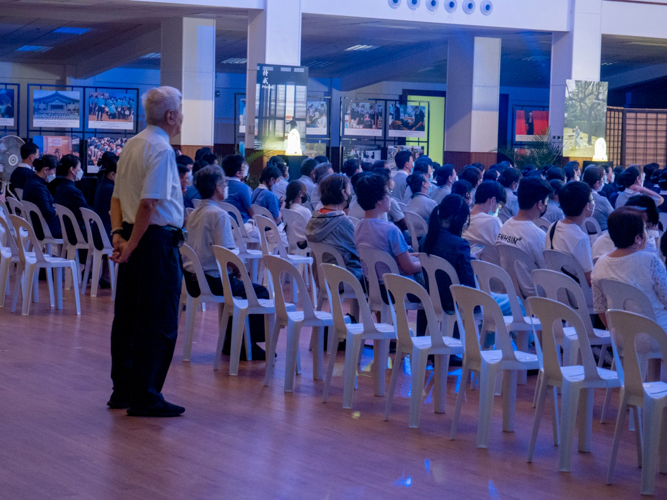 Tzu Chi Philippines CEO Henry Yuñez watches the sutra adaptation from the back of the auditorium.【Photo by Matt Serrano】
Go Back