Scholars learn Tzu Chi values through humanities classes
Scholars learn Tzu Chi's Ten Precepts in face-to-face humanities class in BTCC.
By Ben Baquilod
Giving financial assistance isn't the only goal of Tzu Chi's scholarship program. Tzu Chi also strives to nurture the youth with aspirations, sound character, and healthy minds and bodies, through the teaching of moral values and living skills, and providing a holistic education.
The monthly humanities classes serve as the main platform for Tzu Chi to fulfill this mission. "I don't only get allowances; I also get learnings from the topics they teach us. They help me become a better version of myself each day," says Tzu Chi scholar Jonuelyn Jane Curiba, after attending her humanities class held on November 13.
On last Sunday's session, the second face-to-face class since 2020, Tzu Chi scholars dived deep into Tzu Chi's Ten Precepts, the moral code that Tzu Chi members follow. According to the Tzu Chi founder Dharma Master Cheng Yen, these ten precepts—while often given as straightforward proscriptions such as "No killing" or "Do not kill"—are not meant to restrict its members but to protect them, keeping them from harm and suffering.
"These are guidelines to guard us against wrongs and to have a meaningful and peaceful life," says volunteer Elvira Chua in her presentation.
The first precept ('do not kill') comes from understanding that life is sacred and that all living creatures share the same desire to live, thus, Tzu Chi members strive to protect the lives of all living beings. The second to fifth precepts are 'do not steal'; 'do not fornicate'; 'do not lie'; and 'do not drink alcohol'. These first five precepts are based on the traditional Five Buddhist Precepts.
"What struck me the most today is the lesson on no lying," says Jane, now on her 2nd year in college as an English Language Studies major at the Polytechnic University of the Philippines. "As a teenager, it's so easy to lie nowadays, especially to my family. But now it's clear to me I should no longer lie."
Jane became a Tzu Chi scholar in 2020, a financially difficult time for her family. Her father, who works as a taxi driver lost source of income when the pandemic restricted physical movement and public transportation. Like an answered prayer, Tzu Chi came in to rescue her family's financial burden. "I was thankful that I can now sustain my schooling," she says. "We were also able to have internet connection at home because of Tzu Chi."
Through attending humanities classes, Jane also gets supported emotionally, mentally, and spiritually. She wants to be a role model to many students and become a volunteer when she graduates, "Because of Tzu Chi, I feel like I can fly and reach my dreams."
Tzu Chi is also an inspiration to new scholar Babylyn Villadolid, taking up Bachelor of Technical Vocational Teacher Education, Major in Electrical Technology at the Technological University of the Philippines. A daughter of an MMDA Flood Control worker earning Php 600 a day, Babylyn was beaming with joy when her application to Tzu Chi scholarship succeeded. "It's really a big blessing for me and my family," she says.
A president's lister and a member of four student organizations in school, including her college's student council, Babylyn is grateful to expand her leadership and communication skills through Tzu Chi's humanities class. "It also helps boost my confidence."
"Today I learned the importance of the Dharma and the Ten Precepts," says Babylyn. The sixth to tenth precepts are 'do not smoke, use drugs, or chew betel nuts'; do not gamble or speculate'; 'be filial to your parents and be moderate in speech and attitude; 'abide by traffic laws'; and 'do not participate in politics or demonstrations'.
"The Dharma is like water. It cleanses us in different aspects," says Babylyn.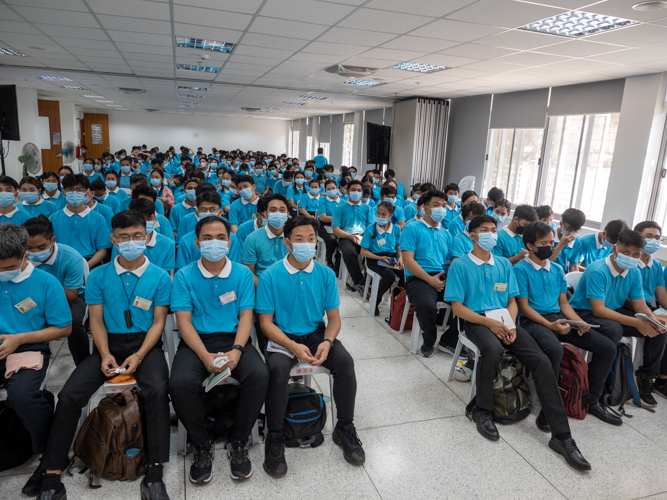 Tzu Chi scholarship aims to nurture the youth with aspirations, sound character, and healthy minds and bodies, through the teaching of moral values and living skills, and providing a holistic education through monthly humanities classes. 【Photo by Harold Alzaga】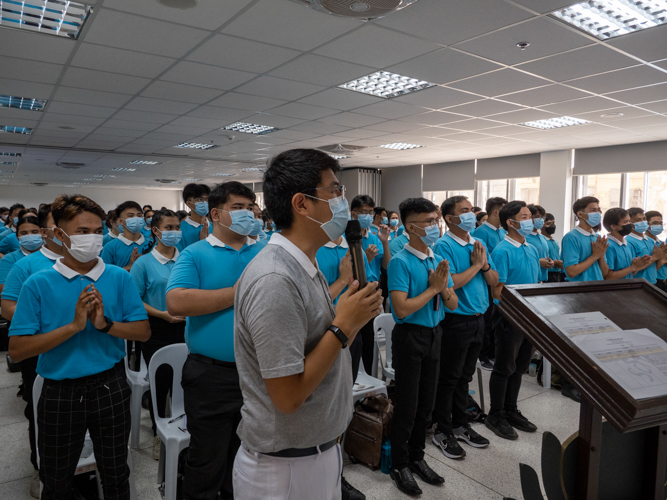 Tzu Chi volunteer Kinlon Fan leads the scholars in a prayer. 【Photo by Harold Alzaga】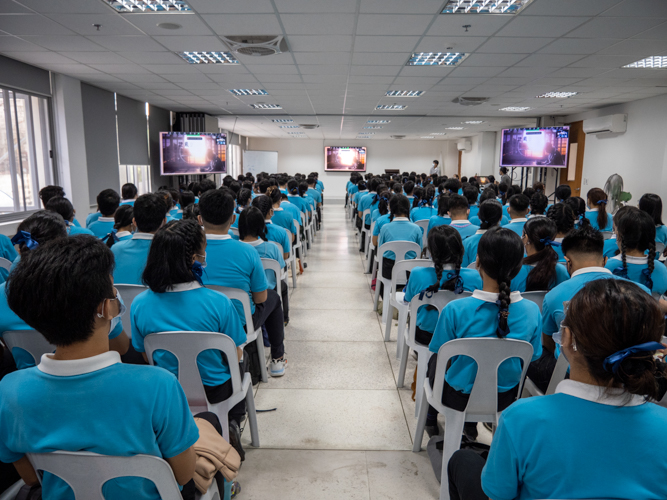 Scholars watch an animated story told by Dharma Master Cheng Yen. 【Photo by Harold Alzaga】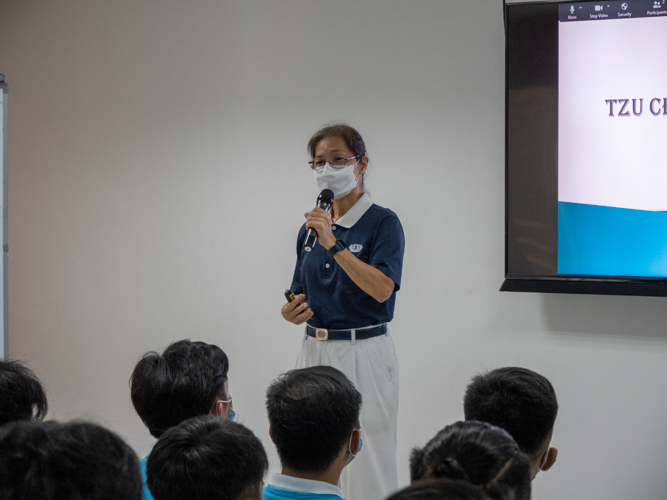 Tzu Chi volunteer Elvira Chua discusses the Ten Precepts. 【Photo by Harold Alzaga】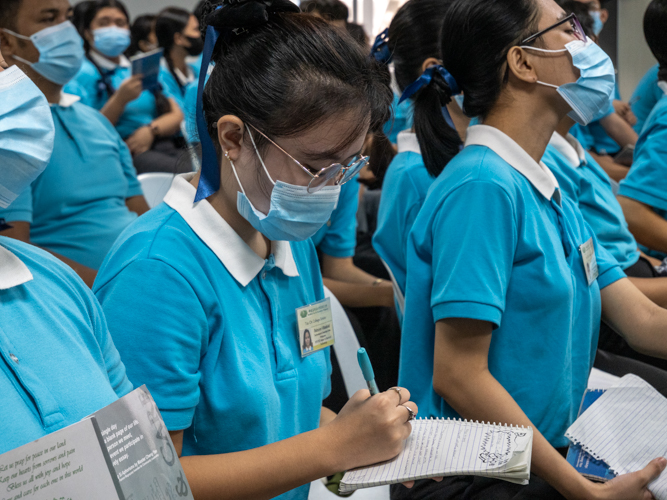 Tzu Chi scholar Babylyn Villadolid takes notes of the lesson. 【Photo by Harold Alzaga】
"The Dharma is like water. It cleanses us in different aspects," says Babylyn Villadolid of what she learned from the humanities class. 【Photo by Harold Alzaga】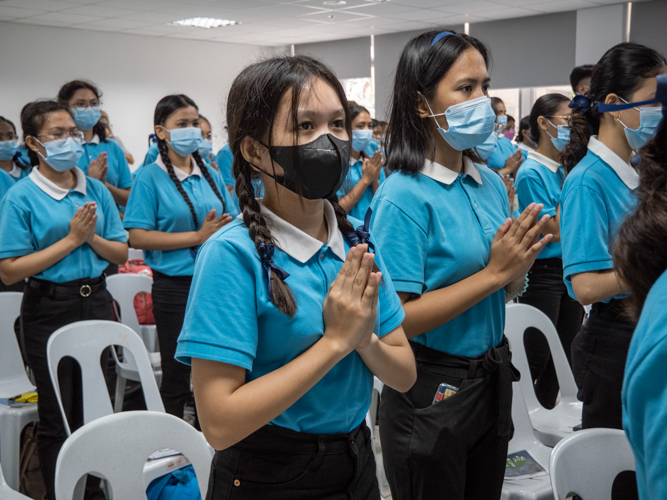 Tzu Chi scholar Jonuelyn Jane Curiba feels thankful to learn from the humanities class. "As a teenager, it's so easy to lie nowadays, especially to my family. But now it's clear to me I should no longer lie," she says. 【Photo by Harold Alzaga】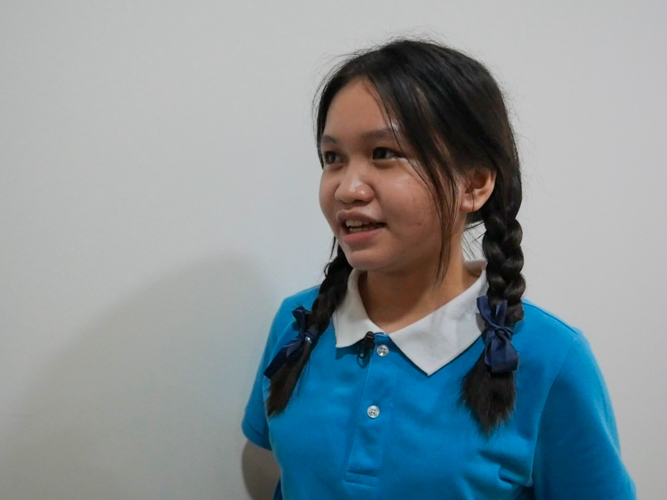 Jonuelyn Jane Curiba wants to be a role model to many students and become a volunteer when she graduates. "Because of Tzu Chi, I feel like I can fly and reach my dreams." 【Photo by Harold Alzaga】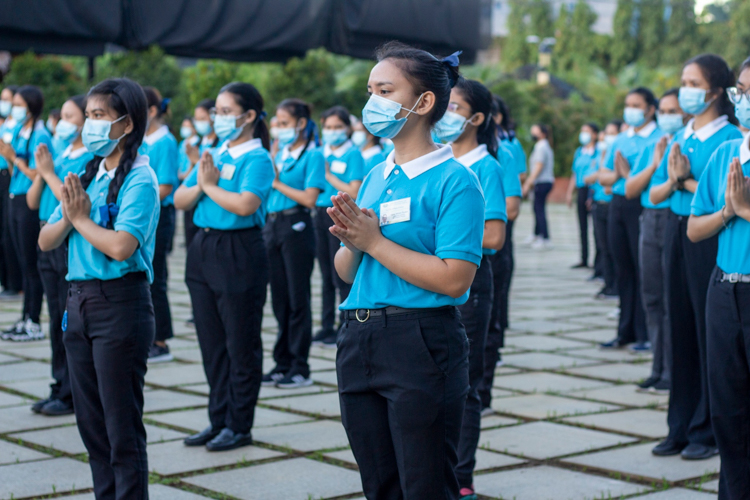 Tzu Chi scholars participate in the Three Steps, One Bow ceremony held at the BTCC plaza in celebration of Tzu Chi Philippines' 28th anniversary. 【Photo by Matt Serrano】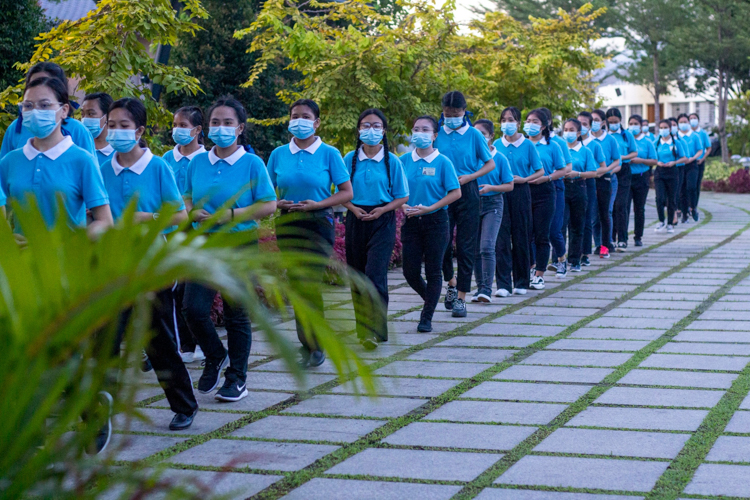 Tzu Chi scholars walk in an organized manner towards the BTCC plaza. 【Photo by Matt Serrano】
Go Back