Stories of hope at March 26 Charity Day
Past and present beneficiaries share their inspiring accounts.
By Joy Rojas
An illness in the family can either leave you in despair—or it can be a teachable moment. As these beneficiaries at Tzu Chi's Quarterly Charity Day on March 26 prove, a health condition—theirs or a loved one's—was motivation enough to step up and put other people's needs first. With the help of the Tzu Chi Foundation, they are all the better for it.
Sporting a yellow Tzu Chi vest, Gretchen Velarde looks like any volunteer ready to help Charity Day's 80 medical assistance beneficiaries and their families at the Buddhist Tzu Chi Campus in Sta. Mesa, Manila. What most people don't know is that she was once a beneficiary herself who tolerated a condition for years to prioritize the more pressing health concerns of her mother.
Now 40, she remembers feeling something moving in her abdomen in 2010. "I was confident it wasn't a baby because I'm single," says Gretchen, who works with KFC Technical Training. "I felt okay anyway, so I disregarded it." Then her abdomen began to grow and her monthly periods became heavy. What she had, according to Dr. Minette Yap, obstetrician-gynecologist at the Chinese General Hospital and Medical Center (CGHMC), was a myoma, noncancerous tumors that develop in or around the uterus.
At first, medications courtesy of Tzu Chi addressed the growths, but as the myoma worsened, surgery was her only option.
Instead, Gretchen chose to focus on her mother, a diabetic with numerous complications. Diagnosed with stage 5 chronic kidney disease in 2016, she required regular dialysis. She also developed cataract, which affected her vision and quality of life.
Through Dr. Yap's guidance, Gretchen was able to schedule cataract surgery for her mother's right eye on March 2020 at the Buddhist Tzu Chi Eye Center. "I remember the time we brought her home after the surgery," she recalls, sobbing. "She was so happy she could see her surroundings again."
Surgery for her left eye was next, but it was not meant to be. The pandemic was declared, bringing the world to a standstill. In July 2021, Gretchen's mother passed away.
This March 7 marked the first-year anniversary of Gretchen's long-overdue myomectomy, a procedure done at CGHMC and again, through Tzu Chi's help. Ten tumors were extracted from her, including the largest at 15 cm. "I feel good and healthy," she says.
She certainly looked it on Charity Day. Invited by staffers to help in any way she can, Gretchen says, "I feel welcome, appreciated. It feels good to be introduced to everybody as a 'success story.' I embody the role of a Happy Volunteer!"
Walking around BTCC with his wife May Joy, 42-year-old sanitation worker Erwin Suarez shows no sign that he once broke his right leg in two places—and that he didn't need surgery to fix it.
On Christmas Day 2021, Erwin was on his way to pick up his daughter when he figured in a chain reaction of vehicular accidents. A man on a motorcycle rammed into him and his motorcycle after it skid and hit a car.
Rushed to the Philippine Orthopedic Center in Quezon City, where they placed his leg in a cast, Erwin was unable to work for seven months—an eternity for the head of the family who needed to raise funds for his operation that included a pricey metal implant.
May Joy sprung into action, knocking on the doors of national and local government offices, all to no avail. Then a social worker at the hospital said she would email Erwin's requirements to the Tzu Chi Foundation. In a matter of days, May Joy would get the call that started the ball rolling. A guarantee letter for the metal implant was issued by Tzu Chi to the couple, but before they could even use it, the Suarezes received even better news: "An x-ray showed that the bone had healed on its own," says May Joy.
The first thing she did was return the guarantee letter "for others who may need it," she says. But May Joy didn't leave empty-handed. For several months, Tzu Chi provided her with an allowance, which she used for transportation expenses to and from the hospital. It also served as seed money for a small food business that she continues to run even as Erwin resumed work in August 2022.
"If I didn't do anything, what would happen to our children?" says May Joy, who also joined Tzu Chi's upcycling livelihood program of weaving mats using excess sports sock materials. "Even the rice and groceries that you give us are a big help. Now that he's recovered, we're working together to give our family a better life."
Forty-four-year-old Carlito Abad is bent on doing the same for his family, even if he's been totally blind for almost five years. Diagnosed with retinitis pigmentosa, a group of rare eye diseases that causes vision loss, he inherited the condition from his father, and has since passed it on to his two teenage sons.
Carlito was 10 when his eyes started failing him. Still, that didn't stop him from finishing high school and working various jobs. "At night, though, I wasn't 100 percent confident to move around," he says. "But I challenged myself for my family." Eventually, his eyesight gave out, and he was forced to stop working six years ago.
Like his father, he too became a Tzu Chi beneficiary and drops by the campus every Charity Day to claim his rice and grocery relief. "I used to come to BTCC when I was younger and my eyesight was better. Then this happened to me," he says with a hint of regret.
Though it hasn't been easy, Carlito has learned to accept his condition—and live with it. Upon the suggestion of his son's teacher, he's studying massage therapy and recently began using a cane. "I don't want to be stuck at home. And I want to serve as an inspiration to my kids," he says.
"Fight. Keep on fighting," he tells those struggling with an illness or a seemingly insurmountable challenge. "Everybody has problems, but these are just life's trials. Just be true to yourself. Be humble. And have faith in God."
The next Charity Day is on June 25, 2023.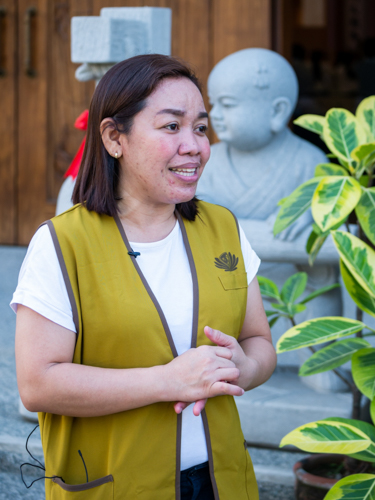 Once a beneficiary who underwent myomectomy at the Chinese General Hospital, Gretchen Velarde gladly accepted the opportunity to be a "Happy Volunteer" at the Quarterly Charity Day on March 26. 【Photo by Daniel Lazar】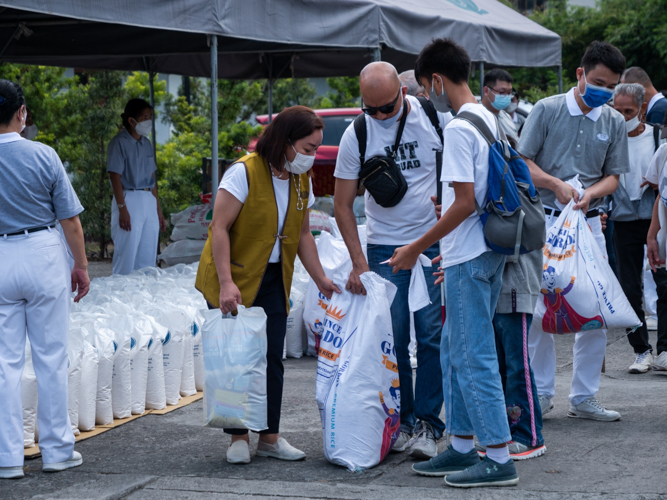 Volunteer Gretchen Velarde assists beneficiary Carlito Alba (in sunglasses) and his children with their rice and grocery relief. 【Photo by Daniel Lazar】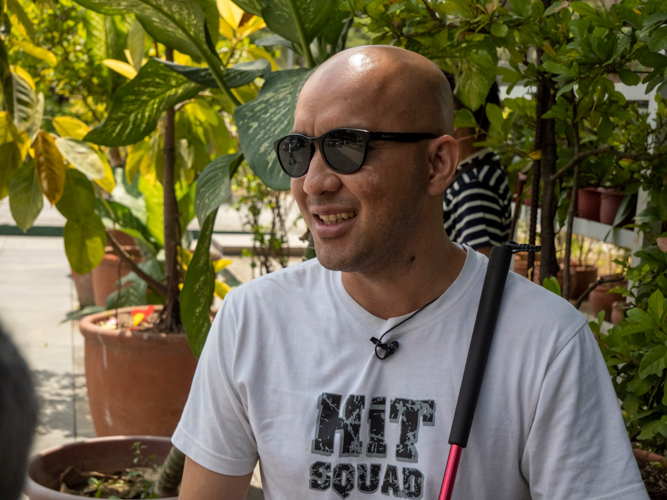 Even though he's completely blind, Carlito Alba is working towards a certification in massage therapy. "I want to serve as an inspiration to my kids," he says.【Photo by Matt Serrano】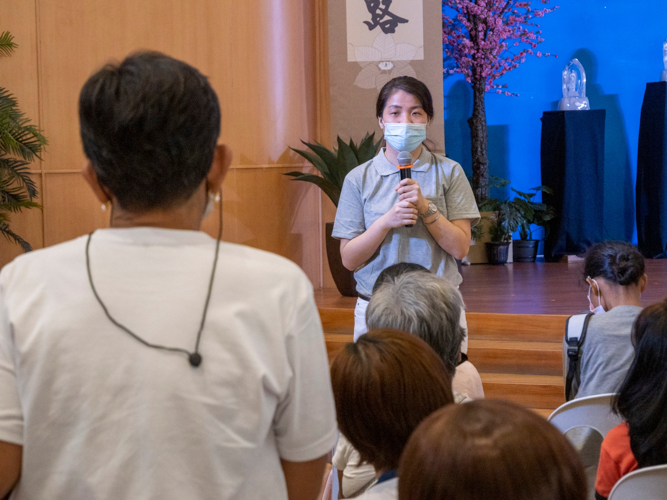 Dr. Jocelle Kuo, who gave a talk on cardiovascular health, answers a beneficiary's question during the open forum segment. 【Photo by Matt Serrano】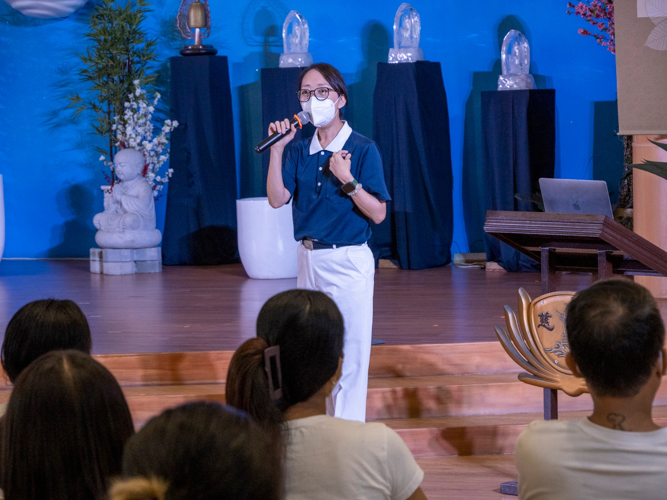 From the Office of the CEO, Tzu Chi volunteer Peggy Sy shares the story of Myanmar farmers who set aside rice from their own containers to give to the less fortunate. 【Photo by Matt Serrano】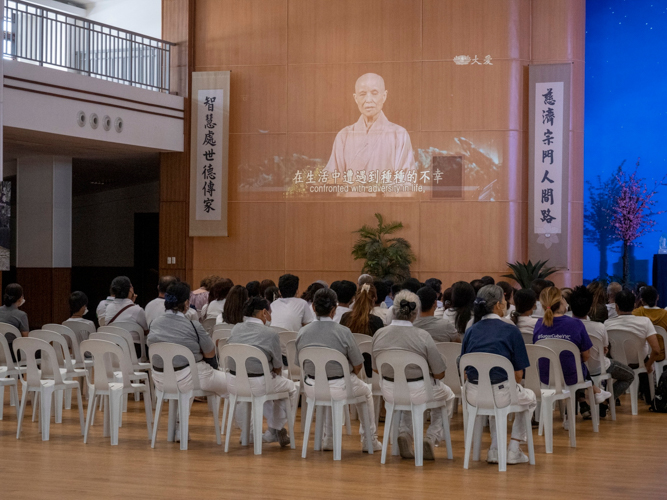 Beneficiaries watch a lecture of Dharma Master Cheng Yen at the Jing Si Auditorium. 【Photo by Matt Serrano】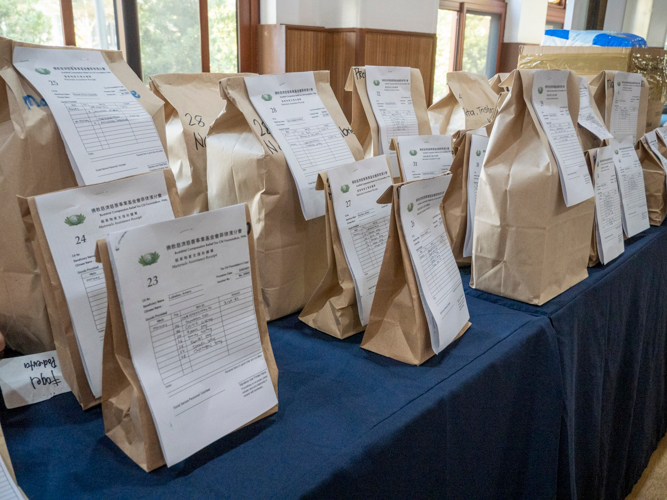 Bags of medicine are lined up and ready for distribution to their respective beneficiaries. 【Photo by Matt Serrano】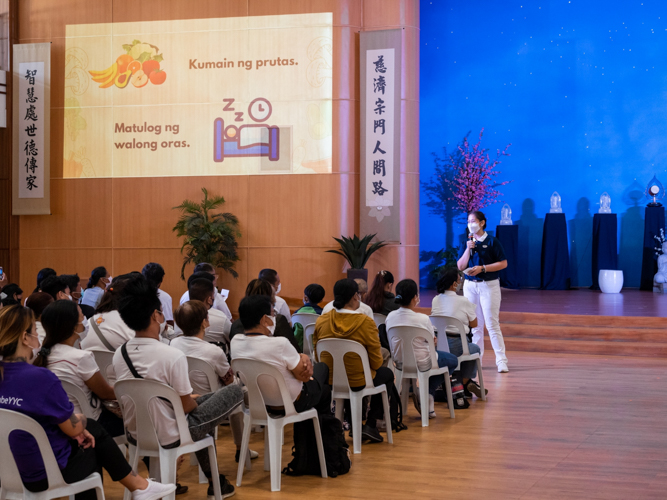 Volunteer Jane Sy enumerates the good deeds beneficiaries can try in their Tzu Chi "bingo cards." 【Photo by Daniel Lazar】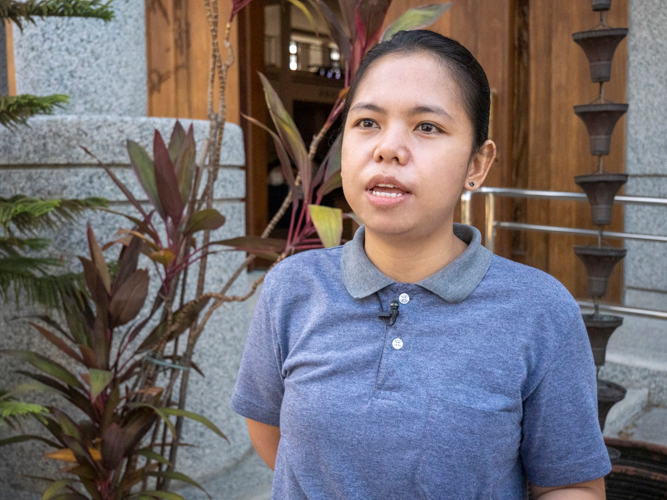 "Of the 70-plus attendees here at Charity Day, there are present beneficiaries and former beneficiaries who continue attending the event to expand their knowledge of Tzu Chi and donate to the foundation," says Tzu Chi Charity Department social worker Jackielyn Raper.【Photo by Matt Serrano】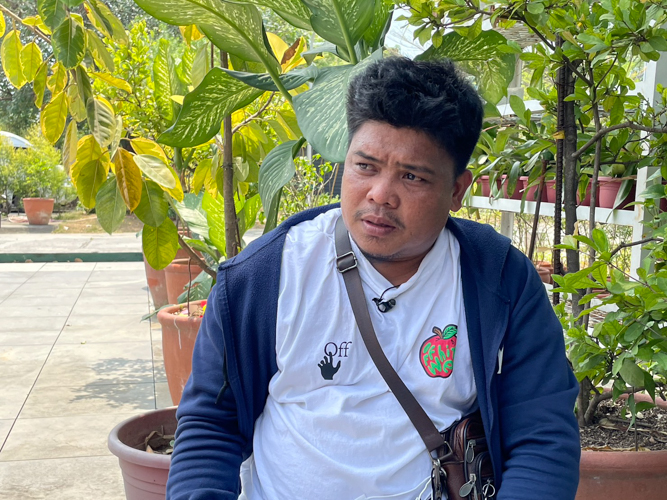 Erwin Suarez returned Tzu Chi's guarantee letter for surgery after his broken leg healed on its own.【Photo by Jeaneal Dando】
Go Back