Beneficiaries give back on Charity Day
They showed gratitude through donations, volunteerism, and by simply saying thanks.
By Joy Rojas
Beneficiaries of Tzu Chi Foundation's long-term medical assistance program know Charity Day as a day for receiving—from prescription medications and cash assistance to guarantee letters and sacks of rice and an assortment of grocery items.
But Charity Day is also day for giving back. At the quarterly event held on September 10 at the Buddhist Tzu Chi Campus in Sta. Mesa, Manila, beneficiaries took the opportunity to reciprocate the foundation's overwhelming generosity and kindness in a number of ways.
For the widow Modesta Urquiola, volunteering in Tzu Chi activities is a simple act of gratitude following years of support for her son Pedro. In 2011, Pedro, then 31 and with a history of asthma, was working late on his computer when he suddenly collapsed and went into a coma. Modesta rushed him to the hospital where doctors said his chance of revival was 50/50.
Tzu Chi volunteers met mother and son in 2013 while conducting house-to-house visits in Tatalon, Quezon City, to collect scrap materials for their recycling programs.
"A volunteer entered my home and saw my bedridden son," says Modesta. "She asked about him then left. I thought that was that, but weeks later, more volunteers came and interviewed me. Then they asked me to go to Tzu Chi's Agno Street branch and that's when I started receiving support for my son."
Regular forms of assistance ranged from medicines and milk, to diapers and a blender for his meals. "All this time, Tzu Chi never abandoned me and my son," she says.
While Pedro benefited from the medical assistance, his mother gained new insights from her exposure to Tzu Chi culture. "I learned about maintaining good relationships with people," she says. "I also learned humility from Master Cheng Yen."
Though Pedro passed away in 2022, his mother's relationship with Tzu Chi continues. Modesta, who is at Tzu Chi Agno every Friday, readily accepted the invitation to volunteer for Charity Day, as well as other Tzu Chi programs in the coming months.
"Master Cheng Yen, I'd like you to know how thankful I am for the 8-9 years of support from Tzu Chi Foundation," she says. "I will never forget you. For as long as I live, the only way I can repay you is by volunteering. That way I can help others the way you helped me."
Rosevic Austero couldn't hold back her tears when she presented volunteers with the metal rods and screws that held her husband Dionesio's broken right leg in place. "The doctor asked him what he wanted to do with it, and he said to donate it to Tzu Chi so it can be of use to others," she says.
On April 30, Dionesio, a minimum-wage office staffer, was driving his motorcycle when a car cut in front of him. Slammed on a flyover wall, he broke both his legs. At the Philippine Orthopedic Center, where he underwent surgeries, social workers endorsed his case to the Tzu Chi Foundation. To this day, his wife Rosevic remains in awe at the compassion and assistance extended to her by volunteers.
"That's why I can't stop crying. We never though there would be people like you who are willing to help," says the housewife and mother of three.
Home since August, Dionesio still can't walk but he can stand and put pressure on his left leg. That's good enough for now. "Thank you very much Tzu Chi for all your help. I hope to come back so I can be of help to others," says an emotional Rosevic.
Profuse thanks are what Martina Bragais can offer to Tzu Chi volunteers who made it possible for her grandson, 16-year-old Cristopher Masbad, to get surgery for his ameloblastoma, a tumor that develops in the jaw.
Prone to huge mouth sores, Cristopher was at the dentist when a mass was discovered near his left molars. A biopsy showed it was non-cancerous, but the fluid in the mass acted like acid, thinning the bone in his jaw.
To correct the condition, a surgeon would remove the tumor, then replace the fragile jaw bone with bone taken from Cristopher's left leg. It's a costly procedure that his parents couldn't afford, even with the financial assistance they received from various sources.
Martina prayed unceasingly, asking to be led to the right people who could help her grandson. In time, her prayers were answered: Someone mentioned Tzu Chi Foundation, and when he qualified for medical assistance, Cristopher underwent the procedure at the Lung Center of the Philippines on March 22.
For Martina, even more amazing than the procedure is the volunteers' genuine willingness to help without expectations. "It's true what they say: What you pray for comes when you least expect it. We didn't know anything about Tzu Chi!"
"In my happiness, I have nothing more to say but thank you. Thank you, Tzu Chi, for coming into our lives."
Tzu Chi's next Charity Day is on December 17, 2023.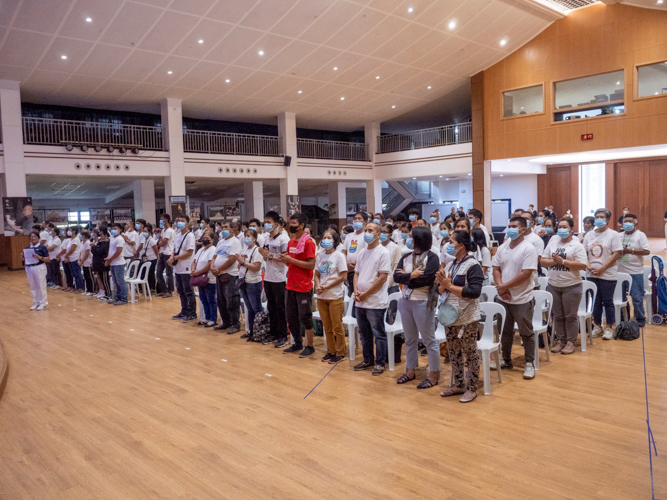 102 long-term medical assistance beneficiaries attended September 10's Charity Day at the Jing Si Auditorium in Buddhist Tzu Chi Campus, Sta. Mesa, Manila. 【Photo by Matt Serrano】
Volunteers count coin donations turned over by beneficiaries. 【Photo by Jeaneal Dando】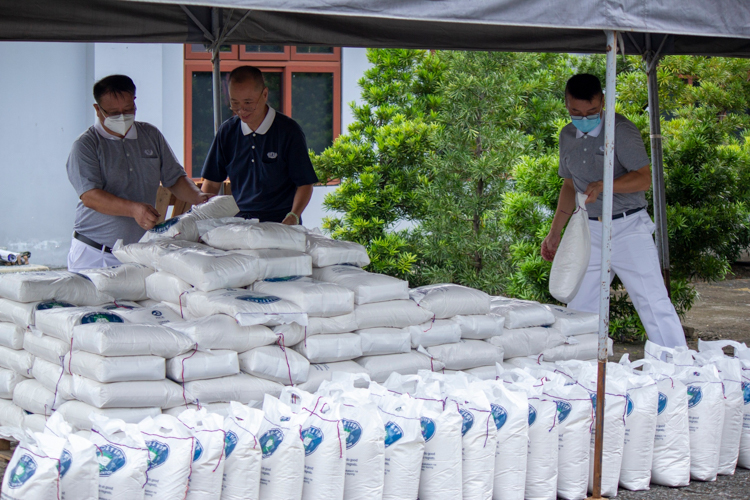 Each beneficiary received two 10-kg sacks of rice as well as an assortment of grocery items. 【Photo by Matt Serrano】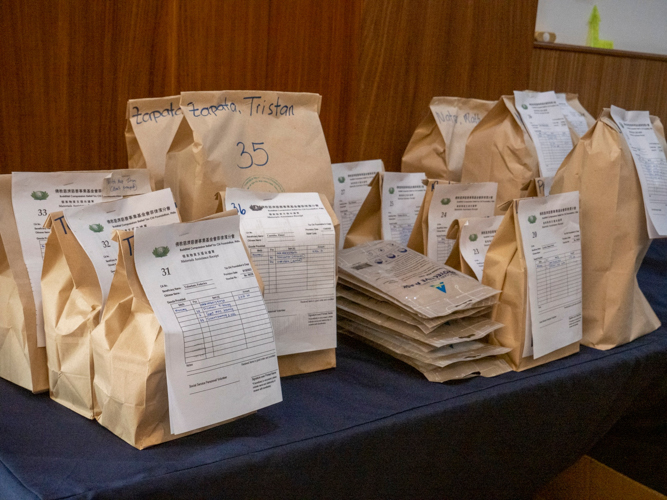 Volunteers procured prescription medicines for beneficiaries. 【Photo by Matt Serrano】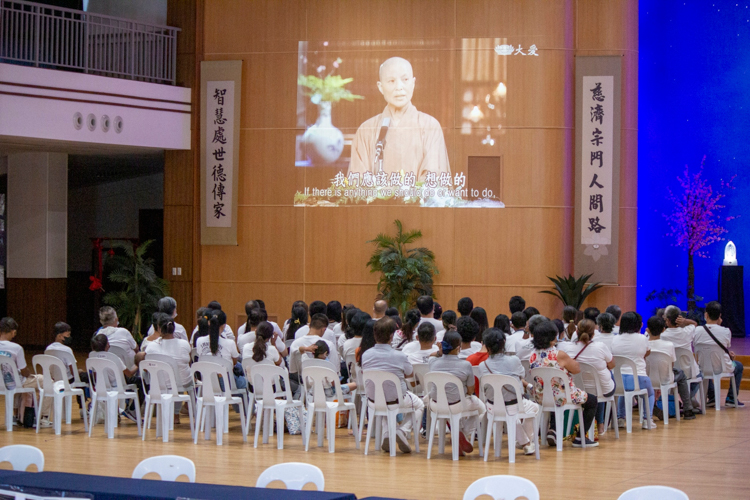 Beneficiaries and their families listen as Master Cheng Yen discusses the lesson behind the story "The Misfortune of a Woman." 【Photo by Matt Serrano】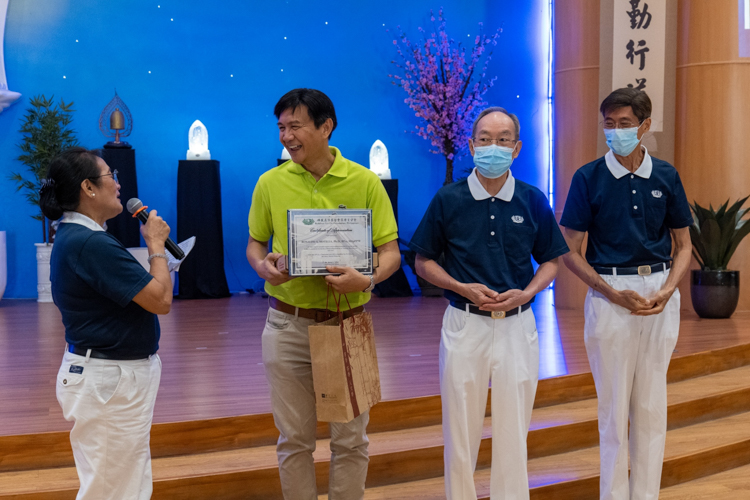 Registered psychologist Dr. Ronaldo Motilla (second from left) receives a certificate and token of appreciation from volunteers for his talk on "Healing, Recovery, and Self-Care." 【Photo by Jeaneal Dando】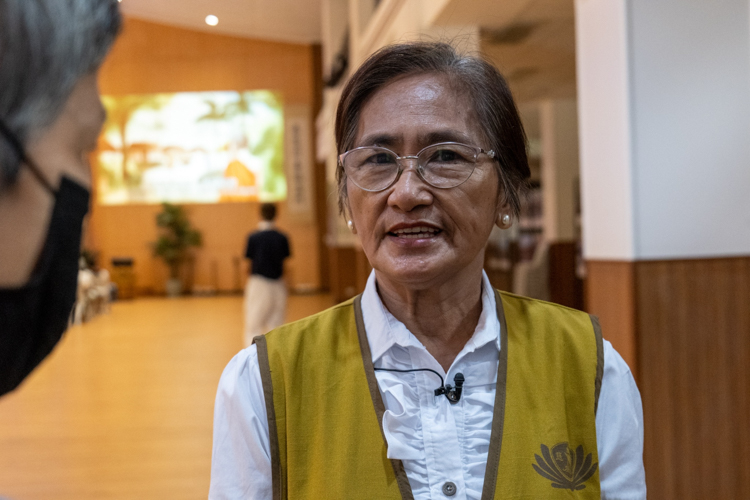 Donning the yellow Tzu Chi vest, Modesta Urquiola commits to volunteering in Tzu Chi activities after years of receiving medical assistance for her son Pedro, who was in a coma from 2011 to 2022. 【Photo by Jeaneal Dando】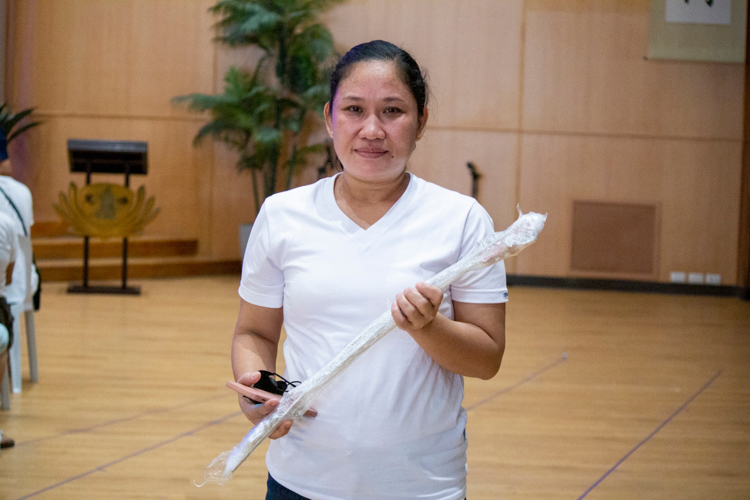 Rosevic Austero donates the metal rod and screws used to hold her husband's broken right leg in place after he figured in a freak accident last April. 【Photo by Matt Serrano】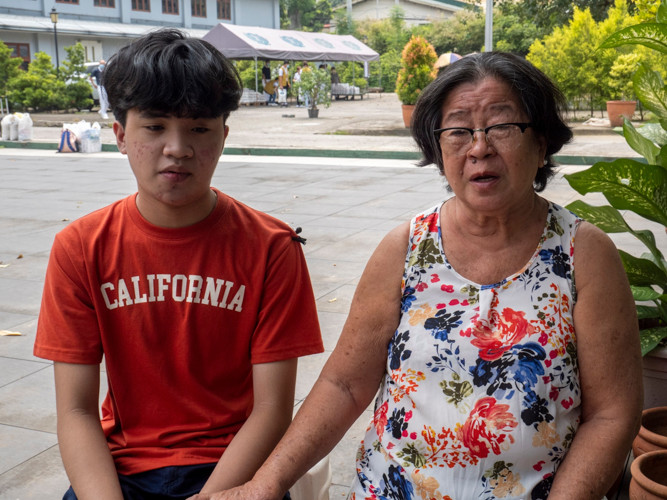 Martina Bragais (right) is full of thanks after her grandson Cristopher Masbad (left) underwent surgery for ameloblastoma, a benign tumor near his left molar. 【Photo by Matt Serrano】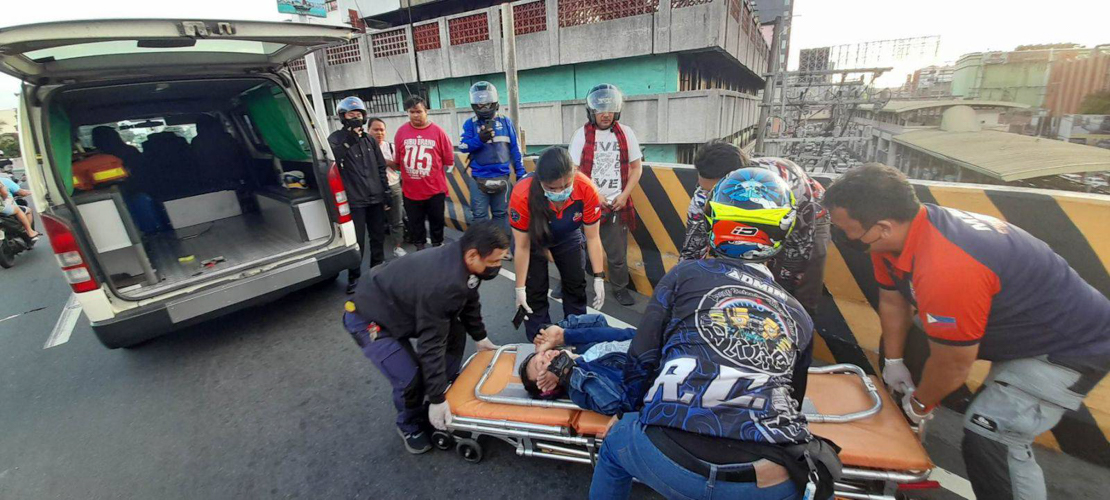 First responders take Dionesio Austero (on stretcher) to the hospital after a car cut in front of him and his motorcycle. He suffered two broken legs, which were thrown over his shoulders./ Photo courtesy of Rosevic Austero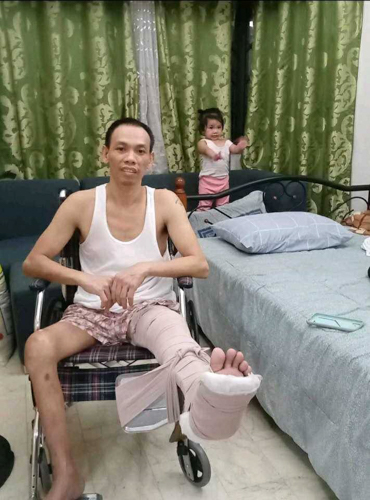 Finally home after four months in the hospital, Dionesio Austero continues to recuperate from a road accident in April./ Photo courtesy of Rosevic Austero
These metal rods and screws held Dionesio Austero's broken right leg in place. Now he's donating them to Tzu Chi Foundation so it could be of use to someone in a similar situation. / Photo courtesy of Rosevic Austero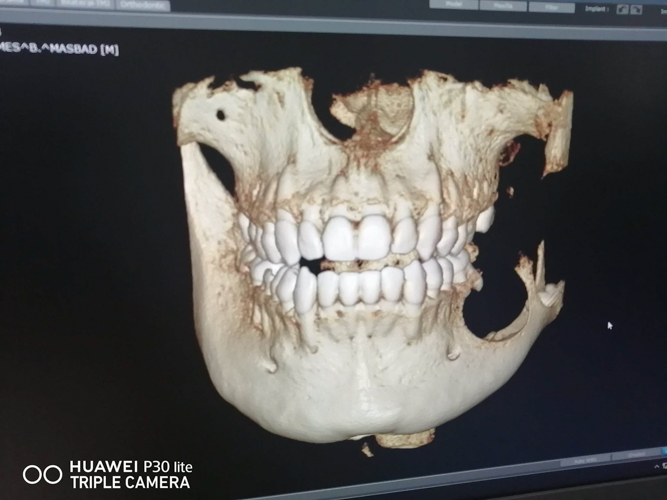 A dentist found a mass near Cristopher Masbad's left molars. The mass was benign but its fluid acted like acid and melted his left jaw bone./Photo courtesy of Cristopher Masbad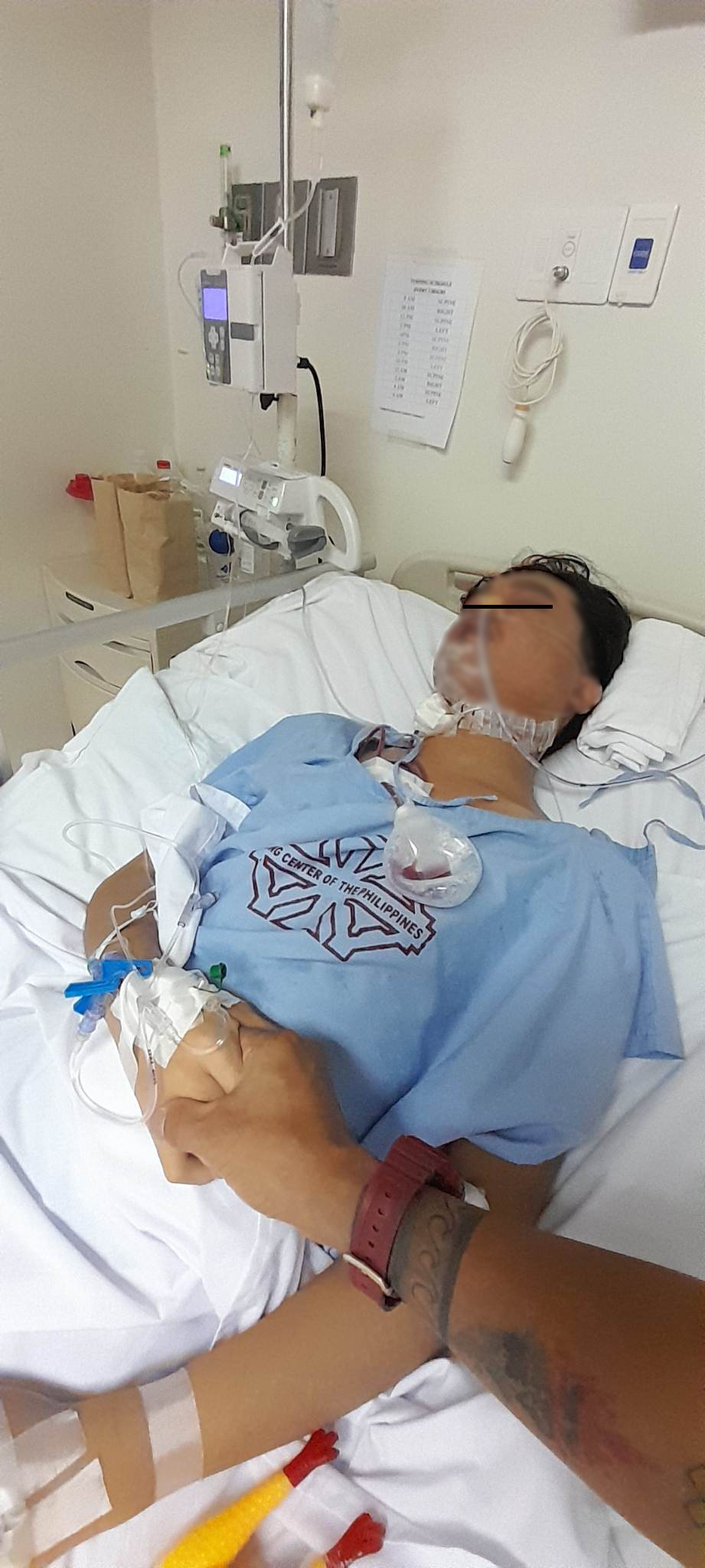 Cristopher Masbad rests after his surgery at the Lung Center of the Philippines in March. Doctors removed the benign mass in his mouth and replaced his thinning jaw bone with bone from his left leg./ Photo courtesy of Cristopher Masbad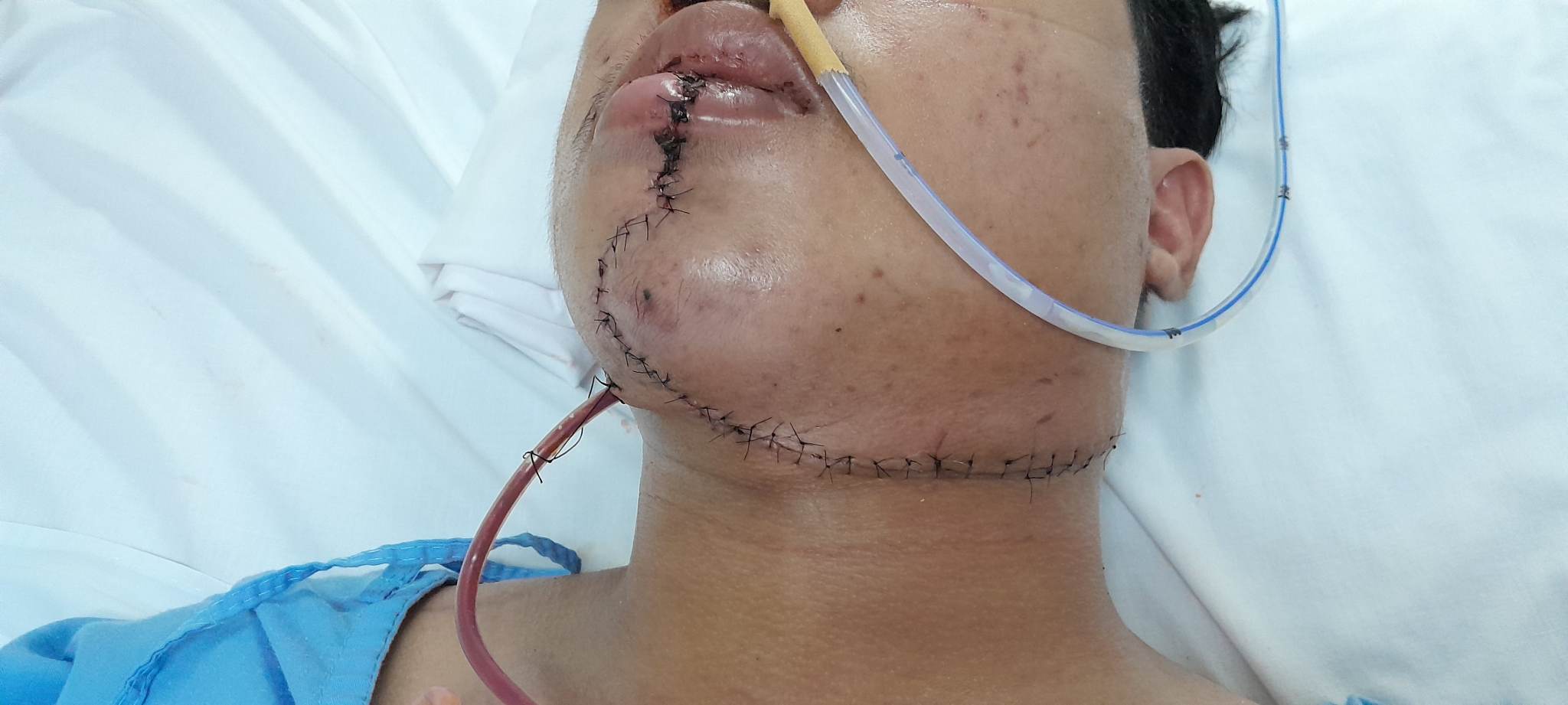 Surgeons cut Cristopher Masbad from his lip to his chin to his jaw to remove the benign tumor and replace his thinning left jaw bone with bone from his left leg./ Photo courtesy of Cristopher Masbad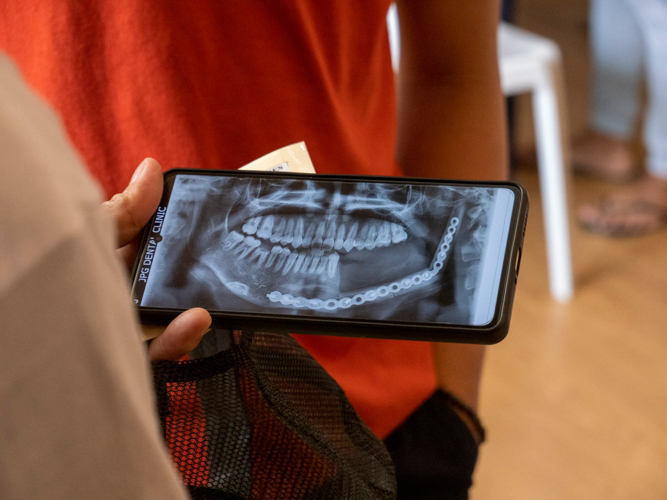 An x-ray shows the titanium plates that act as a cast to Cristopher Masbad's jaw bone./ Photo courtesy of Cristopher Masbad【Photo by Matt Serrano】
Go Back