Tzu Chi, PNU sign MOA for scholarship, partnership programs
PNU officials, alumni, and students join Tzu Chi for the MOA signing at the BTCC café.
By Ben Baquilod
The Philippine Normal University (PNU) and Tzu Chi Foundation Philippines inked a Memorandum of Agreement (MOA) on July 13 to expand Tzu Chi's Educational Assistance Program in the state university.
"The MOA signing showcases the synergy between PNU and Tzu Chi," stated Dr. Teresita T. Rungduin, PNU's Dean of the Office of Student Affairs and Student Services. "We are grateful for this support system, which will offer abundant opportunities to assist our students."
In addition to increasing scholarship grants at PNU, the MOA signifies joint efforts of the two institutions to promote environmental sustainability, provide on-the-job training, collaborate on technical-vocational programs, and create platforms for extension projects and knowledge sharing.
"I am very happy that this partnership extends to initiatives on environmental sustainability and climate action as this is also part of PNU's strategic directions in the next ten years," said PNU President Dr. Bert J. Tuga.
Currently, there are 44 Tzu Chi scholars from PNU, with the expectation of an increase following the agreement.
Tzu Chi has been granting scholarships in the Philippines since 1995, initially for elementary and high school students, and later expanding to college students. Over the past 28 years, it has awarded at least 13,000 scholarship grants.
During the MOA signing, Edison Lalimarmo, a former Tzu Chi scholar from PNU who graduated in 2012, shared his testimony. "When I first knew Tzu Chi, I was hitting rock bottom. I felt there was no hope," Edison confessed. "But when Tzu Chi came, it saved me and my family."
For more than a decade now, Edison has been thriving as an educator, and is currently teaching at Valenzuela City School of Mathematics and Science. "The greatest thing I learned from Tzu Chi is humility," he said. "I am not who I am today and I won't be who I will become in the future without Tzu Chi."
Cristine Mae Udarbe, a current Tzu Chi scholar from PNU, expressed gratitude for Tzu Chi's 13-year involvement in her life. After her family benefited from Tzu Chi's cash-for-work program following Typhoon Ondoy's devastation in Marikina in 2009, she was chosen as one of the foundation's scholars. She acknowledged Tzu Chi's guidance as instrumental in their progress.
"We have come a long way from where we began, and that would not have been possible without Tzu Chi's guidance." Cristine said.
For scholar Danica Dimple Lazaro, Tzu Chi emerged as a savior in her challenging life. "My life was a circus," shared Danica, who experienced the loss of her mother at just eight months old and was subsequently abandoned by her stepmother, leaving her under the care of her father, who faced unstable employment.
While pursuing her studies, she worked as a part-time cashier on the weekends and took on other extra jobs as a food seller, tutor, and student assistant at her university. All these, she no longer had to do when she became a scholar. Tzu Chi provided her with school allowances, essential provisions like rice and groceries, uniforms, book, access to medical consultations, and learning opportunities through monthly humanities classes.
"Tzu Chi taught me about vegetarianism, filial piety, cultivating a positive mindset, among others, which broadened my understanding of the world," Danica said. "Through my involvement with Tzu Chi, I learned the importance of compassion, empathy, and service to others."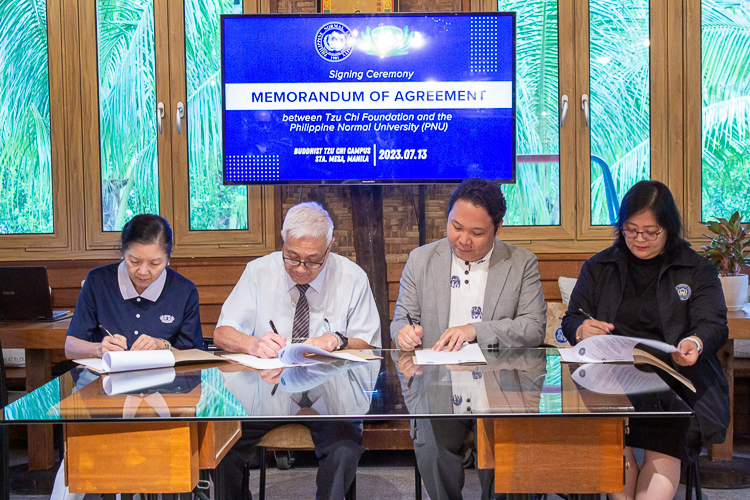 Tzu Chi Philippines and Philippine Normal University sign a Memorandum of Agreement on July 13 to expand Tzu Chi's Educational Assistance Program in the state university. 【Photo by Marella Saldonido】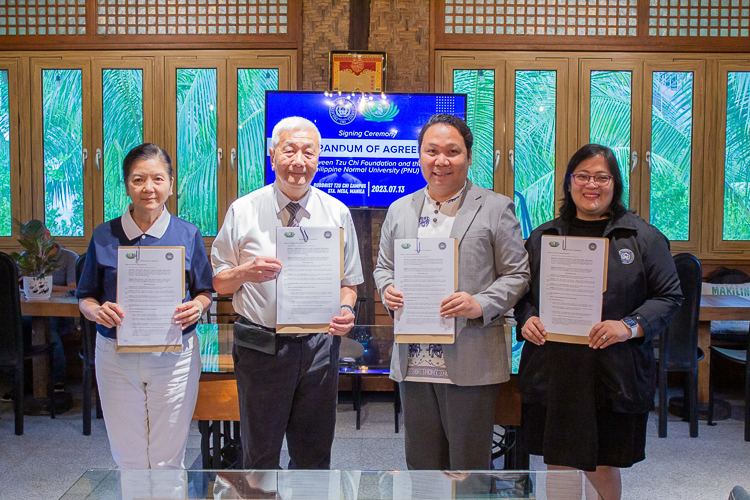 From left to right: Educational Assistance Program Head Volunteer Rosa So, Tzu Chi Philippines CEO Henry Yuñez, PNU President Dr. Bert J. Tuga, Dean of the Office of Student Affairs and Student Services Dr. Teresita T. Rungduin. 【Photo by Marella Saldonido】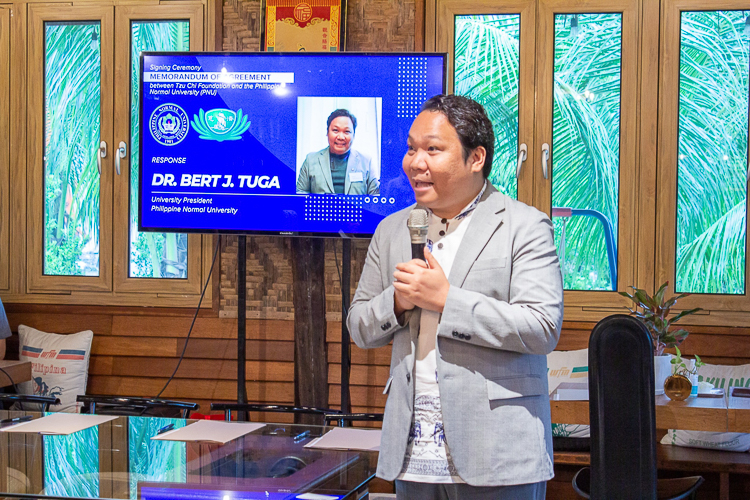 "This is very important to us," says PNU President Dr. Bert J. Tuga on the MOA signing. "I am very happy that this partnership extends to initiatives on environmental sustainability and climate action as this is also part of PNU's strategic directions in the next ten years." 【Photo by Marella Saldonido】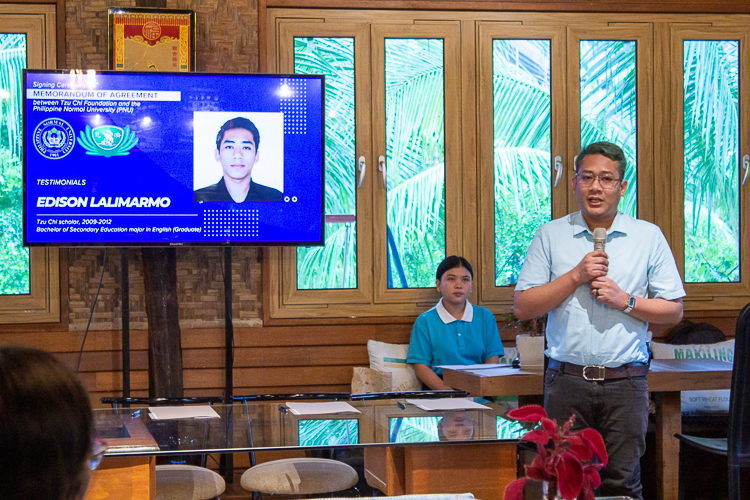 "When I first knew Tzu Chi, I was hitting rock bottom. I felt there was no hope. But when Tzu Chi came, it saved me and my family," says former Tzu Chi scholar and PNU alumnus Edison Lalimarmo, who has been a public school teacher for ten years now. 【Photo by Marella Saldonido】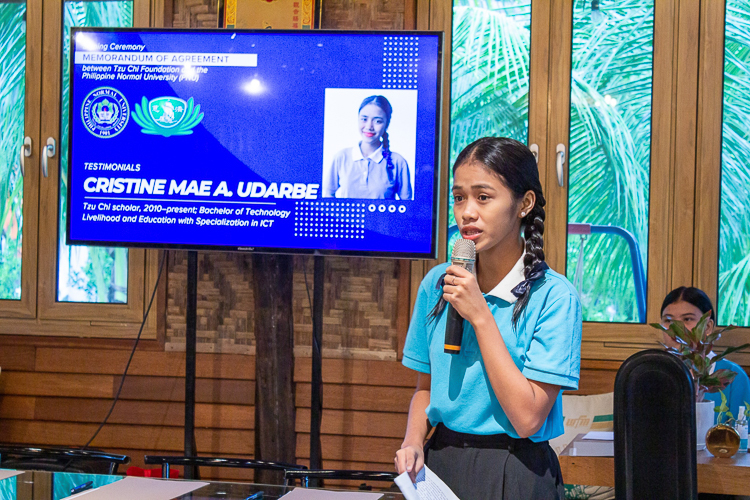 "We have come a long way from where we began, and that would not have been possible without Tzu Chi's guidance," says Cristine Mae Udarbe, Tzu Chi scholar from PNU. 【Photo by Marella Saldonido】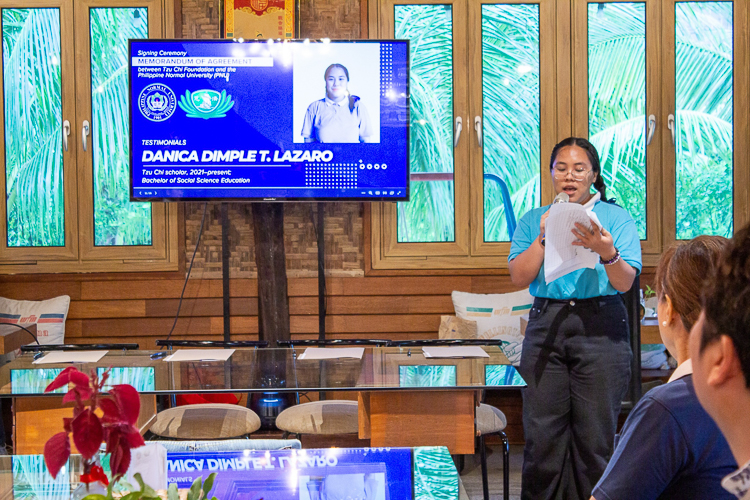 "Tzu Chi taught me about vegetarianism, filial piety, cultivating a positive mindset, among others, which broadened my understanding of the world," says Danica Dimple Lazaro, Tzu Chi scholar from PNU. "Through my involvement with Tzu Chi, I learned the importance of compassion, empathy, and service to others." 【Photo by Marella Saldonido】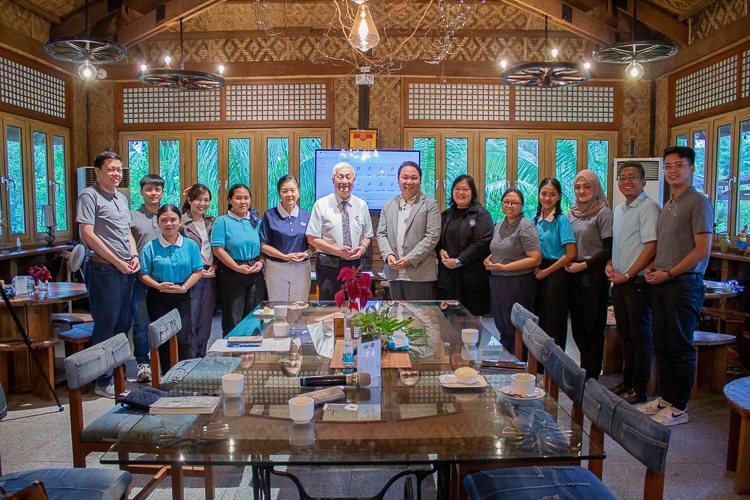 PNU officials join Tzu Chi executives, staff, and scholars for a group photo. 【Photo by Marella Saldonido】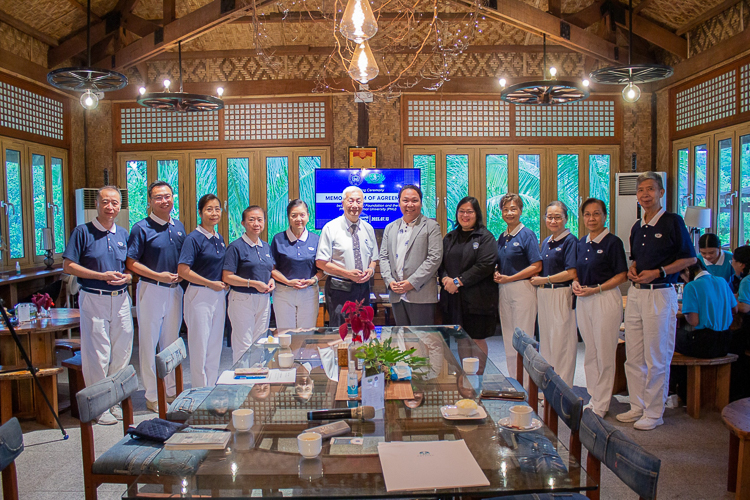 Tzu Chi volunteers join PNU officials for a group a photo. 【Photo by Marella Saldonido】
Go Back