Tzu Chi holds Volunteers' Diligence Training Camp
Volunteers from all over the Philippines gathered to learn Tzu Chi's mission, culture, and direction with speakers from Taiwan and Dharma Master Cheng Yen herself.
By Ben Baquilod
Volunteers from all over the Philippines joined the 2022 Commissioners and Faith Corps Diligence Training Camp on September 2 to 4 at the Buddhist Tzu Chi Campus in Sta. Mesa, Manila. More than 200 volunteers from Manila, Pampanga, Bicol, Cebu, Leyte, Davao, and Zamboanga joined the event.
The camp served as a refresher course on Tzu Chi's mission and culture for longtime and new volunteers. Through keynote speakers both from Tzu Chi Philippines and Taiwan, participants learned the volunteers' core mission and responsibilities and the direction of Tzu Chi's humanitarian programs in the years to come.
"I feel happy and renewed. This camp made me realize that we still have a lot to learn in the path of Tzu Chi," said over-all camp coordinator Sharon Sy.
It was a touching and grateful moment when Tzu Chi Philippines CEO Henry Yuñez, still recovering from a mild stroke, made an appearance in the opening program on a wheel chair. Yuñez thanked and inspired the volunteers to be diligent in carrying out Tzu Chi's mission, while volunteers, in return, sang a song of encouragement to the CEO and wished his full recovery.
A camp this big would have been impossible to put up without the hands of hundreds of volunteers working together behind the scenes. One of them is Ronald Lee, who performed logistical tasks days prior the event and all throughout the three-day camp—from carrying loads of chairs and aligning them, putting markings on the floor and signages in the dormitories to setting up tents.
Although Ronald Lee has known Tzu Chi for a long time now, it was only this year when he started to be active and undergo volunteer training. For him, Tzu Chi has led him to sincere relationships and to a deeper understanding of what makes life meaningful. "I used to be very cynical and selfish. But through Tzu Chi, I have learned to be happy. I have also found true friendships here because the people who come here have pure intentions in helping others," Lee said.
Being a Tzu Chi volunteer was also an opportunity for Lee to study Buddhism and apply its principles to his daily life. "Life is full of suffering. And Buddhism tells us that many of our sufferings come from our attachment to worldly things. So, now I'm learning to be less attached to things, to my ego."
Highlights of the camp include the sharing of volunteer Harvey Yap on Tzu Chi Zamboanga's efforts in their community. Yap reported on the impact of their COVID-19 relief mission and other recent humanitarian programs in the Muslim communities of Zamboanga and Mindanao. "They had 'thank you' posters with Tzu Chi's name on it even if we initially wanted to make an anonymous donation," Yap said of their recent distribution of slippers to the impoverished barangay of Arena Blanco in Zamboanga City. "It goes to show that kindness is never forgotten. We are given this rare opportunity to nurture their hearts and their characters and we should protect them and value them as treasures."
The trainees also learned a lot about the history of Tzu Chi in the Philippines. Through the sharing of senior volunteer Judy Lao, many were inspired to see how it all started: when Master Cheng Yen donated her cash prize to the Philippines after receiving The Magsaysay Community Leadership from the Ramon Magsaysay Award Foundation in 1991. It then paved way to the exposure of the Master's compassion to the Filipino-Chinese community in the Philippines, leading to the inauguration of Tzu Chi Philippines on November 8, 1994.
Since then, the foundation has grown to be one of the most well-respected organizations in the Philippines, implementing programs on charity, medical aid, education, disaster relief, environmental protection, community volunteerism, and humanistic culture cultivation with impact reaching all corners of the Philippine archipelago for the past 27 years. It gained the highest level of accreditation by the Department of Social Welfare and Development (DSWD) for satisfactorily complying with Third Level standards in the implementation of community-based programs and services.
The excellence of Tzu Chi's services is what drew Nelson Reyes to the Buddhist foundation. He is one of the working volunteers in Tzu Chi Cebu, whose main programs include providing college scholarships to more than 150 students. Admittedly averse to attending seminars and trainings, he still flew in from Mandaue City to learn more about Tzu Chi. "What Tzu Chi does is hard to duplicate. There is nothing like the mission and teachings of Master Cheng Yen," said Reyes.
Salvacion De Guzman, or 'ate Shoni' as her fellow volunteers call her, agrees. She was a beneficiary of Tzu Chi's Typhoon Ondoy relief mission in 2009, and eventually certified as a commissioner in 2013. "When I was helped, I felt the need to pay it forward. I see that Master needs me to be one of her hands to help others," she said.
"I feel happy to be in this camp. Hearing the stories of other volunteers, I learned how little acts of kindness can have ripple effects and change people's lives," she said. "I see my fellow volunteers as family. And I realized that I need to invite more people to Tzu Chi so that cycle of love continues," she added.
On the third day, volunteers had the rare opportunity to meet Dharma Master Cheng Yen in real time via livestream. Volunteers from 41 countries attended the online meeting and leaders from Taiwan, Thailand, Cambodia, Canada, South Africa, and Philippines were given the opportunity to speak. Master Cheng Yen was happy to see our CEO Henry Yuñez recovering. "I got peace of mind when I knew you are better," said the Master.
Dharma Master spoke of the power of technology to see suffering in the world and find ways to help those in need. "The risk of climate change is big. One of the best ways to address this is to become vegetarian," she said.
The Tzu Chi founder also reminded the volunteers that alongside helping people who suffer, they need to also help themselves by cultivating wisdom: "Let's use the power of love to heal people."
At the camp's closing, CEO Yuñez thanked the volunteers for all the work that they do for the country. "I now see that there's hope for Tzu Chi Philippines. We got a big future ahead of us. As disciples of Master Cheng Yen, I hope we follow her footsteps and cultivate our love."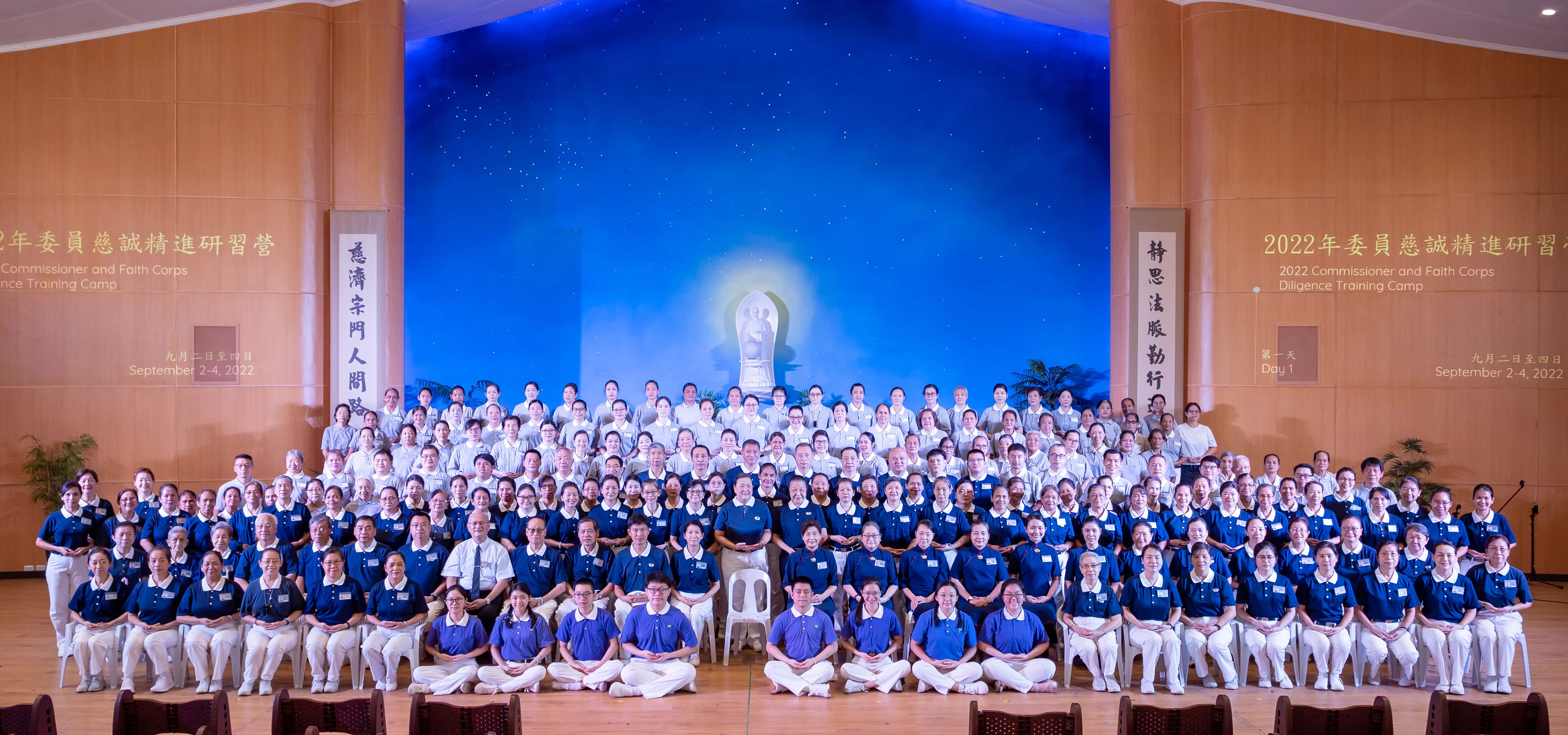 Participants of the 2022 Commissioners and Faith Corps Diligence Training Camp pose for a group photo.【Photo by Daniel Lazar】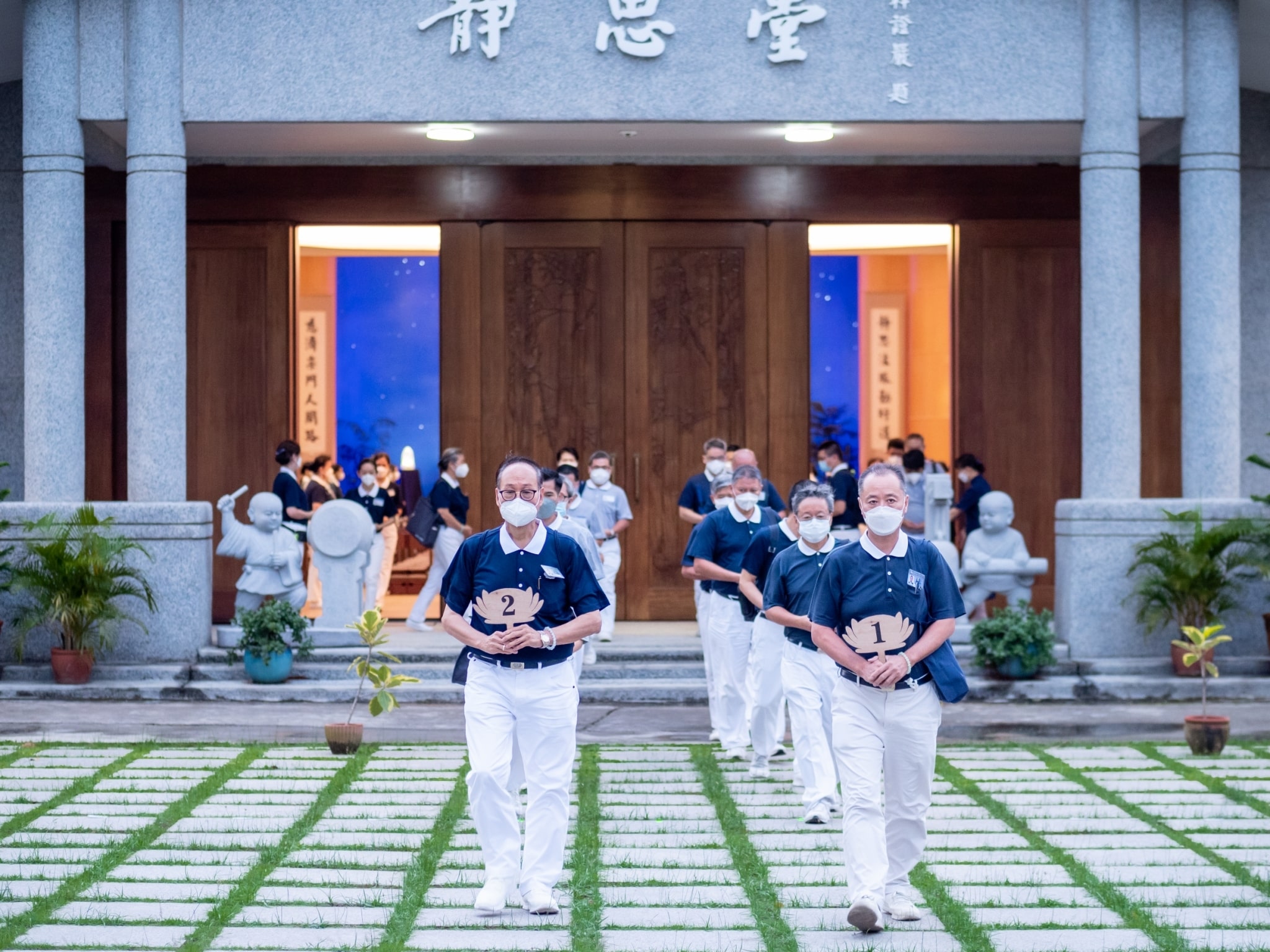 One of the Tzu Chi Etiquettes that volunteers learn in the training camp is how to walk with a group in an organized manner.【Photo by Daniel Lazar】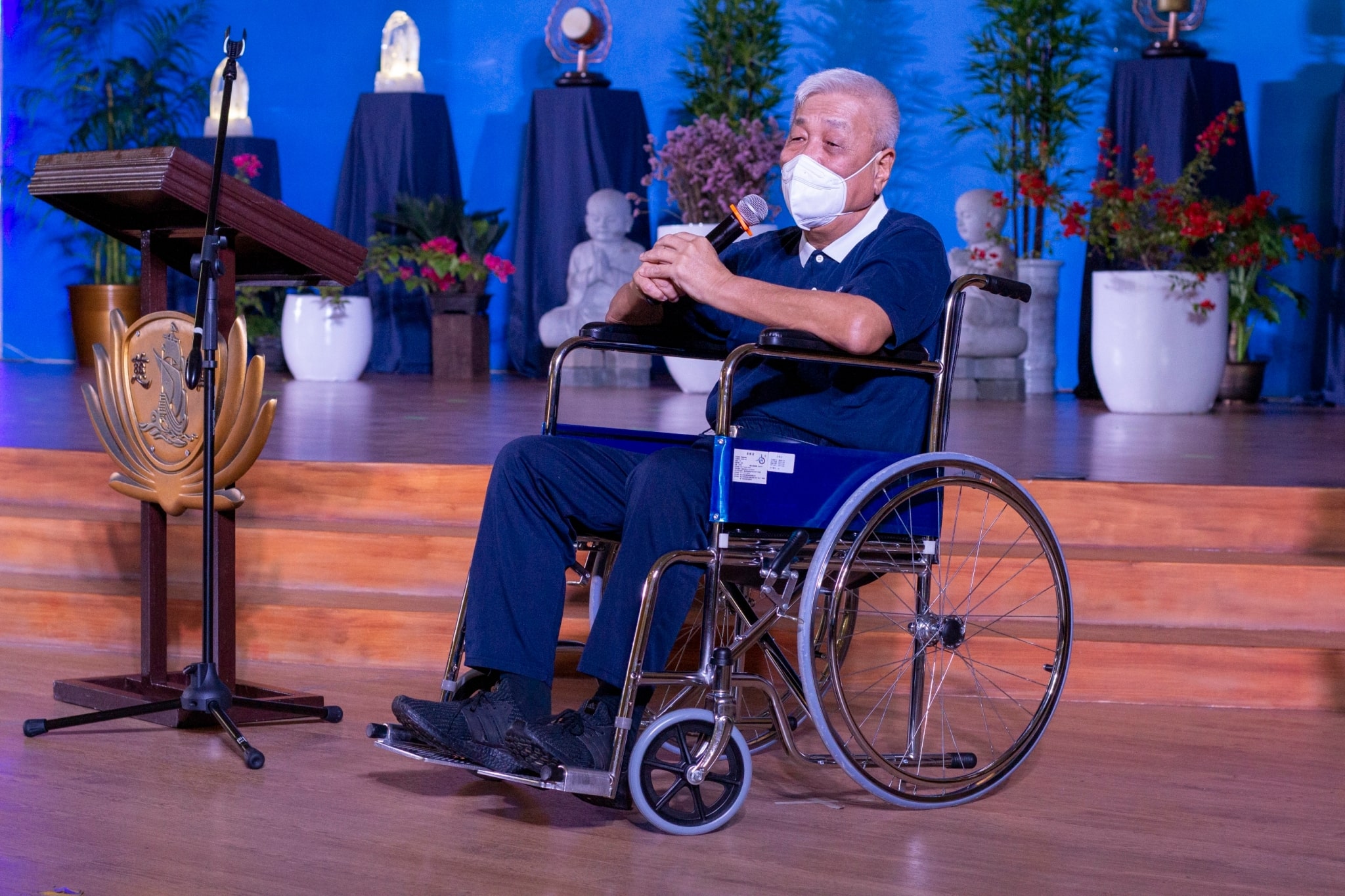 Recovering from a mild stroke, Tzu Chi Philippines CEO Henry Yuñez attends the opening program of the camp, much to the delight of volunteers.【Photo by Matt Serrano】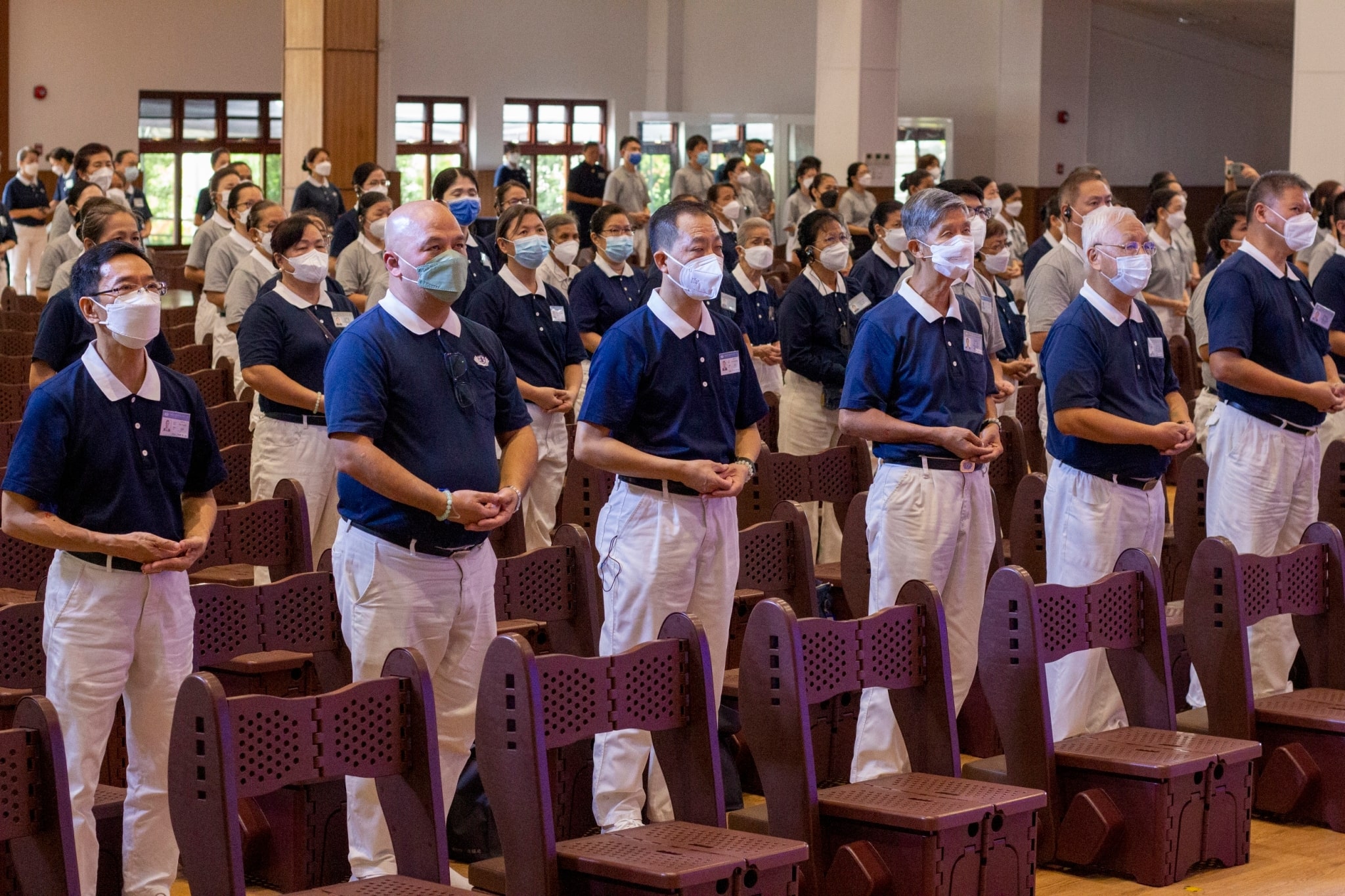 More than 200 volunteers join the three-day training camp.【Photo by Matt Serrano】
"It goes to show that kindness is never forgotten. We are given this rare opportunity to nurture their hearts and their characters and we should protect them and value them as treasures," says Tzu Chi Zamboanga volunteer Harvey Yap on their humanitarian programs in the Muslim communities in Mindanao.【Photo by Matt Serrano】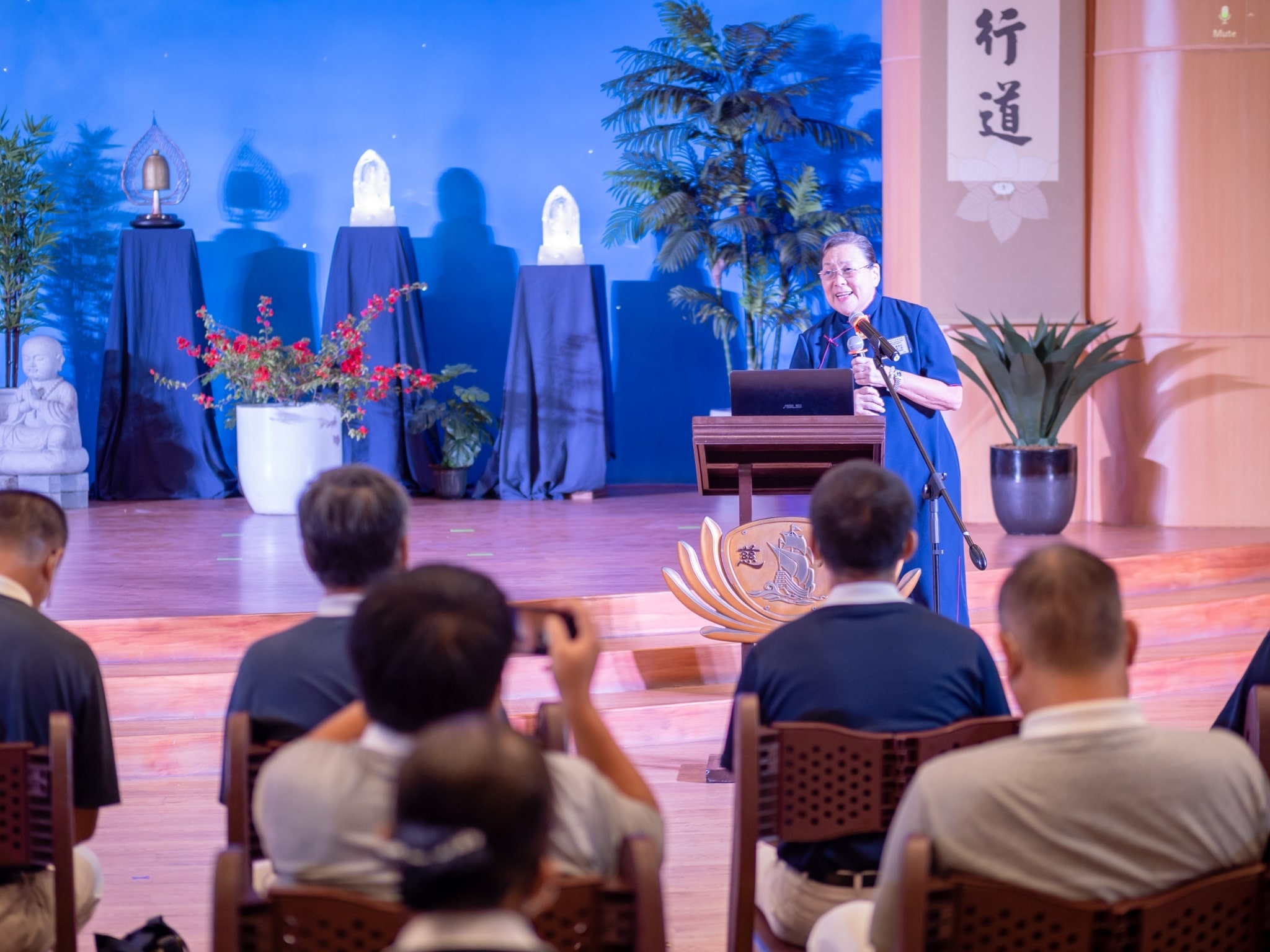 Judy Lao narrates the history of Tzu Chi Philippines, beginning from Master Cheng Yen's donation of the cash prize she received from The Magsaysay Community Leadership from the Ramon Magsaysay Award Foundation in 1991, which lead to the inauguration of Tzu Chi Philippines on November 8, 1994.【Photo by Daniel Lazar】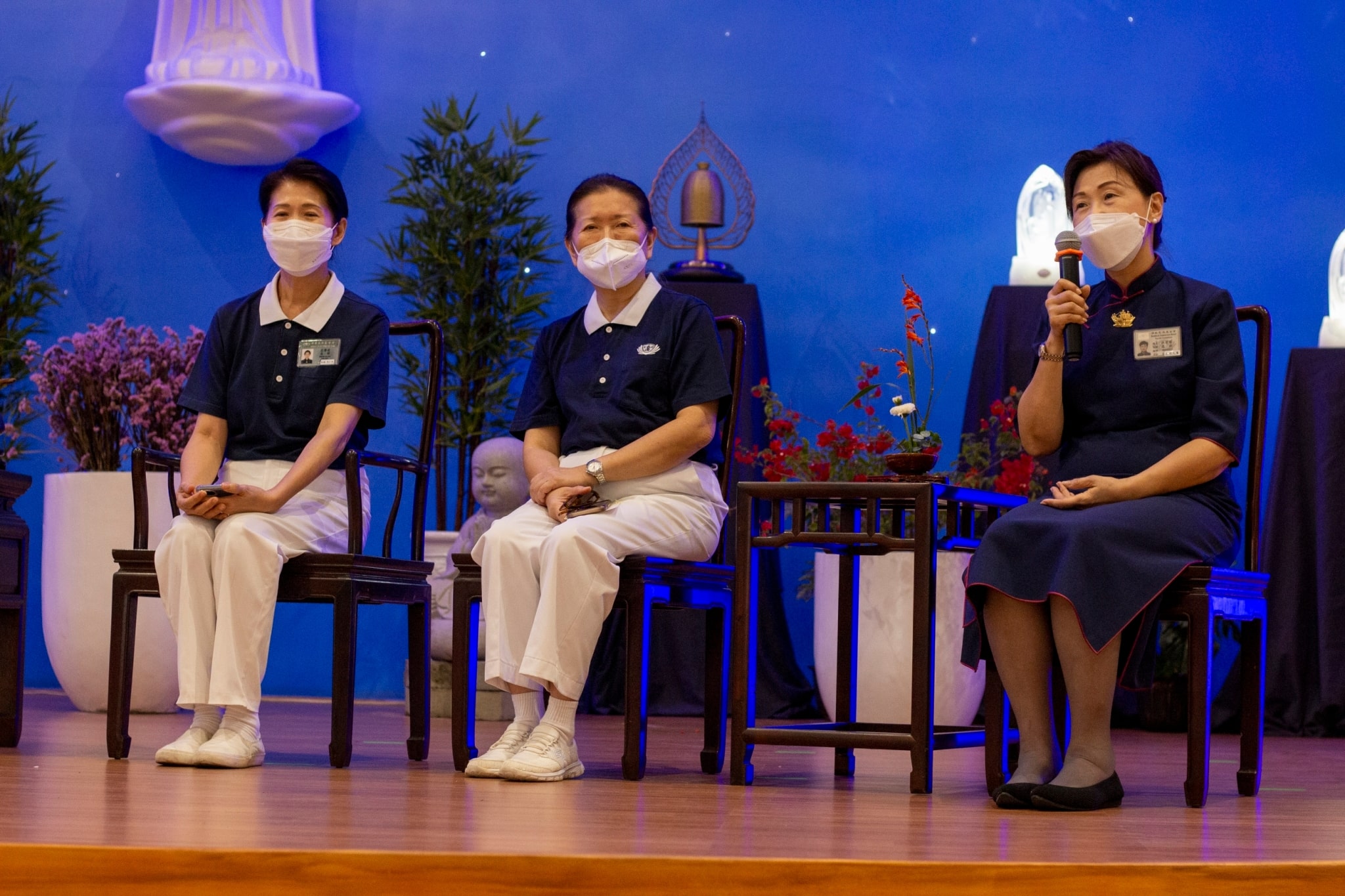 Tzu Chi Philippines Deputy CEO Woon Ng, with volunteers Sally Yuñez and Molita Chua talk about the milestones of Tzu Chi in the Philippines through the years.【Photo by Matt Serrano】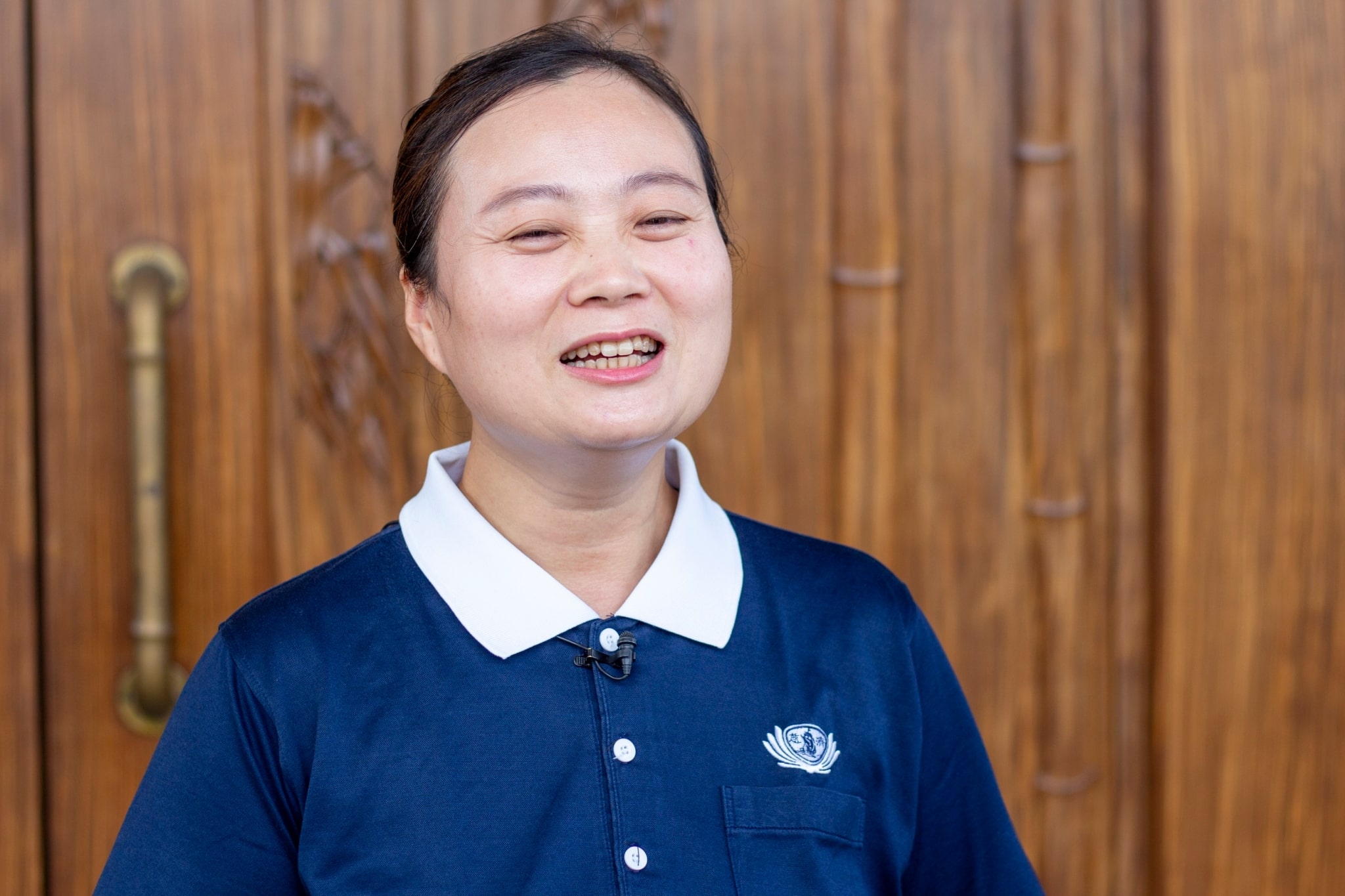 "I feel happy and renewed. This camp made me realize that we still have a lot to learn in the path of Tzu Chi," says volunteer camp head Sharon Sy.【Photo by Matt Serrano】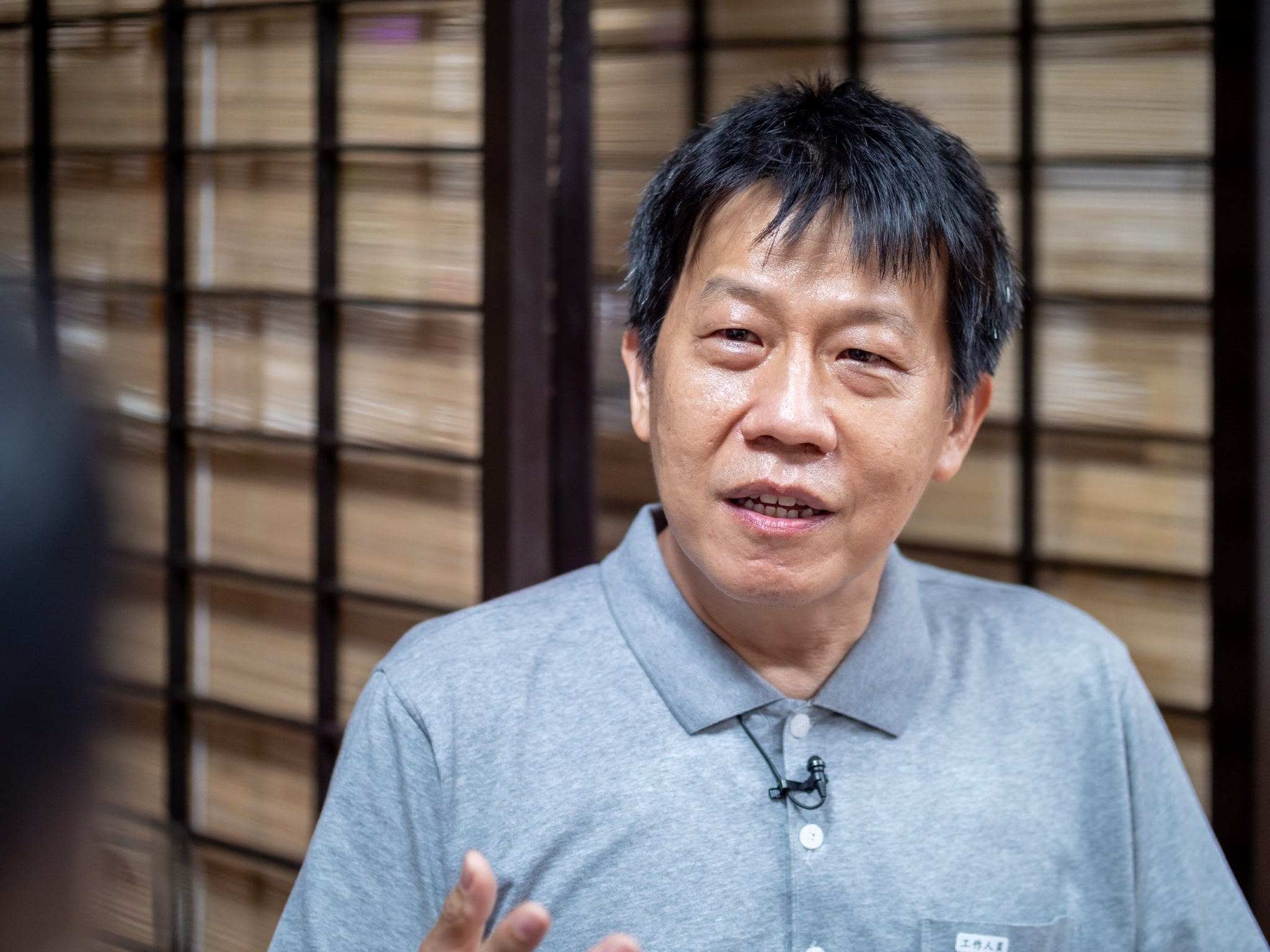 "I used to be very cynical and selfish. But through Tzu Chi, I have learned to be happy. I have also found true friendships here because the people who come here have pure intentions in helping others," says volunteer Ronald Lee.【Photo by Daniel Lazar】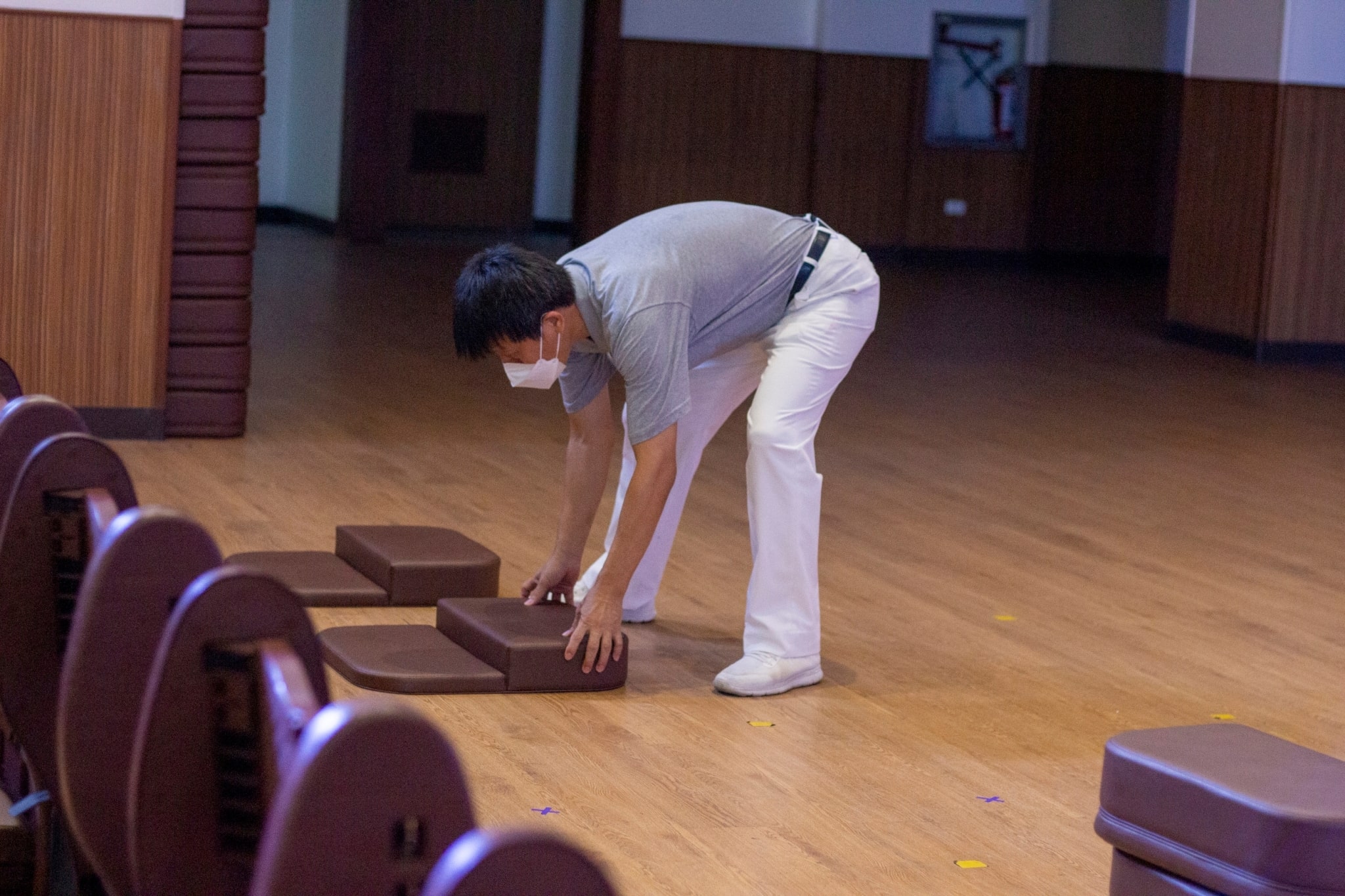 Ronald Lee aligns prayer kneeling pads inside the Jing Si Auditorium.【Photo by Matt Serrano】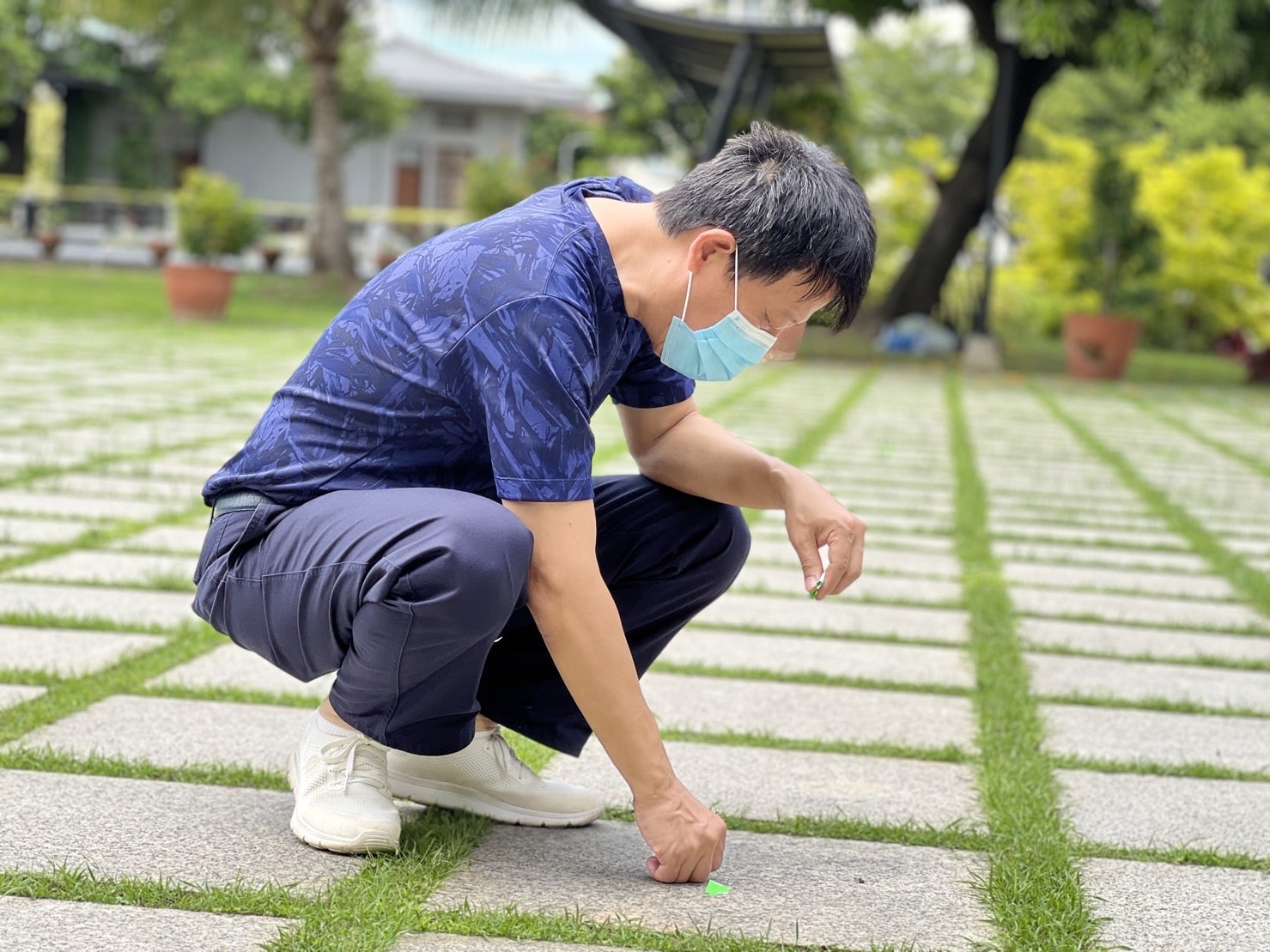 Prior to the camp, Ronald Lee puts floor markings that serve as guide to volunteers.【Photo by Daniel Lazar】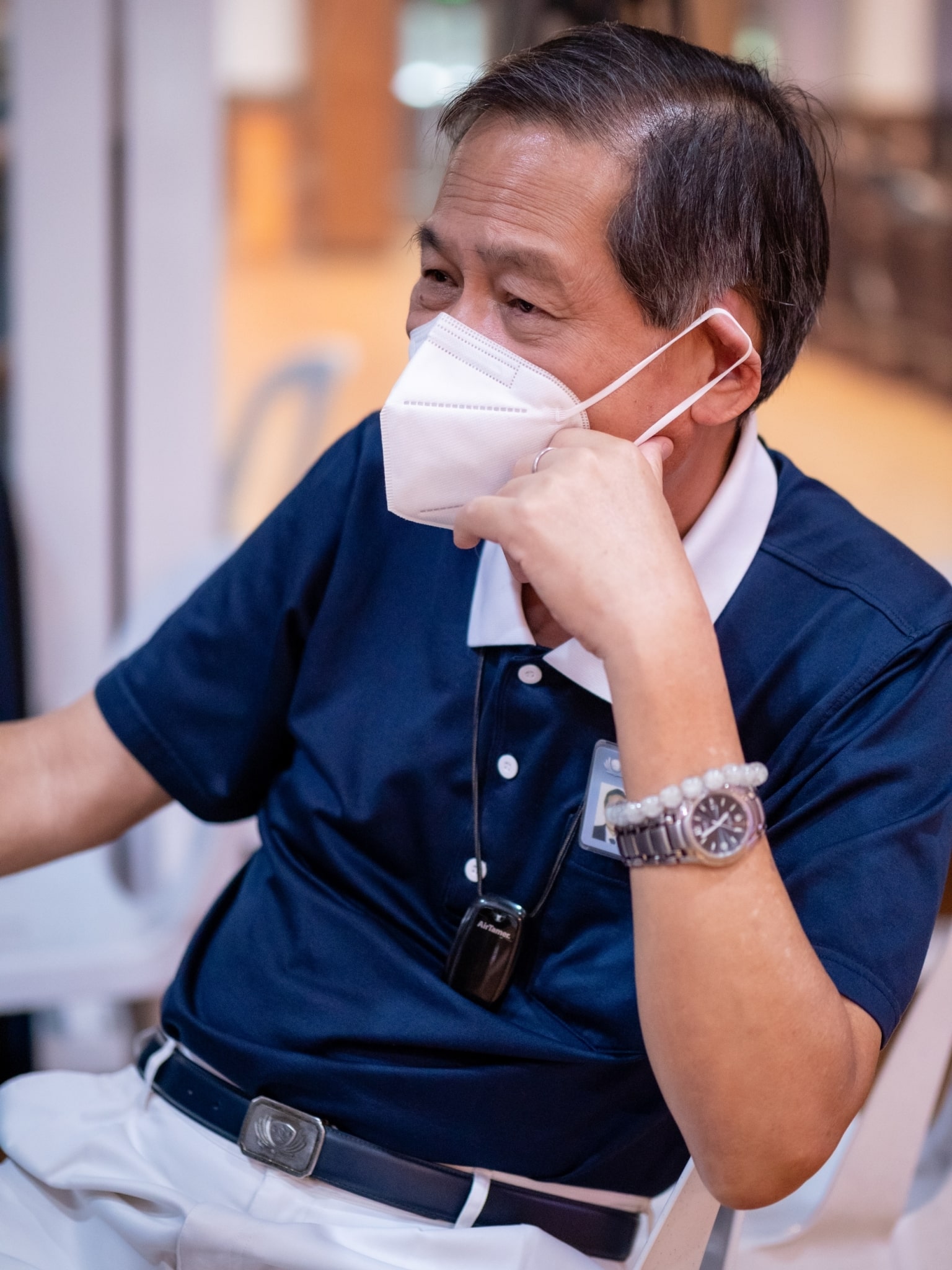 "What Tzu Chi does is hard to duplicate. There is nothing like the mission and teachings of Master Cheng Yen," says Tzu Chi Cebu volunteer Nelson Reyes.【Photo by Daniel Lazar】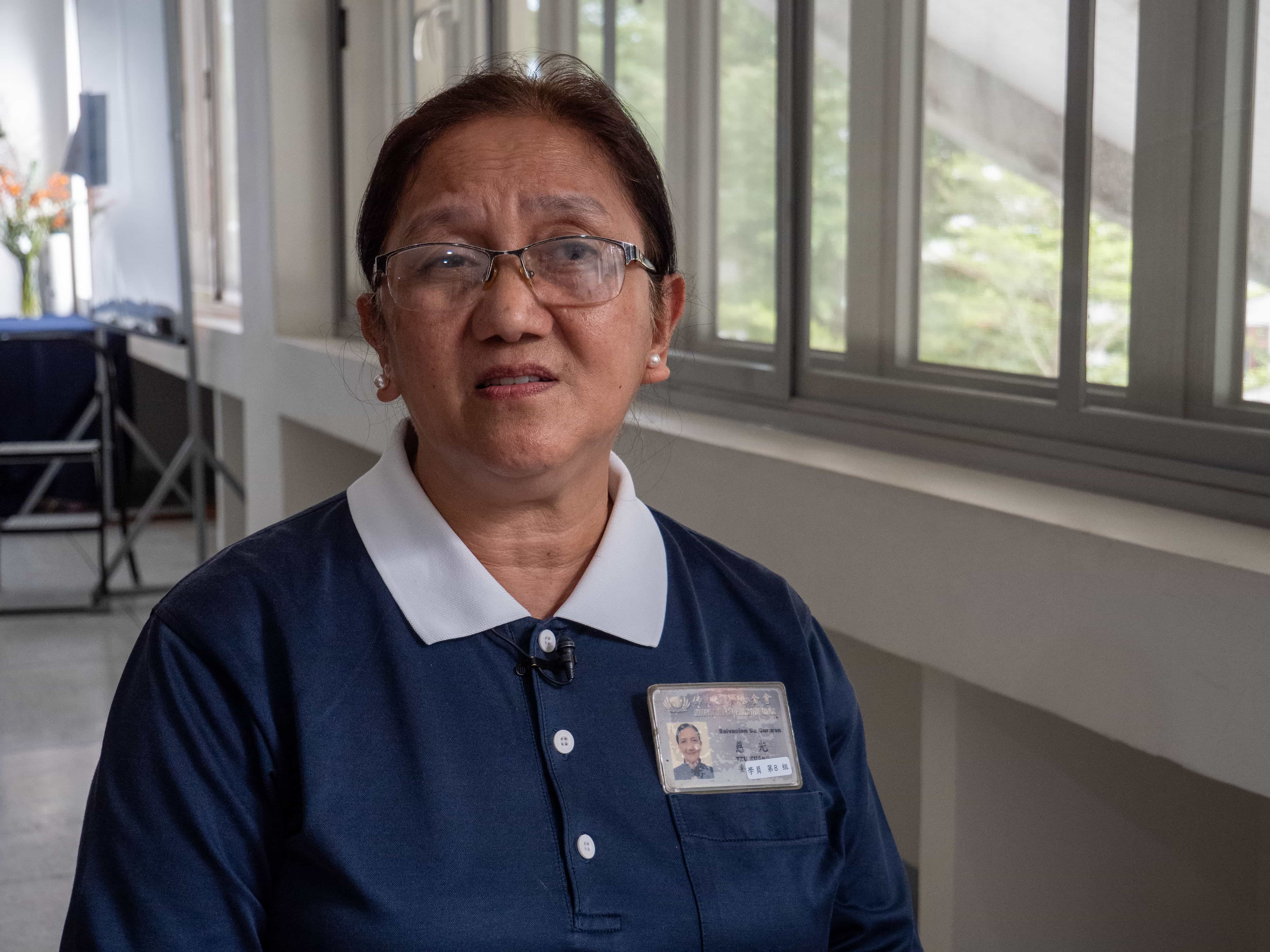 "I feel happy to be in this camp. Hearing the stories of other volunteers, I learned how little acts of kindness can have ripple effects and change people's lives," says commissioner Salvacion De Guzman, a former beneficiary of Tzu Chi's Typhoon Ondoy relief mission in 2009.【Photo by Jeaneal Dando】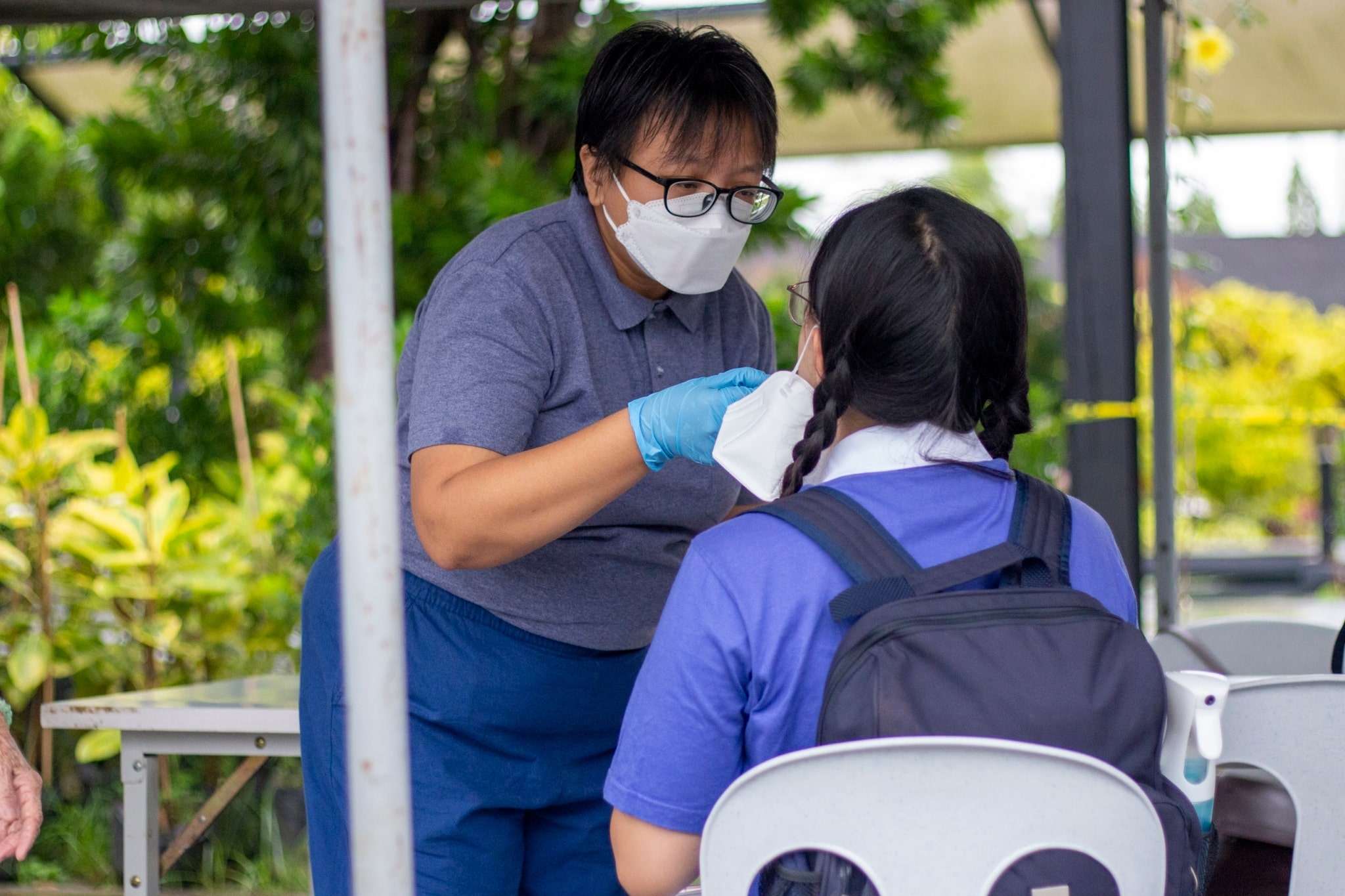 To ensure safety, all participants undergo rapid antigen swab test daily before the sessions start.【Photo by Matt Serrano】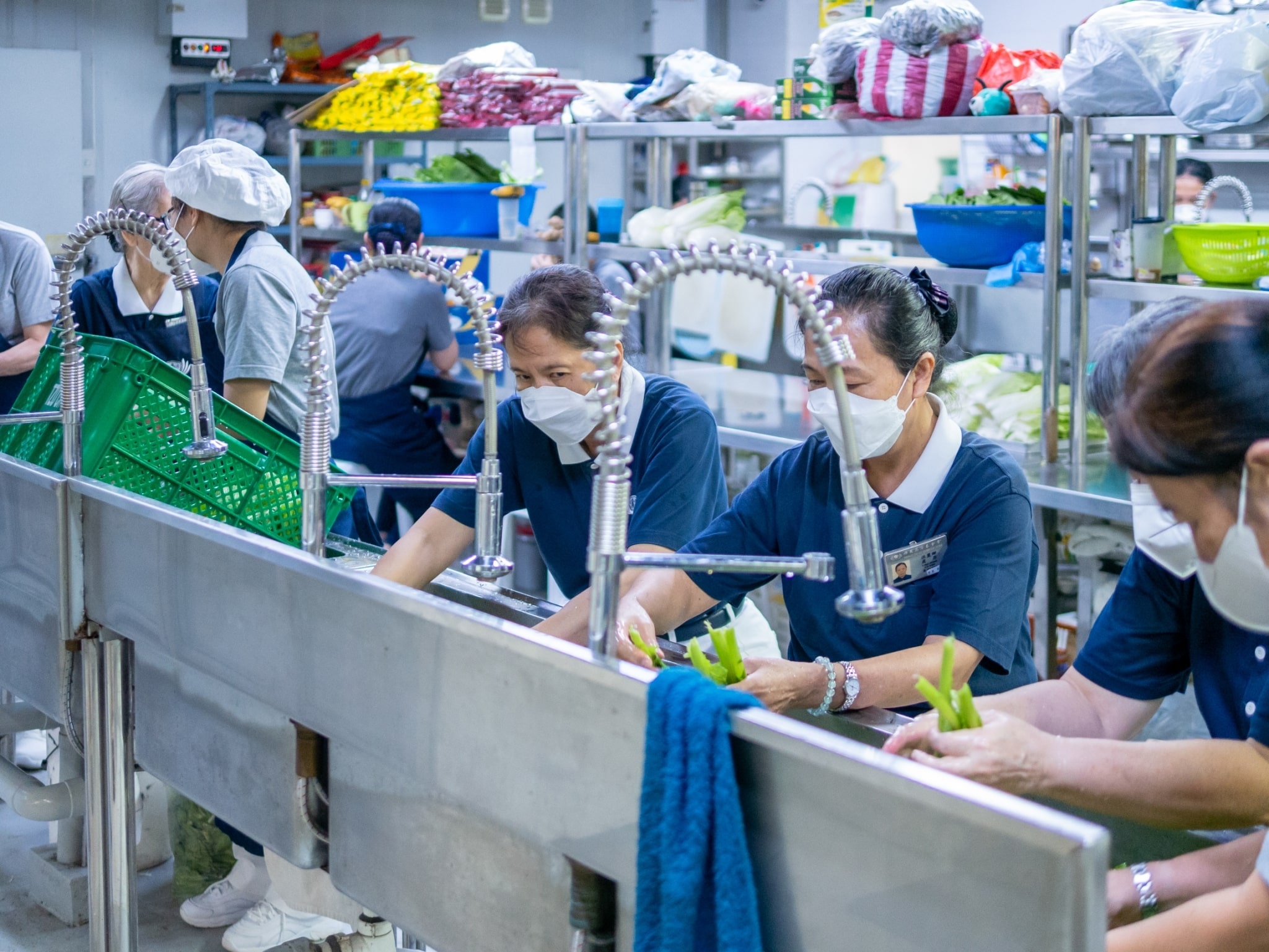 Vegetarian meals are served throughout the camp thanks to the tireless work of kitchen volunteers.【Photo by Daniel Lazar】
Volunteers are given the chance to interact with the nuns from Jing Si Abode in Taiwan in a live question and answer session.【Photo by Matt Serrano】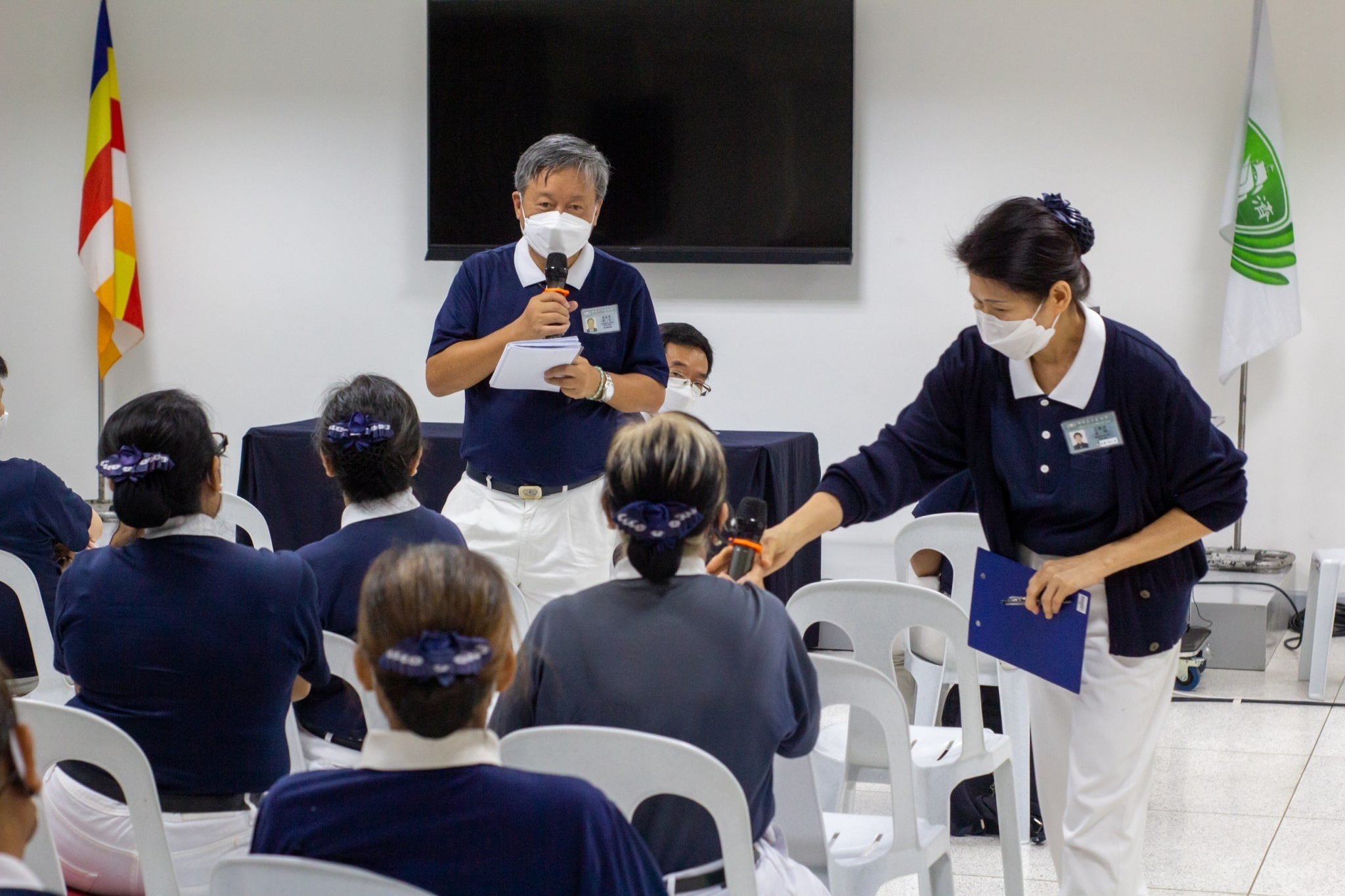 Volunteers divide in breakout groups to discuss ideas and plans in implementing Tzu Chi's programs.【Photo by Marella Saldonido】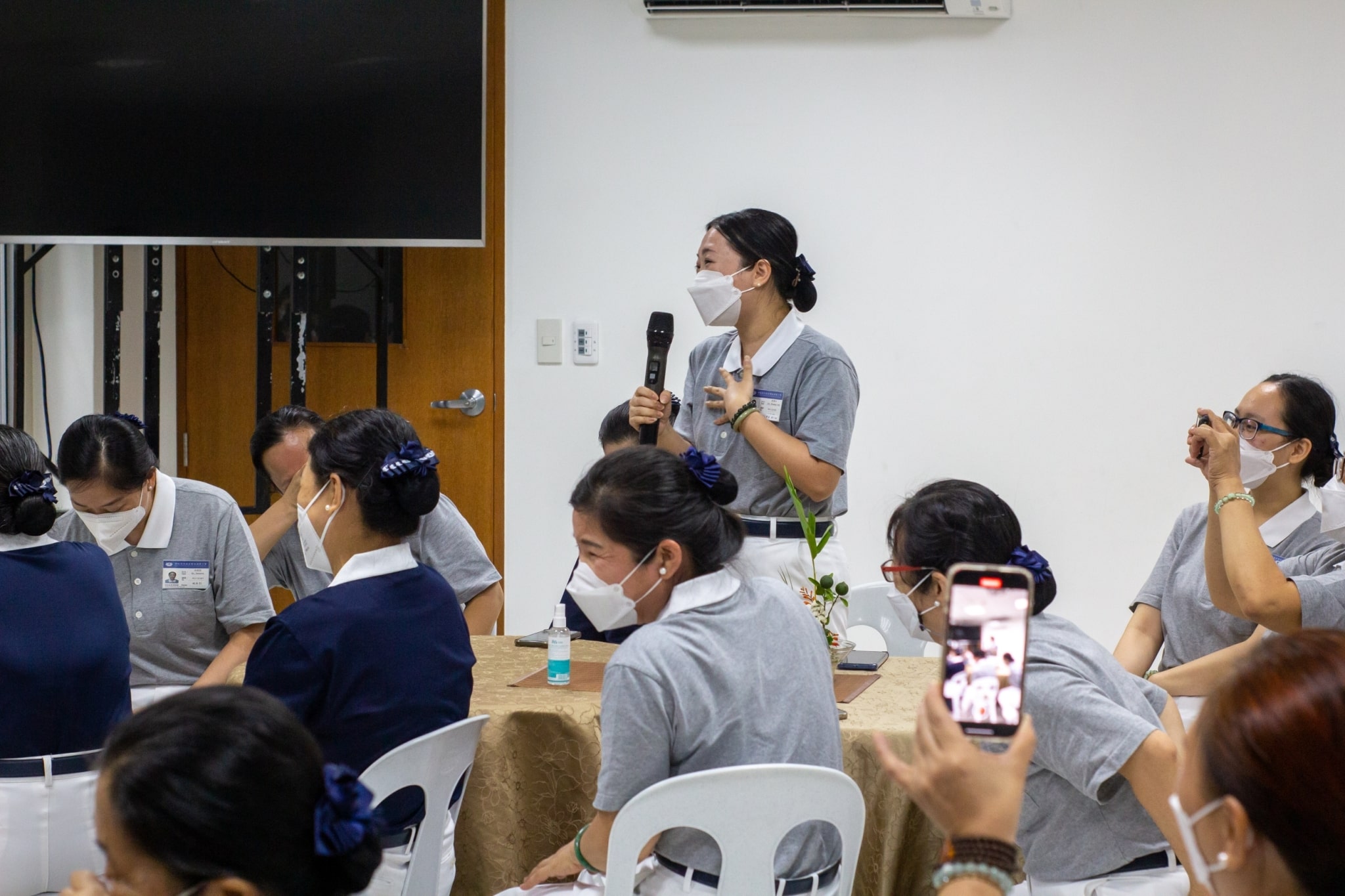 Volunteers divide in breakout groups to discuss ideas and plans in implementing Tzu Chi's programs.【Photo by Marella Saldonido】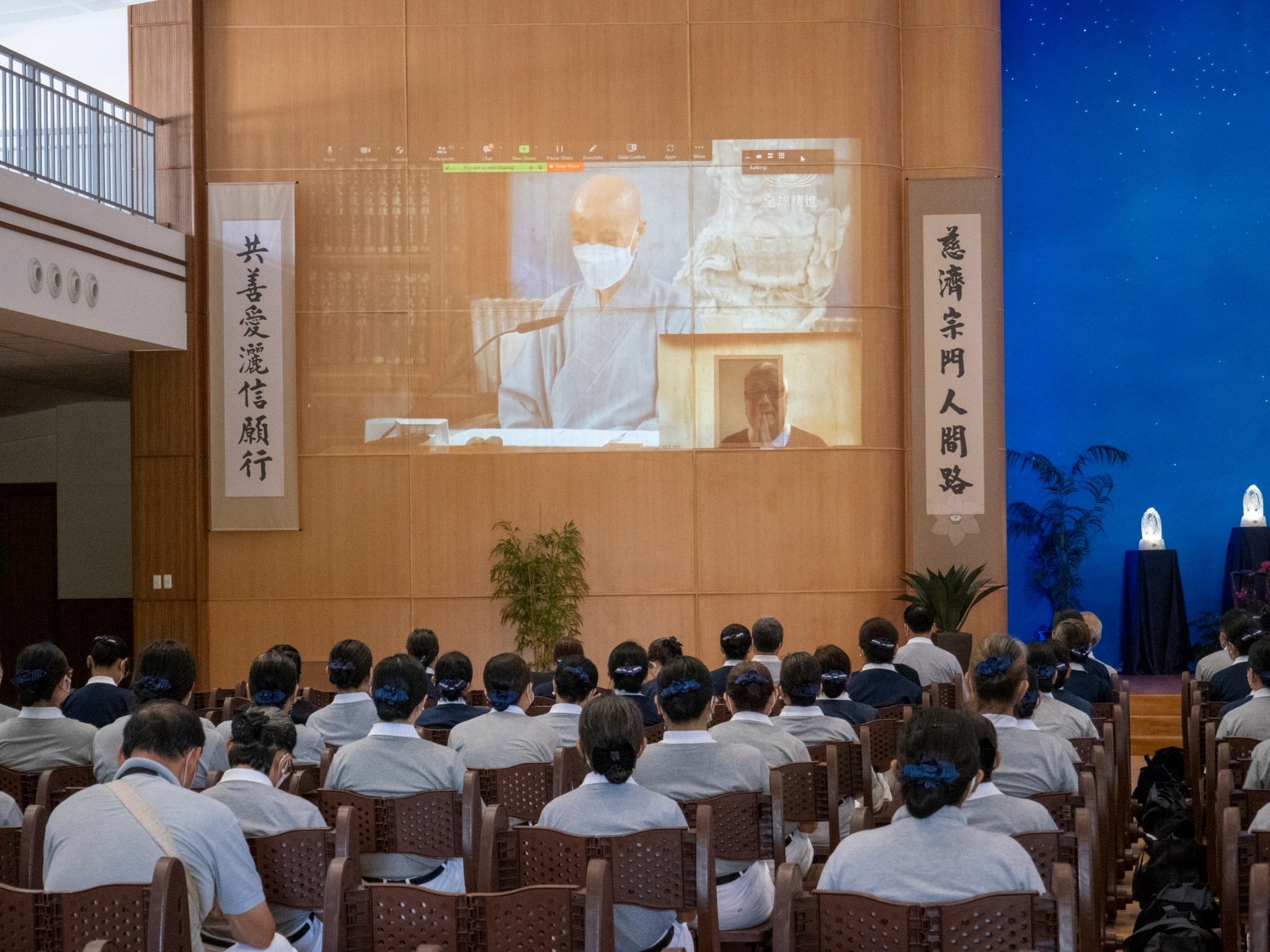 "The risk of climate change is big. One of the best ways to address this is to become vegetarian," says Dharma Master Cheng Yen in her live interaction with volunteers. "Let's use the power of love to heal people."【Photo by Matt Serrano】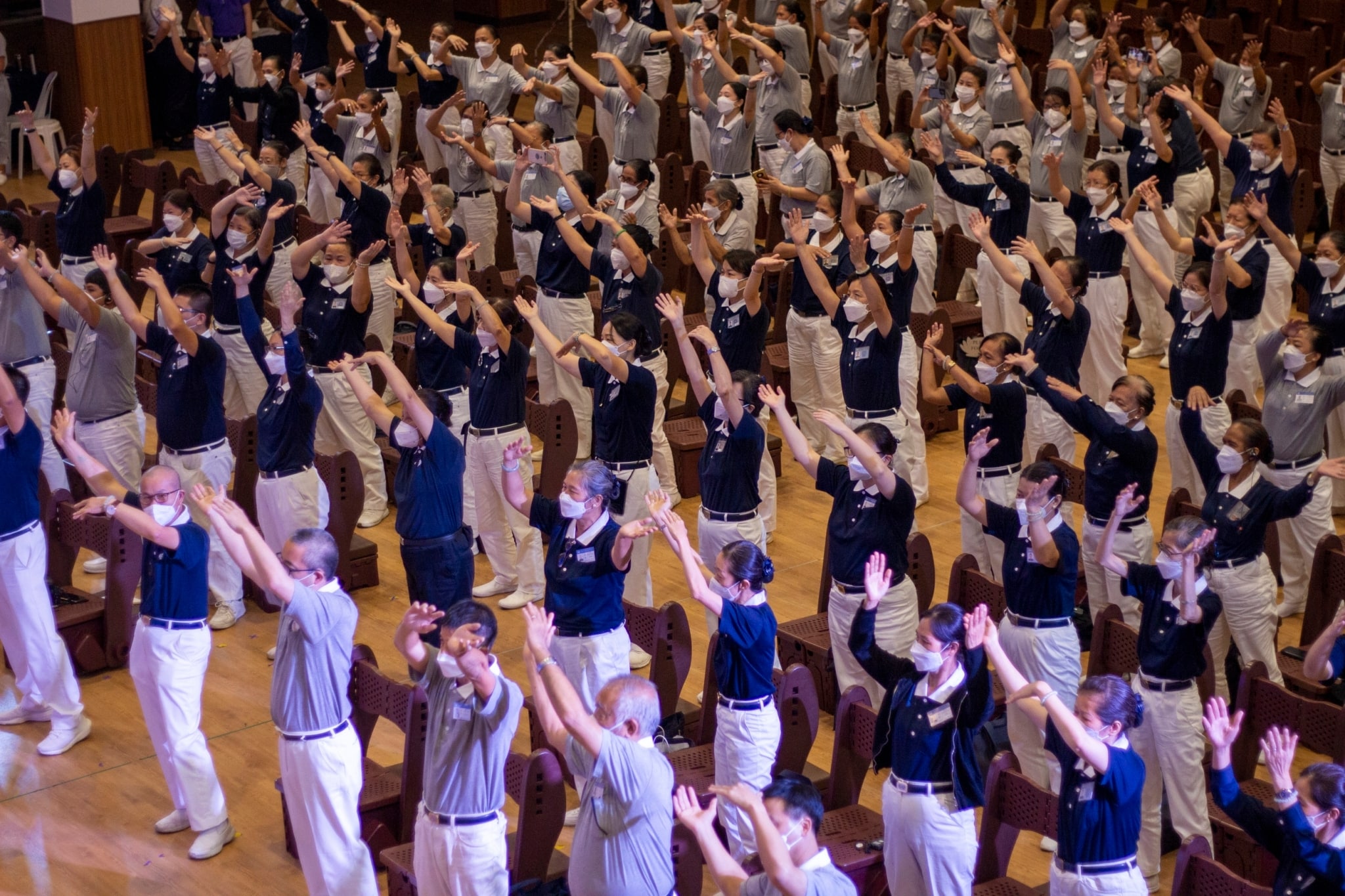 Volunteers sing and dance in a lively sign language number to culminate the event.【Photo by Matt Serrano】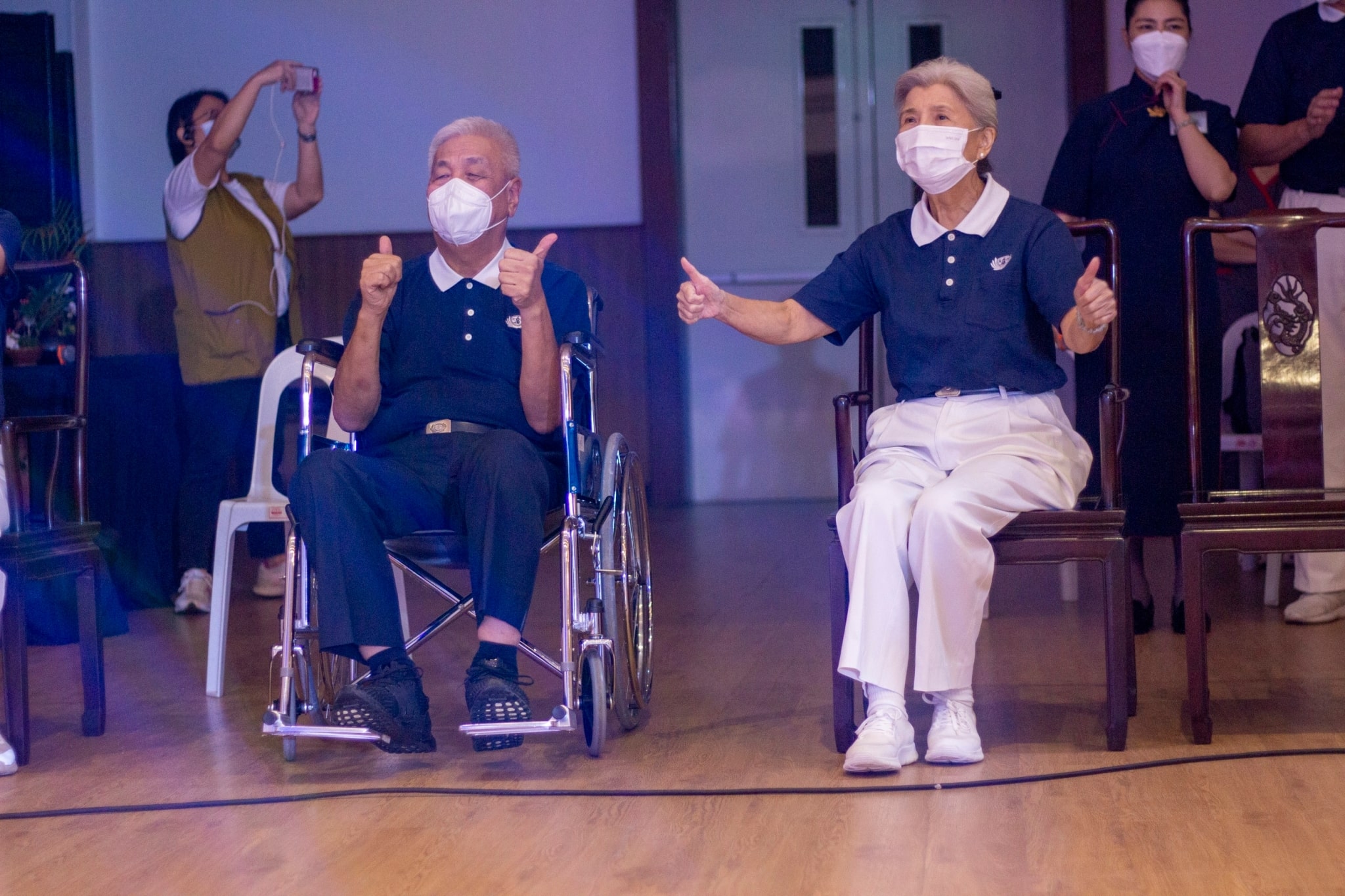 Tzu Chi Philippines CEO Henry Yuñez with the first CEO Linda Chua join the sign language number.【Photo by Matt Serrano】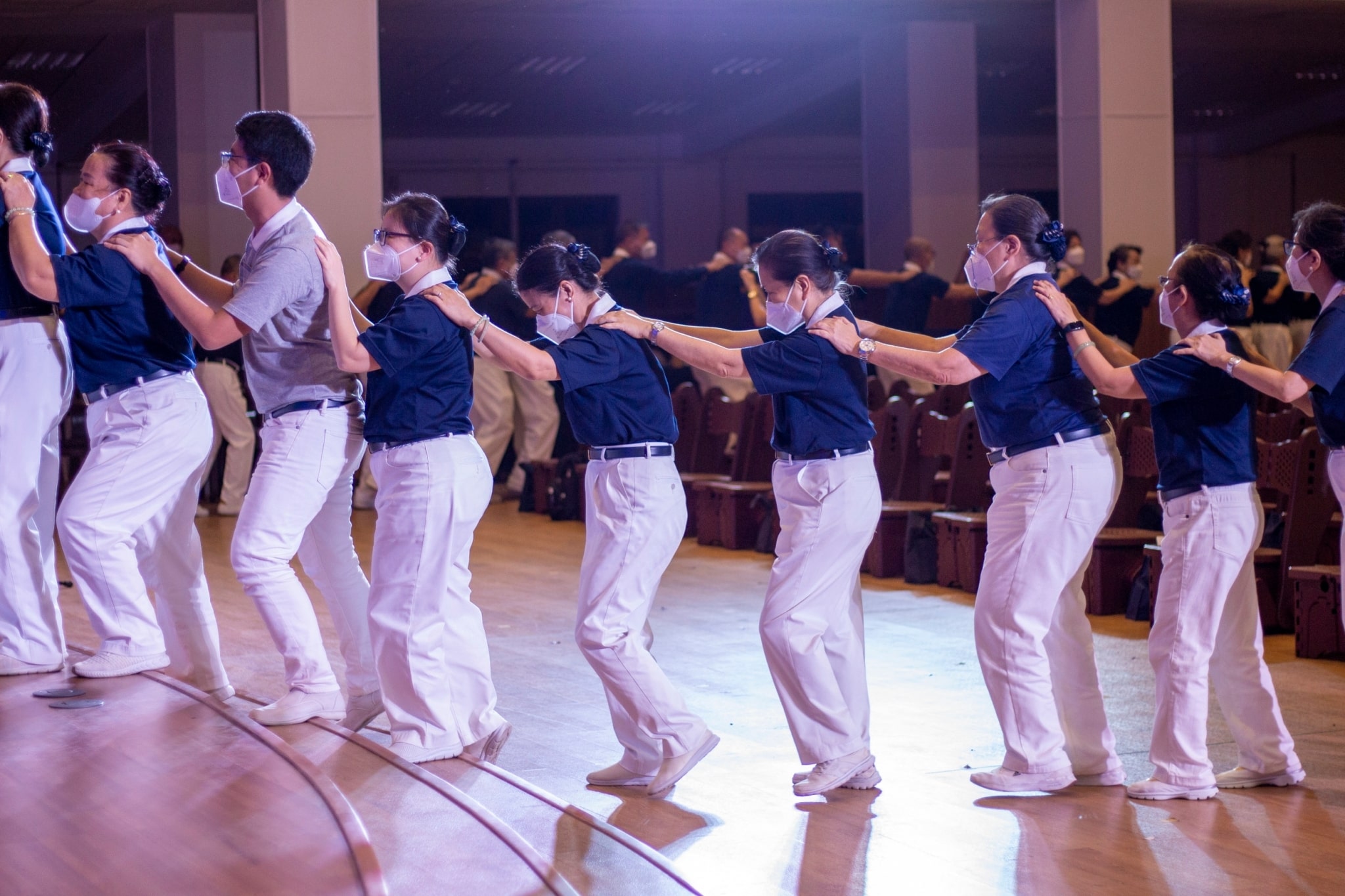 Volunteers sing and dance in a lively sign language number to culminate the event.【Photo by Matt Serrano】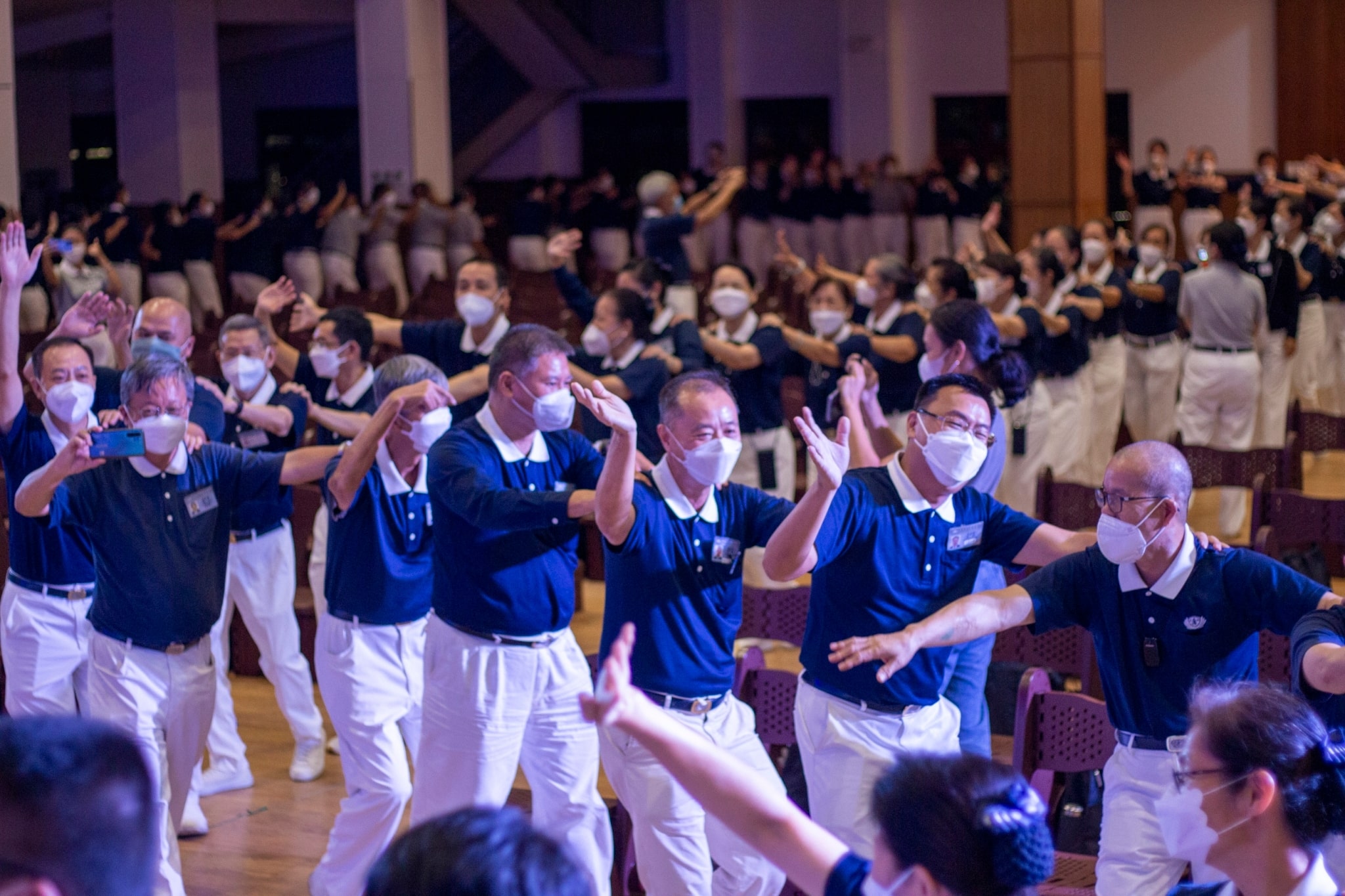 Volunteers sing and dance in a lively sign language number to culminate the event.【Photo by Matt Serrano】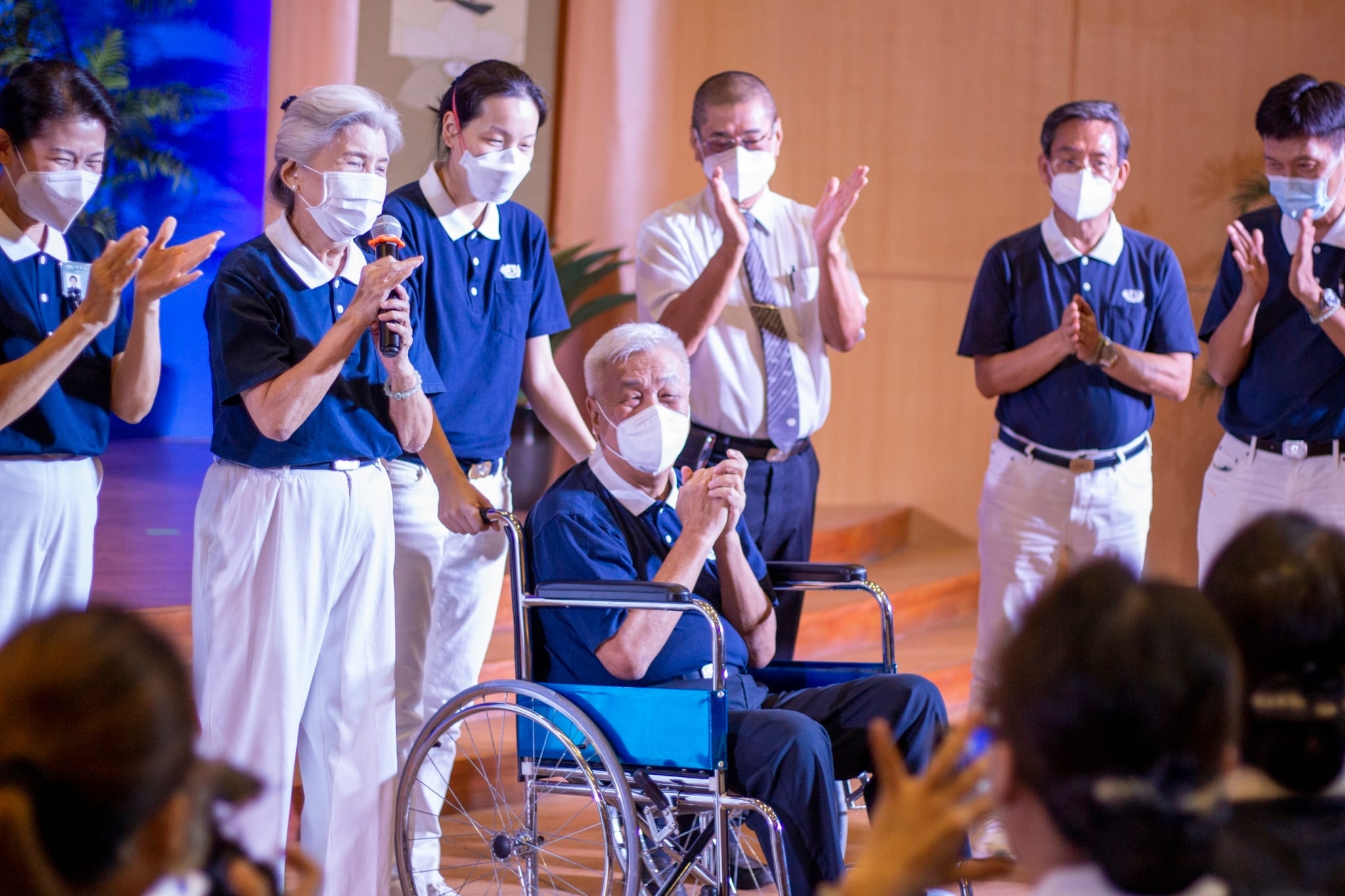 Volunteers offer a song to CEO Henry Yuñez and wish him good health and unlimited blessing.【Photo by Matt Serrano】
Go Back