Humane Society International promotes plant-based diet with Tzu Chi
A talk and cooking demo kickstarted Tzu Chi's partnership with Humane Society International to promote plant-based diet.
By Ben Baquilod
Humane Society International (HSI) Philippines held a seminar and cooking demonstration on plant-based diet on December 17 at the Buddhist Tzu Chi Campus in Sta. Mesa, Manila.
"I considered today's event a success. This is actually a start of our partnership with Tzu Chi to promote plant-based food across hospitals, schools, and other institutions in the Philippines through the partners of Tzu Chi," said Aduane Joseph Alcantara, Campaign Manager of HSI Philippines.
HSI is one of the largest animal welfare organizations in the world. For more than 25 years now, it has been working for the protection of all animals through the use of science, advocacy, education, and hands-on programs.
"Hopefully, there will be more people who would go for plant-based foods so we can help a lot more farm animals in the future," Alcantara added.
Transitioning to plant-based diet helps not only animals, but also the environment and the human body, as explained by Jake Brandon Andal, Clinical Dietician-Nutritionist and HSI Plant-based Nutritionist. "Consumption of animal-based proteins are the top sources of greenhouse gases. So, if we can only reduce the amount of meat we consume, then we also reduce the pollution we create."
Andal said plant-based diet is tied with reduced risk of getting non-communicable diseases such as hypertension, diabetes, and cancer. "It also reduces our risk of infections. So, it will be very helpful for human health," he added.
Having suffered his worst attack of eczema in 2018, Andal explored different approaches that could help with his inflammation, and found out about plant-based diet. Since then, his condition has been controlled. He has also enjoyed various benefits from adapting vegetarian diet since 2019, and is now transitioning to vegan. "Take it one step at time," advises Andal, noting that transitioning to plant-based diet may require years—for it involves changing one's lifestyle and beliefs.
For HSI Chef Maris Isabelle Tomas, who conducted plant-based recipe sharing with Tzu Chi volunteers, transitioning to plant-based diet was inspired by his father who had cancer ten years ago. "During that time, he had to change his diet. So, someone in the family had to do it with him, that's why I decided to venture into plant-based recipes." Tomas shared. "Thankfully, he recovered. So, all the recipes I do, it's for my dad. He's behind it."
Together with Chef Leslie Guerero, Tomas conducted a cooking demonstration of their vegan versions of meat loaf and rellenong bangus (stuffed milkfish).
"Today's cooking demo is very productive for they (Tzu Chi volunteers) were very engaging and curious. They were mind blown by the rellenong bangus recipe," Guerero said. Instead of bangus, the HSI chefs used tempeh, a traditional Indonesian food made from fermented soybeans.
"We hope in the near future we can share more recipes and activities with the Tzu Chi community," Guerero said.
Tzu Chi Foundation—an international humanitarian organization guided by Buddhist principle of compassion for all sentient beings—promotes environmental protection as one of its eight missions, along with charity, medicine, education, humanistic culture, international relief, bone marrow donation, and community volunteerism.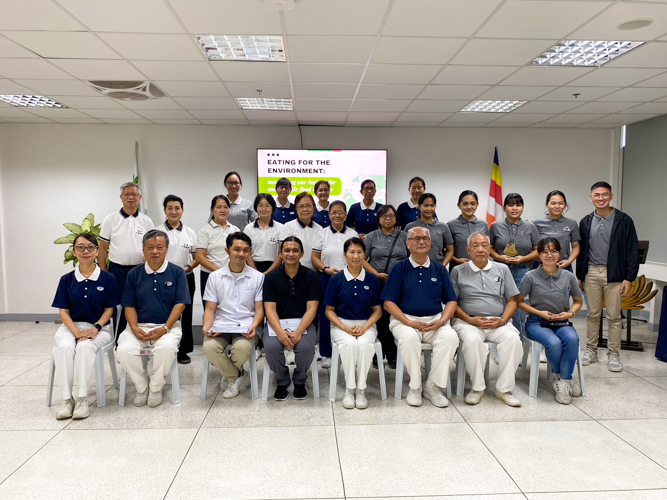 Humane Society International (HSI) Philippines join Tzu Chi Philippines volunteers and staff for a group photo after a talk on promoting plant-based diet. 【Photo by Matt Serrano】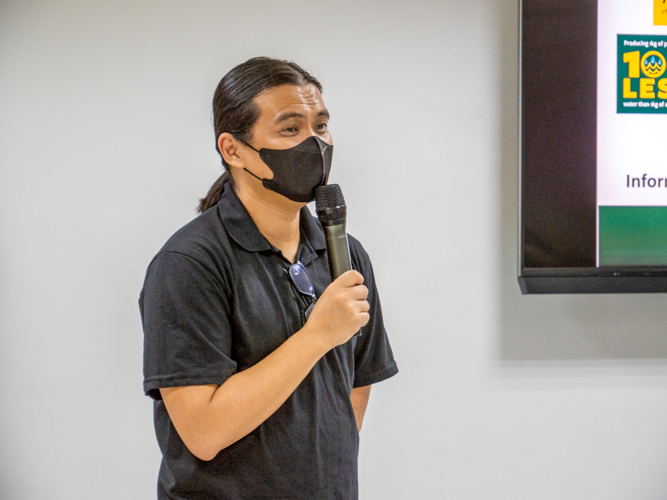 Humane Society International (HSI) Philippines Campaign Manager Aduane Joseph Alcantara talks about HIS's Plant-based Eating Campaign, which includes nutrition seminar, animal welfare and environment seminar, plant-based recipe development, among others. 【Photo by Jeaneal Dando】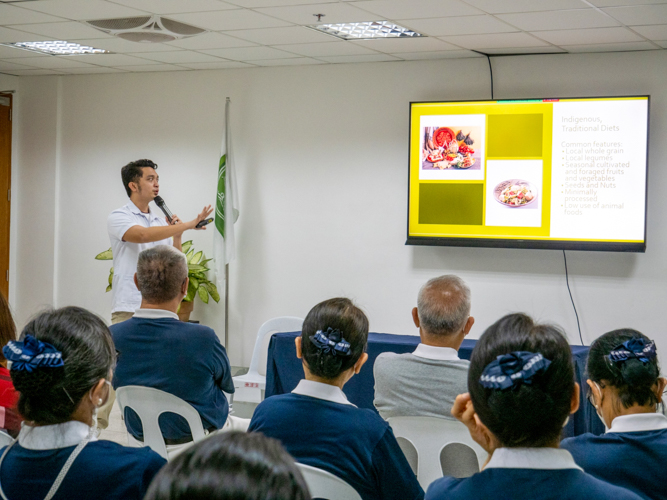 Clinical Dietician-Nutritionist and HSI Plant-based Nutritionist Jake Brandon Andal talks about the health benefits of adapting plant-based diet. 【Photo by Jeaneal Dando】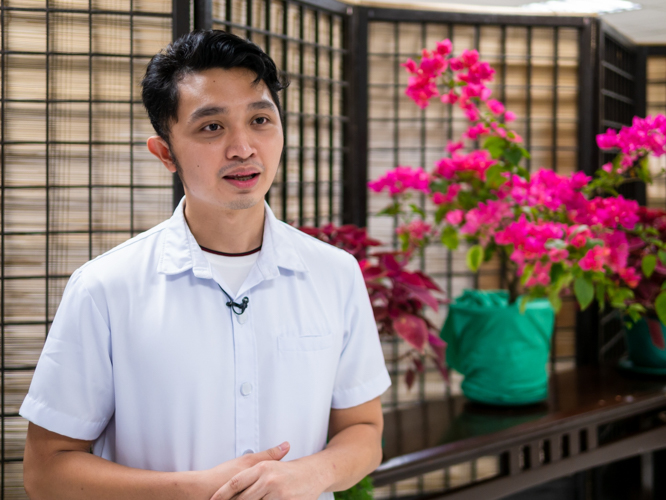 "Consumption of animal-based proteins are the top sources of greenhouse gases. So, if we can only reduce the amount of meat we consume, then we also reduce the pollution we create," says Jake Brandon Andal, HSI Plant-based Nutritionist. 【Photo by Daniel Lazar】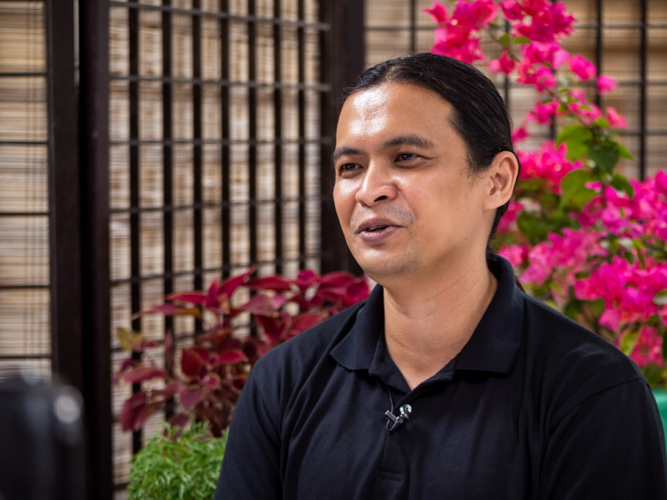 "I encourage people to start on it as a lifestyle," says Aduane Joseph Alcantara, HSI Campaign Manager. "If you choose it as part of what you do every day, if you just eat more fruits and vegetables every day, then that's a good start already." 【Photo by Daniel Lazar】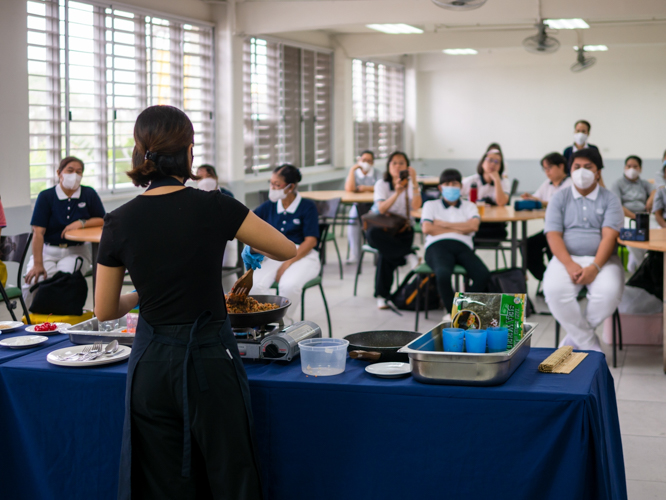 HSI chef shares plant-based recipes with Tzu Chi volunteers. 【Photo by Daniel Lazar】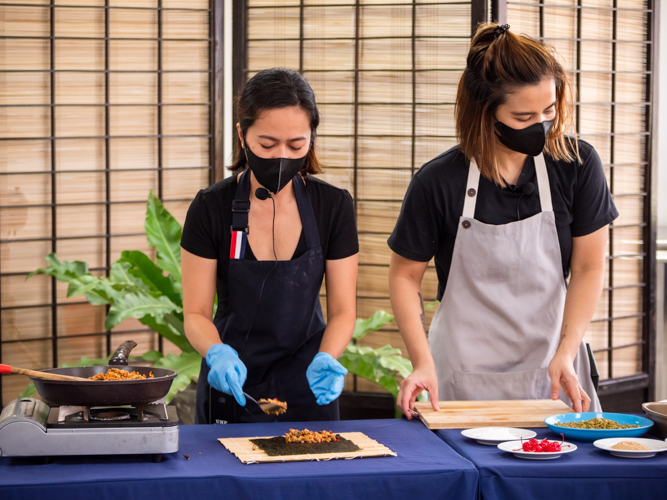 HSI Chefs Leslie Guerero and Maris Isabelle Tomas conduct a cooking demonstration of plant-based rellenong bangus (stuffed milkfish). 【Photo by Daniel Lazar】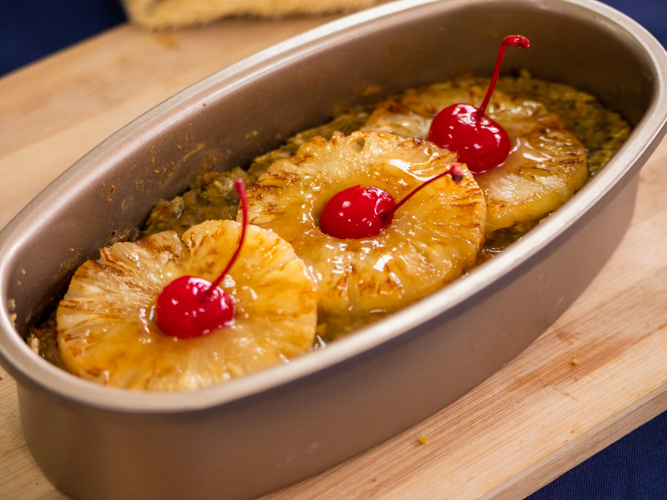 Plant-based meat loaf made from mung beans (munggo) topped with pineapples and cherries. 【Photo by Daniel Lazar】
Go Back