Provincial scholars, new alumni launch at 2023 Tzu Chi Scholars' Camp
Participants came from Bicol, Pampanga, Leyte, Iloilo, Zamboanga, and the National Capital Region.
By Joy Rojas
It's a 12-hour bus ride from Bicol to Manila, and even if Fe Callos' knees hurt from sitting all the way, she looked forward to the trip. Not only was it her first time in Metro Manila; the BS Social Work major from Bicol University Tabaco Campus was attending her first Tzu Chi Scholars' Camp from July 7 to 9 at the Buddhist Tzu Chi Campus (BTCC) in Sta. Mesa, Manila.
One of 160 scholars participating in the annual camp, the 22-year-old was also among the many out-of-towners. Joining scholars from the National Capital Region were scholars from Bicol, Pampanga, (Palo) Leyte, Iloilo, and Zamboanga. Despite their different regions and languages, they bonded almost immediately after they were assigned to their respective groups.
"This place is amazing, the volunteers are so nice, and my fellow scholars are very friendly and easy to approach," says Fe.
Another camp first-timer, John Loyd "Elio" Brillantes, expected the event to be "prim and proper the way tzu Chi has always taught us." "But when we arrived here, it was exciting, fun, and full of joy," says the 21-year-old BSEd English major from West Visayas State University.
Nervous before flying to Manila, Alracel "Al" Arasad quickly shed his shy demeanor once he was among his peers. "I developed my socialization skills through this camp," says the 21-year-old Zamboanga Peninsula Polytechnic State University student taking an associate degree in industrial technology major in automotive. "I made new friends from Bicol and the National Capital Region."
Establishing camaraderie is only one of the objectives of this event. As with all Scholars' Camps, this year's camp ingrained the history and culture of Tzu Chi as well as values espoused by Dharma Master Cheng Yen through interactive activities and talks from guest speakers.
Tzu Chi volunteer Lineth Brondial spoke about the effects of climate change. "Astig Vegan" Chef RG Enriquez-Diez and her husband Chris shared their experience of living on an all-vegetable diet. Dr. Anton Lim, officer in charge of Tzu Chi Zamboanga, led the scholars to sing "Heal the World" after his talk on "Bringing Love in Conflict Areas." Dr. Ronaldo Motilla offered tips on how to manage stress. Corporate executive Darwin Soriano advised scholars on how to choose a meaningful career. And Tzu Chi scholar-turned-volunteer Albert Briongos brought scholars to tears with his touching talk on filial piety.
Icebreakers, games, and camp segments also kept scholars lively and engaged. A favorite of participants was Starry, Starry Night, where they opened up about their lives, hopes, and dreams in a candle-lit setting.
"Our group leader Johnny Uy told us to develop our self-confidence so we can succeed in life," says Al. "Also, we have to finish our studies because this is the root to our success in life."
"We didn't know each other personally but we let down our guard," says Elio. "We got to know each other's perspectives, experiences, and struggles. We could all relate to each other. I can say that at Tzu Chi, we are all connected."
Scholars also cheered for their graduating peers who marched on stage in a symbolic ceremony.
Appropriately, the camp was the perfect event to launch the Tzu Chi Philippines College Scholars Association, a group made up of Tzu Chi scholar alumni. Among the goals of its members are to serve as a talent pool of resource persons for the monthly Humanity classes, and to inspire volunteerism among scholars.
With tokens from the camp, new friends made, and hearts brimming with gratitude, Tzu Chi scholars return to their homes happier and more hopeful.
For Fe, who was forced to work as an all-around house helper in 2019 after her community leader father was hacked to death in a jealous rage by her uncle, the camp was a welcome respite from the hardships and sadness of her life. "To Tzu Chi, thank you with all my heart for making me a part of your beautiful program that helps the poor like me," she says. "Please continue doing what you do."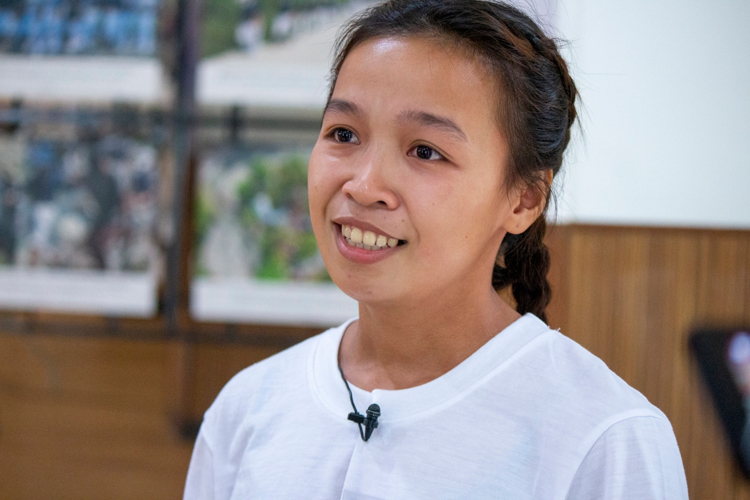 Fe Callos endured a 12-hour bus ride from Bicol to Manila to join the camp. "But I'm happy with my experience in the camp. Everybody is very friendly," says the BS Social Work major from Bicol University Tabaco Campus.【Photo by Matt Serrano】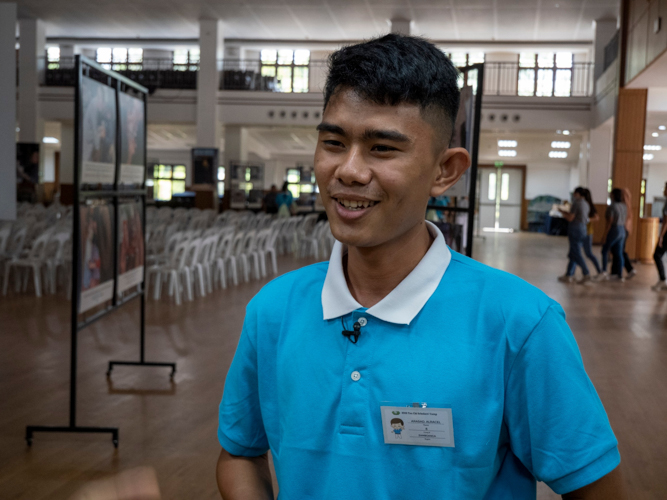 "I'm very shy. But I developed my socialization skills through this camp," says Alracel "Al" Arasad, of Zamboanga Peninsula Polytechnic State University taking an associate degree in industrial technology major in automotive. "I made new friends from Bicol and the National Capital Region."【Photo by Matt Serrano】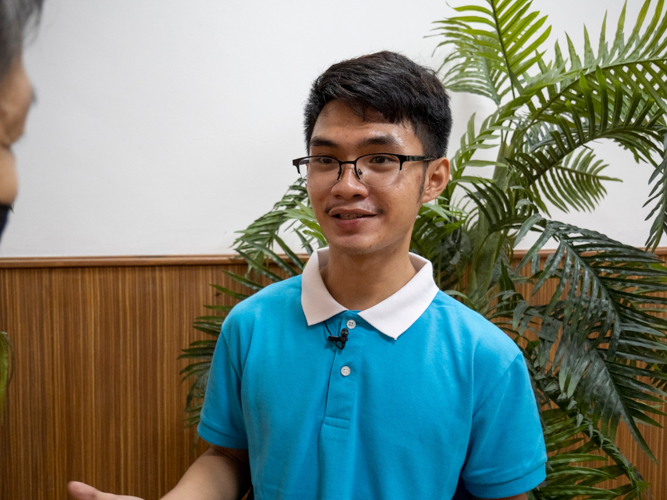 "I expected the camp to be prim and proper like Tzu Chi," says John Loyd "Elio" Brillantes, a BSEd English major from West Visayas State University. "But when we arrived here, it was exciting, fun, and full of joy." 【Photo by Matt Serrano】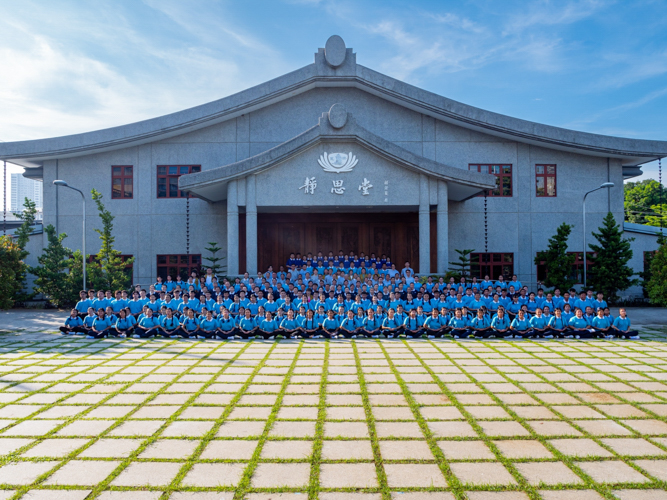 Participants of the 2023 Tzu Chi Scholars' Camp pose for a group shot outside the Jing Si Auditorium. 【Photo by Daniel Lazar】
Volunteer Cherrie Rose Ang (first from left) interviews former Tzu Chi scholars Jhoy Sarmiento, Mary Rosedy Antigua, Jamil Carvajal, and Johniel Tuando. 【Photo by Marella Saldonido】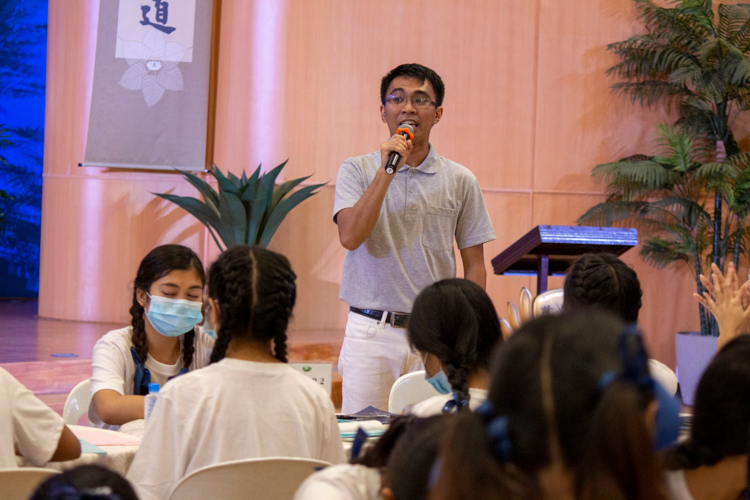 Former Tzu Chi scholar-turned-volunteer Albert Briongos gives a touching talk on filial piety. 【Photo by Matt Serrano】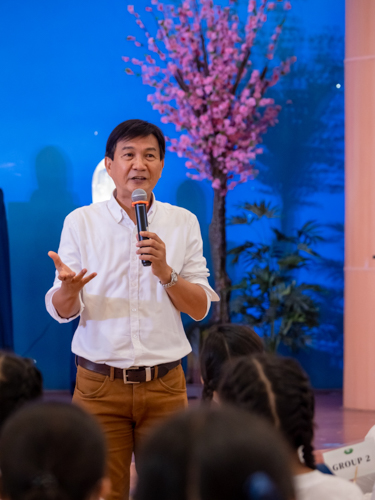 Dr. Ronaldo Motilla gave scholars tips on how to manage stress.【Photo by Daniel Lazar】
A volunteer comforts a scholar who was moved to tears by Albert Briongos' talk on filial piety. 【Photo by Matt Serrano】
Before bringing scholars to stand up and sing "Heal the World," Dr. Anton Lim, officer in charge of Tzu Chi Zamboanga, discussed his experience of "Bringing Love in Conflict Areas."【Photo by Matt Serrano】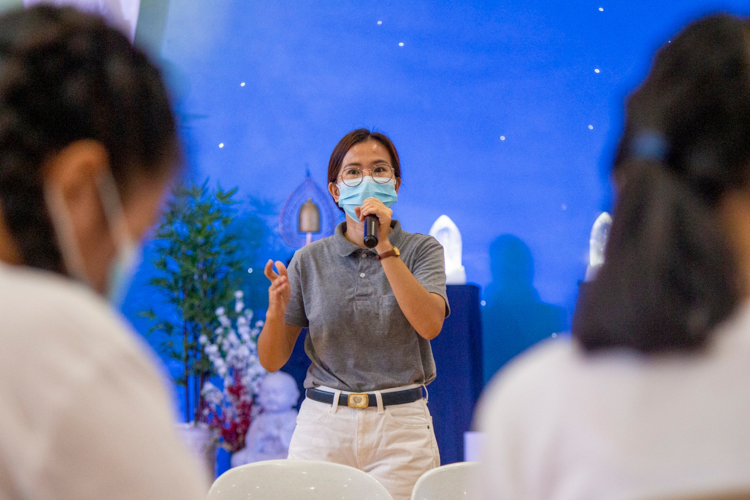 Volunteer Lineth Brondial explains the consequences of our irresponsible acts to the environment in a talk on climate change. 【Photo by Matt Serrano】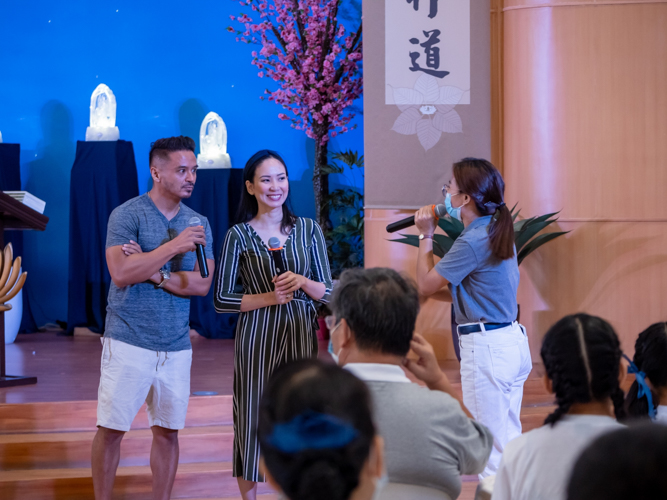 Astig Vegan Chef RG Enriquez-Diez (center) and her husband Chris (left) answer questions about their vegan diet and lifestyle.【Photo by Daniel Lazar】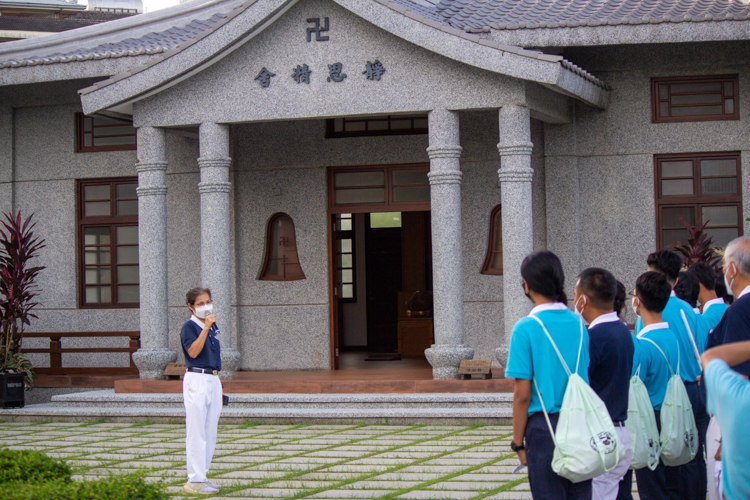 Volunteer Elvira Chua explains the significance of the Jing Si Abode to Tzu Chi scholars during a tour around BTCC.【Photo by Marella Saldonido】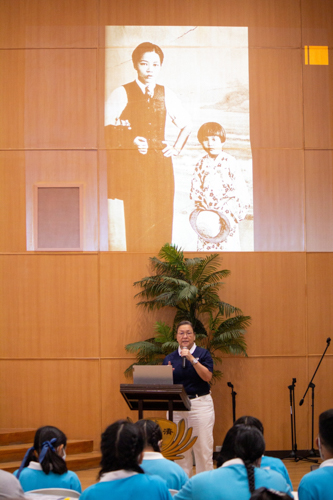 Tzu Chi Head of Communications Judy Lao presents a photo of a young Master Cheng Yen with her mother in a talk on Tzu Chi's history. 【Photo by Marella Saldonido】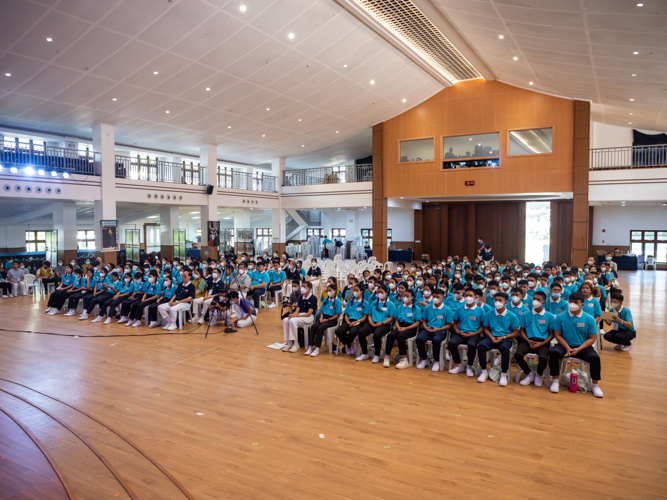 About 160 scholars from Bicol, Pampanga, (Palo) Leyte, Iloilo, Zamboanga, and the National Capital Region participated in the 2023 Tzu Chi Scholars' Camp. 【Photo by Daniel Lazar】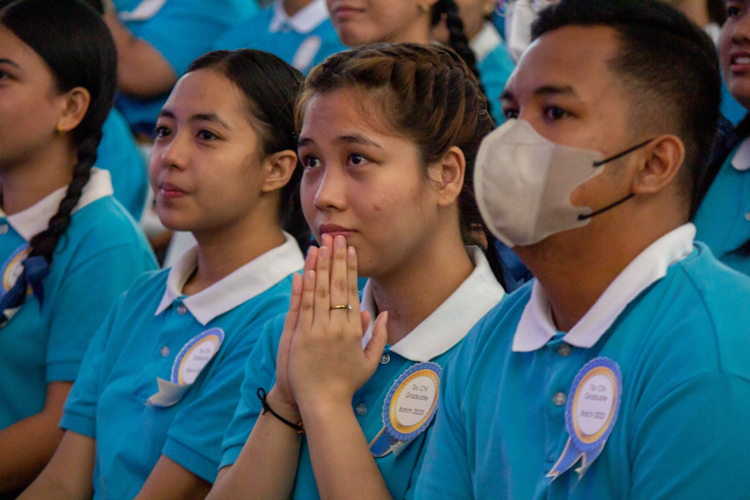 A scholar is moved by the life story of three graduating scholars presented in a short video. 【Photo by Marella Saldonido】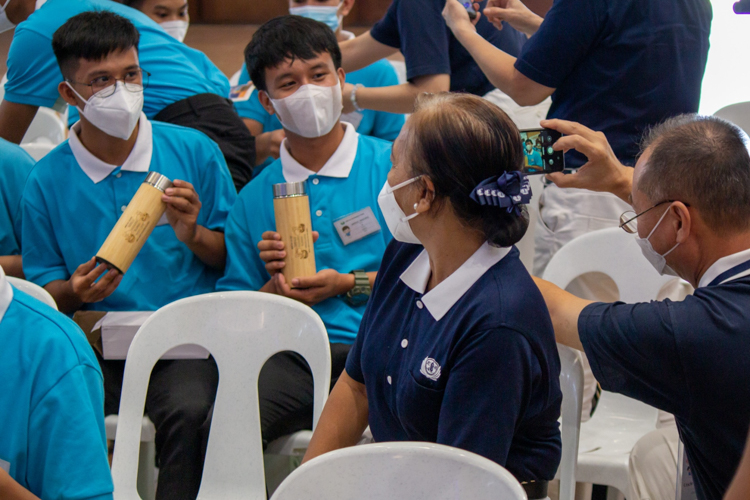 Scholars from out of town each received a bamboo tumbler as a remembrance of their participation in the camp. 【Photo by Marella Saldonido】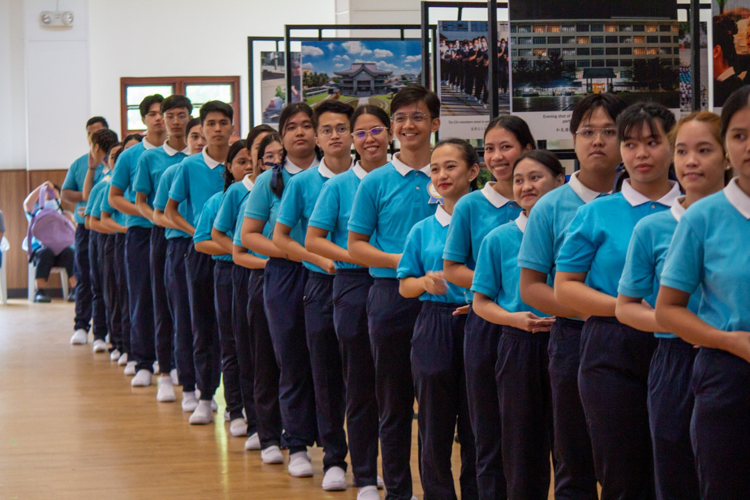 Graduating scholars form a line before walking to the stage in a symbolic graduation ceremony. 【Photo by Marella Saldonido】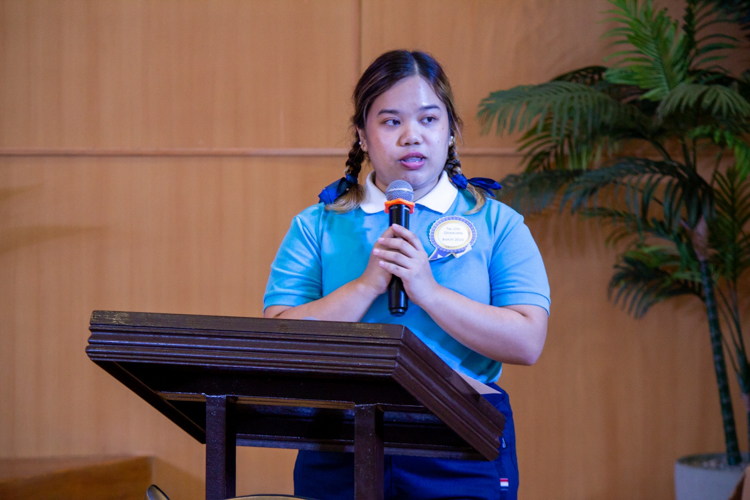 Jamela Nicole Oriel, who graduates summa cum laude with a BS in Business Administration major in Business Economics from Pamantasan ng Lungsod ng Maynila, gives a speech before Tzu Chi volunteers and scholars. 【Photo by Matt Serrano】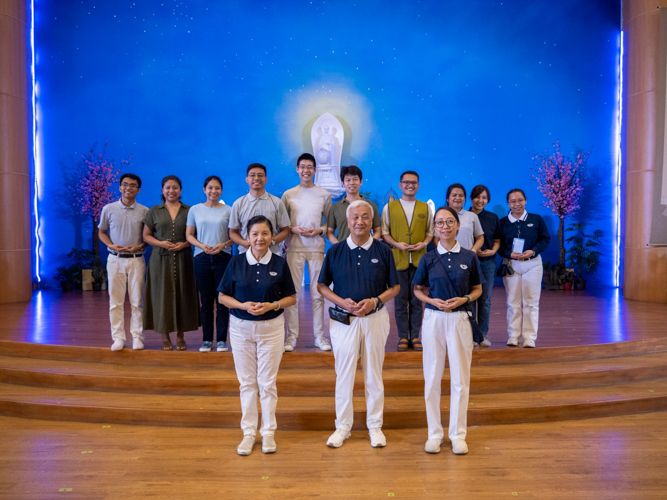 (Front row, from left) Tzu Chi Education Committee volunteer Rosa So, Tzu Chi Philippines CEO Henry Yuñez, and Office of the CEO volunteer Peggy Sy-Jiang stand before former Tzu Chi scholars in the launch of the Tzu Chi Philippines College Scholars Association. 【Photo by Daniel Lazar】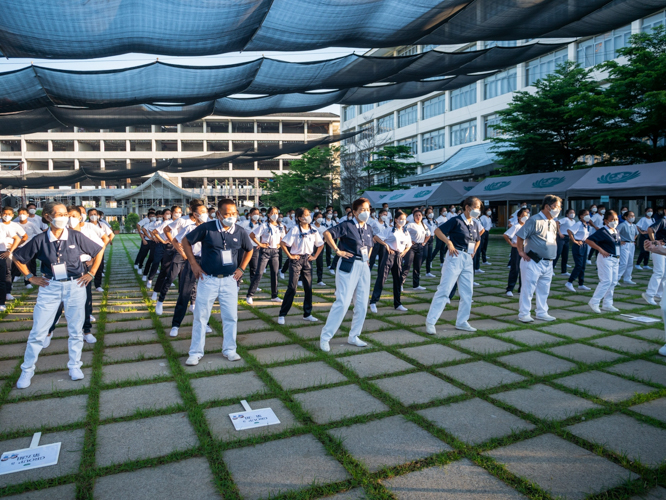 Volunteers and scholars begin each morning with outdoor exercise. 【Photo by Daniel Lazar】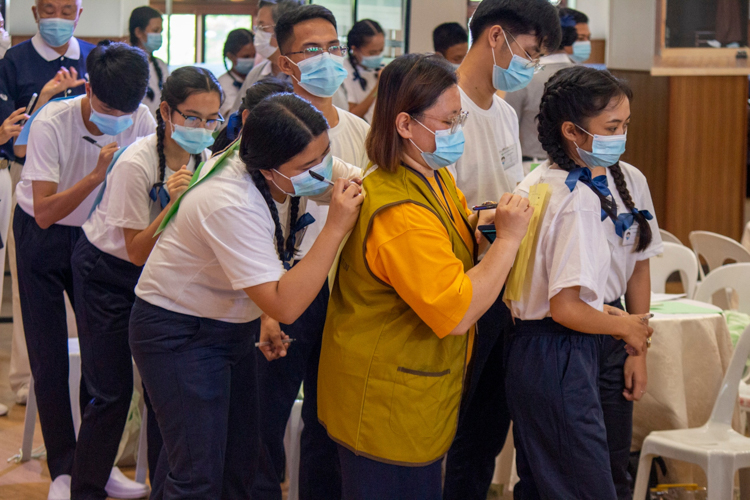 Group activities, like this one that requires participants to write a positive message to the person standing before them on a paper stuck to their back, encourages scholars to express themselves and make new friends. 【Photo by Matt Serrano】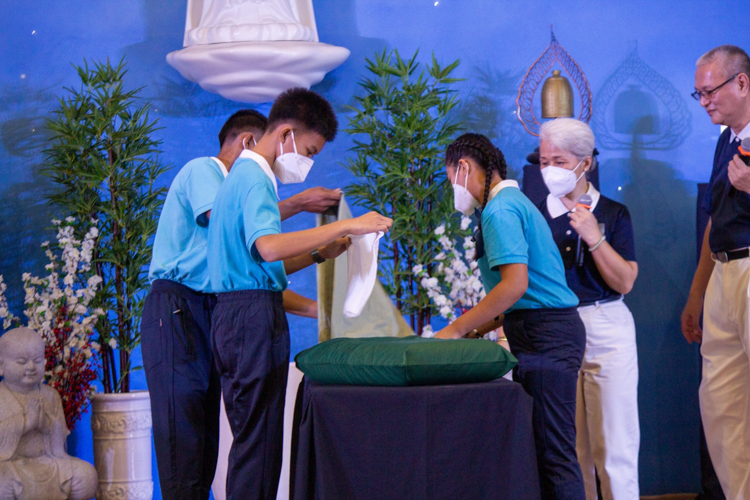 Scholars sample the linen-folding methods taught to them by volunteers.【Photo by Marella Saldonido】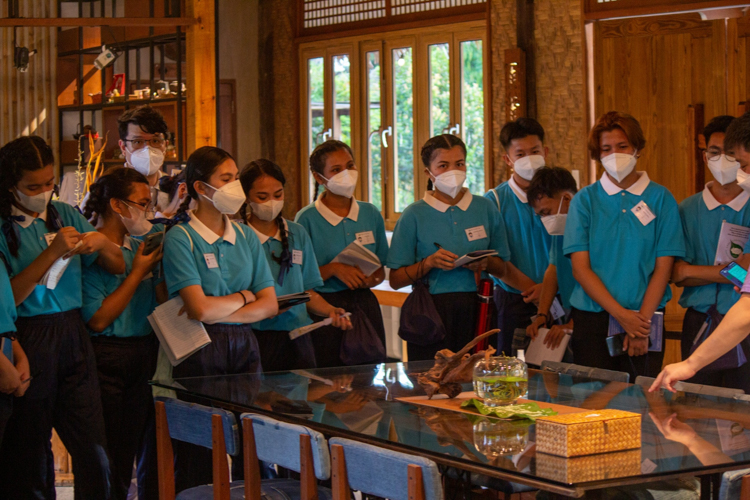 Scholars learn about upcycling and recycling at Tzu Chi café, where most of its features are recycled from discarded items.【Photo by Marella Saldonido】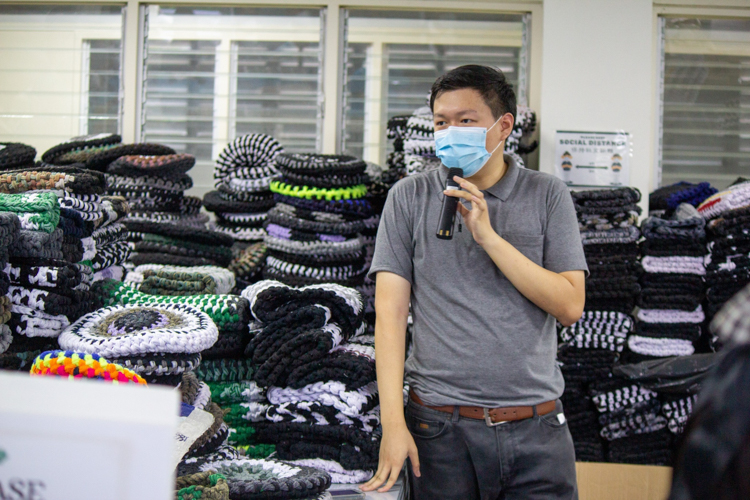 Tzu Chi Partnerships Assistant Clifford Co shows scholars seat covers made of excess sports sock materials—one of the products created by volunteers of Tzu Chi's recycling program. 【Photo by Marella Saldonido】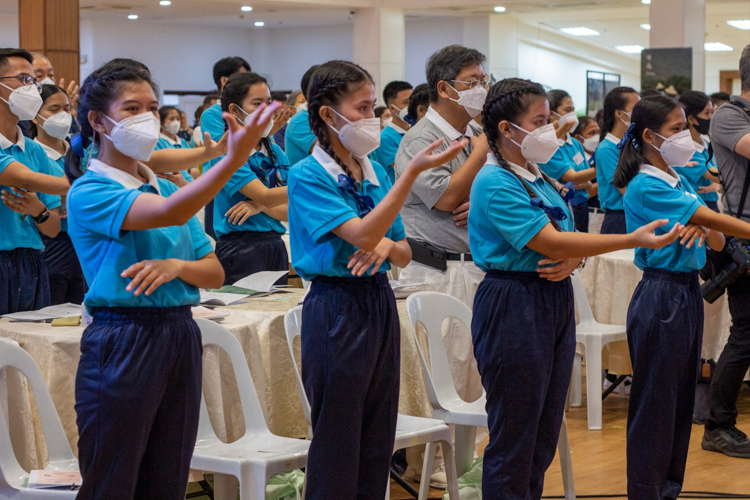 Scholars learn sign language for the camp song "A Life Powered By Love."【Photo by Marella Saldonido】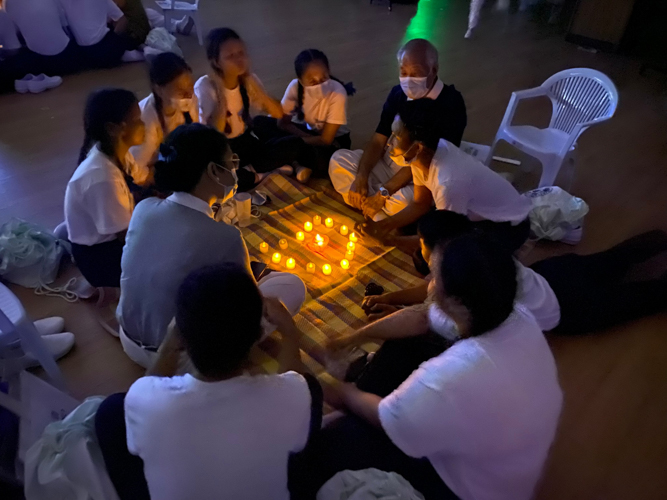 Scholars and their Group Leaders huddle in a candle-lit circle for Starry, Starry Night, a favorite portion of many participants.【Photo by Matt Serrano】
Go Back