Volunteers resume upcycling initiative of making foot mats
The mats are made of excess fabric from sports socks.
By Joy Rojas
With pandemic restrictions eased and businesses reopening, Tzu Chi's recycling team from Old Balara Elementary School (OBES) took the opportunity to revive their upcycling initiative of turning excess fabric into useful items. When they started in 2018, the team composed mostly of mothers and housewives made cushiony seats and backrests with scraps of cotton. The comfy creations were donated to Tahanang Walang Hagdanan's Persons with Disability, who experienced soreness from sitting in wheelchairs all day.
In recent weeks, the ladies resumed making floor mats out of loop lines, or the excess fabric of socks that resemble the elastic band of ponytail holders.
"The materials were sourced from a manufacturer of sports socks," explains Tzu Chi Philippines Deputy CEO Woon Ng, head of the OBES recycling team. "Instead of selling them for fillers of throw pillows, which a lot of people buy, she decided to donate them to Tzu Chi. She feels that with Tzu Chi, the fabric can be turned into beautiful, more useful items that can help more people."
Mission accomplished. Each foot mat is handwoven following a technique volunteers learned from a resource person provided by the sock manufacturer. "They are very special," notes Woon of the finished products. "They are all handmade, so volunteers can excel and present their own artistic side."
Shirley Pista, a volunteer since 2011, picked up the technique almost instantly. "I wasn't serious at the time, for me it was just like playing," says the mother of four and wife of a company driver. "But when the instructor came back the next day, we had already made our mats."
Despite the deformity in her left hand caused by peripheral arterial occlusive disease, Violeta Picar mastered the skill well enough, she's being tapped to teach others. It's an assignment she eagerly accepted. "I hope they learn fast so more rugs can be produced and we can help more people," says the volunteer since 2014 who sews and crochets for a living.
When the pandemic struck, the initiative became a source of livelihood for volunteers. Foot rugs were sold as disinfectant mats for people to wipe and dry their shoes on as they entered and exited hospitals and buildings. Sales were brisk and volunteers appreciated the chance to earn at a time when lockdowns left many people jobless.
"It was a big help to us," says Violeta, wife of a carpenter and mother to a child with Down Syndrome and a 3-year-old she adopted from relatives. "When my husband wasn't working, he helped me make rugs or continued what I started. We were able to make a lot."
Shirley feels a sense of pride in what she does. "Other people can't believe that something meant to be thrown away can still be turned into something useful," she says. "It's a big thing for us to be able to help Tzu Chi by making foot rugs."
Recycling and upcycling have a positive impact on the environment. They conserve natural resources like trees and water, reduce pollution on our land, air and seas, and do not add to the growing waste in landfills. But recycling and upcycling are beneficial to people too, providing them with jobs, new skills, and purpose and meaning in life.
"It's quite interesting to learn something new," says volunteer Elvira Chua. "Now that we are resuming this initiative, I feel happy and grateful to the person who taught us this skill."
"Even if we stopped for a while, the help continued," says Violeta, who presented herself to Tzu Chi after she chanced upon OBES volunteers busy with recycling projects. "Thank you, Tzu Chi, I'm glad I came to know of you."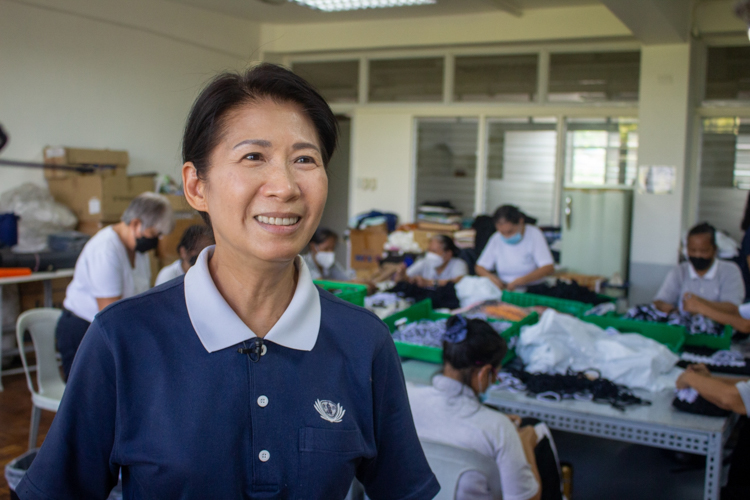 Tzu Chi Philippines Deputy CEO Woon Ng also heads the OBES recycling team.【Photo by Harold Alzaga】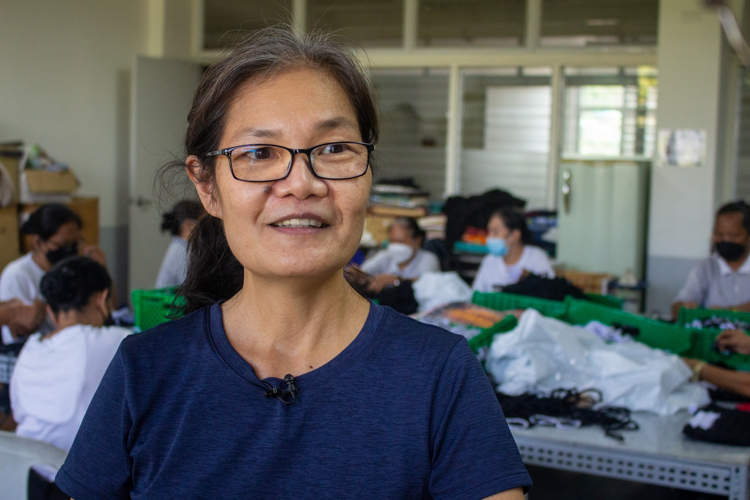 Tzu Chi volunteer Elvira Chua is happy to be part of the upcycling initiative and grateful to the person who taught her how to make floor mats using excess fabric from socks.【Photo by Harold Alzaga】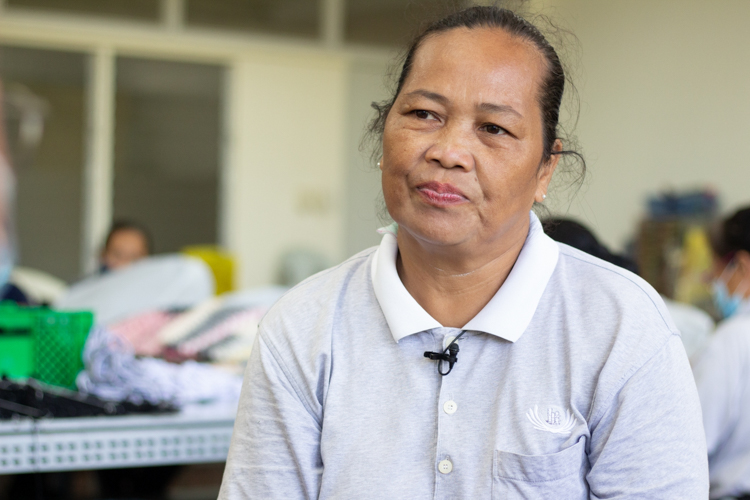 "Other people can't believe that something meant to be thrown away can still be turned into something useful," says volunteer Shirley Pista.【Photo by Harold Alzaga】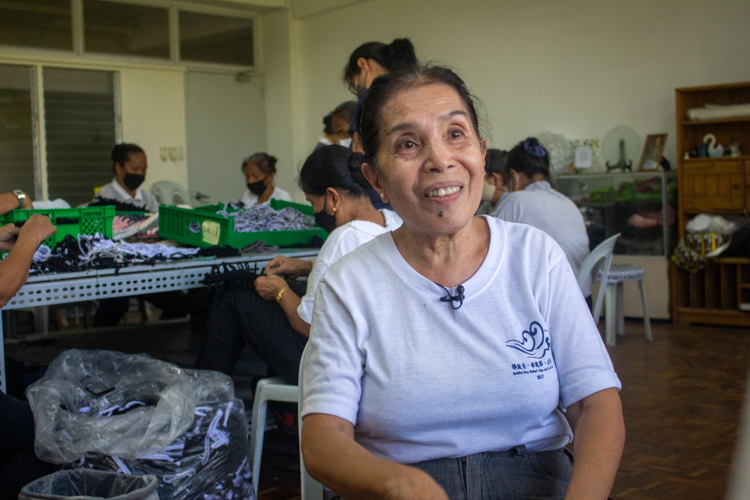 Volunteer Violeta Picar happily accepted the task of teaching others to make floor mats using loop lines. "I hope they learn fast so more rugs can be produced and we can help more people."【Photo by Harold Alzaga】
Sourced from a manufacturer of sports socks, loop lines are used as stuffing for throw pillows. Woven together, they can be material for floor mats and other crafts.【Photo by Harold Alzaga】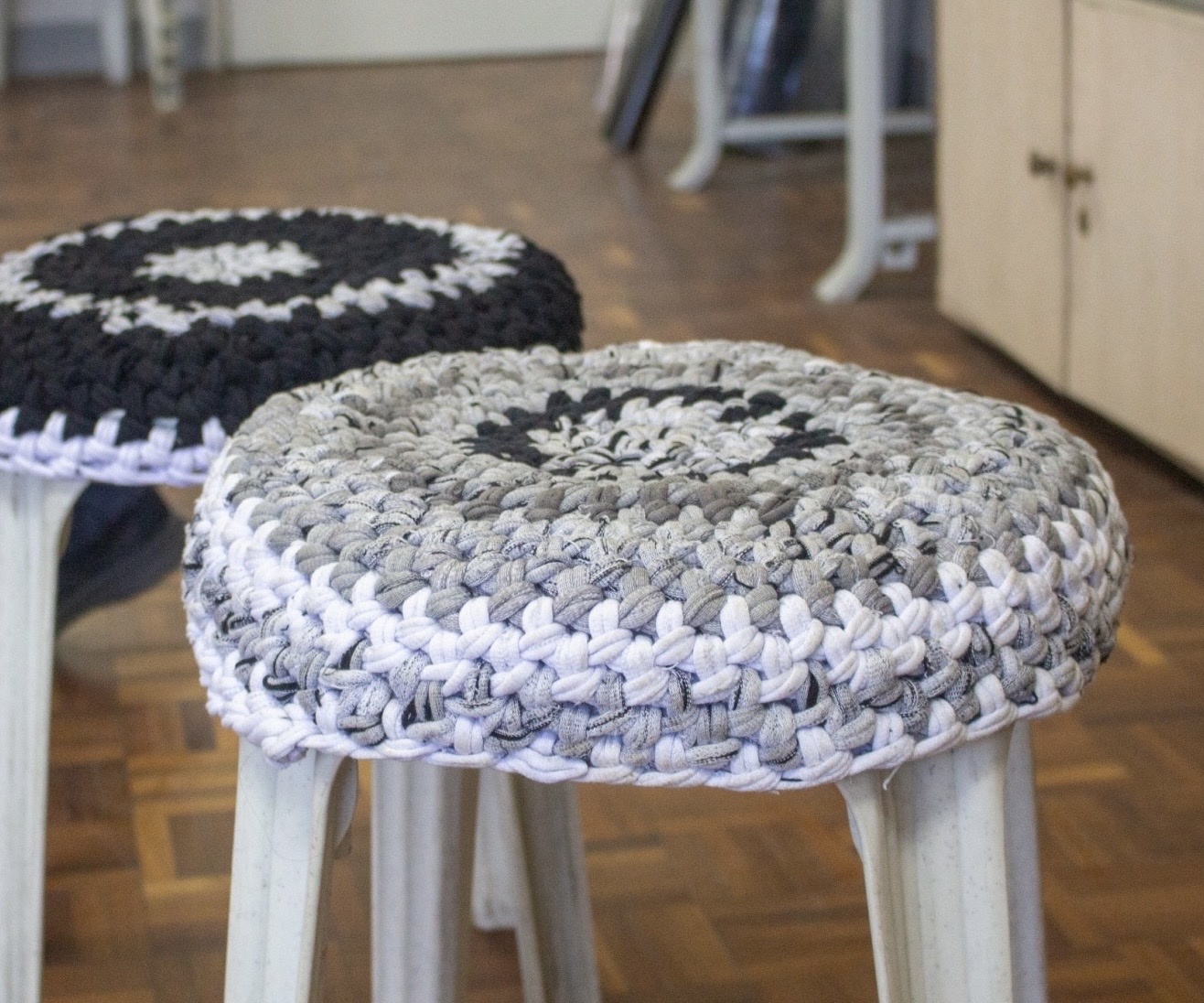 The versatile material can be made into anything, including seat covers.【Photo by Harold Alzaga】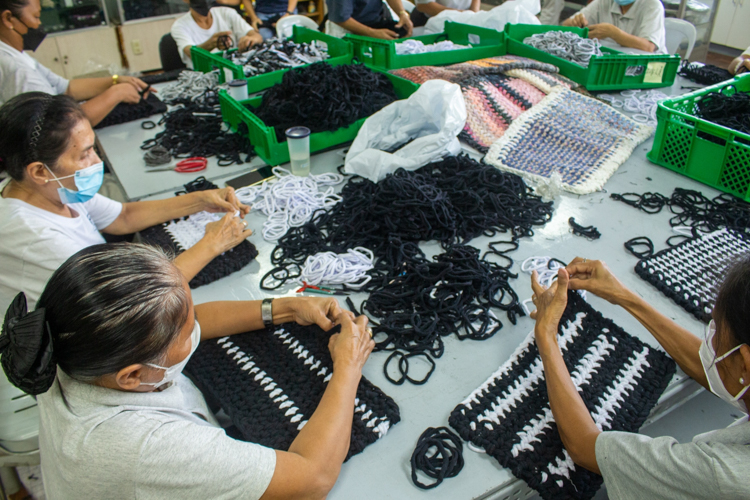 Volunteers handweave loop lines to make floor mats.【Photo by Harold Alzaga】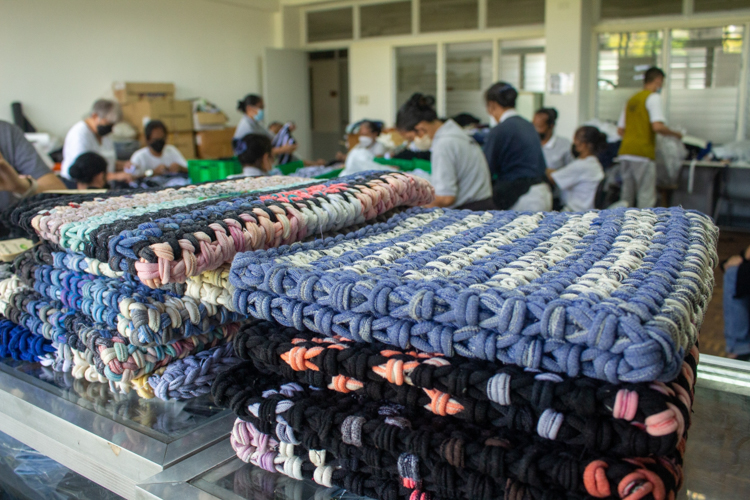 A sample of the floor mats made by Tzu Chi volunteers.【Photo by Harold Alzaga】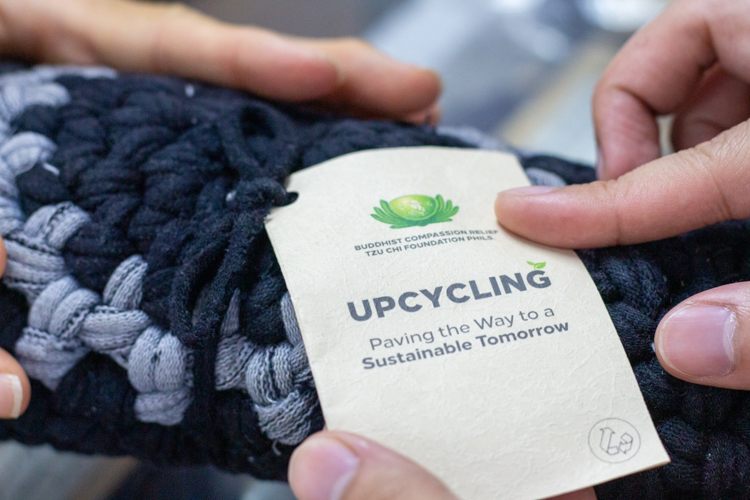 Each floor mat is attached with a tag that identifies it as an upcycled product of the Tzu Chi Foundation.【Photo by Harold Alzaga】
Go Back