A second chance at life through Tzu Chi
Tzu Chi beneficiaries give thanks on Charity Day
By Ben Baquilod
On March 27, beneficiaries from Tzu Chi's various charity programs come together at the Buddhist Tzu Chi Campus (BTCC) for Charity Day—the first in two years since the entire Luzon group of islands was placed under enhanced community quarantine (ECQ) in March 2020. Longtime and new beneficiaries received rice, medicines, and other assistance from Tzu Chi Philippines.
The Charity Day had the beneficiaries beaming with gratitude and excitement, especially 16-year-old Samantha Flores. "I'm so happy because it has been a long time since we had an event like this, and I also have gotten to know new people," says Samantha. "I'm happy to see many volunteers helping us."
Samantha, diagnosed with Beta thalassemia major a year after her birth, has been a Tzu Chi beneficiary for 12 years now. Because of her severe blood disorder characterized by low production of hemoglobin, Samantha suffers from anemia which causes her muscle weakness, paleness, and fatigue. To survive this life-threatening condition, she needs to take maintenance medicines and frequent blood transfusions.
"Before, we had delays in blood transfusion; but because of Tzu Chi's help, we have been right on schedule," says Samantha. She receives 10,000 pesos for her monthly blood transfusions and another 10,000 pesos for her medicines.
"I'm happy because what Tzu Chi gives is really of big help to prolong my life," adds Samantha who has lost her siblings at a young age to the same disease. Her mother, Marites Flores said her medication has been working well and her body has been responding positively.
With Tzu Chi's assistance and care, Samantha has remained hopeful and determined to live her best life. "I thank God for making Tzu Chi an instrument to help us," she says sincerely.
Another beneficiary, Jay-R Custodio is overflowing with joy and gratitude on his first ever Charity Day. "This seems like a happy place, and people here are so kind and caring," says Jay-R, a restaurant cook, married with two children.
Jay-R received assistance for his angioplasty procedure in February after her wife, Maricris sought help from Tzu Chi. "I was so scared when the doctor said that it can lead to my husband's death," shares Maricris when she first knew about Jay-R's heart condition.
After feeling a series of sudden chest pains on November 30, 2021, they sought medical consultations and were advised to get laboratory tests and angiogram. On December 8, the doctor told them Jay-R had 100% plaque buildup on his left anterior descending artery (LAD) and he urgently needed to undergo angioplasty that costs around Php 320,000.
Unable to afford the costly procedure, Maricris sought help from various government officials and agencies and was able to acquire Php 255,000 guarantee letters. She also joined a Facebook group for medical assistance and discovered Tzu Chi Foundation.
Upon calling Tzu Chi's number she saw on social media and having her application approved, Maricris couldn't help but cry in joy. "I was so happy because there's hope that my husband survives this," says Maricris. They got Php 50,000 from Tzu Chi to cover the remaining amount for the surgery plus Php 10,000 cash assistance for three months to support the needs of the family.
On February 23, 2022, the surgery was successfully performed at the Philippine Heart Center and Jay-R was discharged the next day.
"I am so touched that there are people who will be there for you when you critically need help," tells Maricris of Tzu Chi's gesture. "I am very happy because they are so kind. God sent them for us to survive."
Jay-R is equally moved and thankful for the assistance given to them by Tzu Chi. With a grateful spirit, he has stopped eating processed and fatty food and has committed to eat more vegetables. "I am now more disciplined when it comes to the food I eat. I have also learned not to abuse my body," adds Jay-R, vowing to prioritize his sleep and his health.
In two months' time, Jay-R is set to return to work and looks forward to being a Tzu Chi volunteer.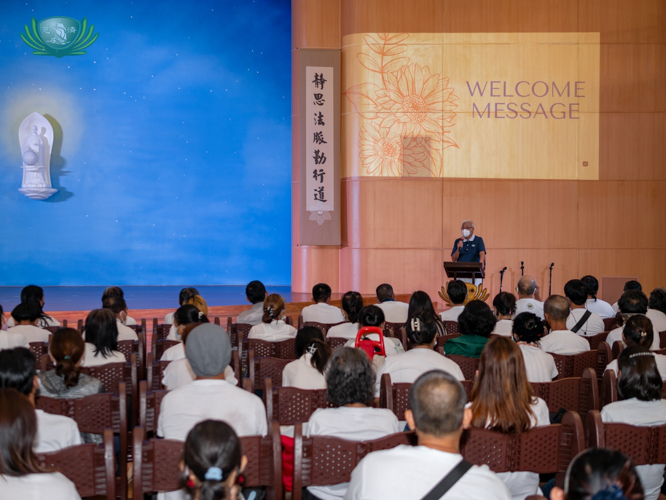 Tzu Chi Philippines CEO Henry Yuñez welcomes beneficiaries on the first Charity Day since March 2020.【Photo by Daniel Lazar】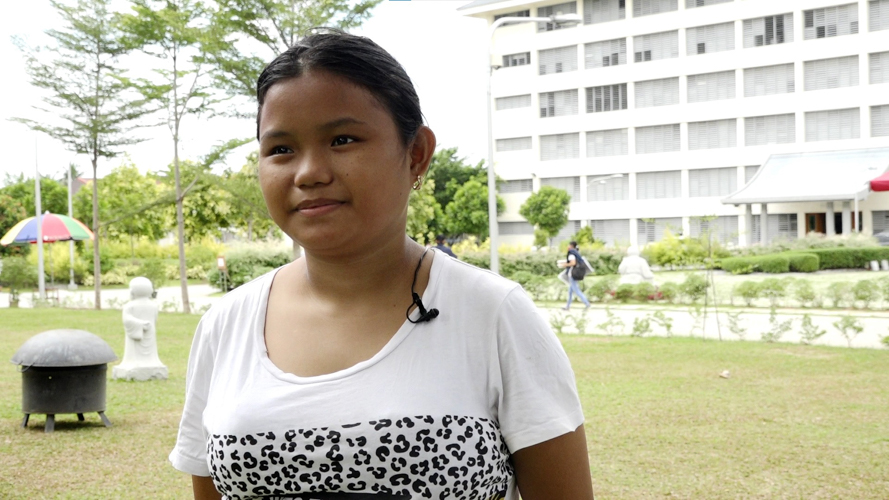 "I'm happy because what Tzu Chi gives is really of big help to prolong my life," says Samantha Flores, diagnosed with Beta thalassemia major who receives 20,000 pesos monthly assistance for her blood transfusions and maintenance medicines.【Photo by Harold Alzaga】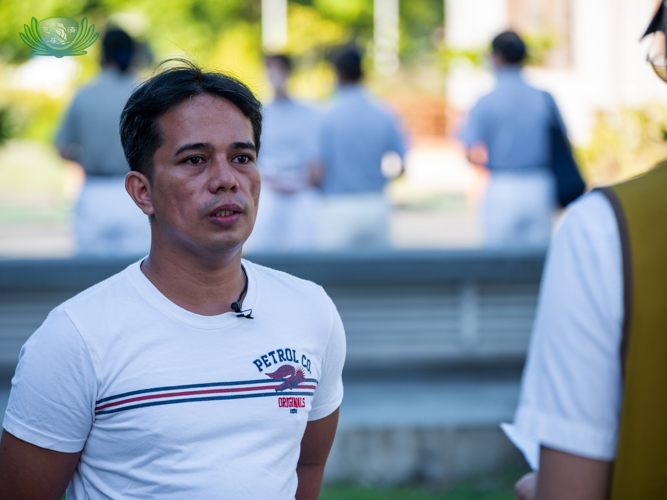 "This seems like a happy place, and people here are so kind and caring," says Jay-R Custodio who received assistance from Tzu Chi for his angioplasty procedure last February 23.【Photo by Daniel Lazar】
"I am so touched that there are people who will be there for you when you critically need help," tells Maricris, wife of Jay-R Custodio.【Photo by Matt Serrano】
Tzu Chi volunteers and scholars lead the performance of 'One Family' sign language.【Photo by Daniel Lazar】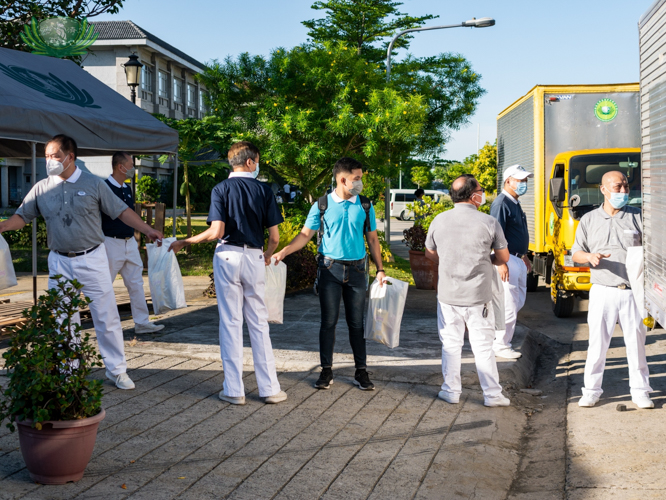 Tzu Chi volunteers and scholars help distribute rice and groceries to beneficiaries.【Photo by Daniel Lazar】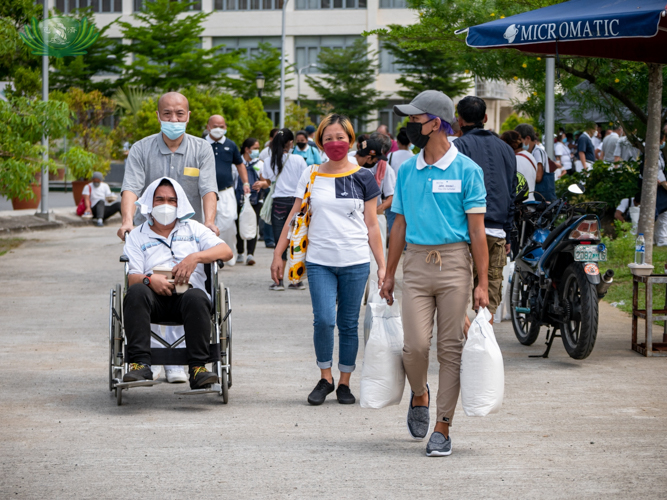 Tzu Chi volunteer and scholar assist beneficiaries in carrying their rice and groceries.【Photo by Daniel Lazar】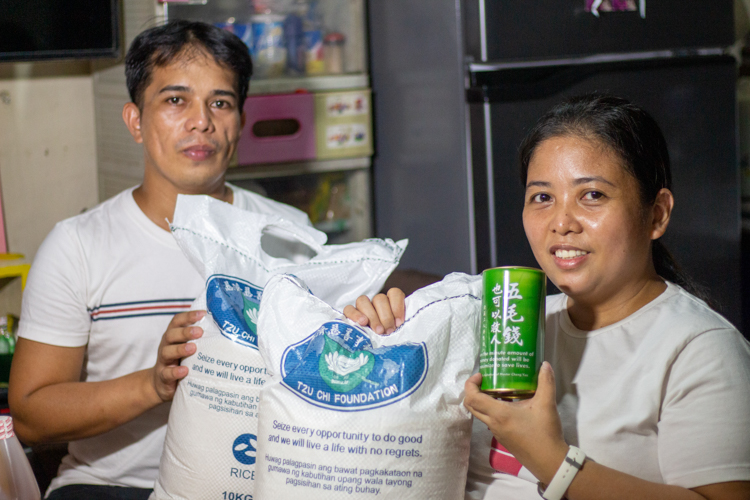 Jay-R and Maricris Custodio are happy to take home additional assistance from Tzu Chi.【Photo by Harold Alzaga】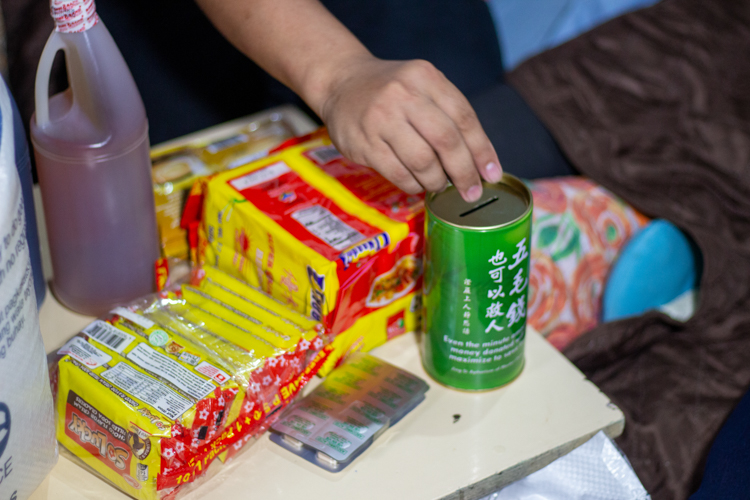 As a gesture of gratitude and giving back, Jay-R starts filling up his coin bank which he plans to donate on the next Charity Day. 【Photo by Harold Alzaga】
Go Back