Volunteers mark Tzu Chi's 56th anniversary and Master Cheng Yen's 86th birthday
Participants performed the solemn three steps and a bow ceremony.
By Joy Rojas
The traditional three steps and a bow ceremony and commitments to espouse vegetarianism were highlights of the Tzu Chi Foundation's 56th anniversary and Dharma Master Cheng Yen's 86th birthday held last April 24 at the Buddhist Tzu Chi Campus (BTCC) in Sta. Mesa, Manila.
Over 300 Tzu Chi volunteers assembled at the BTCC grounds early Sunday morning to perform the solemn rite in gratitude to Buddha for the blessing of Master Cheng Yen.
Tzu Chi Philippines first commissioner Linda Chua noted that the three steps and a bow, a ceremony of restraint and dignity, hadn't been performed in a while, owing to the pandemic and its restrictions. "We wish Master Cheng Yen an auspicious day. We wish we can be her best disciples who follow her teachings and are instrumental in achieving her wish to make this world a better place. And we wish she will stay with us longer." she said.
Volunteers then converged at the Jing Si Auditorium, where Tzu Chi Philippines CEO Henry Yuňez thanked everyone for their participation. He also acknowledged the stunning crystal Buddha flanked by flowers at the entrance of the auditorium. The delicate piece was flown in from Taiwan in time for the special occasion.
The group then recorded their birthday greeting to Master Cheng Yen. "We love you," they cheered in unison, and placed their hands over their head to form a heart.
After a quick break, it was back to the Jing Si Auditorium for a sharing on the merits of vegetarianism. Earning the crowd's admiration for maintaining a meat-free diet were Tzu Chi volunteer Miaolin Li and sisters Sennett (11) and Selena Hung (9), and siblings Liam (11), Lev (8), and Naiya (2) Ngo who are vegetarian since birth. The youngsters enjoined the audience to adopt a vegetarian diet in respect for animals and the preservation of the planet.
Volunteers were then given a chance to commit to vegetarianism through a gift that was later presented in a virtual meeting with Master Cheng Yen. The gift, a board indicating how long one was willing to give up eating meat, saw volunteers placing their names under columns marked by 86 meals, 86 days, 86 months, 86 years, and 86 lifetimes.
Participants also engaged in a Medicine Buddha Sutra service and Sutra Adaptation practice in the day-long event.
"This is a really auspicious day," reiterates Tzu Chi Philippines Deputy CEO Woon Ng. "As disciples of Master Cheng Yen, we will do everything in our capacity to help her accomplish her missions as soon as possible."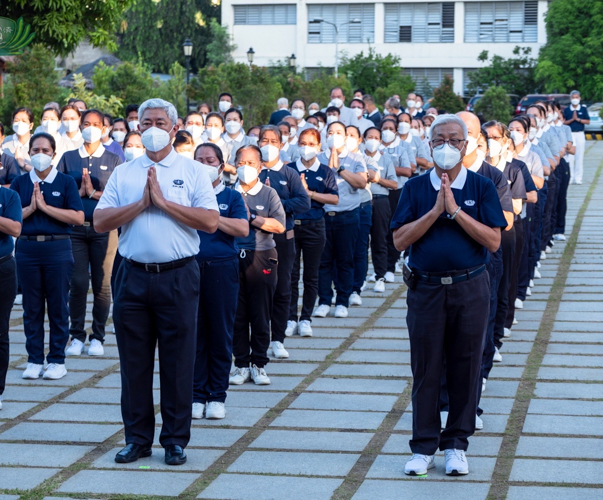 Tzu Chi Philippines CEO Henry Yuňez (right) and TIMA doctor Jo Qua (in white) lead volunteers in a traditional three steps and a bow ceremony. 【Photo by Daniel Lazar】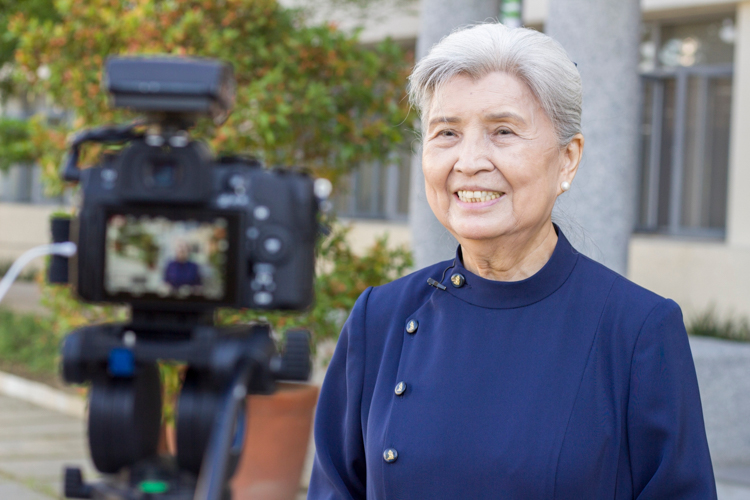 "We wish Master Cheng Yen an auspicious day. We wish we can be her best disciples who follow her teachings and are instrumental in achieving her wish to make this world a better place," said Tzu Chi Philippines first commissioner Linda Chua. 【Photo by Matt Serrano】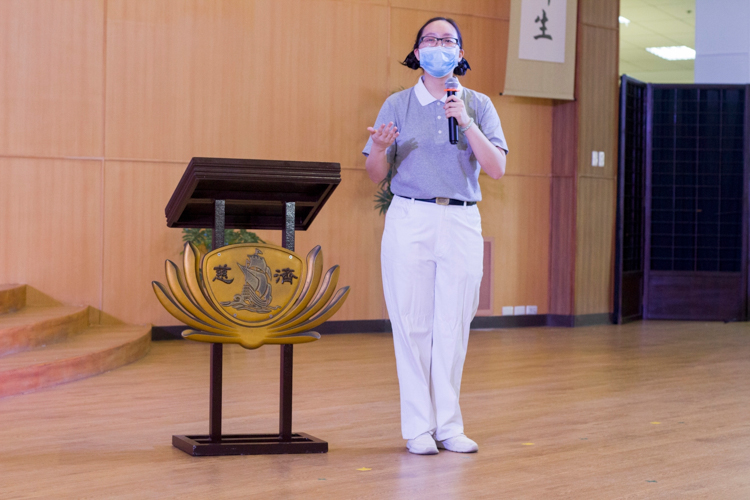 Tzu Chi volunteer Miaolin Li explained the value of practicing vegetarianism. 【Photo by Matt Serrano】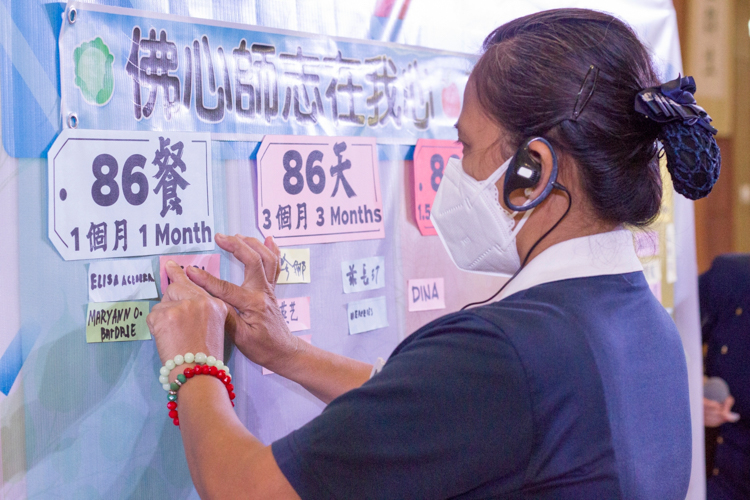 A Tzu Chi volunteer posts her name in a board that enjoins everyone to practice vegetarianism for 86 meals, 86 days, 86 months, 86 years, and 86 lifetimes. 【Photo by Matt Serrano】
Flanked by orchids, a delicate crystal Buddha, flown in from Taiwan in time for the special occasion, was placed at the entrance of the Jing Si Auditorium. 【Photo by Daniel Lazar】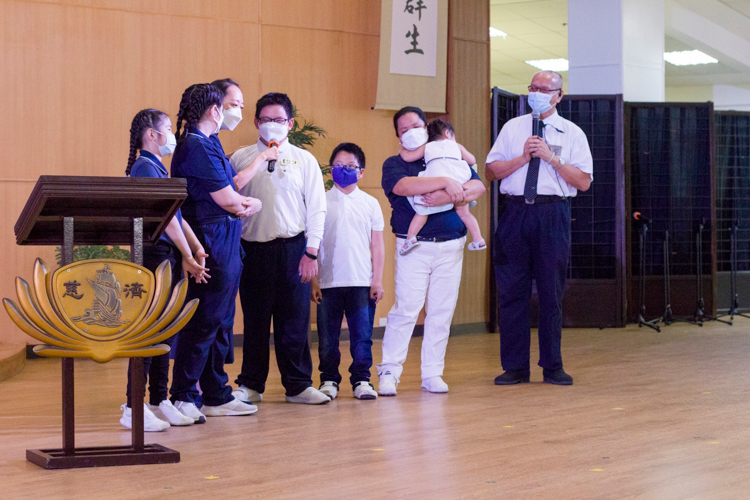 Vegetarian since birth (from left), sisters Sennett (11) and Selena Hung (9), and siblings Liam (11), Lev (8), and Naiya (2) encouraged adults to embrace a meat-free diet as a sign of respect for animals and the preservation of the planet. 【Photo by Matt Serrano】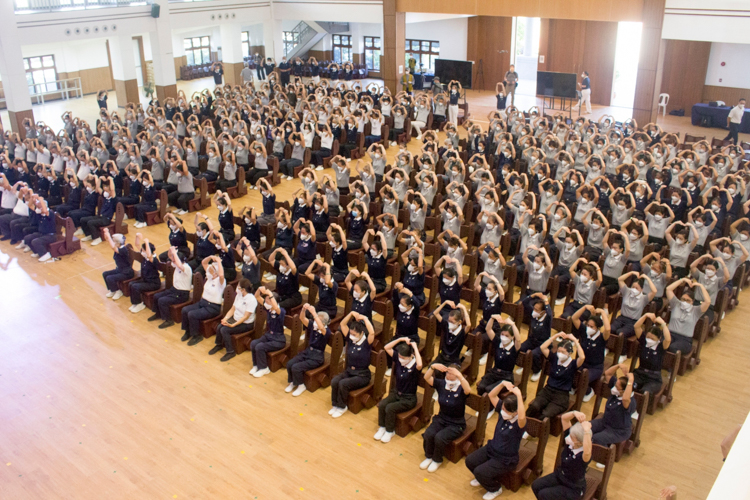 "We love you!" cheered volunteers in unison in a video recording to Master Cheng Yen. They placed their hands on their head to form the shape of a heart. 【Photo by Matt Serrano】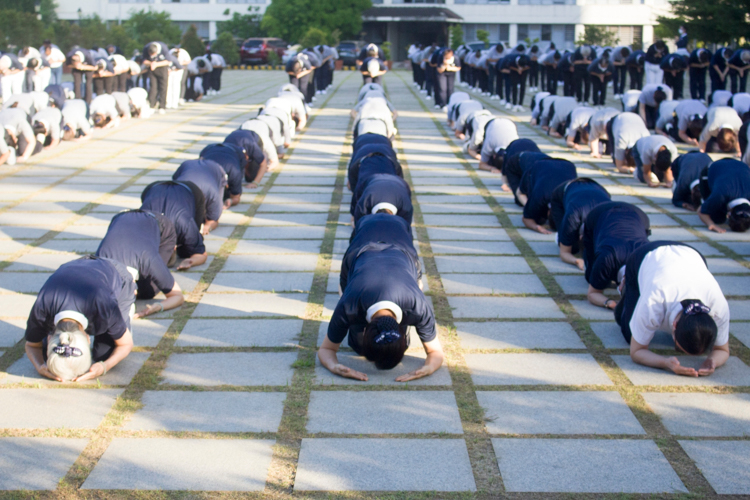 A ceremony of restraint and dignity, the three steps and a bow ritual expresses gratitude to Buddha for the blessing of Master Cheng Yen. 【Photo by Matt Serrano】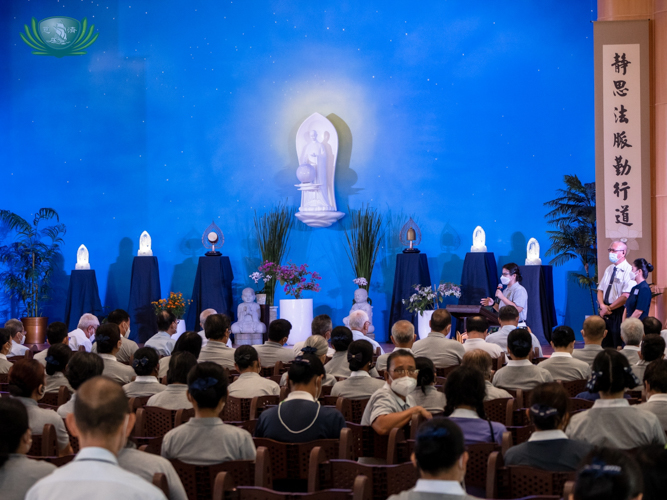 Volunteers engage in a solemn Medicine Sutra service. 【Photo by Daniel Lazar】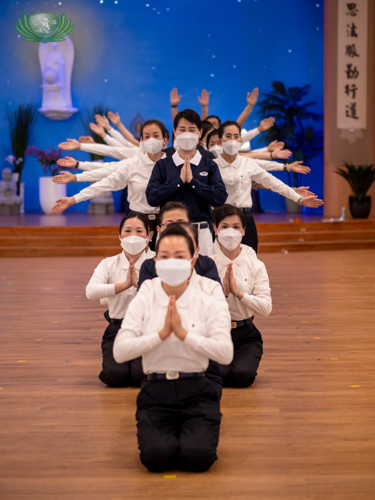 Volunteers in the middle of a Sutra Adaptation practice 【Photo by Daniel Lazar】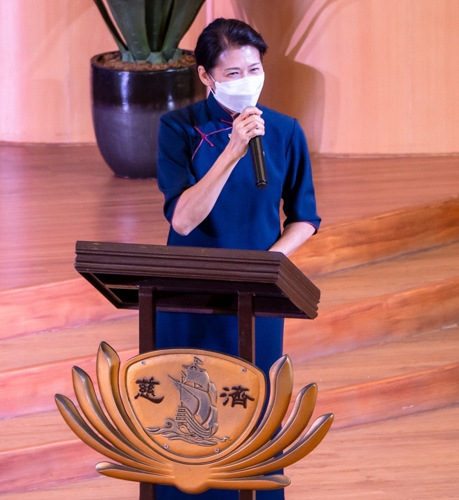 "This is a really auspicious day," says Tzu Chi Philippines Deputy CEO Woon Ng. "As disciples of Master Cheng Yen, we will do everything in our capacity to help her accomplish her missions as soon as possible."
Go Back