QC Food Security Task Force taps Tzu Chi to promote plant-based diet
Volunteers visited two farms in the city.
By Joy Rojas
After partnering with the Quezon City government to provide rice relief to its constituent jeepney drivers, scavengers, and Persons with Disabilities (PWD) for three months during the height of the pandemic, Tzu Chi Foundation is being tapped to collaborate with the local government unit for an important mission: to promote healthy, affordable, and tasty plant-based eating in the city.
"Data shows that Filipinos don't eat much vegetables. Data also shows that we have a lot of health challenges—diabetes, hypertension, cancer, and respiratory diseases. All of this are data that we see even on a local level. The solution is for us to consume a more plant-based diet. That is a common advocacy with Tzu Chi Foundation," says Emmanuel "Nonong" Velasco II, sustainable development projects officer of QC's Sustainable Development Affairs, and co-chair of the QC Food Security Task Force.
In a March 24 meeting at Quezon City Hall with Velasco and his team, Tzu Chi volunteers were introduced to the campaign "Grow QC: Pag-unlad sa Pagkain, Kabuhayan, at Kalusugan" (Development in Food, Livelihood, and Health). Achieving a food-secure and self-reliant city through the development of better food systems, establishment of better zones for urban agriculture, and food processing zones is the campaign's goal. The city aims to achieve zero hunger, the second of 17 Sustainable Development Goals of the United Nations.
Although it was the pandemic that spurred the creation of Grow QC, Velasco points out that the city had been practicing urban farming for over a decade. "When Mayor Joy Belmonte was still vice mayor, she already introduced her 'Joy of Urban Farming' program. Through the pandemic, there was the consciousness and openness to go back to basics—to make your own food and garden at home," he says. "The government put mechanisms to encourage and empower people by providing seed starter kits, compost, and capacity-building training programs."
Is growing vegetables truly possible in a highly urbanized destination like Quezon City? The numbers prove it. As of November 2022, the city has identified 15,875 urban farmers, 635 urban farms and gardens, and 381,650 square meters of productive land. It has also distributed 146,039 seed starter kits and seedlings.
Velasco and his team then toured Tzu Chi volunteers to two farms. The first, located in the compound of Bistekville 9 in Barangay Gulod, Novaliches, Quezon City, is a makeshift greenhouse of lush organic pechay, mustasa, Chinese kangkong, okra, string beans, and more planted in PET bottles. Launched during the pandemic, it started out as a cleanup project initiated by former homeowner association president Tim Salaguste and four male residents.
"I've always loved to farm, so instead of my neighbors just gossiping and drinking, I thought of doing something with output," says Salaguste, who is also president of QC's Federation of PWD. With patience, hard work, the participation of more residents, and assistance from the LGU, the garden grew to the point that all families living within the 190-unit compound now enjoy a regular supply of vegetables.
"It's a commitment. That's what I try to instill in my neighbors. You can't just work today and not participate the following day," he says. "Also, let's not make a habit out of asking for help. Let's do what we can before we ask. When you have output, you don't need to ask people for help. They will just come to you, which is what happened to us."
The second farm took Tzu Chi volunteers to the outskirts of the big city, in Bagong Silangan, a barangay leading to San Mateo, Rizal. There, resident farmers of New Greenland Community Model Farm plant the likes of tomatoes, chili, eggplant, cucumber, peanut, and a variety of leafy greens on 7 of the 11 hectares of land. The farm thrives even during the rainy season when the land is submerged in floodwater. Camote tops, kangkong, and other resilient crops are grown at this time of the year.
Partnerships arranged by Velasco's team give much-needed exposure to this farm and its produce. "Quezon City-based restaurants under resto.ph come here to buy their veggies," says Eddie Atilao of the Sustainable Development Affairs. "The Department of Science and Technology has given grants to New Greenland farmers to develop healthy drinks like tanglad (lemongrass) ginger tea." Tzu Chi Foundation and other non-government organizations are also being eyed as potential partners.
Impressed by urban farmers' efforts to grow quality vegetables, Tzu Chi Deputy CEO Woon Ng says, "If all communities do what the residents of Barangay Gulod are doing, wow, we can foresee a green Metro Manila. In Bagong Silangan, although we see a lot of challenges, we can tell that they want to sustain the farm as organically as possible. It's not easy but the farmers are determined to supply people with healthy vegetables."
"With this, I think the Tzu Chi Foundation would want to partner in any way it can in the future," she adds. "Meeting all these people was a privilege for us, and we would be so happy to help all these kind people with the same advocacy as Tzu Chi and Master Cheng Yen, who reminds us every day to keep this environment healthy."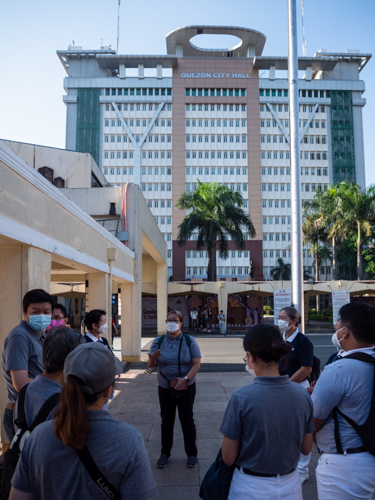 Outside Quezon City Hall, Tzu Chi's Dolly Alegado Cruz (center) briefs volunteers before their meeting with officers of QC's Sustainable Development Affairs. 【Photo by Daniel Lazar】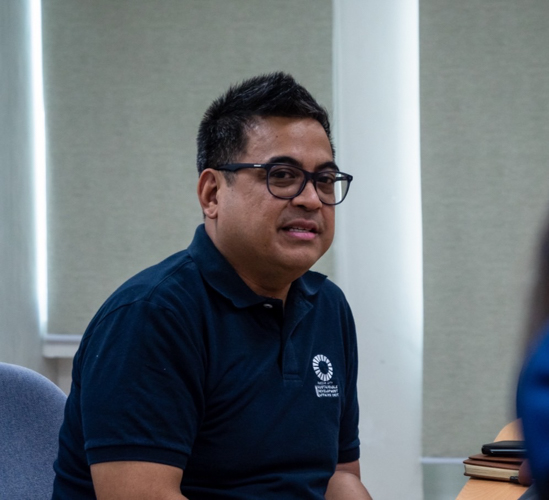 Consuming a plant-based diet can help address the growing health challenges of Filipinos. "That is a common advocacy with Tzu Chi Foundation," says Emmanuel "Nonong" Velasco II, sustainable development projects officer of QC's Sustainable Development Affairs, and co-chair of the QC Food Security Task Force. 【Photo by Jeaneal Dando】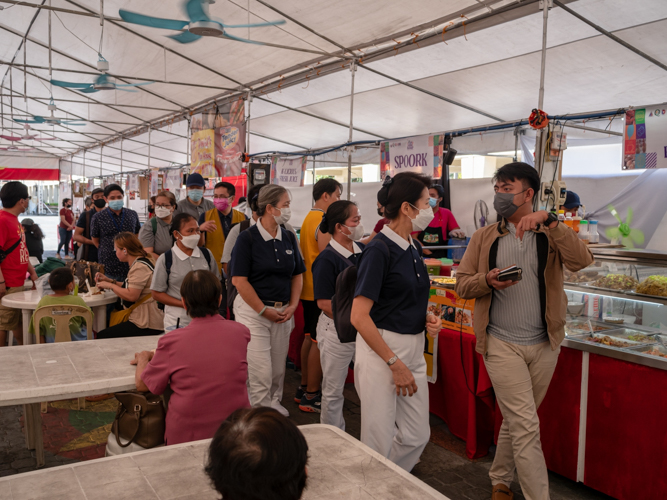 Joshua Demetrio (first from right) tours Tzu Chi volunteers inside the Kyusi Food Bazaar, a source of freshly cooked meals for Quezon City Hall employees, and members of the nearby communities. 【Photo by Daniel Lazar】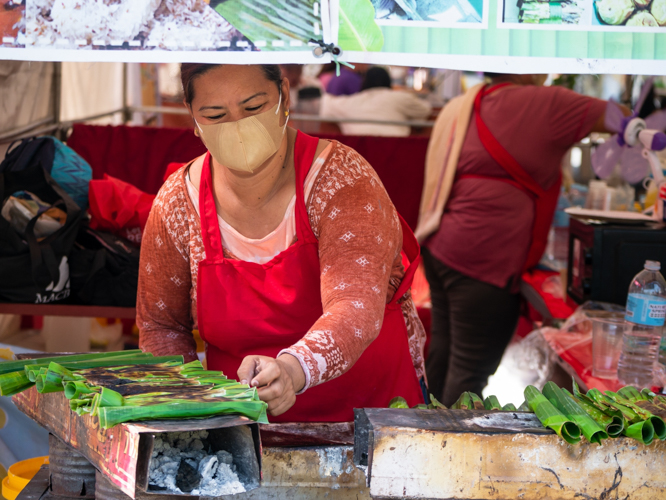 At the Kyusi Food Bazaar, a stall vendor cooks tupig, a Filipino snack made of ground, slightly fermented glutinous rice mixed with coconut milk, muscovado sugar, and young coconut strips.【Photo by Daniel Lazar】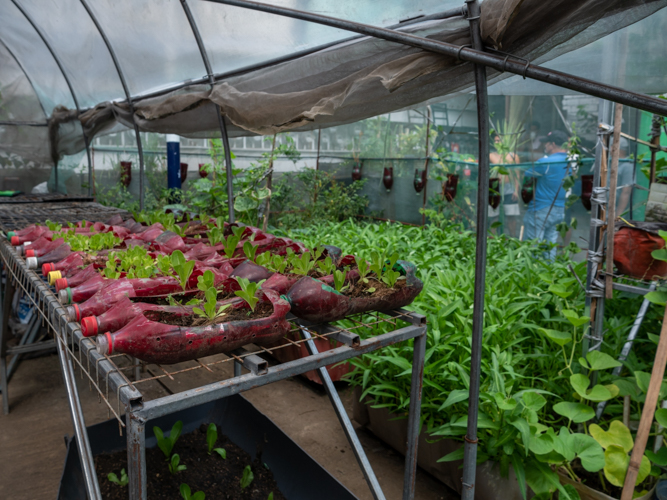 At Bistekville 9's greenhouse, discarded plastic soft drink bottles are upcycled into pots for growing vegetables. 【Photo by Daniel Lazar】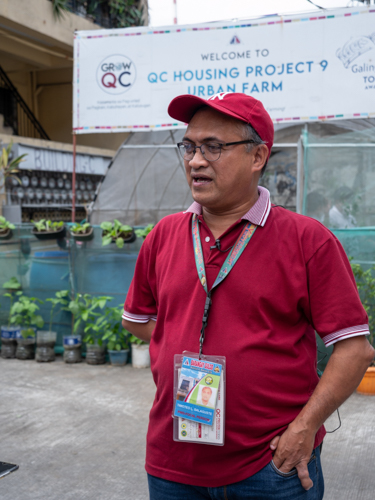 A genuine love for farming inspired Tim Salaguste to start a greenhouse in his community during the early days of the pandemic. "Instead of my neighbors just gossiping and drinking, I thought of doing something with output," he says. 【Photo by Daniel Lazar】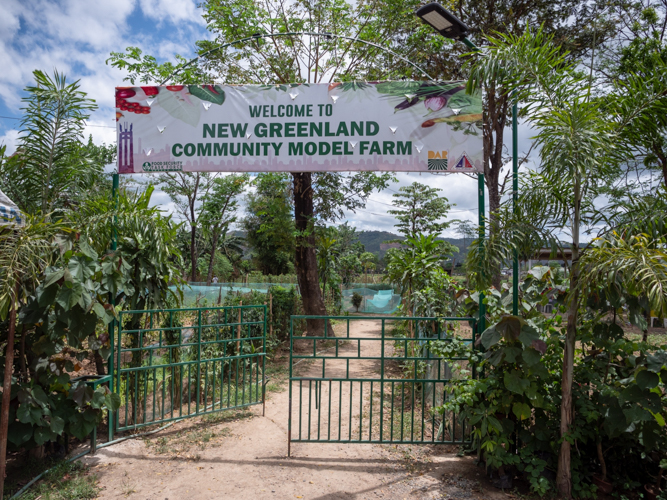 Even in a highly urbanized setting like Quezon City, vegetable farming is very much possible. The New Greenland Community Model Farm is located in Bagong Silangan, a barangay leading to San Mateo, Rizal. 【Photo by Daniel Lazar】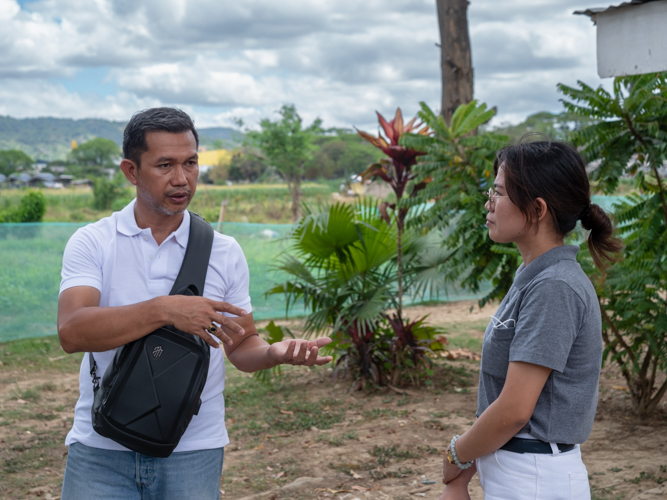 Eddie Atilao of QC's Sustainable Development Affairs (left) chats with Office of the CEO, Tzu Chi Program Officer Lineth Brondial. 【Photo by Daniel Lazar】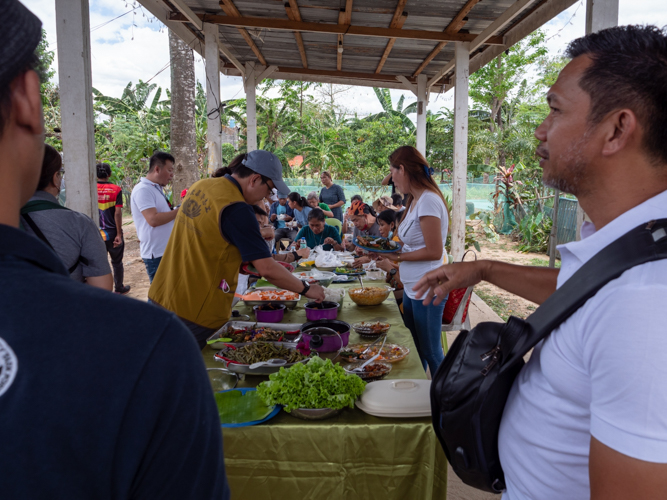 Tzu Chi volunteers and members of Quezon City's Sustainable Development Affairs enjoy a plant-based lunch of veggies sourced from the New Greenland Community Model Farm.【Photo by Daniel Lazar】
Go Back