Tzu Chi Philippines' pandemic response bags Dragon Star Award
This is the second time Tzu Chi got recognized by the award-giving body.
By Ben Baquilod
Tzu Chi Philippines received the Dragon Star Award of the Quezon City Association of Filipino-Chinese Businessmen, Inc. (QCAFCBI) on June 26 at the Novotel Manila Araneta City in Cubao, Quezon City.
The Dragon Star Awards is the flagship program of the QCAFBI that aims to honor deserving individuals and non-government organizations (NGOs) of Quezon City which have achieved distinction and excellence in their respective fields of endeavor and generously helped improve the lives of others without expectation of public recognition.
This year's Dragon Star Awards theme is "Pandemic Heroes", honoring individuals and organizations which went above and beyond to serve their communities despite the hardships and health risks amid the COVID-19 pandemic.
Ten (10) honorees were awarded with the 2nd Dragon Star Award including former Quezon City Mayors Feliciano R. Belmonte and Brigido R. Simon, Jr. Other awardees along with Tzu Chi Foundation were the Federation of Filipino Chinese Chambers of Commerce and Industry, Inc. (FFCCCII) and Maginhawa Community Pantry Organizer Ana Patricia Non.
"Tzu Chi is one of our selections and we have seen their efforts in helping so many people in the community, and so our judges finally decided that Tzu Chi Foundation should be awarded," said outgoing QCAFCBI President Joseph Lim Bon Huan.
Newly reelected Quezon City Mayor Maria Josefina Tanya "Joy" Go Belmonte was keynote speaker. Mayor Belmonte recognized Tzu Chi Foundation and FFCCCII for giving their immeasurable time, effort, and resources to help save lives during the pandemic. She also thanked both organizations for being invaluable partners of the LGU's vaccination program.
"Let us continue to work hand in hand in realizing our goals for the city," said Belmonte. "Thank you for your selflessness, social conscience, and benevolence."
This is the second time that Tzu Chi was given the award. In 2019, Tzu Chi was among the 14 recipients of the first Dragon Star Award with the theme "Hometown Heroes" intended to honor people and organizations based in Quezon City which have manifested integrity, idealism, and dedication in uplifting the lives of people in the city. Tzu Chi then was awarded for the educational and cultural growth category.
"We are honored to be part of this year's award and we recognize that this award comes with a responsibility," said Tzu Chi Philippines CEO Henry Yuñez in his acceptance speech. "Many of our brothers and sisters have gone difficult times to cope with the pandemic. But, one of the best things we have witnessed is the rise of pandemic heroes, and this is the strength of our Filipino spirit of bayanihan."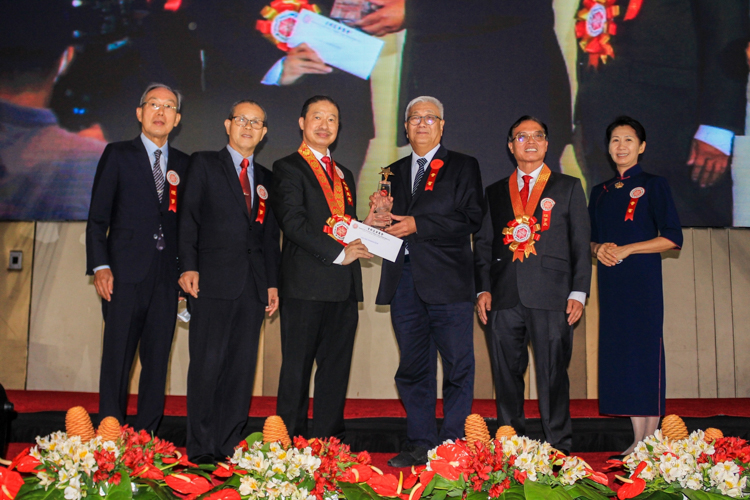 Tzu Chi Philippines CEO Henry Yuñez (3rd from the right) together with volunteers Leonardo Chua (leftmost), Manny Go (2nd from the left) and Deputy CEO Woon Ng (rightmost) receives the Dragon Star Award from QCAFCBI outgoing President Joseph Lim Bon Huan (3rd from the left) and incoming President Joaquin Co (2nd from the right). 【Photo by Kinlon Fan】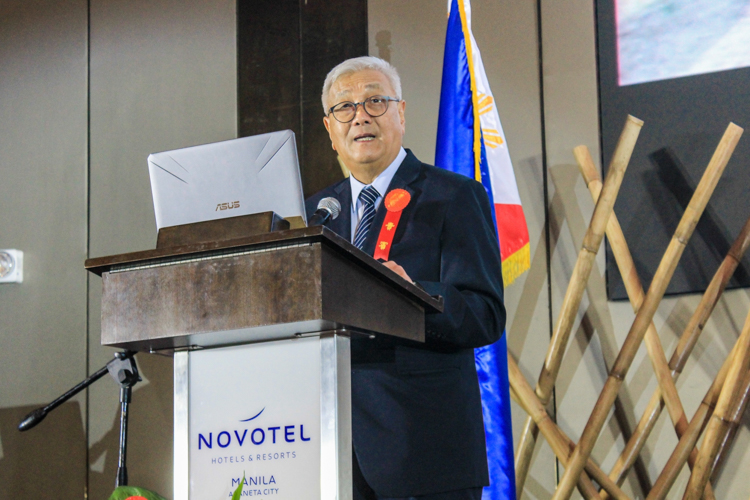 "One of the best things we have witnessed is the rise of pandemic heroes, and this is the strength of our Filipino spirit of bayanihan," says Tzu Chi Philippines CEO Henry Yuñez in his acceptance speech. 【Photo by Kinlon Fan】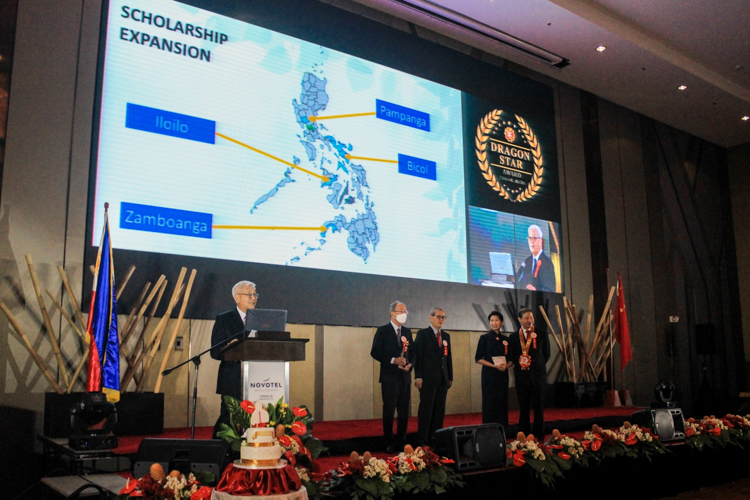 Tzu Chi Philippines CEO Henry Yuñez presents the foundation's recent accomplishments and future plans to the attendees of the Dragon Star Awarding Ceremony. 【Photo by Kinlon Fan】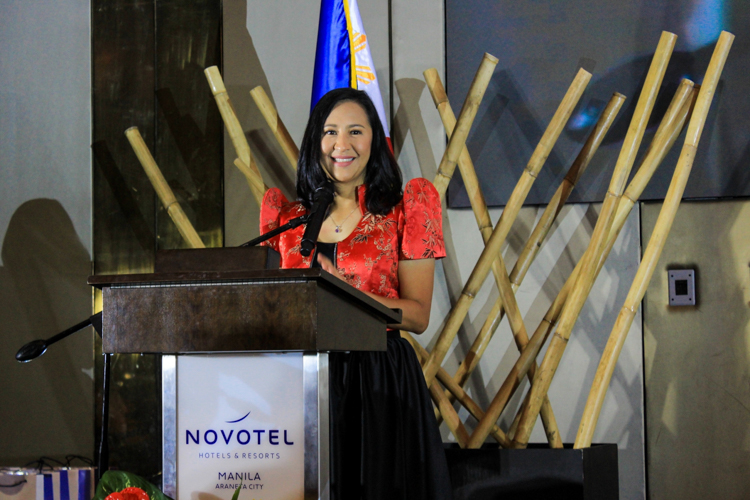 "Let us continue to work hand in hand in realizing our goals for the city," says Quezon City Mayor Joy Belmonte to the Dragon Star Awardees. "Thank you for your selflessness, social conscience, and benevolence." 【Photo by Kinlon Fan】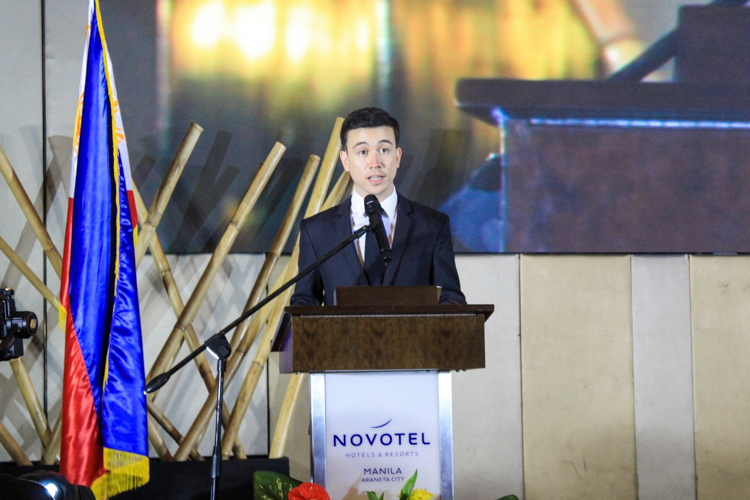 Newly elected Quezon City 1st district representative Arjo Atayde graces the event and gives message to the Dragon Star Awards attendees. 【Photo by Kinlon Fan】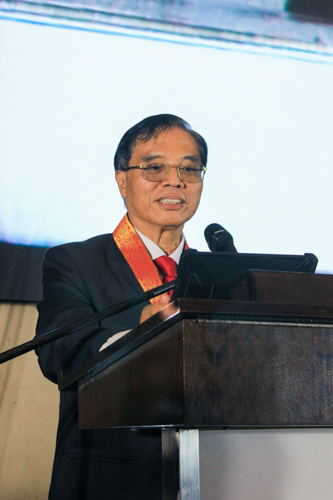 QCAFCBI newly-inducted President Joaquin Co addresses the audience. 【Photo by Kinlon Fan】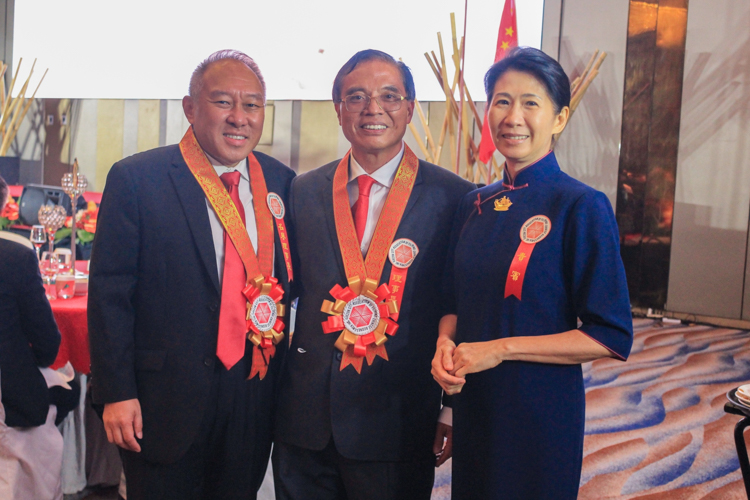 From left to right: QCAFCBI past President Daniel Ching, QCAFCBI newly-inducted President Joaquin Co, Tzu Chi Philippines Deputy CEO Woon Ng【Photo by Kinlon Fan】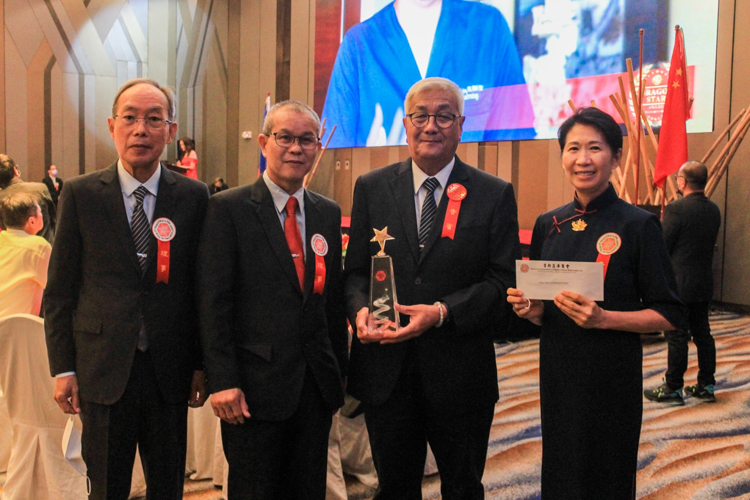 From left to right: Tzu Chi volunteers Leonardo Chua, Manny Go, Tzu Chi Philippines CEO Henry Yuñez, Deputy CEO Woon Ng【Photo by Kinlon Fan】
Go Back