Medical beneficiaries earn through Tzu Chi's upcycling livelihood program
Marisol Peñaflorida and Win Hannah Bernabi earn from home.
By Joy Rojas
Since resuming its upcycling program of handweaving excess sport sock material into floor mats and stool covers, Tzu Chi Foundation has provided opportunities to earn to those who need it the most. When their husbands lost their jobs during the pandemic, the housewives of Tzu Chi's recycling team became their families' breadwinners, weaving mats for profit in the comfort and safety of their homes.
These days, the initiative is a lifesaver to beneficiaries of Tzu Chi's medical assistance program, specifically those who are housebound for health reasons or need to look after a loved one.
Marisol Peñaflorida, a Tzu Chi medical assistance beneficiary for six years, was diagnosed with Systemic Lupus Erythematosus—lupus, for short—in 2010. An autoimmune disorder wherein the immune system attacks its own healthy tissues and organs, lupus manifests in Marisol through rashes on her cheeks, and red and black rashes on her body. She also has psoriasis-like lesions on her skin, which worsen in sun exposure.
"It's hard finding work," says Marisol, single, aged 36. "Before the pandemic, I approached whoever I could, but stopped because I was afraid of catching COVID-19." Without a job, she has no resources to buy medicines, pay for diagnostic tests, and consult regularly with a rheumatologist and nephrologist. For a while, she tried crocheting, but low sales and her stiffening hands left her discouraged.
Her family can only do so much. Both her parents are seniors and her older widowed sister, who she lives with, has two children of her own.
"I don't want to be dependent on my sister forever," she says. "I want to make a living too so I can help others."
As part of Tzu Chi's livelihood program, she earns without leaving home. "It's a big help because what I make helps pay for my medicines, laboratory fees, checkups, and transportation expenses," she says. "Earning money from work also gives me a sense of dignity because I'm doing something productive."
Like Marisol, Win Hannah Bernabi would love to work if she could. But challenges in the family require her to stay home. The mother of four young children is also wife to Richard Gomez, who was diagnosed with stage 5 chronic kidney disease. He developed the condition in 2014 after contracting leptospirosis from a flood.
In addition to taking maintenance medicines, Richard undergoes dialysis thrice weekly. The procedure requires a dialyzer, an "artificial kidney" that removes excess waste and fluid from the blood. In the event of a blood clot, the dialyzer needs to be replaced. Each one costs between P2,500 to P2,700—an unattainable amount for the unemployed homemaker.
Win Hannah can only cry about her situation. "If he's having a hard time, I'm struggling more because I'm doing everything—including taking charge of our daily expenses. It's so hard, I'm going crazy just thinking about where to get the money for our transportation fare whenever he has to undergo dialysis, or who I can ask help from to buy his medicines."
He's also prone to seizures, and with each attack, his wife leaves work to tend to him. "That's why I can never hold a job," says the former waitress in the small eatery of her sister-in-law. Even if I want to work, I can't attend to it because my husband needs me."
Through Tzu Chi's medical assistance, Richard is currently in stable condition. This allows him to help look after the kids while his wife weaves floor mats and seat covers. "I'm happy because even if I'm at home, I have work. It also helps relieve my stress," she says. With patience and perseverance, Win Hannah can provide for her family and perhaps even fulfill her dreams. Her goal is to see her kids finish college.
In these humble handwoven mats is the hope for a better life ahead.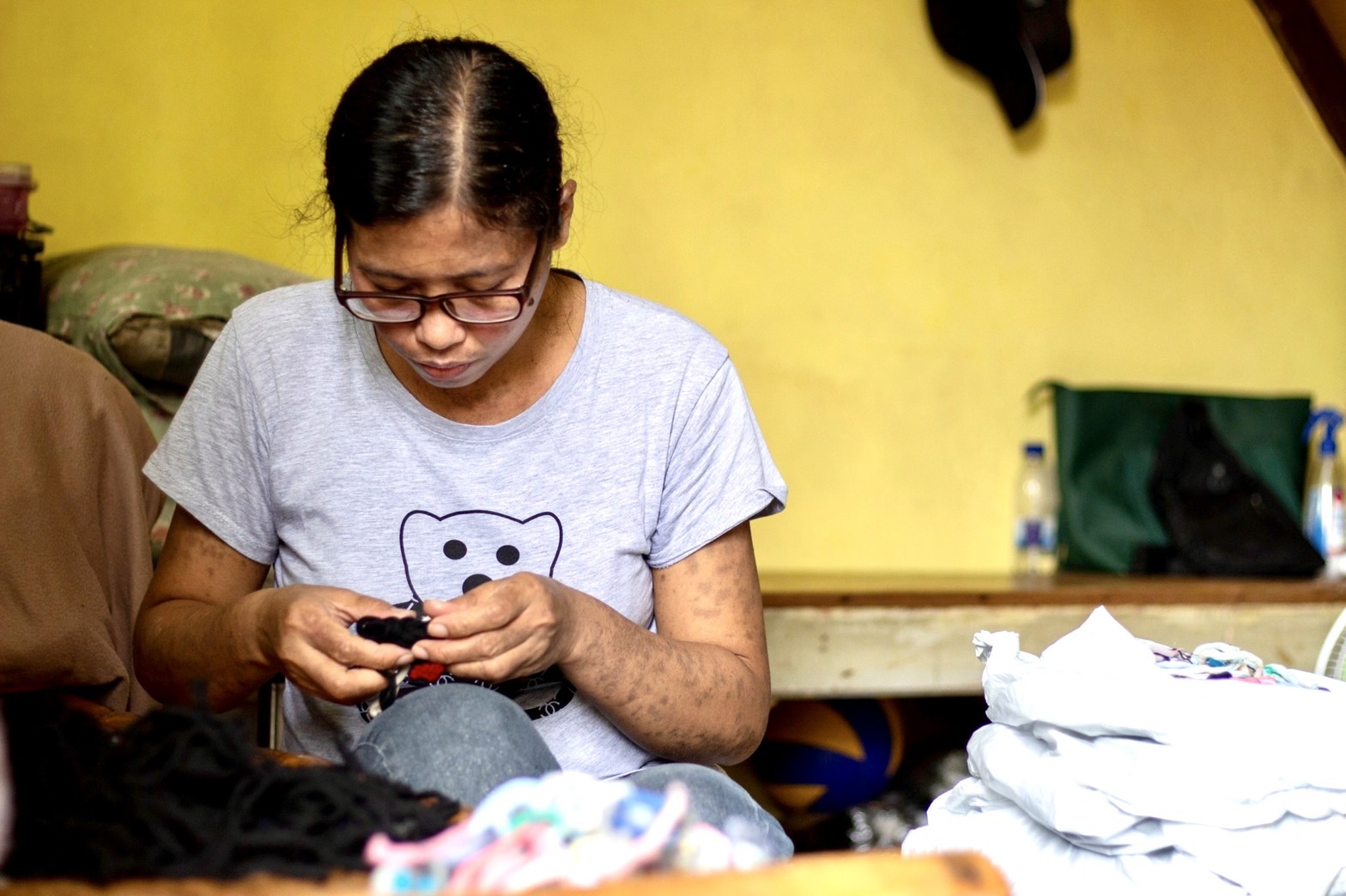 Medical beneficiary Marisol Peñaflorida has lupus. Lesions in her arms are sensitive to sun exposure, thus limiting her work options and time outdoors. Weaving mats for Tzu Chi's livelihood program allows her to work and earn without having to leave home. 【Photo by Harold Alzaga】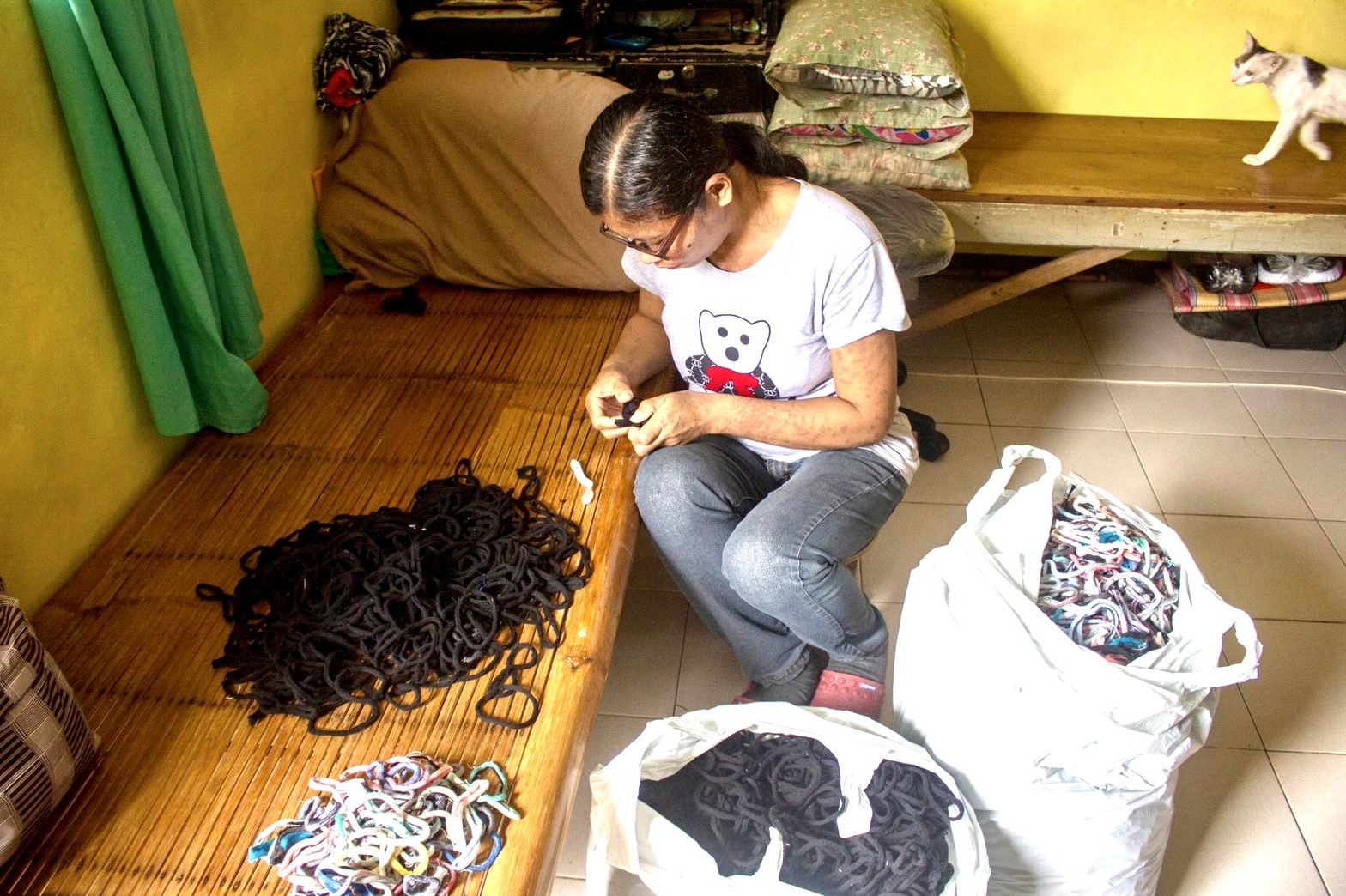 Marisol Peñaflorida creates floor mats and stool covers at home. 【Photo by Harold Alzaga】
Diagnosed with stage 5 chronic kidney disease, medical beneficiary Richard Gomez (left) is grateful to his wife Win Hannah Bernabi (right) for stepping up to look after their four kids and finding resources for his thrice weekly dialysis. 【Photo by Harold Alzaga】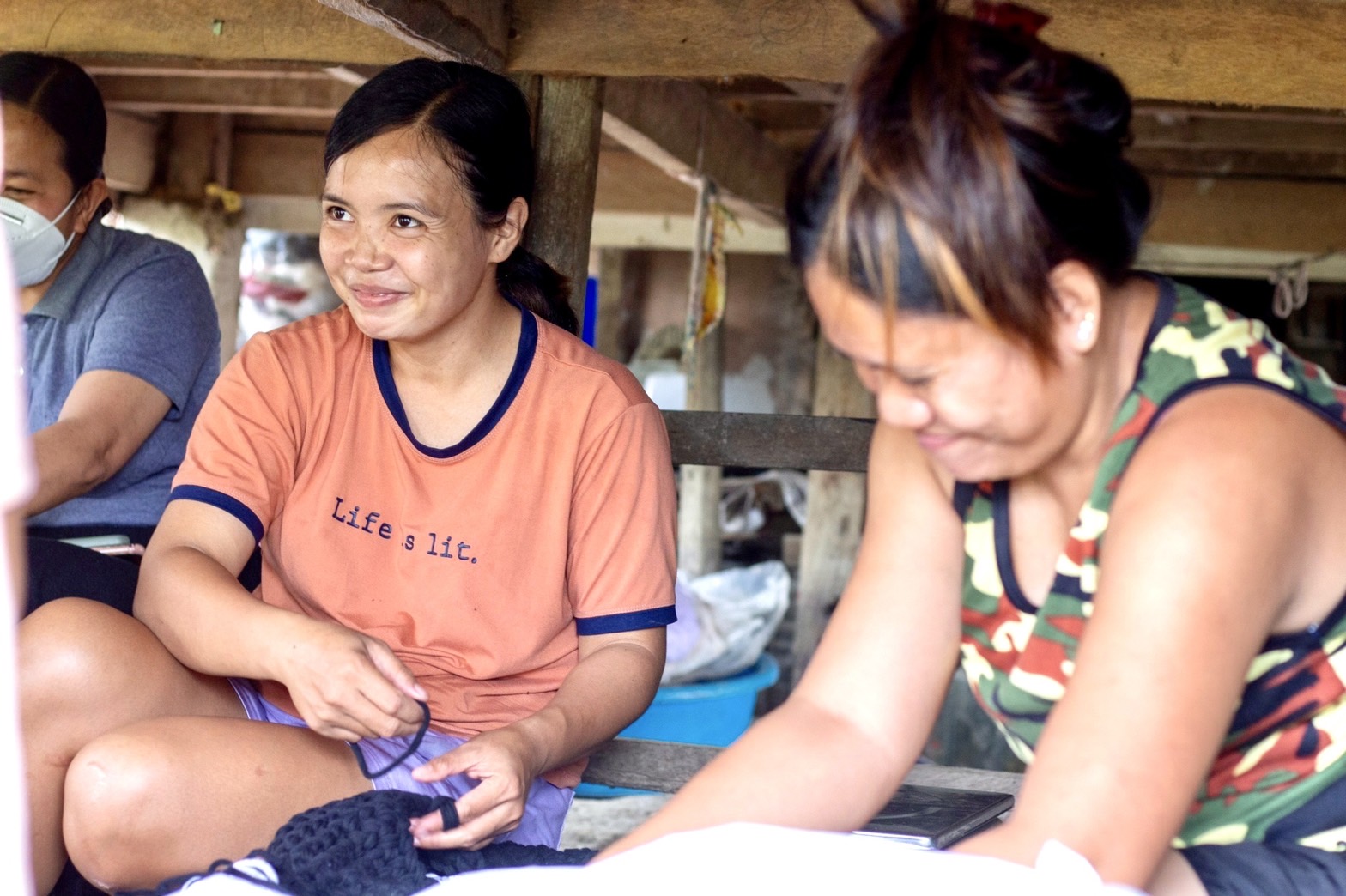 Of her participation in Tzu Chi's loop line weaving project, Win Hannah Bernabi (left) says, "I'm happy because even if I'm at home, I have work. It also helps relieve my stress."【Photo by Harold Alzaga】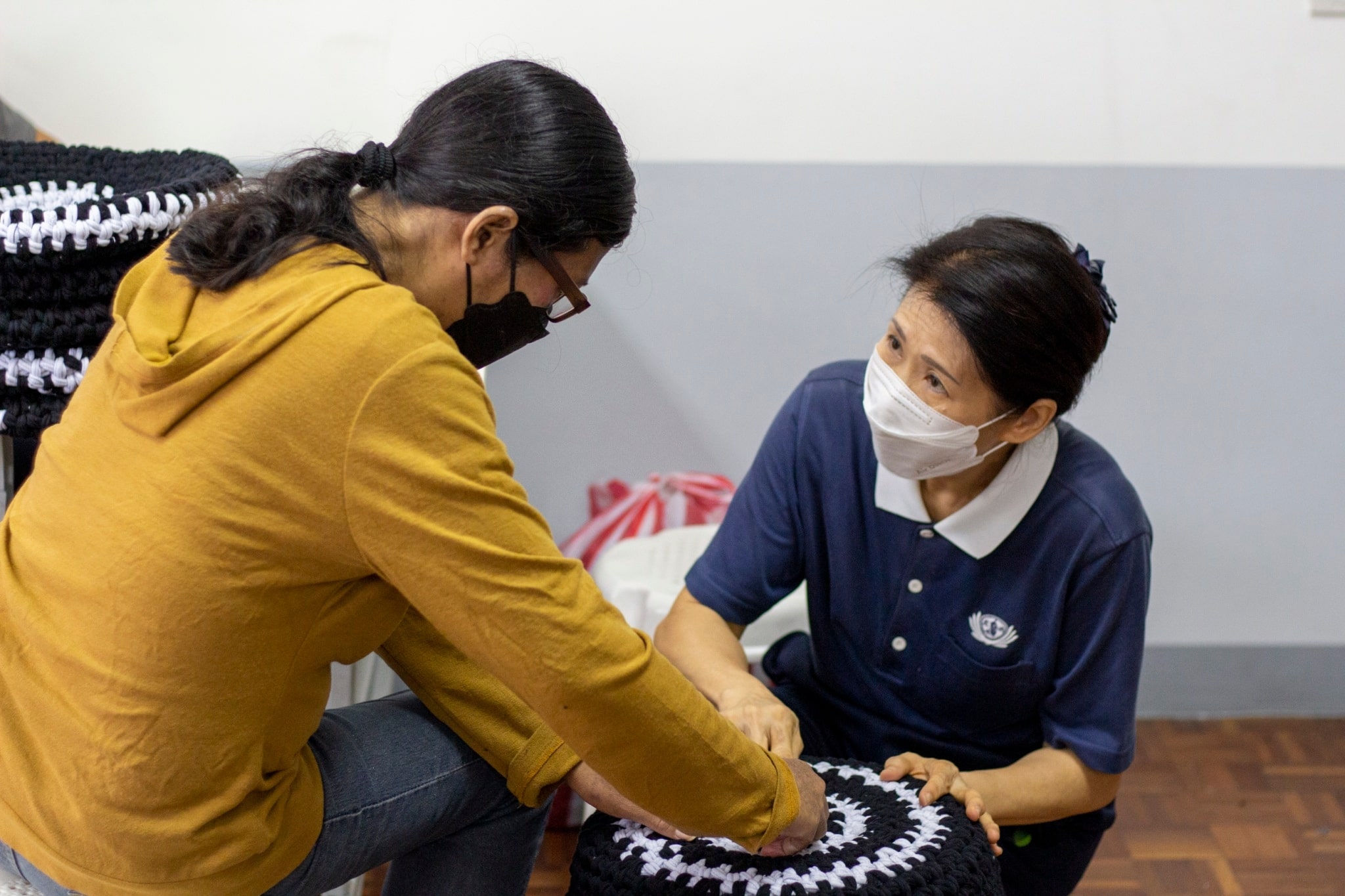 At Tzu Chi's livelihood center, Marisol (in long sleeves to cover her skin lesions) discusses a stool seat with Tzu Chi Deputy CEO Woon Ng (right).【Photo by Harold Alzaga】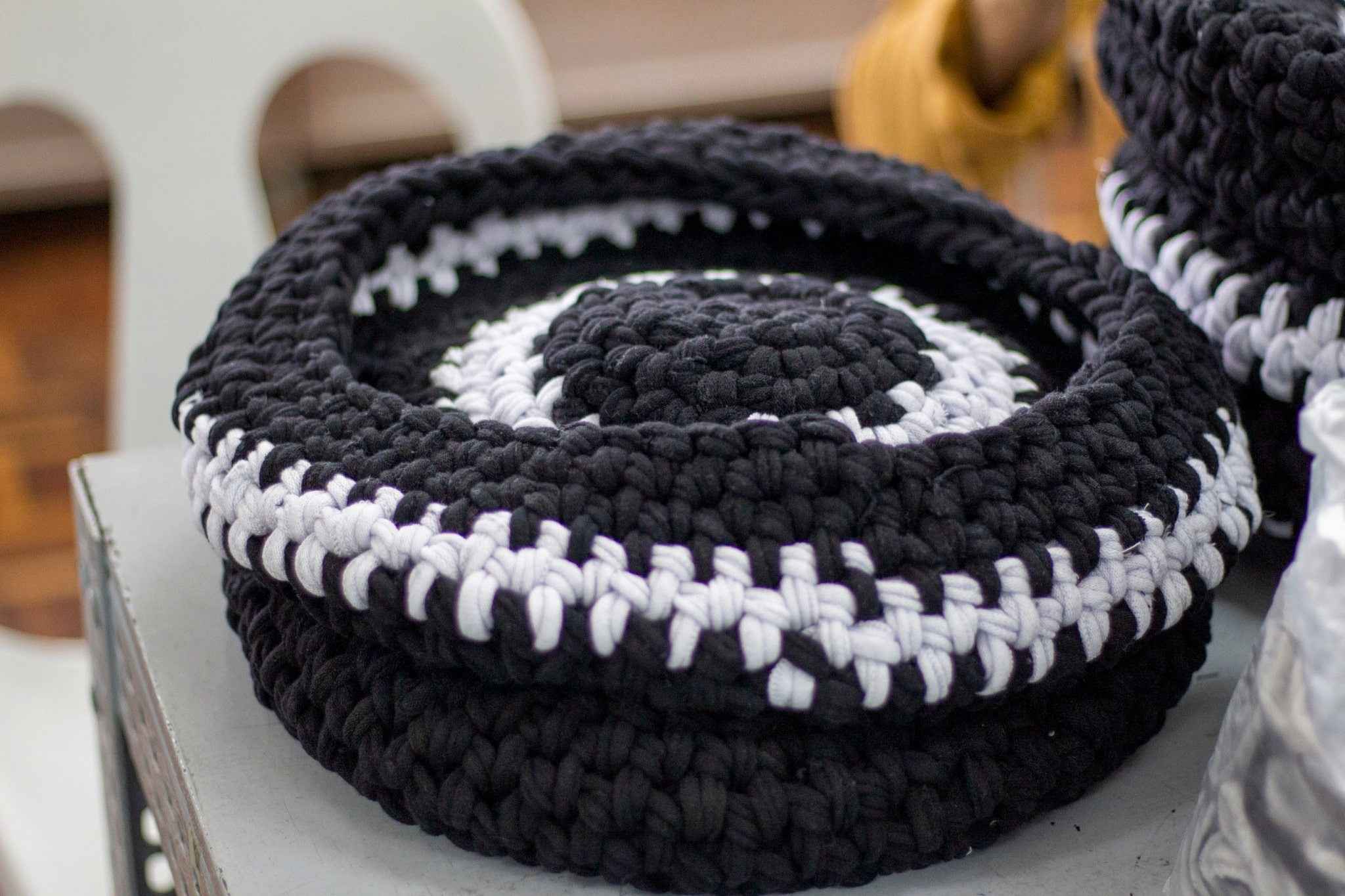 Made of excess sock material handwoven together, stool seats using loop lines are thick, durable, and can be interpreted in many colors and patterns.【Photo by Harold Alzaga】
Go Back