Tzu Chi donates oxygen concentrators to aid COVID-19 patients in public hospitals
Tzu Chi provides public hospitals with oxygen concentrators as a means of combating COVID-19.
By Marella Saldonido
On May 18, Tzu Chi Philippines donated six oxygen concentrators to three public hospitals as part of its commitment to uphold the foundation's Mission of Charity.
Quirino Memorial Medical Center (QMMC) in Quezon City, Amang Rodriquez Memorial Medical Center (ARMMC) in Marikina City, and Casimiro A. Ynares Sr. Memorial Hospital (Ynares) in Rizal, each received two oxygen concentrators.
"The presence of the oxygen concentrators will make us confident that in case that [shortage of oxygen tanks] happens because of an increase of number or a surge of patients, we have the oxygen concentrators to help us provide oxygen for our patients," said Dr. Gracia Perpetua Lagarejos, chief of hospital of Ynares Memorial Hospital.
Motivated by the teachings of Dharma Master Cheng Yen to relieve the suffering of the poor, Tzu Chi volunteer Johnny Kwok finds hospitals to be one of the best places to look for people who can benefit further with assistance from the foundation.
"Through the donation of the oxygen concentrators, we hope to connect the Tzu Chi Foundation social service with the hospital social service," he said. "In case there are patients that we can help, they can refer to us so we can help more."
This recent donation of oxygen concentrators was not the first time that QMMC and ARMMC received support from the foundation.
"Immediately, Tzu Chi was very responsive to the needs of the front liners. They were generously donating PPEs, all kinds of PPEs, that were scarce at that time," said Dr. Ma. Teresa Tricia Bautista, officer in charge of the Professional Education Training and Research Office in QMMC, as she recalled Tzu Chi's previous donations during the height of the pandemic in 2020.
ARMMC had also received three high-flow nasal cannula oxygen machines from Tzu Chi in 2021.
Having established a good relationship and partnership with Tzu Chi, Dr. Bautista looks forward to future collaborations with the foundation not only in terms of donations, but also in service.
Rizal Province Governor Nina Ynares and Vice Governor Rey San Juan Jr. were also present to personally receive the donations for Ynares Memorial Hospital.
"I look forward to any partnership and I look forward especially with Tzu Chi because I've seen its charity works and I've seen how many people it helped," said Governor Ynares.
As COVID-19 cases begin to rise anew, Tzu Chi's efforts to support public medical institutions during the pandemic continues.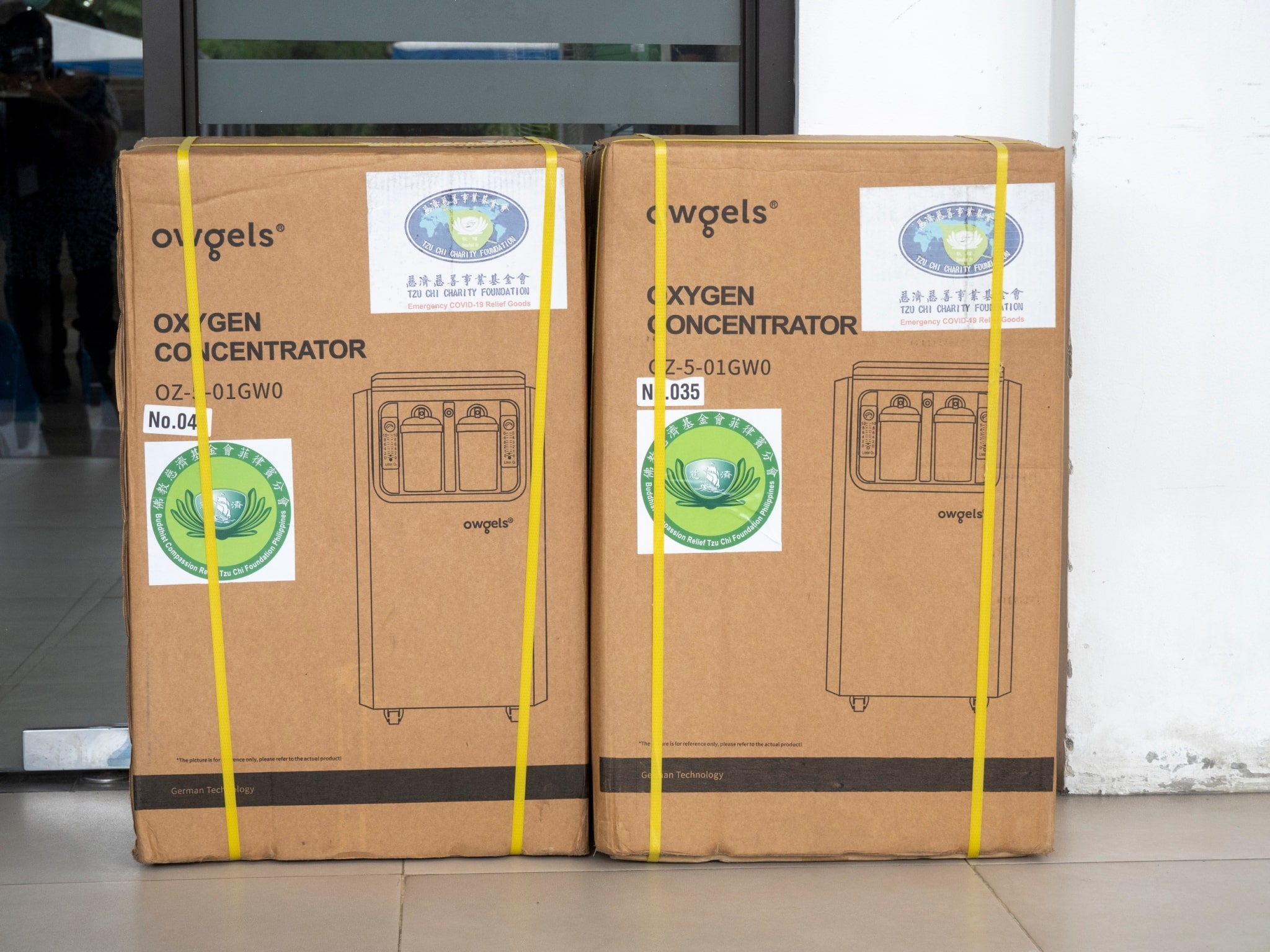 Oxygen concentrators filter out room air and provide oxygen supply to aid patients in respiratory distress. 【Photo by Matt Serrano】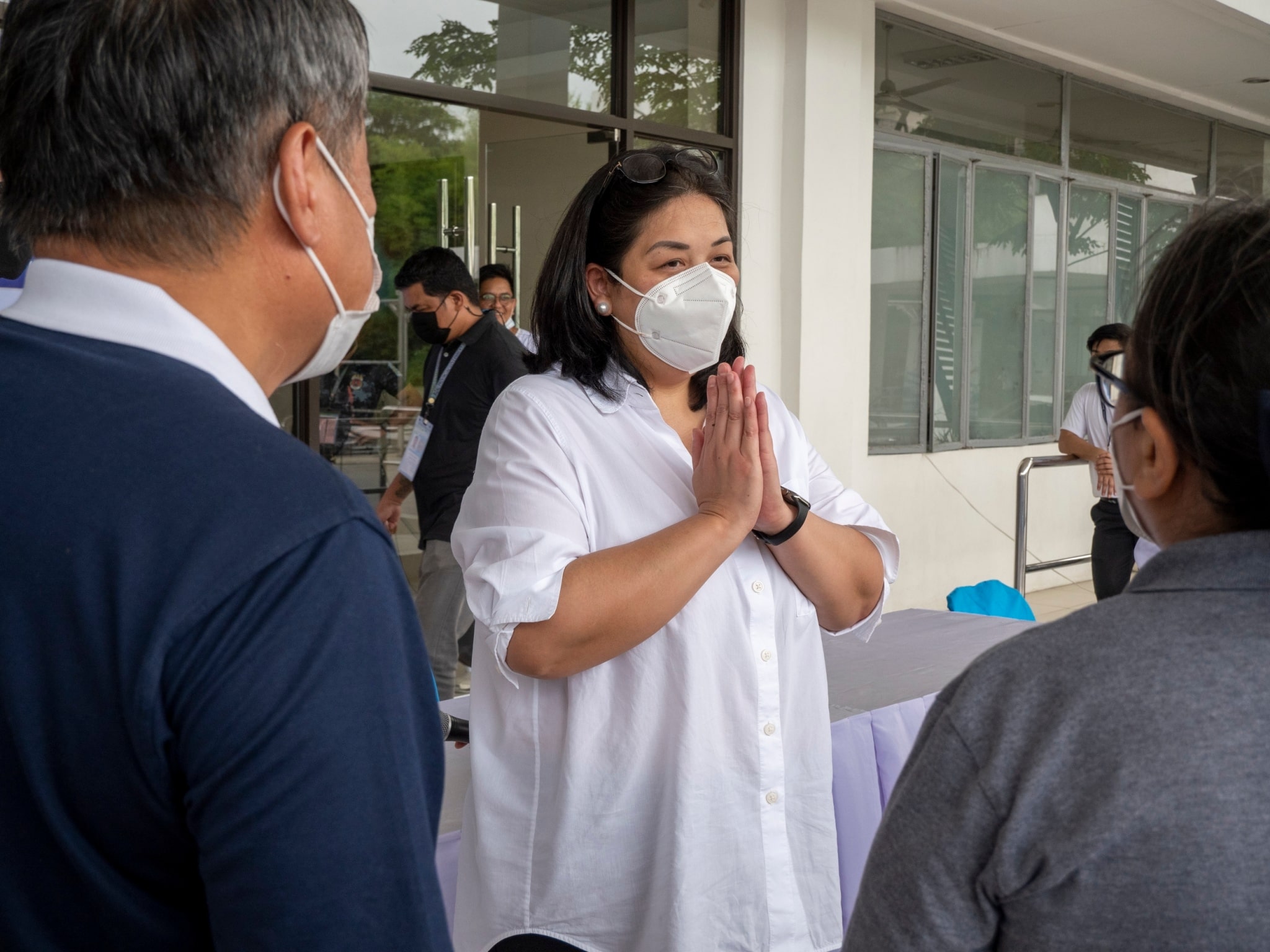 "As we get to know each other better and deepen our friendship and relationship, we can reach out more to more people in need—the less fortunate or those who have less in life," says Governor Nina Ynares (in white) of Rizal Province. 【Photo by Matt Serrano】
From left to right: Tzu Chi Philippines' Charity Department Head Tina Pasion, Tzu Chi volunteer and commissioner Johnny Kwok, Rizal Province Governor Nina Ynares, and Rizal Province Vice Governor Junrey San Juan Jr. sign a Donation Acknowledgement Receipt and Deed of Acceptance to formally receive the donation of oxygen concentrators for Casimiro A. Ynares Sr. Memorial Hospital. 【Photo by Matt Serrano】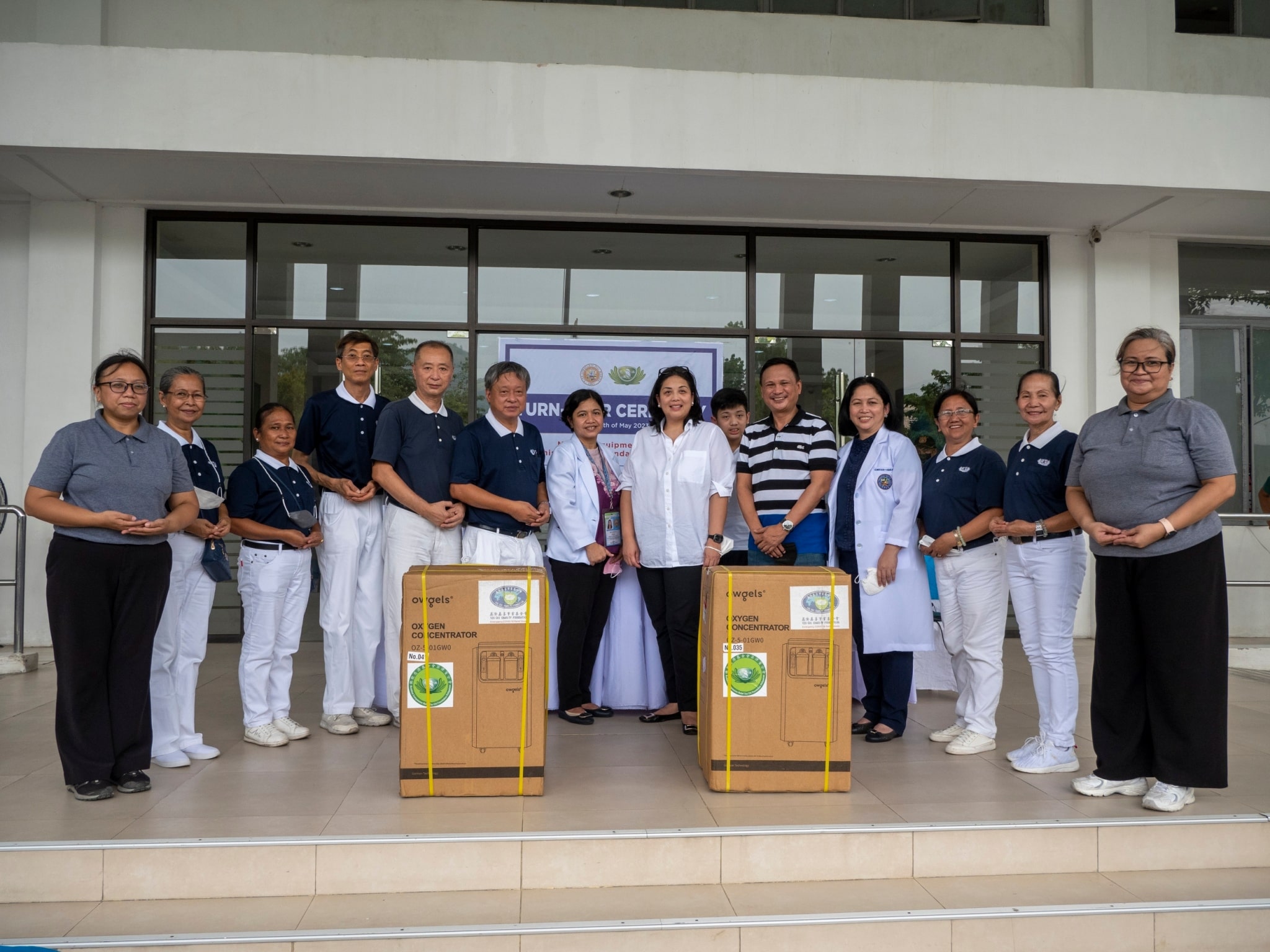 Tzu Chi volunteers and staff pose for a group photo with Governor Nina Ynares (in white), Vice Governor Junrey San Juan Jr. (in stripes), and doctors at Casimiro A. Ynares Sr. Memorial Hospital. 【Photo by Matt Serrano】
Tzu Chi gives copies of "A Mission of Love," "Resurgence," and "Yolanda in Focus" as a token of appreciation for the partner institutions. 【Photo by Matt Serrano】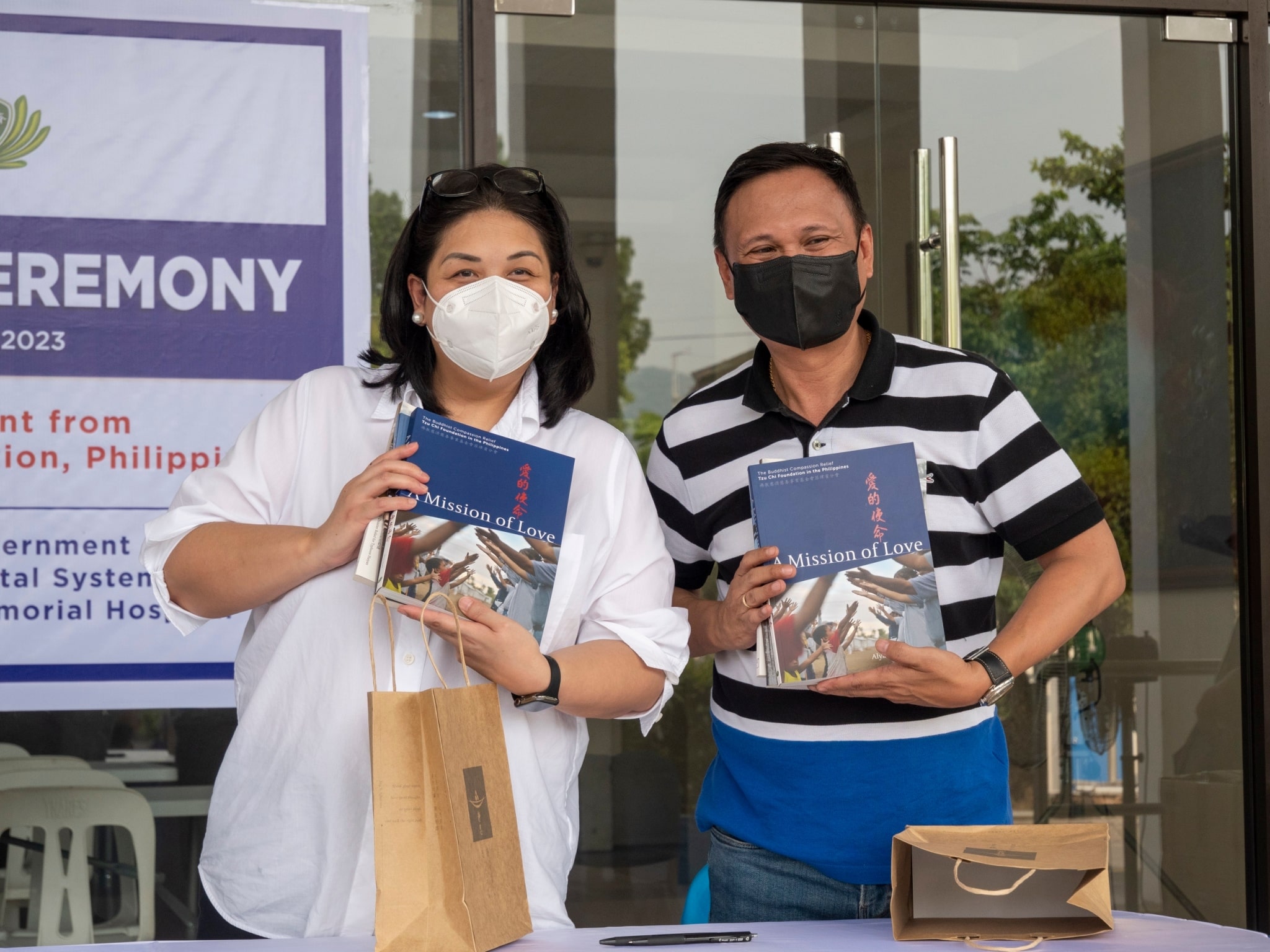 Rizal Province Governor Nina Ynares and Rizal Province Vice Governor Junrey San Juan Jr. receive their own copies of "A Mission of Love," "Resurgence," and "Yolanda in Focus."【Photo by Matt Serrano】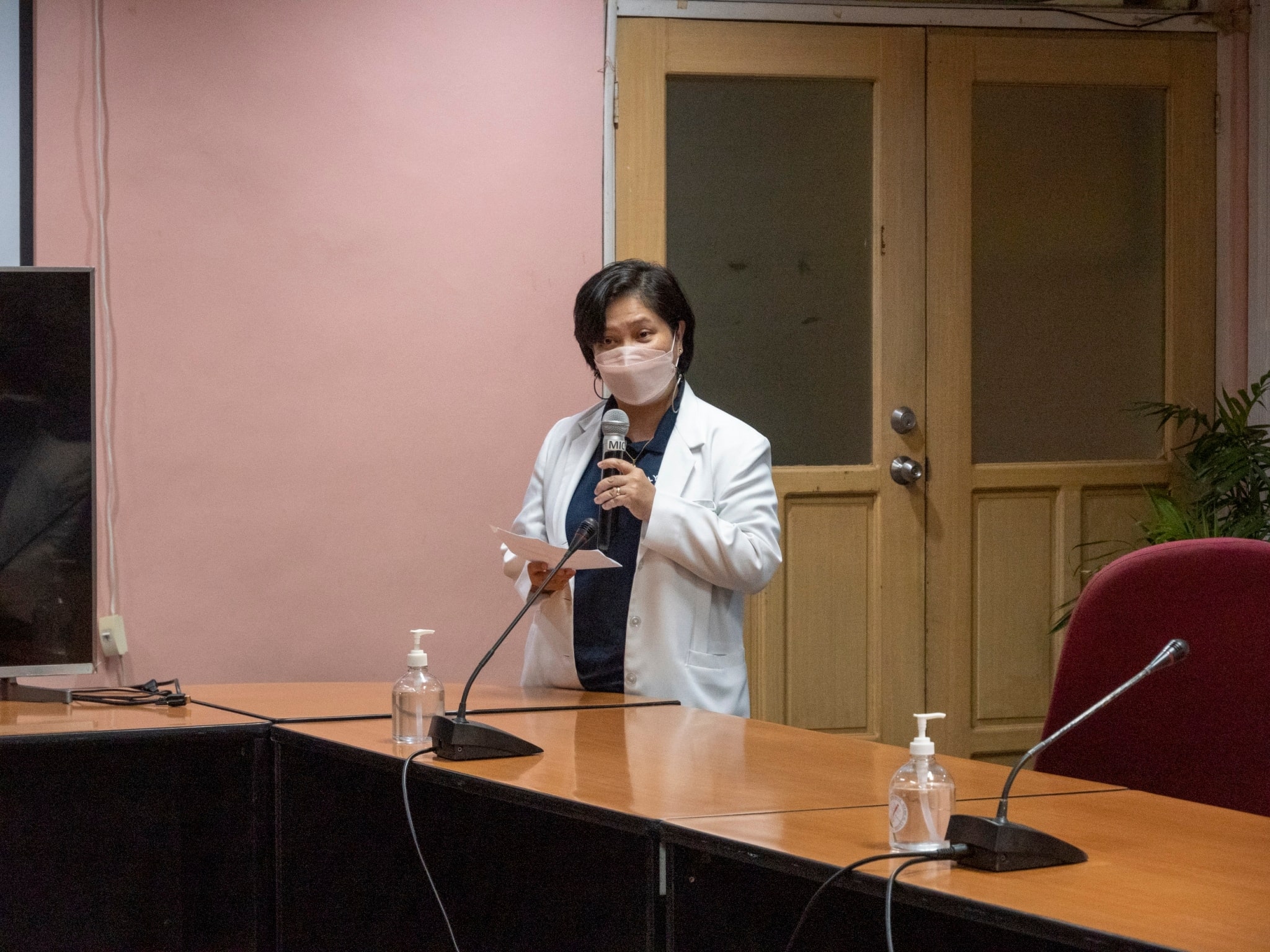 "They explained to us that it is the daily practice of giving that is promoted by the members, and this is to relieve suffering and give compassionate care to others," says Dr. Ma. Teresa Tricia Bautista, who had the opportunity to visit Tzu Chi headquarters in Taiwan and meet Dharma Master Cheng Yen in the early 2000s.【Photo by Matt Serrano】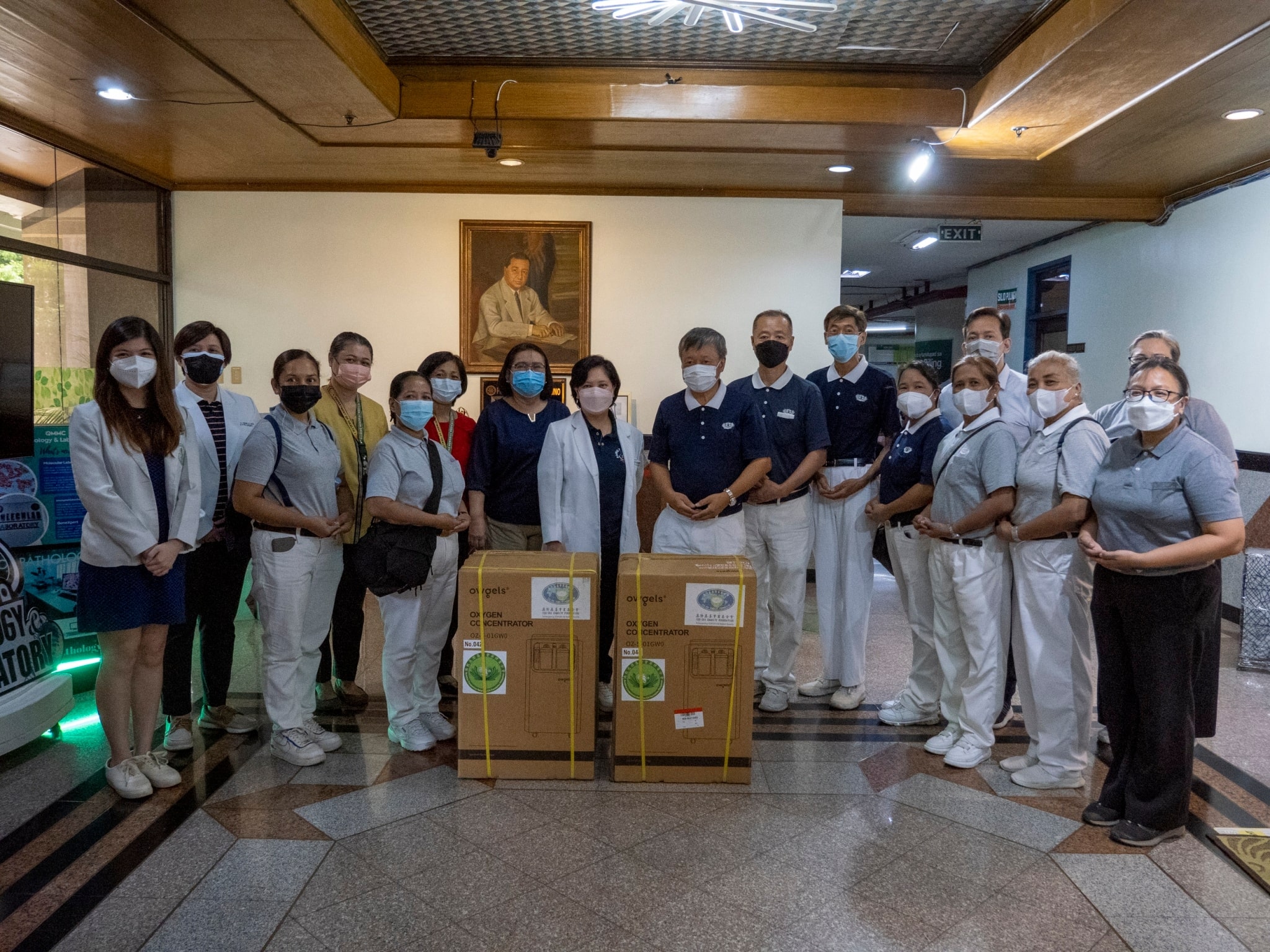 Tzu Chi volunteers and staff pose for a group photo with the doctors and staff of Quirino Memorial Medical Center (QMMC).【Photo by Matt Serrano】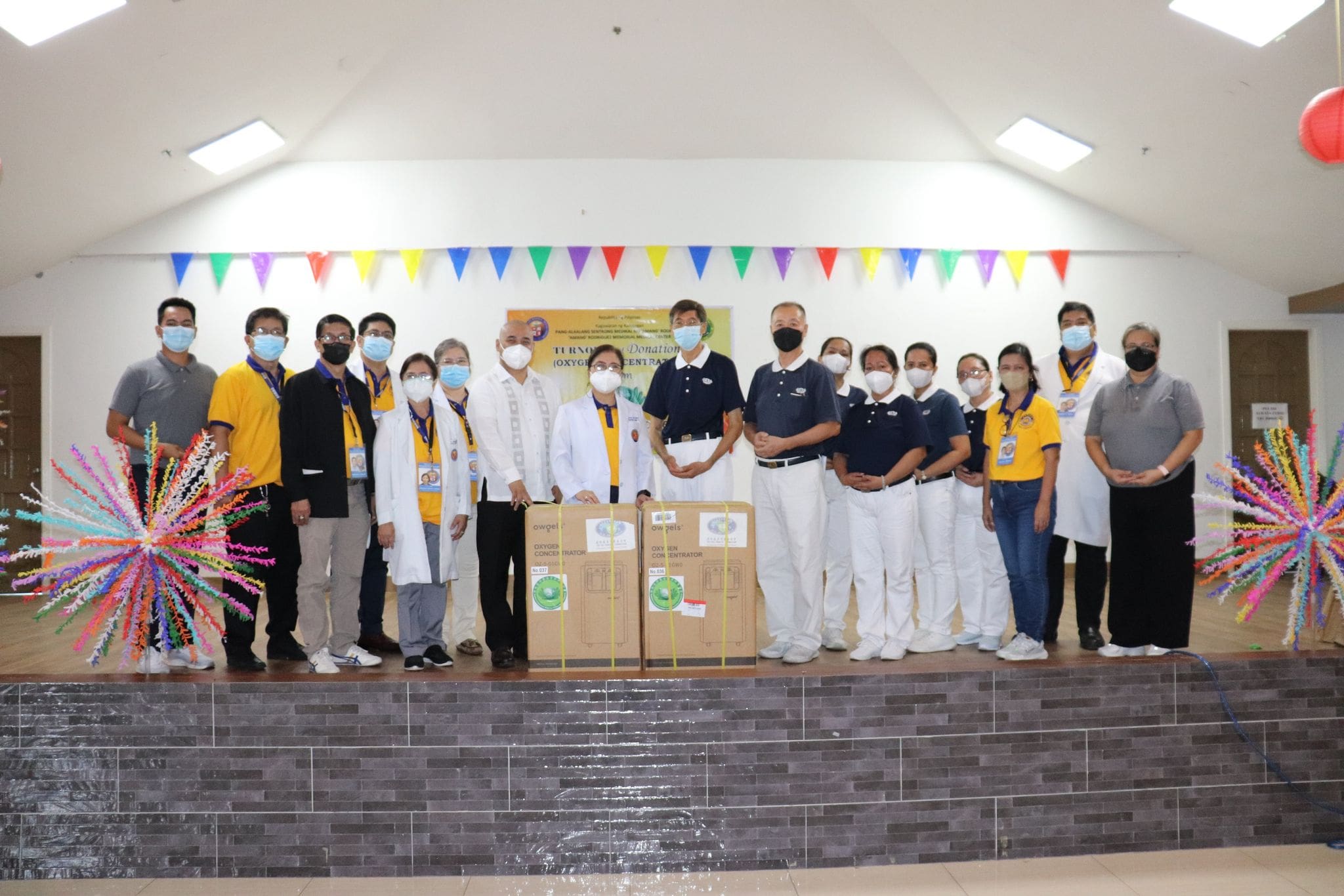 Tzu Chi volunteers and staff pose for a group photo with the doctors and staff of Amang Rodriquez Memorial Medical Center (ARMMC) and Congresswoman Maan Teodoro's representatives. 【Photo by ARMMC】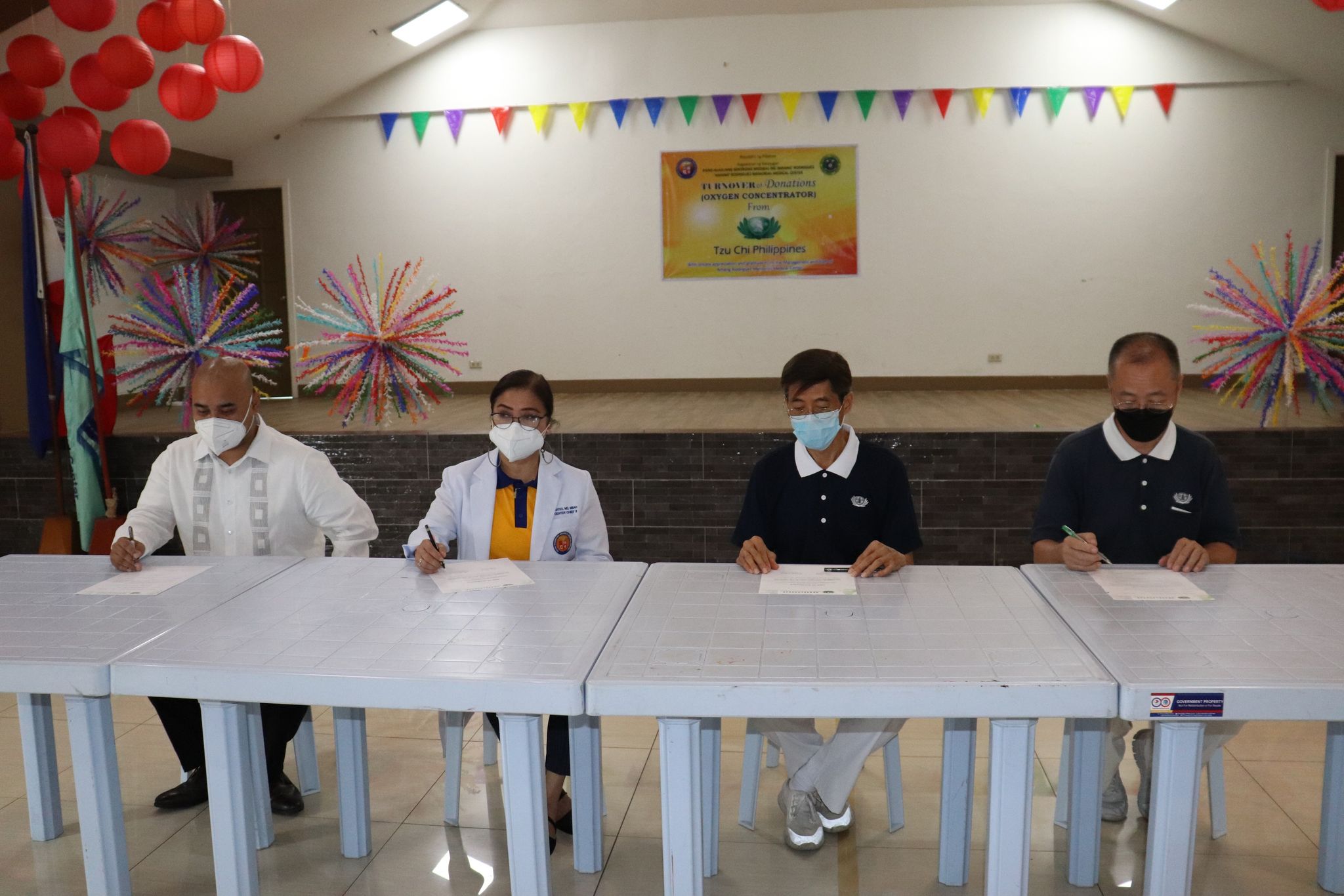 From left to right: Chief of Staff of Congresswoman Maan Teodoro (Marikina City, 1st District), Atty. Jerome Matas; medical center chief II of ARMMC, Dr. Imelda M. Mateo; and Tzu Chi volunteers sign a Donation Acknowledgement Receipt and Deed of Acceptance to formally receive the donation of oxygen concentrators for Amang Rodriquez Memorial Medical Center (ARMMC). 【Photo by ARMMC】
Go Back