Farm to table: Organic food favorites from Sonya's Garden
Classic healthy menu from Sonya's Garden includes garden green salad, bread, pasta, desserts, and drinks—all freshly made from Sonya's greenhouses.
By Ben Baquilod
For travelers yearning to have a day of cleansing and relaxation away from their busy lives and the noise of the city, Sonya's Garden has remained a top destination. With the calming scenery of greenery and blooms coupled with its mouth-watering organic food, every guest is sure to have their senses satisfied.
Owner Sonya Garcia wants people to experience the benefits of eating fresh produce, one thing she has fully embraced for 24 years now since opening her garden to the public in 1988. "If you buy from the market, you don't know its origin and it travels a lot of handling. By the time it gets to you, it will be wilted. But if you have your own greenhouse where you harvest fresh right there, it's only a few minutes away then you can eat it," says Sonya on how she began to enjoy eating green salads and nothing else. "I feel my happy hormones increases. I feel healthier."
Sonya's classic eat-all-you-can menu starts with the Garden Green Salad, made with freshly-picked and organically-grown ingredients from Sonya's greenhouses.
Guests can create their salad and choose from a variety of luscious lettuce, arugula, nuts and herbs. What makes it more special are the colorful edible flower petals, a true feast both for the eyes and taste buds.
You can garnish it with fruits such as mango, pineapples, jackfruit, corn, and other seasonal fruits. For complete salad experience, drizzle it with Sonya's Secret Salad Dressing or balsamic vinegar/extra virgin olive oil and parmesan cheese.
The salad comes with freshly-baked whole wheat sesame bread from Sonya's Panaderia. To spice it up, it is served with a variety of dips and toppings to choose from: basil pesto, white cheese, anchovies, mushroom pâté, black olive tapenade, and fresh green peppercorn in olive oil.
Then comes the pasta served with sun-dried tomato sauce. It is made of organic tomatoes, garlic and onion simmered in olive oil.
Add zing to the pasta by topping it with shiitake mushrooms, black olives, capers, and grated parmesan cheese.
If you're one with a sweet tooth, they have a few desserts to savor. You can have banana rolls with sesame and jackfruit (turon); glazed sweet potato (kamote cue), best eaten with mint leaves; and homemade chocolate cake from Sonya's Panaderia.
After enjoying the full course meal, wash it down with bottomless freshly-squeezed fruit juice in season.
For tea lovers, the perfect way to top it all off is the freshly made tarragon tea. A perennial herb, tarragon has a calming effect and helps improve digestion.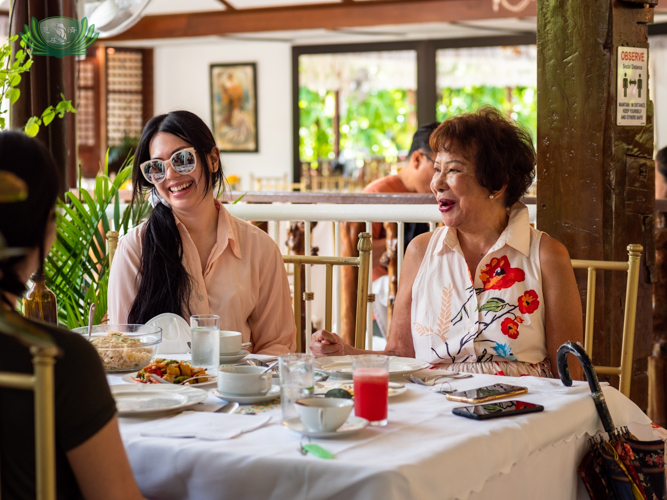 Sonya Garcia entertains guests in Sonya's Garden Restaurant. 【Photo by Daniel Lazar】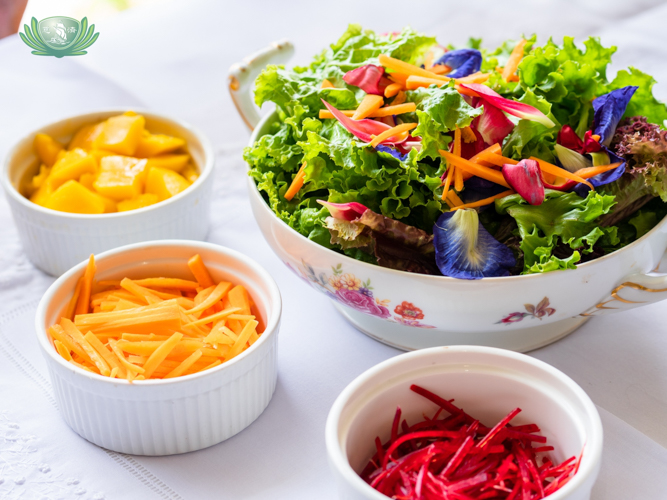 Sonya's classic starter is the Garden Green Salad, made with freshly-picked and organically-grown ingredients from Sonya's greenhouses. 【Photo by Daniel Lazar】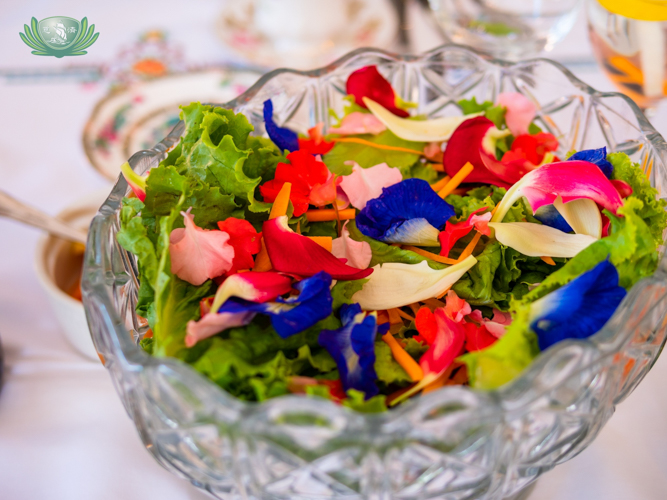 Edible flower petals add color to the freshly-made Garden Green Salad. 【Photo by Daniel Lazar】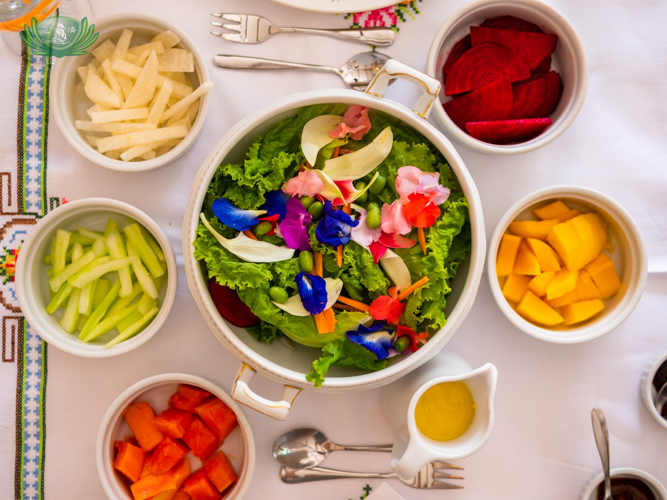 Give a boost to your salad by adding more veggies and fruits, plus the Sonya's Secret Salad Dressing. 【Photo by Daniel Lazar】
Freshly-baked whole wheat sesame bread from Sonya's Panaderia. 【Photo by Matt Serrano】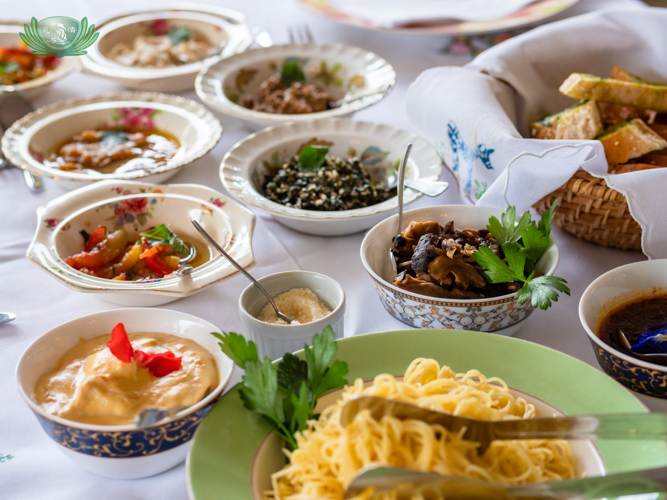 Pasta comes with two kinds of sauce and variety of toppings: shiitake mushrooms, black olives, capers, and grated parmesan cheese. 【Photo by Daniel Lazar】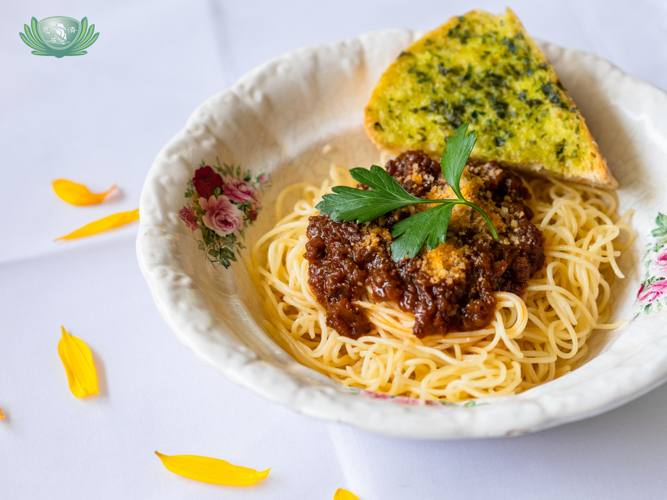 Pasta in sun-dried tomato sauce made of organic tomatoes, garlic and onion simmered in olive oil【Photo by Daniel Lazar】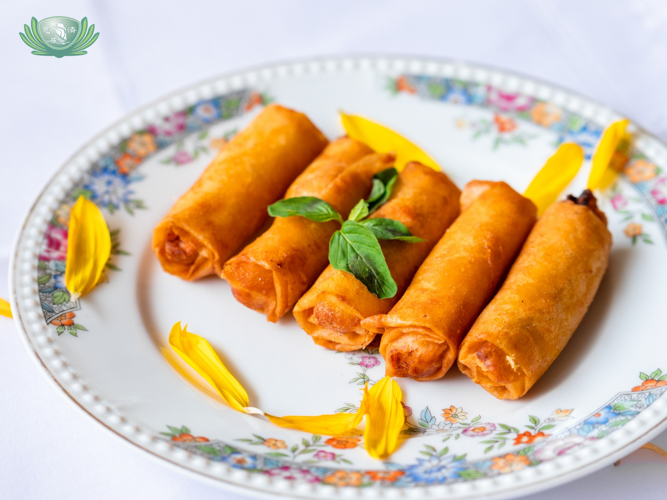 Banana rolls with sesame and jackfruit (turon) topped with mint leaves【Photo by Daniel Lazar】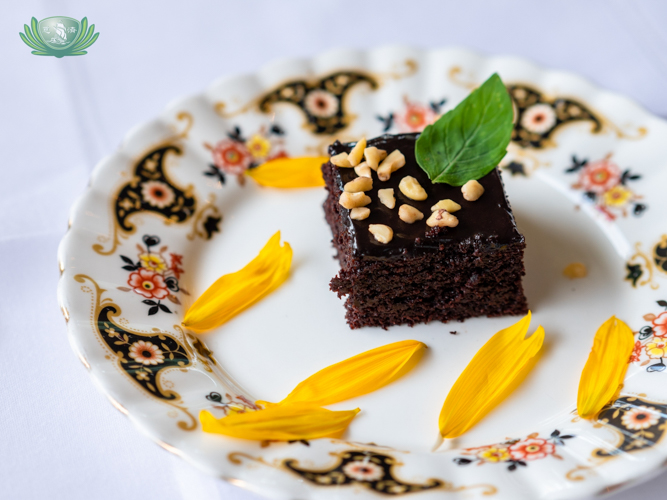 Homemade chocolate cake from Sonya's Panaderia【Photo by Daniel Lazar】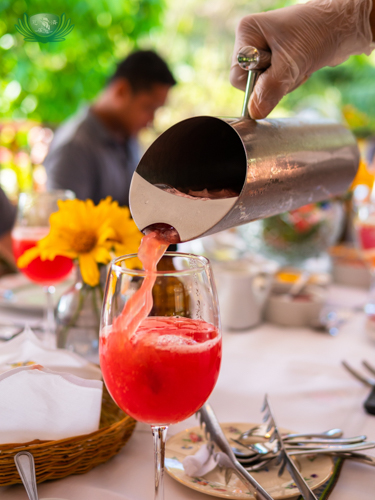 Bottomless freshly-squeezed watermelon juice【Photo by Daniel Lazar】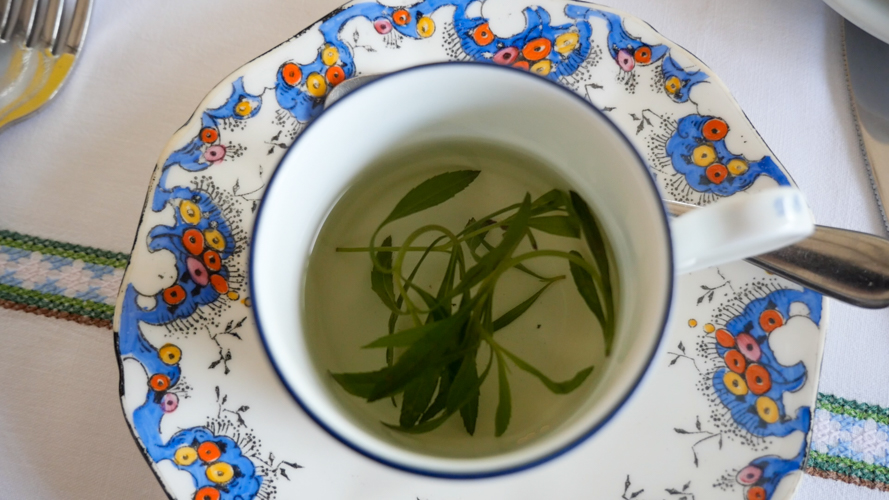 Freshly-made tarragon tea
Go Back