Tzu Chi builds prefabricated houses for Rolly, Ulysses survivors
The Tzu Chi Great Love Village in Tabaco City is home to 100 displaced families caused by Typhoons Rolly and Ulysses.
By Ben Baquilod
Tzu Chi Philippines turned over prefabricated houses to 100 families in Tabaco City, Albay on August 6, 2022. The housing beneficiaries were the most affected households from 11 barangays in the city displaced by Typhoons Rolly and Ulysses in November 2020, two of the most powerful typhoons to ever hit the country.
The first Tzu Chi Great Love Village in the Bicol region is situated in Brgy. San Vicente, Tabaco City. Each house, measuring 27 square meters is made up of typhoon-resilient steel frames and composed of three bedrooms, sliding doors, toilet, kitchen, and brick flooring. The village is also supplied with electricity, water, and septic tank through the Tabaco City local government.
Bicol is one of the most frequently typhoon-hit regions in the Philippine islands, making the communities at high risk. "Many of the beneficiaries lived on riverbanks, and every time there is a typhoon, their lives are in danger. So, this housing is a big relief to their difficulties," said Tzu Chi Bicol head volunteer Antonio Tan.
"I really thank the volunteers profoundly because without all their efforts and their help, I don't think this will come to reality," added Tan.
The establishment of the Tzu Chi Great Love Village would not also be possible without the cooperation of the Tabaco City local government, under the leadership of Mayor Krisel Lagman-Luistro. "Their engineering office and other departments extended their hands and exerted their efforts, and we also want to thank them," said Tan.
Tzu Chi Philippines has been doing humanitarian relief aid in the Bicol region for more than 20 years now. The most recent of which was its typhoon relief efforts in November 2020 during the height of the COVID-19 pandemic. Volunteers brought in heavy machinery for cleanup, provided food relief, did cash-for-work program, and offered financial assistance to around 10,000 families ranging from 18,000 pesos to 28,000 pesos per household.
"Tzu Chi Philippines CEO Henry Yuñez, together with Antonio Tan asked, "what else does Tabaco need?" I said homes, because there are still a lot of displaces families here. And so, this happened," said Mayor Lagman-Luistro, moved by the gesture of Tzu Chi volunteers.
"It was really a work of love and higher purpose: to make the homes comfortable for the beneficiaries," Mayor Lagman-Luistro said.
This spirit of great love is deeply felt by Ferdilyn Bongon, one of the housing beneficiaries. Their house along the riverbank was totally damaged by Super Typhoon Rolly. "We were so scared because we weren't able to evacuate. We were trapped on the second floor of our house but the water still reached us," recalled Ferdilyn.
Orphaned since 2013, the 27-year-old breadwinner lives with her grandparents and five younger siblings. She strives to provide for her family as an administrative aide in the city hall, earning 350 pesos a day. She also works as a part time massage therapist.
After the onslaught of the typhoon, Ferdilyn participated in Tzu Chi's cash-for-work program where she earned 2,000 pesos for two days of cleanup. She also got food relief and cash assistance worth 28,000 pesos. To receive yet again another gift from Tzu Chi through free housing was just too big of a blessing—for which she is immensely grateful.
"I'm very happy and so are my companions. But I'm especially happy because we would no longer stay in a dangerous flood-prone area," says Ferdilyn. "Thank you, Tzu Chi Foundation for your tireless support to your fellowmen."
The housing project is also a big relief to pedicab driver Manuel Borganio Jr. Their house was completely destroyed by flash flood and strong winds brought by Typhoon Ulysses. The Tzu Chi Great Love Village now serves as a safe haven for his three kids, wife, and mother.
"I'm happy because we were given this house. I didn't have to work for it. It was willingly given to me. So, I'm very grateful to the Tzu Chi Foundation," says Manuel.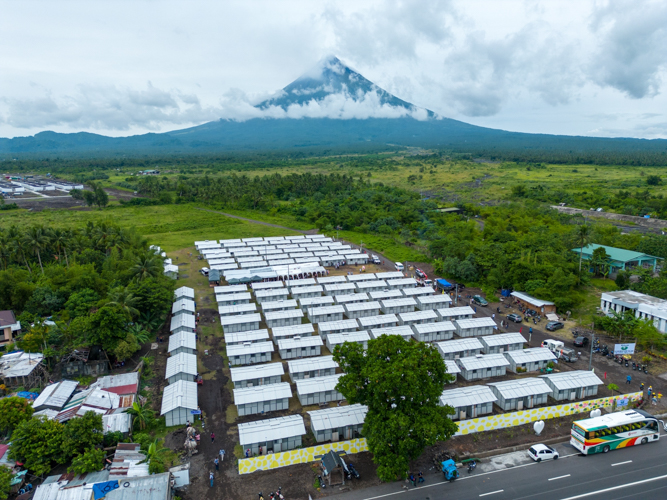 The Tzu Chi Great Love Village in Brgy. San Vicente, Tabaco, Albay is home to 100 displaced families caused by Typhoons Rolly and Ulysses. 【Photo by Jeaneal Dando】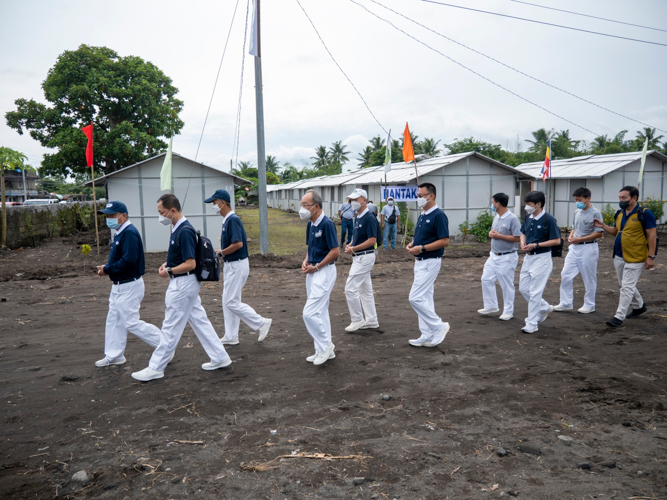 Manila volunteers join Bicol volunteers during the turnover ceremony of the Tzu Chi Great Love Village in Tabaco City on August 6, 2022. 【Photo by Harold Alzaga】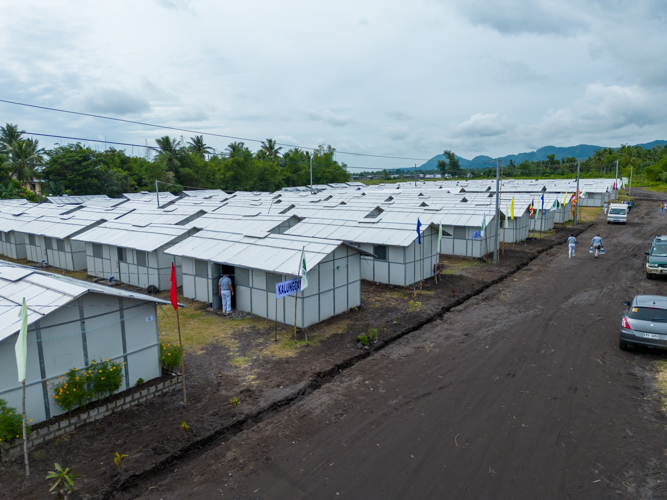 The village houses 100 prefabricated homes made up of typhoon-resilient steel frames and is supplied with electricity, water, and septic tank. 【Photo by Harold Alzaga】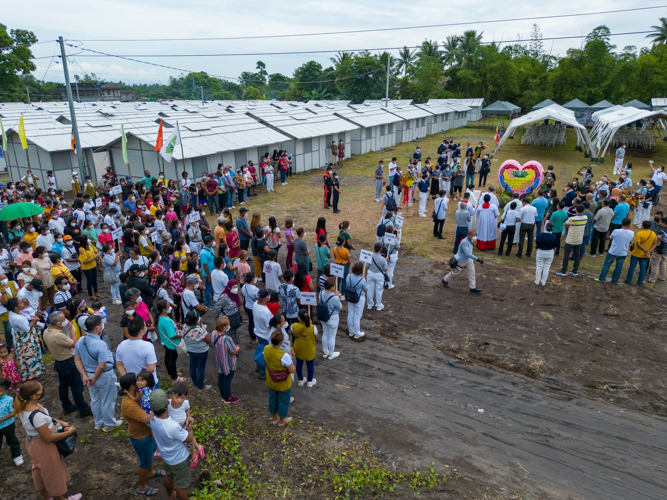 Tzu Chi volunteers, beneficiaries, and local officials join the turnover ceremony of the Tzu Chi Great Love Village in Tabaco City, Albay. 【Photo by Harold Alzaga】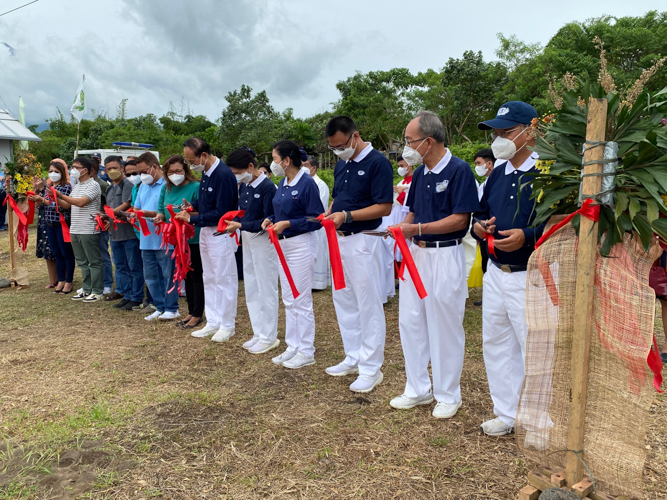 Tabaco City officials and Tzu Chi volunteers lead the ribbon cutting ceremony. 【Photo by Harold Alzaga】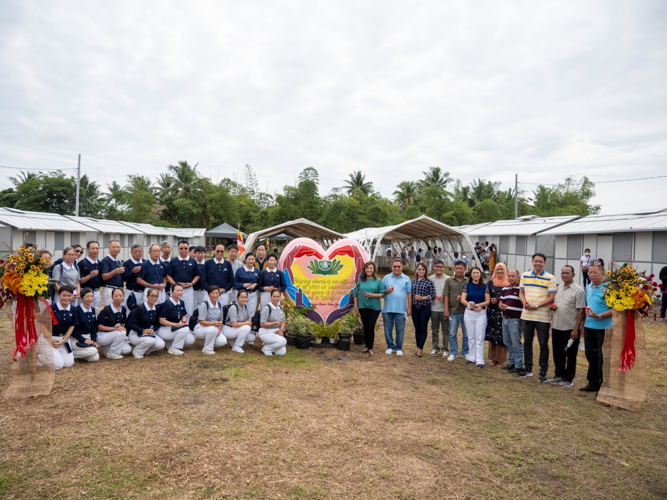 Tabaco City officials and Tzu Chi volunteers lead the ribbon cutting ceremony. 【Photo by Harold Alzaga】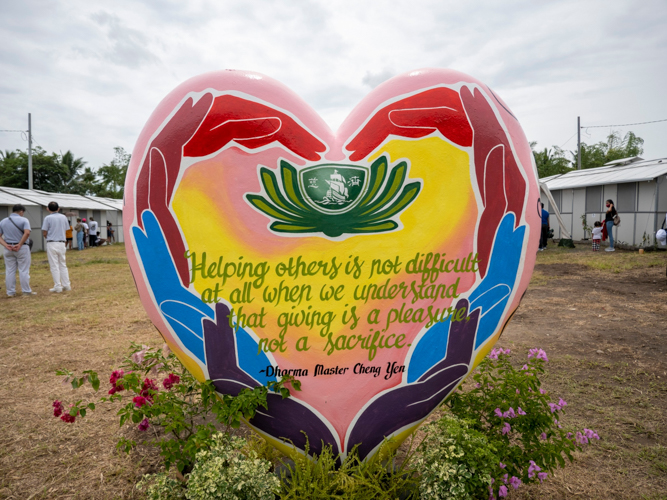 "Helping others is not difficult at all when we understand that giving is a pleasure, not a sacrifice." – Dharma Master Cheng Yen【Photo by Harold Alzaga】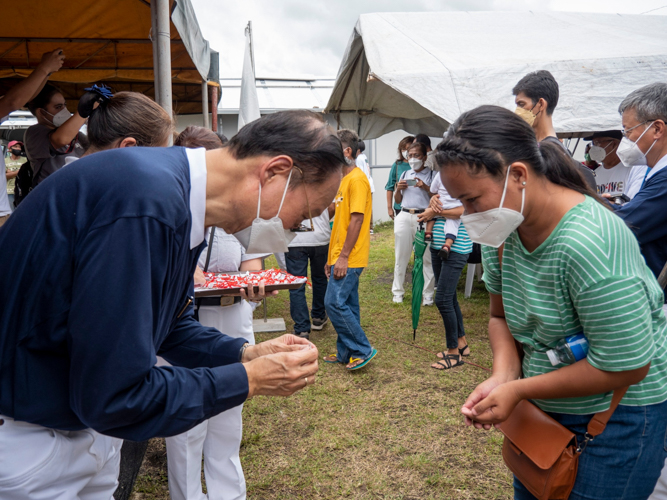 Tzu Chi Bicol head volunteer Antonio Tan awards keys to housing beneficiary. 【Photo by Harold Alzaga】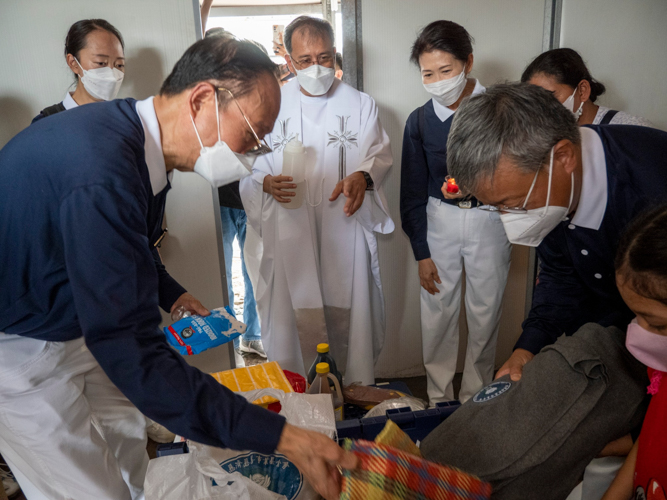 Housing beneficiaries also receive beds, blankets, rice, and food grocery items. 【Photo by Harold Alzaga】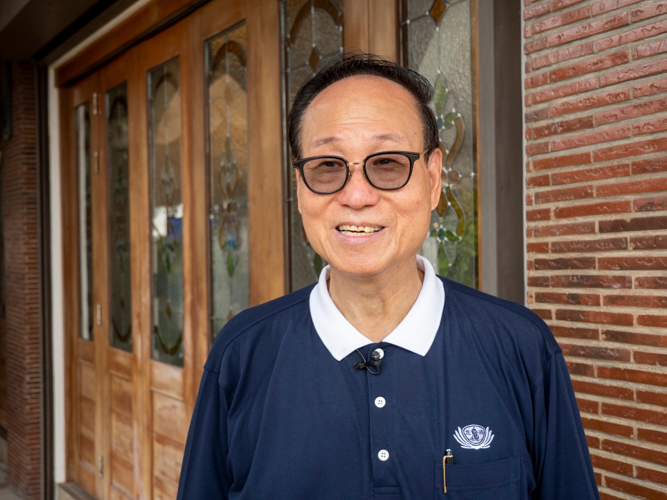 "Many of the beneficiaries lived on riverbanks, and every time there is a typhoon, their lives are in danger. So, this housing is a big relief to their difficulties," says Tzu Chi Bicol head volunteer Antonio Tan. 【Photo by Harold Alzaga】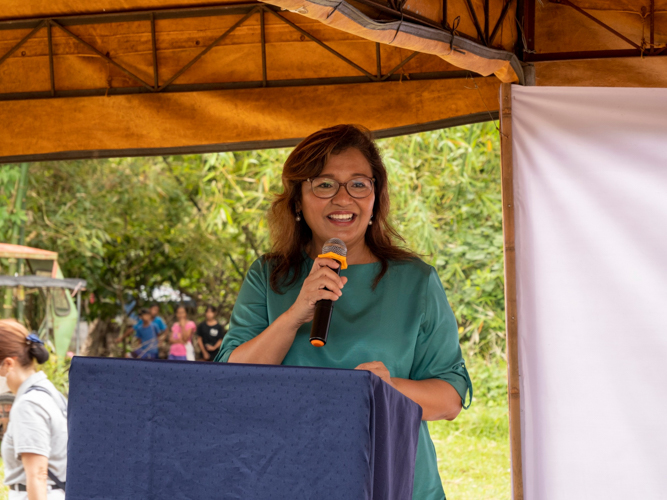 "It was really a work of love and higher purpose: to make the homes comfortable for the beneficiaries," says Tabaco City Mayor Krisel Lagman-Luistro. 【Photo by Harold Alzaga】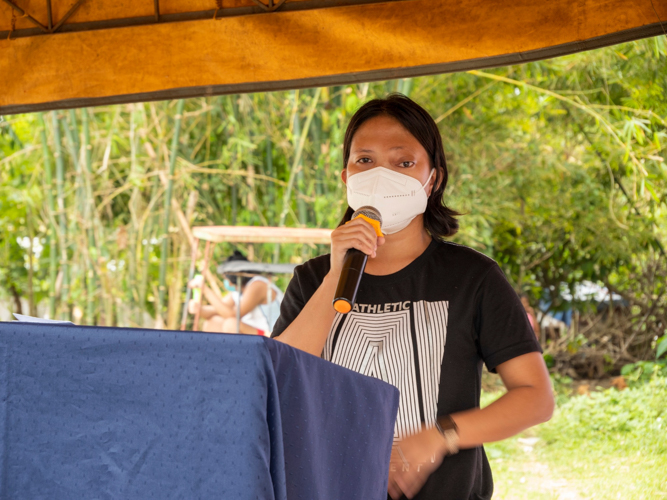 "I'm very happy and so are my companions. But I'm especially happy because we would no longer stay in a dangerous flood-prone area," says Ferdilyn Bongon. "Thank you, Tzu Chi Foundation for your tireless support to your fellowmen." 【Photo by Harold Alzaga】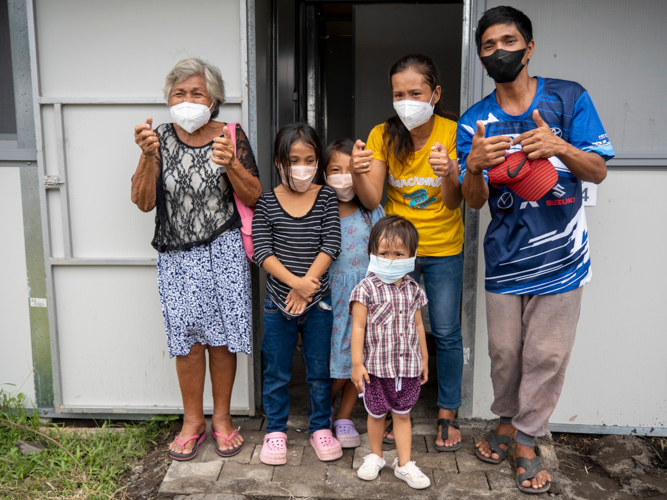 Pedicab driver Manuel Borganio Jr. is happy to have a new home for his three kids, wife, and mother. 【Photo by Harold Alzaga】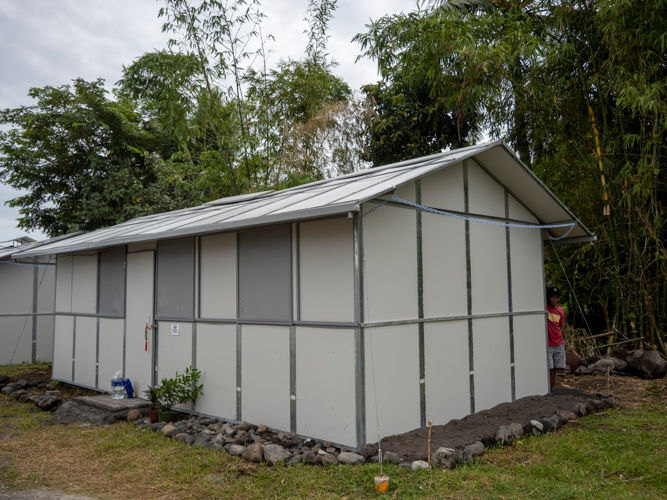 The Tzu Chi Great Love Village houses measure 27 square meters and are made up of typhoon-resilient steel frames with three bedrooms, sliding doors, toilet, kitchen, and brick flooring. The village is also supplied with electricity, water, and septic tank. 【Photo by Harold Alzaga】
Go Back