Tzu Chi's caregiver course gives hope and second chances
19 scholars make up this sixth batch
By Joy Rojas
Tzu Chi Foundation welcomed 19 caregiver scholars in a Tech-Voc Orientation held on October 22 at the Harmony Hall of Buddhist Tzu Chi Campus (BTCC) in Sta. Mesa, Manila.
Hailing from different parts of Metro Manila as well as the provinces of Pampanga and Iloilo, this sixth batch of caregiver scholars listened to volunteers explain the history of Tzu Chi and how it found its way into the Philippines 28 years ago. Specific Tzu Chi etiquette and policies were also taught, as was how to sign the songs "Love and Care" and "Isang Pamilya (One Family)." At an awarding ceremony, each scholar was presented with a certificate, caregiver uniform, and lunch kit.
Two factors set Tzu Chi's caregiver course apart from similar courses. First, scholarships are funded not by wealthy benefactors but by the hard-earned money of donors from all walks of life—most of them beneficiaries of Tzu Chi's medical assistance, education, and disaster relief programs.
Second, the intensive 50-day training course includes 10 days of Humanities classes, which impart timeless values espoused by Dharma Master Cheng Yen. By the end of the course, it is volunteers' hope that caregivers conduct themselves with dignity and grace, and apply compassion, selflessness, and genuine service not just at work but in all aspects of their lives.
"The difference with Tzu Chi caregivers is their attitude and personality," says Tech-Voc Department Administrator Elizabeth Auste. "They have a strong drive to finish the course."
Before she was a caregiver scholar, 30-year-old Janeth de la Peňa received long-term medical assistance from Tzu Chi for her son, Karl. Now 10, Karl was diagnosed with congenital hydrocephalus and seizure disorder, a condition that required four brain surgeries when he was 6 months old, and what seemed like endless hospital checkups and procedures thereafter.
For seven years, Tzu Chi provided Janeth with Karl's milk and anti-seizure medication, as well as regular supplies of rice and groceries. At one point, she was able to secure an oxygen tank to facilitate his breathing.
Early this year, Janeth and her husband voluntarily exited Tzu Chi's long-term program, a surprising move at a time when the prices of basic commodities have soared. "Karl's medicine is more affordable now," she explains, "and his condition is better. He's a happy, sweet, good boy."
But her relationship with Tzu Chi continues through the caregiver course she came across on social media this August. "I'm really willing to train for it, but because of my son's condition, I haven't had the chance to study." A sister from Cebu is in Manila to watch over Karl while his mother attends classes.
With her son in stable health and Tzu Chi's caregiver course underway, Janeth's dream of giving her family a better life is now within reach. "If there's an opportunity to work abroad, I'll take it," she says. "Thank you to Tzu Chi Foundation, first, for the seven years of helping my son, and now, for accepting me into your caregiver course. You've really been a big help to me."
Kevin Malla is doubly grateful as well. In 2013, his grandmother Rose underwent a successful cataract operation courtesy of Tzu Chi's eye center. "She would go back regularly to avail of the foundation's other programs, like free eye checkups," says Kevin, 30. "She was always telling us stories about her experience with Tzu Chi."
Apparently, the name stuck. When Tzu Chi announced its caregiver course just before the pandemic, Kevin decided to sign up—only to find out that the slots were already filled. "They also told me I might not qualify because I'm male," he says. All slots were taken again the second time he tried to register a few months ago.
Then, his luck changed. A few days later, he received a text telling him to come to BTCC. "Of course, I went! I really want to study caregiving."
For Kevin, a former supermarket sales clerk and security guard, the course is something he can finally call his own. Years ago, when he came close to finishing his college degree in Information Technology, his parents suddenly decided to support the education of his younger sibling.
"That's why graduating from this course is important to me. I have to take this seriously, not just for me but for my son," says the solo parent to 4-year-old Malvin Theo. "I'm so grateful to the Tzu Chi Foundation for texting me. It's a good thing I didn't stop trying too, or else I wouldn't be here today. This might just be the start of my new life."
Caregiver classes are conducted from Monday to Saturday, 8 am to 5 pm at BTCC beginning October 24.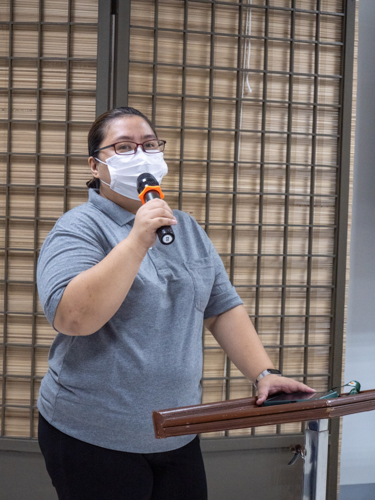 Tzu Chi Tech-Voc Department Administrator Elizabeth Auste notes caregiver scholars' strong drive to finish the 50-day course. 【Photo by Jeaneal Dando】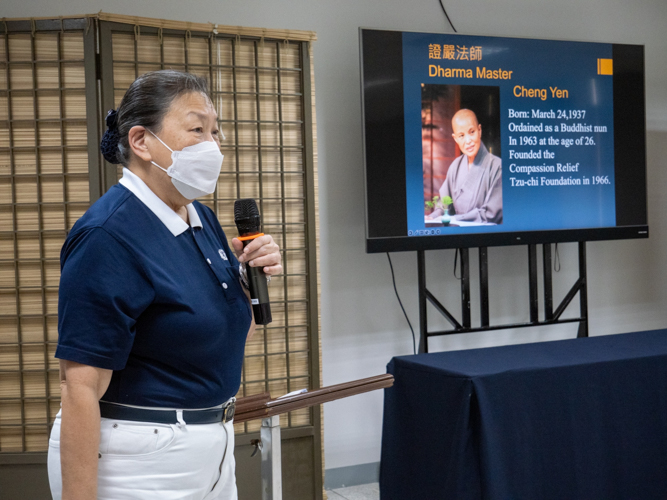 Tzu Chi Communications Department Head Judy Lao explains how Dharma Master Cheng Yen formed the Tzu Chi Foundation. 【Photo by Jeaneal Dando】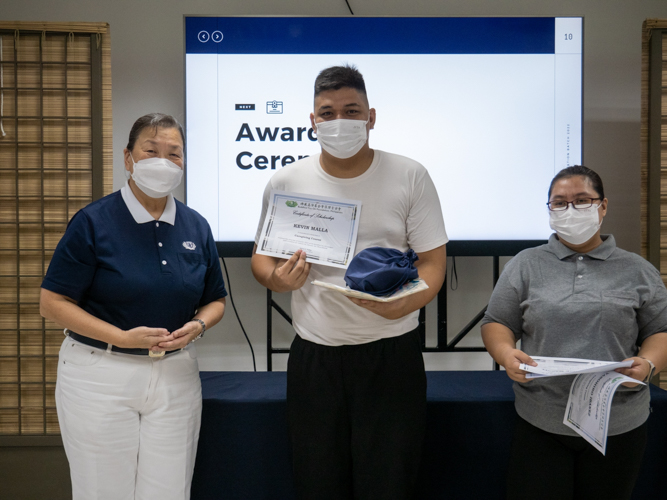 Tzu Chi caregiver scholar Kevin Malla (center) receives his certificate, caregiver uniform, and lunch kit from Tzu Chi Communications Department Head Judy Lao (left) and Tzu Chi Tech-Voc Department Administrator Elizabeth Auste (right). 【Photo by Jeaneal Dando】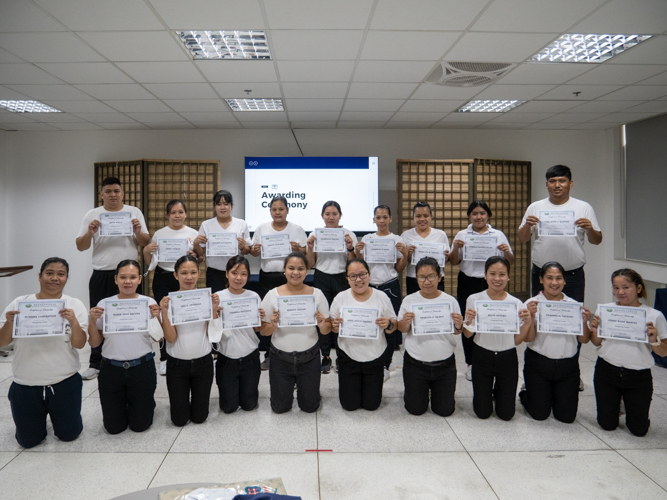 Tzu Chi's 2022 batch of caregiver scholars proudly display their certificates.【Photo by Jeaneal Dando】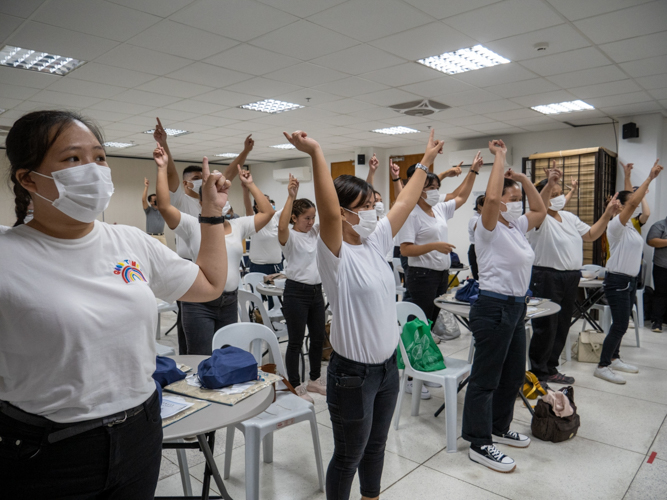 Caregiver scholars stretch and limber up to the vegetarian dance.【Photo by Jeaneal Dando】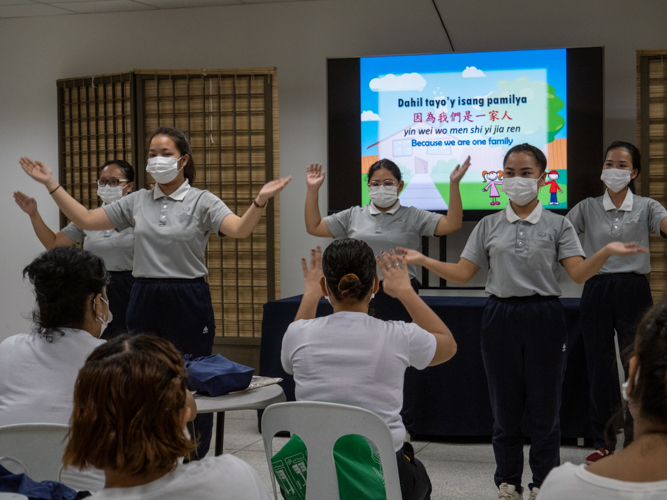 Graduates of Tzu Chi's caregiver course in Taiwan teach scholars to sign "Isang Pamilya (One Family)."【Photo by Jeaneal Dando】
Senior Tzu Chi volunteer Levy Yao discusses Tzu Chi etiquette.【Photo by Jeaneal Dando】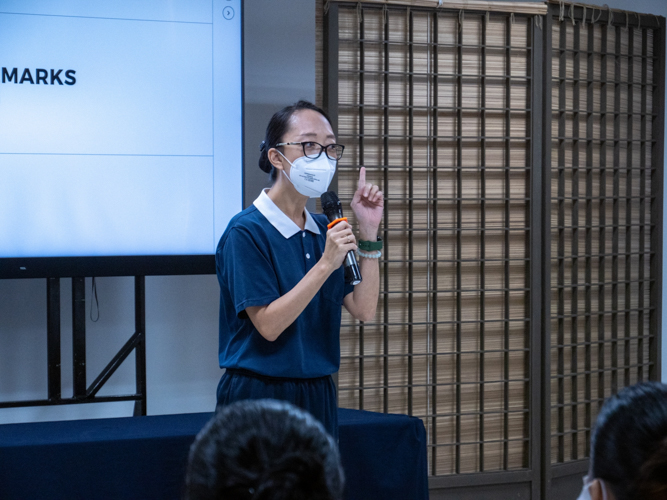 From the Office of the CEO, volunteer Peggy Sy-Jiang reminds scholars of the importance of finishing the course in her closing remarks.【Photo by Jeaneal Dando】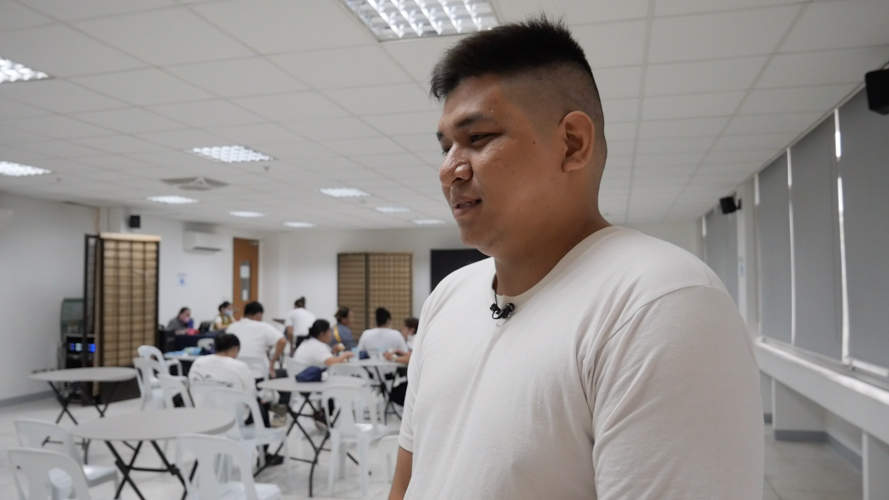 Because Kevin Malla didn't finish college (financial support was transferred to a younger sibling), he feels that Tzu Chi's caregiver course is something he can call his own. "That's why graduating from this course is important to me. I have to take this seriously, not just for me but for my son," says the solo parent to 4-year-old Malvin Theo.【Photo by Jeaneal Dando】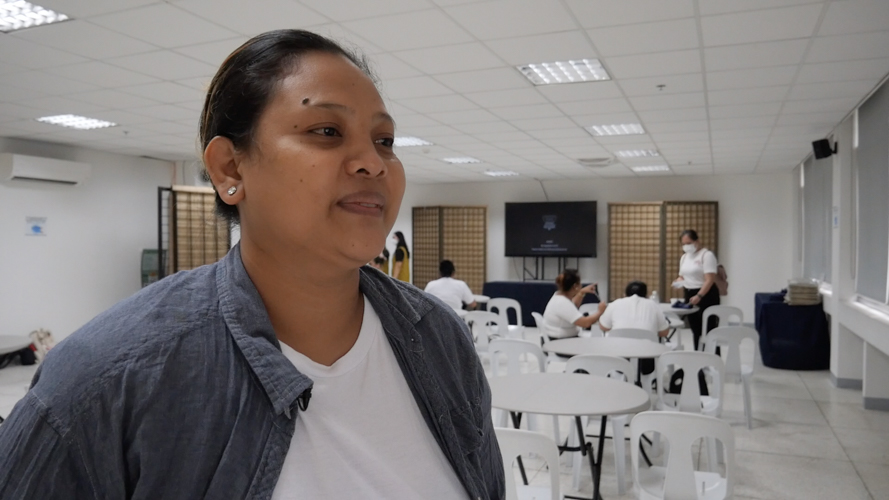 Janeth de la Peña may have ended the seven years of medical assistance for her son Karl, who was diagnosed with congenital hydrocephalus and seizure disorder, but her relationship with Tzu Chi continues with her scholarship to a caregiver course. "I'm really willing to train for it," she says.【Photo by Jeaneal Dando】
Go Back