Cardiologist Dr. Kent Tan has cutting-edge technique and heart of gold
For Dr. Kent Tan, everyone has the capacity to help.
By Joy Rojas
If Renato Santos cried after undergoing angioplasty at the Chinese General Hospital and Medical Center last November 22, it was because of what his doctor, interventional cardiologist Kent Tan, whispered in his ear after the hour-long procedure.
"Mr. Santos, we're done. Good news. We were able to remove all the blockages," said Dr. Tan.
The patient's highly emotional reaction signified relief after months of worry and stress. On and off chest pains in May progressed to severe chest pains and a heart attack in September. An angiogram to determine the state of his heart's arteries revealed a major blockage of the LAD artery, a life-threatening condition.
Doctors recommended angioplasty, a minimally invasive procedure that uses stents to unblock obstructed arteries and restore blood flow to the heart. But Santos, a regular employee, couldn't afford it and was prescribed medication to stabilize his symptoms.
With help from the Tzu Chi Foundation, Santos was not only able to undergo the life-saving procedure; he was also in good hands.
After taking his pre-med course at the University of the Philippines Manila, and his medicine proper at the University of Santo Tomas's Faculty of Medicine and Surgery, Dr. Tan completed a clinical fellowship in interventional cardiology at the National University Heart Centre in Singapore. He also trained in structural heart intervention subspecializing in minimally invasive treatments for adult congenital heart disease and valvular heart disease.
Trained as an interventional cardiologist at Singapore's National University Hospital (NUH), he was selected to perform a difficult angioplasty case together with the head of NUH. The procedure was live-streamed during a European and Southeast Asian International Cardiologist Convention in 2020.
Complementing Dr. Tan's impressive credentials is his genuine desire to help. "We're used to doing these things [without getting anything in return]," he says of waiving his professional fee. "The ultimate reward is always the life-changing moment you provide for your patients."
While extending assistance comes naturally to him, it also rubbed off on him through his parents, Tony and Therese Tan. "We're from Bicol so our region is practically devastated by calamities every three months," he explains. "The Tzu Chi Foundation was very active in our location."
The would-be doctor was in college when his parents began volunteering with Tzu Chi's Bicol chapter. "They are my models of charity and giving selfless service," he says proudly.
In his early years of medicine, he encountered numerous instances when he too would extend selfless service. At the Philippine Heart Center where he trained in adult cardiology, he was at the emergency room when a mother burst in with her young son, who was struggling with rheumatic heart disease. Unable to afford medication, the mother was in such a panic, she couldn't even write her name legibly. When no one was looking, Dr. Tan quietly slipped her a small amount of money to tide her and her son over.
A month later, the mother returned to the ER and approached the young trainee. "Dr. Tan," she said, "I just want to thank you for that initial boost you gave me and my son. You gave me hope to fight on for my son."
"I don't claim to be the only one to do that," he says after sharing his story. "I think every doctor, at one point in his training life, has done that."
Today, Dr. Tan continues to give hope to other heart patients. What started as a simple visit to the Buddhist Tzu Chi Foundation in Sta. Mesa, Manila, turned out to be a way to offer compassion and relief to the less fortunate. A meet-and-greet with Tzu Chi Philippines CEO Henry Yuñez led to talks on forming a Tzu Chi congenital heart program.
Since then, three patients have been referred to him—among them, Renato Santos, whom he attended to first "because he's the most symptomatic." A second patient also underwent an angioplasty that was deemed a success.
"Giving help should come naturally, regardless of your status in life," says Dr. Tan of how Tzu Chi has changed his perspective on service. "It's expected of everyone. Even if you're the one being helped, you can still give help in whatever capacity."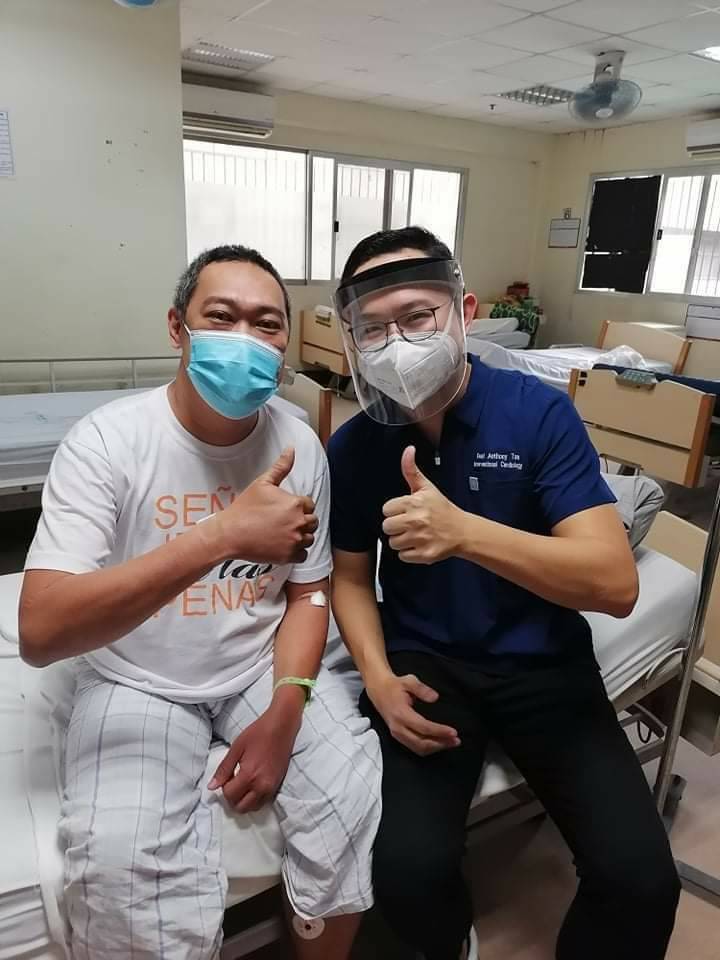 Patient Renato Santos (left) and Dr. Kent Tan give the two thumbs up after a successful angioplasty at the Chinese General Hospital and Medical Center.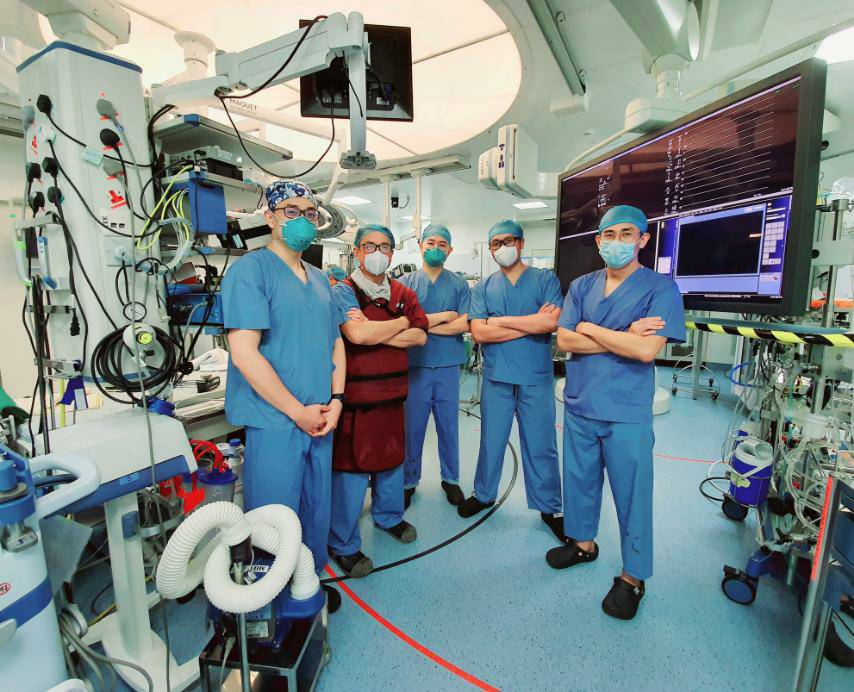 Posing with fellow doctors in his last minimally invasive valve replacement case before graduating at the National University Heart Centre Singapore.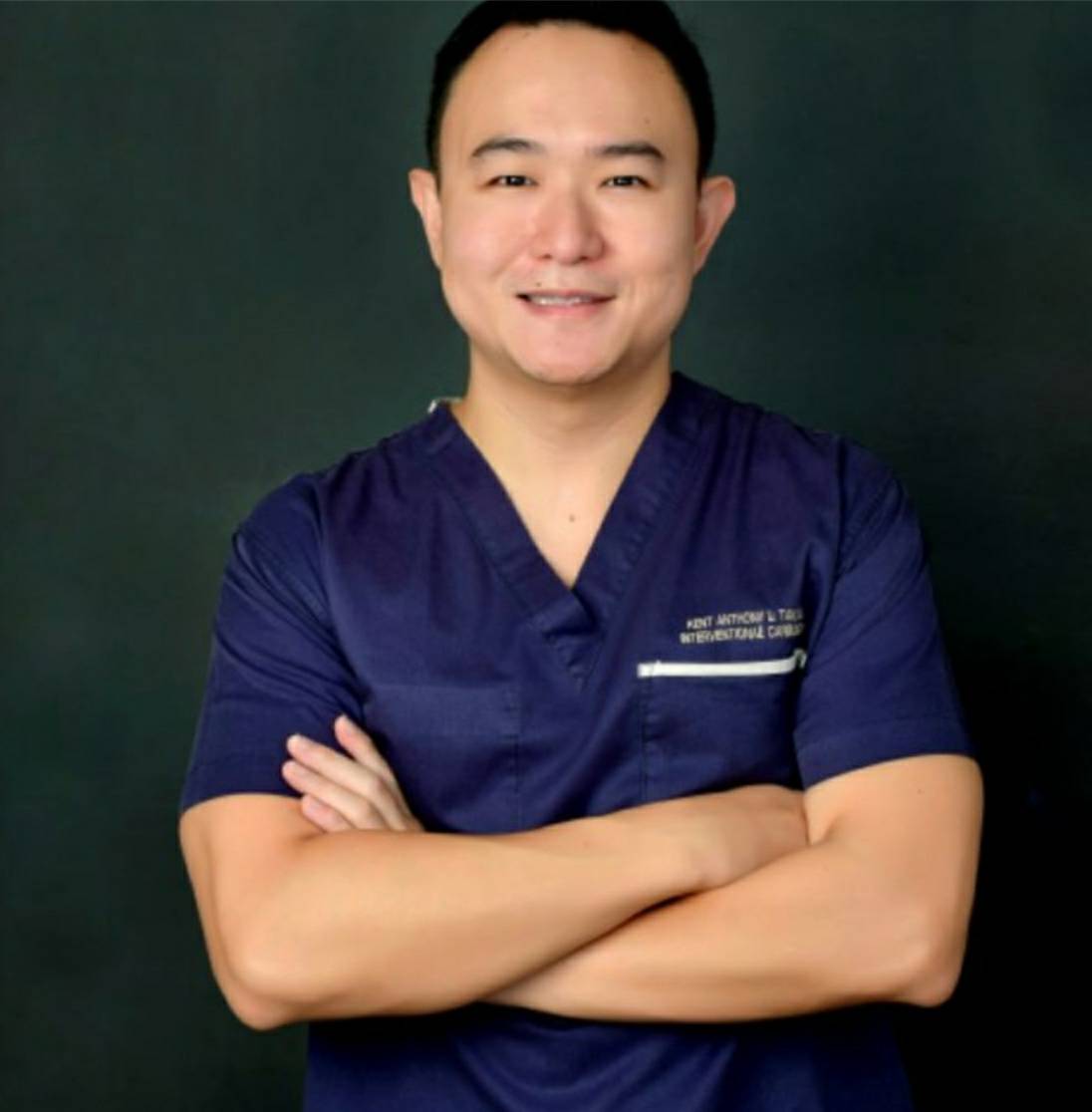 Dr. Kent Tan trained as an interventional cardiologist at Singapore's National University Hospital. He recently came back from a clinical fellowship in interventional cardiology at the National University Heart Centre, also in Singapore.
Go Back