Tzu Chi founder Dharma Master Cheng Yen is one of BBC's 100 Women of 2022
BBC recognized Dharma Master Cheng Yen's contribution in the development of modern Taiwanese Buddhism and Tzu Chi's humanitarian efforts worldwide.
By Ben Baquilod
The British Broadcasting Corporation (BBC) named the Tzu Chi founder Dharma Master Cheng Yen as one of the 100 inspiring and influential women from around the world for 2022.
In the list released on December 6, the BBC cited Dharma Master Cheng Yen's contribution in the development of modern Taiwanese Buddhism and Tzu Chi's humanitarian efforts worldwide, including providing aid to refugees from war-torn Ukraine.
Dharma Master Cheng Yen founded the Tzu Chi Foundation in 1966 in Taiwan with four overarching missions—charity, medicine, education, and humanistic culture. To respond to the society's more contemporary needs, Tzu Chi expanded its missions to include bone marrow donation, community volunteerism, environmental protection, and international relief, now collectively known as Tzu Chi's Eight Footprints.
The missions of Tzu Chi started in the Philippines in 1991 when Master Cheng Yen donated her cash prize to the Philippines after receiving The Magsaysay Community Leadership from the Ramon Magsaysay Award Foundation. It then paved way to the exposure of the Master's compassion to the Chinese-Filipino community in the Philippines, leading to the establishment of Tzu Chi Philippines on November 8, 1994.
Since then, the foundation has grown to be one of the most renowned organizations in the Philippines with impact reaching all corners of the Philippine archipelago for the past 28 years.
In 2009, on the heels of typhoon Ketsana, locally known as Ondoy, Tzu Chu launched its first large-scale cleanup effort with a cash-for-work program, where survivors and residents were recruited for cleanup operations receiving 400 pesos a day.
When Super Typhoon Yolanda (international name: Haiyan) struck the Philippines on November 8, 2013, an army of Tzu Chi volunteers from around the world traveled to Leyte to deliver aid and relief. With global fundraising efforts, Tzu Chi contributed 3.2 billion pesos for Yolanda disaster relief.
When the COVID-19 pandemic forced lockdowns in March 2020, Tzu Chi donated PPEs, face masks, face shields and other medical supplies and equipment to government and private hospitals all over the Philippines. Throughout the pandemic, Tzu Chi donated more than a million kilos of rice and other household needs to thousands of displaced workers such as jeepney and tricycle drivers, as well as scavengers and PWDs.
In the field of education, the foundation has provided more than 13,000 scholarships since 1995. Today, Tzu Chi has more than a thousand scholars from Metro Manila, Pampanga, Bicol, Cebu, Bohol, Iloilo, Leyte, and Zamboanga.
In 2021, it gained the highest level of accreditation by the Department of Social Welfare and Development (DSWD) for satisfactorily complying with Third Level standards in the implementation of community-based programs and services.
Master Cheng Yen has also been nominated for the Nobel Peace Prize in 1993, and honored on TIME 100: Most Influential People in the World list in 2011.

Screenshot of BBC's report on 100 Women for 2022. Link: https://www.bbc.co.uk/news/resources/idt-75af095e-21f7-41b0-9c5f-a96a5e0615c1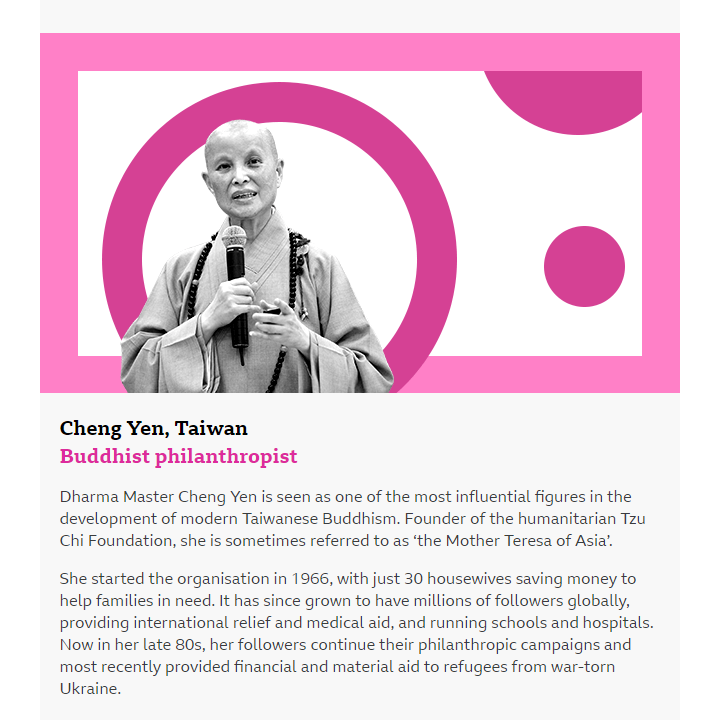 Screenshot of BBC's report on 100 Women for 2022. Link: https://www.bbc.co.uk/news/resources/idt-75af095e-21f7-41b0-9c5f-a96a5e0615c1
Go Back