Tzu Chi volunteers hold donation drive for Turkey and Syria
Residents of Brgy. Malanday in Marikina City donated for the cause.
By Ben Baquilod
In the wake of the recent magnitude 7.8 earthquake that has now taken more than 41,000 lives in Turkey and Syria, Tzu Chi Foundation has been conducting various fundraising efforts to send help to the victims and survivors.
On February 15, Tzu Chi Philippines volunteers went house to house to seek donations from the residents of Brgy. Malanday, Marikina City. "We're doing this to help relieve the suffering of our brothers and sisters in Turkey and Syria," said volunteer Esperanza Celon.
A Typhoon Ondoy survivor and former Tzu Chi beneficiary, Esperanza has been doing volunteer work for the international humanitarian organization for 13 years now. "Our house was almost washed away by the floods then, and Tzu Chi helped us recover. As gratitude, I became a volunteer to help others too," she said.
For the same reason, Novelita Soriano joined Tzu Chi after receiving help from Tzu Chi's Typhoon Ondoy response in 2009. "Tzu Chi volunteers were very dedicated in helping us, and I really felt their compassion," she said.
Novelita and Esperanza, along with their fellow volunteers, were delighted to receive positive feedback and bountiful donations after hours of walking along the streets and alleys of their barangay. "When we explained to them what happened to Turkey and Syria, they gave generously and whole-heartedly," Novelita said.
"I cried and felt sorry when I saw what happened in the news," said Caridad Rangel Rentosa, one of the hundreds of residents who donated to Tzu Chi. "I wish to help with the small amount I gave, and I pray that they recover," she added.
Barangay Malanday Councilor Owel Bonita wished the same for the earthquake victims—and praised Tzu Chi's fundraising efforts. "When a country, whether rich or poor, experiences a disaster like that, they would need help from other countries," he said. "I'm happy about this initiative. In times like this, we need to help each other."
To take part in Tzu Chi's mission to help Turkey and Syria, kindly send your donations through the following:
Account Name: Buddhist Compassion Relief Tzu Chi Foundation Philippines, Inc.
BDO Account Number: 011978001800
Metrobank Account Number: 163-3-16307190-9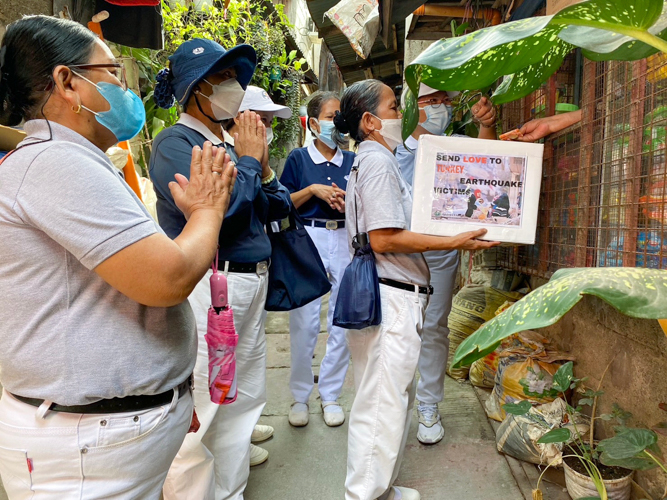 Tzu Chi volunteers go house to house in Brgy. Malanday, Marikina City to seek donations for the earthquake victims in Turkey and Syria. 【Photo by Matt Serrano】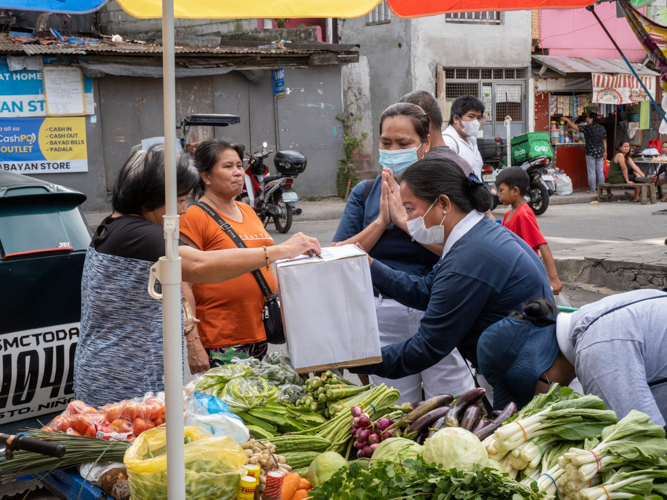 Tzu Chi volunteers solicit donations from pedestrians in Brgy. Malanday, Marikina City for the earthquake victims in Turkey and Syria. 【Photo by Marella Saldonido】
"I wish to help with the small amount I gave, and I pray that they recover," says Caridad Rangel Rentosa after dropping her offering into Tzu Chi's donation box for Turkey and Syria. 【Photo by Marella Saldonido】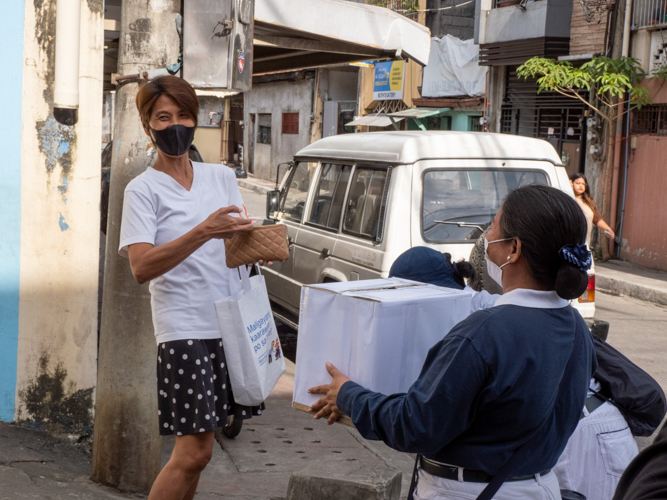 A passerby happily donates money to Tzu Chi's donation box for the earthquake victims in Turkey and Syria. 【Photo by Marella Saldonido】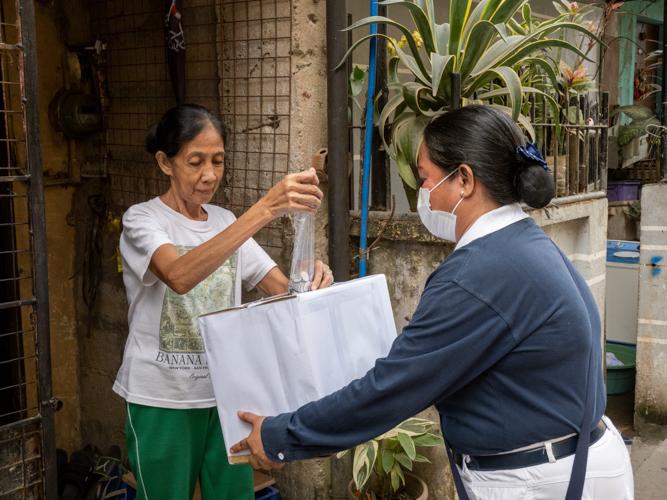 A resident drops coins into Tzu Chi's donation box for Turkey and Syria. 【Photo by Marella Saldonido】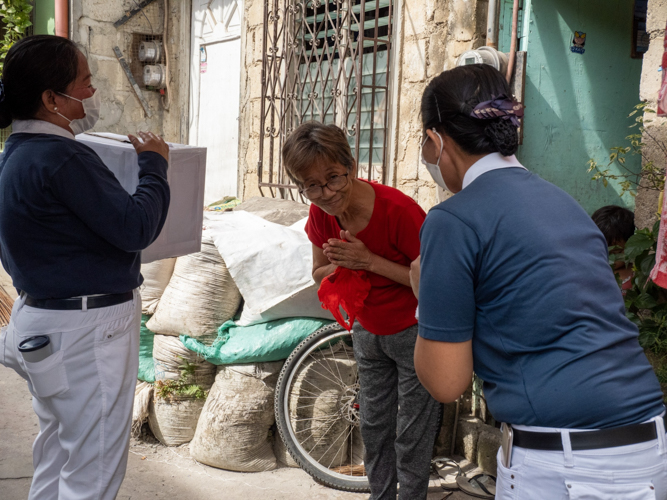 As a sign of gratitude for being able to help, a donor bows to Tzu Chi volunteers. 【Photo by Marella Saldonido】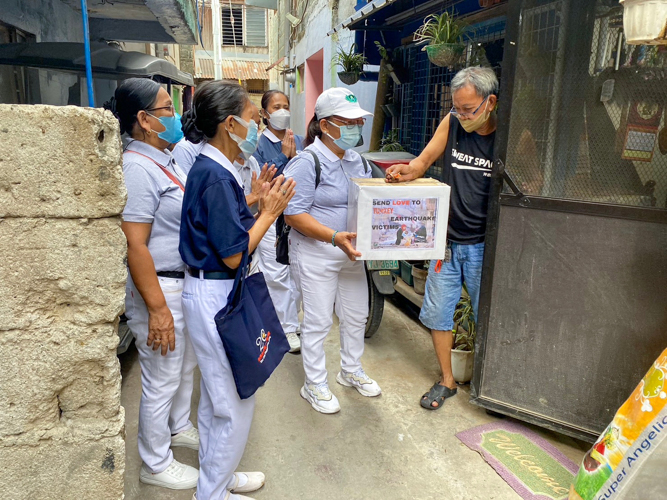 Tzu Chi volunteers walk along alleys to seek donations for Turkey and Syria. 【Photo by Matt Serrano】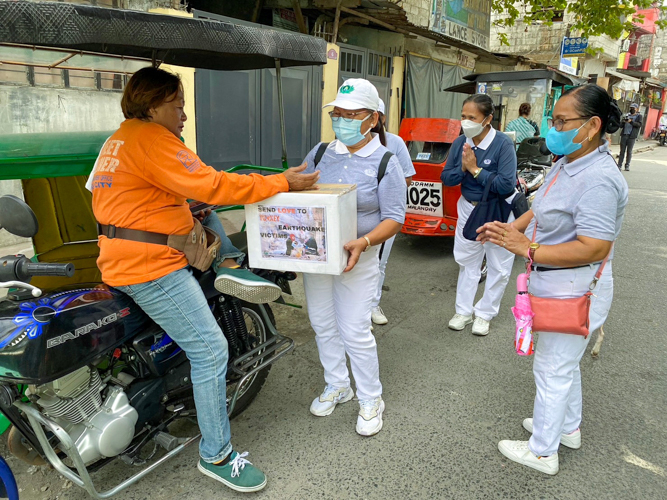 A tricycle driver drops money into Tzu Chi's donation box for Turkey and Syria. 【Photo by Matt Serrano】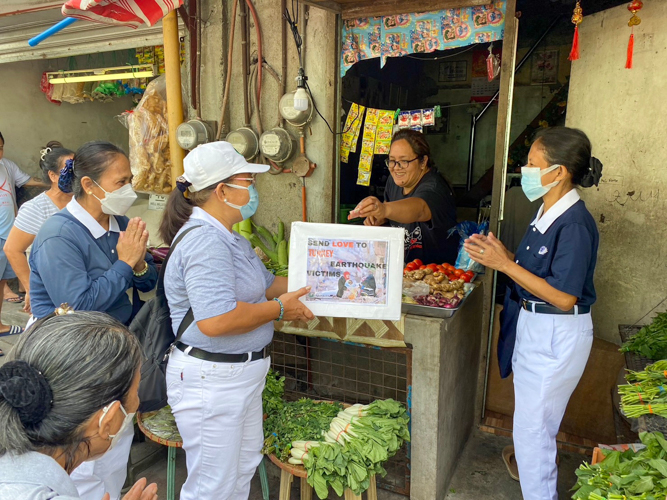 A vegetable seller donates money for Tzu Chi's relief efforts for Turkey and Syria. 【Photo by Matt Serrano】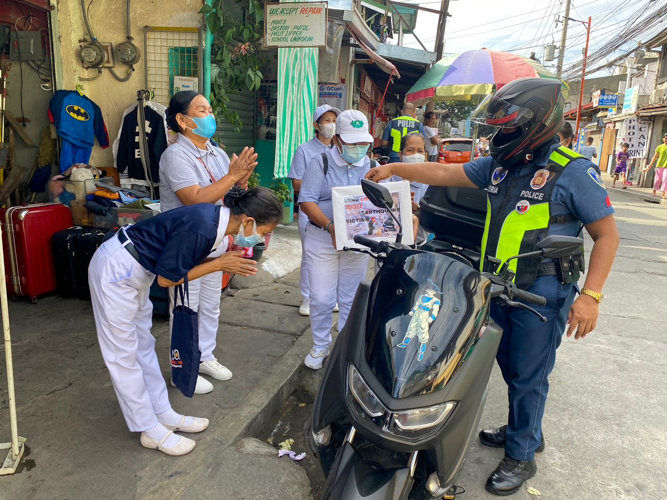 Tzu Chi volunteers bow in gratitude to a policeman for his donation. 【Photo by Matt Serrano】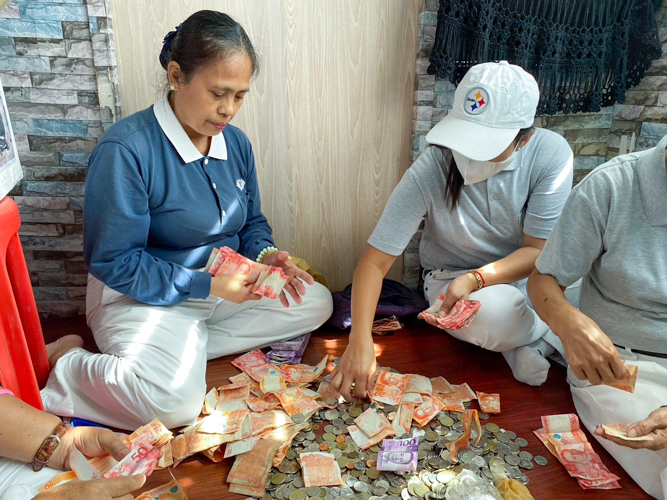 Tzu Chi volunteers count their collections from their morning round of street fundraising. 【Photo by Matt Serrano】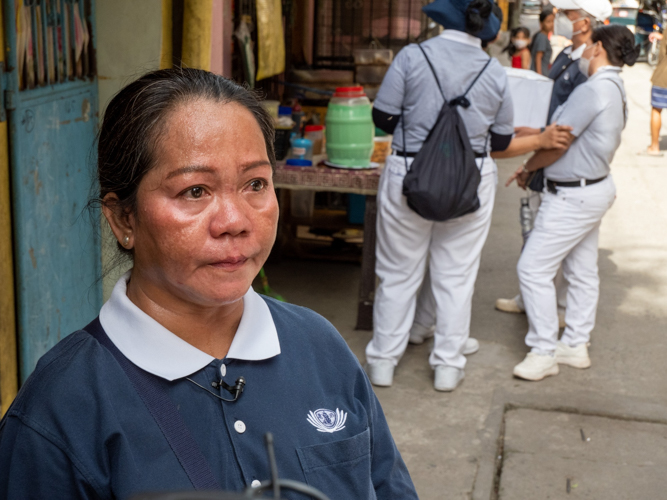 "Our house was almost washed away by the floods then, and Tzu Chi helped us recover. As gratitude, I became a volunteer to help others too," says Typhoon Ondoy survivor turned Tzu Chi volunteer Esperanza Celon. 【Photo by Marella Saldonido】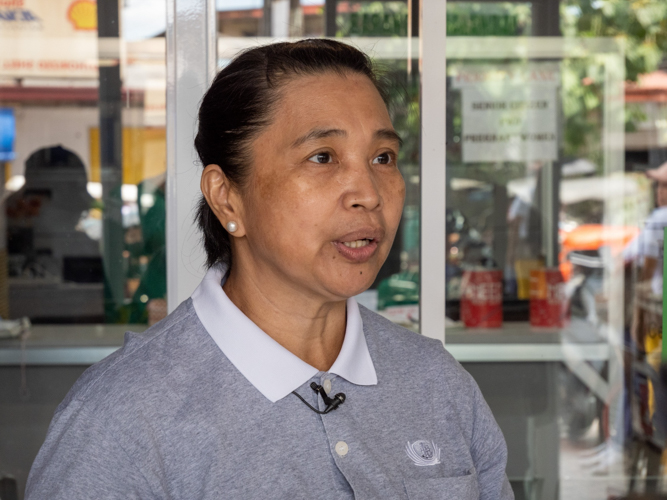 "When we explained to them what happened to Turkey and Syria, they gave generously and whole-heartedly," says Tzu Chi volunteer Novelita Soriano. 【Photo by Marella Saldonido】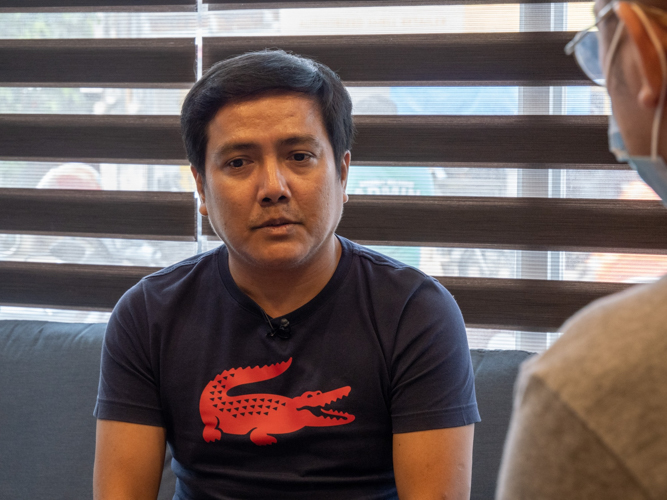 "I'm happy about this initiative of Tzu Chi. In times like this, we need to help each other," says Brgy. Malanday Councilor Owel Bonita. 【Photo by Marella Saldonido】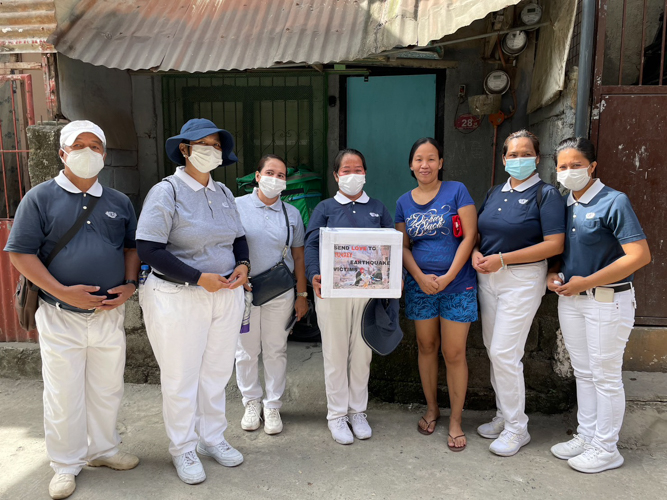 A donor poses for a photo with Tzu Chi volunteers. 【Photo by Jeaneal Dando】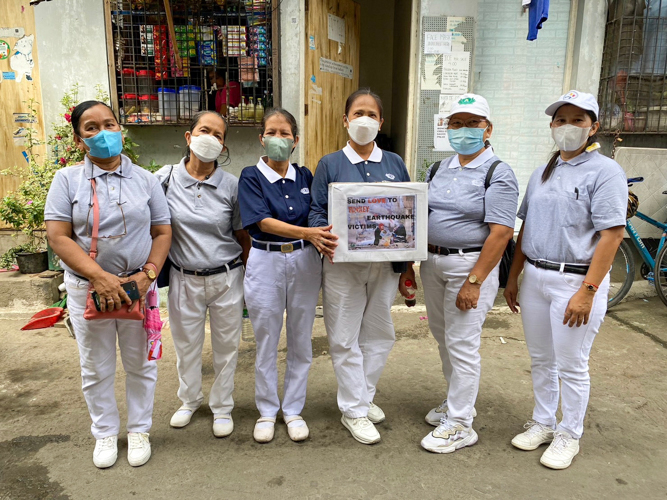 Tzu Chi volunteers carry a big donation box for their street fundraising. 【Photo by Matt Serrano】
Go Back