Boholanos show kindness in Odette's aftermath
Kindness can help rebuild homes and communities.
By Winnie Uy
On the 3rd of January, Tzu Chi Foundation volunteers from Manila and Bohol split into three groups and went deep into areas severely affected by Super Typhoon Odette (Rai).
Two teams drove more than 100 kilometers across the mountains and ridges to enter the Municipality of Trinidad. The only way to get there is through the famous Philippine attraction, the Chocolate Hills in Carmen. Along the way, they saw countless trees on the road uprooted, telephone poles and electrical wires knocked down by Odette's gusty winds. On the ground, the corrugated galvanized iron roofing sheets of houses were everywhere.
In every disaster relief, Tzu Chi sends an advance team to the affected area. There, volunteers assess the situation, quickly prepare the venue and aid for disaster relief, and identify the beneficiaries. Information on each beneficiary is checked before they are issued a relief card, that they show to claim their aid. This meticulous process ensures that assistance is given to the people who truly need it.
It was raining when Tzu Chi volunteers arrived in Barangay La Victoria, where more than 500 families had been waiting for hours.
In the crowd, they saw a man in his 50s. He stood four feet tall and had been following Tzu Chi volunteers, wanting to help them out.
He stood on a stool as he tried to hang up the banner that read "Tzu Chi cares for you—will be with you in these trying times." Sensing his difficulty in hanging the banner, a tall villager helped him out.
Later, the man told us that when Typhoon Odette struck, a coconut tree nearly landed on his house. Fortunately, a papaya tree and a banana tree blocked its fall. Otherwise, the coconut tree would have crashed directly onto the head of his bed, and the consequences would have been disastrous.
With everyone in his family out to work, the man was alone when Tzu Chi volunteers visited him at home. Touched by their charity and concern, he joined them to see how he could be of help.
They also met Enrile, an electrician. Power has yet to be restored in the disaster areas, and many homes need to have their electric wires repaired. We asked, didn't your income increase with all the rebuilding required after the typhoon?
This is what he said: People can't pay wages anymore, so for as long as his neighbors have the materials for the repair, they can just talk things over. He nearly lost his life from this storm, so the fact that he survived is a blessing that he doesn't intend to go to waste. This he plans to use by helping his neighbors.
In these locals we discovered this: In a catastrophe located far from the big city, a family is grateful for any help they receive, even if it's just 3kg rice and a bag of relief goods.
It is our wish that the world would be free from disasters, but when it strikes, it takes the kindness and help of ordinary, everyday people to ease the suffering of those affected by calamity. Through these people's kindness and help, we can rebuild homes and communities lost from disaster.
Help Tzu Chi Foundation help our brothers and sisters in the Visayas and Mindanao get back on their feet after this horrific disaster. Your pledge will go a long way in providing them with food, water, and other basic needs.
Kindly send your donations to any of the accounts listed below. Please screenshot your deposit with your name so we can send you your donation receipt.
Please send donation details and deposit slips to cellphone number (0967) 211-0940 (Line/Viber/WeChat accounts) to facilitate the issuance of your official receipt.
Account Name: Buddhist Compassion Relief Tzu Chi Foundation Philippines Inc.
METROBANK Account Number: 163-3-163-07190-9
Account Name: Buddhist Compassion Relief Tzu Chi Foundation Philippines Inc.
BDO Account Number: 011-9-7800-180-0
DSWD AUTHORITY SOLICIATION PERMIT NO. DSWD-SB-00004-2022, Nationwide. Valid until August 5, 2022.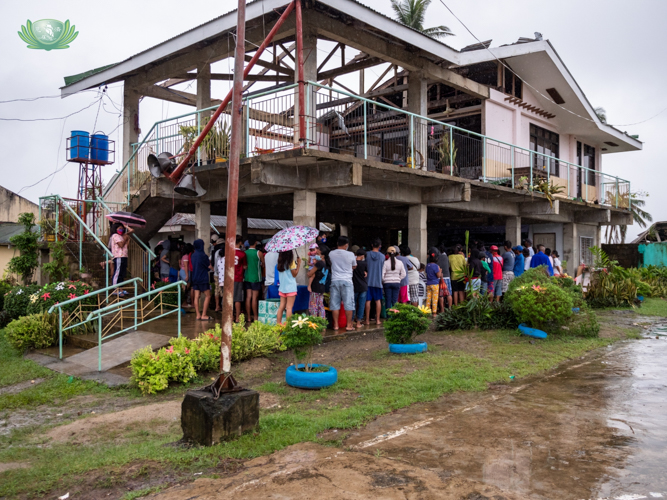 Barangay La Victoria residents line up outside a building whose roof had been blown away by Super Typhoon Odette.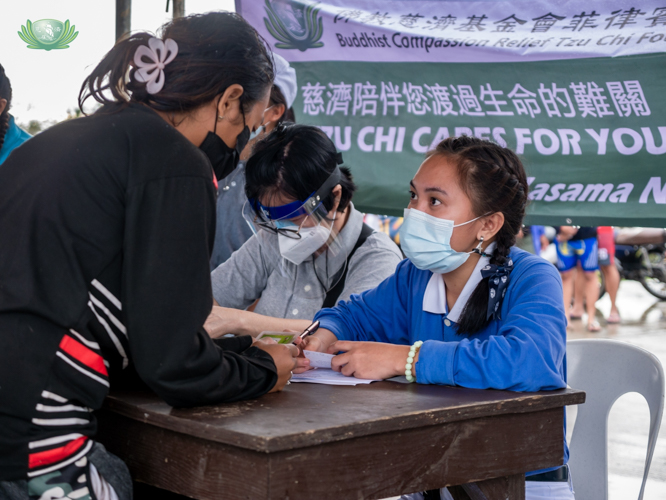 A Tzu Chi scholar assists a beneficiary in claiming her relief card.
Beneficiaries receive a Tzu Chi Relief Distribution Family Card, which entitles them to claim aid.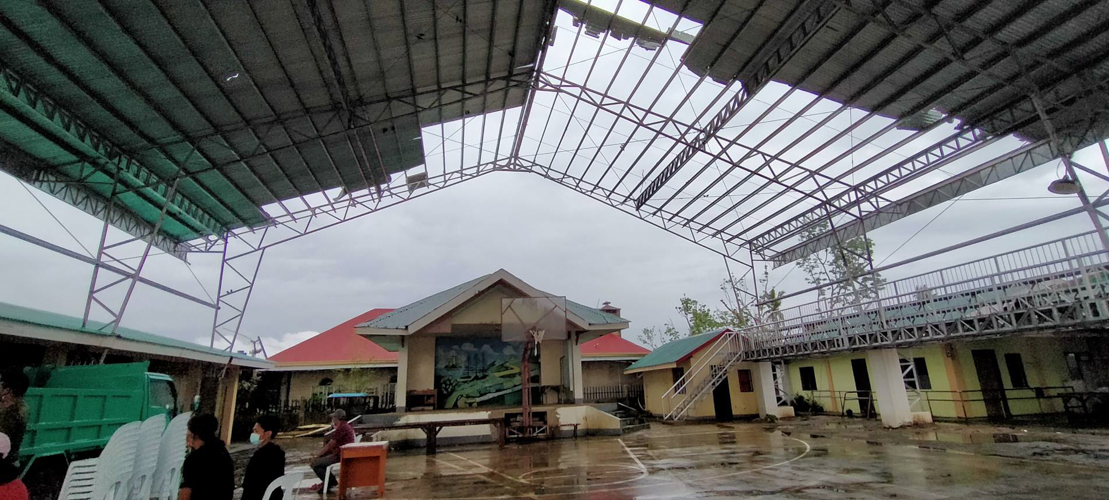 Odette's powerful winds blew out the roofs of many homes and structures, including this covered court.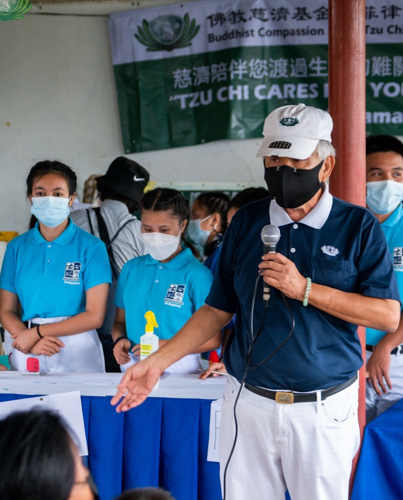 A Tzu Chi volunteer addresses beneficiaries while scholars look on.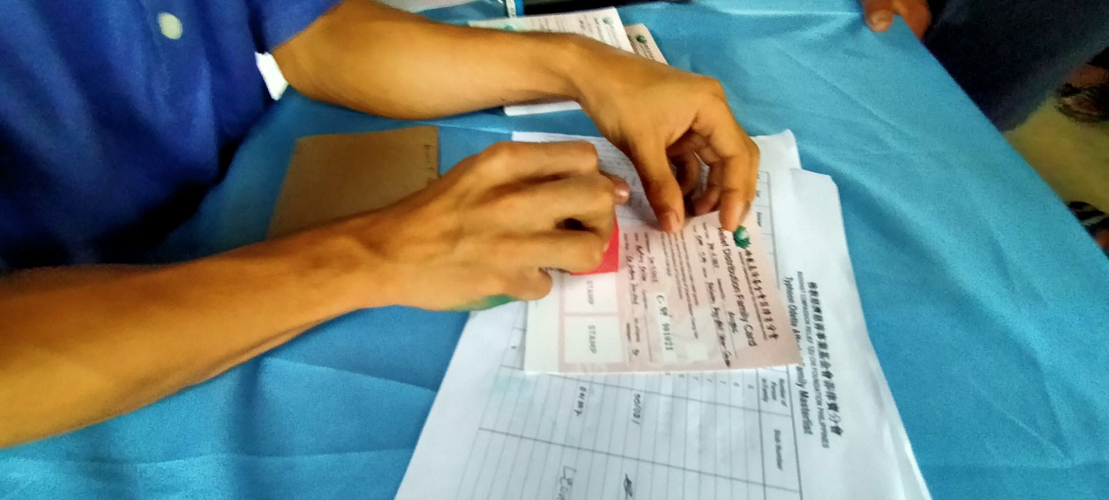 A volunteer stamps a beneficiary's relief card.
Go Back