Tzu Chi donates Hyper Light Disinfection Robot to CGHMC
Tzu Chi volunteers facilitate Mediland Enterprise Corporation's donation of a Hyper Light Disinfection Robot to Chinese General Hospital and Medical Center. The turnover was live-streamed to Tzu Chi's main office in Taiwan.
By Joy Rojas
Tzu Chi Foundation recently donated a Hyper Light Disinfection Robot to the Chinese General Hospital and Medical Center (CGHMC) in a turnover ceremony live-streamed in Taiwan.

Distributed by Taiwan-based Mediland Enterprises Corporation, the Hyper Light Disinfection Robot uses ultraviolet germicidal irradiation (UVGI) to thoroughly disinfect hospital rooms and facilities, preventing healthcare-associated infections, including COVID-19.


"This disinfection robot is highly effective in eliminating over 99 percent of viruses and bacteria, especially multidrug-resistant organisms. We hope you will find it helpful in maintaining hospital infection control and safety," said Jiang Xinhui, director and representative of Mediland Enterprise Corporation. Tzu Chi Philippines CEO Henry Yuñez later presented a certificate of appreciation to Mediland for its kind donation.

"The old UV light takes about half an hour to sterilize a room," said CGHMC Medical Director Dr. Samuel Ang. "This robot takes only five minutes. This means a patient's room can be disinfected faster and more efficiently. The turnover time will be significantly shorter, and that's a lot of help for us."


"On behalf of the entire Chinese General Hospital, our profound gratitude to the Tzu Chi Foundation and Jiang Xinhui for the generous donation of this UV light robot. It really makes a difference in saving more lives."


Also present in the event were Philippine Overseas Chinese Charity Association Chairman Lu Zuyin, Tzu Chi Charity Foundation CEO Yan Bowen, Mr. Xie Mingzhou, CGHMC Executive Vice President and Chief Operating Officer Kelly Sia, and other members of CGHMC.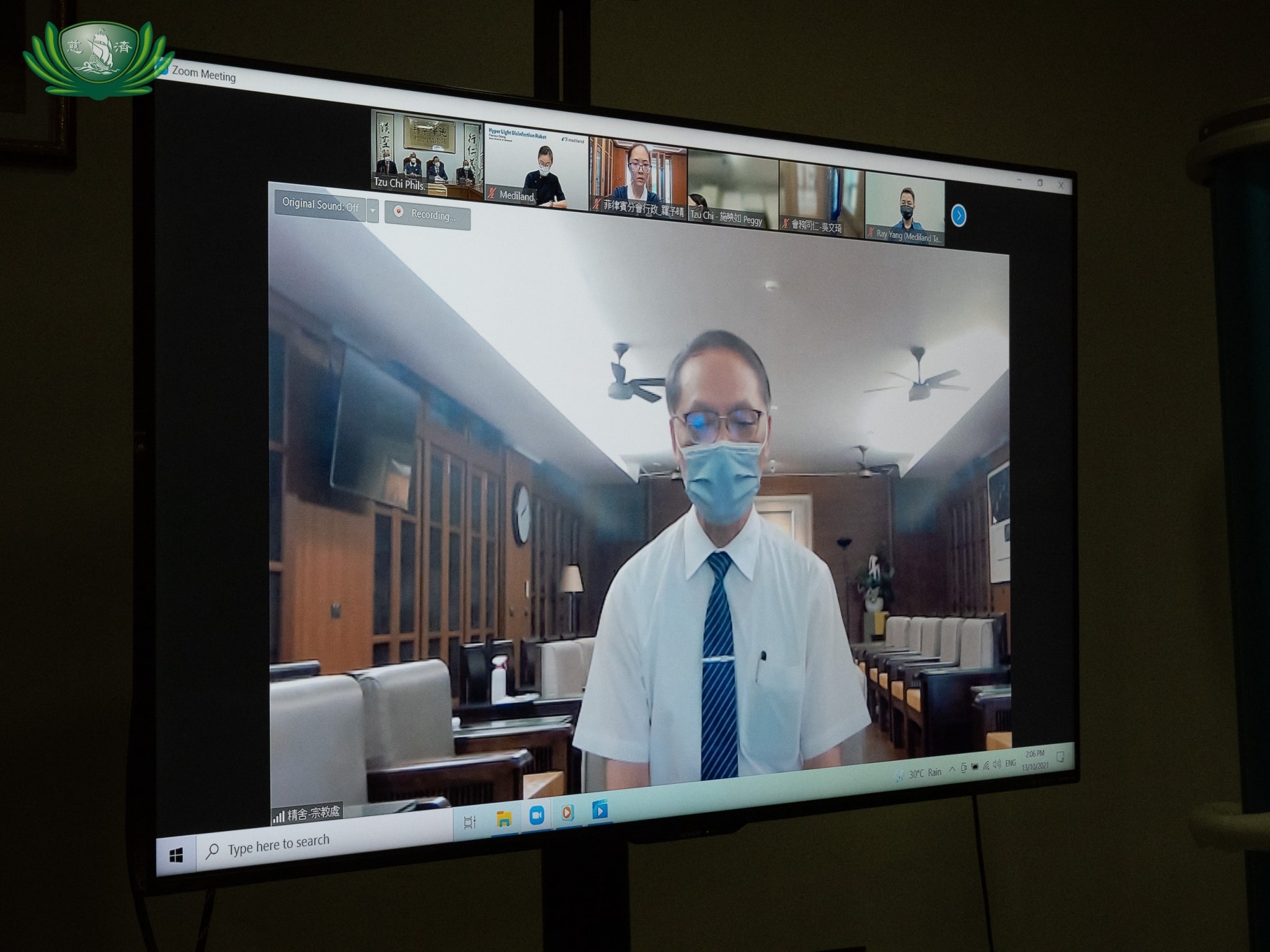 The turnover of the donated Hyper Light Disinfection Robot was live-streamed in Tzu Chi's main office in Taiwan. 【Photo by Jeaneal Dando】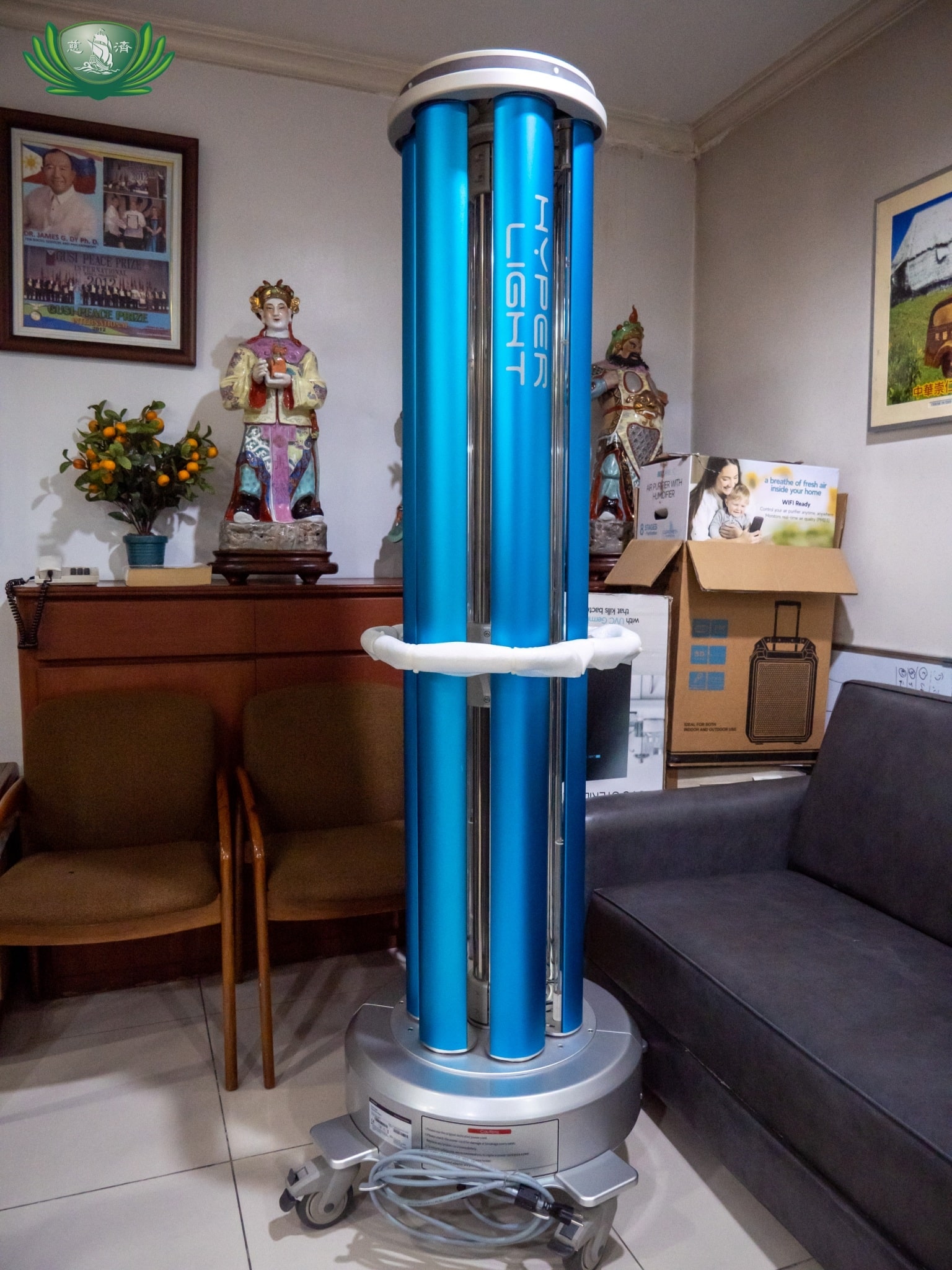 Hyper Light Disinfection Robot uses ultraviolet germicidal irradiation (UVGI) to thoroughly disinfect hospital rooms and facilities. It is highly effective in eliminating over 99 percent of viruses and bacteria, especially multidrug-resistant organisms. 【Photo by Jeaneal Dando】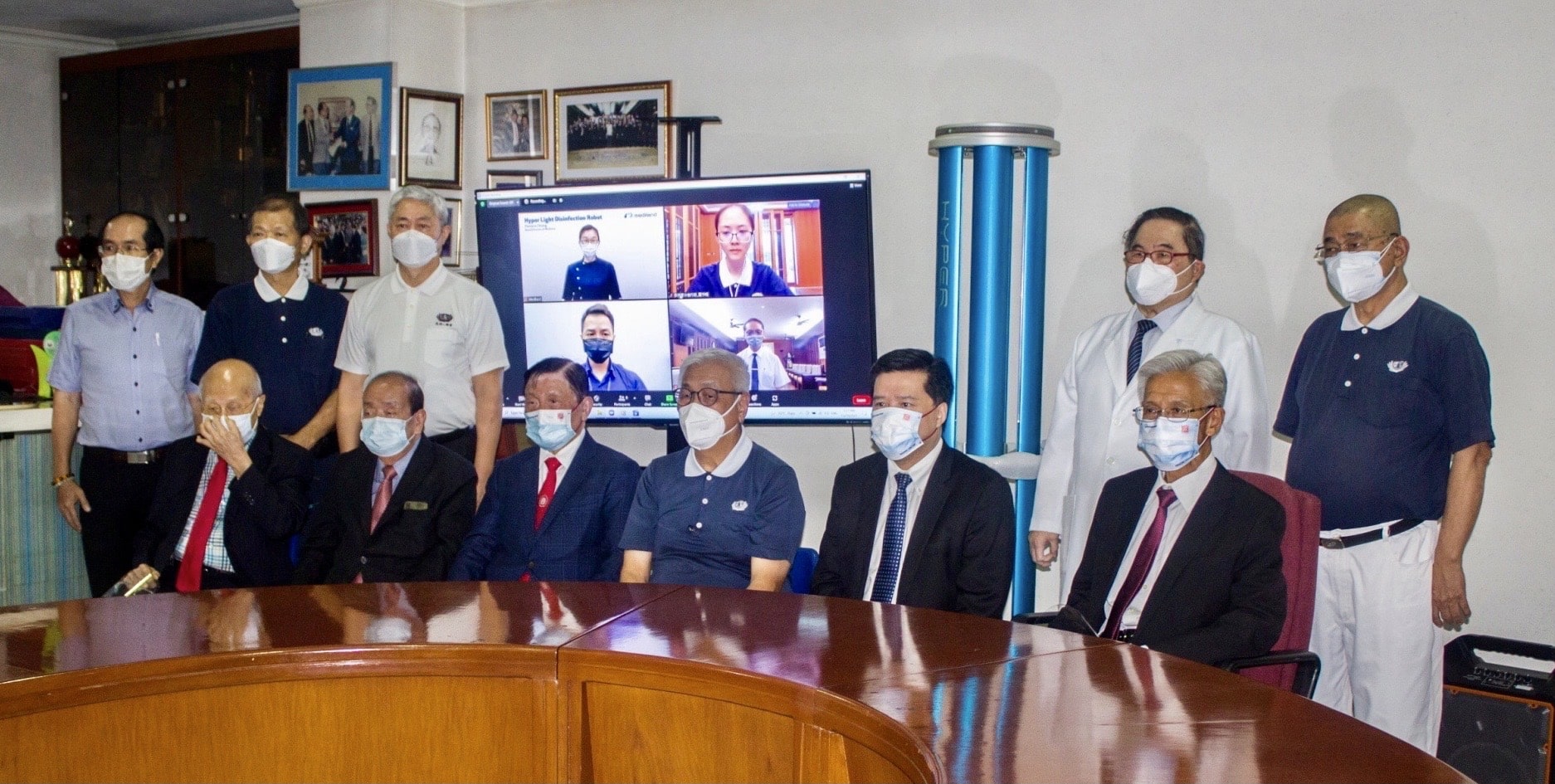 Also in attendance at the turnover ceremony were (standing, third from left) Tzu Chi International Medical Association (TIMA) co-founder and Chinese General Hospital and Medical Center (CGHMC) surgeon Dr. Josefino Qua; (seated, third from left) Philippine Overseas Chinese Charity Association Chairman Lu Zuyin; Tzu Chi volunteers (standing, first from right) Alfredo Li and (standing second from right) Dr. Antonio Say; and (seated, second from right) CGHMC Executive Vice President and Chief Operating Officer Kelly Sia. 【Photo by Matt Serrano】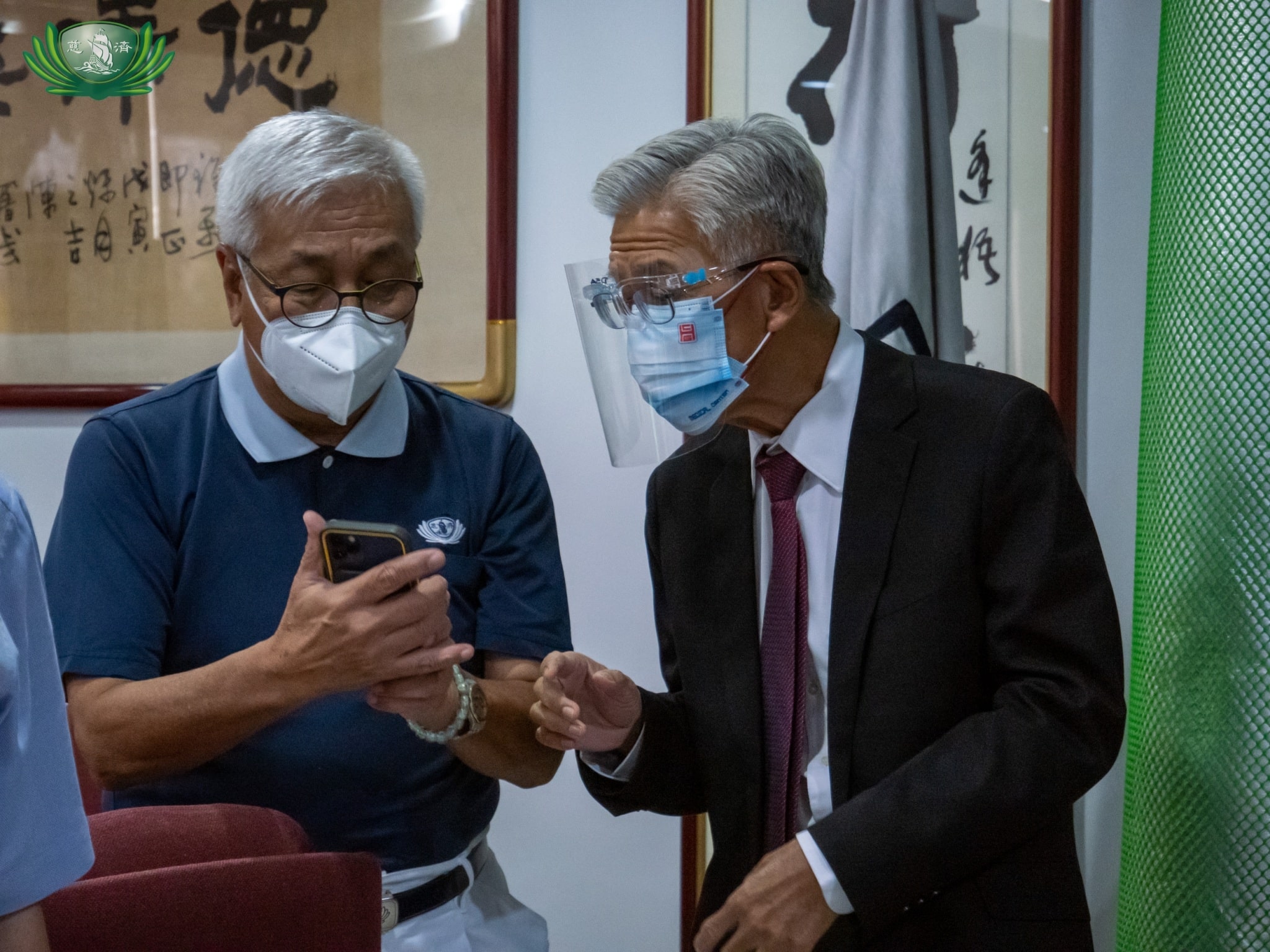 Tzu Chi Philippines CEO Henry Yuñez (left) with General Hospital and Medical Center Medical Director Dr. Samuel Ang【Photo by Jeaneal Dando】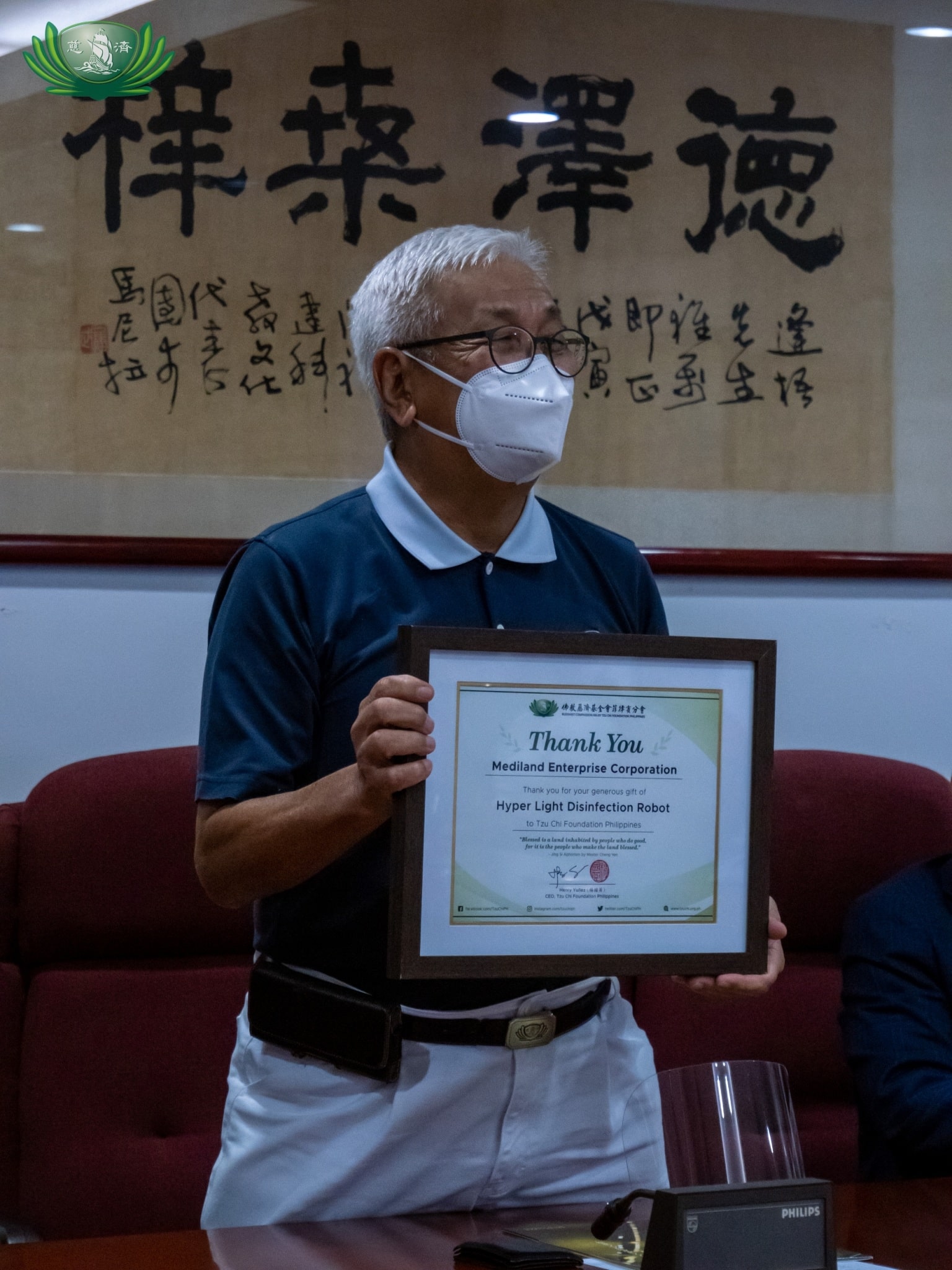 Tzu Chi Philippines CEO Henry Yuñez presents a certificate of appreciation to Jiang Xinhui, director and representative of Mediland Enterprise Corporation, for donating the Hyper Light Disinfection Robot to the Chinese General Hospital and Medical Center. 【Photo by Jeaneal Dando】
Go Back