Manila Central volunteers reunite in tea party
Volunteers from the Mingchong district gathered at the Jing Si Hall in Quezon City.
By Ben Baquilod
After two years without physical interaction, Tzu Chi Volunteers from Manila Central (Mingchong) district gathered together at the Jing Si Hall in Quezon City on April 2. The volunteers enjoyed dinner buffet, discussed updates and plans, and shared valuable lessons from Tzu Chi through the years.
Cindy Balete was filled with excitement to see her fellow volunteers. "We always talk over the phone and wish we could see each other again one day," she says. "We're so happy to be here today. I thought we should take this chance to be together now that quarantine restrictions have eased."
Having known Tzu Chi for three decades now, Balete feels nothing but gratitude as she recalled her journey with the group. From being an avid viewer of Da Ai TV in the 1990s to attending the entrepreneur camp in 2012—then being certified as commissioner in 2016—she has remained dedicated to the mission of Tzu Chi. "I consider Master Cheng Yen as my life coach. Amidst everything I've gone through in life, I am still here, strong, because of Master Cheng Yen's wisdom," she says.
Admittedly a little spoiled growing up, she has changed a lot when she learned one of Master Cheng Yen's teachings. "'Two things cannot wait: to do good and be filial to your parents'. When I heard that aphorism, it struck my mind. I realized I have to be filial since my parents are the only ones I have," she adds.
Having lost her father during the height of the pandemic, she remains forever thankful to Tzu Chi for instilling this value in her. "My father passed way in 2020, and I am grateful to have been filial to him before he's gone."
Balete's life was changed even more by her experiences in charity missions. "When we conducted home visits, that was when I became aware of the extremity of people's poverty", she says. Her awareness and compassion grew larger upon seeing the extent of children's illnesses in hospital visits.
This change in her has overflowed and also influenced her affairs outside Tzu Chi. "Right now, we have employees in our family business. Because of Tzu Chi, I have learned to be sympathetic when they tell me about their problems. I have been more compassionate towards them."
Same with Nerina Eaiw Cu, who emphasized the value of patience since becoming a Tzu Chi volunteer in 1996. Her first volunteer experience was a hospital visit to East Avenue Medical Center. In 1997, she met Master Cheng Yen in Taiwan, and she became a commissioner in 2014.
During medical missions in the provinces, she was providing medicines in the pediatrics, and was then eventually assigned in the eye center. "As a volunteer, I have learned to be more patient in providing care to a lot of sick people," she says.
"We're so happy to meet and everybody has white hair already," she quips as she sees again her longtime friends in Tzu Chi. She looks forward to practice Tai Chi again with her group.
There really are a lot of things to look forward to. During the event, Tzu Chi announced the opening of the Tzu Chi Great Love Preschool Philippines in June 2022. Apprentice and training commissioners from the Mingchong district were also introduced.
In the Master's Talk, everyone felt blessed to get encouragement from Master Cheng Yen herself.
"So, as you know my heart, you know that I've devoted my entire life and my health to Tzu Chi. My only hope is that all the Tzu Chi volunteers will harbor gratitude toward one another and cherish their wisdom-life; without every one of us, we cannot carry out Tzu Chi's work."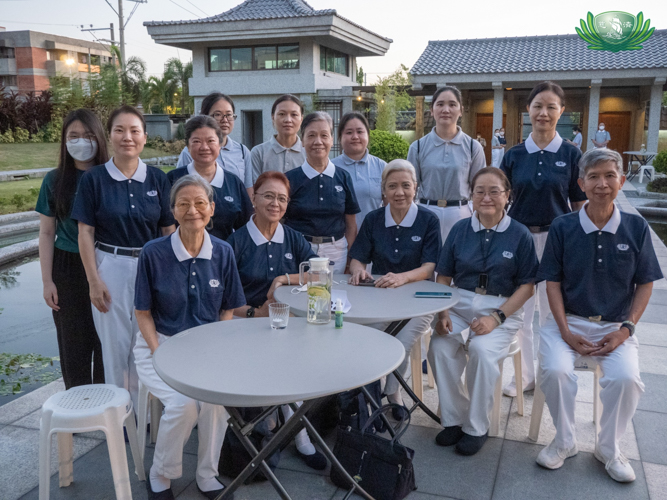 Manila Central (Mingchong) volunteers reunite in a tea party at the Jing Si Hall in Agno, Quezon City. 【Photo by Kendrick Yacuan】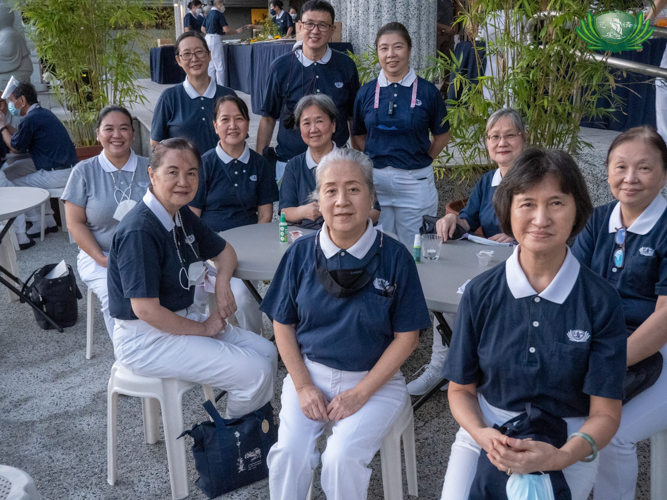 Manila Central (Mingchong) volunteers reunite in a tea party at the Jing Si Hall in Agno, Quezon City. 【Photo by Kendrick Yacuan】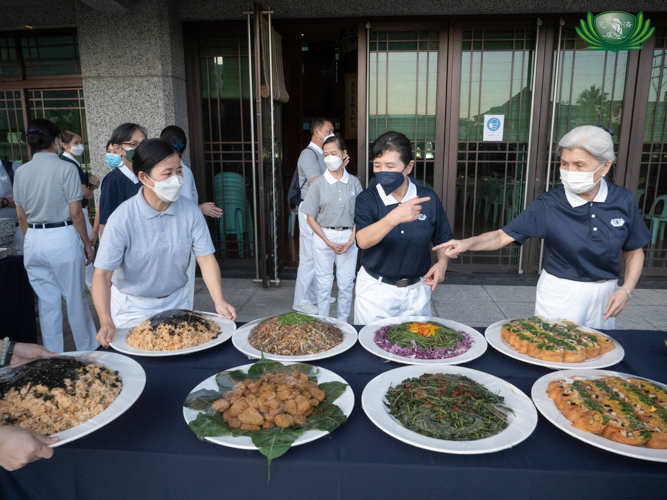 Linda Chua (rightmost) leads volunteers in preparing food for the dinner buffet. 【Photo by Kendrick Yacuan】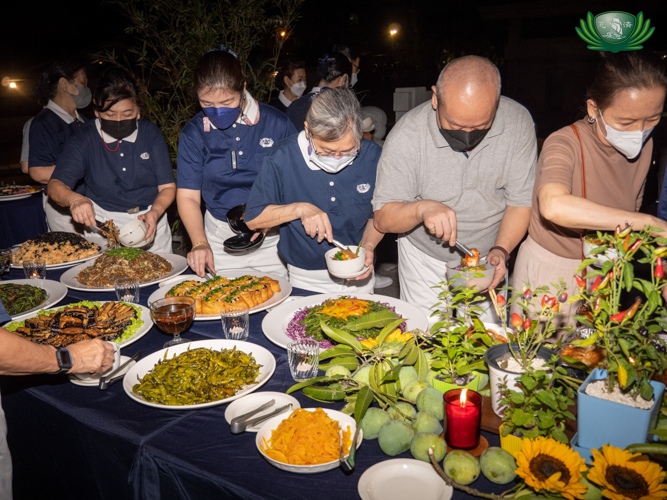 Volunteers enjoy their vegetarian dinner at the Mingchong tea party. 【Photo by Kendrick Yacuan】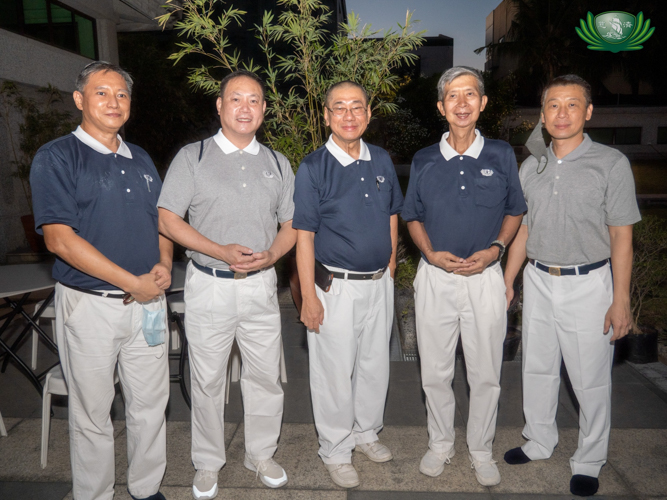 Manila Central (Mingchong) volunteers reunite in a tea party at the Jing Si Hall in Agno, Quezon City. 【Photo by Kendrick Yacuan】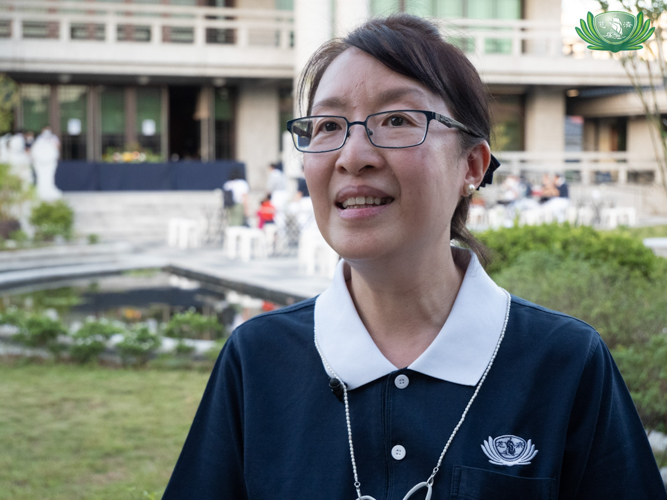 "I consider Master Cheng Yen as my life coach. Amidst everything I've gone through in life, I am still here, strong, because of Master Cheng Yen's wisdom," says Cindy Balete, Tzu Chi volunteer since 2012. 【Photo by Kendrick Yacuan】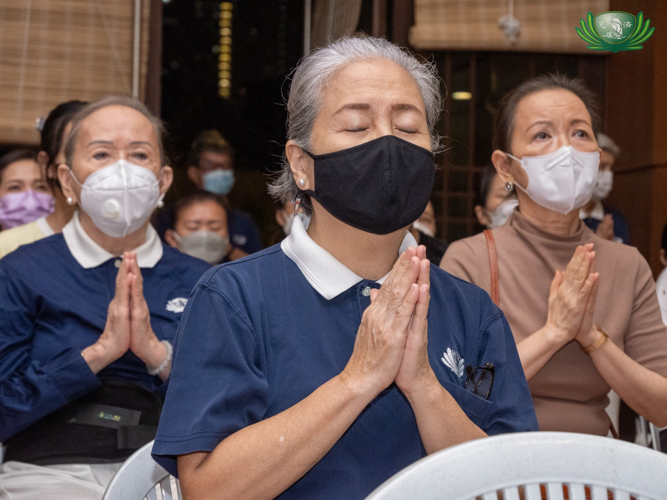 "As a volunteer, I have learned to be more patient in providing care to a lot of sick people," says Tzu Chi volunteer Nerina Eiaw Cu. 【Photo by Kendrick Yacuan】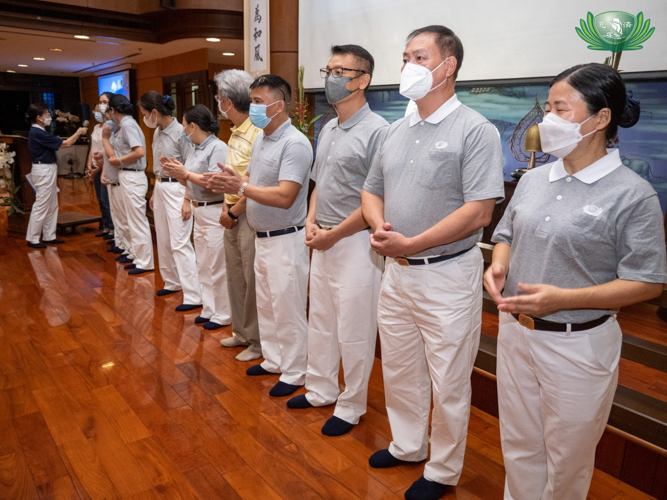 New apprentice and training commissioners from the Mingchong group were introduced. 【Photo by Kendrick Yacuan】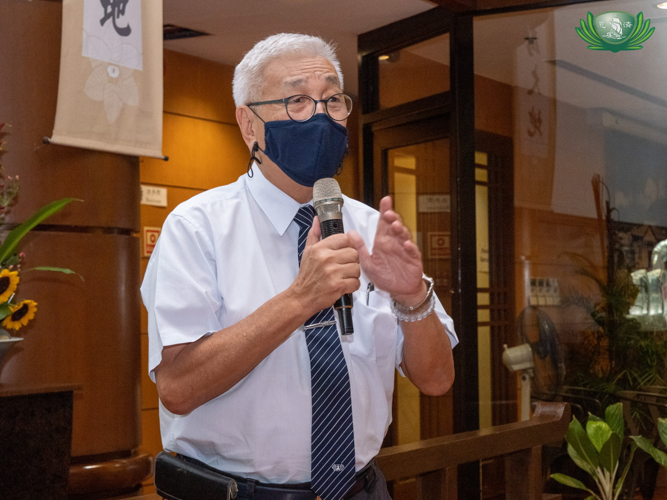 CEO Henry Yuñez gives message to Tzu Chi volunteers. 【Photo by Kendrick Yacuan】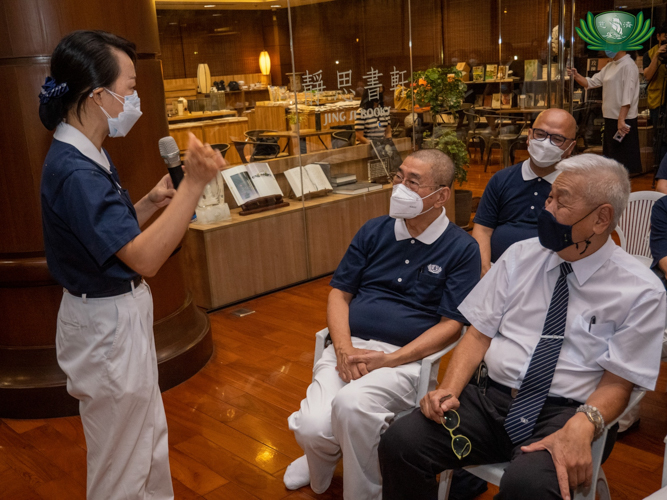 Volunteer Angie Cai asks questions to the crowd in a trivia game. 【Photo by Kendrick Yacuan】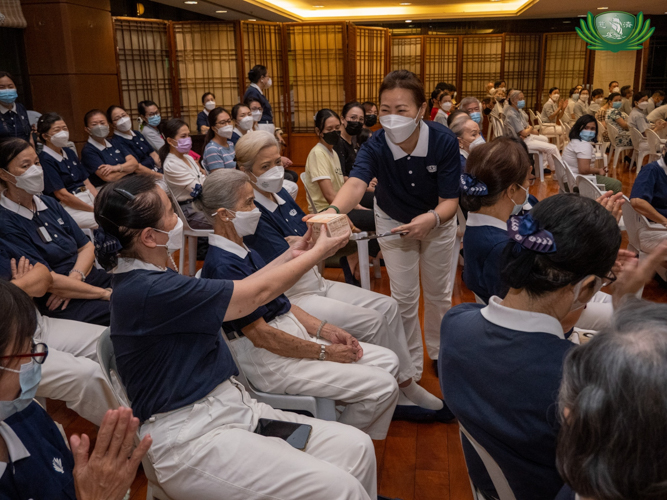 Volunteer receives her prize in the trivia game. 【Photo by Kendrick Yacuan】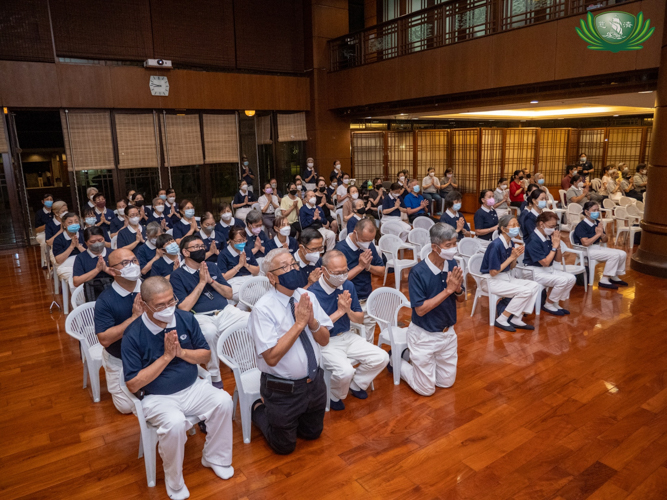 The tea gathering ends with a prayer to the Buddha. 【Photo by Kendrick Yacuan】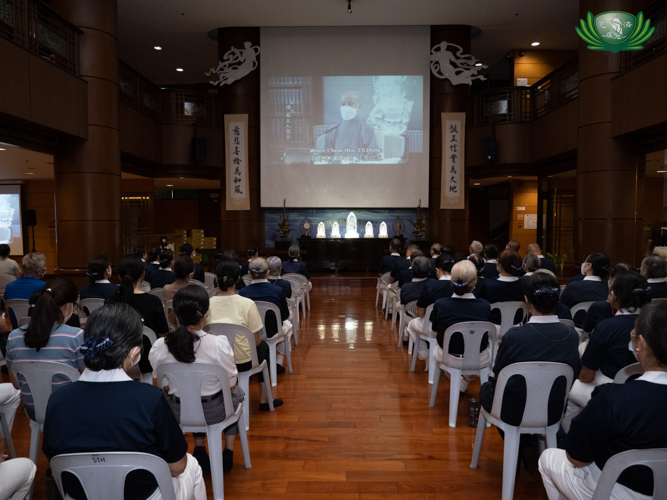 "So, as you know my heart, you know that I've devoted my entire life and my health to Tzu Chi. My only hope is that all the Tzu Chi volunteers will harbor gratitude toward one another and cherish their wisdom-life; without every one of us, we cannot carry out Tzu Chi's work," says Dharma Master Cheng Yen in the Master's Talk. 【Photo by Kendrick Yacuan】
Go Back