Solo parent devotes time to Tzu Chi and PWD daughter
Esther Co Yu is an inspiration to volunteers and beneficiaries alike.
By Joy Rojas
Tzu Chi beneficiaries often find inspiration in the gentle teachings of Dharma Master Cheng Yen and in volunteers' tireless efforts to extend compassion and relief without expecting anything in return.
Yet there are also individuals who have earned the admiration of Tzu Chi volunteers for practicing virtues espoused by Master Cheng Yen: resilience in the face of insurmountable challenges, helping themselves before others do, and sticking by someone that so many have long given up on.
Esther Co Yu is one such individual. The 56-year-old is a solo parent to her 18-year-old daughter Gwyneth, a Tzu Chi beneficiary since September 9, 2012.
"From my talks with her while handling their case, I'm really amazed at Esther's story," says Jackielyn Raper, social worker for Tzu Chi's Charity Department. "She doesn't settle or say, 'The foundation's already helping me every month.' Instead, she does what she can to help herself.
"That's what the foundation wants from its beneficiaries. We help them every month but we also want them to realize that they are capable of doing other things that can lead to self-improvement. Esther's story is very inspirational to beneficiaries. May she serve as a role model to them."
The owners of a sari-sari (convenience) store in Pandacan, Manila, where they are now based, Esther and Gwyneth are among the participants of Tzu Chi's upcycling program, creating durable rugs and seat covers from the excess elastic material of sports socks. Earnings from their outputs go not just to basic necessities and additional items for their store. They also buy ingredients for dishwashing liquid, which they sell at an affordable price.
It took years of overcoming seemingly endless struggles for Esther to reach this point of quiet contentment in her life. She first approached the Tzu Chi Foundation in 2007 to ask help for her teenaged son Wesley, a valedictorian who was diagnosed with pineal germ cell tumor in his brain. Marked by headaches, nausea, vomiting, and difficulty in walking, balance, and eye movements, the condition would lead to his untimely death in 2010.
In 2012, Esther returned to Tzu Chi, this time for Gwyneth. Born in 2005, she already exhibited signs of autism disorder with mild retardation as early as age 1. Prone to tantrums and uncontrollable shouting, running, headbanging, and destructiveness, she could not speak or make eye contact like other children.
By then, Esther was on her own. Abandoned by her husband and an outcast of her family, she was so hopeless and could have given up right there and then.
Instead, she focused all her attention on Gwyneth. To address her special needs, she signed up with different foundations and took advantage of their free courses and therapy sessions. "I studied her condition and had her undergo occupational therapy and speech therapy," she says. "I also accepted her and committed myself to loving her and looking after her."
With no place to call home, she shuttled from place to place, leaving her little girl in the care of various foundations until she got back from work.
From massage therapist to agency coordinator and other jobs in between, she worked for little pay—sometimes none at all. "Even just for food," she says. "It's okay because we survived on it. At the same time, I was able to look after Gwyneth."
Through the Tzu Chi Foundation, she receives funding for Gwyneth's therapy. "A lot of parents who have autistic children tend to send them away, lock them at home, or stop them from studying. They feel embarrassed to show them in public. I'm very eager for my daughter to undergo therapy. I'm working hard so she can get better and be 'normal,'" says Esther.
"I'm aware that autism is incurable," she adds, "but I would still like her to learn, improve, and reach higher levels even if she's considered late."
Therapy coupled with a mother's unconditional love have been good for Gwyneth, who now attends a free transition program following Special Education classes. She cooks, cleans, teaches herself how to use the computer, and even minds the sari-sari store. "She calls me 'baby mama' because I'm still sleeping while she's already awake cleaning the house, heating water, and preparing my coffee," says Esther with a smile. "I'm very happy because she has improved so much. Before, you could tell that she wasn't 'normal.' Now you can consider her 'normal' even if she's a little late."
Gwyneth even blends in with her mother and other female participants of Tzu Chi's upcycling program. Though mother and daughter used to make and sell round mats put together with discarded fabric and a donated sewing machine, assembling elastic cloth rings together requires a different skill.
"At first Gwyneth struggled. She has a hard time focusing, and when she gets annoyed, she'll stop," says Jackielyn. "Then once she's emotionally stable, she'll return to her work." Understandably, her earliest seat covers and rugs were rejects. But as she persisted, she got better and better, and her works were no longer rejected.
"She may not have the academic education, but at least she developed the talent for livelihood projects," says Esther.
As Gwyneth finds purpose and meaning in her life, so too does her mother. "I'm very happy because it's always been my dream to volunteer with Tzu Chi," says Esther. "After Tzu Chi helped me, I'd like to return the love and help that you gave me and my daughter. I'd like to be able to help without expectation, to help for help's sake."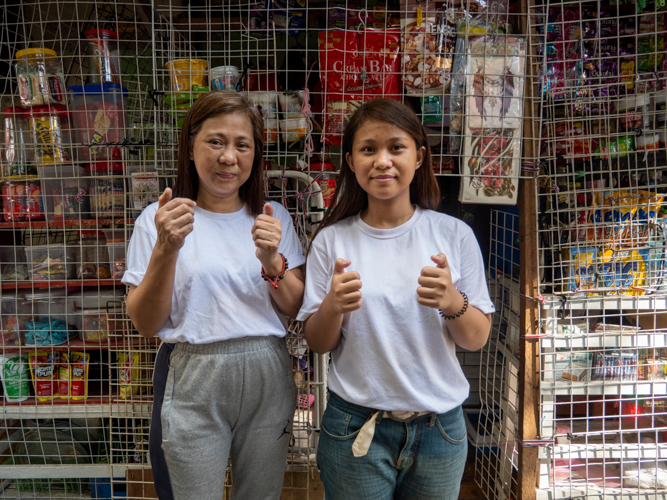 Standing before their sari-sari store in Pandacan, Manila, Esther Co Yu (left) and her daughter Gwyneth say "Thank you, Tzu Chi" with their thumbs. 【Photo by Harold Alzaga】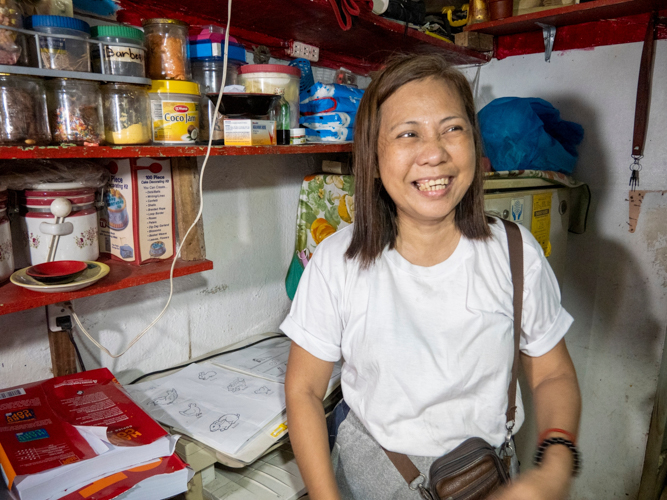 What started with a few items—soft drinks, snacks—is now a full-blown sari-sari (convenience) store that also includes photocopying and lamination services. Esther Co Yu used the money she earned from Tzu Chi's upcycling initiative to slowly add products to her store. 【Photo by Harold Alzaga】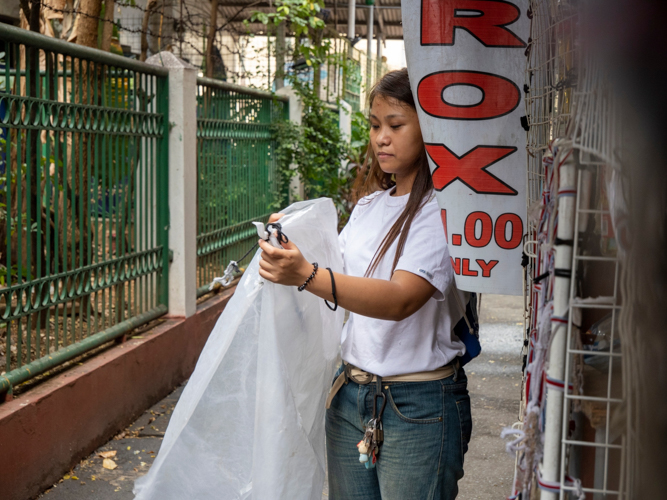 Gwyneth Co Yu, who was diagnosed with autism disorder with mild retardation, has become a dependable daughter, thanks to therapy and her mother Esther's unconditional love. Here she folds the tarpaulin cover of their store. 【Photo by Harold Alzaga】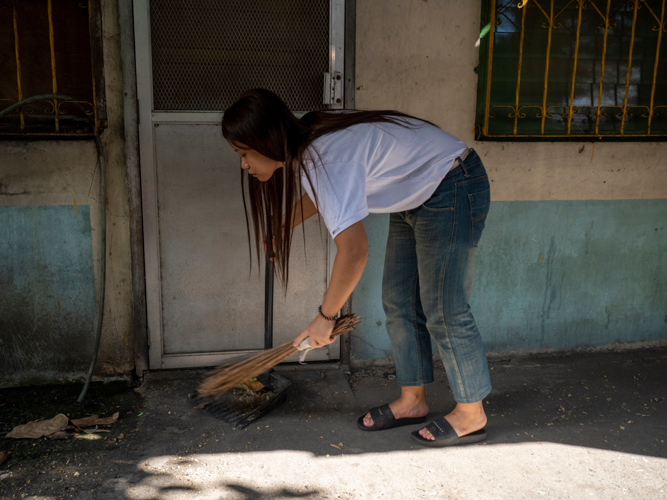 Up early, Gwyenth Co Yu sweeps outside their home in Pandacan, Manila, before preparing coffee for her mother Esther. "I'm very happy because she has improved so much," says Esther. "Before, you could tell that she wasn't 'normal.' Now you can consider her 'normal' even if she's a little late."【Photo by Harold Alzaga】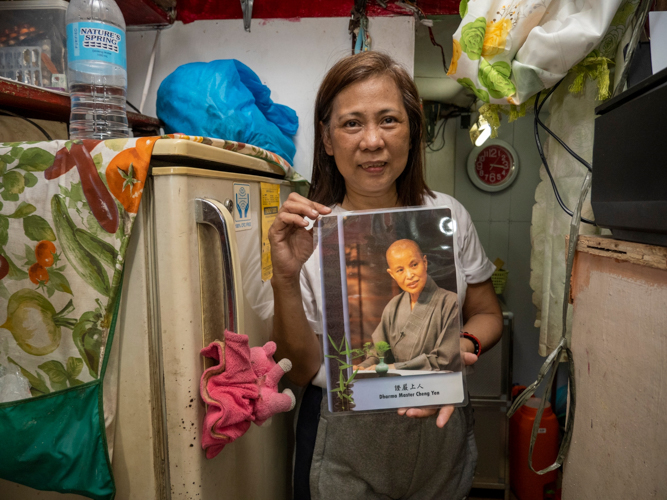 Esther Co Yu keeps a photo of Dharma Master Cheng Yen in her home. "Thank you, Master Cheng Yen, for the kindness you and your volunteers have shown us." 【Photo by Harold Alzaga】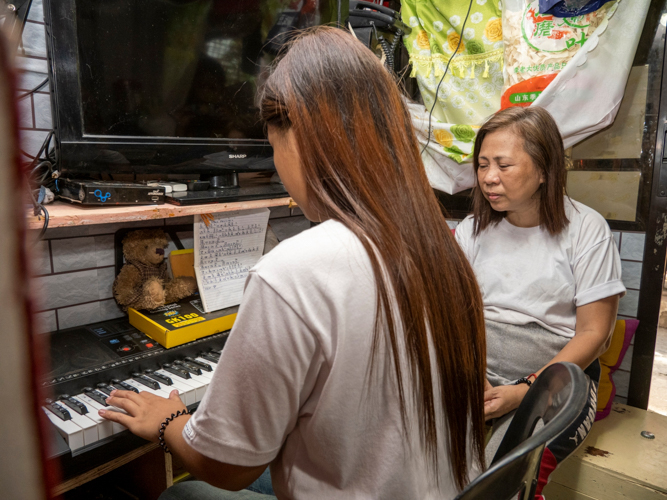 Gwyneth Co Yu (left) plays keyboard as her mother Esther looks on. Despite her autism disorder with mild retardation, Gwyneth knows how to cook, clean, use the computer, and mind their store. She is on a free transition program following Special Education classes. 【Photo by Harold Alzaga】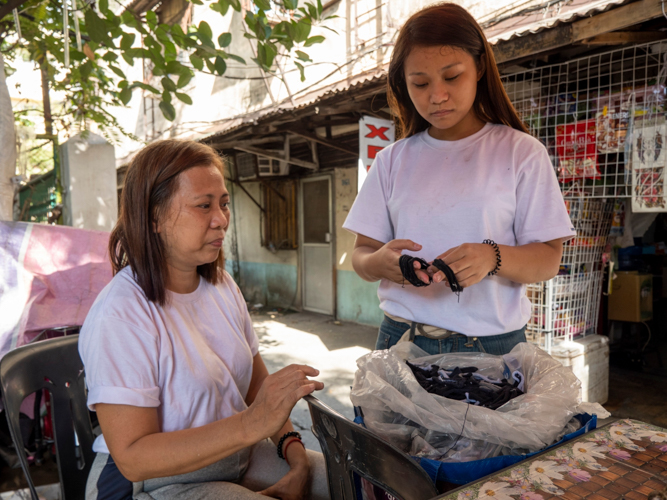 Esther Co Yu (seated) and daughter Gwyneth look at the excess elastic bands of sports socks that they use to weave rugs and seat covers for Tzu Chi's livelihood program. 【Photo by Harold Alzaga】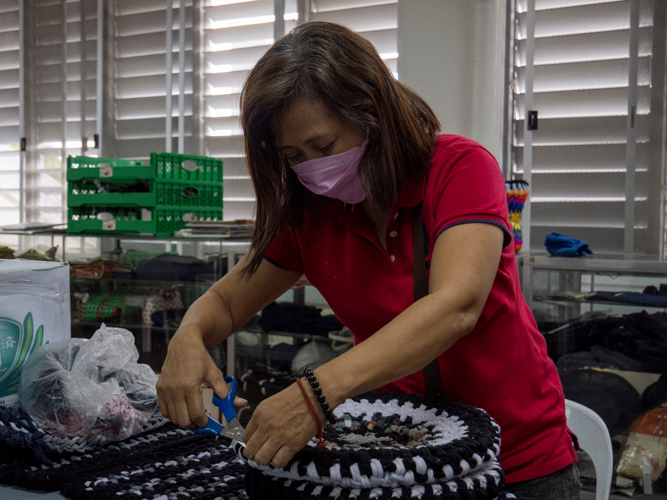 At the Tzu Chi livelihood program room, Esther Co Yu trims a seat cover woven with the excess elastic band of sports socks. 【Photo by Matt Serrano】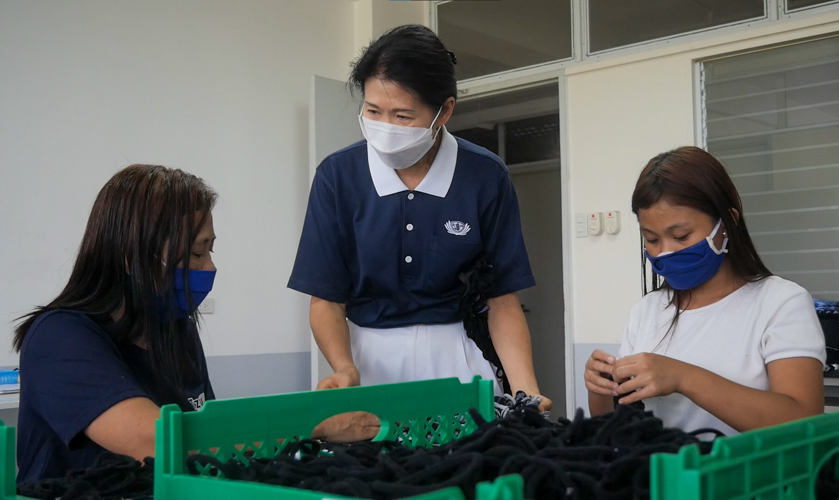 Tzu Chi Deputy CEO Woon Ng (center) chats with Esther Co Yu (left) and daughter Gwyneth at the livelihood program room. 【Photo by Harold Alzaga】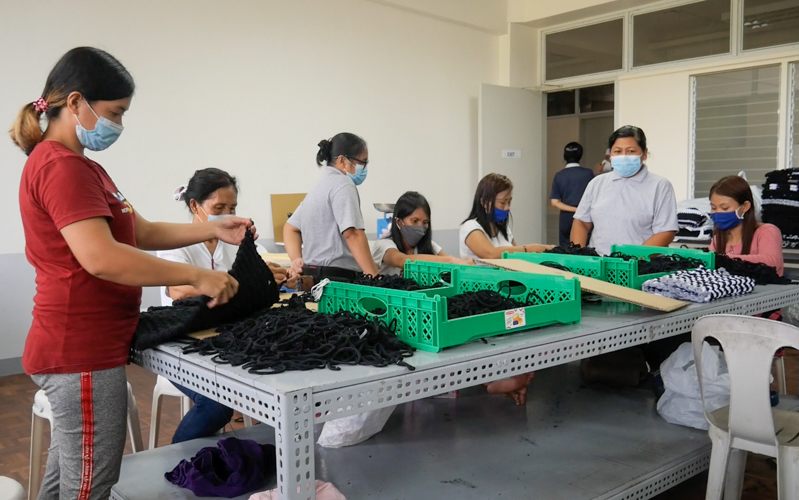 Participants in Tzu Chi's upcycling program weave excess material from sports socks into attractive and durable seat covers and floor mats. 【Photo by Jeaneal Dando】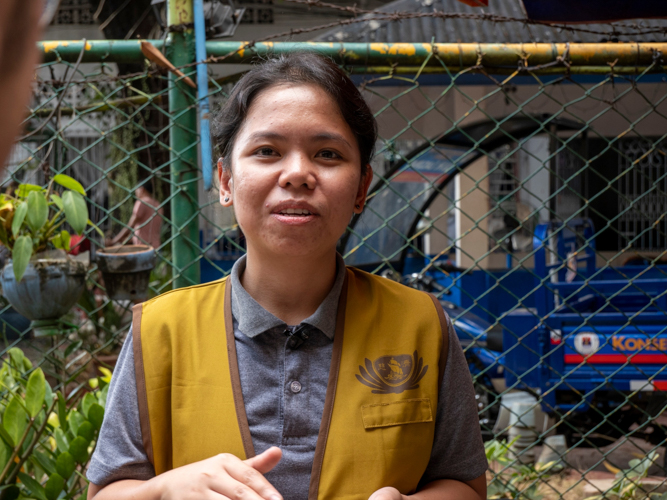 Impressed by Esther Co Yu's initiative to further improve life for her and her daughter Gwyneth, even as she receives funds for her daughter's condition, Tzu Chi Charity Department social worker Jackielyn Raper says, "that's what the foundation wants from its beneficiaries—to realize that they are capable of doing other things that can lead to self-improvement. Esther's story is very inspirational to beneficiaries. May she serve as a role model to them."【Photo by Harold Alzaga】
Go Back