Davaoeños experience kindness in Tzu Chi medical mission
The 3-day event provided medical and dental services to 2,750 beneficiaries.
By Joy Rojas
On July 21, 2023, Lydinel Llanos woke up before dawn to line up outside the Davao Chong Hua High School in Davao City at 4 am. The school was the venue of the 246th medical mission of the Tzu Chi Foundation, and the mother of three and on-call promodizer at Unilab made sure she was there well before it opened at 8 am to avail of the program's free dental services.
She learned her lesson from yesterday, when she arrived at 9 am and found that all slots had been taken. "So, I got a general checkup—I had my blood pressure and blood sugar taken in the general consultation for adults, then got a pair of free reading glasses from the ophthalmologist," she said.
The next day, her four-hour wait was worth it. Her kids, 11-year-old Carl Angelo and 14-year-old Kristine Angela, had been complaining of toothaches for months. Through their mother's patience, they both got the extractions they needed.
Since the first Tzu Chi medical mission in Baguio in 1995, Filipinos have come in droves to consult volunteer doctors of the Tzu Chi International Medical Association (TIMA) on their various aches and pains.
In the Philippines, health services are so expensive, some go through life without ever setting foot in a hospital or seeing a medical doctor. Instead, they rely on herbal supplements or the advice of an albularyo (folk healer) or hilot (folk chiropractor) to address their ailments.
As with previous medical missions, the latest three-day Tzu Chi Davao Medical Mission saw 2,750 less-fortunate Filipinos avail of professional guidance and treatment from TIMA's board-certified doctors. The outreach programs also answered Dharma Master Cheng Yen's call to provide compassion and relief to the poorest of the poor.
Many beneficiaries took full advantage of the event. "I'm here with my mother, my son, my uncle, my sister, and two cousins. I brought everybody!" says housewife Ilyn Sab with a laugh. "We told our mom to have a general checkup and tooth extraction. Same with my uncle, a general checkup and extraction. My son will have a consult with the pediatrician. I'll have a tooth extraction. And the others who came with me will have extractions as well."
Lovely Dawn Tahil brought two of her three young children to consult a pediatrician for their coughs and colds. She left the checkup with a week's supply of antibiotics and vitamins. "I only had enough money to commute," says the online seller and construction worker's wife. "This medical mission came at the right time because we were able to see the doctor for free and get free medicines."
Lovely first encountered the Tzu Chi Foundation in 2018, after a fire struck her neighborhood. Amidst the tragedy came the men and women in blue and white, offering relief goods, pillows, comforters and other basic necessities.
Arriving at the school in a wheelchair, her right leg amputated past the knee, Susana Del Pilar underwent an operation in June after experiencing unbearable pain on her leg. "My blood sugar is high," she explains in Cebuano. "It had to be amputated because it turned black."
Now it's her left leg that's giving her problems. "It's numb and stiff. Maybe because of the cold. I can't sleep because it's so painful," she says. Upon learning from one of her two children about the medical mission, she went for a consultation and received medicines for her diabetes and hypertension.
"Perfect timing. With the Lord's mercy I was able to have a checkup in this medical mission. Thank you, Lord," she says. "The medicines you gave me are a big help. Thanks to you who came here, I can drink medicine."
For Lydinel, Ilyn, and Susana, Tzu Chi's medical mission isn't just an answered prayer; it's an affirmation of the goodness that abounds in the most unexpected people and places.
"Thank you for coming to Davao to help so many people, the poor" is Susana's message to the 61 doctors, nine nurses, and 103 volunteers from Manila, Zamboanga, Cebu, and Iloilo who joined the 140 Davao volunteers for this medical mission.
"The volunteers are very nice," adds Ilyn. "They needed a translator but still they managed to communicate with us from Davao. Thank you."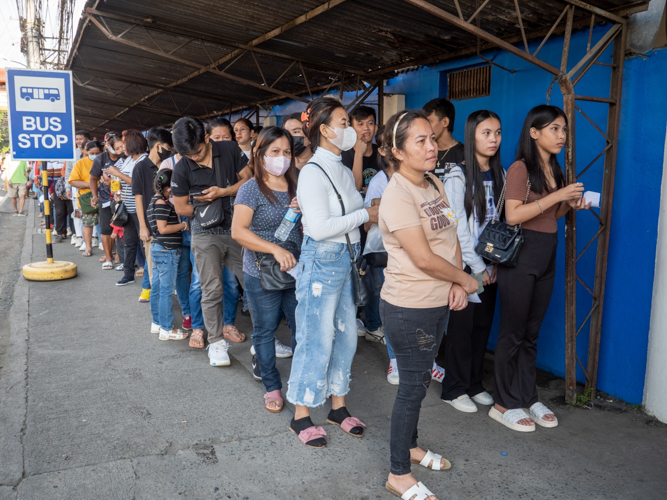 Beneficiaries line up outside Davao Chong Hua High School to avail of the free medical and dental services offered by Tzu Chi Foundation. 【Photo by Matt Serrano】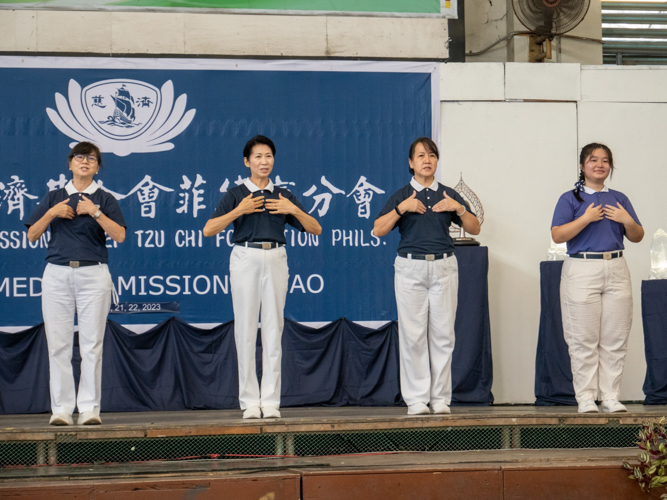 Volunteers lead beneficiaries to a signed song. 【Photo by Matt Serrano】
Medical mission beneficiaries join their palms together in gratitude for the treatments and medicines they're about to receive from the medical mission. 【Photo by Matt Serrano】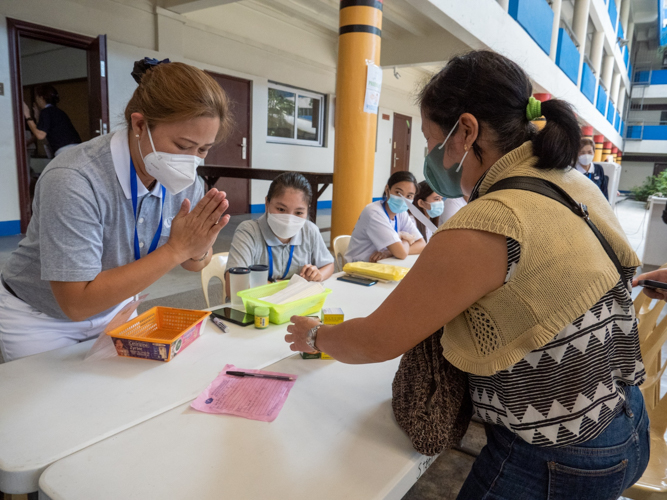 A volunteer bows after she dispenses a beneficiary's prescribed medicines. 【Photo by Matt Serrano】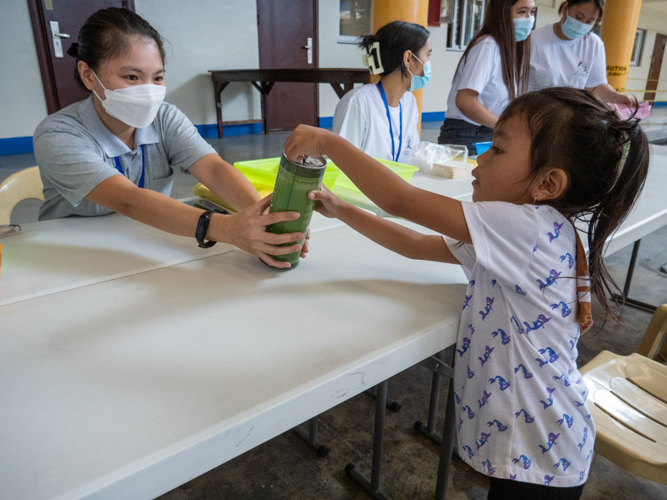 Proof that no one is too young or old to help, a child puts a pledge in a Tzu Chi coin can. 【Photo by Matt Serrano】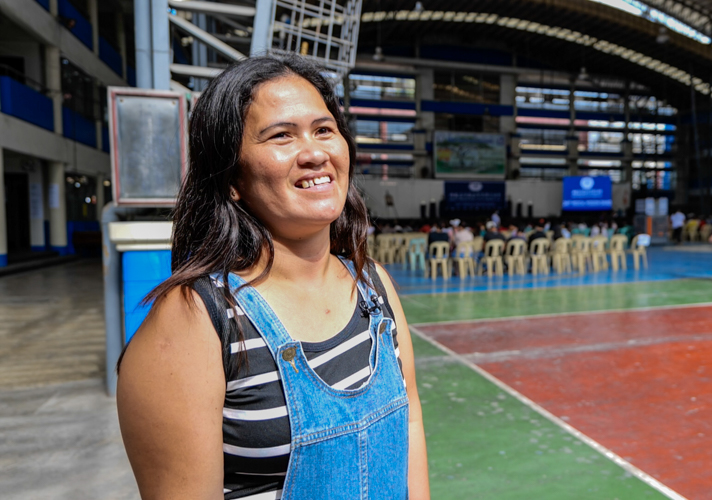 Lydinel Llanos went to the medical mission twice: the first day for a general checkup and free reading glasses, the second day for tooth extractions for her two kids. 【Photo by Jeaneal Dando】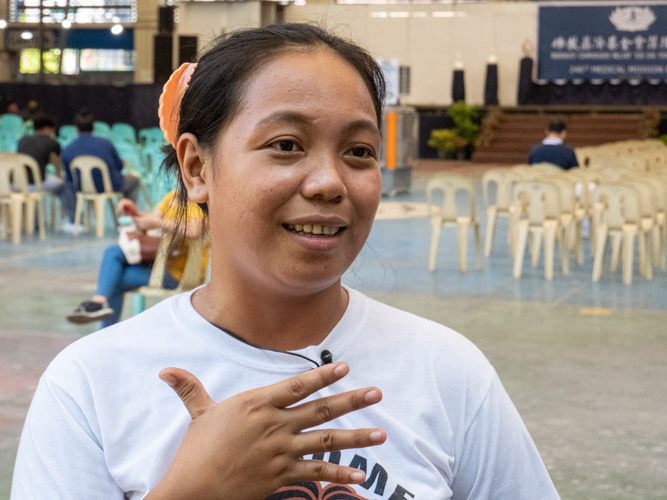 Ilyn Sab came to the medical mission with her mother, son, uncle, sister, and two cousins. 【Photo by Matt Serrano】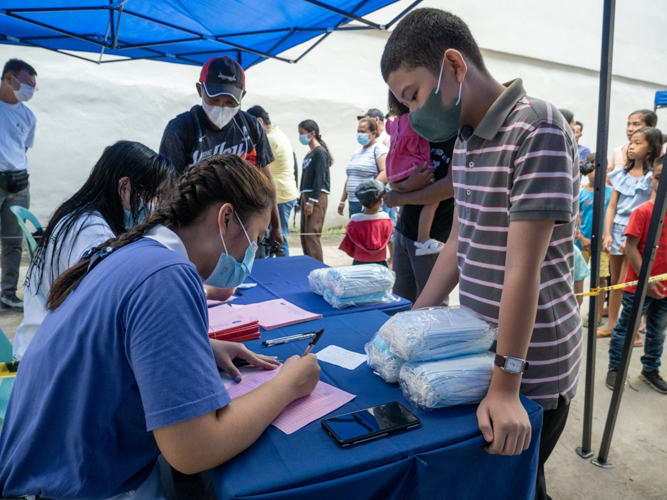 A member of Tzu Chi Youth (seated, in blue) helps with registration. 【Photo by Matt Serrano】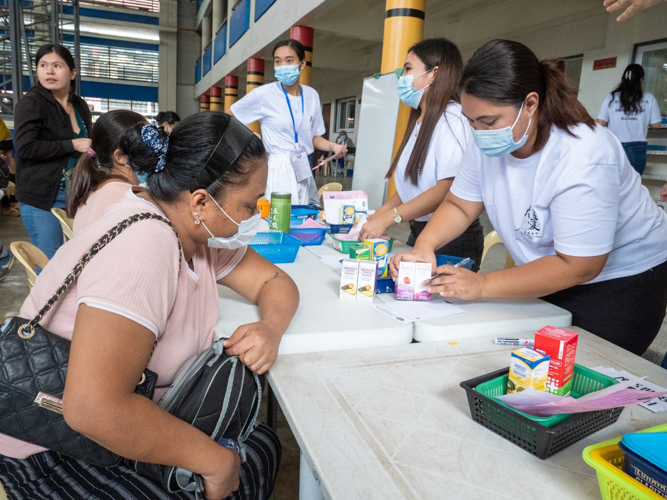 Lovely Dawn Tahil (seated, left) receives medicines for her two children who have a cough and colds. 【Photo by Matt Serrano】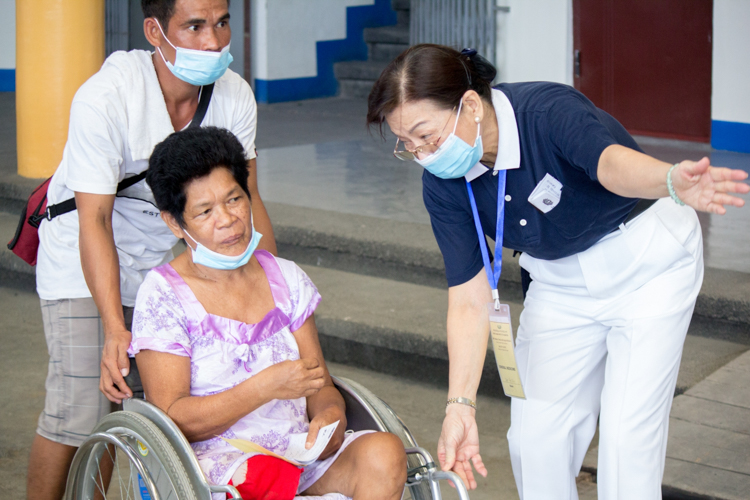 A volunteer guides Susana del Pilar to a doctor for a general checkup. Susana's right leg was amputated above the knee last June due to complications from diabetes. Now her left leg is giving her problems.【Photo by Marella Saldonido】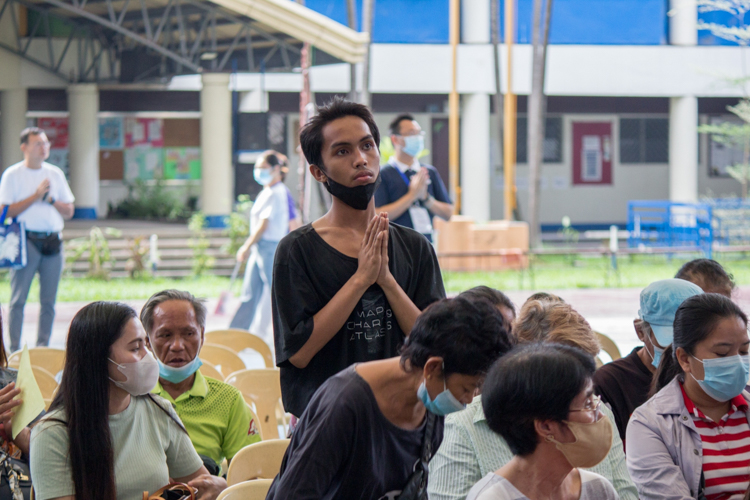 Moved by the uplifting messages of Tzu Chi volunteers, a beneficiary stands up and prays for his special intentions. 【Photo by Marella Saldonido】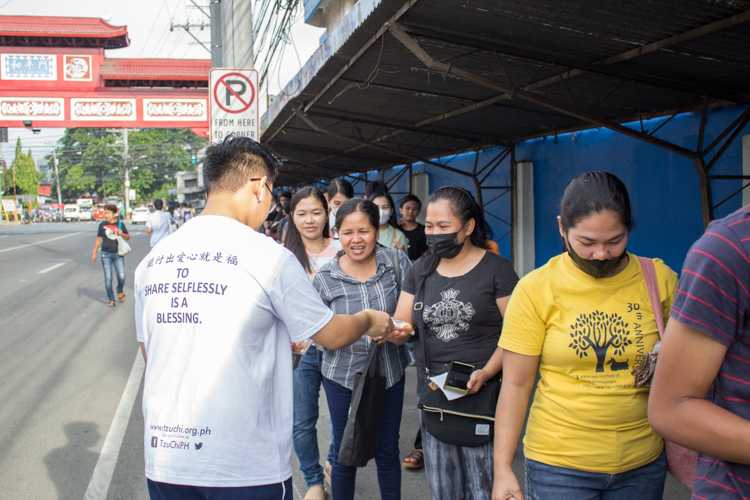 A Tzu Chi volunteer distributes snacks to beneficiaries waiting outside Davao Chong Hua High School. 【Photo by Marella Saldonido】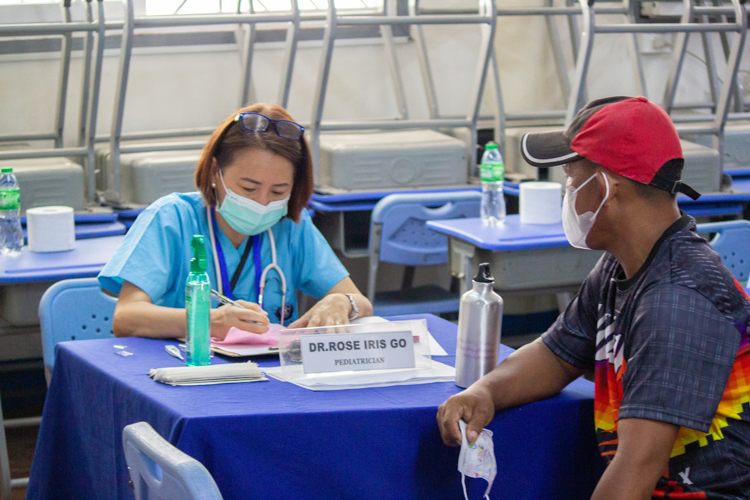 A regular of Tzu Chi medical missions, Dr. Rose Go attends to man who brought his young son for a checkup. 【Photo by Marella Saldonido】
Mothers took advantage of the medical mission and brought their children for free consults, medicine, and vitamins. 【Photo by Marella Saldonido】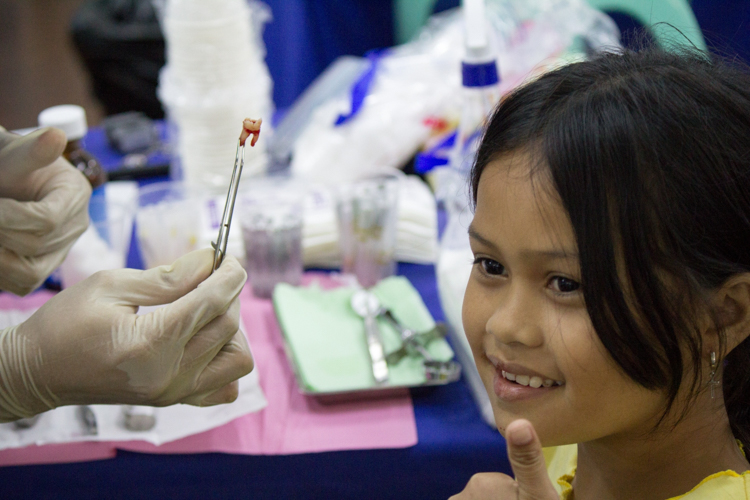 A girl gives a thumbs up sign after her successful tooth extraction. 【Photo by Marella Saldonido】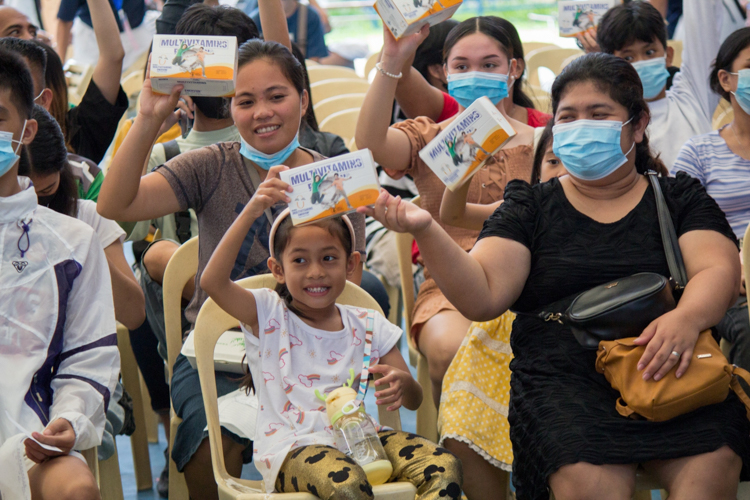 Beneficiaries wave their free supply of multivitamins.【Photo by Matt Serrano】
Go Back