Call them Fiesta Verde '22's unsung heroes
For these volunteers, it's all about giving back and serving many.
By Joy Rojas
Of the hundreds of volunteers of Fiesta Verde '22, the two-day vegetarian and wellness charity bazaar organized by Tzu Chi Foundation last November 5 and 6 at the Buddhist Tzu Chi Campus (BTCC) in Sta. Mesa, Manila, a majority were faces in a crowd, men and women who went unnoticed in the crowded two-day fundraiser.
Still, even if you didn't see them or give them a second glance if they walked right past you, you certainly benefited from their valuable contributions. Indeed, it was the dedication, patience, and tireless efforts of these unsung heroes that made Fiesta Verde '22 a rousing success.
A job as a collection supervisor from Monday to Saturday leaves Betty Manabat with just one day to volunteer with Tzu Chi. "So I choose the simple tasks, the ones I know I can do and that will serve a lot of people," says Betty, who went on leave from work to attend to the bazaar.
As part of the dishwashing committee, she, six co-commissioners, and 30 volunteers collected Fiesta Verde guests' used plates, utensils, and glasses, washed them thoroughly, and returned them to their respective food carts. The members also segregated garbage and leftover food. Busy from 7 am to 8 pm and beyond, "we were the first persons in and the last persons out," she says.
Sure, it was hard and exhausting work—but the camaraderie lightened the load and made the hours fly. When a volunteer got tired from non-stop dishwashing, another automatically took her place, no questions asked. "I've been working with this group for more than 10 years. We know each other very well," says Betty.
Despite the language gap between the Chinese-speaking commissioners and Filipino volunteers, the members have an unspoken mutual respect and appreciation for each other. "We even share our food," says Betty. "I guess that's why I've lasted long here. I'm not afraid of hard work; I'm used to it, in fact. I like our friendship. There's nothing like it and there's no intrigues."
Like the dishwashing group, Edison Hina started his role as Fiesta Verde's traffic coordinator hours before the bazaar began. "We first cleaned up the facilities of the event and took out the trash. By 10 am, I positioned myself near BTCC's main entrance and guided guests on where to park."
As if finding vacant spots for cars at a well-attended event wasn't challenging enough, Edison and the rest of the traffic team were exposed to all types of weather—from the heat of the sun to a sudden cold downpour.
Motivated by Master Cheng Yen's gentle reminder "to help without expecting anything in return," Edison uses every opportunity to give back to the foundation that was there for him in the worst of times. A victim of Typhoon Ondoy's devastating floods, this Marikina resident and his wife Heidi slowly got back on their feet through Tzu Chi's "Cash for Work" program and by rebuilding the home they lost with a three-story structure. Through their devoted volunteerism, the couple became Tzu Chi commissioners and were certified by Master Cheng Yen in Taiwan.
Edison, a member of Tzu Chi's Faith Corps, cannot forget one of his first assignments: flying to Leyte in 2013 to offer comfort and relief to Typhoon Yolanda victims. That's where he came upon this life-changing realization—poor as he was, he could still be of help to others.
"That's why I can't help but get emotional," he says, fighting back his tears. "Tzu Chi continues to give me more than I could ever give them."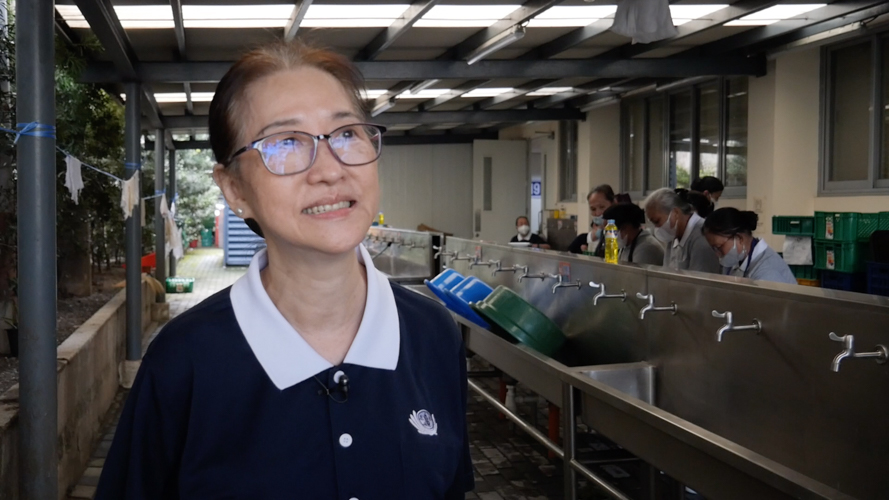 "I choose the simple tasks, the ones I know I can do and that will serve a lot of people," says Tzu Chi volunteer Betty Manabat, who was part of Fiesta Verde 22's dishwashing committee. 【Photo by Jeaneal Dando】
A member of Fiesta Verde '22's traffic group, Edison Hina guided guests on where to part—often under the sun's scorching heat or during a cold downpour. 【Photo by Jeaneal Dando】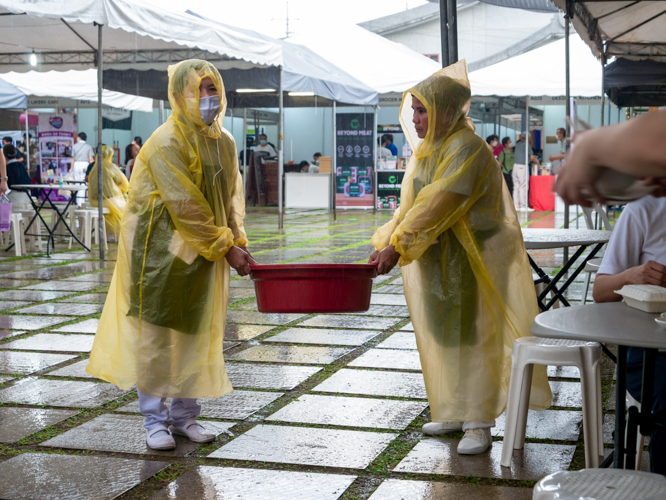 Rain or shine, volunteers diligently collected used plates, utensils, and glasses used by guests at Fiesta Verde '22. 【Photo by Daniel Lazar】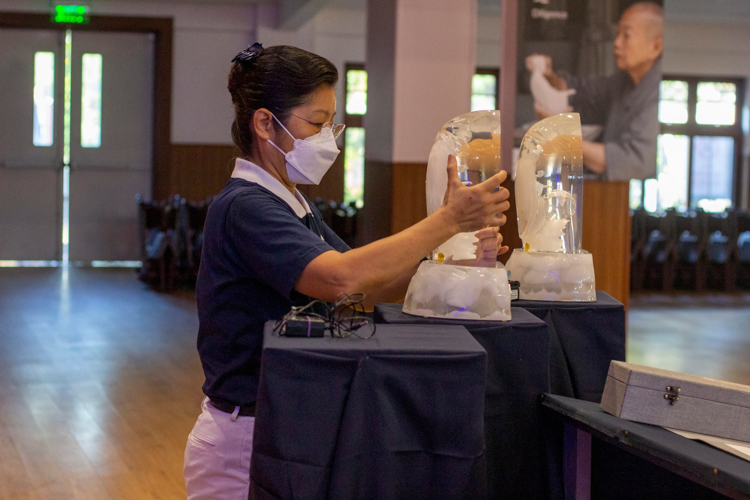 A volunteer places a crystal Buddha on a stand at the Jing Si Auditorium. 【Photo by Matt Serrano】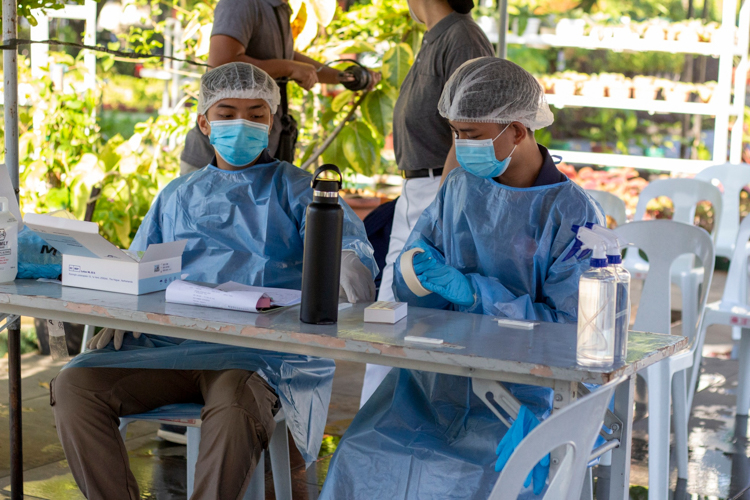 Volunteers assist in the rapid antigen swabbing of Tzu Chi staff. 【Photo by Matt Serrano】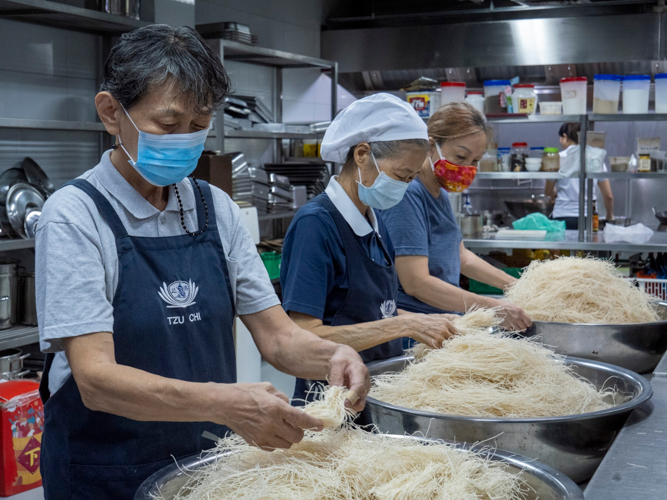 On their feet all day, kitchen volunteers prepare ingredients for vegetarian food to sell in Fiesta Verde '22. 【Photo by Matt Serrano】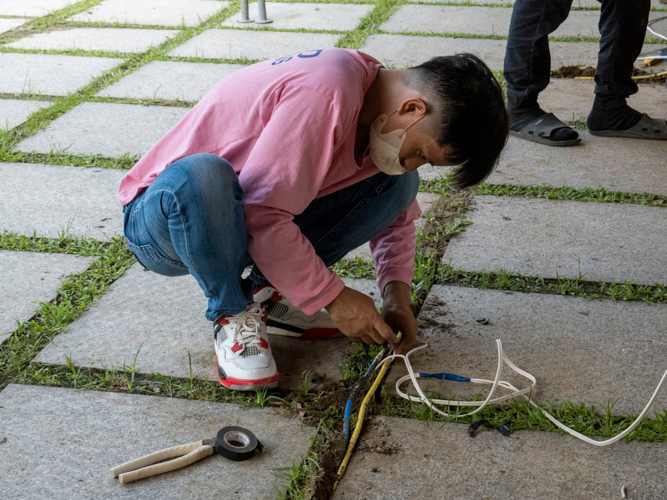 A volunteer embeds wires on the ground to provide electricity for the bazaar's outdoor setup【Photo by Matt Serrano】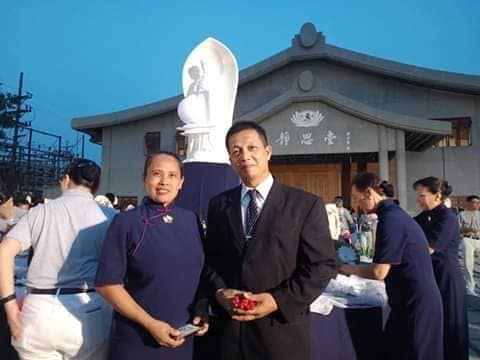 From Tzu Chi's Typhoon Ondoy beneficaries to Tzu Chi commissioners: Heidi and Edison Hina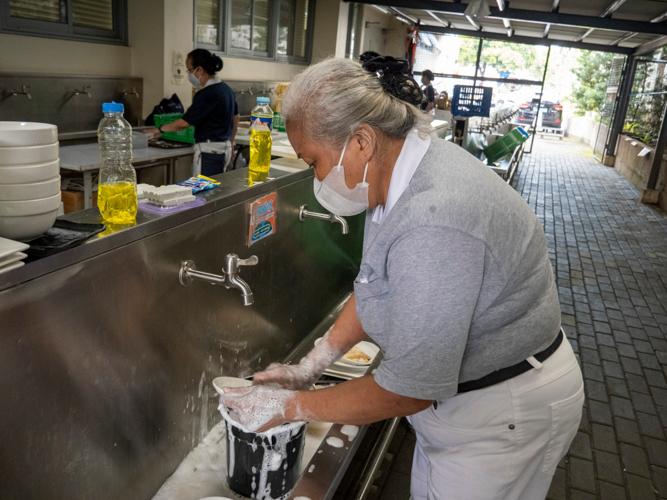 The members of Fiesta Verde's dishwashing group are the first persons in and last persons out of the two-day event.【Photo by Matt Serrano】
Go Back