Iloilo students find hope through Tzu Chi scholarship
22 new college students passed the Tzu Chi scholarship application; Jowelyn and Patricia shared their stories of struggles and gratitude as new Tzu Chi scholars.
By Ben Baquilod
Twenty-two college students from Iloilo have been granted scholarships by the Tzu Chi Foundation, following a series of home visits and panel interviews on August 12 and 13, led by Tzu Chi Manila volunteers.
Volunteers were divided into eight groups to visit 28 applicants from 18 municipalities in Iloilo province. With the assistance of volunteers from Red Cross Youth Iloilo and Iloilo Scholastic Academy, Tzu Chi volunteers traveled to various locations including Iloilo City, Oton, Tubungan, Guimbal, Miag-ao, San Joaquin, San Miguel, Tigbauan, Pavia, Sta. Barbara, Cabatuan, Maasin, Badiangan, Pototan, Mina, Dingle, and Barotac Viejo.
Among the promising Tzu Chi scholarship candidates is Jowelyn Joy Prion, a 19-year-old BS Community Development student. Jowelyn's excitement was palpable as Tzu Chi volunteers visited her home in Brgy. Jelicuon, Montinola, Cabatuan. She lives with her grandmother, Nelida, 68, who raised her solely since birth. Tragically, Jowelyn's father passed away prior to her birth, and her mother abandoned her at the hospital after she was born, leaving her under her grandmother's care.
From a young age, Jowelyn has witnessed her grandmother's hardships and sacrifices to raise her and ensure her education. Despite old age, her grandmother continues to work multiple jobs, from farming to laundry work and babysitting. Despite the financial struggles, Jowelyn feels fortunate to be supported and loved by her grandmother, which has helped her to be a consistent honor student from elementary through high school.
Although their daily meals often consisted of dried fish, canned sardines or eggs, Jowelyn maintains a positive outlook. "My grandmother never complains, and I follow her example. I'm grateful that we have food to eat every day," she said.
Jowelyn speaks of her grandmother with utmost respect and admiration, recognizing her as both a mother and a father figure in her life. Her aspiration to become a Tzu Chi scholar is driven by her desire to ease her grandmother's burdens, especially as she enters her later years.
Jowelyn dreams of having a stable job and earn money to repair their home and provide for her grandmother's needs and wants. "I want to take her to the city so she can enjoy meals at restaurants and have whatever she likes," she shared. "I want to pamper her as a way to repay her kindness and sacrifices."
Through tears, Jowelyn said, "As she becomes older and weaker, I want to be the one taking care of her. I know how much she loves me."
Patricia Deardra Parreño shares a similar motivation to better her family's life. Patricia, who studies Bachelor of Technology and Livelihood Education in Home Economics, aims to support her parents and five brothers. With her father working as a farmer and her mother as a part-time housekeeper, their monthly income amounts to Php 8,000.
To augment the family's income and fund her college education, Patricia works part-time in a mall, serving as an attendant at a food and clothing store. "It's hard and physically draining. It's also taking a toll on my mental well-being," she confessed
"I aspire to be a Tzu Chi scholar so that I can help my parents. I also want to stop working so I can focus on my studies," said Patricia.
Speaking about her mother, who has been unwell for over two weeks due to presumed exhaustion from work, Patricia struggled to hold back her emotions. When Tzu Chi volunteers offered support and financial assistance for her mother's medical checkup, she was overwhelmed with gratitude, tears welling up for their kind gesture.
"I was deeply moved. I didn't expect their help to be this way. They really touch the hearts of those they want to help," she exclaimed. "We've never experienced such generosity before."
Patricia's elation escalated further when she learned that she passed her application to become a Tzu Chi scholar. "Today is a dream come true. Thank you, Tzu Chi Foundation. I will never forget this," she said.
Much like Patricia, Jowelyn's eyes glistened with tears of joy as Tzu Chi volunteers welcomed her into the scholarship program. "Thank you for this Tzu Chi scholarship. I will do my best and ensure that I make the most of this opportunity."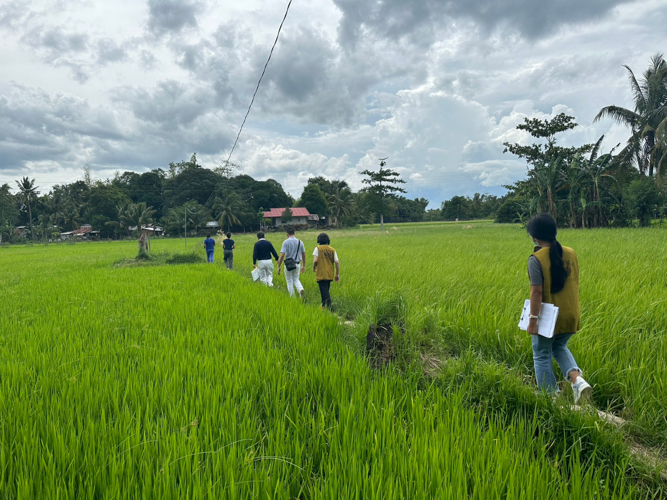 During a home visit, Tzu Chi volunteers traverse through rice fields to reach the residence of scholarship applicant in Sta. Barbara, Iloilo. 【Photo by Harold Alzaga】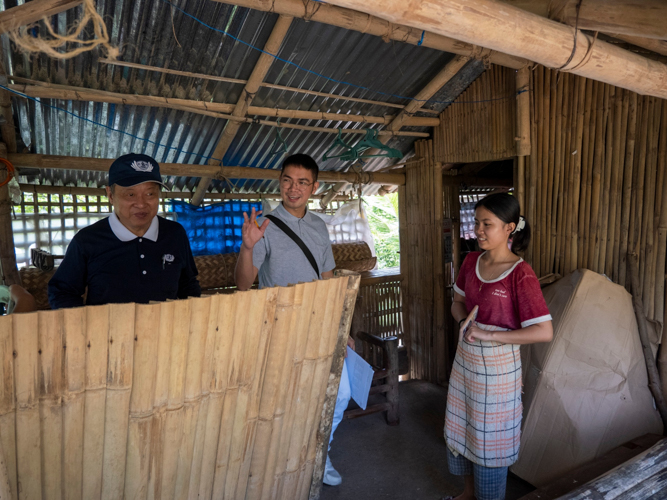 Jowelyn Joy Prion (rightmost) warmly welcomes Tzu Chi volunteers into her home in Brgy. Jelicuon, Montinola, Cabatuan, Iloilo. 【Photo by Harold Alzaga】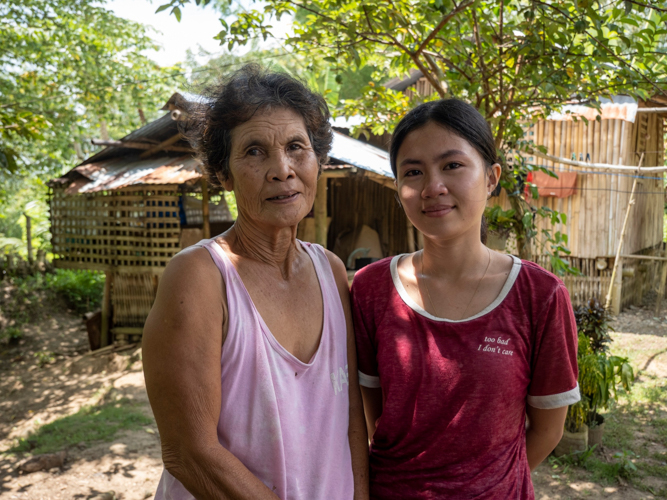 Orphaned at birth, Jowelyn Joy Prion lives under the care of her grandmother, Nelida, 68, who works multiple jobs, including farming, laundry work, and babysitting to provide for her needs. 【Photo by Harold Alzaga】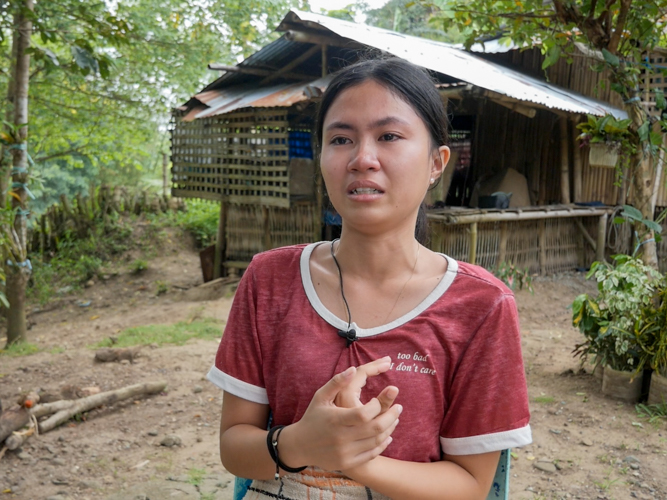 "I want to take her to the city so she can enjoy meals at restaurants and have whatever she likes," Jowelyn Joy Prion says of her grandmother. "I want to pamper her as a way to repay her kindness and sacrifices." 【Photo by Harold Alzaga】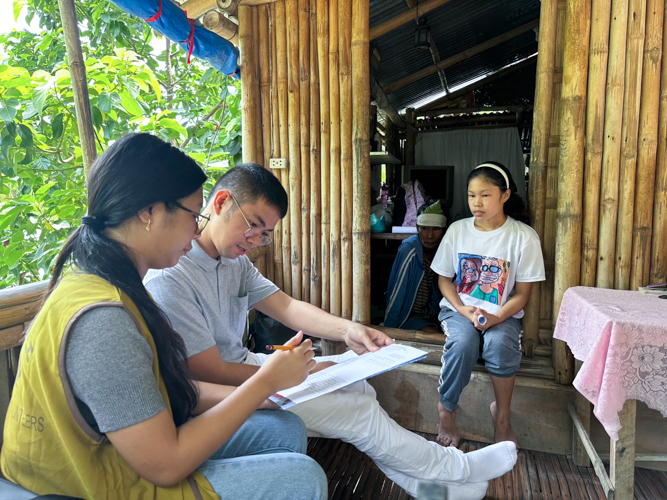 Tzu Chi volunteers conduct a home visit interview with scholarship applicant Patricia Deardra Parreño, who resides in Brgy. Inaca, Cabatuan, Iloilo. 【Photo by Harold Alzaga】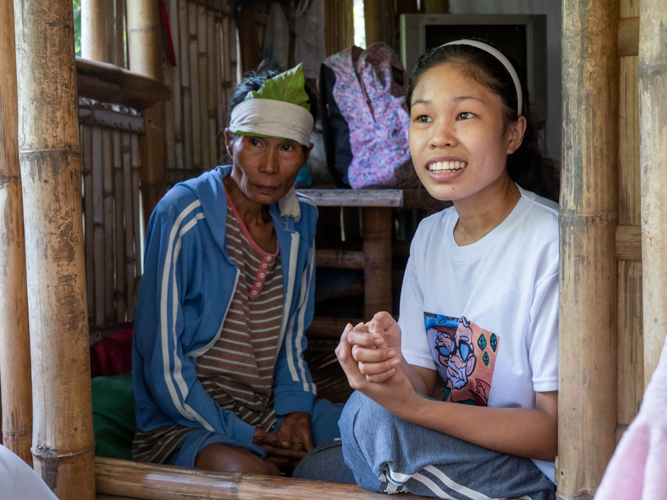 Tzu Chi volunteers speak with Patricia Deardra Parreño and her mother Felipa, who has been unwell for over two weeks presumably due to exhaustion from work. 【Photo by Harold Alzaga】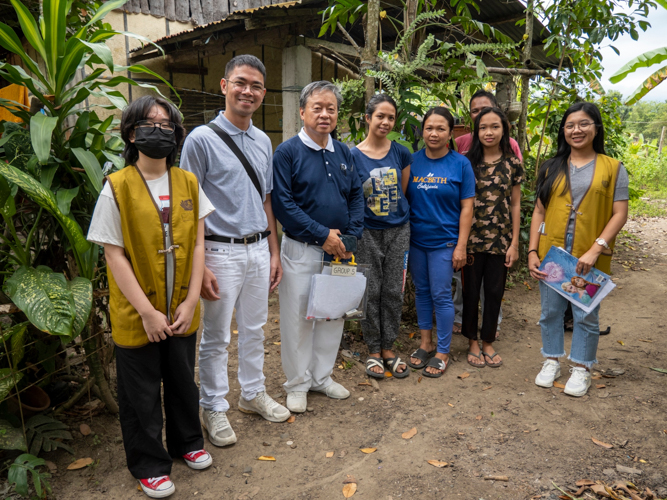 Tzu Chi volunteers take a photo with scholarship applicant Ireca Alcarioto and her family during a home visit to their residence in Bagumbayan, Sta. Barbara, Iloilo. 【Photo by Harold Alzaga】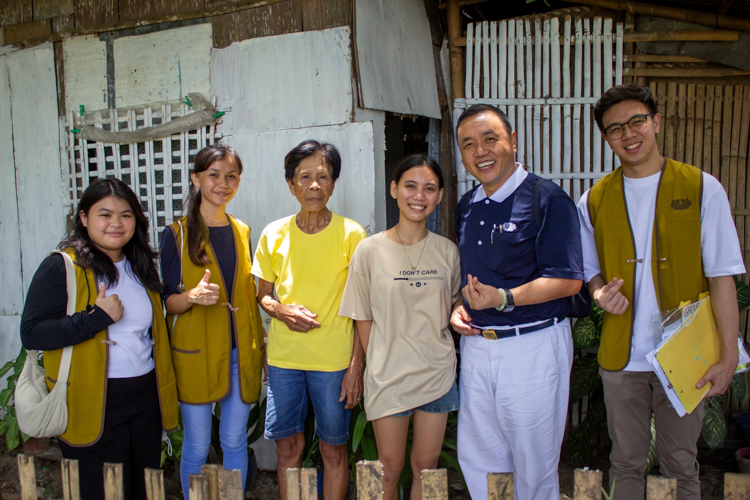 Tzu Chi volunteers take a photo with scholarship applicant Shane Capaque and her family during a home visit to their residence in Sta. Clara, Oton, Iloilo. 【Photo by Marella Saldonido】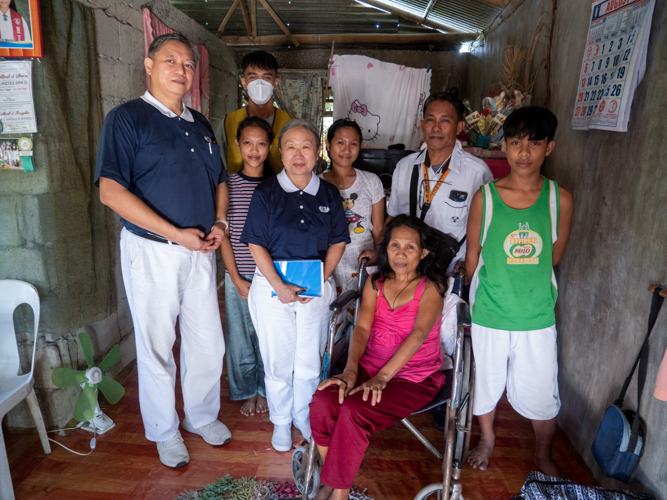 Tzu Chi volunteers take a photo with scholarship applicant Nicole Ann Efondo and her family during a home visit to their residence in Pototan, Iloilo. 【Photo by Matt Serrano】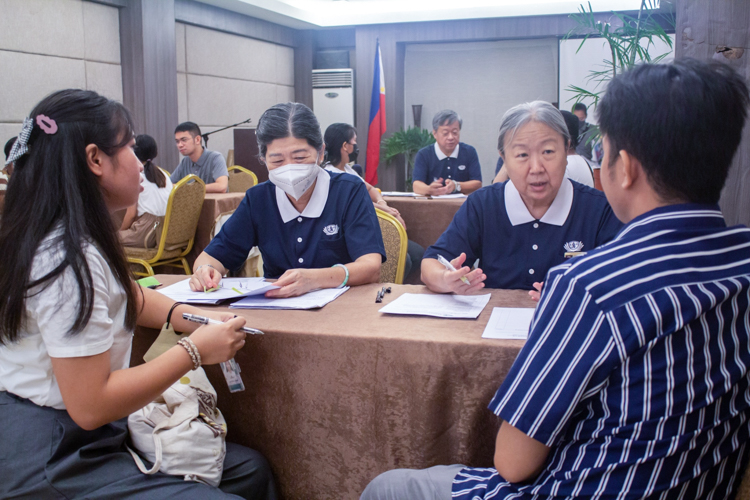 The day following the home visits, applicants are invited for the final panel interviews. 【Photo by Marella Saldonido】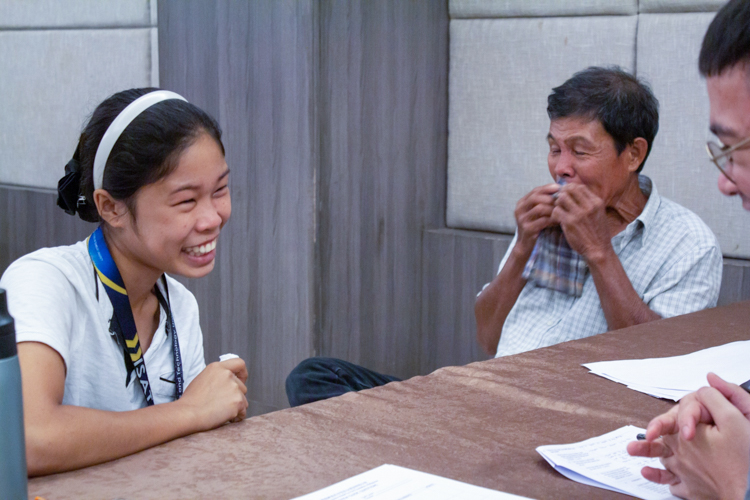 Upon learning of her successful application to become a Tzu Chi scholar, Patricia Deardra Parreño and her father, Jimmy, shed tears of joy. 【Photo by Marella Saldonido】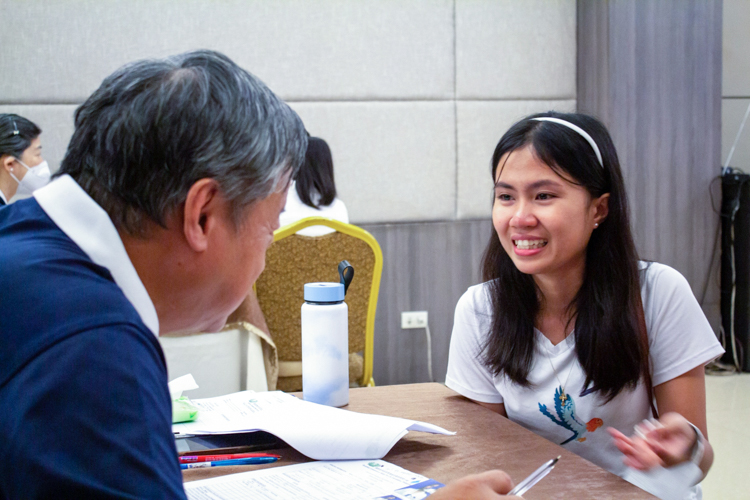 Jowelyn Joy Prion undergoes a final panel interview and was proclaimed Tzu Chi scholar shortly after. "Thank you for this Tzu Chi scholarship. I will do my best and ensure that I make the most of this opportunity," she says. 【Photo by Marella Saldonido】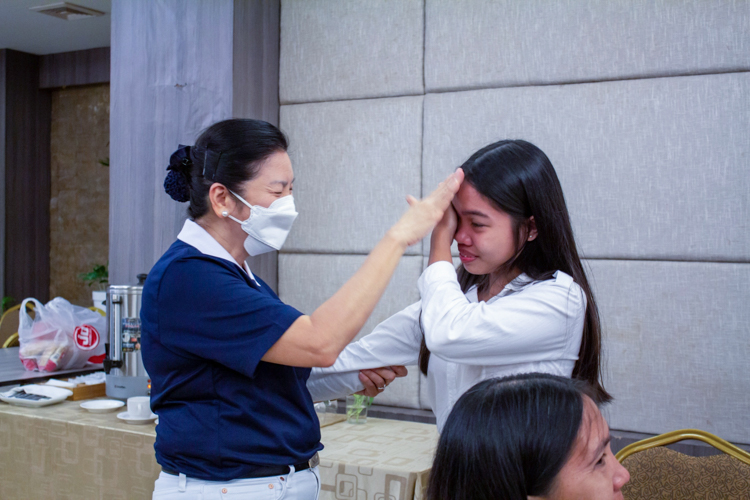 Tzu Chi Education Committee head volunteer Rosa So congratulates and comforts a new Tzu Chi scholar. 【Photo by Marella Saldonido】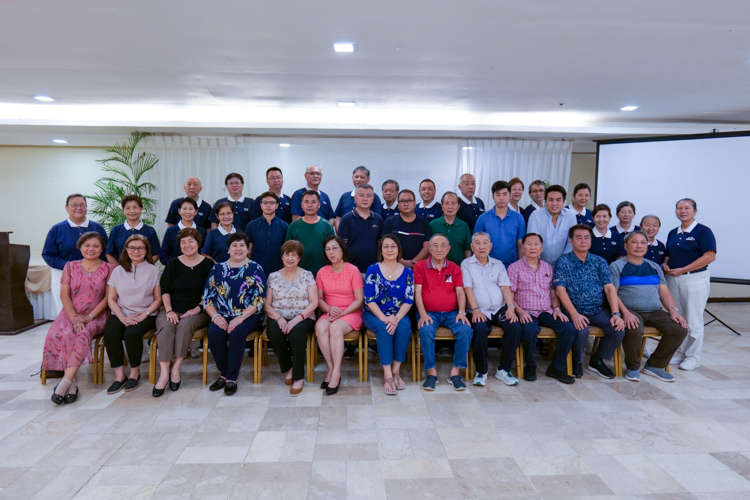 Prior to the two-day home visits and panel interviews, volunteers from Manila and Iloilo come together for a tea party aimed at garnering support for their educational assistance program in Iloilo. 【Photo by Matt Serrano】
Go Back