Tzu Chi spreads love and care at Davao surgical mission
30 patients benefited from free surgery on goiter and hernia at the Lanang Premiere Doctors Hospital.
By Ben Baquilod
Tzu Chi Foundation Philippines held a surgical mission on July 20 and 21 at the Lanang Premiere Doctors Hospital as part of its three-day medical mission in Davao City.
Led by Tzu Chi Zamboanga and the Tzu Chi International Medical Association (TIMA)—with the help and assistance of volunteers from Davao, Manila, and Cebu—31 surgical operations on goiter and hernia were successfully performed. "Everybody is so happy to help our brothers and sisters here in Davao. To be able to work together with our TIMA volunteers is such a wonderful experience," said Dr. Anton Mari Lim, Tzu Chi Zamboanga Coordinator.
Reflecting Tzu Chi's commitment to delivering excellent and compassionate service, volunteers worked two months to prepare for the medical mission. Patient screening started on June 13 and lasted until the night before the surgery. Tzu Chi volunteers also went above and beyond by covering the expenses for all required laboratory tests. "Master Cheng Yen always told us to be very careful every time we go on surgical missions. So, even if it is a free mission, we have to make sure it's the same thing that they'll go through if they go to a private hospital," Dr. Anton added.
In addition to providing all services free of charge, Tzu Chi volunteers are renowned for their dedication to prioritizing patient care and well-being, attracting kind-hearted individuals from all walks of life.
"It's really different with Tzu Chi. Everything is organized. It amazes me," expressed Roxanne Ruby Siason, a volunteer of 10 years from General Santos City. As a registered nurse from the Department of Health, she embarked on her first Tzu Chi medical mission in her hometown back in February 2013, and since then, she has been an active participant in Tzu Chi Zamboanga's subsequent missions in Mindanao.
At the Post-Anesthesia Care Unit (PACU), Roxanne's tasks include monitoring patients' vital signs, administering post-operation medications, and attentively addressing any concerns they may have before transitioning them to the ward. "In Tzu Chi, there really is a touch of care with our patients," Roxanne added. "It's tiring, but it makes me happy. And when they say thank you, it humbles me."
The same spirit of great love and care was what made the surgical mission life-changing for Nathaniel Glenn Gupana, a 22-year-old Multimedia Arts student from the University of Mindanao who applied for a free hernia surgery.
Nathaniel's family had faced financial hardships due to his mother's critical condition from COVID-19 in May 2021, which resulted in a hospital bill exceeding a million pesos and incurred debts. Consequently, they couldn't afford the hernia surgery Nathaniel needed.
His condition not only affected his physical health but also impacted his passion for filmmaking, as it hindered his ability to handle camera equipment, causing frustration and disappointment. "My biggest challenge is that it affects my passion. It saddens me because it affects my performance."
As the final screening approached the night before the surgery, Nathaniel found solace in prayer, repeatedly expressing his heartfelt desire to undergo the surgery, even more than winning any filmmaking contests.
The next day, after hours of patiently waiting for his turn in the operating room, and a 30-minute surgical procedure, his prayer was finally answered.
"I was really not expecting this kind of service. I am very impressed and proud of Tzu Chi because you don't only help people, you also inspire them to persevere in life. You give opportunity to everyone," he marveled.
Equally touched by the support provided by Tzu Chi was Rizza Ramos Arboleda, a 40-year-old housewife and mother of three, whose husband works as a driver. When she was diagnosed with goiter in 2020, she felt disheartened as their financial situation made it impossible to afford an operation at a private hospital.
However, her spirits were lifted when she qualified for Tzu Chi's free surgery. Filled with overwhelming gratitude, tears welled up in her eyes as she exclaimed, "I'm truly happy. Thank you so much." The opportunity to undergo the surgery without any financial burden brought immense joy and relief to her heart.
The closing program on July 21 was a heartwarming affair where Tzu Chi Zamboanga volunteers expressed their appreciation to the patients and their families. Breakfast was served, and souvenirs, including red angpao blessed by the Tzu Chi founder herself, Dharma Master Cheng Yen, were offered as tokens of love and blessings. TIMA doctors and volunteers diligently followed up with checkups, provided recovery medical advice, and addressed all the concerns of the patients and their families.
With smile on their faces and love in their hearts, Tzu Chi volunteers thanked the patients for giving them the opportunity to serve. In a heartwarming exchange, the patients responded with even more gratitude, reflecting the deep connection and impact of Tzu Chi's compassionate work.
"I'm very happy that I became a part of Tzu Chi Foundation. I see them now as my family," Nathaniel said.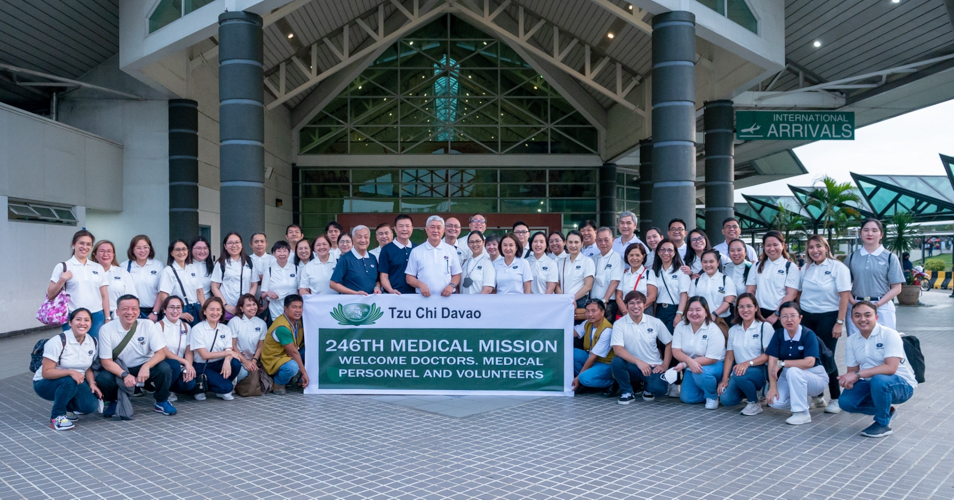 Tzu Chi International Medical Association (TIMA) doctors arrive at the Davao International Airport on July 19. 【Photo by Daniel Lazar】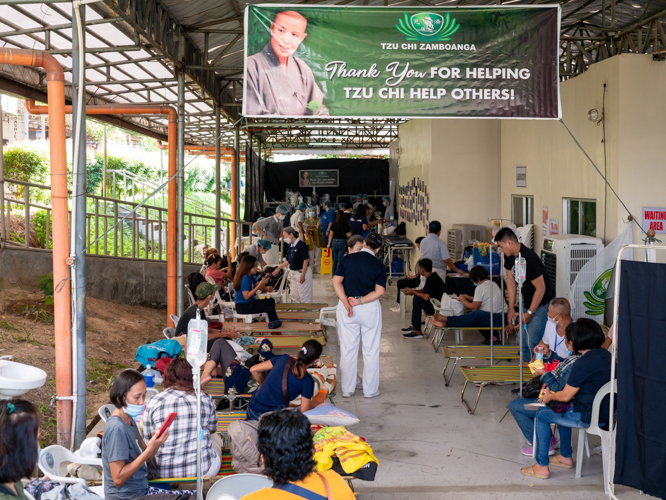 The triage and isolation facility of Lanang Premiere Doctors Hospital in Davao City serve as the venue for the surgical mission. 【Photo by Daniel Lazar】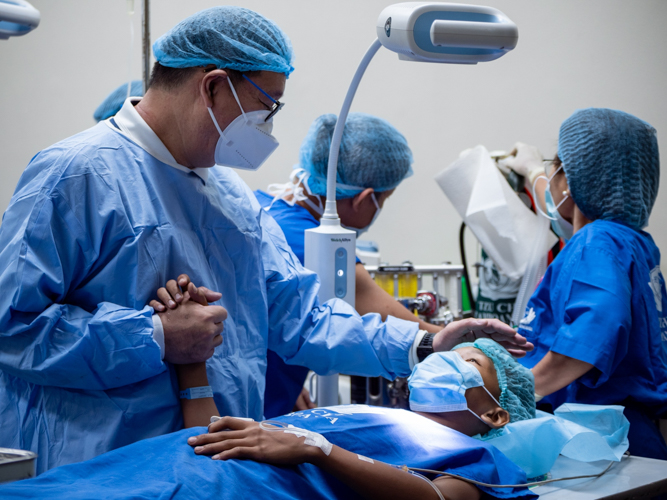 Dr. Anton Mari Lim, Tzu Chi Zamboanga Coordinator holds a teenage patient's hand as he looks after him before his surgery. 【Photo by Daniel Lazar】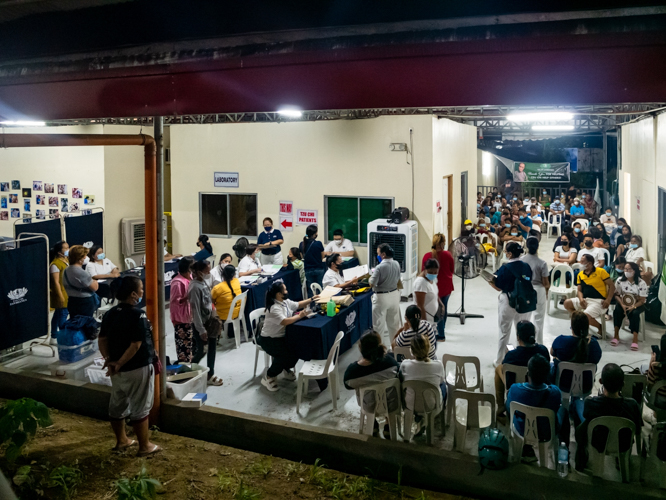 Final screening of patients lasted late at night on July 19 before the day of surgery. 【Photo by Daniel Lazar】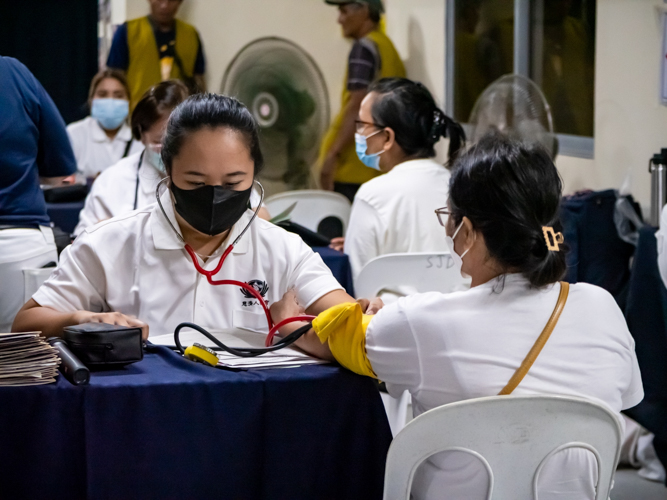 TIMA doctors conduct final screening of patients. 【Photo by Daniel Lazar】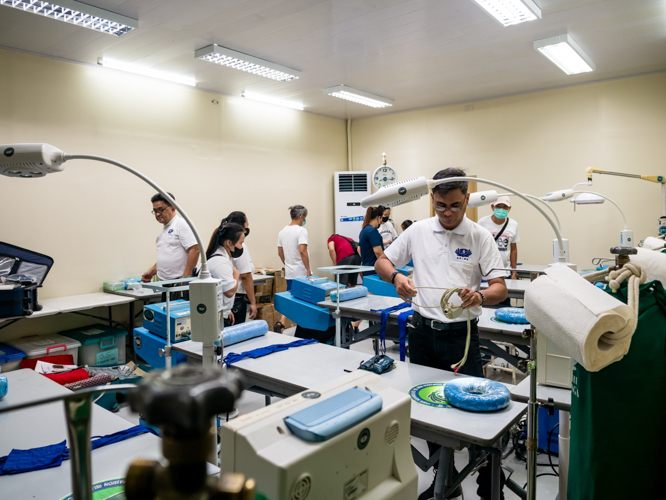 Tzu Chi Zamboanga volunteers and TIMA doctors set up the operating room the night before the surgery. 【Photo by Daniel Lazar】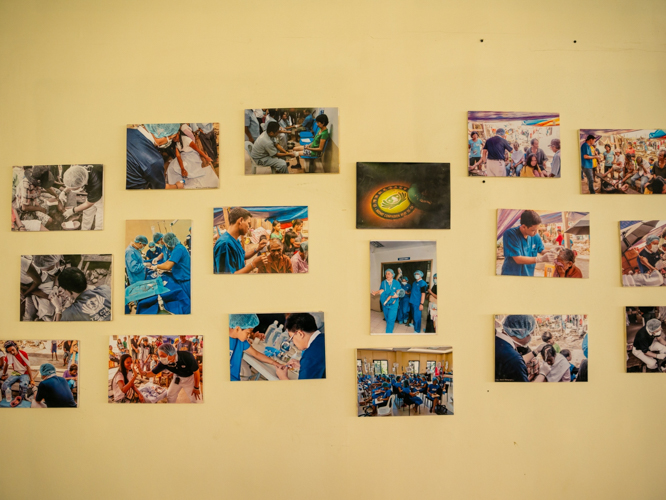 A photo exhibit of Tzu Chi's past medical missions is seen along the hallway. 【Photo by Daniel Lazar】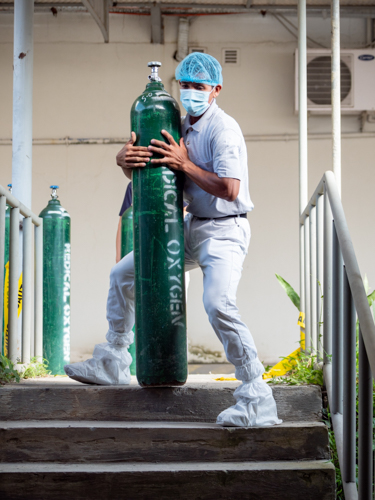 Tzu Chi Zamboanga volunteer Rosaleo Enricoso lifts an oxygen tank to the operating room. 【Photo by Daniel Lazar】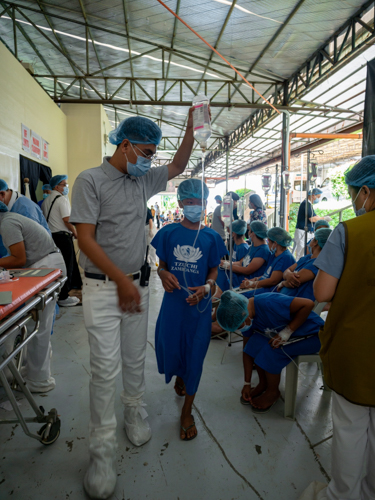 Tzu Chi Zamboanga volunteer Aldizhar Abdulaup guides patient to the waiting area. 【Photo by Daniel Lazar】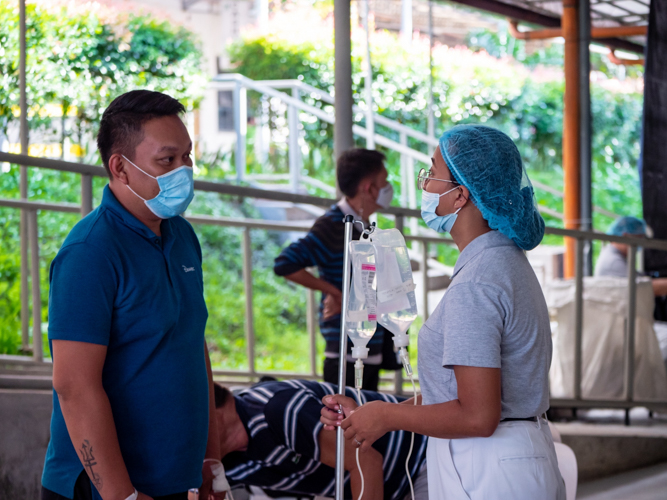 Tzu Chi Zamboanga volunteer Lisiel Bacayo addresses a patient's concern at the holding area. 【Photo by Daniel Lazar】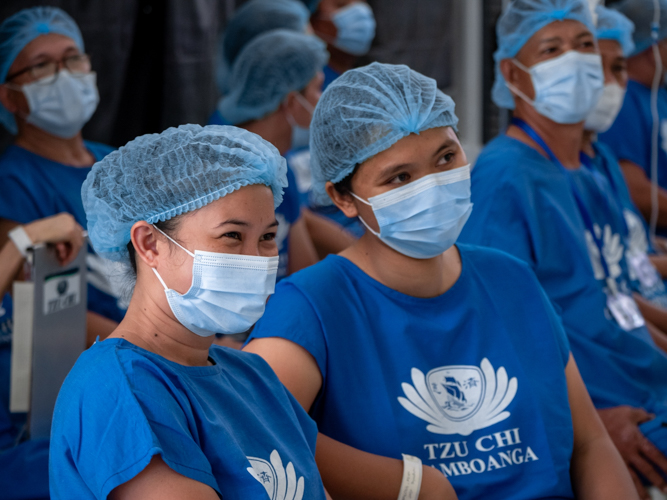 Patients happily wait their turn outside the operating room. 【Photo by Daniel Lazar】
Unable to afford an operation for her goiter removal at a private hospital, Rizza Ramos Arboleda, 40-year-old housewife and a mother of three, expressed her gratitude to Tzu Chi for her free surgery. "I'm truly happy. Thank you so much." 【Photo by Daniel Lazar】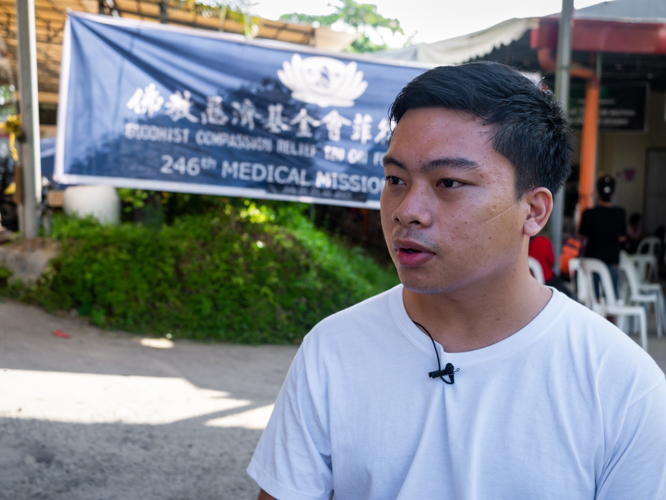 "I was really not expecting this kind of service. I am very impressed and proud of Tzu Chi because you don't only help people, you also inspire them to persevere in life. You give opportunity for everyone," marvels Nathaniel Glenn Gupana, a 22-year-old Multimedia Arts student from the University of Mindanao who availed of free hernia surgery at Tzu Chi's surgical mission. 【Photo by Daniel Lazar】
Nathaniel Glenn Gupana strikes a pose while waiting for his turn in the operating room. 【Photo by Daniel Lazar】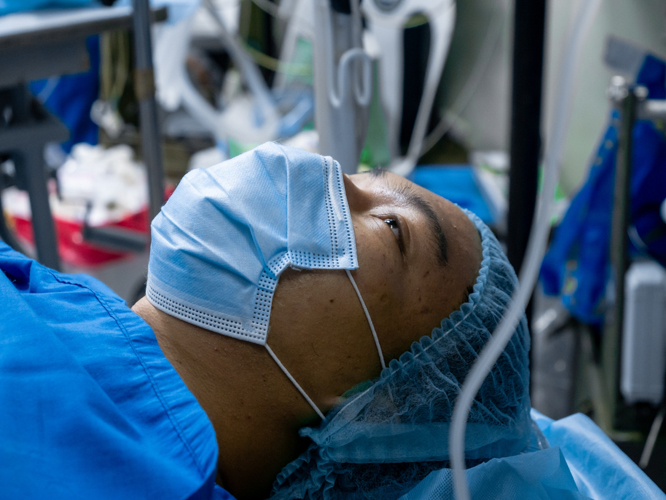 On the final screening the night before the surgery, Nathaniel Glenn Gupana had one prayer: "It's fine even if I don't win my filmmaking contests, as long as I win this surgery." 【Photo by Daniel Lazar】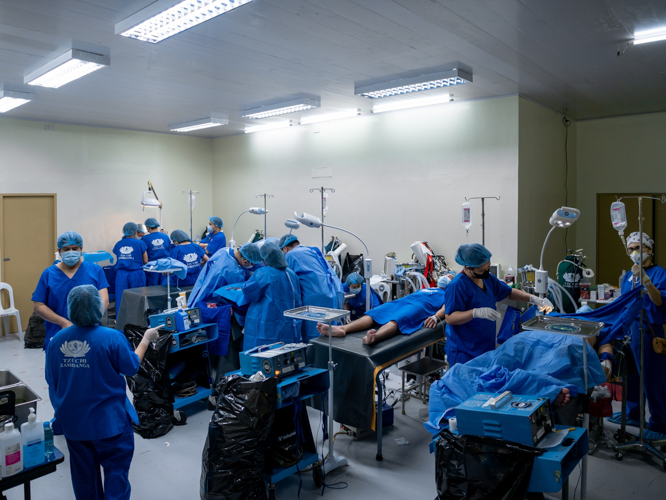 TIMA doctors perform goiter and hernia removal surgery inside the operating room. 【Photo by Daniel Lazar】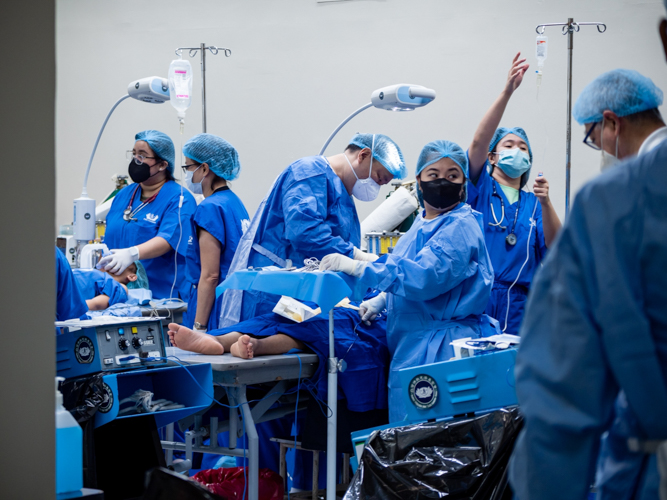 TIMA doctors perform goiter and hernia removal surgery inside the operating room. 【Photo by Daniel Lazar】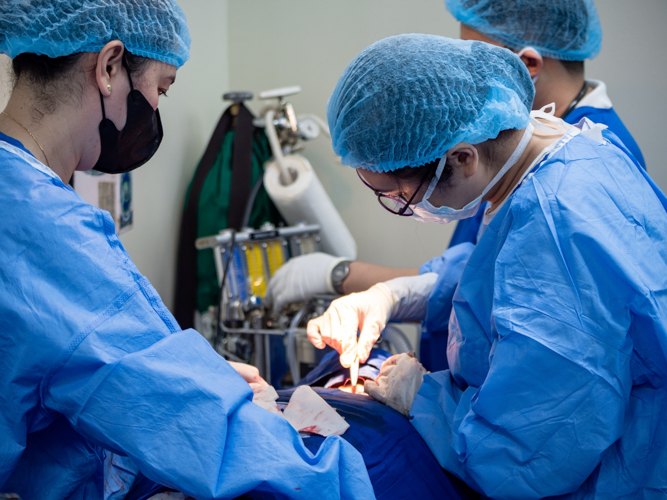 TIMA doctors perform goiter and hernia removal surgery inside the operating room. 【Photo by Daniel Lazar】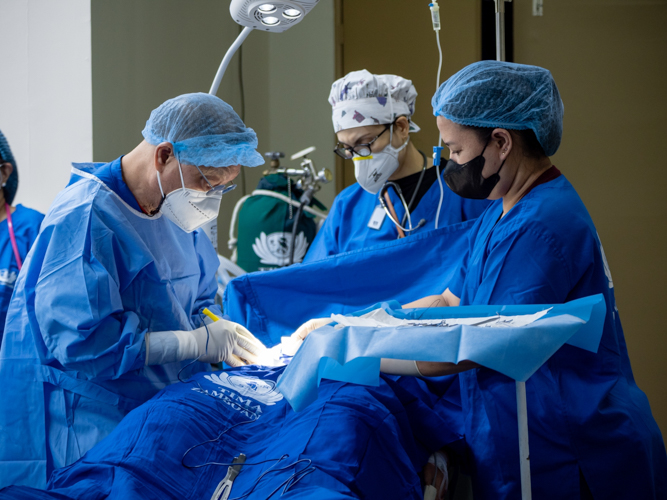 TIMA doctors perform goiter and hernia removal surgery inside the operating room. 【Photo by Daniel Lazar】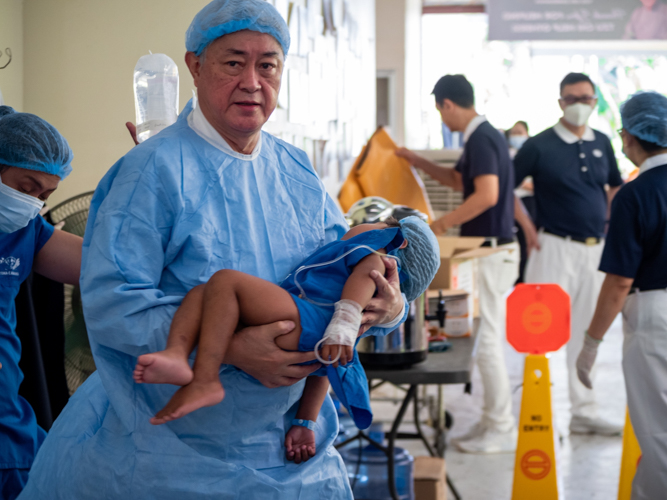 TIMA pioneer Dr. Jo Qua carries a child patient from the operating room to the Post-Anesthesia Care Unit. 【Photo by Daniel Lazar】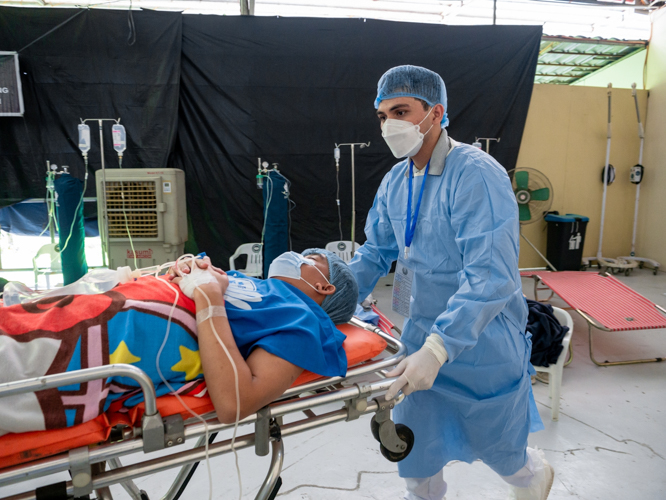 Tzu Chi Zamboanga volunteer Brian Pioquinto carries a patient to the Post-Anesthesia Care Unit. 【Photo by Daniel Lazar】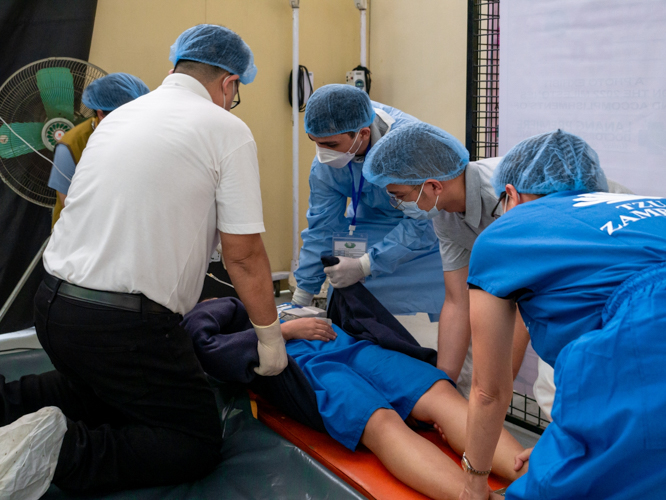 Tzu Chi volunteers work together to transfer a patient to the Post-Anesthesia Care Unit. 【Photo by Daniel Lazar】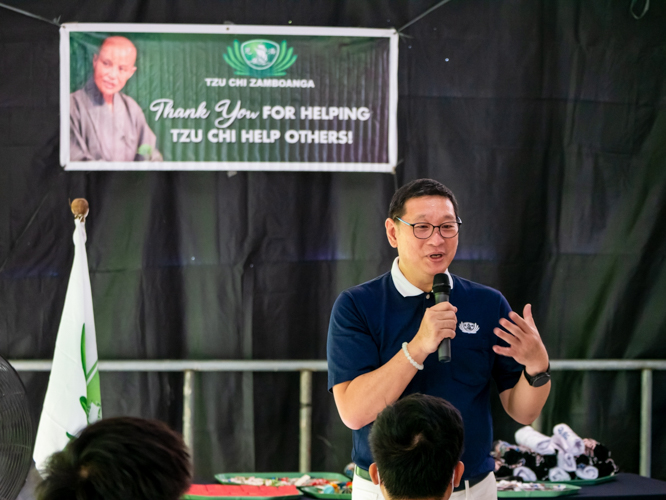 Tzu Chi Zamboanga Coordinator Dr. Anton Mari Lim leads the closing program on July 21 to express appreciation to the patients and their families. 【Photo by Daniel Lazar】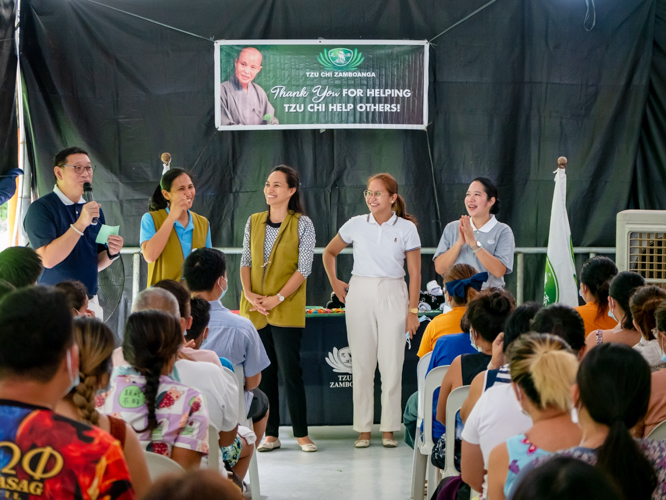 Dr. Anton Mari Lim acknowledges nurses and volunteers at the closing program. 【Photo by Daniel Lazar】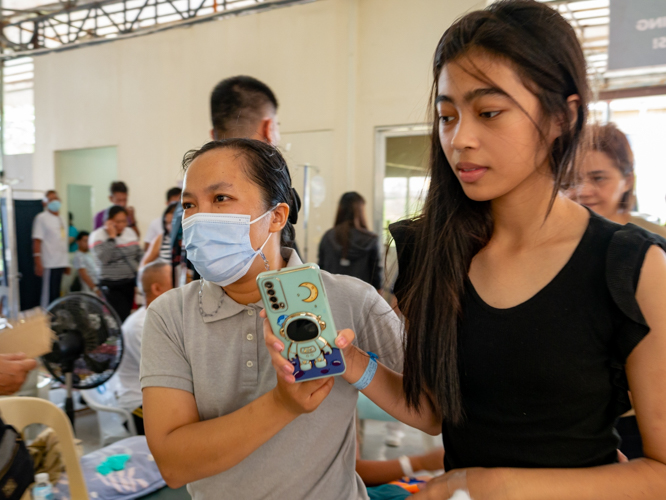 "In Tzu Chi, there really is a touch of care with our patients," says, Roxanne Ruby Siason (left), a nurse and a Tzu Chi volunteer of 10 years from General Santos City. "It's tiring, but it makes me happy. And when they say thank you, it humbles me." 【Photo by Daniel Lazar】
Tzu Chi volunteer Kristal Casiple takes care of a patient at the holding area. 【Photo by Daniel Lazar】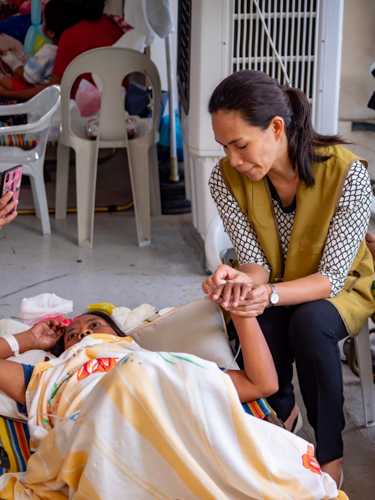 A volunteer nurse checks in on a patient a day after the surgery. 【Photo by Daniel Lazar】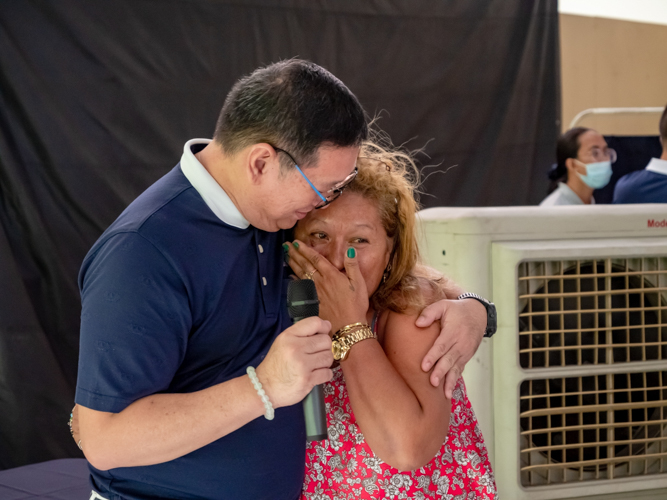 Dr. Anton Mari Lim comforts a mother of the patient as she expressed gratitude to Tzu Chi volunteers. 【Photo by Daniel Lazar】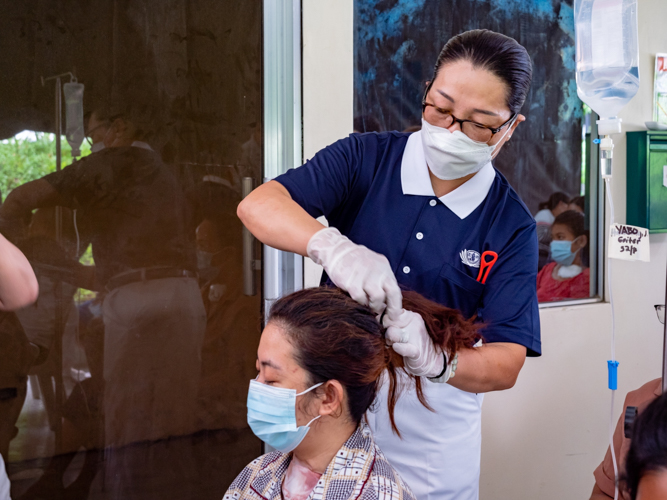 Tzu Chi Zamboanga volunteer Shan Ling Wang looks after a patient and helps tie her hair. 【Photo by Daniel Lazar】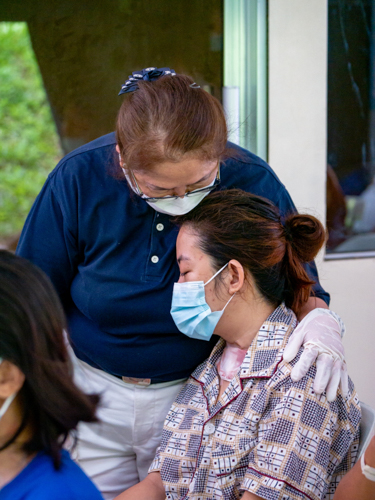 Tzu Chi Zamboanga volunteer Cresencia Te checks in on a patient. 【Photo by Daniel Lazar】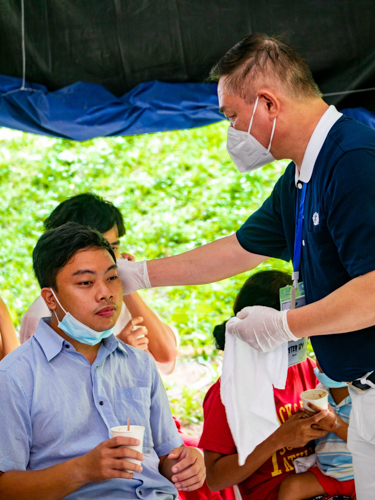 Tzu Chi volunteer wipes patient Nathaniel Glenn Gupana's face with a clean towel. 【Photo by Daniel Lazar】
Tzu Chi Zamboanga volunteer Harvey Yap offers a patient a red angpao blessed by the Tzu Chi founder herself, Dharma Master Cheng Yen. 【Photo by Daniel Lazar】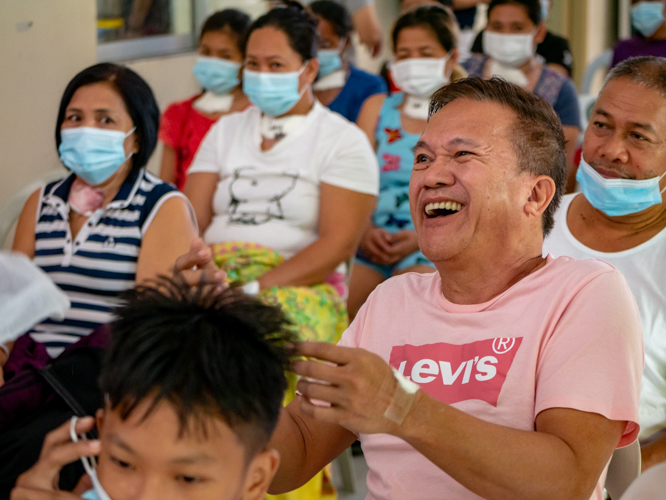 A patient cracks a big smile as he interacts with a Tzu Chi volunteer. 【Photo by Daniel Lazar】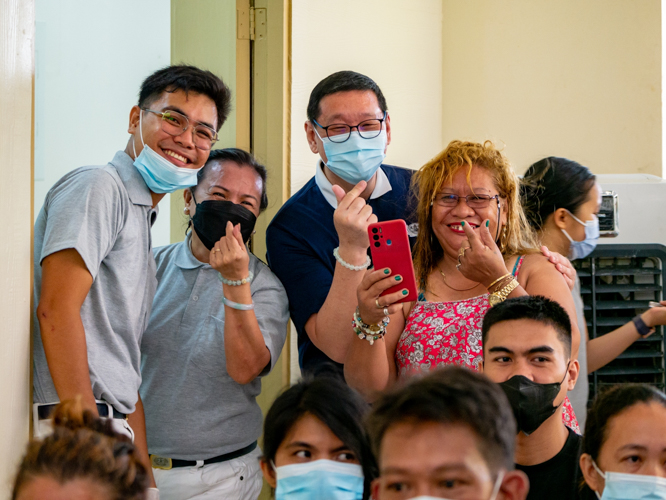 A mother of a patient (rightmost) happily poses for a photo with Tzu Chi Zamboanga volunteers. 【Photo by Daniel Lazar】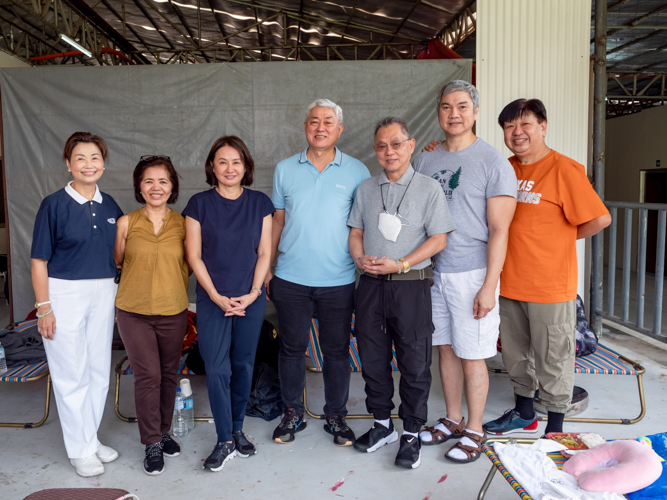 TIMA doctors with Tzu Chi volunteer Molita Chua (leftmost). 【Photo by Daniel Lazar】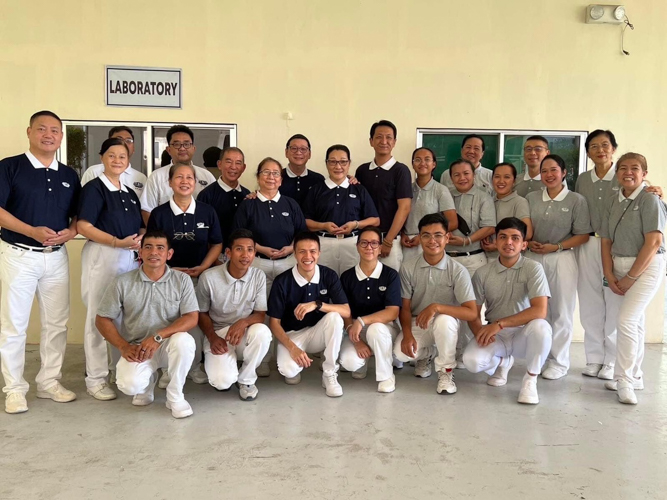 Tzu Chi Zamboanga volunteers take a group photo with Davao volunteers. 【Photo by Tzu Chi Zamboanga】
Go Back