Familiar and new faces at 3 steps and 1 bow for Tzu Chi's 28th anniversary
The ritual symbolizes a pilgrimage, an invitation to immerse in kindness
By Joy Rojas
Relaxed pandemic rules allowed a sizeable group of Tzu Chi volunteers to mark Tzu Chi Philippines' 28th anniversary with the solemn 3 steps and 1 bow ceremony held on the early morning of November 13 at the Buddhist Tzu Chi Campus in Sta. Mesa, Manila.
Standing in formation facing the Jing Si Auditorium and guided by a Buddhist chant and the crisp ding of a bell, Tzu Chi commissioners, the doctors of TIMA (Tzu Chi International Medical Association), members of the Faith Corps, Apprentices, Donors, TC Youth, TC Scholars, employees and staff exercised restraint as they took three steps in unison before bowing in full prostration.
Dharma Masters who addressed volunteers in a talk livestreamed from Hualien, Taiwan, compared the 3 steps and 1 bow ritual to a pilgrimage, an opportunity to invite people to immerse in kindness, and to remove arrogance through the humble act of bowing.
"I'm so glad that I was able to join this one, and it's so nice to see all our brothers and sisters," says Dr. Josefino "Jo" Qua, one of Tzu Chi's earliest members and a co-founder of TIMA. "Having this 3 steps and 1 bow is really our vow to help alleviate the sufferings of our brothers and sisters."
Dr. Qua became part of Tzu Chi through his mother Dionisia, one of Tzu Chi's original members who secured medicine for Chinese General Hospital's charity cases. When he joined in 1995, a year after Tzu Chi Philippines' founding, he spearheaded medical missions for underserved communities all over the country. Despite minimal resources, he and other volunteers saved countless lives, inspiring doctors in Tzu Chi chapters around the world to follow suit.
"To think about what we did 27 years ago," reflects Dr. Qua, "we're so happy we were able to do something for our needy brothers and sisters."
If Dr. Qua has participated in numerous 3 steps and 1 bow ceremonies, Tzu Chi scholar Maven Brences counts this 28th anniversary staging as his first.
"To be honest, it took some getting used to," says Maven, an information technology major at the Polytechnic University of the Philippines (PUP) in Sta. Mesa. "But while doing it, I realized that no matter what our religion is, we can still show respect for other religions. The most important thing is mindset, whoever we worship, and of course, to give importance to those teaching it. What they teach us is a very big part of our lives because it determines what kind of people we are."
Tzu Chi scholar and PUP schoolmate Margo Janelle Ma-ang remembers being curious about the purpose behind 3 steps and 1 bow. "Earlier, they said it's to accept the teachings, no matter who you worship," says the management accounting major. "Besides acceptance, I feel that our bowing represents how we apply the teachings in our lives, how we cherish what we learn and give it value for as long as we live."
Whether they're experiencing Tzu Chi Philippines' anniversary for the first time or 28th time, the well-wishes are one and the same.
"Hope you continue to help more people and give students more wisdom so they can become better citizens," says Maven.
"When I graduate, I hope to come back to Tzu Chi not as a scholar but as someone who can inspire future scholars and help in other Tzu Chi endeavors," says Margo.
Dr. Qua's wishes for Tzu Chi Philippines is "to grow more and more. And we can help more. That's what we're here for. To help others."
"This is our 28th anniversary," says Tzu Chi Philippines CEO Henry Yuňez. "Looking at everyone's involvement in doing all the good deeds for those in need, on behalf of Tzu Chi, I'm very touched and I wish everyone can cultivate all the merits in attaining wisdom and good karma."
With palms together in prayer, volunteers participate in the 3 steps and 1 bow ritual to mark Tzu Chi's 28th year in the Philippines. 【Photo by Daniel Lazar】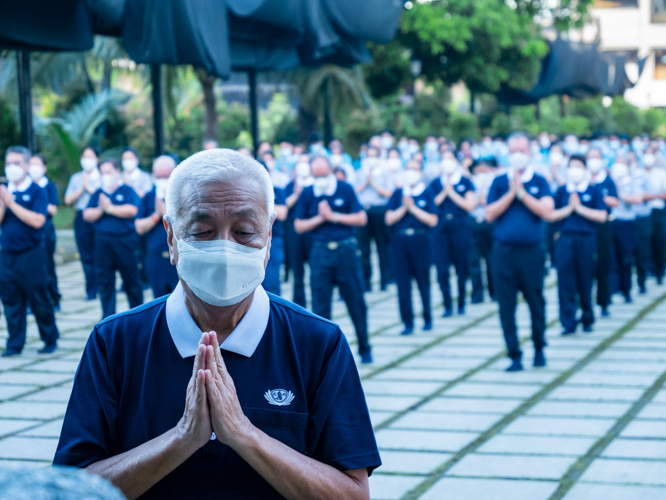 Tzu Chi Philippines CEO Henry Yuňez joins the 3 steps and 1 bow ceremony from the entrance of the Jing Si Auditorium.【Photo by Daniel Lazar】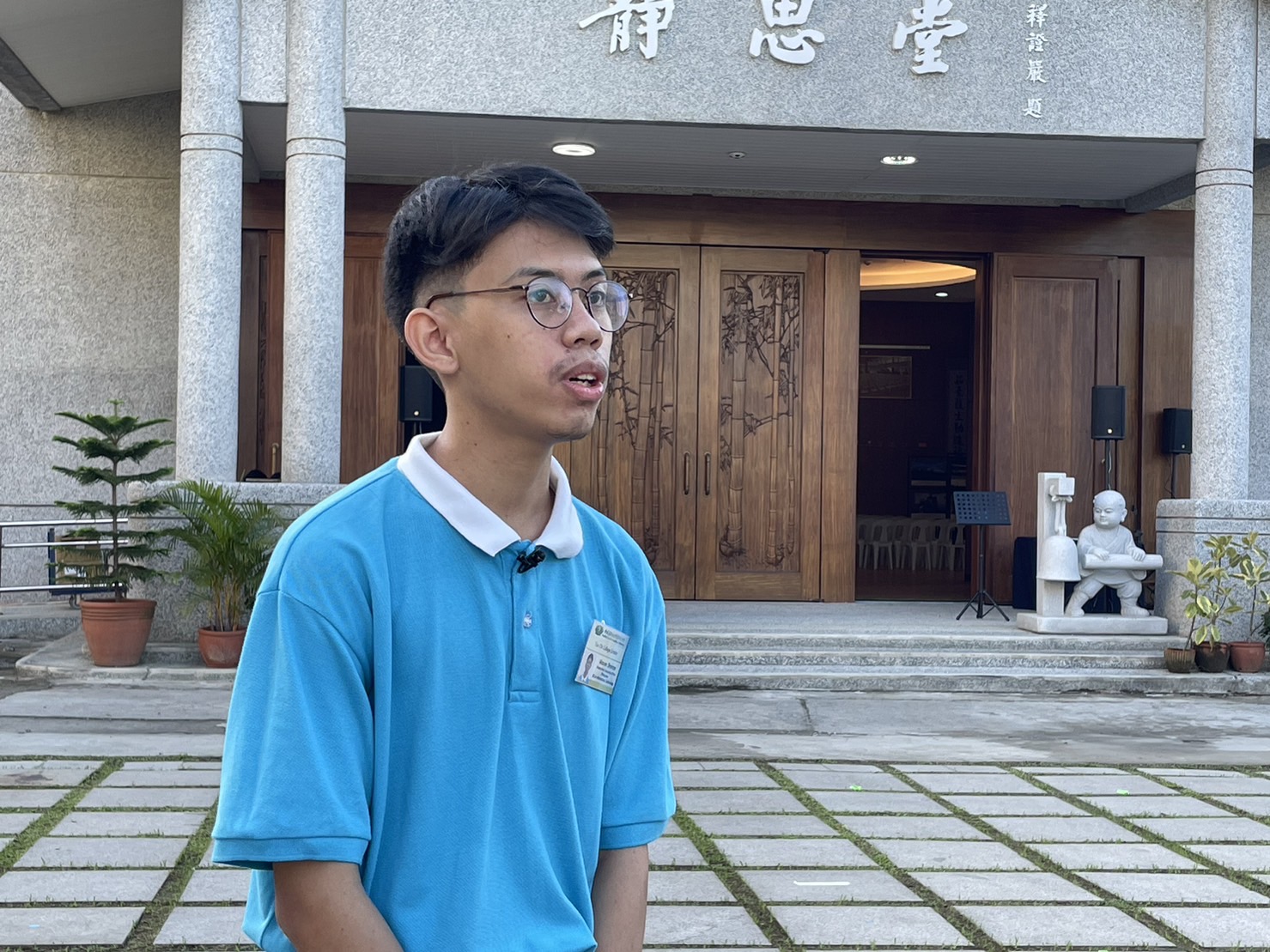 Tzu Chi scholar Maven Brences on his first 3 steps and 1 bow experience: "While doing it, I realized that no matter what our religion is, we can still show respect for other religions." 【Photo by Jeaneal Dando】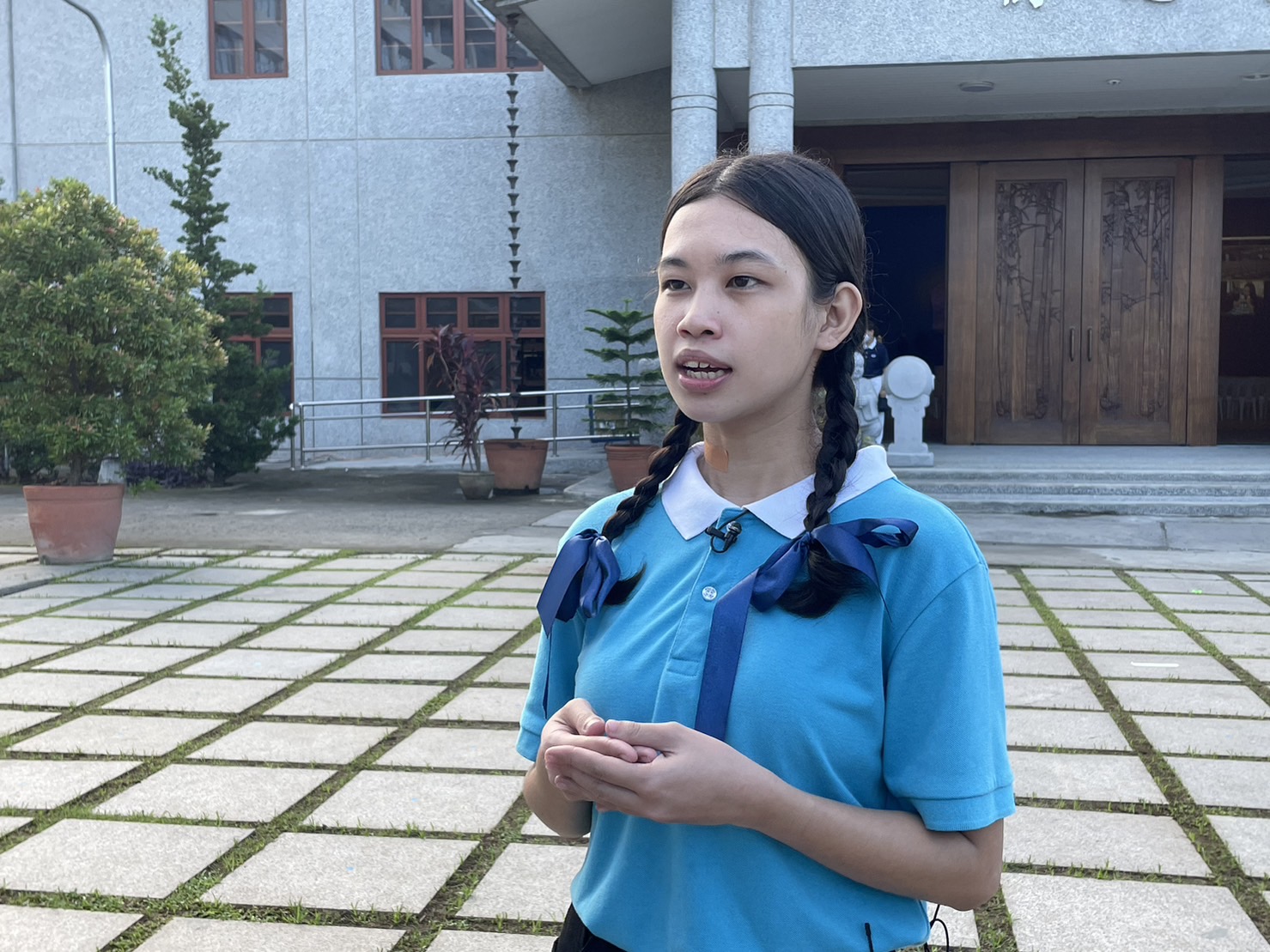 For Tzu Chi scholar Margo Janelle Ma-ang, bowing during 3 steps and 1 bow "represents how we apply the teachings in our lives, how we cherish what we learn and give it value for as long as we live." 【Photo by Jeaneal Dando】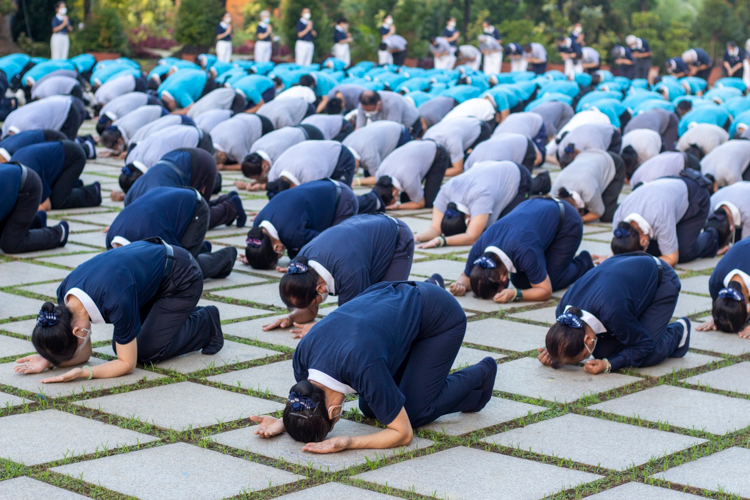 Volunteers bow in full prostration, the ultimate symbol of humility. 【Photo by Matt Serrano】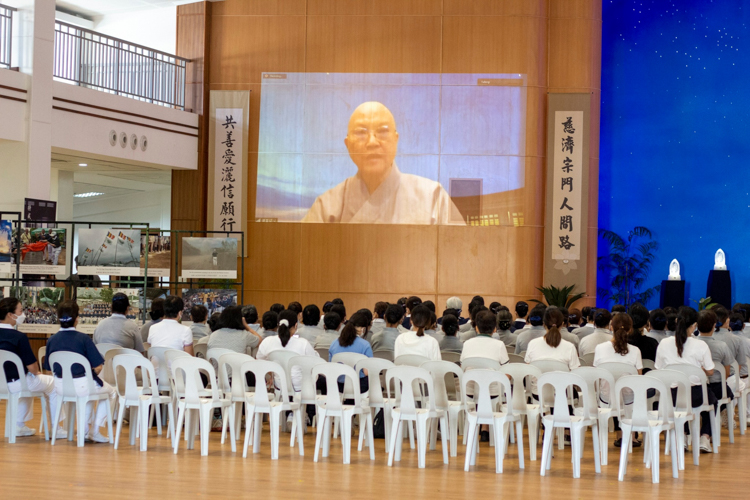 After the 3 steps and a bow followed by a light breakfast, volunteers attend a talk by Dharma Masters livestreamed from Hualien, Taiwan. 【Photo by Matt Serrano】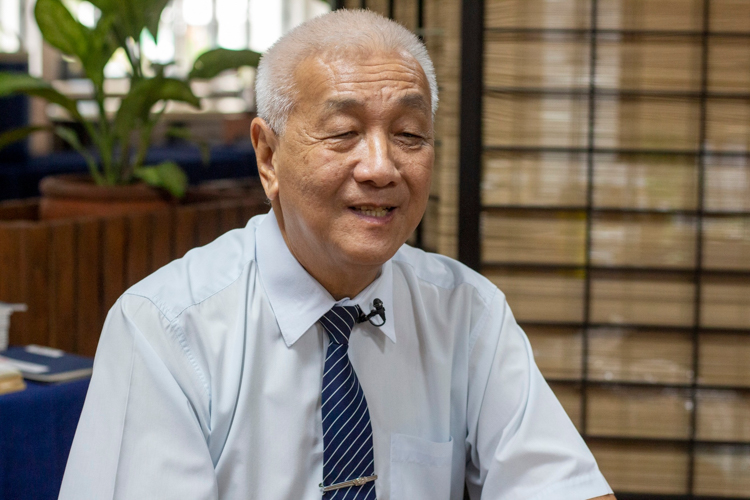 "Looking at everyone's involvement in doing all the good deeds for those in need, I'm very touched," says Tzu Chi Philippines CEO Henry Yuňez. "I wish everyone can cultivate all the merits in attaining wisdom and good karma." 【Photo by Matt Serrano】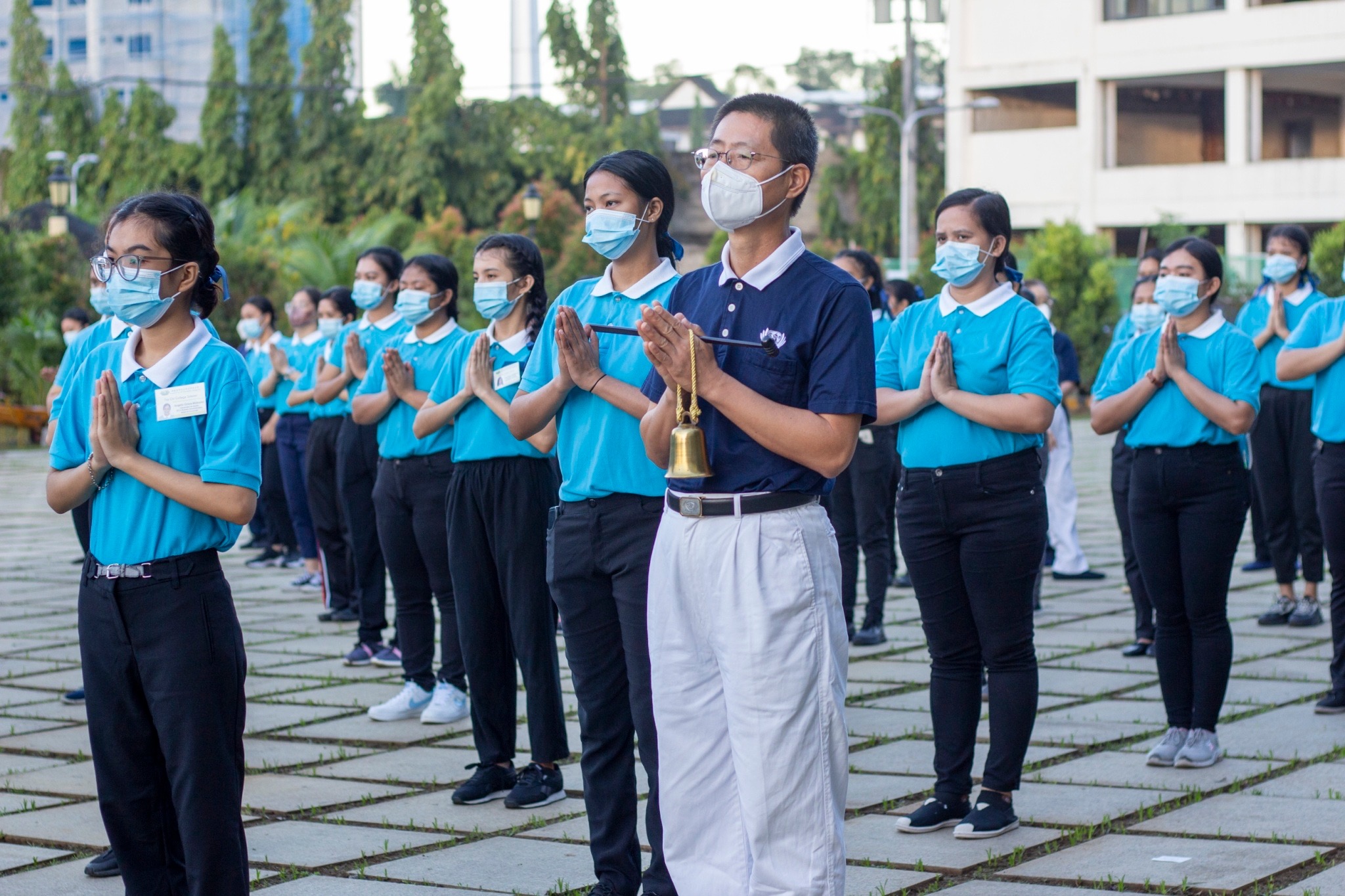 Volunteer Mingkong Lee strikes a bell to signal when to bow in full prostration and when to get up. 【Photo by Matt Serrano】
TIMA founding member Dr. Jo Qua (in white) stands alongside Tzu Chi Philippines CEO Henry Yuñez in the 3 steps and 1 bow ceremony.【Photo by Matt Serrano】
Go Back