Tzu Chi celebrates 2023 Buddha Day, Mother's Day, Tzu Chi Day
A grander setup for the Buddha Bathing Ceremony reminded volunteers of their stronger commitment to walking the Bodhisattva path and relieving suffering in the world.
By Ben Baquilod
Tzu Chi volunteers, staff, scholars, Dharma Masters, and guests joined together for the 3-in-1 celebration of Buddha Day, Mother's Day, and Tzu Chi Day on May 14 at the Buddhist Tzu Chi Campus (BTCC) in Sta. Mesa, Manila.
"I want to thank Master Cheng Yen who has been guiding us like a mother for the past 57 years," said Tzu Chi Philippines CEO Henry Yuñez. "And I want to thank all the mothers out there for your sacrifices. Because of you, this world is a better place for us."
A grander setup at the BTCC plaza impressed this year's attendees. Shimmering crystal Buddhas laid out in circular and long tables were embellished with fresh flowers and lush greens, and an eye-catching holographic image of Buddha was displayed in front of the Jing Si Hall.
The ambitious setup was made possible through the cooperation of volunteers and the leadership of the event head, Wilson Hung. "When we visited Master Cheng Yen in Hualien for Chinese New Year, we felt recharged to do more, and I was inspired to make this year's Buddha Day bigger and better than last year," he said. "I sincerely thank all the volunteers for their help and tireless efforts."
Kinlon Fan, who was tapped to create the layout, took on the painstaking task of measuring and marking points on the ground for a perfect circular formation for the Buddha Bathing Ceremony. "Back when I was a Tzu Chi youth, I was just sketching my own layout at home. But now, it's like a dream come true being able to see my own layout implemented."
At the program's opening, volunteers offered candles and flowers to symbolize light in one's heart and gratitude to the Buddha, their loved ones, and all sentient beings.
Volunteers dedicated numerous hours to practice the formation and actions for the Buddha Bathing Ceremony, the highlight of the event. During the ceremony, participants took turns to bow before a crystal Buddha and pick up a red blessing charm.
Lizbeth Marie Lim, Tzu Chi youth volunteer who recently moved to Zamboanga excitedly joined Manila volunteers in the celebration. "I felt the calmest in a long time because it's my first time back in Tzu Chi after three years," she said. "From this day forward, hopefully I will be able to contribute more to my home province."
Just before dusk, participants mindfully took steps in a walking meditation, a reminder to allow the Dharma to flourish in one's hearts and walk the righteous path.
The ceremony culminated solemnly as participants raised their lotus candles, singing their prayer for purity in people's hearts, harmony in society, and a disaster-free world.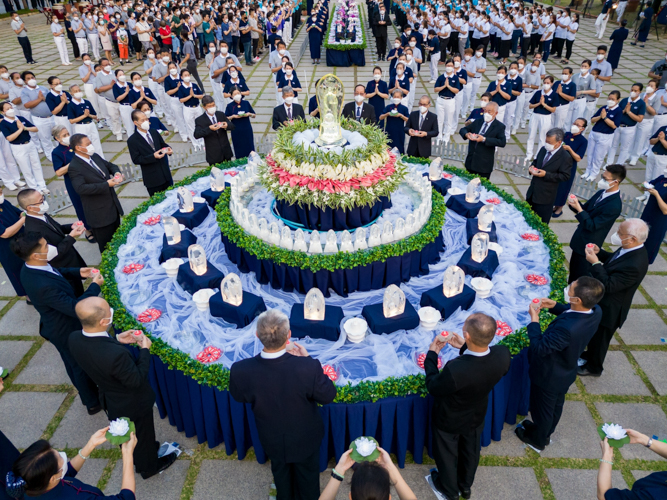 Volunteers lead the Buddha Bathing Ceremony for the 3-in-1 celebration of Buddha Day, Mother's Day, and Tzu Chi Day on May 14, 2023 at the Buddhist Tzu Chi Campus in Sta. Mesa, Manila. 【Photo by Daniel Lazar】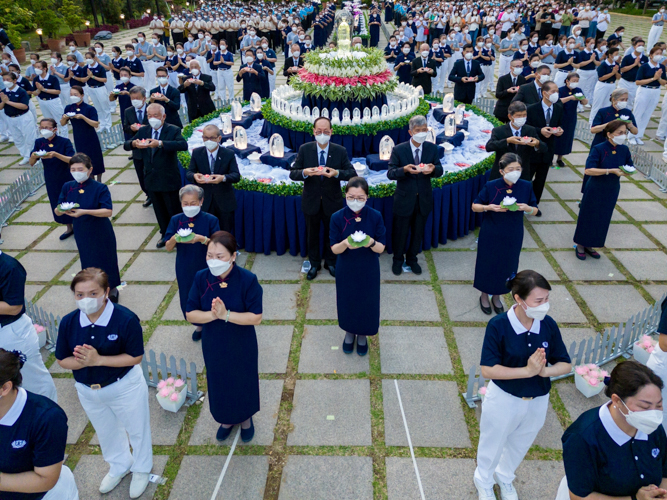 Volunteers lead the Buddha Bathing Ceremony for the 3-in-1 celebration of Buddha Day, Mother's Day, and Tzu Chi Day on May 14, 2023 at the Buddhist Tzu Chi Campus in Sta. Mesa, Manila. 【Photo by Daniel Lazar】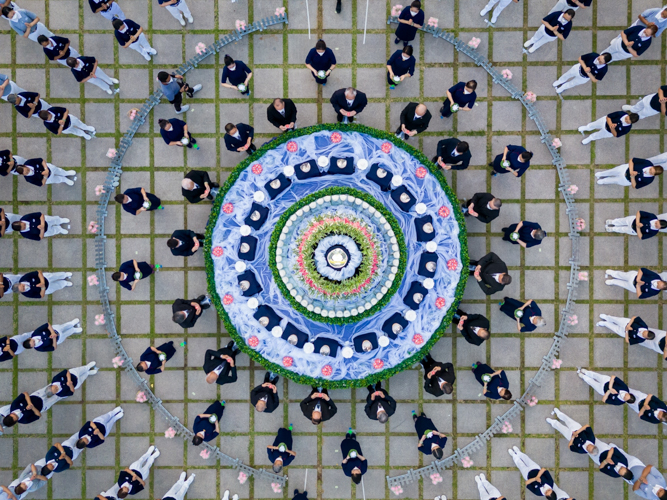 Aerial shot of the Buddha Bathing Ceremony for the 3-in-1 celebration of Buddha Day, Mother's Day, and Tzu Chi Day on May 14, 2023 at the Buddhist Tzu Chi Campus in Sta. Mesa, Manila. 【Photo by Daniel Lazar】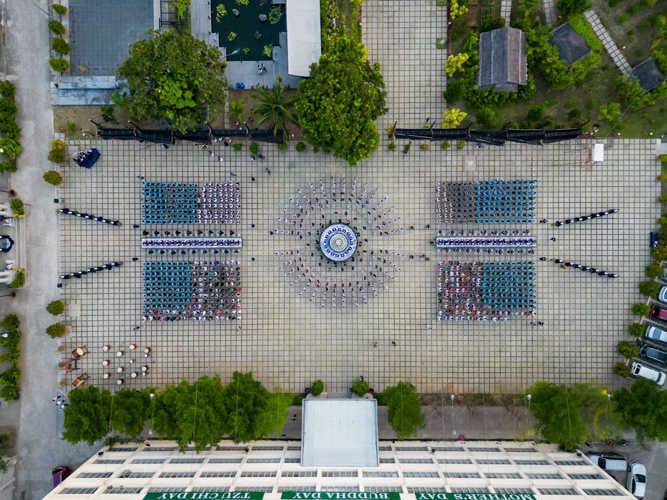 Aerial shot of the Buddha Bathing Ceremony for the 3-in-1 celebration of Buddha Day, Mother's Day, and Tzu Chi Day on May 14, 2023 at the Buddhist Tzu Chi Campus in Sta. Mesa, Manila. 【Photo by Daniel Lazar】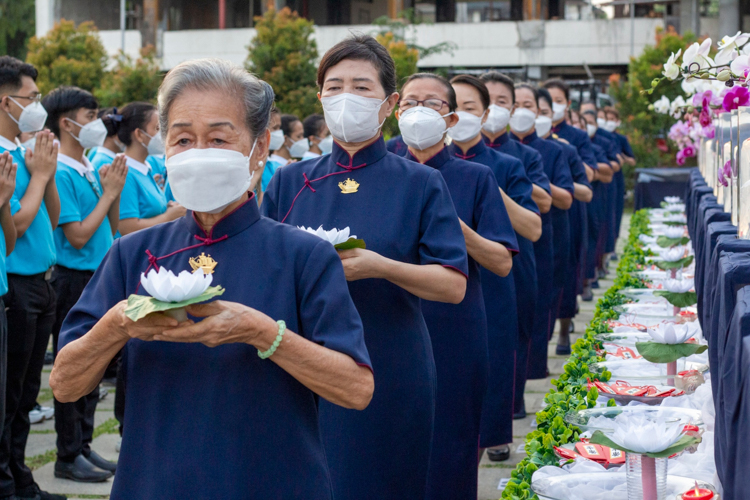 Volunteers offer flowers during the Buddha Bathing Ceremony for the 3-in-1 celebration of Buddha Day, Mother's Day, and Tzu Chi Day on May 14, 2023 at the Buddhist Tzu Chi Campus in Sta. Mesa, Manila. 【Photo by Matt Serrano】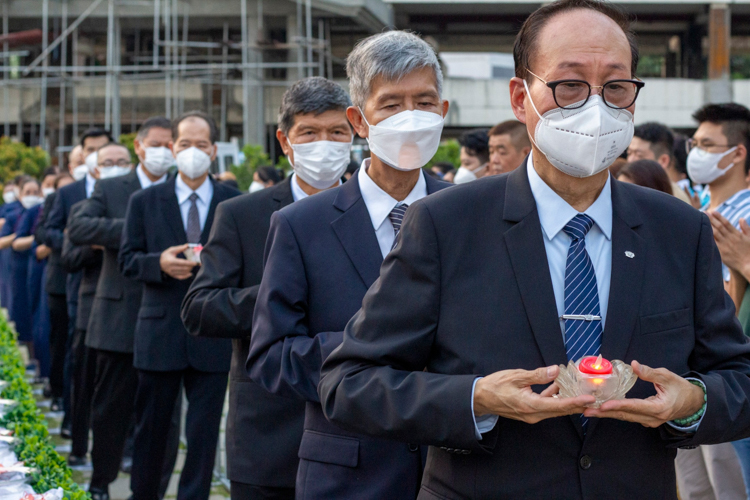 Volunteers offer candles during the Buddha Bathing Ceremony for the 3-in-1 celebration of Buddha Day, Mother's Day, and Tzu Chi Day on May 14, 2023 at the Buddhist Tzu Chi Campus in Sta. Mesa, Manila. 【Photo by Matt Serrano】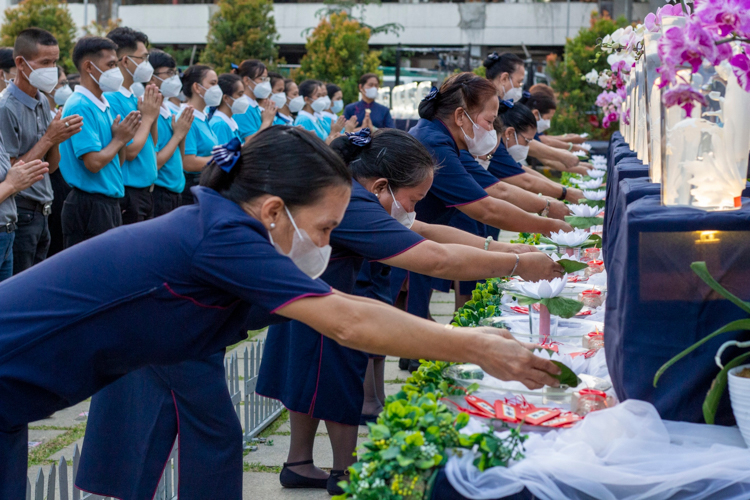 Volunteers offer flowers during the Buddha Bathing Ceremony for the 3-in-1 celebration of Buddha Day, Mother's Day, and Tzu Chi Day on May 14, 2023 at the Buddhist Tzu Chi Campus in Sta. Mesa, Manila. 【Photo by Matt Serrano】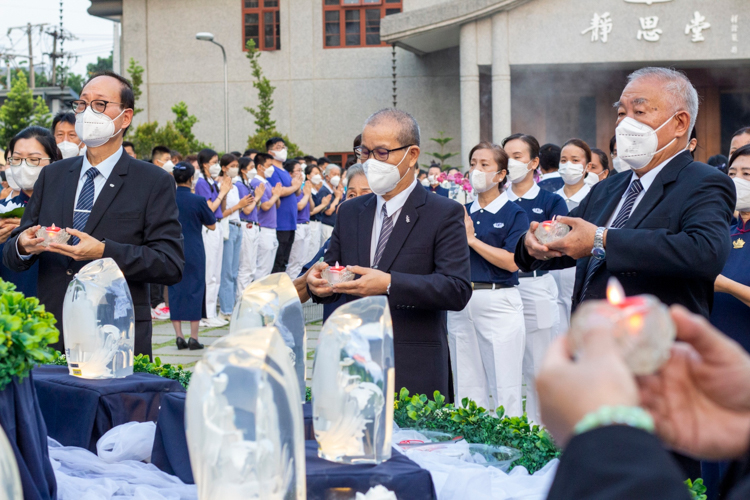 Volunteers offer candles during the Buddha Bathing Ceremony for the 3-in-1 celebration of Buddha Day, Mother's Day, and Tzu Chi Day on May 14, 2023 at the Buddhist Tzu Chi Campus in Sta. Mesa, Manila. 【Photo by Matt Serrano】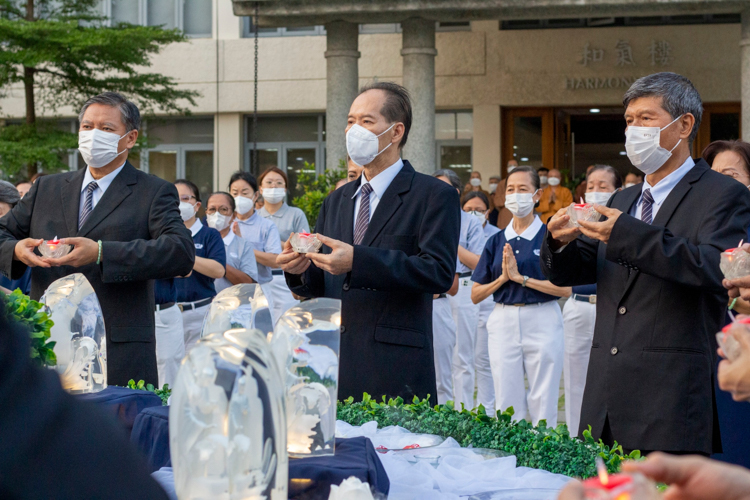 Volunteers offer candles during the Buddha Bathing Ceremony for the 3-in-1 celebration of Buddha Day, Mother's Day, and Tzu Chi Day on May 14, 2023 at the Buddhist Tzu Chi Campus in Sta. Mesa, Manila. 【Photo by Matt Serrano】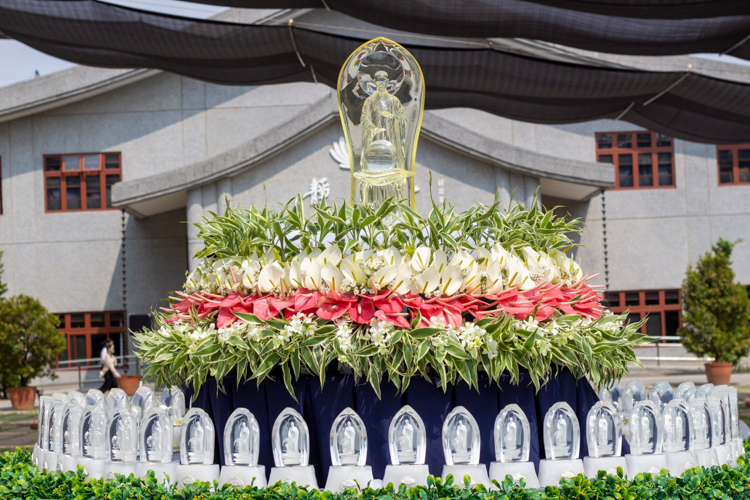 Crystal Buddhas laid out in tables are adorned with fresh flowers and lush greens. 【Photo by Matt Serrano】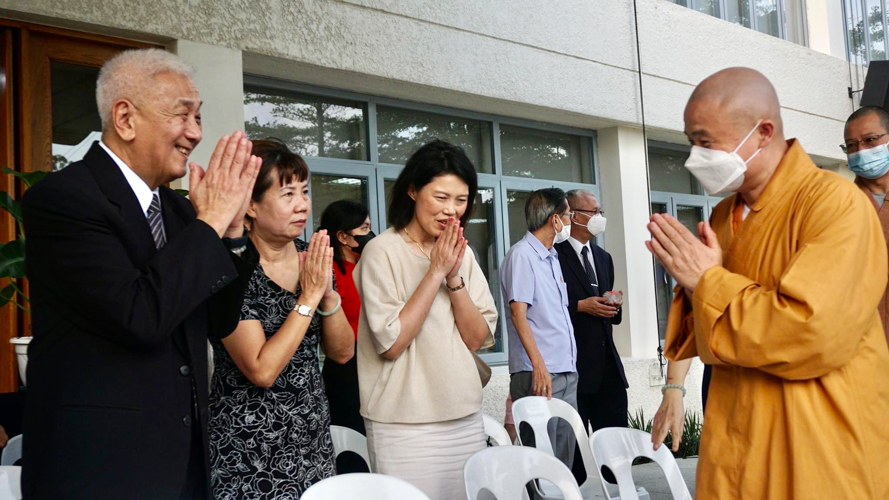 Tzu Chi Philippines CEO Henry Yuñez welcomes Dharma Masters on Buddha Day. 【Photo by Judy Lao】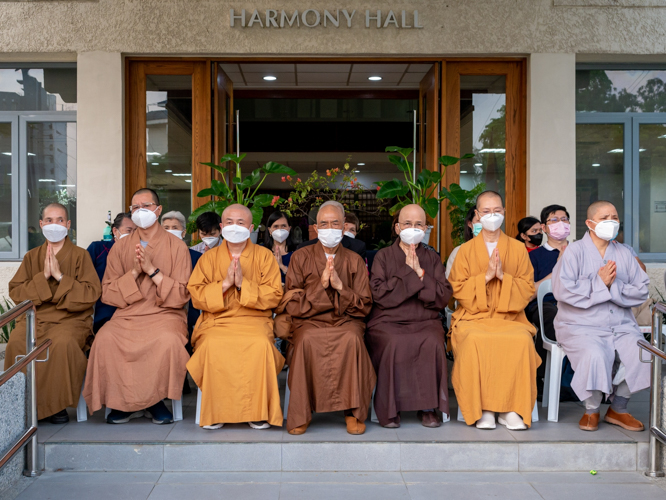 Dharma Masters join Tzu Chi Philippines in prayer on Buddha Day celebration. 【Photo by Daniel Lazar】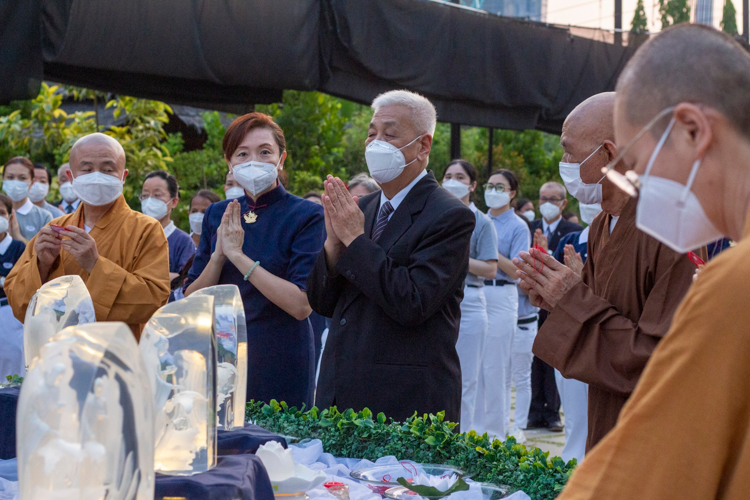 Dharma Masters together with Tzu Chi Philippines CEO Henry Yuñez (center) participate in the Buddha Bathing Ceremony. 【Photo by Matt Serrano】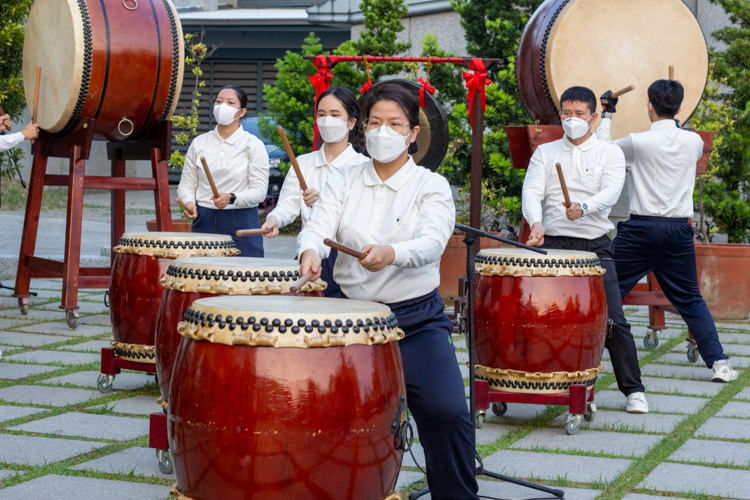 Tzu Chi Youth perform a drum number before the Buddha Bathing Ceremony. 【Photo by Matt Serrano】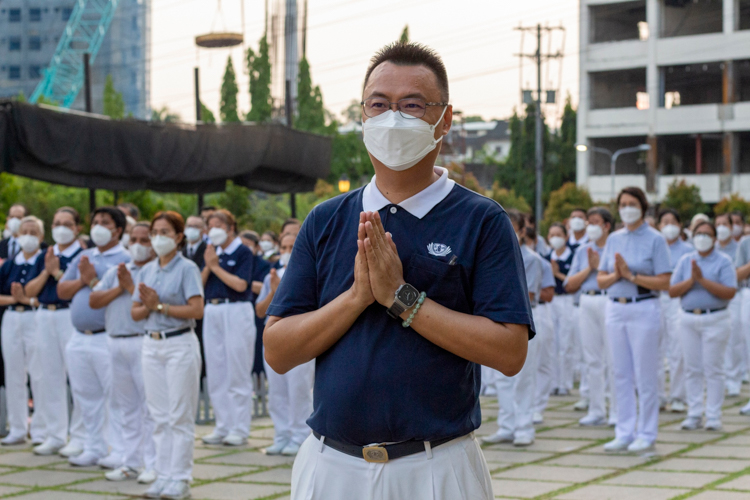 "Dharma Master Cheng Yen inspired me to make this year's Buddha Day bigger and better than last year," says Wilson Hung, event head of the Buddha Day. "I sincerely thank all the volunteers for their help and tireless efforts." 【Photo by Matt Serrano】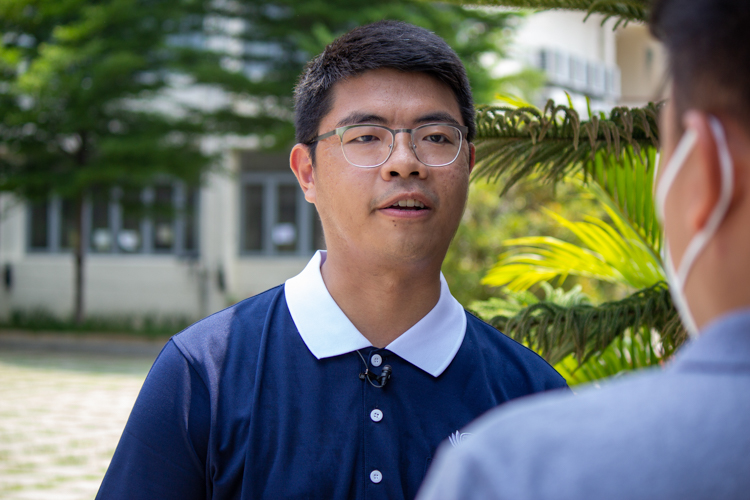 "Back when I was a Tzu Chi youth, I was just sketching my own layout at home. But now, it's like a dream come true being able to see my own layout implemented," says Kinlon Fan who sketched the layout for this year's Buddha Day. 【Photo by Marella Saldonido】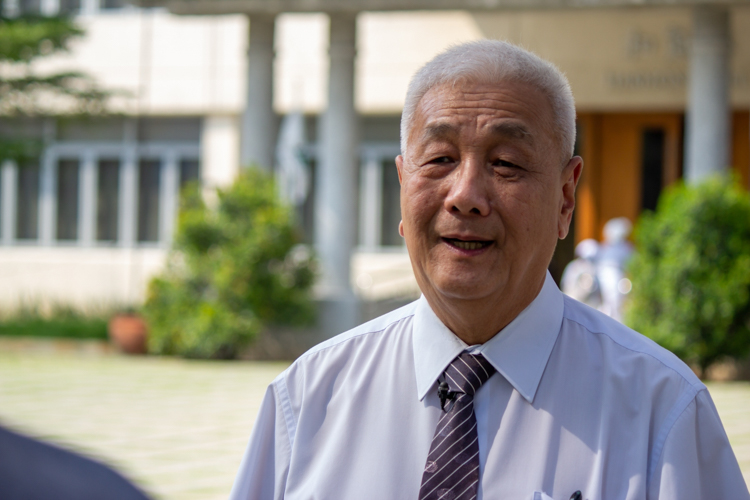 "I want to thank Master Cheng Yen who has been guiding us like a mother for the past 57 years," says Tzu Chi Philippines CEO Henry Yuñez. "And I want to thank all the mothers out there for your sacrifices. Because of you, this world is a better place for us." 【Photo by Marella Saldonido】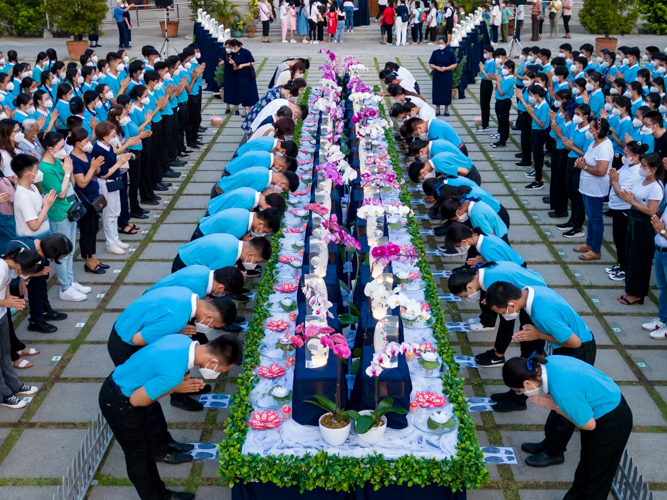 Tzu Chi scholars bow before crystal Buddhas as they participate in the Buddha Bathing Ceremony. 【Photo by Daniel Lazar】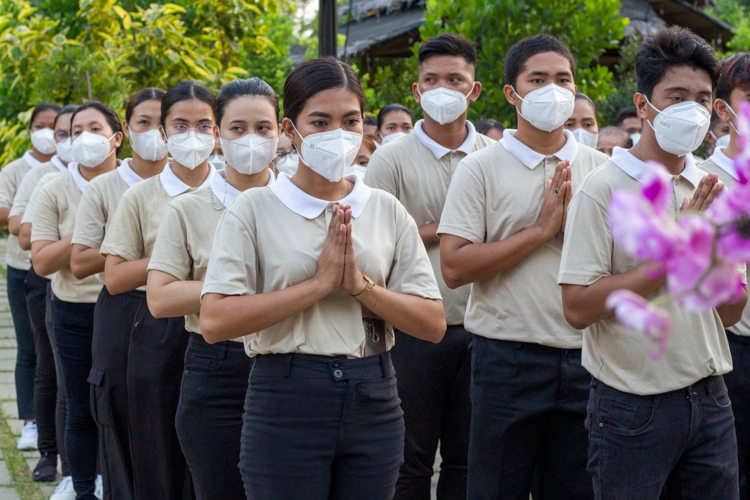 Technical-Vocational scholars of Tzu Chi's livelihood program join the Buddha Bathing ceremony. 【Photo by Matt Serrano】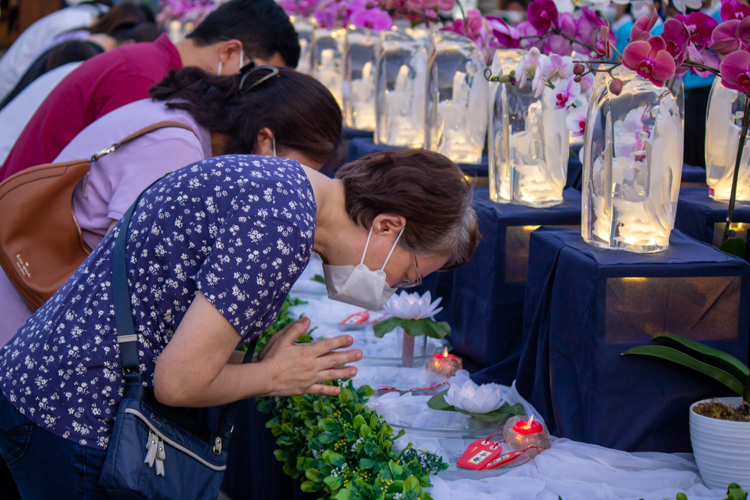 Guests are also welcome to participate in the Buddha Bathing Ceremony. 【Photo by Marella Saldonido】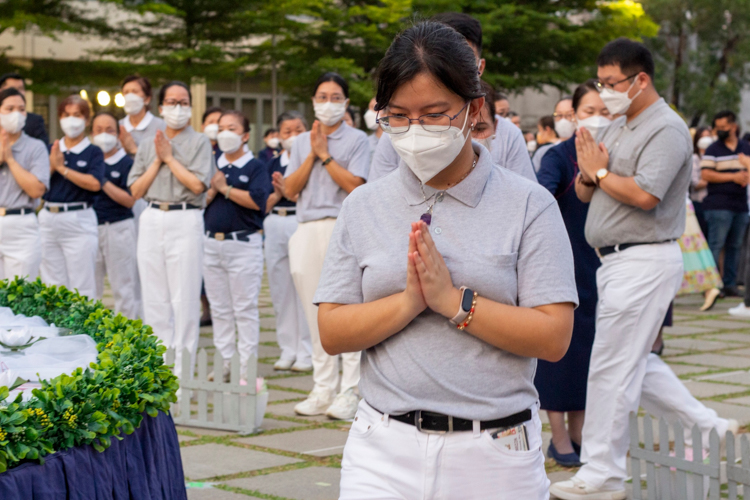 "I felt the calmest in a long time because it's my first time back in Tzu Chi after three years," says Lizbeth Marie Lim, Tzu Chi volunteer from Zamboanga. 【Photo by Matt Serrano】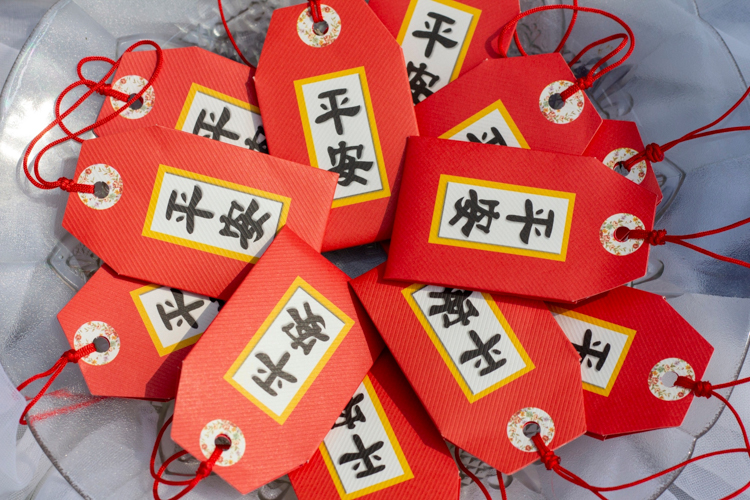 Blessing charms are claimed by participants during the Buddha Bathing Ceremony. 【Photo by Matt Serrano】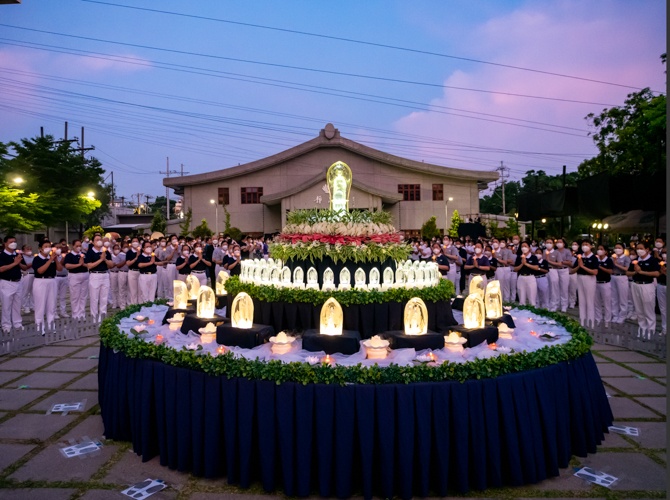 Crystal Buddhas light up as the ceremony approaches dusk. 【Photo by Daniel Lazar】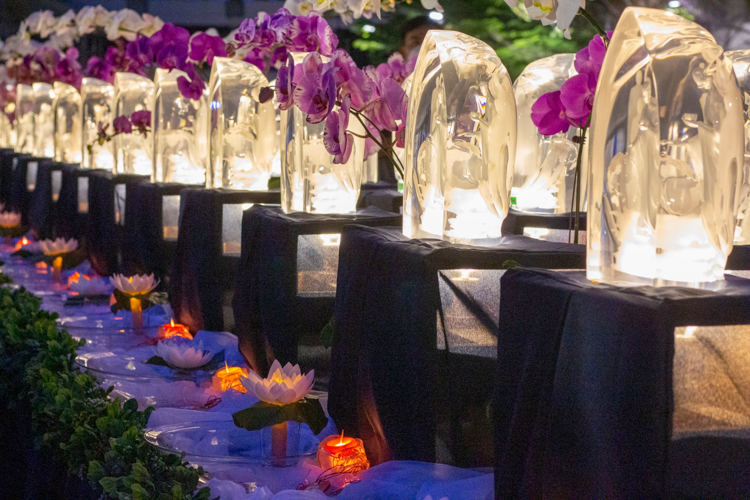 Crystal Buddhas light up as the ceremony approaches dusk. 【Photo by Matt Serrano】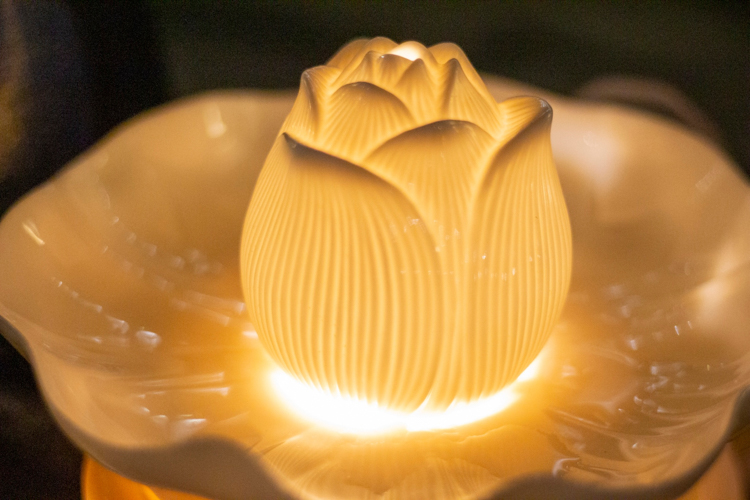 Lotus flower lights embellish the crystal Buddha displays. 【Photo by Matt Serrano】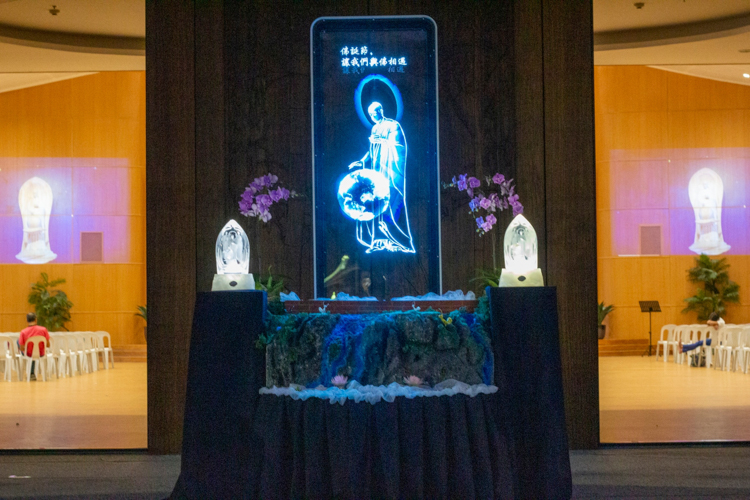 A holographic image of Buddha is displayed at the entrance of Jing Si Hall. 【Photo by Matt Serrano】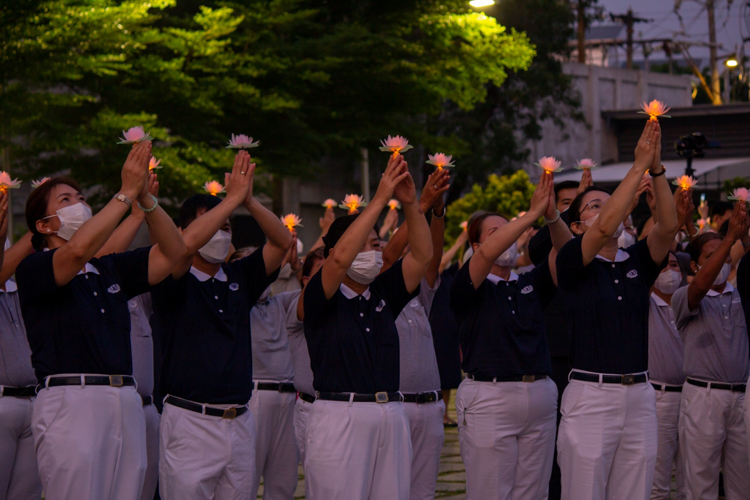 The ceremony culminates with participants raising their lotus candles as they a sing a prayer for peace and harmony in society. 【Photo by Marella Saldonido】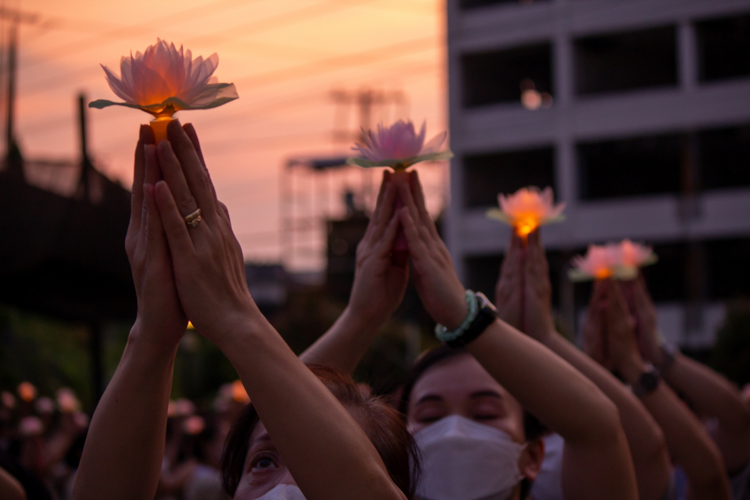 The ceremony culminates with participants raising their lotus candles as they a sing a prayer for peace and harmony in society. 【Photo by Marella Saldonido】
Go Back