Conquering fear, uncovering love: Sowing seeds of compassion in Zamboanga
In the 2022 Volunteers Diligence Training Camp on September 2 to 4, volunteer Harvey Yap tells stories of how meeting a group of people has transformed hearts in Tzu Chi Zamboanga.
By Ben Baquilod
With love, we can make all the difference in the world.
The great spiritual teachers, mystics, poets, scholars, and philosophers in history have all contemplated and agreed on this universal truth: love is that powerful life force that allows people to connect, to help each other, and—in the most wondrous of ways—to heal. The Tzu Chi founder Dharma Master Cheng Yen had this in heart when she commenced Tzu Chi with bamboo coin banks 56 years ago. Everything starts with love, and all good things flow from it.
Caught by the great love that coalesces all beings on earth, she took on the biggest mission of her life, one that is now embraced by millions of volunteers around the world: to relieve the suffering of those in need and serve them with limitless compassion.
With the establishment of Tzu Chi Philippines in 1994, the mission has spread across the corners of the archipelagic country. Situated in the Pacific typhoon belt and composed of more than 7,000 islands with diverse ethnicities, the work in the Philippines inevitably comes with more challenges—considering the various geographical and cultural constraints. But time and again, Tzu Chi volunteers have shown that when we surrender our hearts to love, we can do the seemingly impossible and change people's lives forever.
In an online presentation during the 2022 Volunteers Diligence Training Camp on September 2 to 4, volunteer Harvey Yap tells stories of how meeting a group of people has transformed hearts in Tzu Chi Zamboanga.
In 2019, Harvey met Munadzrin Ipah, then a college student and president of his school's Muslim Students Association. Munadzrin asked Harvey if he could sell shirts in his store for a fundraising project of their organization. On the onset of the COVID-19 pandemic, Harvey would see Munadzrin and his friends buy groceries in bulk and found out that the group was providing food supplies for the greatly affected families in their community. "These students are not well off; some are very poor. And yet, they still thought of helping their communities," marvels Harvey. Touched by their selfless act, he offered them his warehouse to be their repacking center. It was then that Harvey saw an opportunity to work with them and plant more seeds of blessings.
He told Dr. Anton Mari Lim, officer in charge of Tzu Chi Zamboanga about the group. Dr. Anton tasked them to survey the poorest communities in Zamboanga to distribute reusable face masks, and Munadzrin's group happily took on the responsibility. Within a week, they were able to come up with a master list of beneficiaries.
"We went inside these communities and we saw how severely neglected they were," recalls Harvey on his first COVID-19 relief mission with Munadzrin's group. They went house to house, walked on stinky wooden stilt pathways, distributed face masks, and educated the households on how to protect themselves from the virus. Traveling to different barangays in Zamboanga and Sulu, they have successfully distributed 13,000 face masks and 1,354 sacks or 33,850 kilos of rice.
The areas they visited were predominantly informal settlers in Muslim communities. Government agencies and NGOs rarely visit these places because of fear, instilled, for the most part, by what is commonly portrayed in mainstream media. Terrorism and violence have been unfortunately associated with many Muslim communities in the Philippines; many of them feel they have been abandoned by society.
This realization pushed the volunteers to do more. Their relief mission reached Lugus Island in Sulu, 192 kilometers away from Zamboanga City. The residents were surprised to see a Buddhist organization giving them aid. It was the first time they received anything from anyone with no strings attached. In sheer excitement and gratitude, they offered to use their mosque, still under construction, for the rice distribution. "We never expected to receive such blessings," says Ameer Najib Butlangan Daud, president of the Federation of Muslim Students Association.
The dedication of Munadzrin's group also brought them to Laggun Island, reached by a two-hour boat ride from Zamboanga City—a place so remote and unheard of that one can't even find it on Google Maps.
The beneficiaries were thankful, and so were Munadzrin's group, our new Tzu Chi volunteers. "We are very happy to be in service under your prestigious organization," Mundazrin wrote in a humble letter to Dr. Anton. "Being part of this gave us the opportunity to regain our perspective, to build our camaraderie within, and to be beneficial to people."
Truly, as Master Cheng Yen says, the more we give, the more grounded we will feel.
Two years later, Tzu Chi Zamboanga volunteers returned to the same communities to make an anonymous donation of more than 4,000 pairs of slippers to students, in time for the resumption of face-to-face classes. To their surprise, they saw 'thank you' posters prepared by the recipients with Tzu Chi's name on it. "Tzu Chi's generosity was deeply ingrained in their memories so they thought that anything given to them comes from Tzu Chi," ponders Harvey.
Big or small, acts of kindness are never forgotten. As the writer Leo Tolstoy said, "Nothing can make our lives, or the lives of other people, more beautiful than perpetual kindness."
Goodwill extends with Tzu Chi Zamboanga's recent launching of technical-vocational scholarship. Volunteers conducted home visits to applicants in Brgy. Labuan, 40 kilometers away from the city center.
Knowing how notorious Labuan was for kidnappings in earlier years, Harvey admits he was at first hesitant to go; and he thought no volunteer would go with him. He was later surprised that his fellow Zamboanga volunteers were very much willing to go. "Harvey called me and asked if I wanted to go, and I said yes without a second thought," says fellow volunteer Shan Ling Wang. "I wasn't scared. Even if it was far and it was raining, I feel happy doing Tzu Chi's work."
One of the scholarships applicants whom volunteers met is Sharawie Salani, 20, eldest of six children. His father earns Php 6,000 monthly as a fish vendor. When he reached high school, he would go fishing with his father to help the family. While he grew up in poverty, Sharawie maintains a remarkable positive outlook. "I just need to experience all the hardships and pursue my studies so that I can help my family," he says.
Upon receiving Tzu Chi's assistance for his school shoes and supplies, Sharawie was astounded. "This is really a big help. All my life, this is the first time I was able to receive such things," he tells Harvey.
Hassanal Antuyan, another applicant couldn't help but cry in joy for the once-in-a-lifetime opportunity—much more when Harvey offered him rice when they no longer had money to buy food. "My tears are falling because of my happiness. You are heaven-sent to my family. Even my mom is crying because they're so happy. Thank you very much, sir."
The boys were immensely touched by Tzu Chi's gesture, but perhaps unknown to them, they have inspired more the hearts of the volunteers because of their sweetness, thoughtfulness, and most especially, their gratefulness. "We must do everything we can to protect the innocence and inner beauty of these youths. We are given this rare opportunity to nurture their hearts and their characters and we should protect them and value them as treasures," says Harvey to his fellow Tzu Chi volunteers.
Even just by watching on a screen, the volunteers were moved to have heard the stories.
These narratives show us that doing good blesses both the receiver and the giver, and that everyone of us has the capacity to give love—for it is within us all.
When we are able to see beyond our ego, we'll have access to our soul that sees all beings beyond cultural identities, beyond physical appearances and personalities, and beyond social roles. Everyone belongs to one cosmic family. If we learn to quiet the mind and open our hearts, our fear vanishes—and so do our attachments, our judgments, and our prejudice. All that's left is love.
As the poet Rumi put it, quoted by Harvey at the end of his presentation, "Your task is not to seek for love, but merely to seek and find all the barriers within yourself that you have built against it."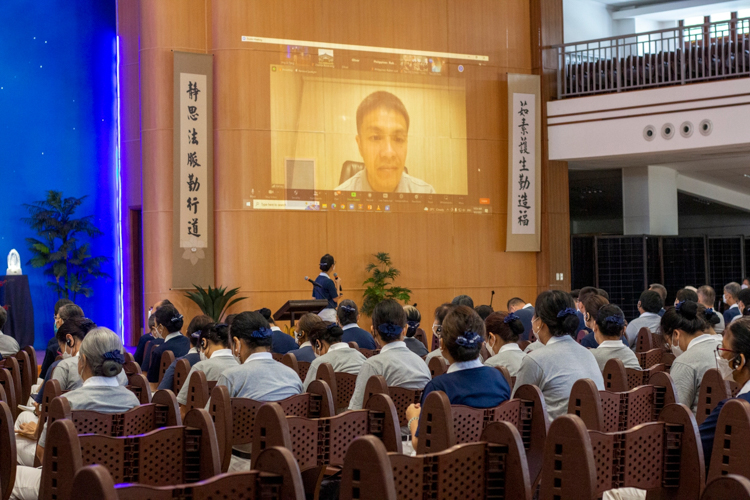 In an online presentation during the 2022 Volunteers Diligence Training Camp on September 2 to 4, volunteer Harvey Yap tells stories of how meeting a group of people has transformed hearts in Tzu Chi Zamboanga. 【Photo by Matt Serrano】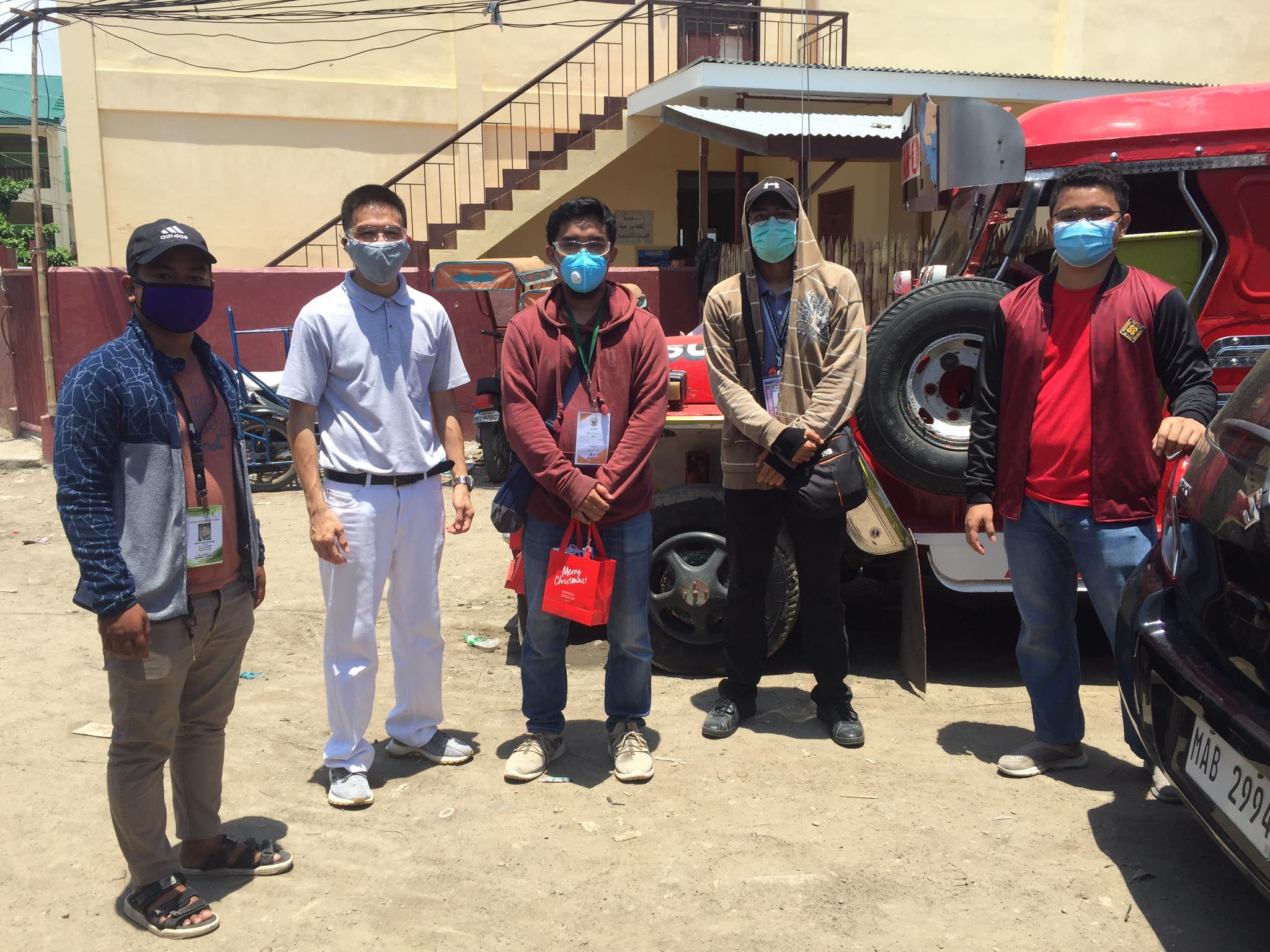 Harvey Yap (2nd from left) and Munadzrin Ipah (rightmost) during a relief mission in Zamboanga. 【Photo by Tzu Chi Zamboanga】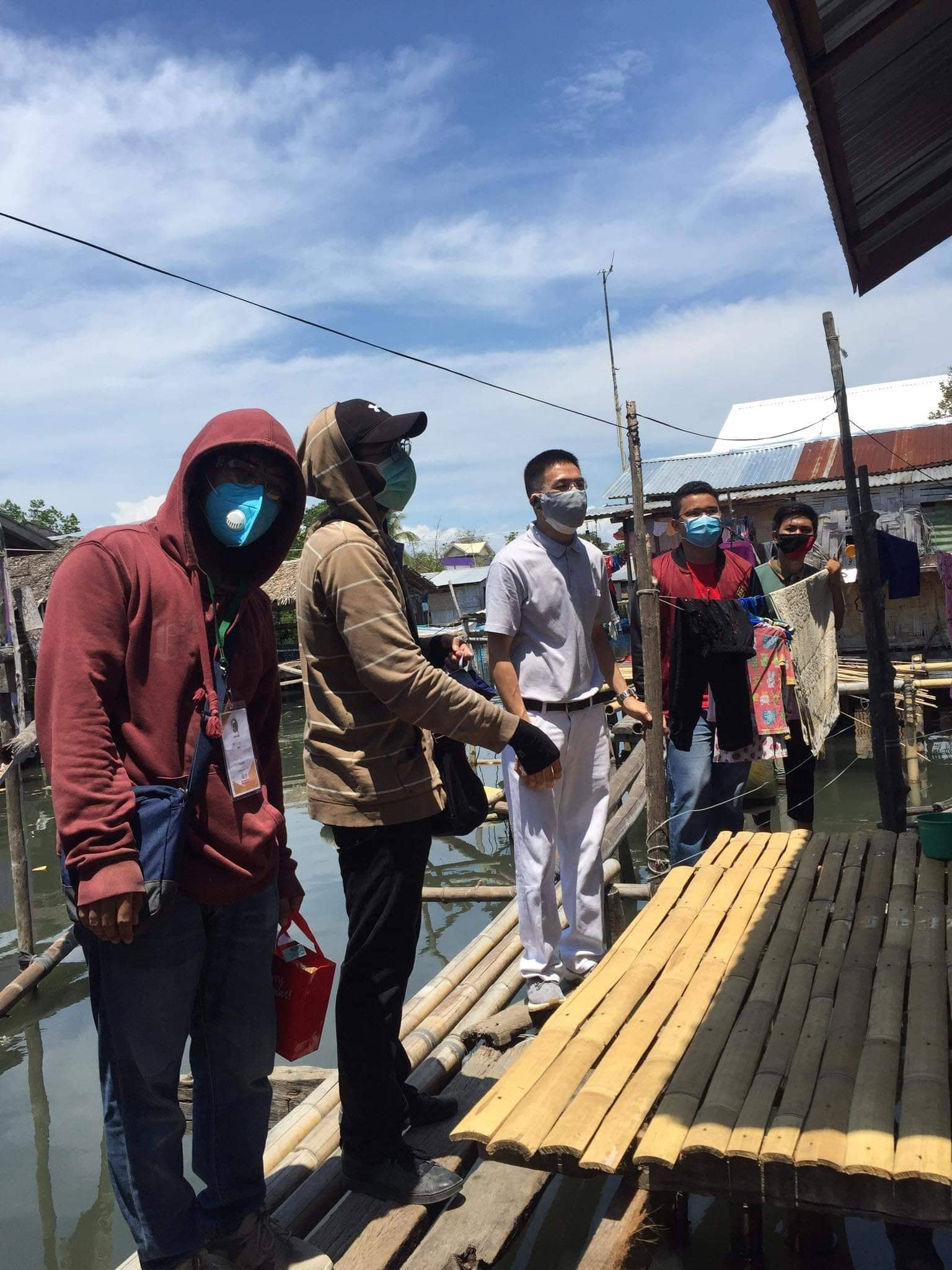 Alongside distributing masks, volunteers educate beneficiaries on how to protect themselves from the COVID-19 virus. 【Photo by Tzu Chi Zamboanga】
Tzu Chi Zamboanga volunteers distribute 1,354 sacks or 33,850 kilos of rice in their COVID-19 relief efforts. 【Photo by Tzu Chi Zamboanga】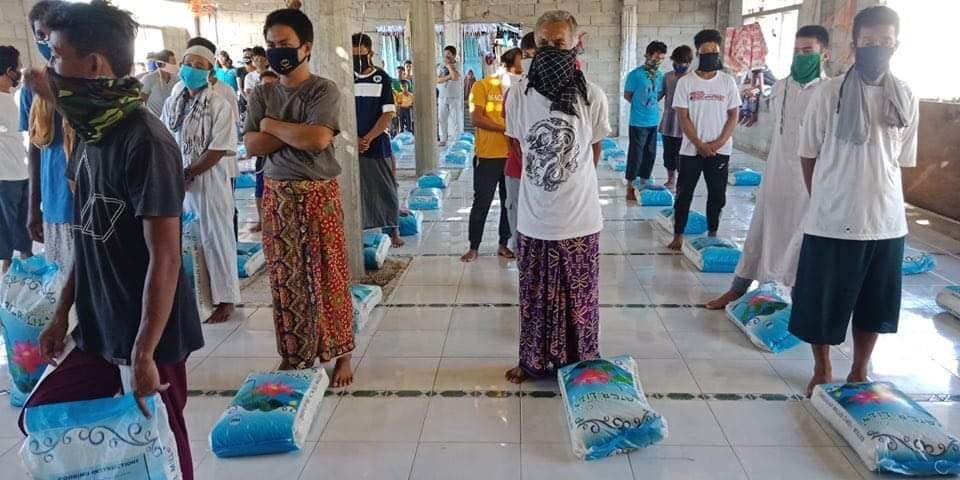 In a gesture of gratitude, the Muslim community in Lugus Island offers their mosque, still under construction, to be Tzu Chi's site for the rice distribution. 【Photo by Tzu Chi Zamboanga】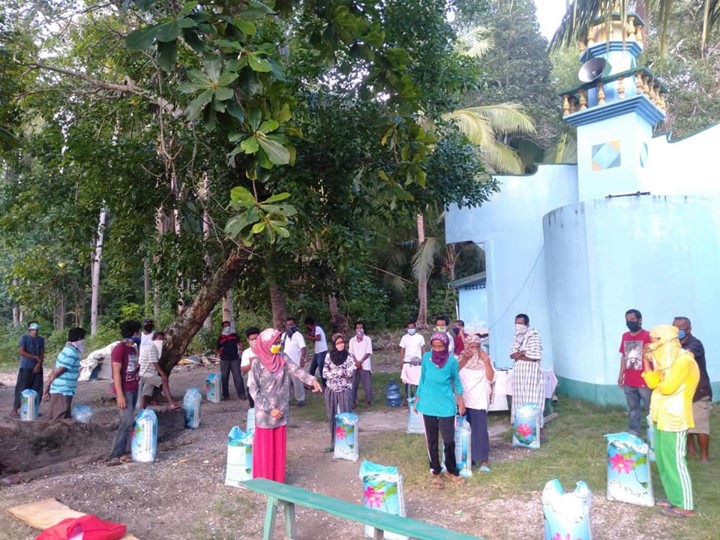 Tzu Chi volunteers reach Laggun Island, two-hour boat ride away from Zamboanga City to give rice to underserved Muslim communities. 【Photo by Tzu Chi Zamboanga】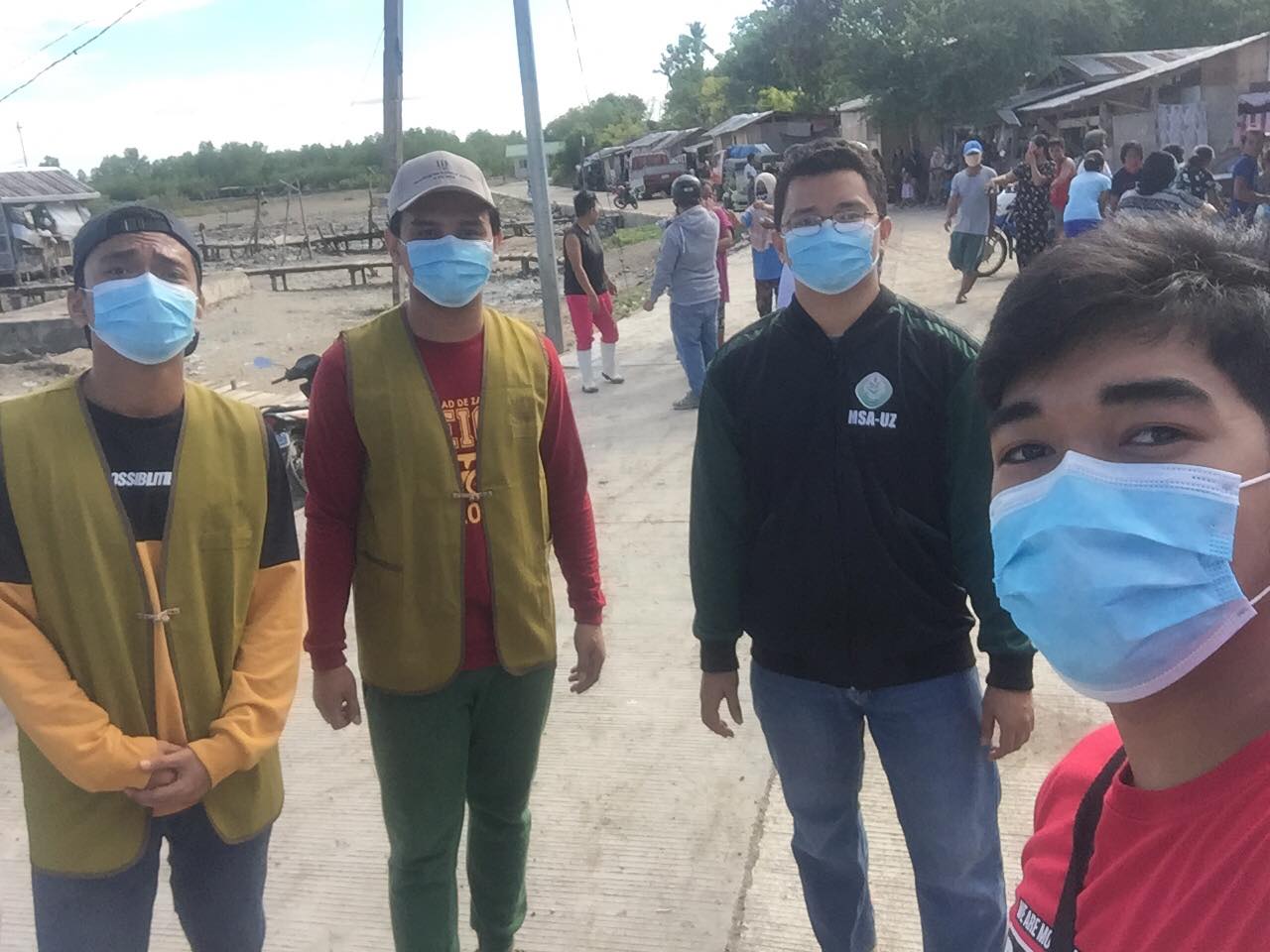 Munadzrin Ipah (2nd from right) and Karwin Hamjani (2nd from left) with other student volunteers during a relief distribution in Zamboanga. 【Photo by Tzu Chi Zamboanga】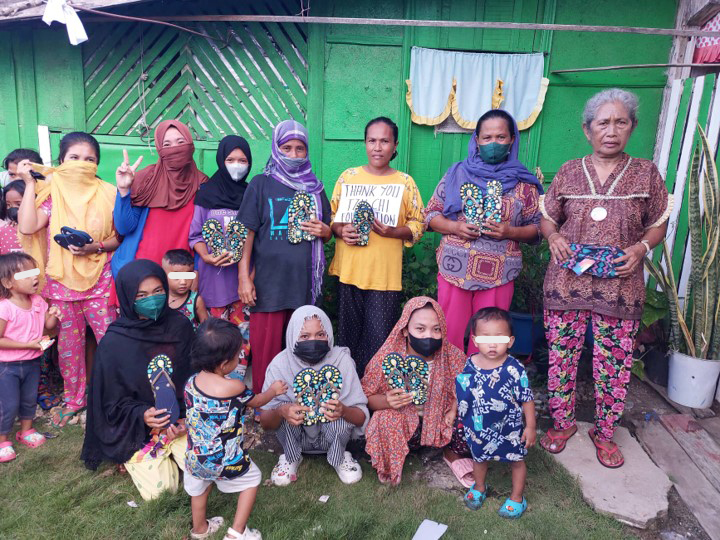 Residents are all smiles after receiving pairs of slippers from Tzu Chi. 【Photo by Tzu Chi Zamboanga】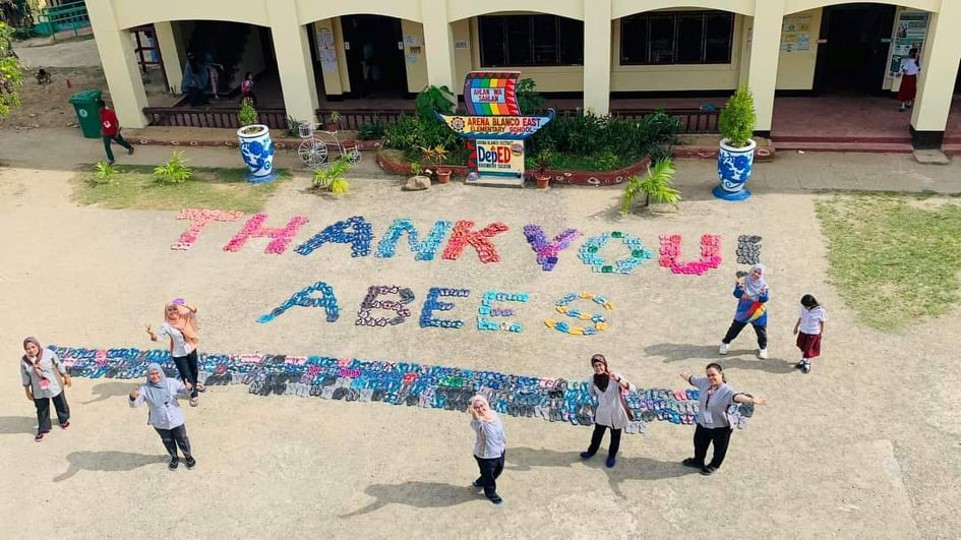 Arena Blanco East Elementary School in Zamboanga City thanks Tzu Chi for the donating pairs of slippers to their students. 【Photo by Tzu Chi Zamboanga】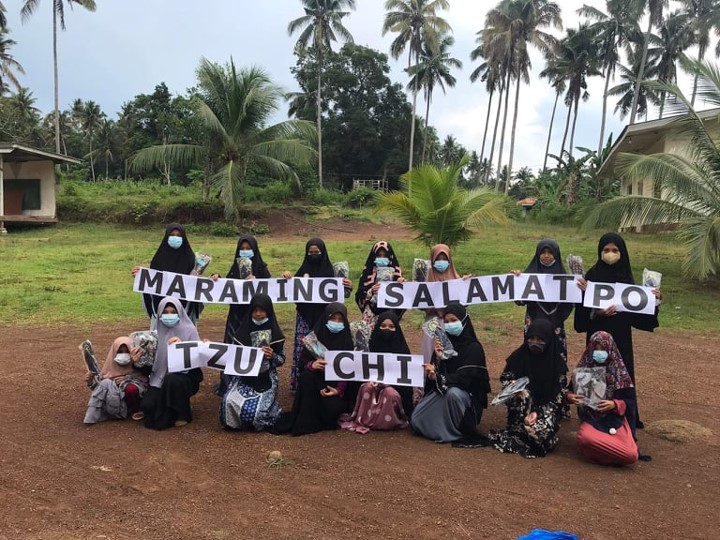 "Tzu Chi's generosity to them was deeply ingrained in their memories so they thought that anything given to them comes from Tzu Chi," says Harvey Yap on the response of beneficiaries to their planned anonymous slippers donation. 【Photo by Tzu Chi Zamboanga】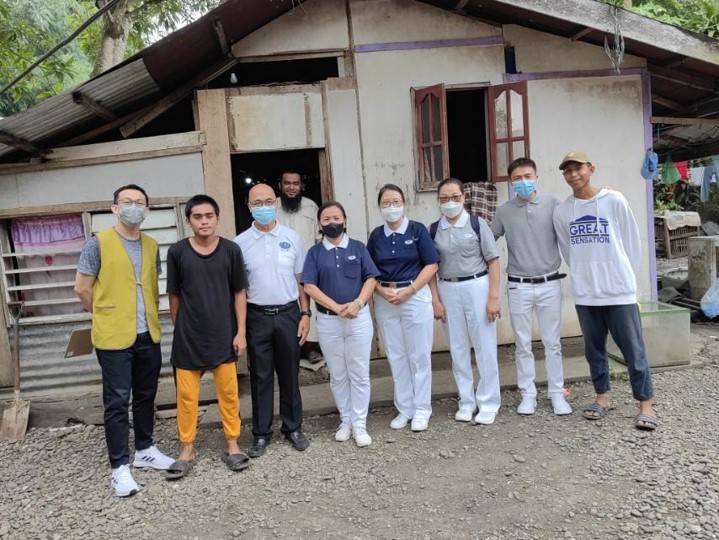 Tzu Chi Zamboanga volunteers conduct home visits to scholarship applicants in Brgy. Labuan in Zamboanga City. 【Photo by Tzu Chi Zamboanga】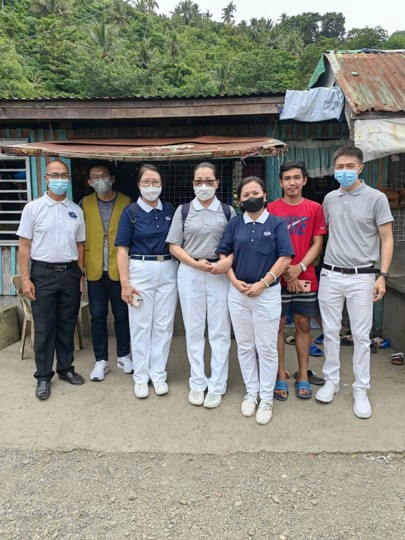 From left to right: Tzu Chi Zamboanga volunteers Alex Paredes, Andrew Yeung, Lily Lim, Shan Ling Wang, Jessica Yucor, scholarship applicant Hassanal Antuyan, and Harvey Yap. 【Photo by Tzu Chi Zamboanga】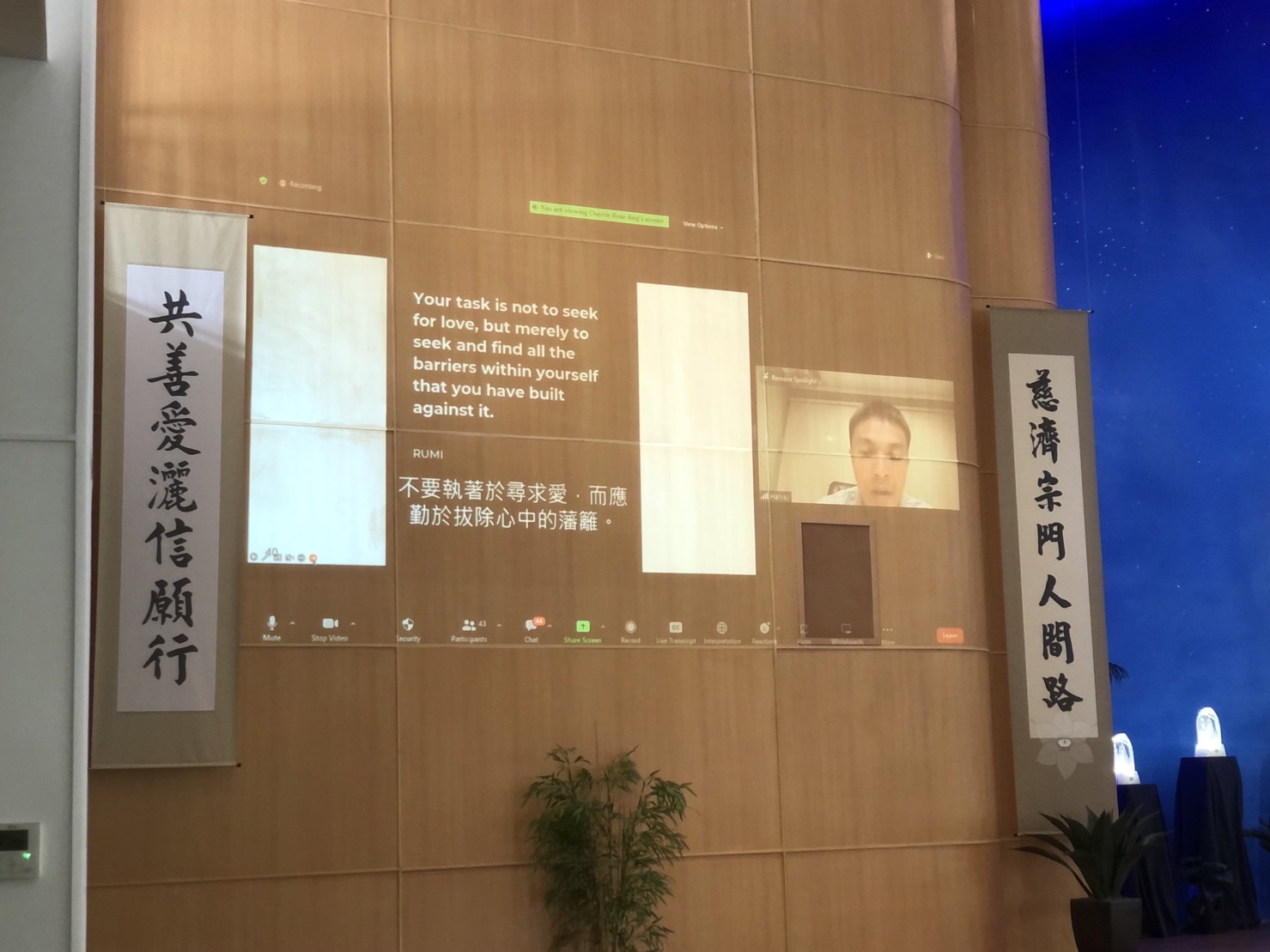 Harvey Yap ends his presentation with a quote from the poet Rumi: "Your task is not to seek for love, but merely to seek and find all the barriers within yourself that you have built against it." 【Photo by Matt Serrano】
Go Back