They're smart, active, and vegetarian since birth
Brothers Liam and Lev Ngo also encourage their friends to eat their veggies.
By Joy Rojas
At the recent twin celebrations of Tzu Chi Foundation's 56th anniversary and Dharma Master Cheng Yen's 86th birthday, Tzu Chi Philippines volunteers were charmed at the presence of five young guests who live by Master Cheng Yen's advocacy on vegetarianism: sisters Sennett and Selena Hung, 11 and 9 years old, respectively, and siblings Liam ( 11 ), Lev ( 8 ), and Naiya Ngo ( 2 ). All five have been raised on a vegetarian diet since birth.
"When I was born, our mom was already vegetarian and she taught us how to be vegetarian," says Liam, son of longtime Tzu Chi volunteers Limarc and Nikki Ngo. This means he and brother Lev and their little sister Naiya do not eat chicken, beef, pork, fish, and seafood, but they do consume animal byproducts like milk and eggs.
It's a relatively easy diet to maintain at a time when vegetarian restaurants and menus filled with tasty meat-free dishes abound. At home, typical meals involve a balance of vegetables (cabbage, carrots, broccoli), starches (rice, pasta, potatoes, bread), and protein (egg, cheese, tofu, plant-based meat substitute). Lev cites cauliflower and broccoli as his favorite foods, while Liam says "Potatoes and cheese. Eggs with cheese. Cheese makes everything nice."
At Xavier School where the boys study, they try to impart vegetarianism to their classmates and friends, by sharing their non-meat snacks with them. "They still eat meat but I feel like I helped them like veggies," says Lev. "They eat more vegetables now."
Smart and active, the rosy-cheeked brothers dispel the common impression of vegetarians being pale and weak from a supposed lack of vital nutrients. They play basketball, like to swim, and are on the same soccer team.
How long do they plan on staying vegetarian? For a lifetime. On Master Cheng Yen's birthday, Liam and Lev were among those who placed their names on a board that called for a commitment to vegetarianism for 86 meals, 86 days, 86 months, 86 years, and 86 lifetimes. The board was later presented to the Tzu Chi founder during a virtual meeting.
The Dharma Master is a staunch advocate of vegetarianism, citing that it promotes good health, is kind and gentle to the environment, and shows love and respect for sentient beings.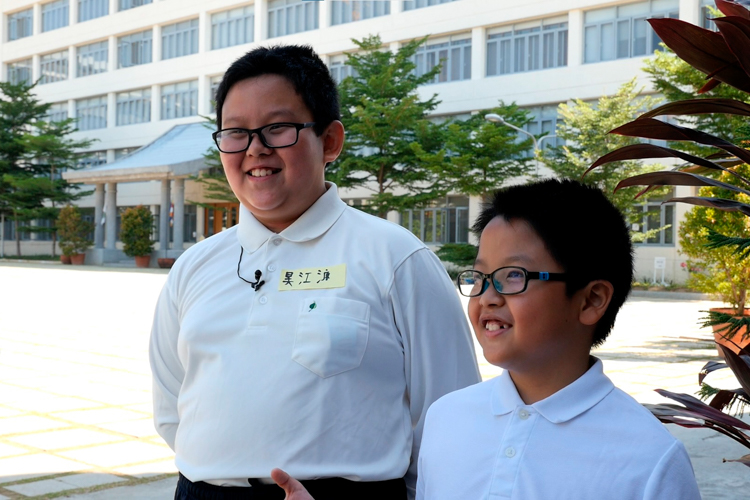 Brothers Liam and Lev Ngo eat no animal meat but consume animal byproducts like milk and eggs.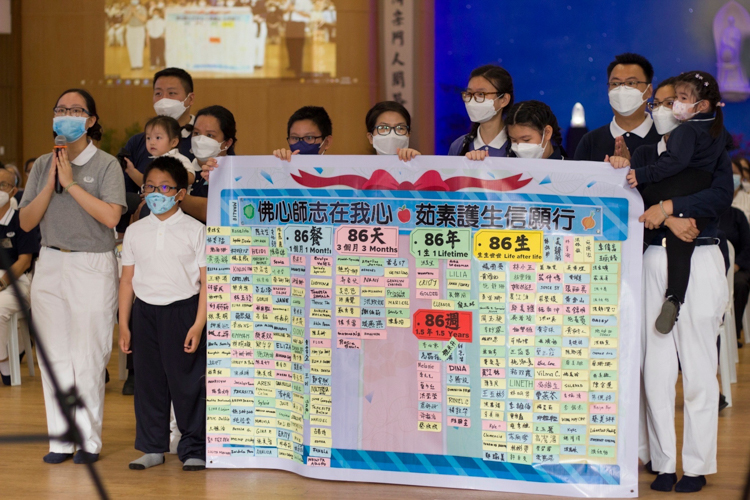 Liam and Lev Ngo were among those who presented the board of commitments to practice vegetarianism to Master Cheng Yen in a virtual meeting on her birthday. 【Photo by Matt Serrano】
At Tzu Chi's 56th anniversary and Master Cheng Yen's 86th birthday, the boys encouraged volunteers to adopt a vegetarian diet for the love of animals and the environment. 【Photo by Matt Serrano】
Sisters Sennett and Selena have also been raised on a vegetarian diet since they were born. 【Photo by Daniel Lazar】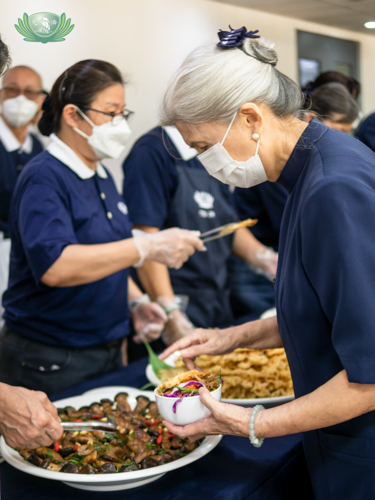 A volunteer helps herself to food from the vegetarian buffet. 【Photo by Daniel Lazar】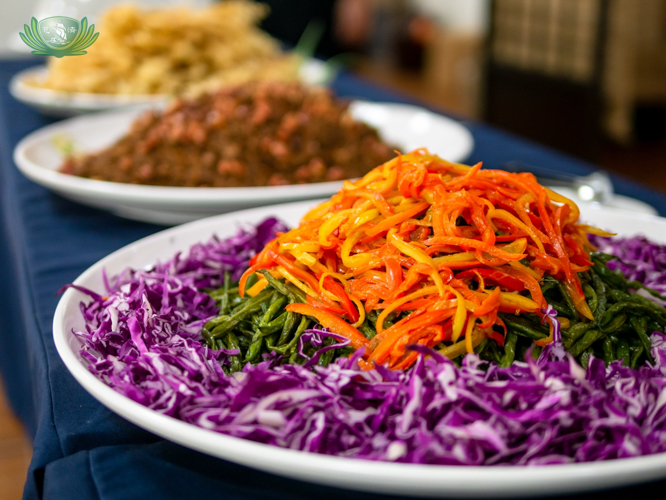 Vegetables are loaded with natural vitamins and minerals. The more vivid their color, the richer they are in nutrients. 【Photo by Daniel Lazar】
Go Back