Volunteers respond to fire incident in Baseco, Manila
277 families each received rice, groceries, blankets and mats, hygiene supplies, and cooking essentials
By Ben Baquilod
Tzu Chi volunteers sent relief to the fire victims in Brgy. 649, Baseco, Manila on May 24 following the fire incident on May 19 that left 277 families and 1,021 individuals homeless.
Each of the 277 families received 10 kilos of rice, food grocery items, gas stove, casserole, kitchen utensils, blanket, and sleeping mat. They also got hygiene supplies such as face masks, alcohol and hand sanitizers, bath soap, and detergent.
"We saw how Tzu Chi is quick to respond and help with the needs of the fire victims, and for that we are very thankful," said Rio Pangan, Officer-in-Charge from the Baseco Satellite Office of the Manila Department of Social Welfare.
Aside from the material aid, volunteers brought compassion to the beneficiaries and uplifted their spirits. They offered them a song performance of 'One Family' and lead them in Tzu Chi prayer.
Feeling consoled, Elizabeth Tagalog couldn't help but cry. "I pray that we can start over. I hope we'd have healthy bodies and that we can survive every day," says the 72-year-old widow Elizabeth.
Having lost her husband eight months ago, she felt devastated to be grieving one again for another loss—this time, her home. "I feel sad. I haven't even fully recovered from the loss of my husband, and now this happens," she weeps. But Tzu Chi's gesture of love has somehow given her a sense of relief and a spark of hope, for which she was immensely grateful.
Elizabeth earns Php 100 for a day's work of peeling a sack of garlic in the market, while her son earns Php 450 as a construction worker, merely surviving for their daily needs. It would be hard for them to rebuild; thus, the relief goods were a big help to them. "I feel happy. Thank you so much," she says.
Equally thankful was Rosalie Banjao, a 35-year-old mother to six children and wife to a minimum wage earner construction worker. "The only thing I was thinking at that time was to save my children," she recalls of the fire incident, scared for their lives. "My husband told me to go out immediately with my kids. They are most important to us."
The trauma of losing her house was still fresh to Rosalie. "I never expected that something like this would happen to me. I already deleted all the pictures of the fire from my phone because when I see them, I couldn't help but cry. I couldn't sleep and eat," she weeps. But now she felt solace upon seeing the Tzu Chi volunteers.
"I felt relieved," she says. "This rice and all the things you gave us are such a big help. We can recover and start again. Thank you so much Tzu Chi Foundation for coming to our place."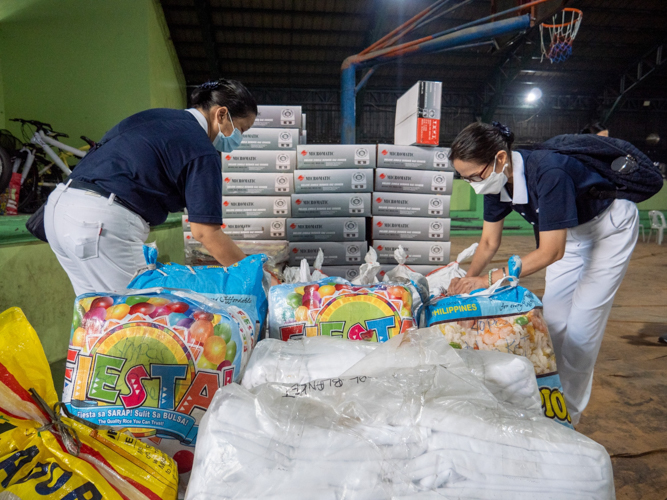 Tzu Chi volunteers distribute 10 kilos of rice, food grocery items, gas stove, casserole, kitchen utensils, blanket, sleeping mat, and hygiene supplies to 277 families in Brgy. 648, Baseco, Manila. 【Photo by Jeaneal Dando】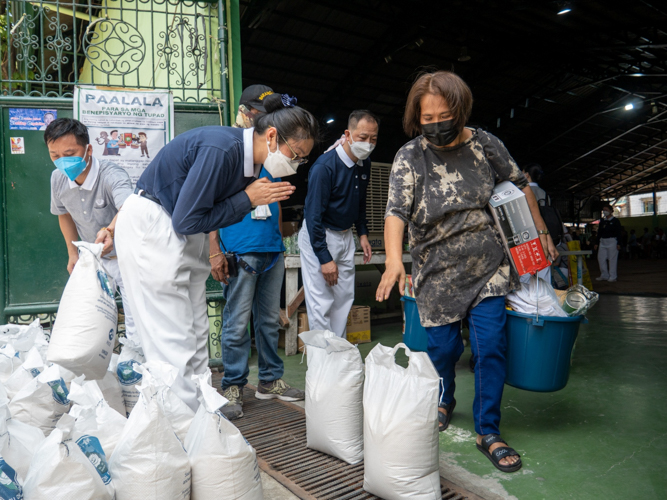 Tzu Chi volunteers distribute 10 kilos of rice, food grocery items, gas stove, casserole, kitchen utensils, blanket, sleeping mat, and hygiene supplies to 277 families in Brgy. 648, Baseco, Manila. 【Photo by Jeaneal Dando】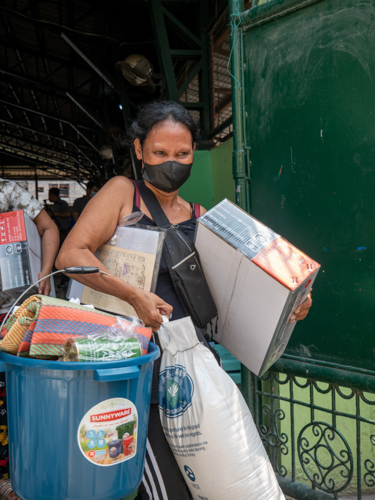 Tzu Chi volunteers distribute 10 kilos of rice, food grocery items, gas stove, casserole, kitchen utensils, blanket, sleeping mat, and hygiene supplies to 277 families in Brgy. 648, Baseco, Manila. 【Photo by Jeaneal Dando】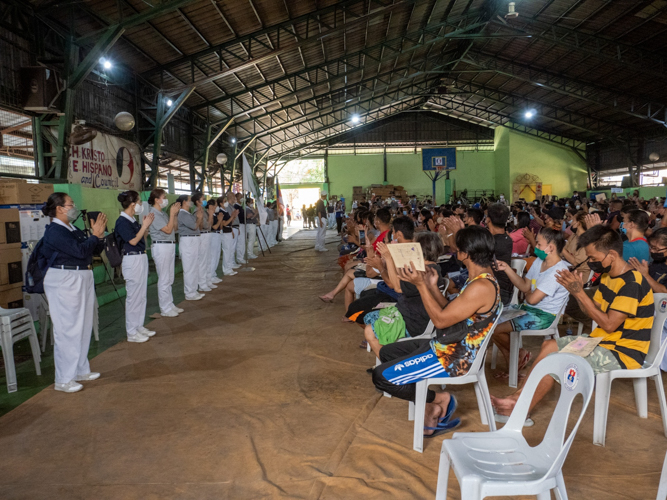 Volunteers perform the song 'One Family' as a gesture of compassion to the fire victims. 【Photo by Jeaneal Dando】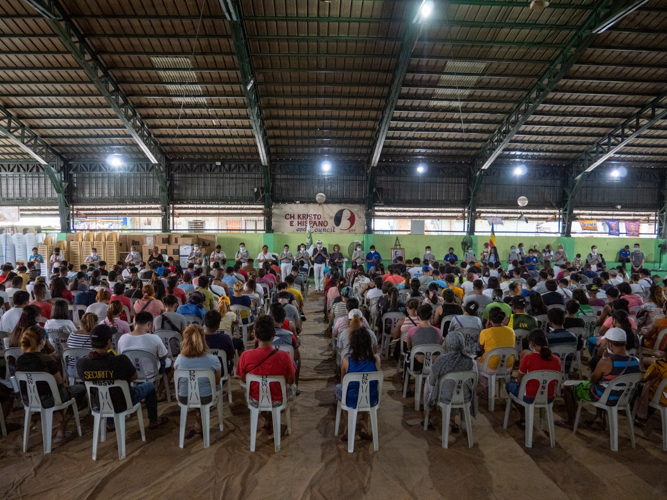 Volunteers lead the fire victims in Tzu Chi Prayer to comfort their spirits. 【Photo by Jeaneal Dando】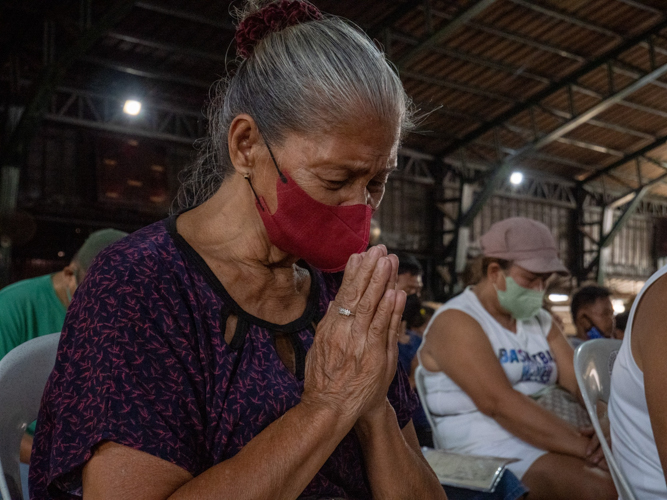 Feeling consoled, Elizabeth Tagalog couldn't help but cry. "I pray that we can start over. I hope we'd have healthy bodies and that we can survive every day," says the 72-year-old widow. 【Photo by Jeaneal Dando】
Elizabeth, who earns Php 100 for a day's work of peeling a sack of garlic in the market, receives a sleeping mat, among other relief items to help her restart her life. 【Photo by Jeaneal Dando】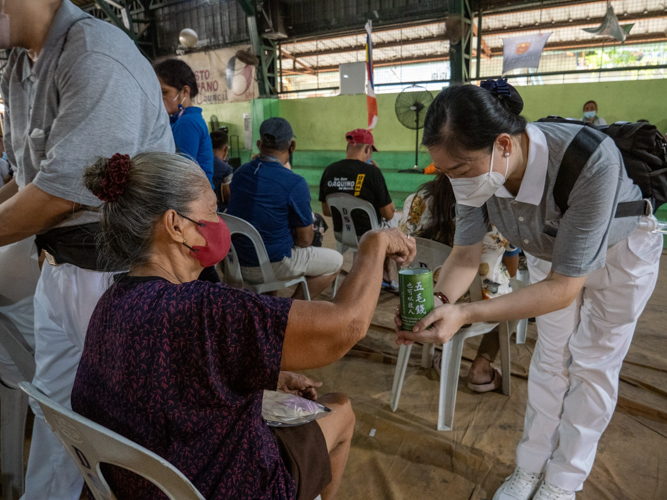 Touched by the volunteers' kindness, Elizabeth donates some of her money to the Tzu Chi coin bank. 【Photo by Jeaneal Dando】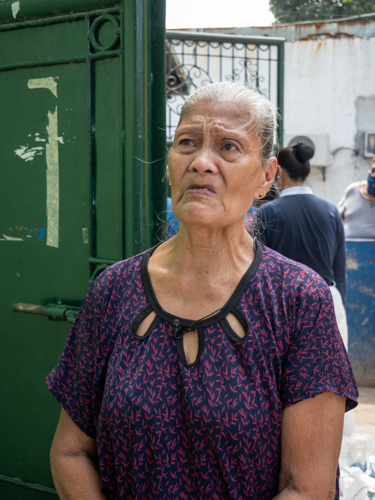 "I am sad. I haven't even fully recovered from the loss of my husband, and now this," she weeps. But Tzu Chi's gesture of love has somehow given her a sense of relief and a spark of hope, for which she was immensely grateful. "I feel happy. Thank you so much." 【Photo by Jeaneal Dando】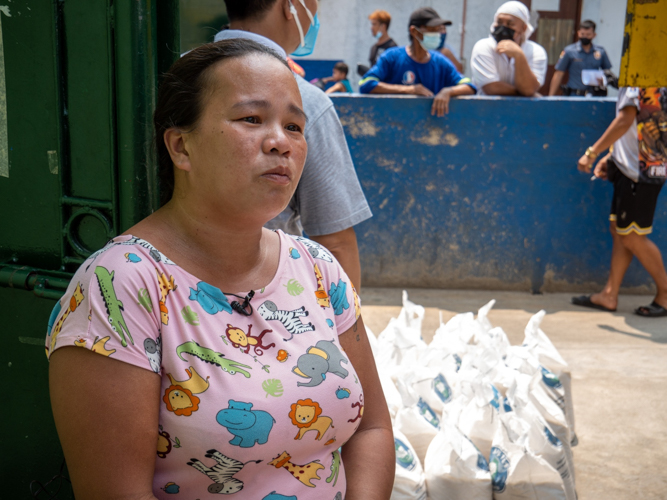 "The only thing I was thinking at that time was to save my children," recalls Rosalie Banjao, mother to six children and wife to a construction worker. "My husband told me to go out immediately with my kids. They are most important to us." 【Photo by Jeaneal Dando】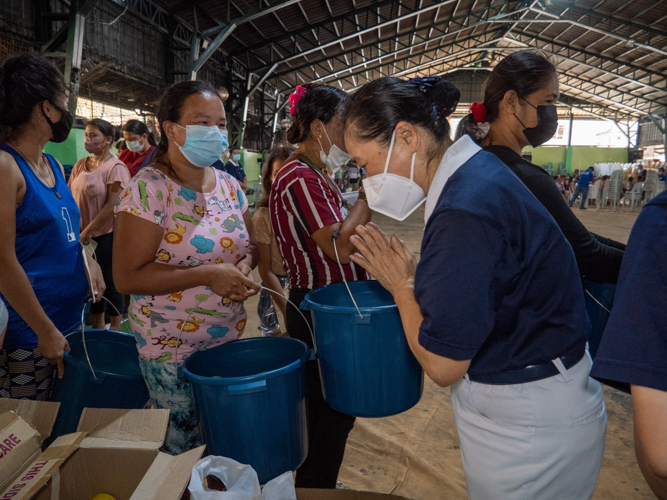 "I felt relieved," says Rosalie. "This rice and all the things you gave us are such a big help. We can recover and start again. Thank you so much Tzu Chi Foundation for coming to our place." 【Photo by Jeaneal Dando】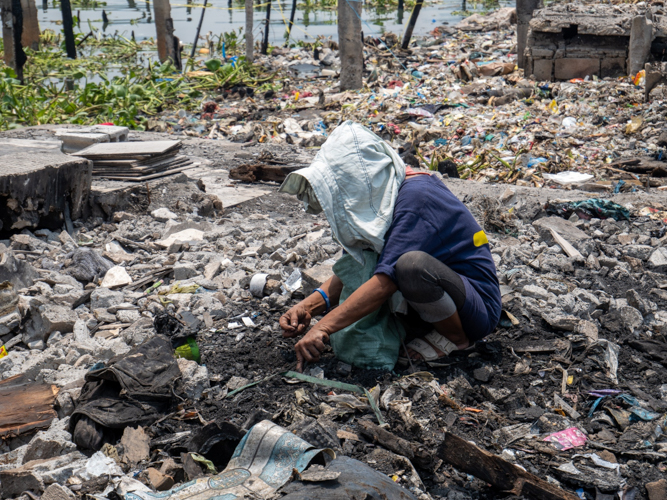 A photo of what remains of the fire scene in Brgy. 649, Baseco, Manila. 【Photo by Jeaneal Dando】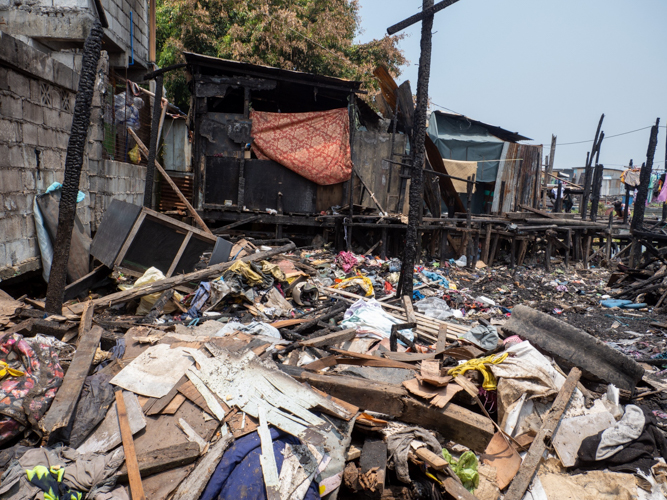 A photo of what remains of the fire scene in Brgy. 649, Baseco, Manila. 【Photo by Jeaneal Dando】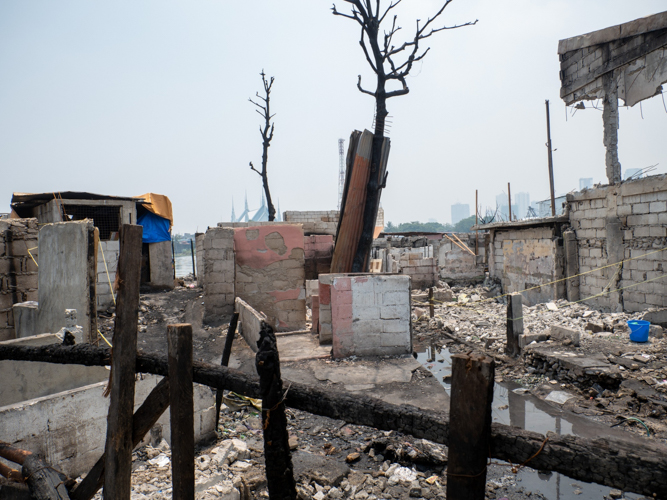 A photo of what remains of the fire scene in Brgy. 649, Baseco, Manila. 【Photo by Jeaneal Dando】
Go Back