This scavenger claimed her relief goods—then shared them with others
Mylene Romano takes the teachings of Tzu Chi to heart.
By Joy Rojas
Lia Albano wasn't included in Tzu Chi Foundation's first rice and relief goods distribution for Montalban, Rizal scavengers in early November. Volunteers had difficulty contacting her in time for the event, she said.
So imagine her surprise when fellow scavenger Mylene Romano offered to share her goods with her. "I never thought that someone would do that for us," says Albano in disbelief. "I'm very thankful to her for sharing her blessings with me."
Asked why she came to Albano's aid, Romano says, "I learned from Tzu Chi that we must share the blessings we receive with others. Even if they are not our relatives or close family members, we just have to remember to share so that they will also experience the blessings of the Tzu Chi Foundation."
"She could have kept her relief goods for herself but she really wanted to help others and that is very inspiring," says Tzu Chi volunteer Edison Hina. "I'm very happy with her gesture because it means that she adopted the teachings of Tzu Chi."
Albano, who was one of 669 beneficiaries in the second distribution held last November 28 at the Covered Court in Barangay San Isidro, Montalban, Rizal, is pleased with her haul—two 10-kg sacks of rice and an assortment of essential cooking and cleaning items. "Now we have something to eat," she says. "This will last us a long time. Life is hard and we don't earn much from scavenging."
Romano, who also claimed her second tranche of rice and groceries, is just as happy for her. "Thankfully she was added to the list of recipients," she says. "These are tears of joy because we again were given relief by the Tzu Chi Foundation."
Romano has certainly taken the teachings of Tzu Chi to heart. Once again, she shared part of her second tranche of goods, this time with Albano's sister, scavenger Roselyn de los Reyes.
"I was surprised by her kind gesture," says de los Reyes, who lives with her family in a junk shop. "I am truly grateful to her."
"Others may think all that Tzu Chi does is give," adds Hina. "We also teach love for others."
The third and final distribution of rice and relief goods for Montalban, Rizal scavengers is on Sunday, December 19, in time for Christmas.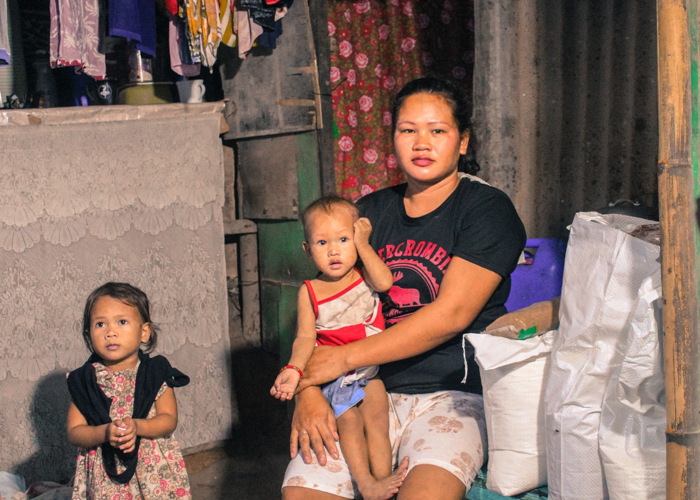 Now part of Tzu Chi's relief distributions in Montalban, Rizal, scavenger Lia Albano (seen here with her kids) is happy to have "something to eat. We don't earn much from scavenging." 【Photo by Don Lopez】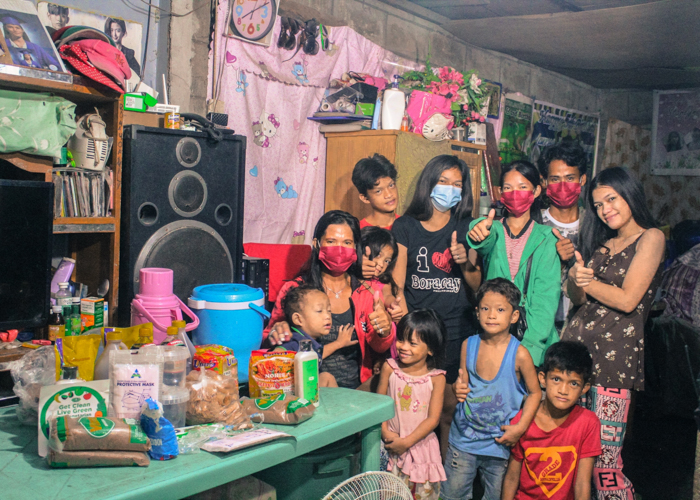 Here with family, Mylene Romano (seated with red sweater and black T-shirt) shares her rice and relief goods with fellow scavengers "so that they will also experience the blessings of the Tzu Chi Foundation." 【Photo by Don Lopez】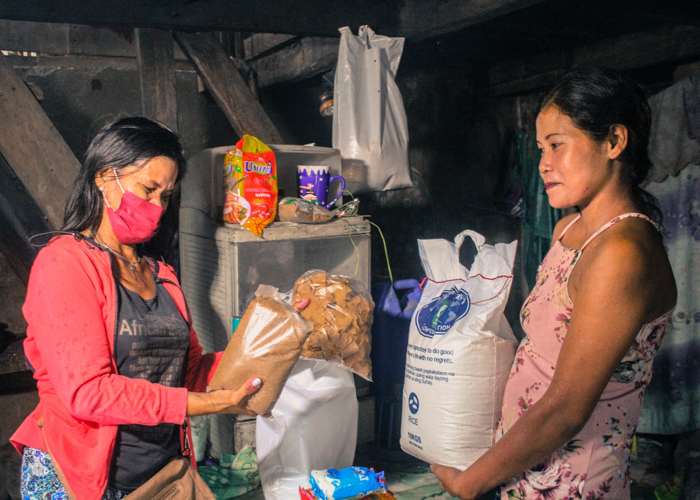 Roselyn de los Reyes (right) accepts goods shared by Mylene Romano. "I was surprised by her kind gesture," says de los Reyes. "I am truly grateful to her." 【Photo by Don Lopez】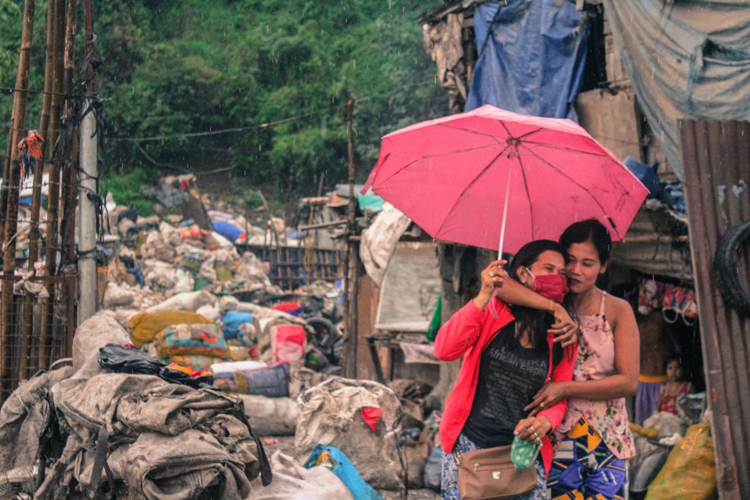 Roselyn de los Reyes (right) hugs Mylene Romano in gratitude for sharing her rice and relief goods. 【Photo by Matt Serrano】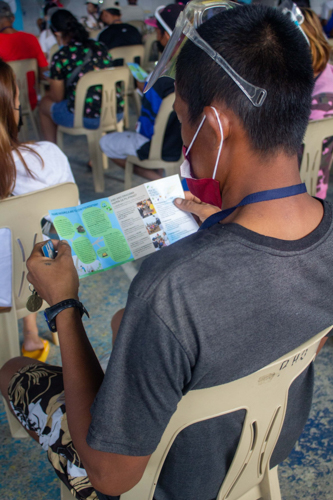 A beneficiary goes over a leaflet about the Tzu Chi Foundation. 【Photo by Matt Serrano】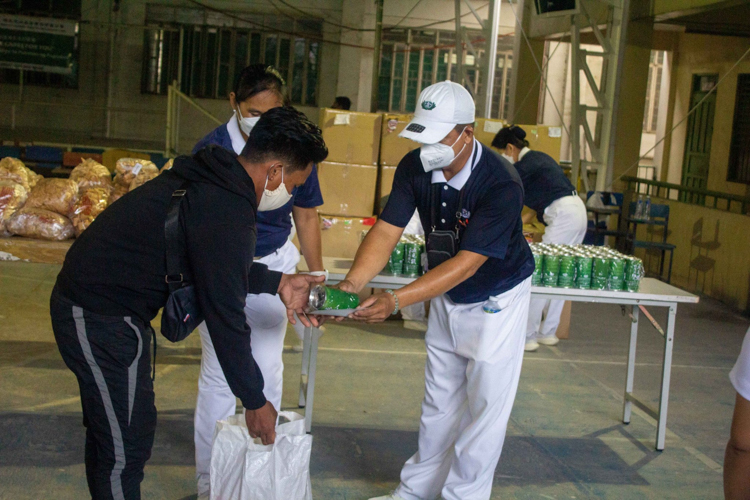 In addition to sacks of rice and groceries, beneficiaries receive a coin bank. The money they save in the can is turned over to Tzu Chi volunteers, to be used to help others in need. 【Photo by Matt Serrano】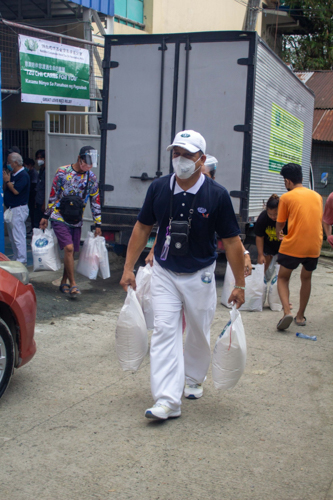 A volunteer helps a beneficiary carry his two 10-kg sacks of rice. 【Photo by Matt Serrano】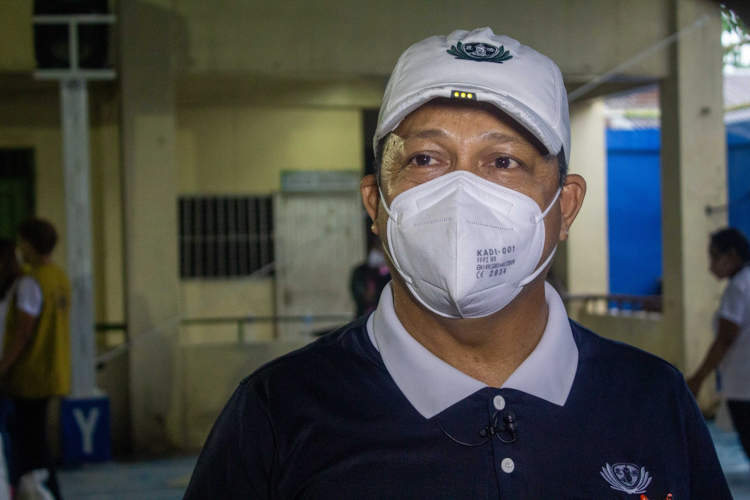 Tzu Chi volunteer Edison Hina: "Others may think all that Tzu Chi does is give. We also teach love for others." 【Photo by Matt Serrano】
Go Back