Manila volunteers visit Davao banana planting project
The livelihood program gives hope for the poor Ata Manobo tribe in Talaingod, Davao del Norte.
By Ben Baquilod
Volunteers flew from Manila to Davao on June 4 to visit the Tzu Chi Davao banana farming project, a part of Tzu Chi's hunger and poverty alleviation program. The initiative was kicked off by Davao-based volunteers in January 2022 where they planted 2,500 banana seedlings in Talaingod, Davao del Norte, serving 45 families from the Ata Manobo tribe.
A total of 35 volunteers—31 from Manila and four from Angeles City, Pampanga—were welcomed by Davao volunteers, led by Nelson Chua. After a two-hour flight, volunteers drove three hours from Davao City and trekked through mountainous roads to reach the site in Sitio Napisulan, Purok 14, Brgy. Sto Niño, Talaingod. "We are happy to have them here. And they seemed to have fun crossing the river. They enjoyed it much," says Chua.
For Tzu Chi Philippines CEO Henry Yuñez, this was an opportune time for the visit after two years of travel restrictions. "Because the pandemic situation is now better, we came here to also learn from our brothers and sisters in Davao who are helping the indigenous peoples here," he says.
The Davao volunteers started working with the indigenous peoples of Talaingod when the pandemic started in 2020. "We saw how difficult the lives of the Ata Manobo are. We thought they really need help," recalls Chua. They began their rice and groceries distribution in Talaingod throughout the pandemic, serving around 1,700 families that year.
In 2021, volunteers started planning a livelihood program for the Ata Manobo tribe, and eventually implemented the cardava banana planting project in 2022. They gave them technical expertise, provided organic fertilizers, and monitor the plants regularly. The plants are expected to yield sweet fruits by next year. "These cardava bananas, you can fry them. We also have around 40 factories who make banana chips. They won't have a problem selling them," says Chua, who assured the farmers of helping them sell their produce.
Ariel Garao is among the Davao-based volunteers who handle the project, providing technical support and assisting the needs of the community. He was first invited to a rice distribution activity by Nelson Chua, his boss at work. Since then, he never left Tzu Chi. "I always make time to volunteer for Tzu Chi. Nothing compares to the joy when you see the people you help happy," he says.
Garao is glad to get support from Tzu Chi Manila volunteers for the project. "The people here now see that there's hope for their lives, especially that they see many Tzu Chi volunteers ready to help them," he adds.
Manny Go is one such example. He is among the Manila volunteers who came in support of the livelihood program. "My heart is happy to be able to help Filipinos. This is part of my responsibility," says Go.
The project is a huge blessing for farmer Robert Daoban, whose family barely survives from eating sweet potatoes and bananas they pick up from the farm. They only get to buy rice once they sold their harvests after some time—four months for corn and one year for abacá—for a very cheap price.
If for other poor families, rice is a staple, for them it's a luxury. "My dream is for us to eat every day," says Robert.
"We only eat twice a day, around 10:00 in the morning and 9:00 in the evening," says her wife, Mercy. The couple also hopes that their two kids get to finish school. "I hope my little girl becomes a teacher someday, and my son a policeman," says Mercy who only reached primary school, a usual case for communities living in extreme poverty and far away from schools.
Access to information and communications technology is another problem for the tribe. Without electricity, signal, and device, they couldn't access information outside and are deprived of opportunities for learning.
People outside coming to their remote community and offering help was a big surprise for them. "Thank you so much for giving us rice and banana seedlings. Thank you all for helping us," says Robert. His wife, Mercy is equally grateful. "We are happy because Tzu Chi Foundation came here."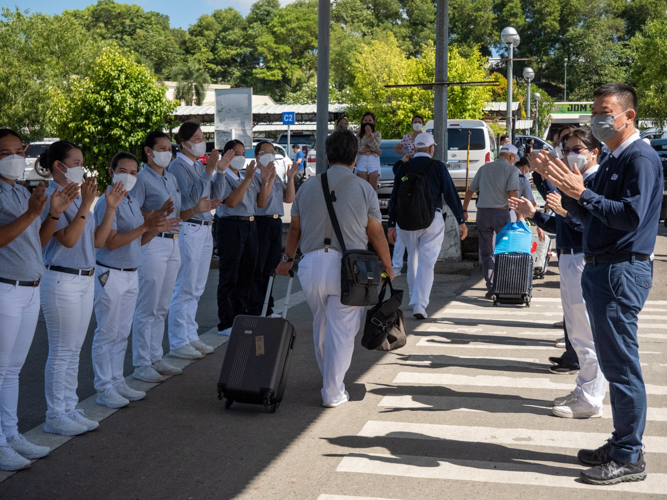 Tzu Chi Davao volunteers cheerfully welcome Manila volunteers at the Davao International Airport. 【Photo by Matt Serrano】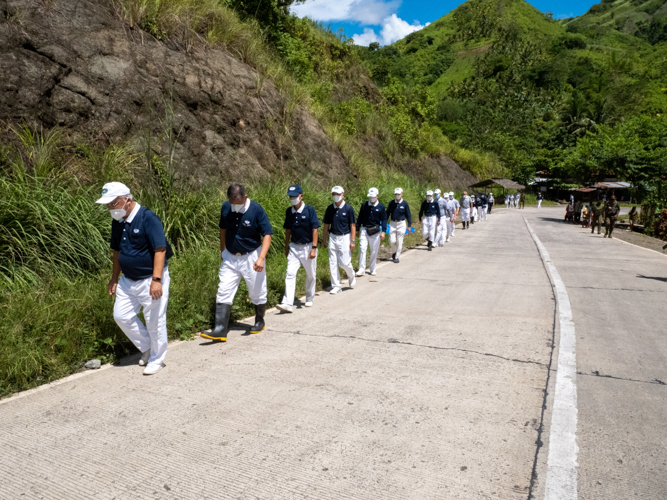 Volunteers trek through mountainous roads to visit the cardava banana planting project at Sitio Napisulan, Brgy. Sto. Niño, Talaingod, Davao del Norte. 【Photo by Matt Serrano】
Volunteers trek through mountainous roads to visit the cardava banana planting project at Sitio Napisulan, Brgy. Sto. Niño, Talaingod, Davao del Norte. 【Photo by Matt Serrano】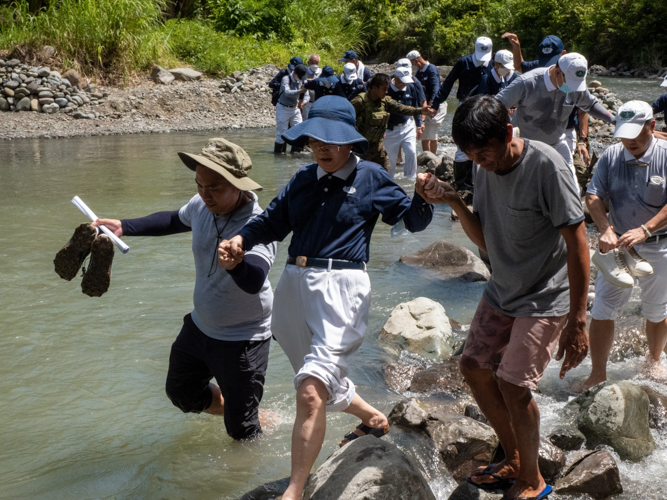 Volunteers trek through mountainous roads to visit the cardava banana planting project at Sitio Napisulan, Brgy. Sto. Niño, Talaingod, Davao del Norte. 【Photo by Matt Serrano】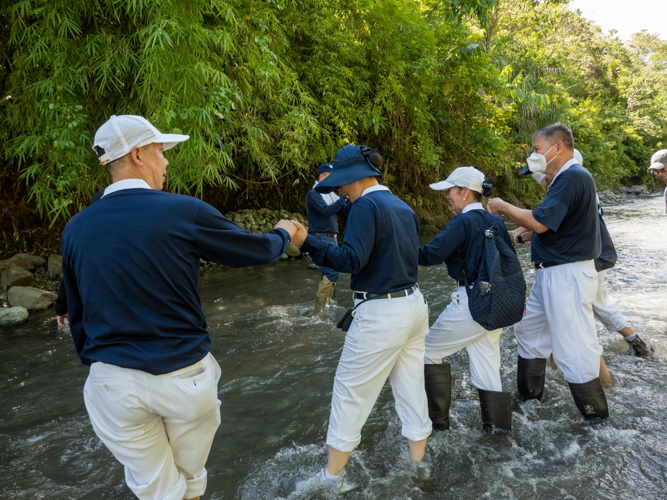 Volunteers trek through mountainous roads to visit the cardava banana planting project at Sitio Napisulan, Brgy. Sto. Niño, Talaingod, Davao del Norte. 【Photo by Matt Serrano】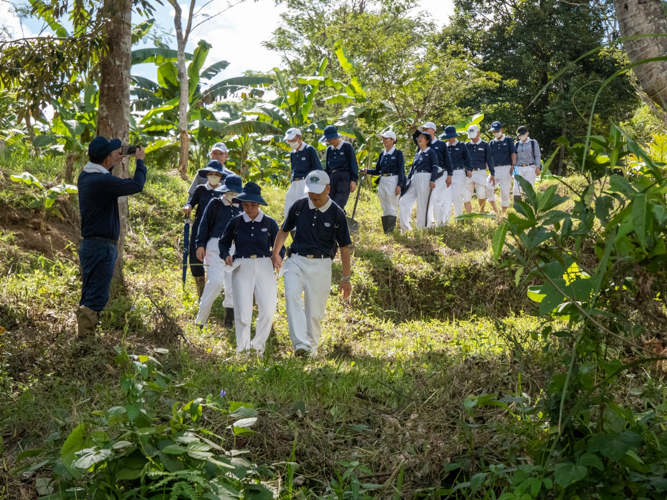 Volunteers trek through mountainous roads to visit the cardava banana planting project at Sitio Napisulan, Brgy. Sto. Niño, Talaingod, Davao del Norte. 【Photo by Matt Serrano】
Volunteers plant additional cardava banana trees. 【Photo by Matt Serrano】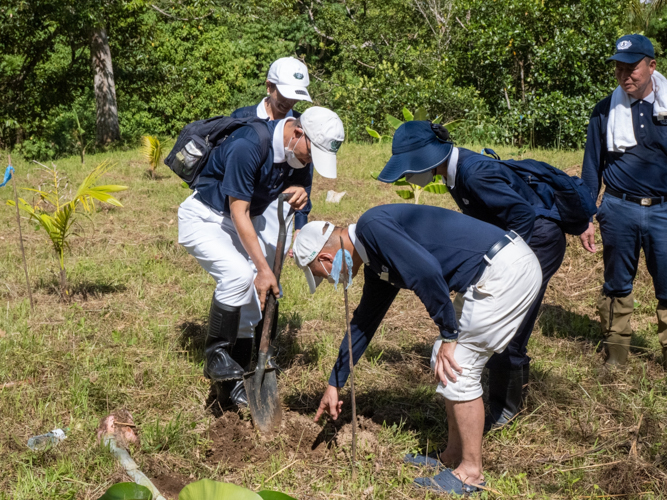 Volunteers plant additional cardava banana trees. 【Photo by Matt Serrano】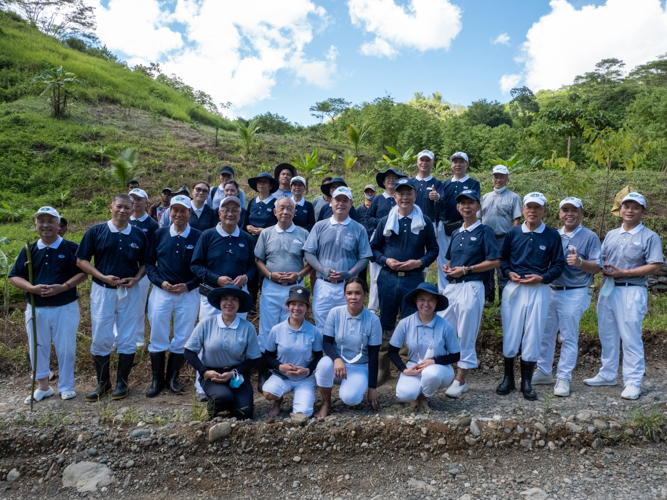 Tzu Chi Manila and Davao volunteers pose for a group photo at the banana planting site in Sitio Napisulan, Brgy. Sto Niño, Talaingod, Davao del Norte. 【Photo by Matt Serrano】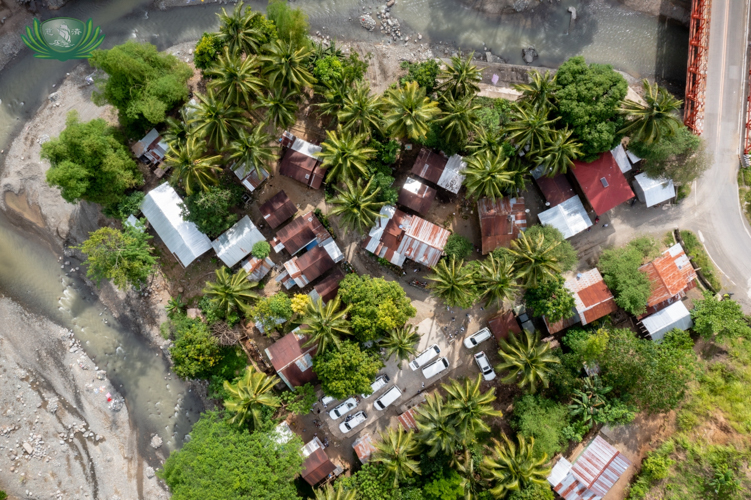 Drone shot of Sitio Napisulan, Purok 14, Brgy. Sto Niño, Talaingod, Davao del Norte, home to 45 indigenous families from the Ata Manobo tribe. 【Photo by Daniel Lazar】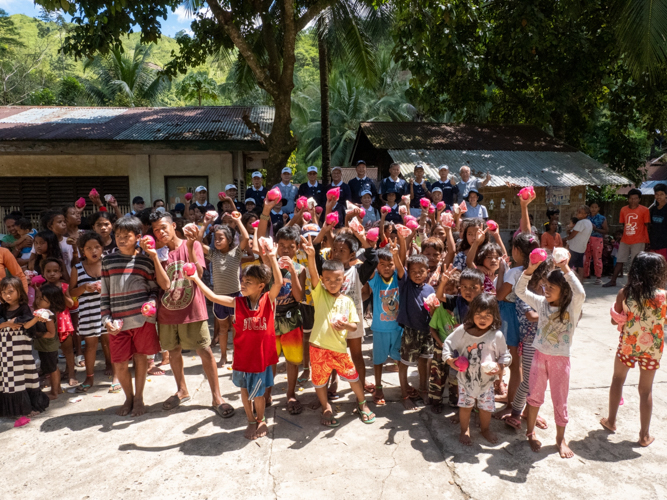 Farmers' children are happy to receive vegetarian buns from Tzu Chi volunteers. 【Photo by Matt Serrano】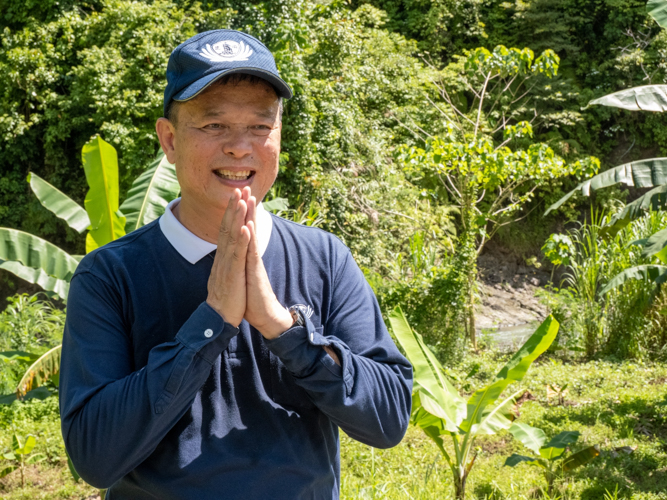 "We saw how difficult the lives of the Ata Manobo are. We thought they really need help," says Tzu Chi Davao volunteer Nelson Chua. 【Photo by Matt Serrano】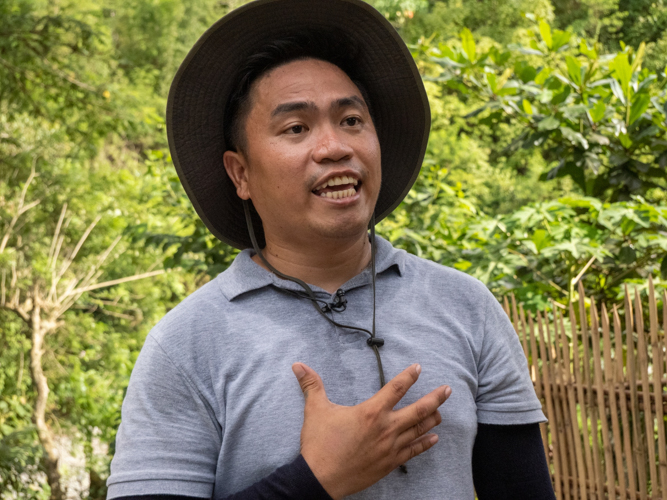 "I always make time to volunteer for Tzu Chi. Nothing compares to the joy when you see the people you help happy," says Davao volunteer Ariel Garao. 【Photo by Matt Serrano】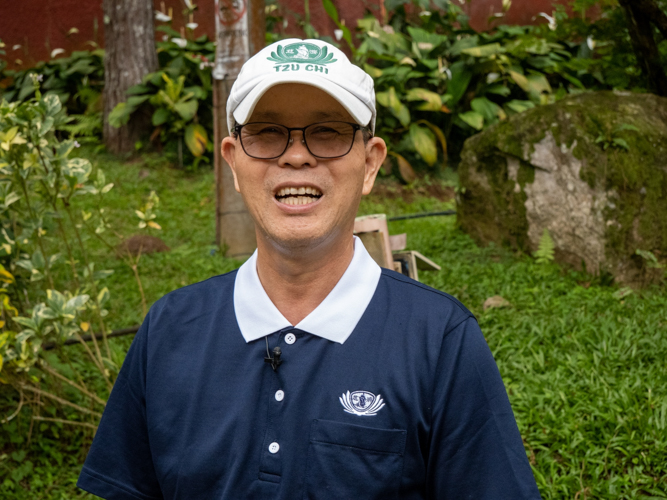 "My heart is happy to be able to help Filipinos. This is part of my responsibility," says Manila volunteer Manny Go. 【Photo by Matt Serrano】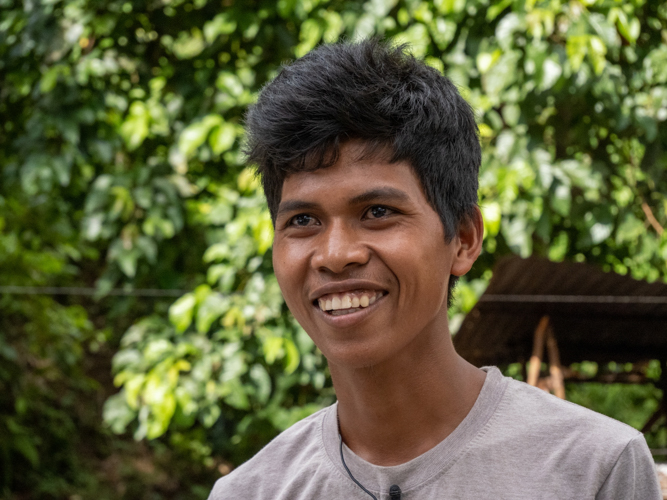 "Thank you so much for giving us rice and banana seedlings. Thank you all for helping us," says farmer Robert Daoban to Tzu Chi. 【Photo by Matt Serrano】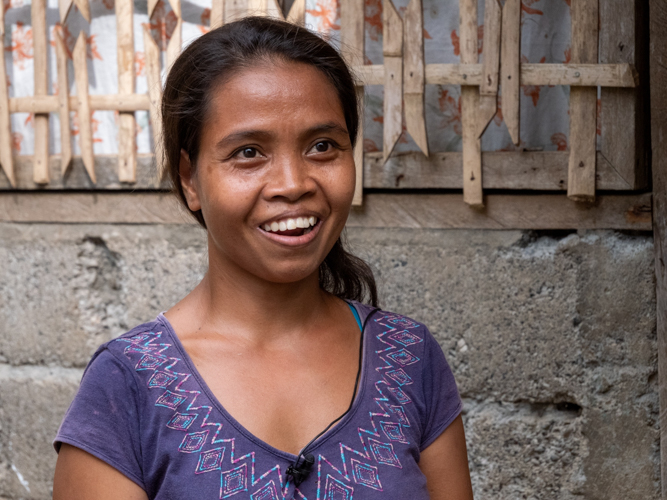 "I hope my little girl becomes a teacher someday, and my son a policeman," says Mercy Daoban. "We are happy because Tzu Chi Foundation came here." 【Photo by Matt Serrano】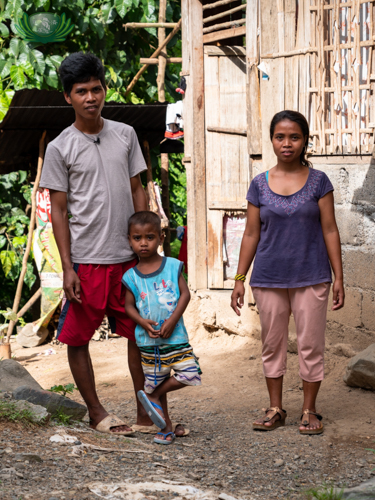 Couple Robert and Mercy Daoban with their son. 【Photo by Daniel Lazar】
Go Back