Tzu Chi holds 2023 Tai-Phil Traditional Chinese Medicine, Bone Marrow Transplant Academic Forums
The 2-day forum was graced by TCM and BMT medical professionals from Taiwan and Philippines to foster collaboration and mutual learning between the two countries.
By Ben Baquilod
Hualien Tzu Chi Hospital and the Tzu Chi Medical Foundation Philippines hosted the 2023 Tai-Phil Traditional Chinese Medicine (TCM) and Bone Marrow Transplantation (BMT) Academic Forums on September 8 and 9 at the Buddhist Tzu Chi Campus in Sta. Mesa, Manila.
The two-day forum was graced by TCM and BMT luminaries from Taiwan and the Philippines who shared their medical expertise and experiences in both fields. The forums served as a platform for knowledge-sharing, in-depth conversations, and providing support and encouragement for the advancement of TCM and BMT in both countries.
The TCM forum featured a diverse array of topics, such as integrative medicine for universal primary healthcare, illuminating paradigm differences between Eastern and Western pharmacotherapeutics, exploring cupping as a complementary therapy for metabolic syndrome, and delving into the role of acupuncture in cancer care, stress management, skin disease treatment, as well as therapy for patients grappling with traumatic brain injuries and ischemic strokes.
On the other hand, experts in Bone Marrow Transplantation from distinguished institutions including Hualien Tzu Chi Hospital, The Medical City, Makati Medical Center, and the National Kidney and Transplant Institute, shared their best practices, initiatives, and advancements within the field.
Dr. Chi-Cheng Li, the Director of Hualien Tzu Chi Hospital's International Medical Center and Center of Stem Cell & Precision Medicine, expressed his gratitude to the speakers, moderators, and guests who contributed to the forum's success. "Your unwavering commitment to propelling the current ideas and insights stands as a resolute testament, poised to significantly impact the trajectory of TCM, BMT, and healthcare practices in our respective realms," Dr. Li said.
The collaboration between Taiwan and the Philippines in the realm of medical and health-related industries has seen remarkable growth since the inception of Taiwan's New Southbound Policy in 2016. This policy aims to enhance cooperation between Taiwan and 18 countries across Southeast Asia, South Asia, and Australasia.
"Bone marrow transplantation stands as a beacon for hope for countless patients facing life-threatening hematological disorders," remarked Mr. Wallace M.G. Chow, Representative from the Taipei Economic and Cultural Office in the Philippines.
Mr. Chow also underscored the pivotal role of TCM in today's modern medicine. "TCM is not merely a medical system; it is a profound cultural heritage that holds immense potential to complement and enrich modern healthcare," he said. "Through collaborative efforts, knowledge dissemination, and partnerships, we can harness the wisdom of TCM to address the complex healthcare challenges of our time."
Dr. Rodrigo Angelo Ong, the Chief Science Research Specialist of the Philippine Institute of Traditional and Alternative Health Care (PITAHC), an attached agency of the Department of Health, echoed similar sentiments regarding the synergistic potential of TCM and Western medicine for universal healthcare. "We need more local research in acupuncture, paving the way for its inclusion in the national insurance system. It's a work in progress," Dr. Ong said. "With support from both the private and government sectors, we can turn this dream into reality."
Dr. Ong emphasized that their previous research has firmly established that acupuncture is safe, beneficial, and cost-effective. He noted, "With the Philippines being an archipelago, with many different islands, sometimes, doctors have to travel to mountains and across seas to reach their patients, carrying a lot equipment that's very difficult to transport. But with just an acupuncture needle in your pocket, you can make a difference."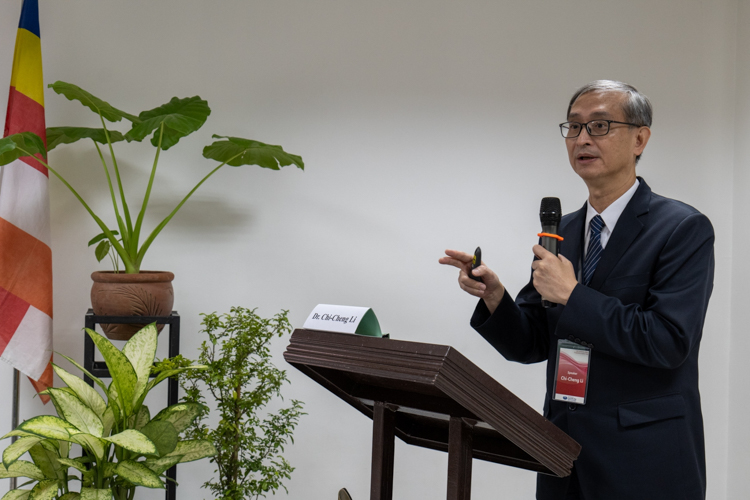 Dr. Chi-Cheng Li, Director of Hualien Tzu Chi Hospital's International Medical Center and Center of Stem Cell & Precision Medicine, shares updates on Bone Marrow Transplantation Activities and Progress in Taiwan from 1983 to 2022. 【Photo by Jeaneal Dando】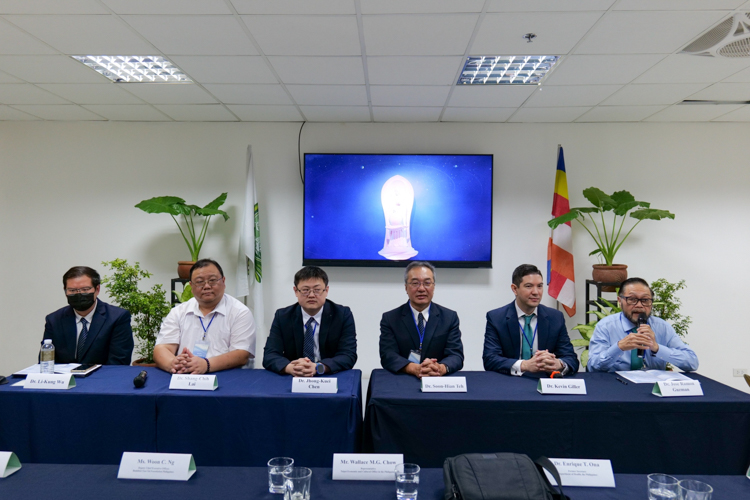 Speakers and moderators lead the morning panel discussion on Traditional Chinese Medicine on September 8. 【Photo by Jeaneal Dando】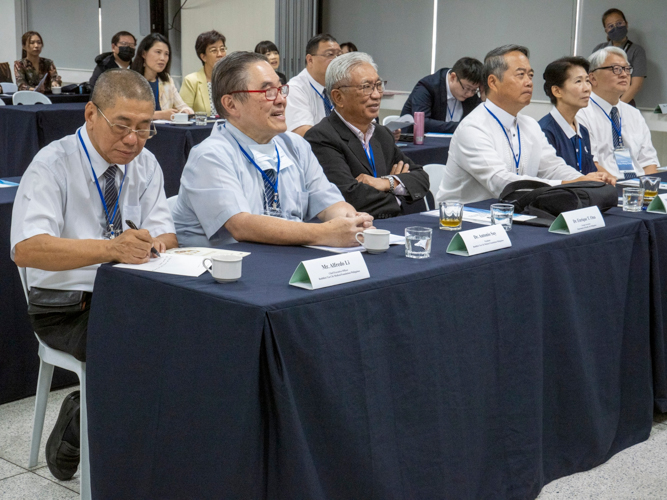 The 2023 Tai-Phil Traditional Chinese Medicine Academic Forum are graced by Tzu Chi officials and special guests. 【Photo by Matt Serrano】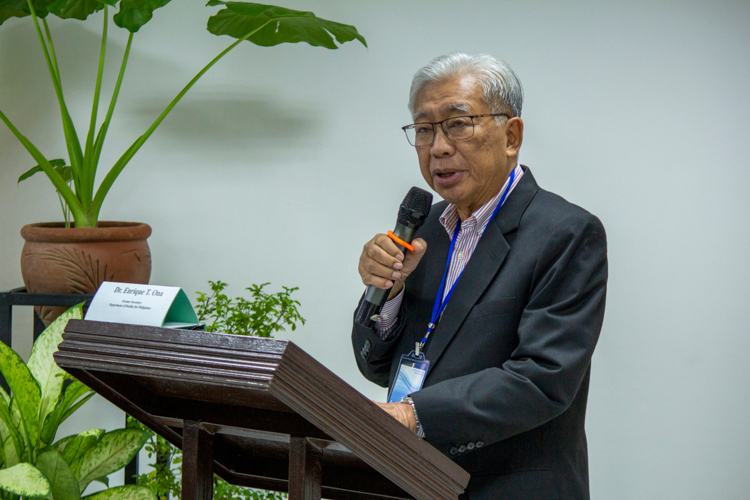 Dr. Enrique T. Ona, Former Secretary of the Department of Health delivers his opening remarks. 【Photo by Matt Serrano】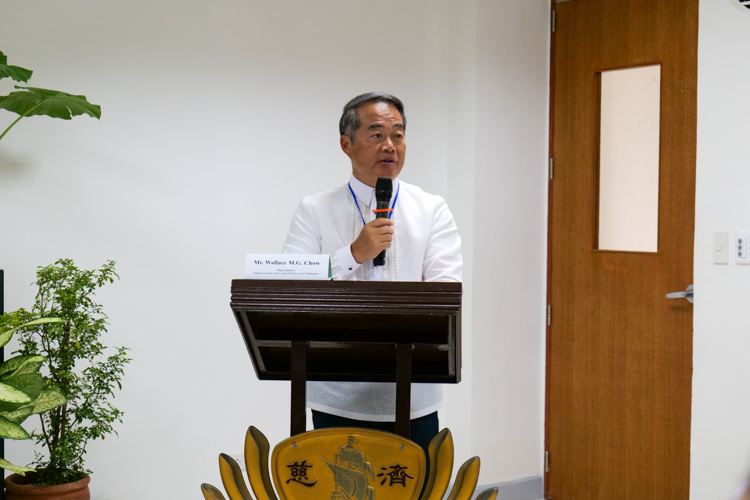 "TCM is not merely a medical system; it is a profound cultural heritage that holds immense potential to complement and enrich modern healthcare," says Mr. Wallace M.G. Chow, Representative from the Taipei Economic and Cultural Office in the Philippines. 【Photo by Jeaneal Dando】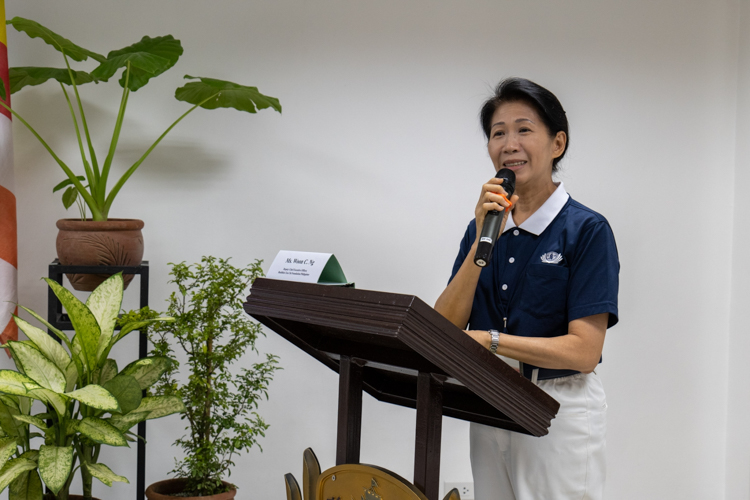 Tzu Chi Philippines Deputy CEO Woon Ng shares a Jing Si Aphorism by Dharma Master Cheng Yen: "Life is filled with pain and sufferings, but also with hope and love." 【Photo by Jeaneal Dando】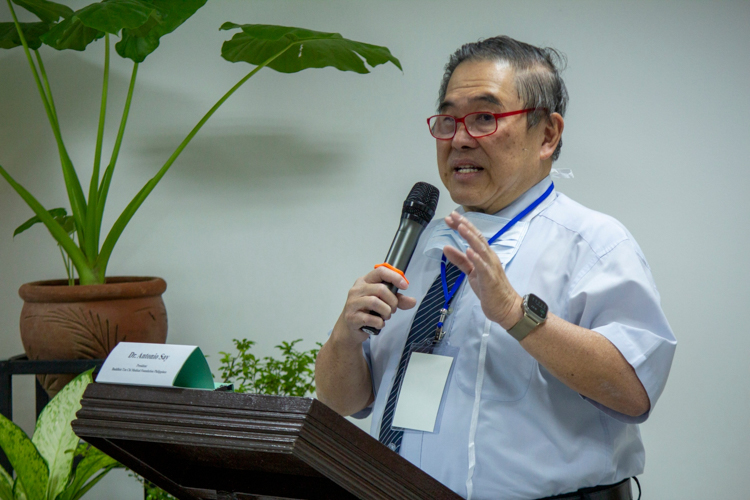 Dr. Antonio Say, President of the Buddhist Tzu Chi Medical Foundation Philippines gives his welcome message. 【Photo by Matt Serrano】
Tzu Chi University Professor Dr. Hao-Ping Chen delivers his opening remarks. 【Photo by Matt Serrano】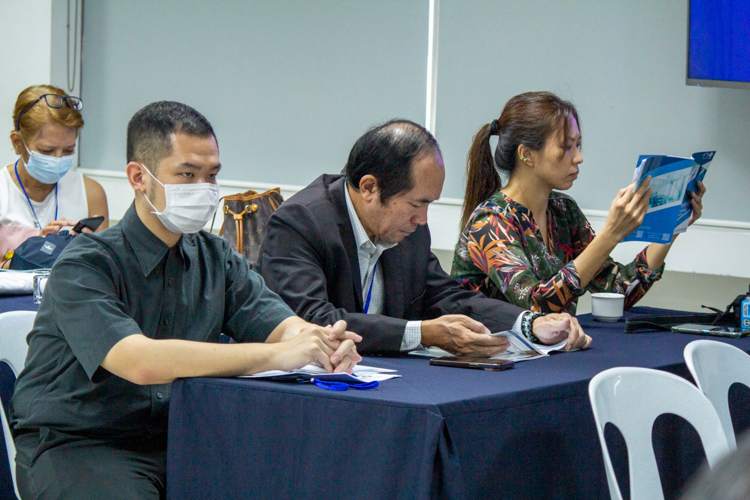 Medical professionals from Taiwan and the Philippines gather for the 2023 Tai-Phil Traditional Chinese Medicine and Bone Marrow Transplant Academic Forums on September 8 and 9. 【Photo by Matt Serrano】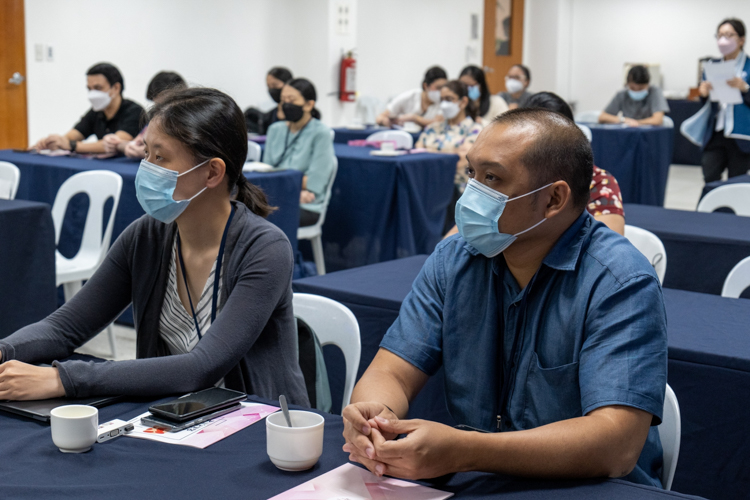 Medical professionals from Taiwan and the Philippines gather for the 2023 Tai-Phil Traditional Chinese Medicine and Bone Marrow Transplant Academic Forums on September 8 and 9. 【Photo by Jeaneal Dando】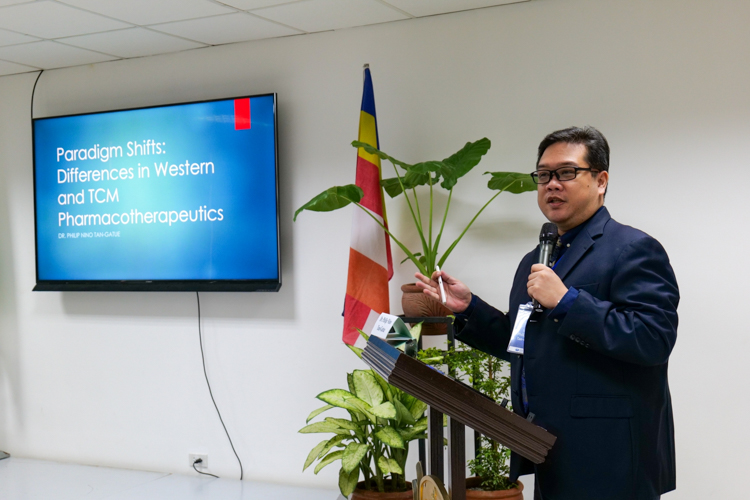 Dr. Philip Niño Tan-Gatue, Head of Herbal Medicine of the Chinese General Hospital and Medical Center talks about the paradigm differences between Eastern and Western Pharmacotherapeutics. 【Photo by Jeaneal Dando】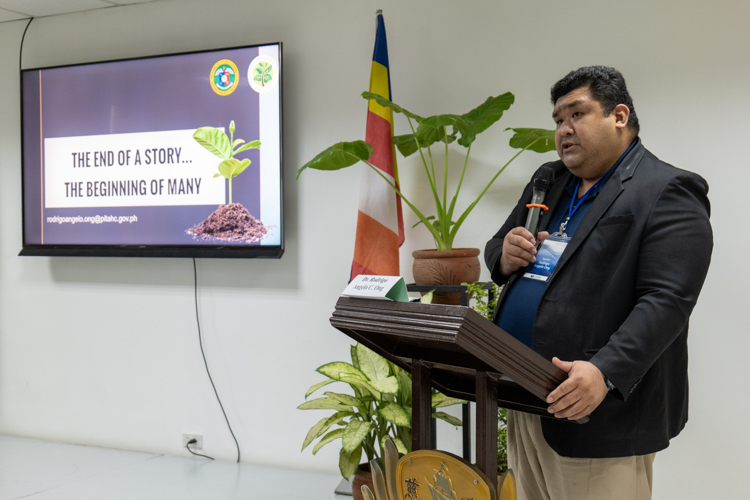 Dr. Rodrigo Angelo Ong, the Chief Science Research Specialist of the Philippine Institute of Traditional and Alternative Health Care (PITAHC) gives a talk on "Integrative Medicine: The Road to Universal Primary Health Care." 【Photo by Jeaneal Dando】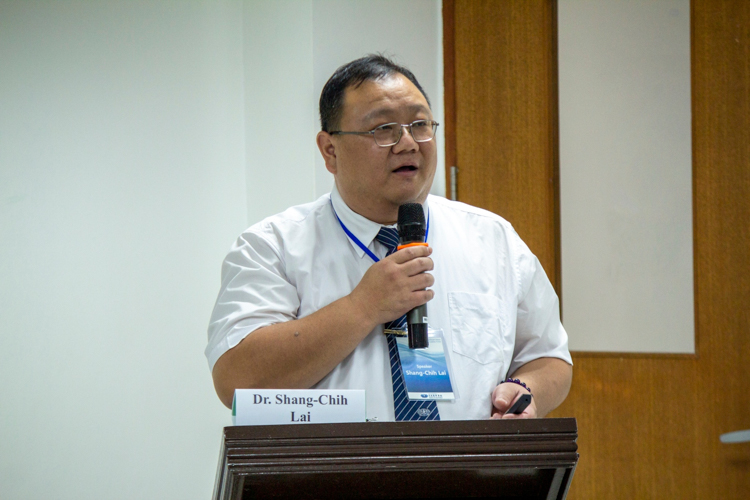 Tzu Chi University Assistant Professor Dr. Shang-Chih Lai talks about the current situation of Traditional Chinese Medicine in Taiwan. 【Photo by Matt Serrano】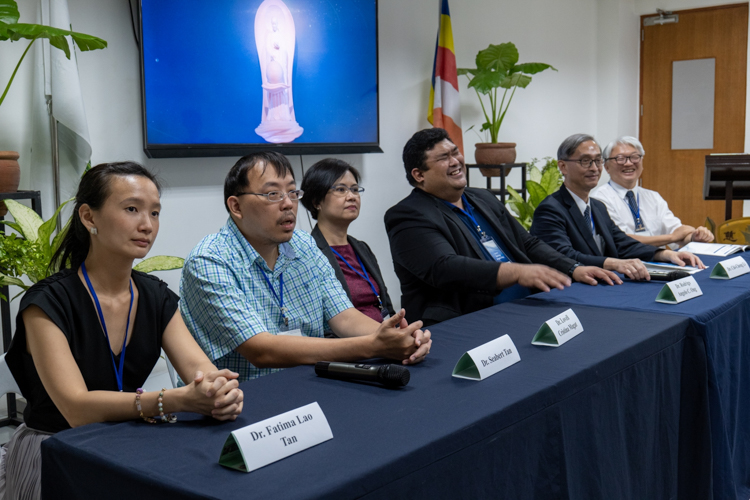 Speakers and moderators lead the afternoon panel discussion on Traditional Chinese Medicine on September 8. 【Photo by Jeaneal Dando】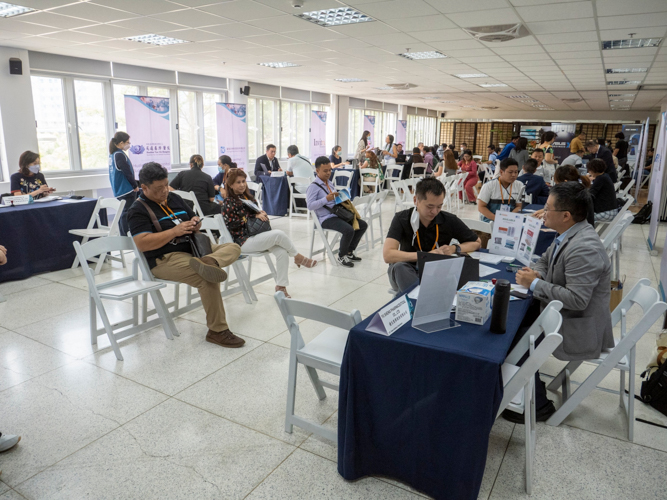 An exhibit featuring medical service providers and other companies is simultaneously held. 【Photo by Matt Serrano】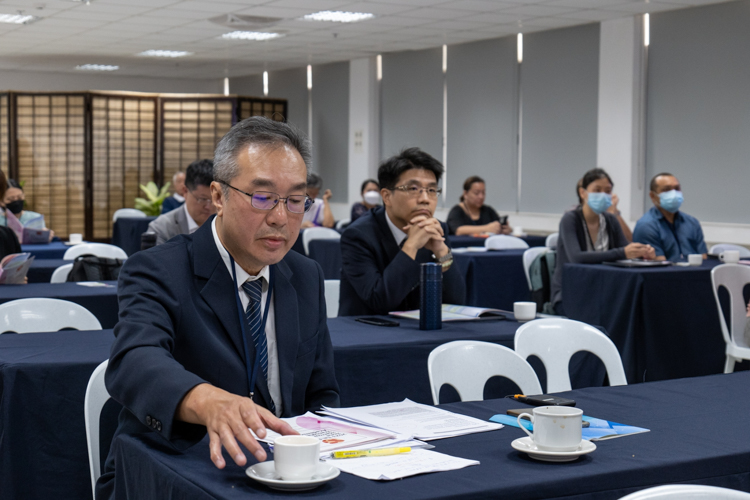 Dr. Soon-Hian Teh, Attending Physician of Hualien Tzu Chi Hospital's Department of Infectious Diseases is set to give a lecture on tactics to deal with Cytomegalovirus & Aspergillus infections, the two most devastating threat to bone marrow transplantation. 【Photo by Jeaneal Dando】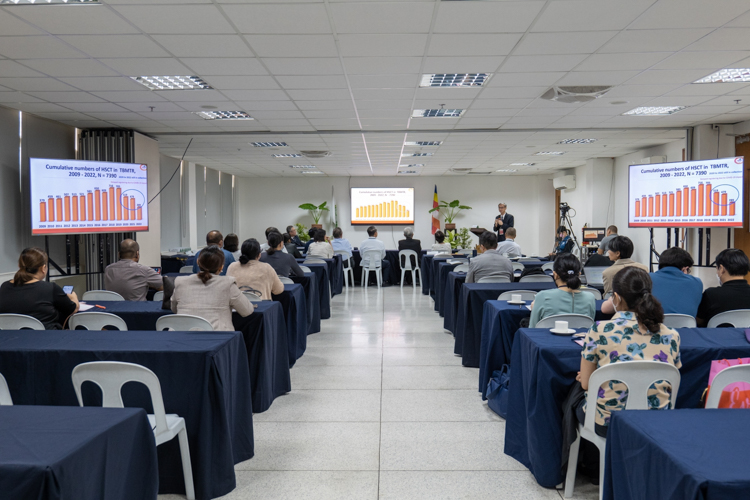 Medical professionals and guests arrive at the September 9 forum of Bone Marrow Transplantation. 【Photo by Jeaneal Dando】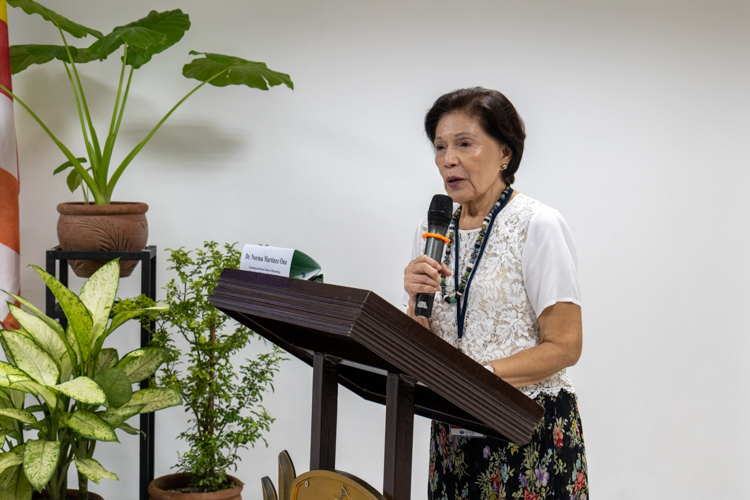 Dr. Norma Ona, The Medical City's Consultant and Head of the Section of Hematology, Department of Medicine delivers her opening remarks. 【Photo by Jeaneal Dando】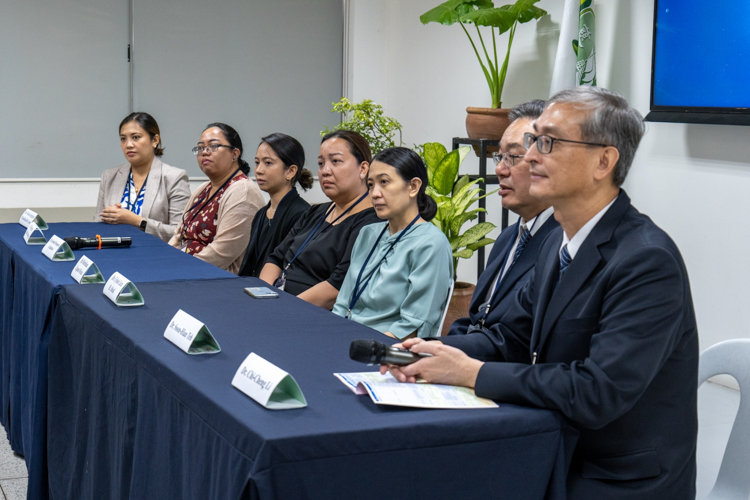 Speakers and moderators lead the morning panel discussion on Bone Marrow Transplantation on September 9. 【Photo by Jeaneal Dando】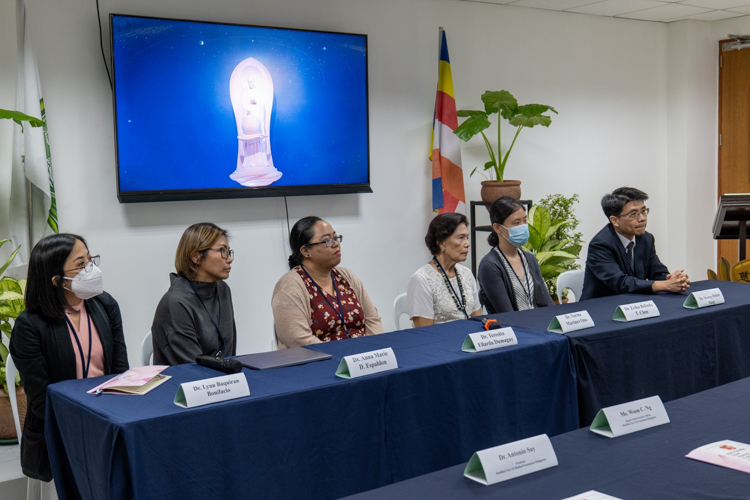 Speakers and moderators lead the morning panel discussion on Bone Marrow Transplantation on September 9. 【Photo by Jeaneal Dando】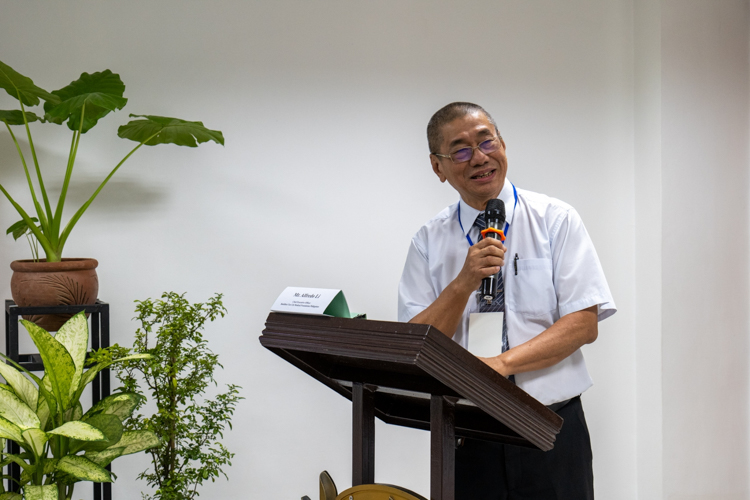 Buddhist Tzu Chi Medical Foundation CEO Alfredo Li thanks speakers and guests in his closing remarks. 【Photo by Jeaneal Dando】
Go Back